Angel Hair Pasta with Garlic and Spinach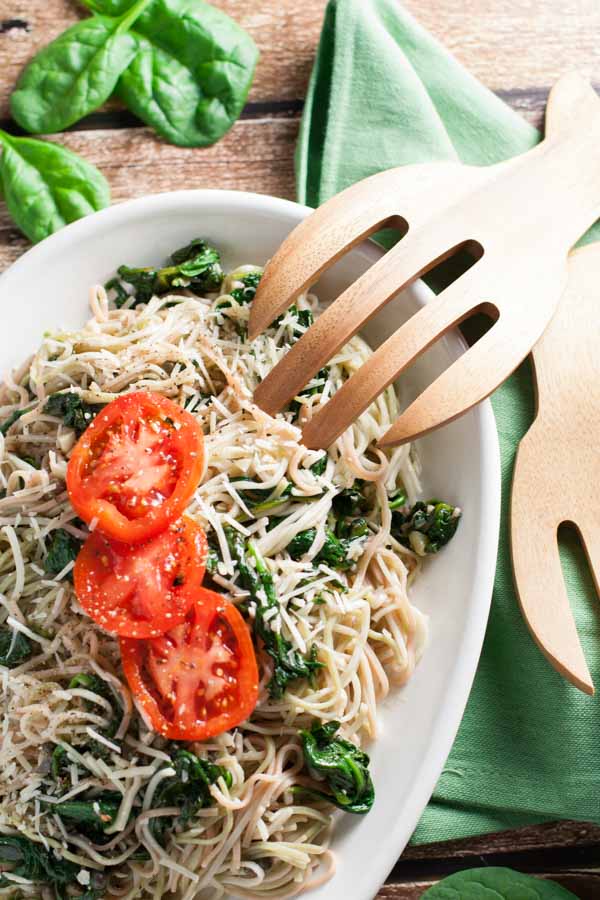 "GAAAHHHHLLIC" you might be thinking. Why would you ever make pasta with garlic as a main ingredient? Because, as you know, garlic is a pantry staple and one of the fundamental ingredients of Italian cooking and who's kidding -most cuisines. Garlic can add zip, spice, pungency, or even sweetness to your recipe depending on how it is prepared. It has been used for thousands of years for both culinary and medicinal purposes…or in some cases of "bad dates" it has been used strategically to ward off unwanted advances. 🙂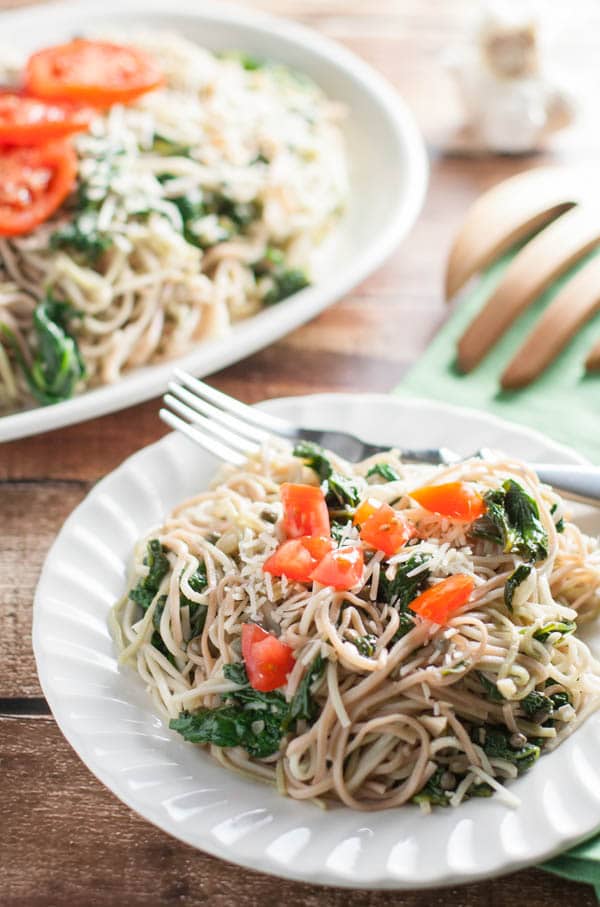 I absolutely love garlic in our Angel Hair Pasta with Garlic and Spinach. It's a simple and delicious recipe that I uncovered in my pasta recipe "archives" – twenty plus years of torn magazine pages, post-it notes, and hand written note cards. I am so happy that I found it! Next time I'll add some seafood like shrimp or salmon. This really ranks right up there as a favorite like my Tuscan Style Clam Sauce or our Simple Pesto Wine Sauce with Bay Scallops. Go now and put these recipes at the front of your pasta recipe file!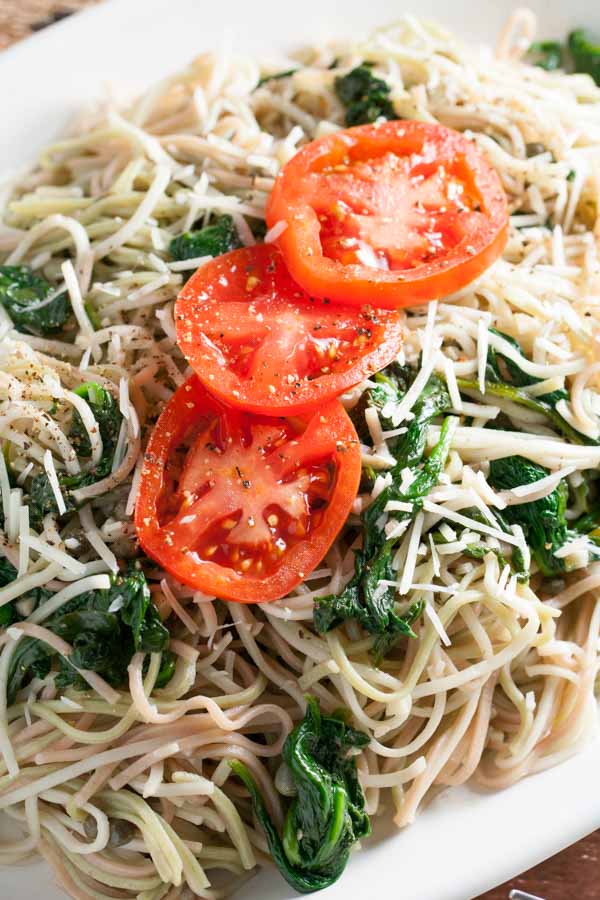 Another reason that the garlic works so well here is that you dissolve anchovy fillets with it when sautéing the garlic. I know you are thinking "Yuck!" "Anchovies?!" Believe me, you and your guests will never know and their saltiness and punch of flavor add just the right balance to the many garlic cloves. They do not make it taste "fishy".  You've probably eaten more anchovies in your culinary journey than you realize. Often they are a part of salad dressings and sauces. Chefs use anchovies as their secret ingredient and guess what – so can you!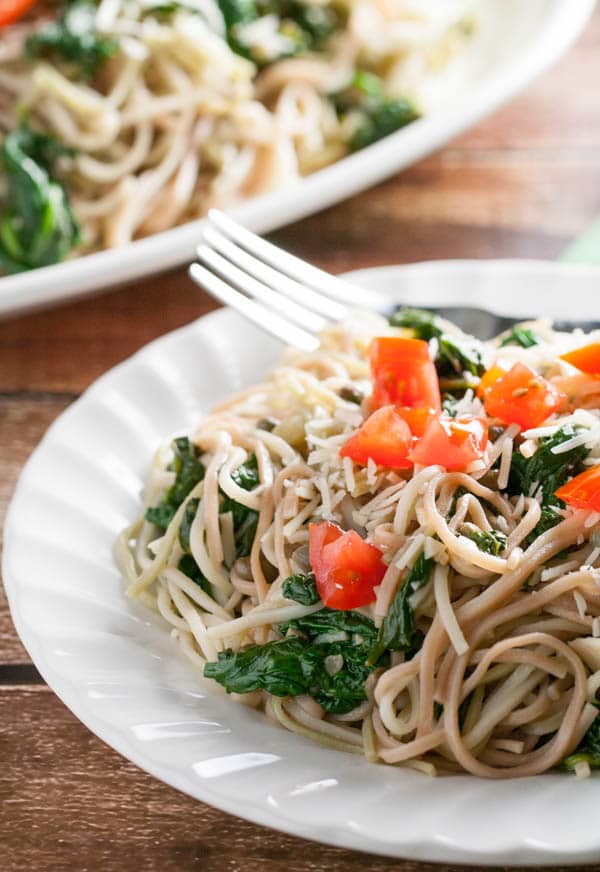 So don't be scared and try this…I promise it will become a favorite!  Note: I didn't mention the "a" word and my family, including the boys, couldn't eat enough of it! And, no, this is not a recipe that leaves your breath or mouth feeling like you just ate a head of garlic. No garlic breath here…just smiling faces!
And for more happenings with Pastabilities, follow us on Instagram @worldofpastabilities, or Facebook @pastashoppeusa!  And remember, The World is Full of Pastabilities®!
Print
Angel Hair Pasta with Garlic and Spinach
Garlic and spinach are the stars in this recipe…supported by anchovies that you won't even know are in there! Delish and simple!
Ingredients
12

–

14

ounces of long pasta (I used our Tri-Color Angel Hair Pasta Nests, but you can sub any long shape)

2

T. olive oil

12

garlic cloves, minced (please use fresh, not jarred)

12

canned anchovy fillets, chopped

1/4 cup

capers

3

bags ready to cook baby spinach leaves (approx

12 oz

per bag)

1/4 cup

fresh Parmesan cheese
Fresh chopped tomatoes or sliced tomatoes, for garnish
Instructions
Heat olive oil in a large saute pan over medium heat. Add garlic and saute until golden brown.
Add anchovies to pan, and using a wooden spoon, mash and stir them until they dissolve into the oil.
Add capers and cook and additional minute.
Add spinach leaves, adding one bag at a time, tossing continuously until it wilts. Add a splash of water or wine if needed. Reduce heat to low and keep warm.
In the meantime, cook pasta according to package directions. Drain and add pasta to spinach mixture.
Serve on plates topped with fresh Parmesan and chopped or sliced tomatoes!
Notes
This pasta would be great served with grilled or sauteed shrimp or other fish – like salmon or orange roughy.
Join our email list for fresh pasta recipes delivered to you every week!
Your information will NEVER be shared or sold to a 3rd party.