Arugula, Spinach, and Mozzarella Pasta Salad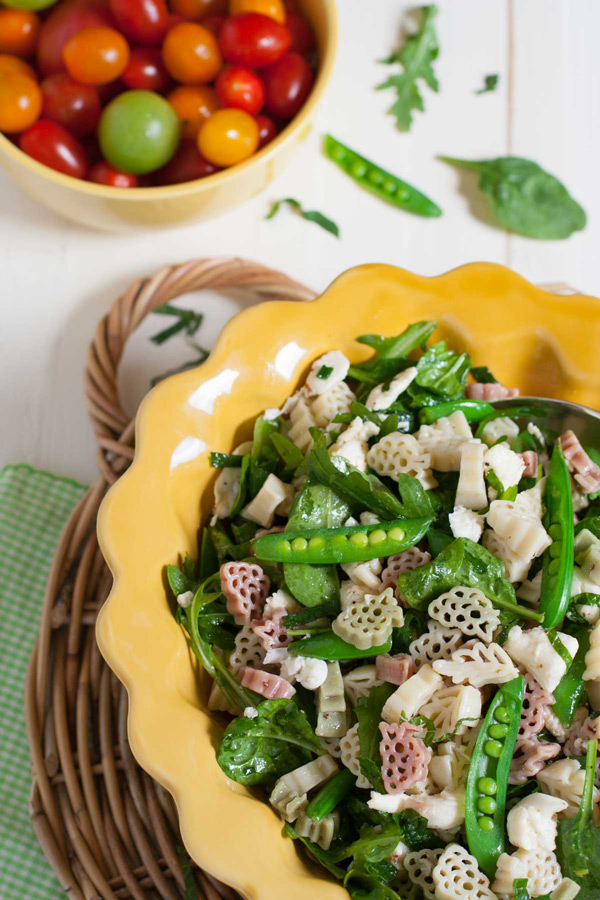 May.  It's almost over…and I've only done one other post!  Sorry!  Have you missed the recipes?  OK, I'll assume yes.  I read in a friend's blog recently that May is the busiest month of the year, even over December!  And yes…I totally agree.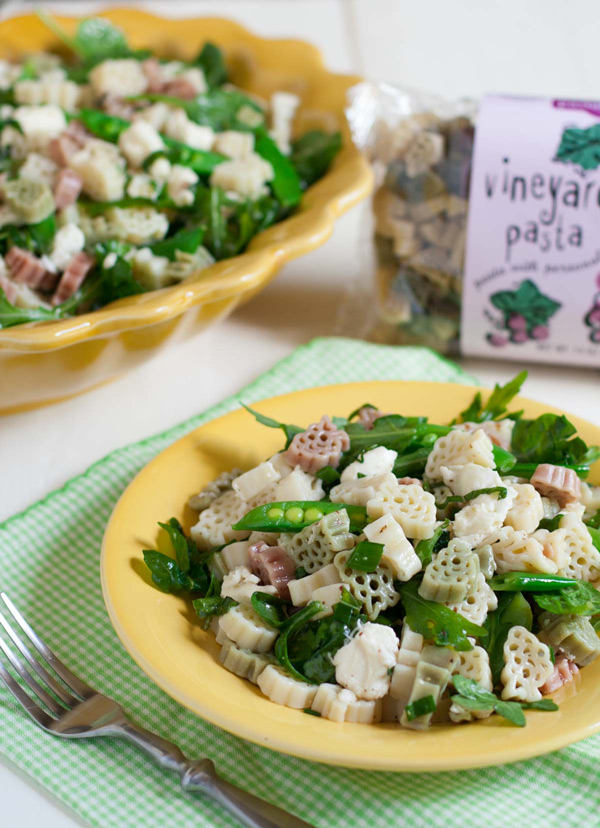 Between Mother's Day (my favorite day in May :)), Confirmations, every team and class "end of the school year" celebration, and the general winding down of most every other organized group or volunteer job, this month has flown by and I'm officially ready for summer.  And summer means bring on the pasta salads!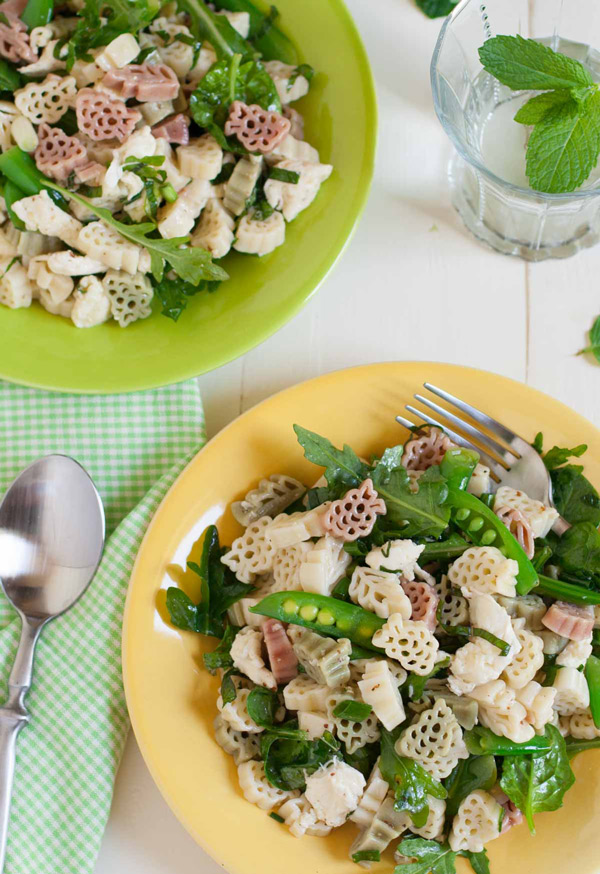 This Arugula, Spinach, and Mozzarella Pasta Salad is a combination of everything summer represents.  Fresh and bright baby greens, fresh mint, fresh mozzarella, and colorful pasta…tossed in a light and delicious vinaigrette…yum.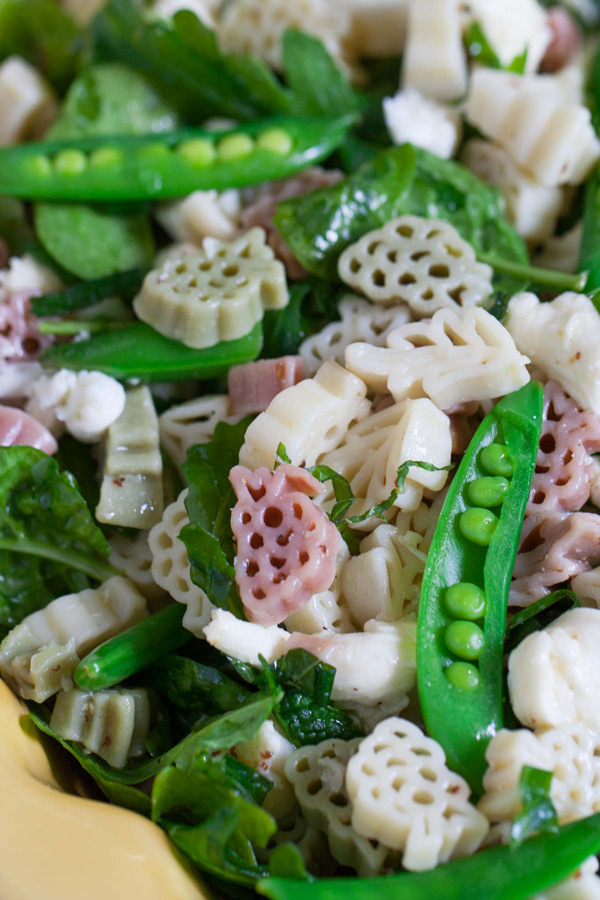 My inspiration came from a dish we shared on our trip to Sonoma last month for my parent's 50th wedding anniversary.  On the drive up through Sonoma Valley, we stopped at a landmark restaurant, The Fremont Diner, a casual, unassuming dive on the side of the road amongst acres of farmland. (see selfie below!)  We'd heard, "You have to go there!" And yum, yum, it did not disappoint.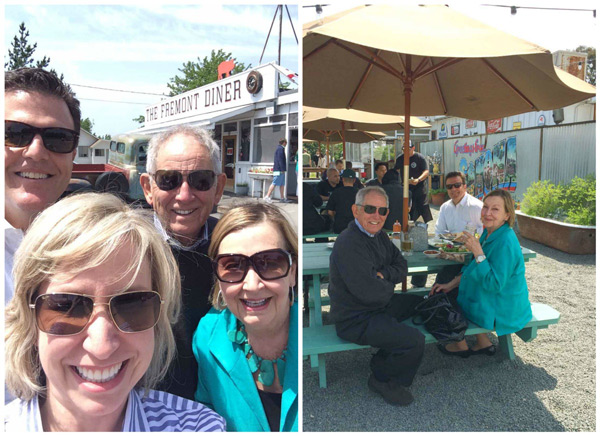 For a place so laid back, I wasn't expecting this quality of food.  But wait, once you remember you are in California, you must make a "foodie" radar adjustment.  It this state, regular looking places are churning out all kinds of current, hip, farm to table food, and making it look effortless.  And the stakes are high.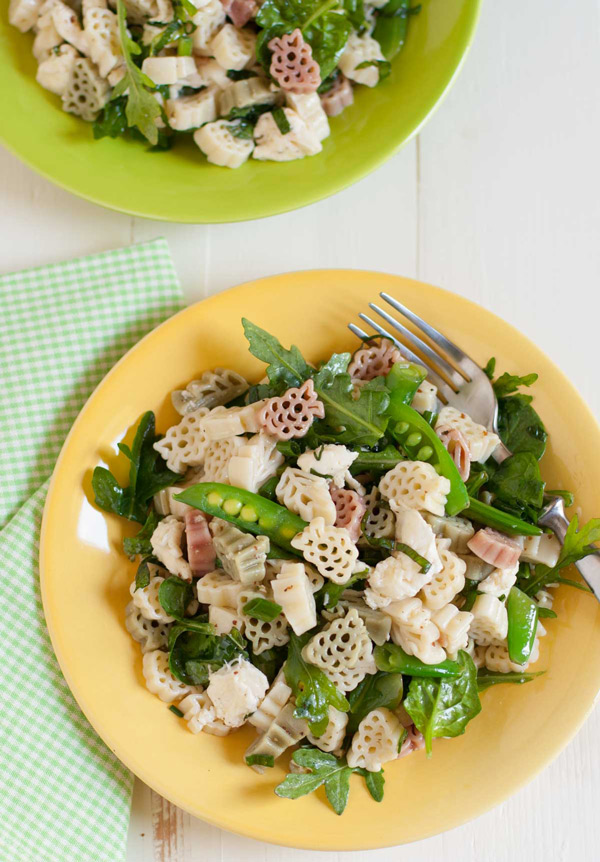 The Diner's dish was an appetizer starring Burrata (a mozzarella with a solid mozzarella outside and a creamy mozzarella center), fresh beautiful micro greens (hello CA!), pea shoots, and sugar snaps.  It was tossed with a tangy vinaigrette and served with buttered grilled fresh bread.  Enjoyed outside on a gravel patio under a colorful picnic table and umbrella on a perfectly sunny, but not too hot, typical California day.  What could be better than that?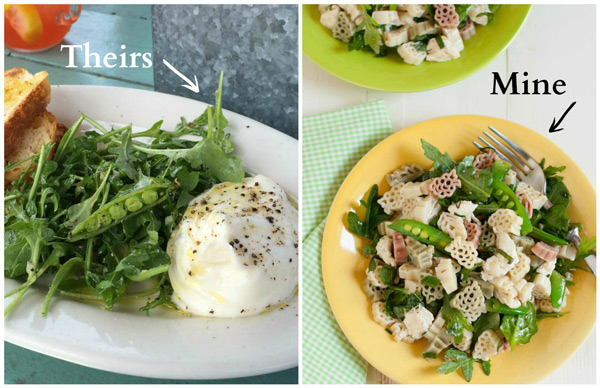 Back in Nashville, I couldn't get this salad off my mind.  I knew it would translate into one of my go-to pasta salads for this season.  And we all loved it!  I combined ingredients that are readily available here at our grocery stores.  It goes like this:  baby arugula and baby spinach, fresh mint, green onions, blanched sugar snaps, and Buffalo mozzarella torn into small bites.  Vineyard Pasta, grape clusters and leaves, was the perfect choice for the pasta shape and also my "nod" to the great wine country.  I created a white wine lemon vinaigrette and just tossed it all together…simple, fresh, and beautiful!
Enjoy summer entertaining and do some California Dreamin'!
Print
Arugula, Spinach, and Mozzarella Pasta Salad
Fresh as a sunny summer day! Light and delicious salad with a tangy vinaigrette mixes flavors that will delight your tastebuds!
Ingredients
14 oz

. bag of Vineyard Pasta (can substitute any short shape)

12 oz

. Bufffalo mozzarella, torn into bite size pieces

4 oz

. baby arugula

4 oz

. baby spinach, any thick stems removed

8 oz

. sugar snaps, blanched and sliced diagonally

4

scallions, sliced

2 oz

. fresh mint leaves, julienned
Vinaigrette

6

T. white wine vinegar

2

T. fresh lemon juice

4 oz

(

8

Tbs.) extra virgin olive oil

2

cloves garlic, minced

2 tsp

. dijon mustard

2 tsp

. sugar

1 tsp

. salt

1/2 tsp

. black pepper
Instructions
Cook pasta according to package directions, drain, rinse with cold water, and toss lightly with olive oil.
Blanch sugar snaps in boiling water for 2 minutes, drain, and place in a bowl full of ice water, to stop cooking and enhance color! Take about 1/4 of the sugar snaps and carefully expose the peas with a knife. Slice the balance diagonally. The vinaigrette gets trapped in the crevices and tastes great!
Make vinaigrette by adding all ingredients in a glass jar with lid and shake for one minute. Or combine all ingredients except oil in a food processor. Turn on and add oil slowly until dressing is emulsified. Just takes a few minutes. Taste and adjust salt and pepper to taste. NOTE: You will not use all the dressing! I use about 3/4 of it for this recipe…save the rest for another salad!
In a large bowl, combine greens, mint, snaps, and mozzarella. Add dressing and gently toss until thoroughly mixed.
Serve immediately and enjoy!
Notes
If making a few hours ahead, keep in fridge. Because our pasta is porous you may need to add additional dressing! The pasta absorbs the vinaigrette.
Join our email list for fresh pasta recipes delivered to you every week!
Your information will NEVER be shared or sold to a 3rd party.