Let our Caribbean Pasta Salad tantalize your taste buds and fulfill your beach side, poolside craving!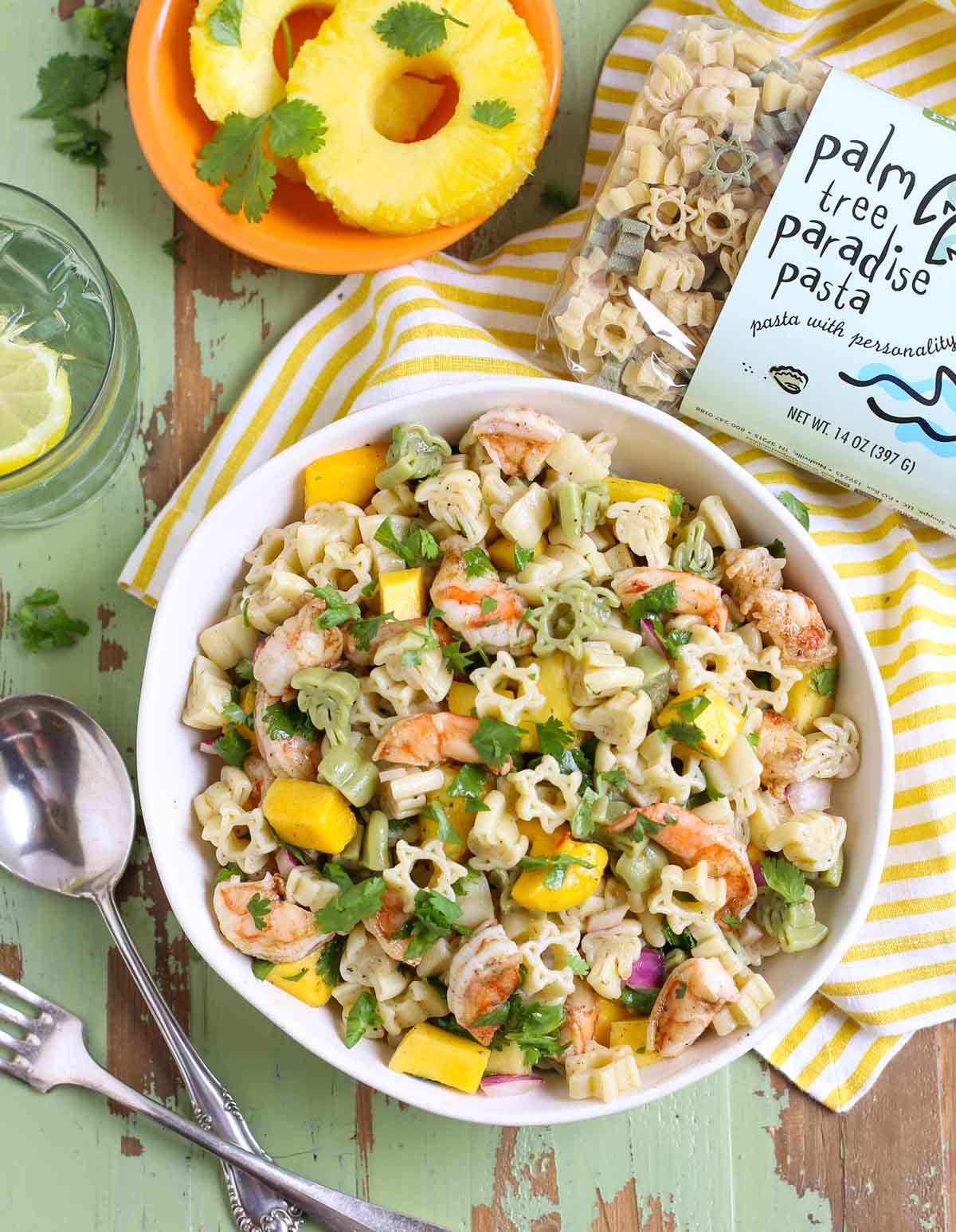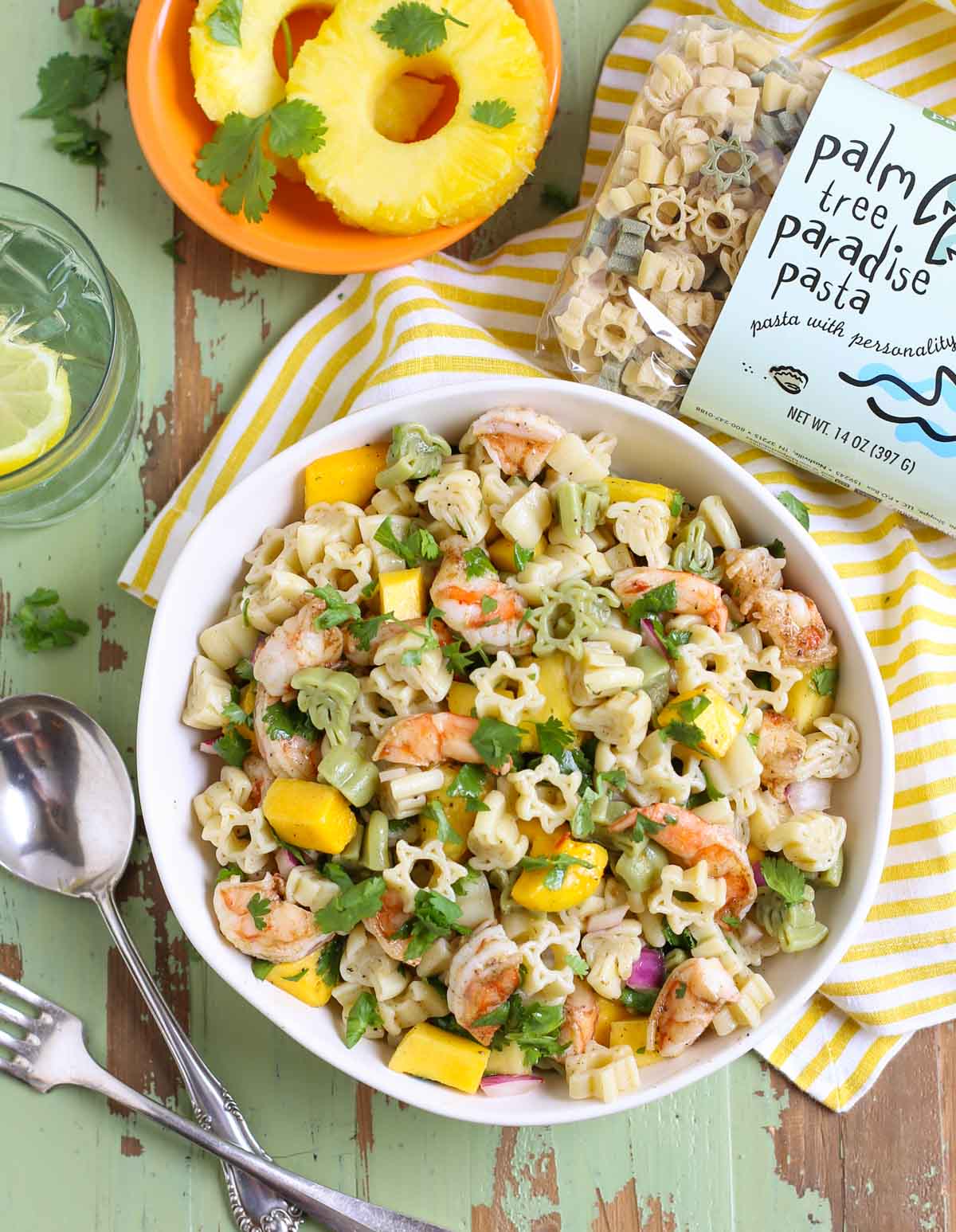 I'm catching myself daydreaming of soft white sand, bright blue water, sunny skies and palm trees. These last few months with zero vacation and a lot of "home" time has definitely fueled my longing and imagination. Do these exotic places still exist? Well, there is one place you can imagine anything AND create a culinary experience that can transport you, even if for a short time: your KITCHEN!
It was time for me to get some Caribbean style ingredients going and create a little spicy, zesty fun. I knew I had the perfect pasta shape for this stay at home party, our fun Palm Tree Pasta. With happy sunshines and palm trees, I had a great starting place.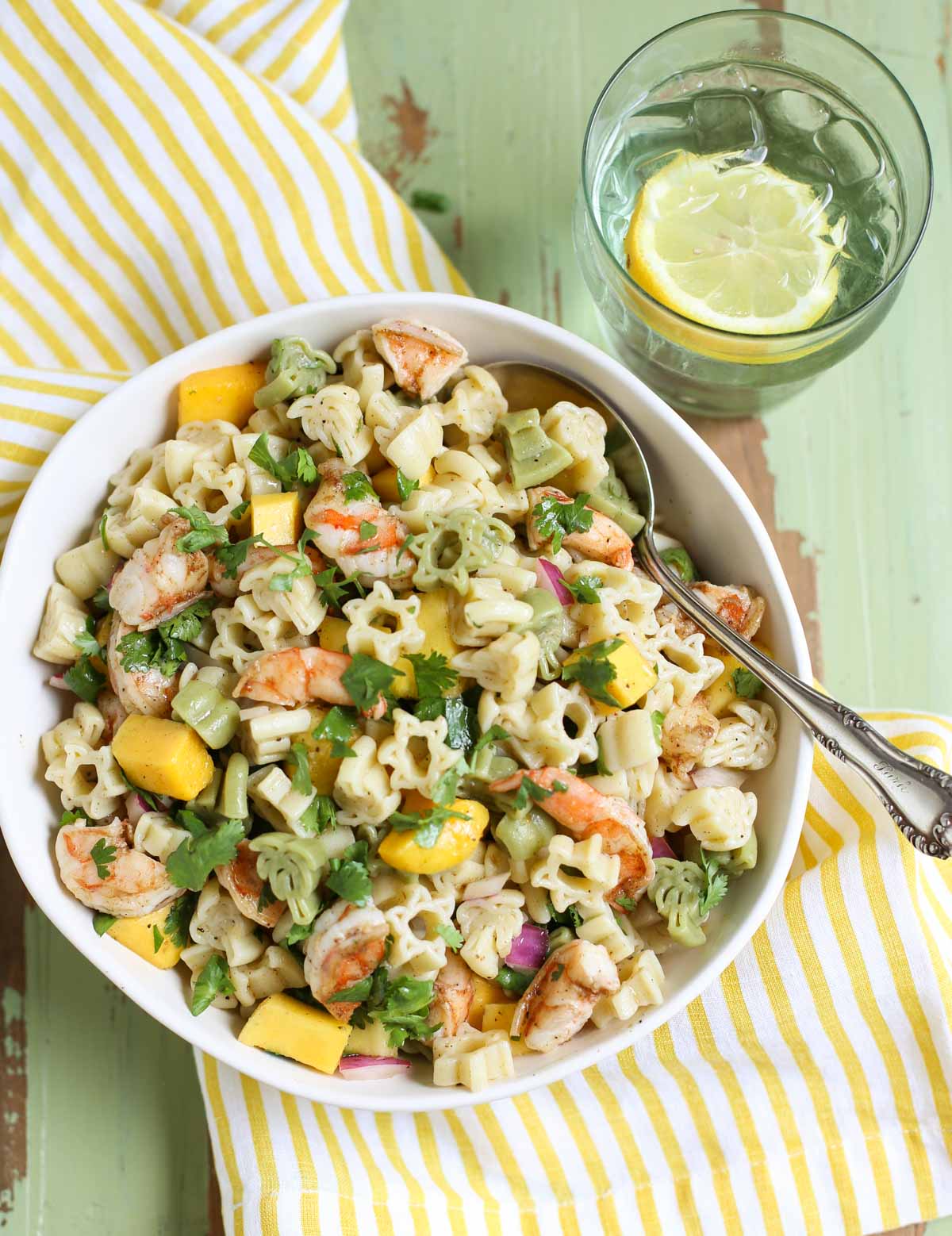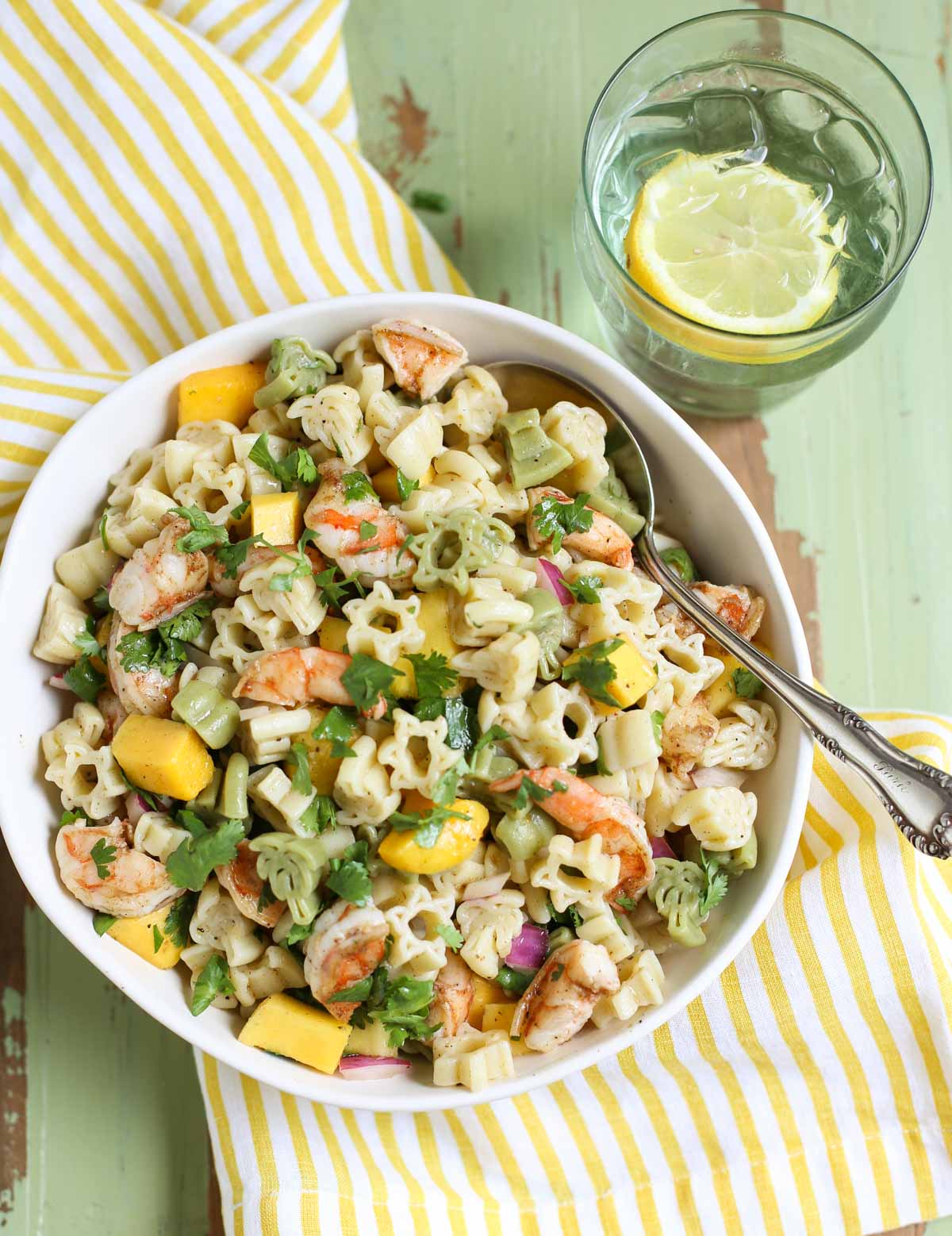 For the seafood, I had to include my favorite – shrimp…but I also wanted to add some bay scallops or crabmeat. Well, as we've seen with this pandemic and the lack of supply, bay scallops were not available. And crabmeat, well I bought it, but forgot it! Covid brain anyone? (See future crab post 😊)
You need to find a jerk seasoning to sprinkle on your shrimp before sautéing. I shopped at Kroger and found one that I love…made by Caribbean Rhythms. I love the spicy flavor with a little bit of sweetness. In fact, I plan to add this spice blend to my everyday cooking, on Cod or other white fish, or veggies. It's a new addition to my spice rack and I'm excited to experiment!
I needed some base flavor and zip, so of course, red onion and fresh ginger made the list. For that fresh herby punch – lots of cilantro. And like most Caribbean dishes, we needed to include some fresh sweet fruit, so mango and pineapple seemed most appropriate.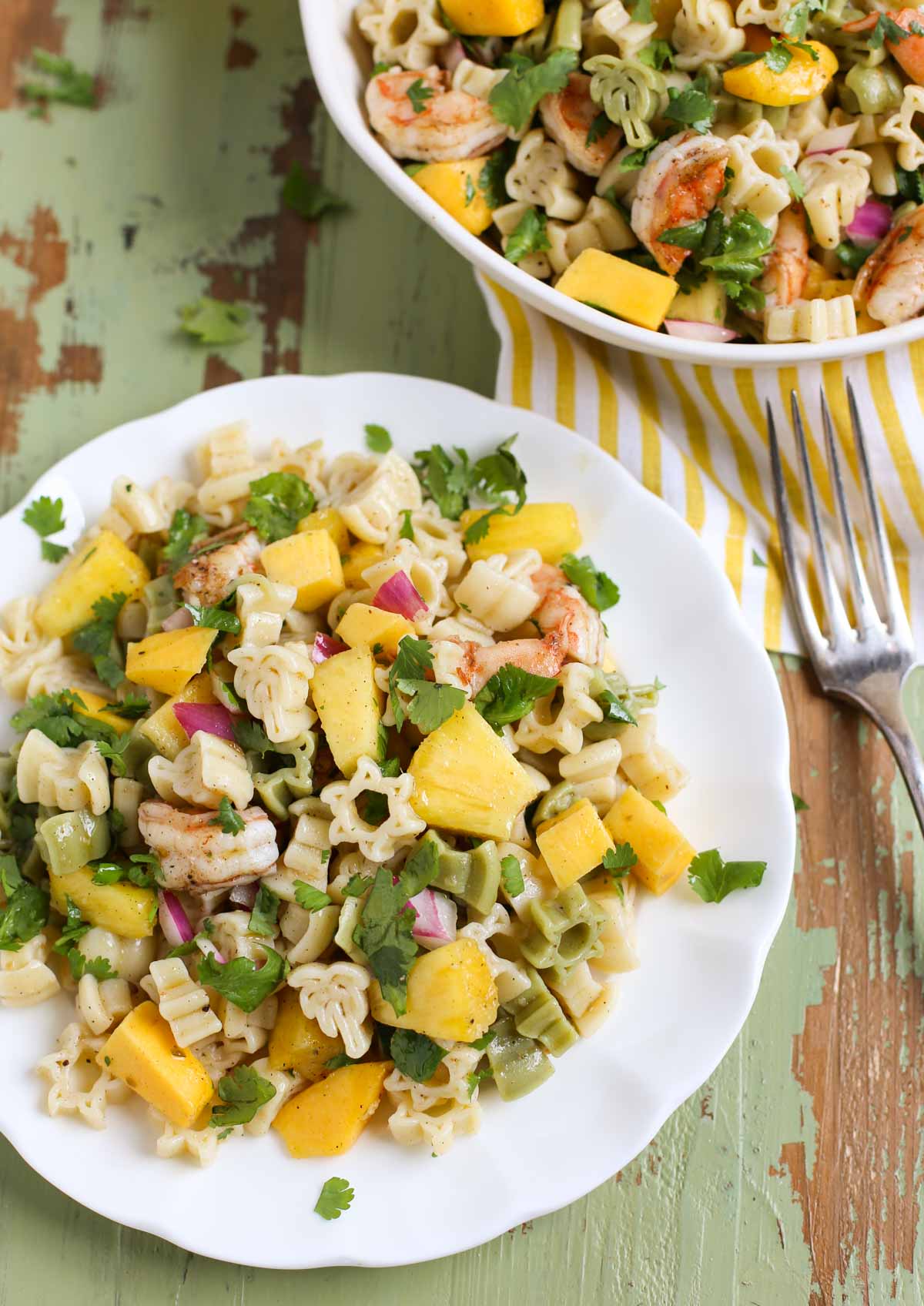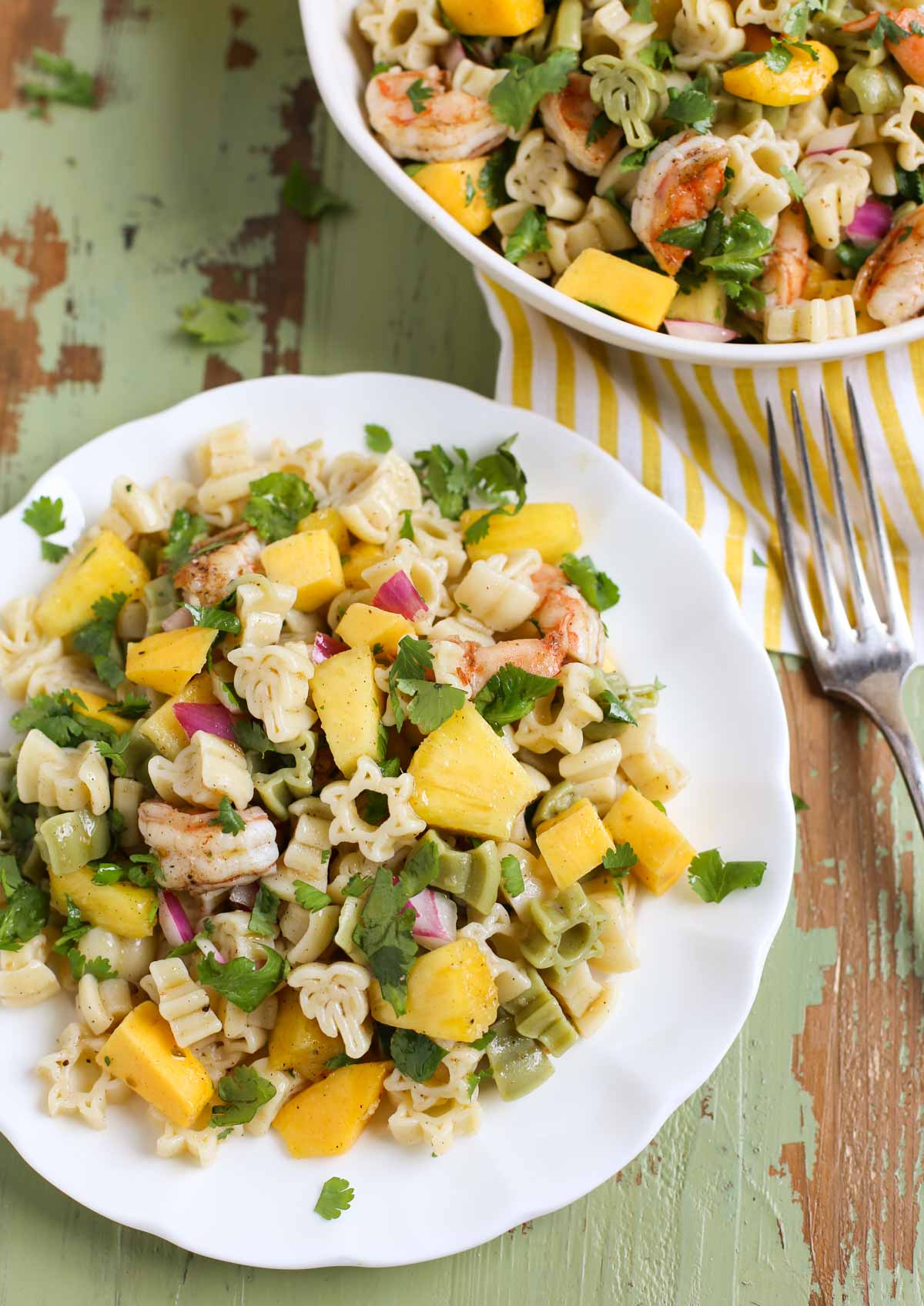 When you hear mango, do you flinch just a little? I mean that very confusing, hard, slippery fruit that we only eat on occasion…seems like a battle every time, that you lose?! But not anymore! Most stores sell pre-diced mango, and let's just leave it at that….done. Same with pineapple. It's time to simplify friends.
And for a tangy, sweet, yet slightly spicy dressing, I started with a basic vinaigrette of olive oil and white wine vinegar. To add the depth and spice, I mixed in a few tablespoons of a jerk marinade. Again, I bought this pre-made in a bottle at Kroger, made by Walkerswood. This adds the saltiness, the spiciness and the Caribbean flair that you need to bring this salad together. And, bonus, you now have some marinade in your fridge for some chicken thighs, pork tenderloin, or whatever you decide to enjoy later in the week. As I experienced, once you taste that sweet, tangy burn in your mouth, you want it again…like this week. 😊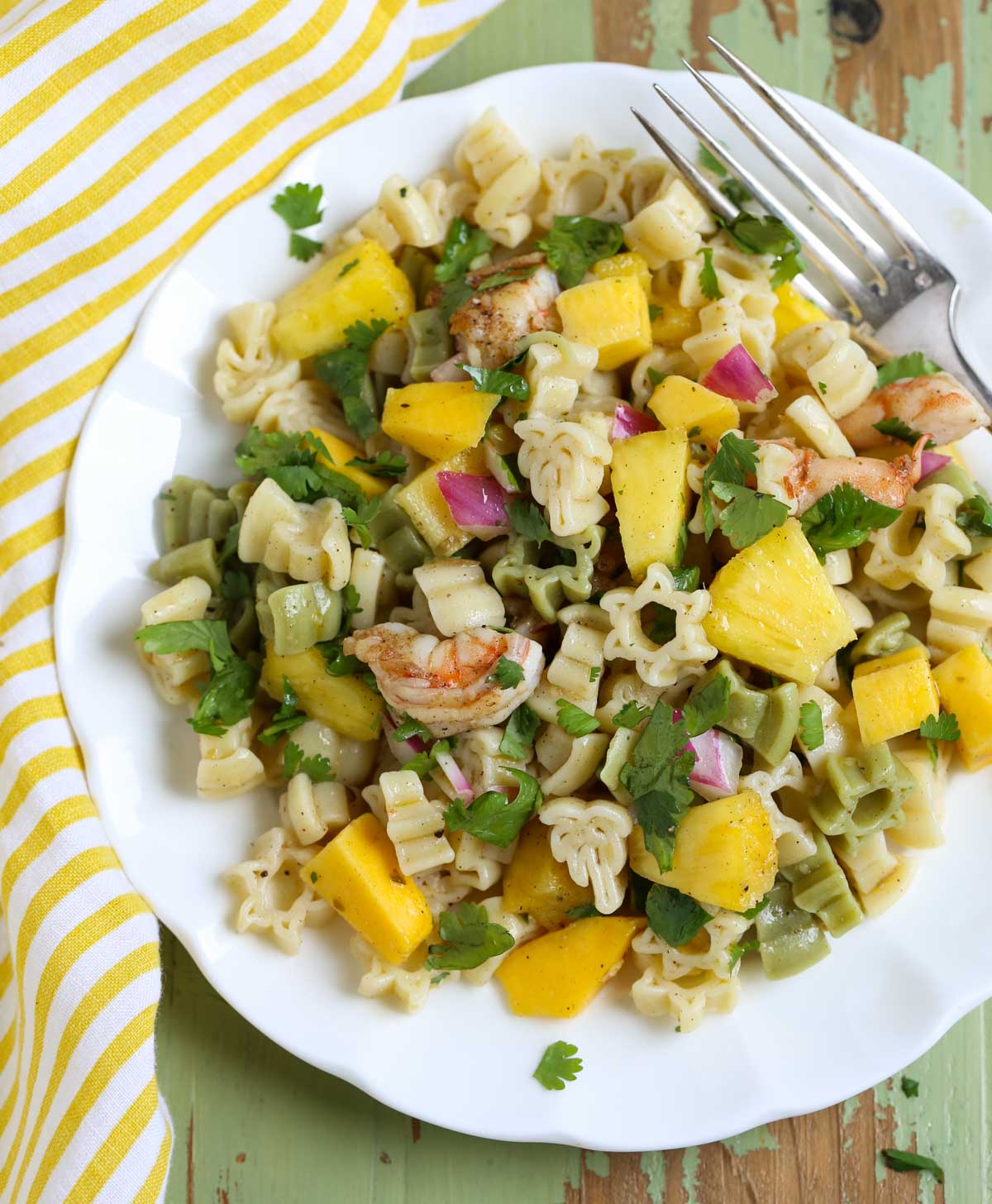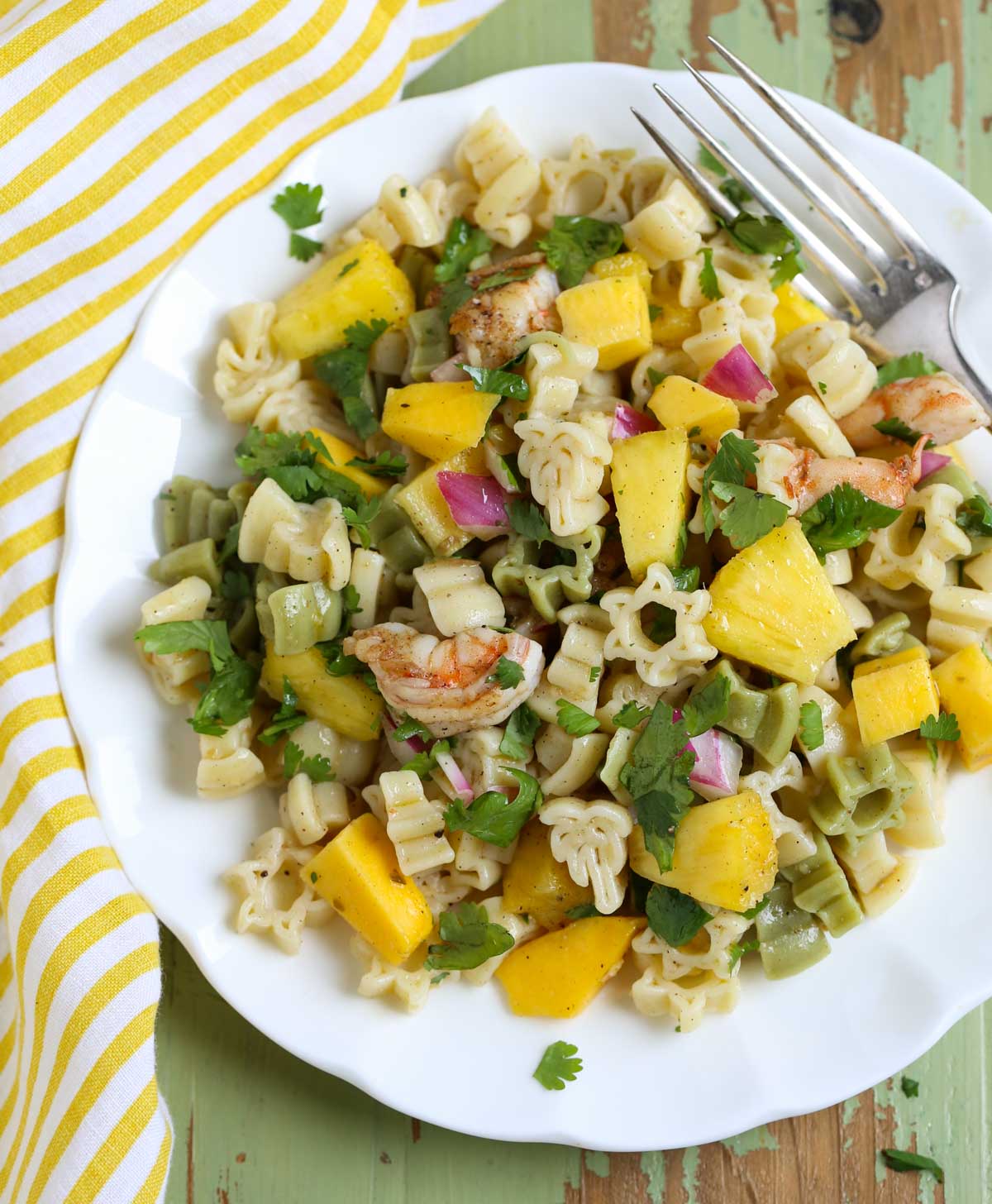 Enjoy friends! May you dream of a sunny, relaxing, sunny tomorrow!
Follow Along! You can follow me on Instagram, Facebook, and Pinterest for the latest recipes, product intros, and company news!
And for some other of my favorite pasta salads, check out my Fresh & Light Veggie Pasta Salad, It's Pasta Slaw, Y'all!, and Tzatziki Pasta Salad. There's plenty more too, just look around!
Print
Caribbean Pasta Salad
Dreaming of the beach? Then this is for you!  Sweet, spicy goodness will satisfy your craving…
Ingredients
14 oz bag of Palm Tree Pasta (or any other short shape)
3 T. olive oil, divided
1–1/2 pounds shrimp, peeled and deveined
Jerk seasoning (at least 4-6 Tablespoons, I bought Caribbean Rhythms)
1 cup mango, diced
1 cup pineapple, diced
½ cup cilantro, chopped
¼ cup red onion, chopped
2 teaspoons grated or minced ginger
Salt and pepper to taste
Dressing:
1/3 cup extra virgin olive oil
4 T. white wine vinegar
3 t. jerk marinade (I bought the brand Walkerswood)
Instructions
Cook pasta according to package directions.  Drain and rinse with cold water.  Toss with 2 T. oil and set aside.
Sprinkle shrimp with jerk seasoning.  Place in a medium skillet over med-high heat with 1 T. olive oil, and sauté for 2-3 minutes per side, until pink and beginning to curl into a "C".  Remove, cut into halves or thirds and set aside.  You want these to be bite size!
For dressing, put olive oil, vinegar, and jerk marinade in a jar or small bowl.  Shake or whisk.
In a large bowl, combine pasta, shrimp, mango, pineapple, cilantro, onion, ginger, and dressing.  Toss gently and seasoning with salt and pepper.
Serve immediately and top with additional fresh cilantro!
Join our email list for fresh pasta recipes delivered to you every week!
Your information will NEVER be shared or sold to a 3rd party.