Cheesy Beef & Noodle Casserole (Lightened Up!)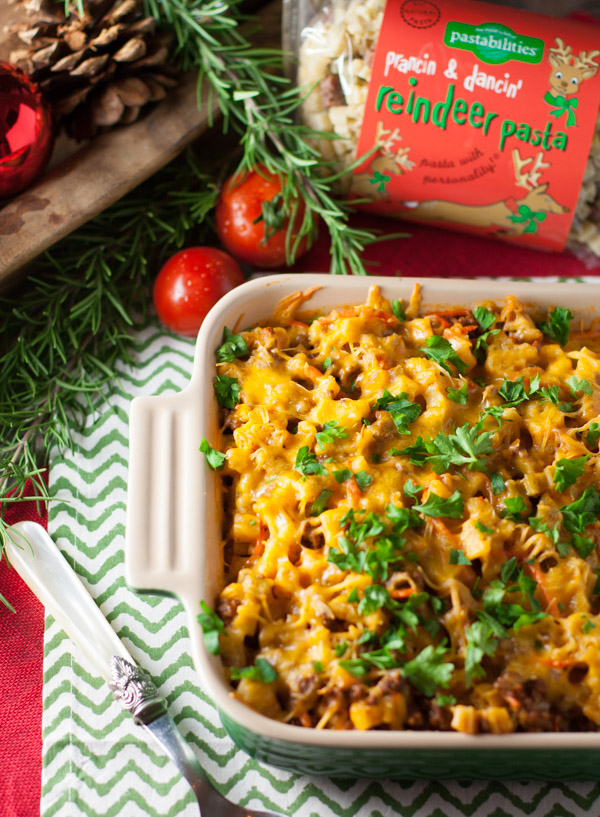 Another week of gray skies and cold weather…burrrr!  We just want to see a little sunshine please – Santa!  Might be an unusual request, but worth asking.  These shorter days of daylight also seem to throwing off my eating and sleeping patterns.  I want dinner at 4:45 and am looking at my clock at 8:00 thinking, "Is it bedtime yet?"  You too?  🙂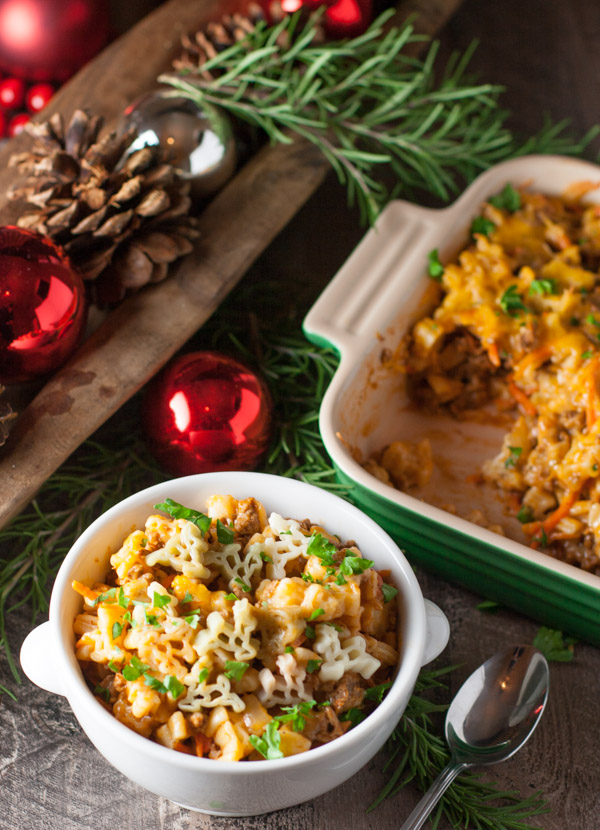 Dinners in the dark days of winter can be cozy though.  It's the perfect time for warm comfort food – lots of casseroles and baked things.  Lots of melting cheese.  Lots of chili.  Lots of warm cakes and pies.   Cheesy Beef and Noodle Casserole (Lightened Up!) is one of these wintertime-must-makes.  And our cute Reindeer Noodles make it festive and fun to serve the kids during this holiday season.  You can substitute any short pasta shape, or even egg noodles.  But we like sticking to the holiday theme, like our Christmas Trees that we used in our Quick Holiday Chicken Noodle Soup.  We have at least 6 holiday pasta shapes and I'm determined to feature all of them at some point!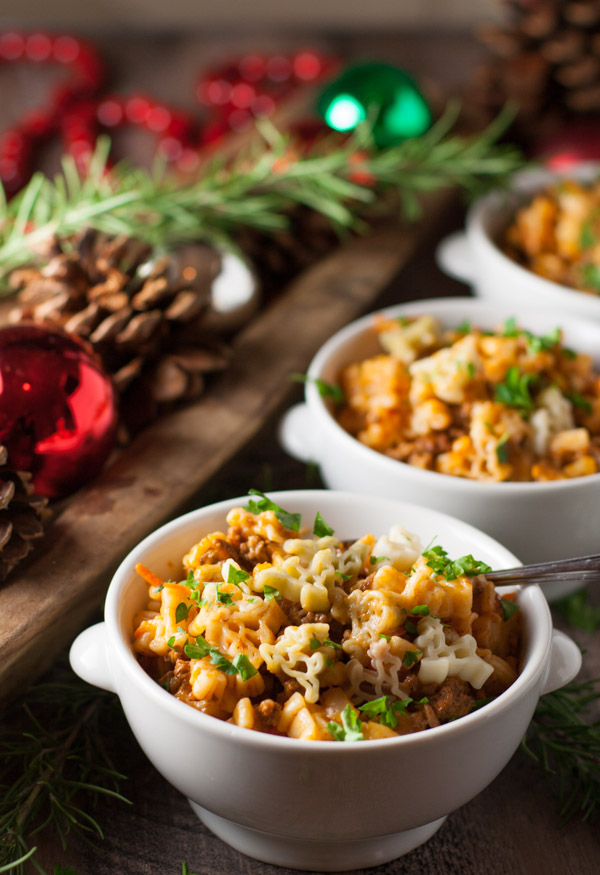 Making comfort food on the "lighter side" is always something I love to test and play around with and most of the time there is no tradeoff on taste…and I certainly don't miss the calories!  This time of year calls for some calorie watching, or calorie tradeoffs.  We must save some room for holiday party food, festive drinks, and rich desserts!
With sundown happening so early, I tend to love recipes that are simple too.  One dish meals that I can serve with a quick salad are perfect.  This Cheesy Beef & Noodle Casserole (Lightened Up!) will become one of your kids' favorites.  And cooking with some holiday flair is fun too.  Have a great time entertaining and being entertained this season!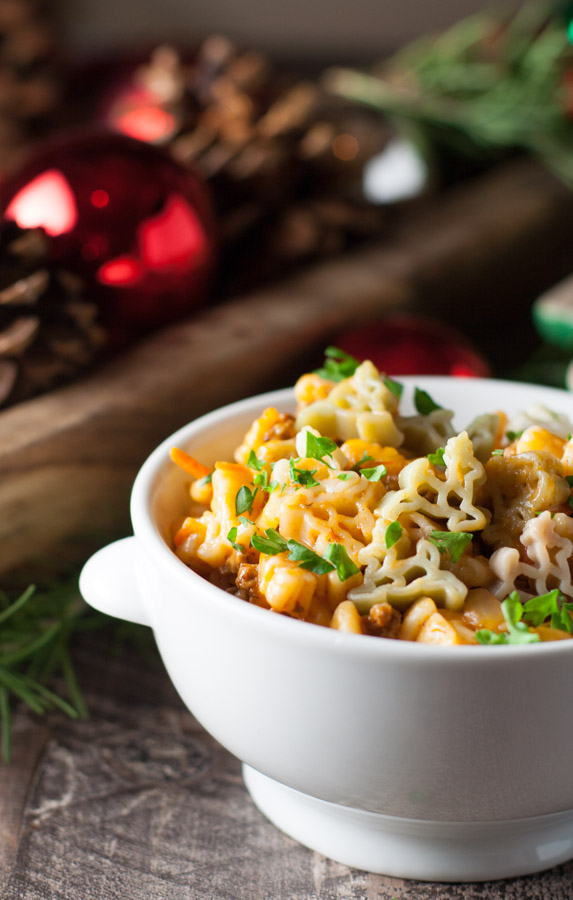 If you are interested in browsing our holiday pasta selection, visit The Pasta Shoppe.  And if you have any fundraising needs in 2015, please check out our Fun Pasta Fundraising program!
Print
Cheesy Beef & Noodle Casserole (Lightened Up!)
Cozy comfort casserole lightened up! Enjoy the holiday season!
Ingredients
1/2

bag (7 or 8 ounces) of Reindeer Pasta (or substitute any short shape, or egg noodles!)

1 cup

chopped onion

1 cup

shredded carrots (you can buy onions and carrots pre-chopped or shredded!)

2

cloves garlic, minced

1

lb. lean ground beef

1 cup

tomato sauce

1 cup

skim or fat-free milk

2 tablespoons

flour (all purpose)

1/4

t. ground nutmeg

1 1/2

–

2

cups 2% reduced fat shredded sharp cheddar cheese

1 1/2

t. salt

1/2

t. black pepper
Chopped parsley for garnish
Instructions
Cook pasta according to package directions. Drain and lightly toss with 1 T. olive oil.
In a large pan coated with cooking spray, sauté carrots and onion over medium high heat for approx. 4-5 minutes. Add garlic and cook for another minute.
Add ground beef and cook until browned and crumbled, for approximately 5-7 minutes.
Add tomato sauce, 1 t. salt and pepper. Stir until most of the liquid evaporates, approx. 2 minutes.
Add pasta to beef mixture and gently combine. Place mixture in a 9 x 9, or 11 x 7 baking dish that has been coated with cooking spray.
In a medium sauce an, whisk milk, flour, nutmeg, and 1/2 t. salt until blended. Cook over medium heat, stirring constantly, for approx. 2 minutes until thickened. Add 1 cup of cheese and stir until melted.
Pour cheese mixture over pasta and toss gently to combine.
Top dish with 1/2-1 cup of cheese.
Bake at 350 degrees for 20 minutes or until lightly browned. Let stand 5 minutes before serving!
Garnish with fresh parsley and enjoy!
Notes
Do not overbake, as you will lose some of the creamy texture!
For a spicier taste, serve Tabasco on the side!
Join our email list for fresh pasta recipes delivered to you every week!
Your information will NEVER be shared or sold to a 3rd party.