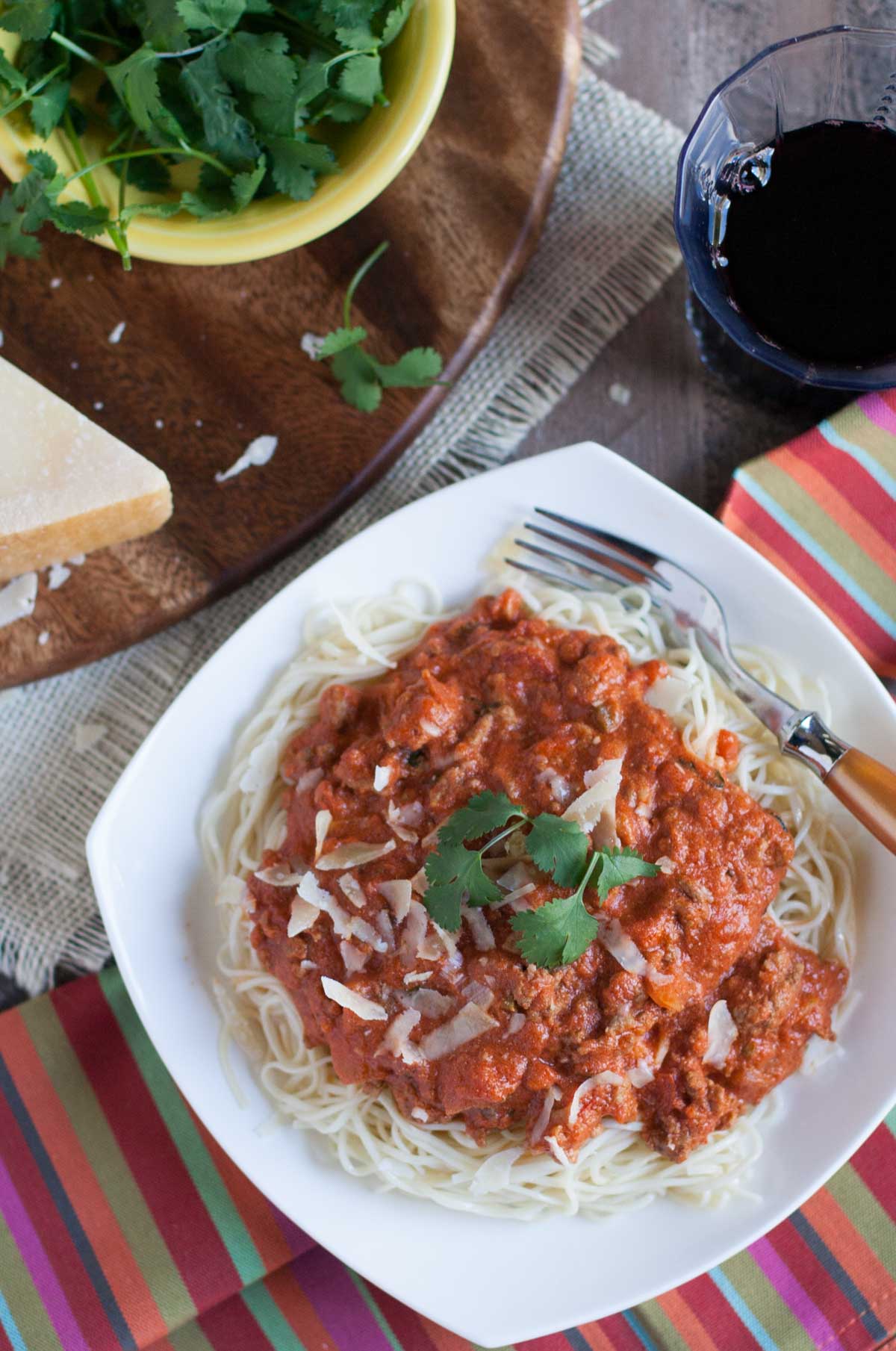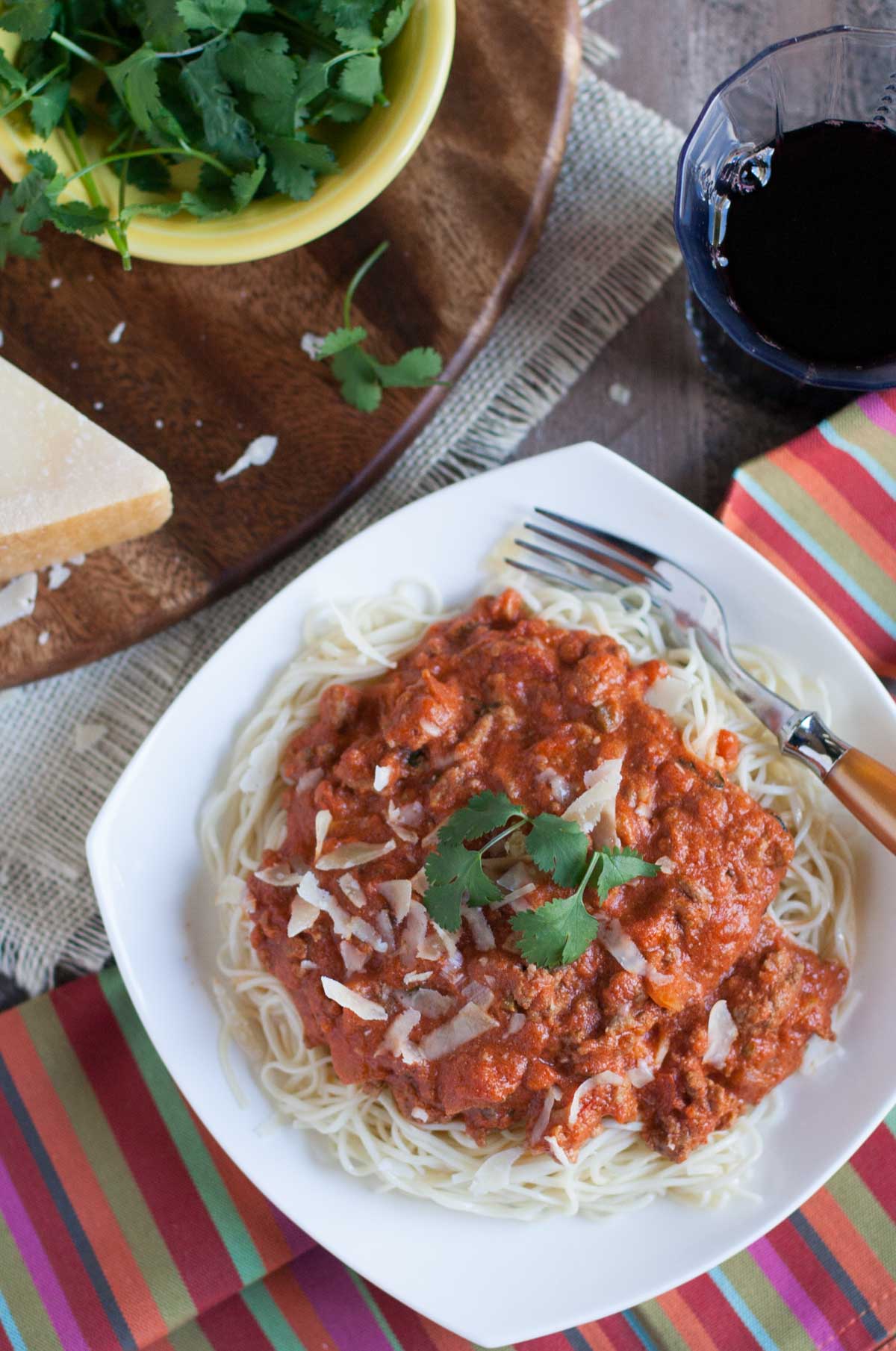 Yes – it's Fusion Time.  I love to experience flavor combinations and styles from all kinds of regions and cuisines.  Mashed potatoes the way Grandma used to make them are still delicious, yet a bit boring.  (Sorry Momo!)  People have come to expect more exotic food combos like wasabi mashed potatoes or kimchi quesadillas.  We want to surprise our taste buds!  And Creamy Taco Bolognese does not disappoint.
I must admit though, that some restaurants seem to take it to the extreme.  Really?  This – that – this, AND that??   Have you experienced reading the description to a dish on the menu and just mentally giving up?  I go out to "escape" and have fun…not be challenged by loquaciousness.  Fusion cooking gone mad.  Either the ingredients are unrecognizable and unpronounceable, or the list is just too darn long to care.  "Hey Chef – you had me at ingredient #4!"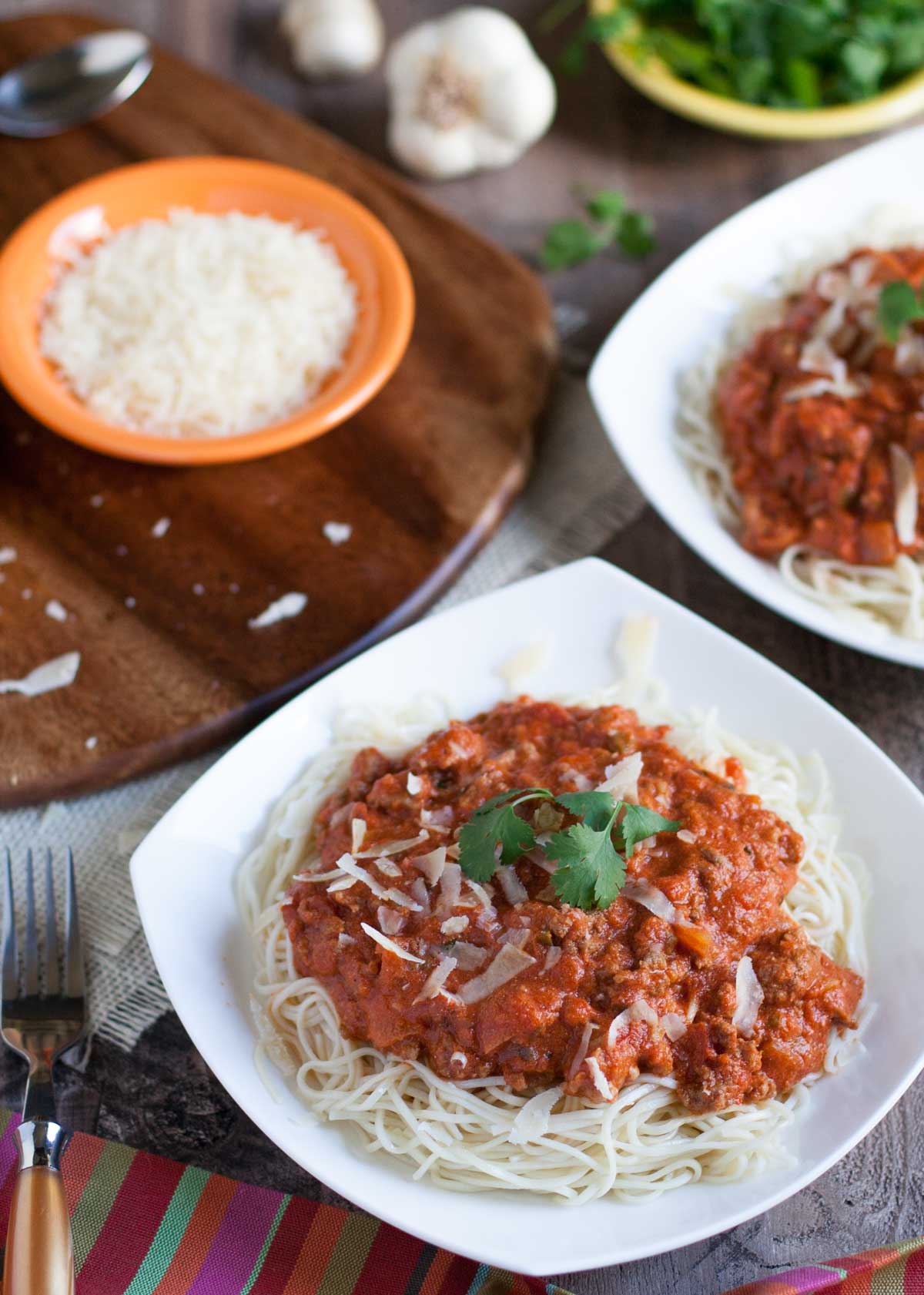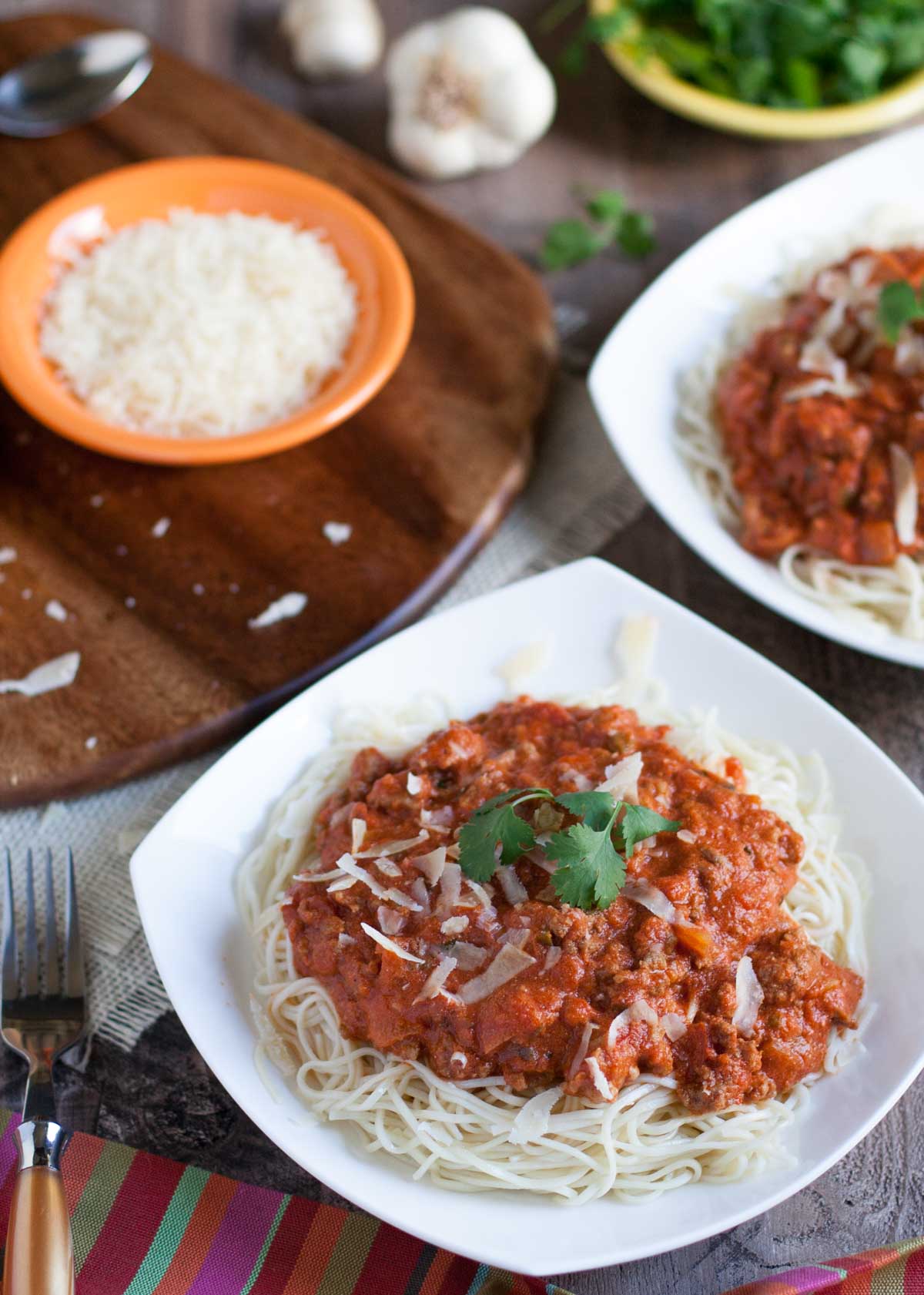 But, I do enjoy trying new combinations, especially when there is Mexican influence involved.  OK, you have to understand that I've just come off of a hockey tournament weekend.  And what does that mean?  Well, if the game times fall around the dinner hour, we usually head for a quick Mexican meal immediately afterward.  (I LOVE that about hockey).  And if we go to a bar and grill, what do I gravitate toward?  Nachos, of course.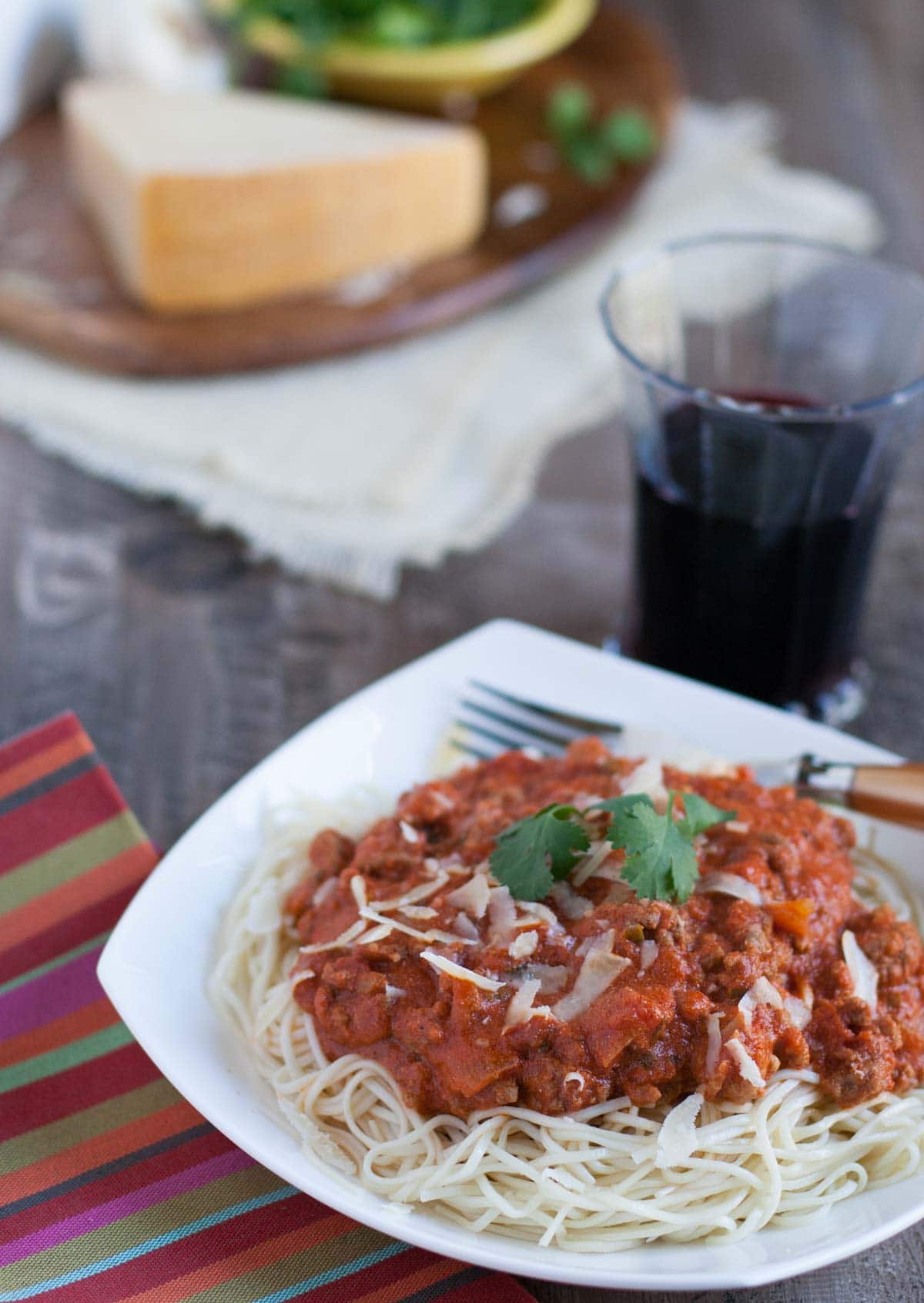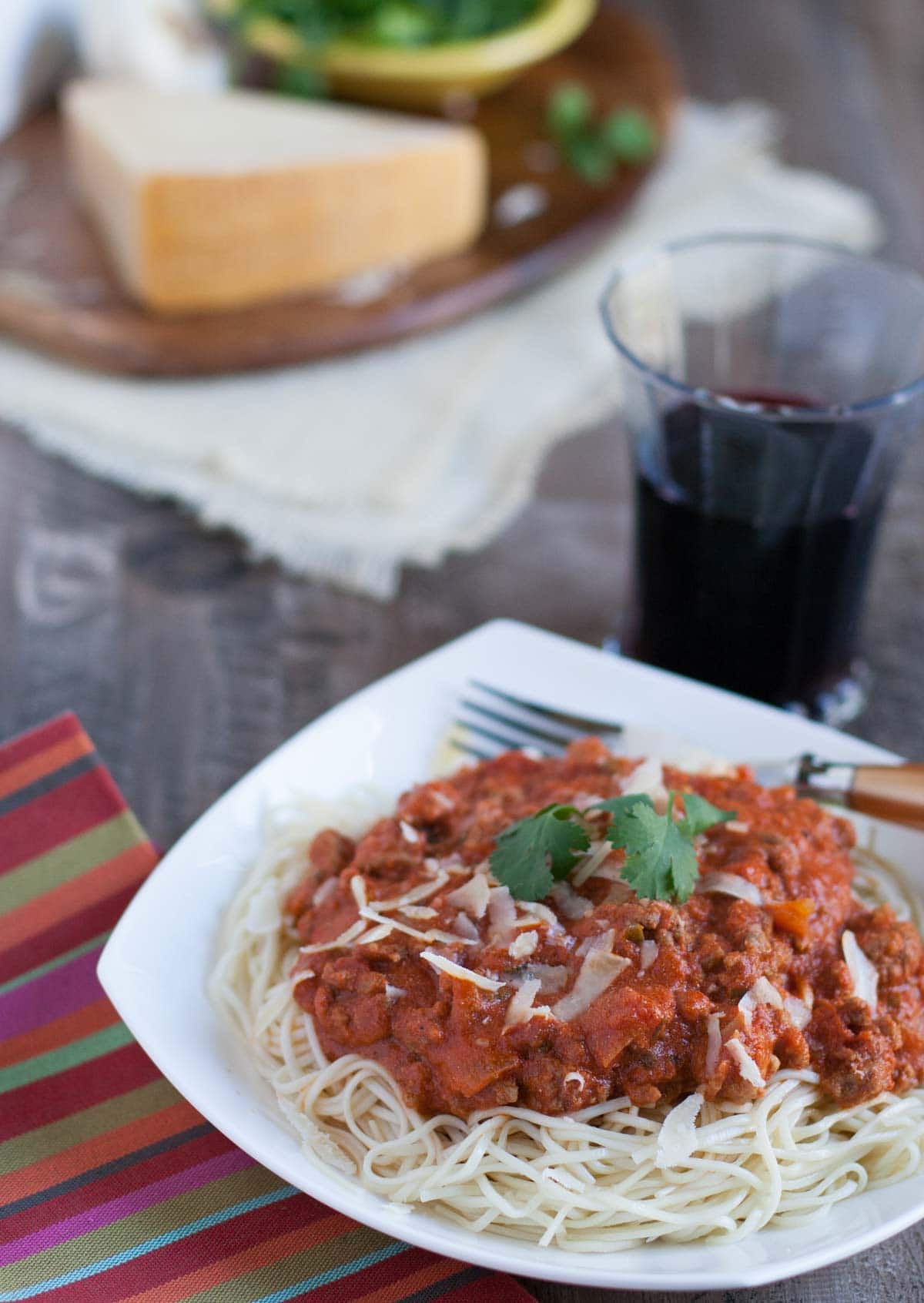 So Creamy Taco Bolognese was inspired by all of the above…it is the perfect hockey weekend, crowd pleasin' recipe.  We had company over for dinner and EVERYONE loved this pasta.  It takes the best of a flavorful Bolognese and adds just enough twist to make your taste buds jump up and down.  It's completely different from our Taco Pasta Salad, which is another of my favorites. I served this with one of our more traditional pasta shapes, Classic Angel Hair (PS: new product coming soon!), and kept the presentation pretty simple as you'd expect from an Italian meal.
What were the twists?  Taco seasoning, fresh chopped jalapenos, hot sauce and fresh cilantro.  I also used a combo of ground pork and beef, which adds some nice richness to the sauce.  Sour cream finishes the dish and creates the creamy texture and balances out the spicy undertones.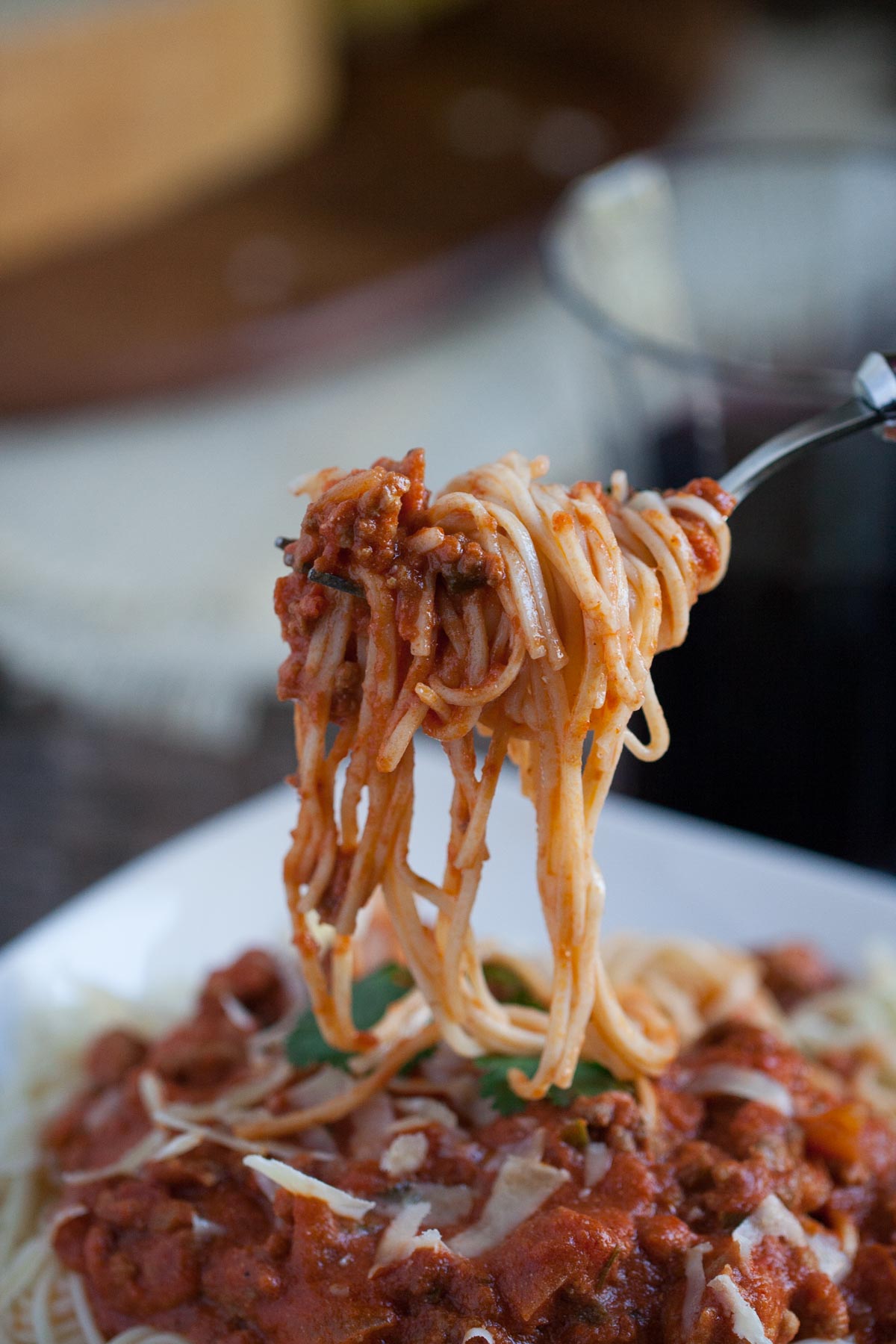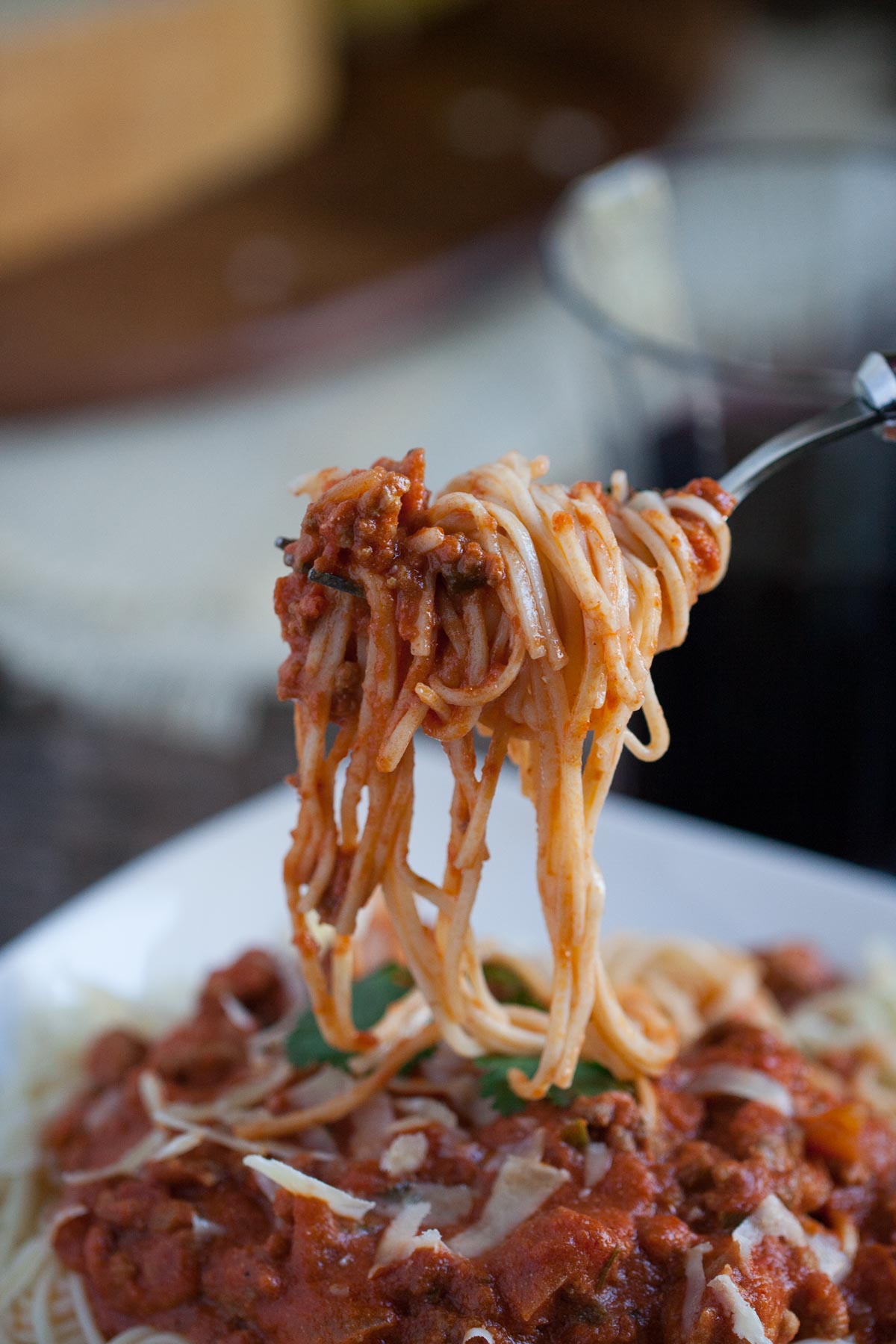 I can tell you that Creamy Taco Bolognese will be in a regular rotation in our house.  You can serve it with long pasta strands or some short shapes as well.  Note that this recipe makes a lot – it is really a double batch.  I love to have plenty of sauce for my family or guests, and always like to freeze the leftovers for another night.  It's efficient to do it this way, and a busy working Mom needs to take advantage of the time savings!  Enjoy!
Creamy Taco Bolognese
Traditional Bolognese goes Mexican! Fab flavors of fresh jalapenos, fresh cilantro, taco seasoning, and sour cream wow your taste buds…it will be a family favorite!
Ingredients
12

–

16

ounces of Classic Angel Hair Pasta (or substitute any long or short shape)

4

jalapenos, finely chopped

1

large onion, diced

4

T. olive oil

6

cloves garlic, minced

1

pound ground pork

1

pound ground beef

2

14 oz. cans of crushed tomatoes

1/2 cup

fresh cilantro, chopped, for dish and garnish

1

T. hot sauce, or more (use your favorite kind to taste! You can always add more.)

2

packets of Taco Seasoning

2

t. salt

8 oz

. sour cream (or light sour cream)
Parmesan or Cotija cheese for garnish
Instructions
Add 2 T. olive oil to large non stick pan and bring to medium heat.
Add jalapenos and onion and cook for approx. 5-6 minutes until onions become translucent. Add garlic and cook another minute.
Add pork and beef, break up while meat browns, about 6-8 minutes.
Take pan from stove and tilt over sink to drain excess fat from pan. You can ask for some help here!
Place back on stove-top and add tomatoes and stir. Bring to a boil and then reduce to a simmer.
Add hot sauce, fresh cilantro, taco seasoning, and salt and stir thoroughly.
Simmer for 20 minutes and allow flavors to combine.
Remove sauce from heat and stir in sour cream.
Cook pasta according to package directions and drain.
Place desired amount of pasta in bowls, top with sauce and garnish with fresh cilantro and Parmesan or Cotija cheese.
Freeze additional leftover sauce for another night's dinner!
Join our email list for fresh pasta recipes delivered to you every week!
Your information will NEVER be shared or sold to a 3rd party.