Creamy Taco Bolognese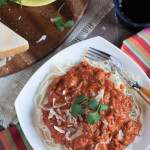 Ingredients
12

–

16

ounces of Classic Angel Hair Pasta (or substitute any long or short shape)

4

jalapenos, finely chopped

1

large onion, diced

4

T. olive oil

6

cloves garlic, minced

1

pound ground pork

1

pound ground beef

2

14 oz. cans of crushed tomatoes

1/2 cup

fresh cilantro, chopped, for dish and garnish

1

T. hot sauce, or more (use your favorite kind to taste! You can always add more.)

2

packets of Taco Seasoning

2

t. salt

8 oz

. sour cream (or light sour cream)
Parmesan or Cotija cheese for garnish
Add 2 T. olive oil to large non stick pan and bring to medium heat.
Add jalapenos and onion and cook for approx. 5-6 minutes until onions become translucent. Add garlic and cook another minute.
Add pork and beef, break up while meat browns, about 6-8 minutes.
Take pan from stove and tilt over sink to drain excess fat from pan. You can ask for some help here!
Place back on stove-top and add tomatoes and stir. Bring to a boil and then reduce to a simmer.
Add hot sauce, fresh cilantro, taco seasoning, and salt and stir thoroughly.
Simmer for 20 minutes and allow flavors to combine.
Remove sauce from heat and stir in sour cream.
Cook pasta according to package directions and drain.
Place desired amount of pasta in bowls, top with sauce and garnish with fresh cilantro and Parmesan or Cotija cheese.
Freeze additional leftover sauce for another night's dinner!