Creamy Oriental Pasta Salad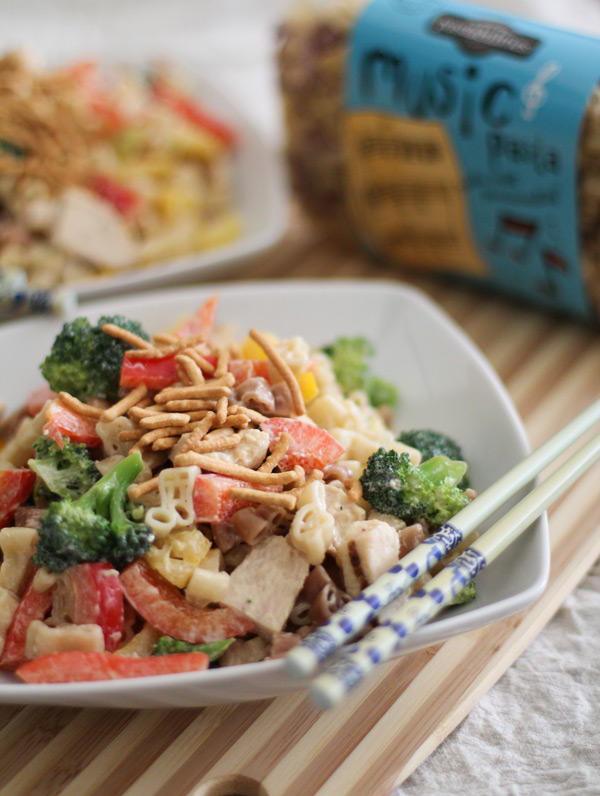 Author:
Carey | World of Pastabilities
14-16 oz. bag of fun shaped pasta, or any short pasta shape
2 cups red bell pepper, julienned, and cut into 1" pieces
2 cups yellow bell pepper, julienned, and cut into 1" pieces
2 cups broccoli florets, blanched in boiling water for 2 minutes, then drained and rinsed in cold water
2 cups grilled chicken, cut into bite size pieces or use two 6 oz pkgs. ready to eat, Grilled Chicken Breast Strips, or 2 cups grilled shrimp. (both optional)
Chow mein noodles and/or slivered almonds for garnish
Creamy Oriental Dressing
1 large clove garlic
1 T. peeled and diced fresh ginger
1 ½ cup mayo
3 T. soy sauce
1 ½ T. sesame oil
¼ t. each – salt, white pepper, cayenne pepper, or more to taste
Cook pasta in gently boiling water for approx. 6 minutes until tender but firm (salt optional). Drain, rinse with cold water and toss with 1 T. sesame oil.
To make dressing, puree garlic and ginger in food processor. Add remaining ingredients and process until combined. Taste and correct seasoning.
In a large mixing bowl, combine pasta, veggies, and chicken or shrimp (if using) with dressing and toss gently to coat evenly.
Transfer to serving bowl. Serve immediately or cover and chill if making ahead. Garnish with paprika, chow mein noodles or toasted slivered almonds.
Recipe by
The Pasta Shoppe
at https://pastashoppe.com/creamy-oriental-pasta-salad/