Butternut Squash Pasta Sauce over Gluten Free Tagliolini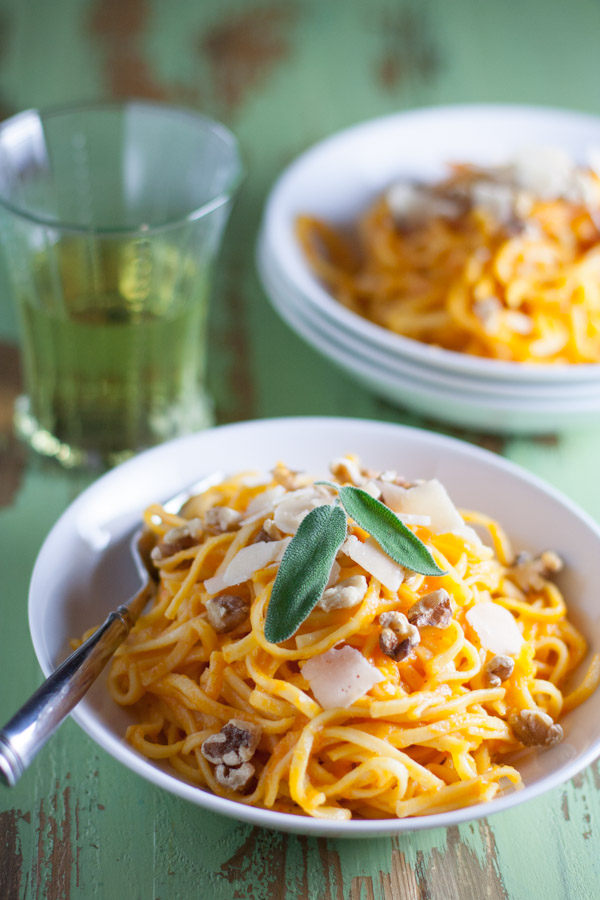 Author:
Carey | World of Pastabilities
8 oz. Gluten Free Tagliolini (may substitute any other long or short pasta shape)
2 T. olive oil
1 small onion, diced
3 cloves garlic, minced
1½ lbs. butternut squash, diced (about 4 heaping cups)
2 cups chicken broth
1 t. dried sage
1 bay leaf
¼ cup Parmesan cheese, grated
¼ cup skim milk (may use 2% or heavy cream if you like!)
½ t salt
¼ t. pepper
Fresh Parmesan, toasted walnuts, and fresh sage for topping!
Sauté onion in a medium pot in olive oil, for approx. 5 minutes until browned.
Stir in garlic and diced squash and cook for another 3 minutes.
Add chicken broth, sage, bay leaf, and salt and pepper. Cover, bring to a boil, reduce and simmer for 8-10 minutes until squash is tender (test with a fork).
Remove bay leaf and puree in blender or Cuisinart until completely smooth.
In a large bowl, combine puree, Parmesan cheese, and milk.
Toss pasta with sauce..
Top with toasted walnuts, fresh Parmesan cheese and fresh sage leaves or ribbons.
Enjoy!
Using only 8 ounces of pasta, I did have some leftover sauce that I froze. If you cook more pasta, start with tossing approx. 12 ounces, and add more pasta if desired. It's really a preference as to how "coated" and heavy you want the sauce!
Recipe by
The Pasta Shoppe
at https://pastashoppe.com/butternut-squash-pasta-sauce-gluten-free-tagliolini/