Good Day Pasta: The Best Low Carb Pasta, Keto Pasta Alternative
We are so excited to introduce our Good Day Pasta! Finally, a pasta that that offers lower carbs, higher fiber, and higher protein…a trifecta of goodness! We figured the best way to answer and explain how this came to be was to do a little Q & A….and if you still have questions, please comment and we'll get back to you ASAP!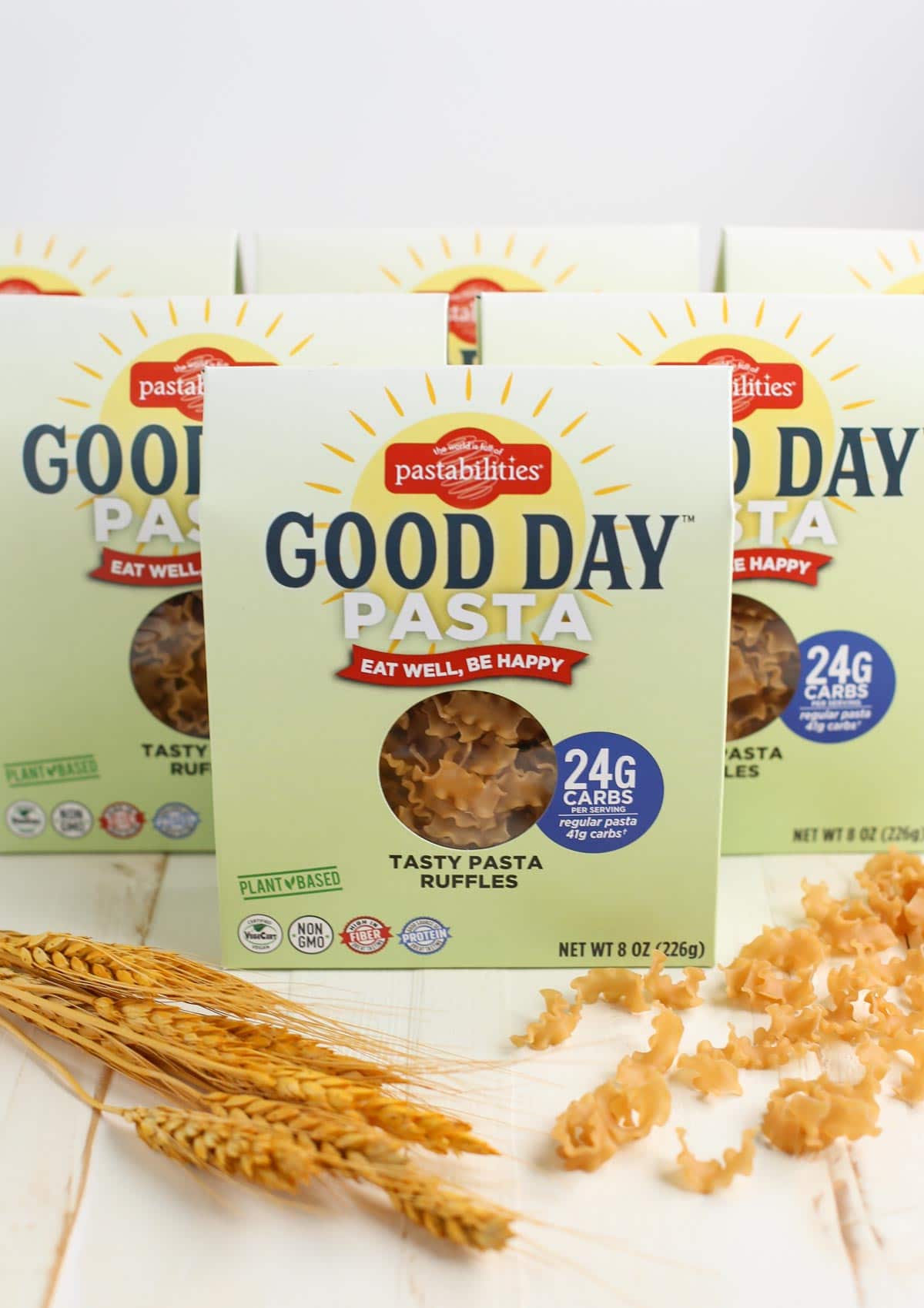 Why Create a Low Carb Pasta?
We LOVE carbs and have been making pasta for over 25 years (hard to believe!). But as we have aged, and as a lot of us are watching our waistlines, we are curbing our carb intake – all the way around. Now, we can agree that NOTHING tastes better and is more satisfying than a bowl of pasta. But we have found that the so called "pasta alternatives" have not satisfied our taste or feeling for real pasta…so we decided to develop a really GOOD low carb pasta, one that tastes great, was plant-based and guilt free! Like it says on our Good Day Pasta box, you can "Eat Well, Be Happy"!
And just for readers, get 15% off through the end of March 2021 when you order our Good Day Pasta, use code goodday15 at checkout.
Are Red Lentil, Chickpea, and Veggie Pasta considered Low Carb Pasta?
NOT Really! These alternative bean and veggie pastas, some even call them Keto pasta alternatives, have ALMOST AS MANY CARBS as regular pasta, with only 0%-17% fewer carbs. Our Good Day Pasta has 42% fewer carbs!
Benefits of Good Day Pasta
42% fewer carbs than regular pasta (24g carbs vs. 41g carbs regular pasta)
3X the PROTEIN of regular pasta (24g protein vs. 7g protein regular pasta)
3X the FIBER of regular pasta (7g fiber vs. 2g fiber regular pasta)
Our low carb pasta tastes delicious…just like pasta should!
Texture is amazing…the waves and curls of the ruffles really hold the sauce
Cooks in 5 minutes!
Plant Based, Non-GMO, Certified Vegan
Pasta can be WELCOMED BACK to your dinner table!

What are the ingredients in Good Day Pasta?
Ingredients: Wheat Flour, Durum Wheat Flour, Chickpea Protein, Soy Protein Concentrate, Wheat Protein Isolate, Pea Protein, Xanthan Gum, Iron, Niacin, Thiamine, Riboflavin, Folic Acid. Contains Wheat and Soy.
We start with multiple high-quality wheat flours and create our own special blend of flour to deliver the delicious taste and additional health attributes. We source high-quality plant-based proteins and ingredients to round out the nutritional contributions you see and experience with Good Day Pasta. It took months of unrelenting testing and R&D that have resulted in this yummy pasta! (thank you KH!)
You'll also see Xanthan gum listed as an ingredient. What is that? It is a commonly used plant-based thickener and binder that is found in many products in the grocery stores, from food, beauty products, to household items. It is FDA compliant and safe for consumers! We decided to include it because it just made our low carb pasta have a better bite and overall texture.
Is Good Day Pasta a Friendly Keto Pasta Alternative?
Your call. Most Keto diets have pasta on the "do not do" list, but they only considering regular pasta made from 100% wheat flour which has approximately 41g carbs per serving. But on a Keto diet, SOME carbohydrates are allowed. After studying a few Keto diet plans, the average amount of carbs recommended is around 20-70 grams of carbohydrates per day. (I know, some strict Keto folks say less!) One serving of our Good Day Pasta has only 24g of carbs – 42% less than regular pasta!
So if you decide you've had enough "Zoodles", and want some real "Noodles"…then consider our Good Day Pasta, a friendly Keto pasta! Worked into a well-balanced diet plan…just knowing you can have a yummy low carb pasta on a diet makes me want to jump up and yell "WooHoo!"
Note: The recipe featured here in the pictures is our Toasted Nut and Feta Low Carb Pasta…a healthy, delicious, versatile pasta dish! Yum!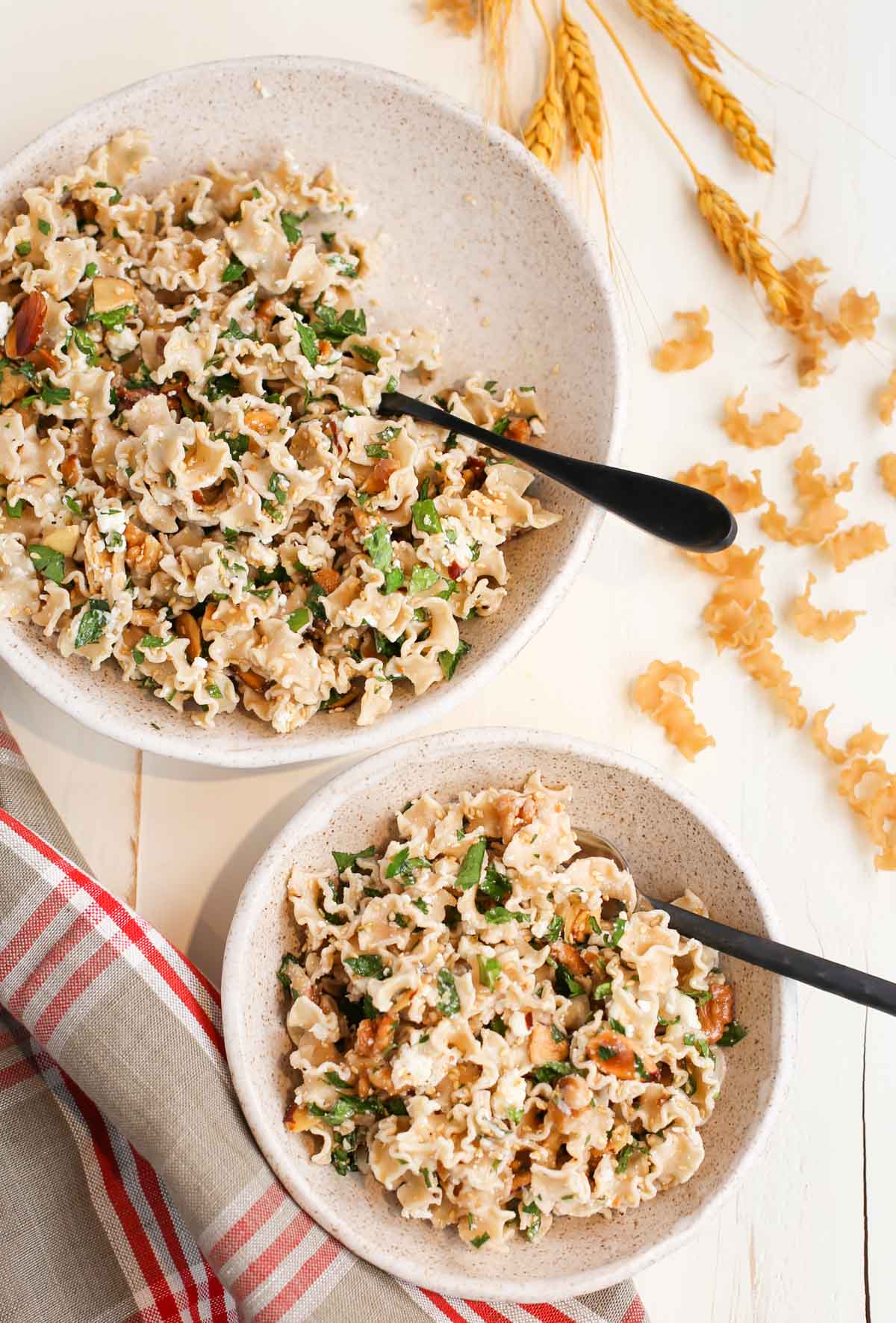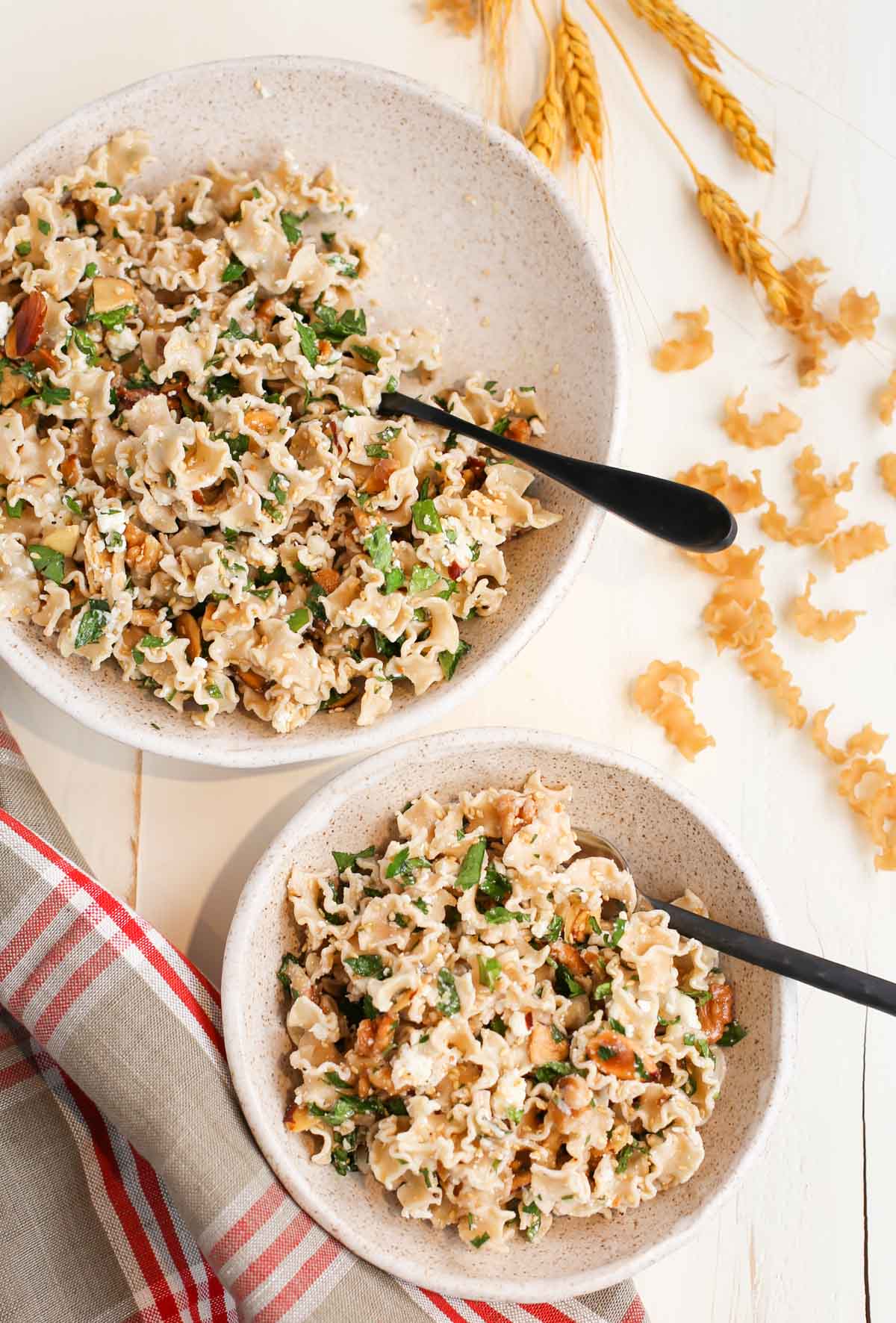 Where does the name Good Day Pasta come from?
It's always a Good Day when you eat pasta! And even better if it is a delicious low carb pasta! Plus the FDA does not define "low carb" …which means you can't use it! There are 10,000 reasons not to use the words low carb, fewer carbs, less carbs, etc. on your package. You really can't talk about this attribute of your product. You cannot make any indication that it's a potential claim for weight loss, waistline reduction, lower carb, etc.
It doesn't quite make sense because the FDA regulates and defines protein and fiber. By your nutritional numbers, you can claim "high fiber" or "good source of protein"- but not with carbohydrates. And this is where we are today. Most folks agree that the FDA needs to define carbs, so consumers can make more educated real health choices.
That is why we simply say, "Good Day Pasta – Eat Well, Be Happy!"
We hope you try and LOVE our new pasta as much as we do! Don't forget to use the code "goodday15" at checkout for 15% your Good Day Pasta thru March 2021…and please share with us your feedback. We look forward to seeing what you create with our Good Day (low carb) Pasta! 🙂
Remember, you can use Good Day Pasta as a substitute for any of your favorite pasta dishes, and the pictures here are featuring our Toasted Nut and Feta Low Carb Pasta. Enjoy!
Join our email list for fresh pasta recipes delivered to you every week!
Your information will NEVER be shared or sold to a 3rd party.