Greek Pasta Bowl with Tuna & Chickpeas
Greek Pasta Bowl with Tuna & Chickpeas is a heart healthy, protein packed meal.  Colorful and delicious – it will become a regular on your lunch or dinner rotation!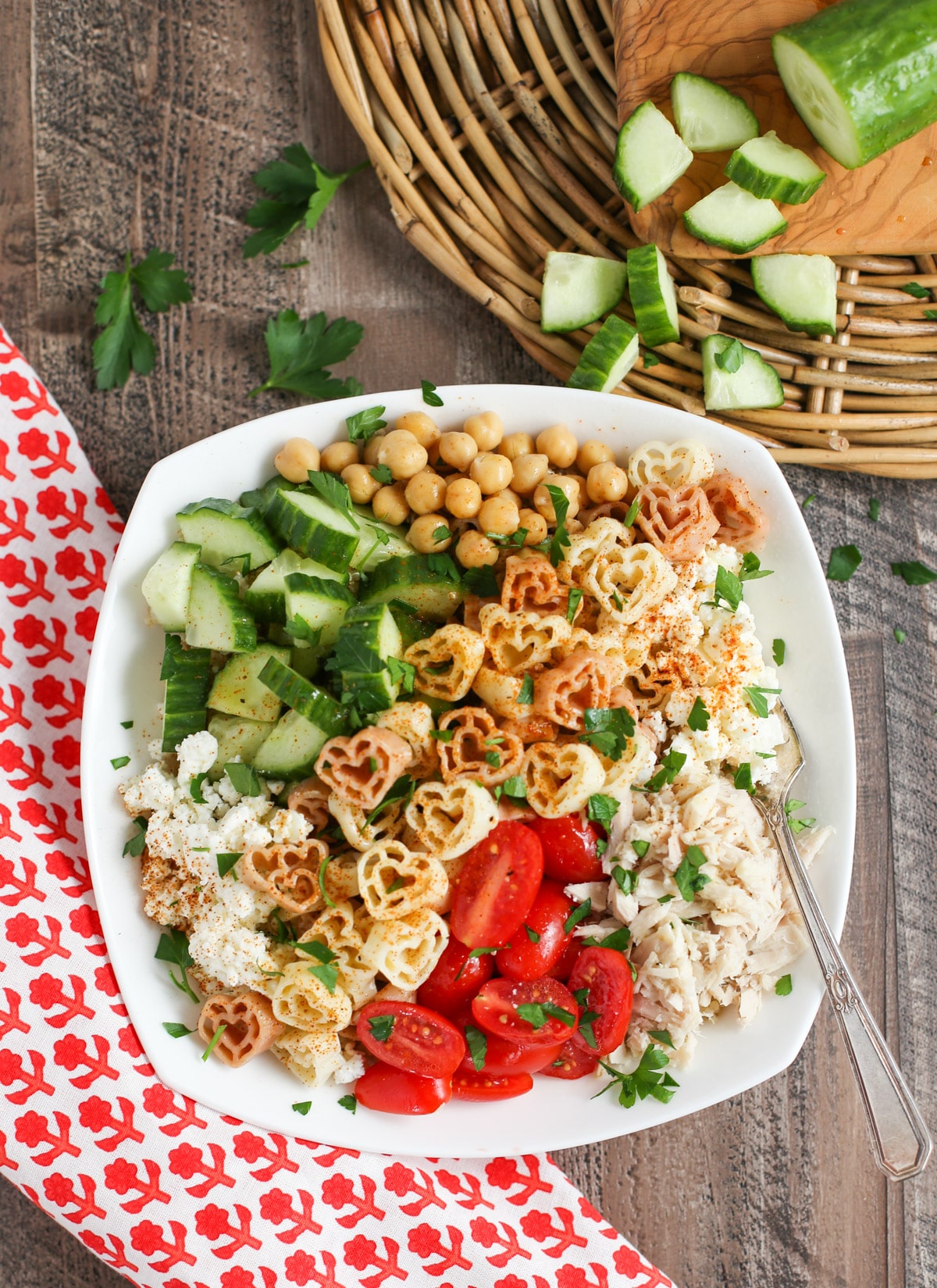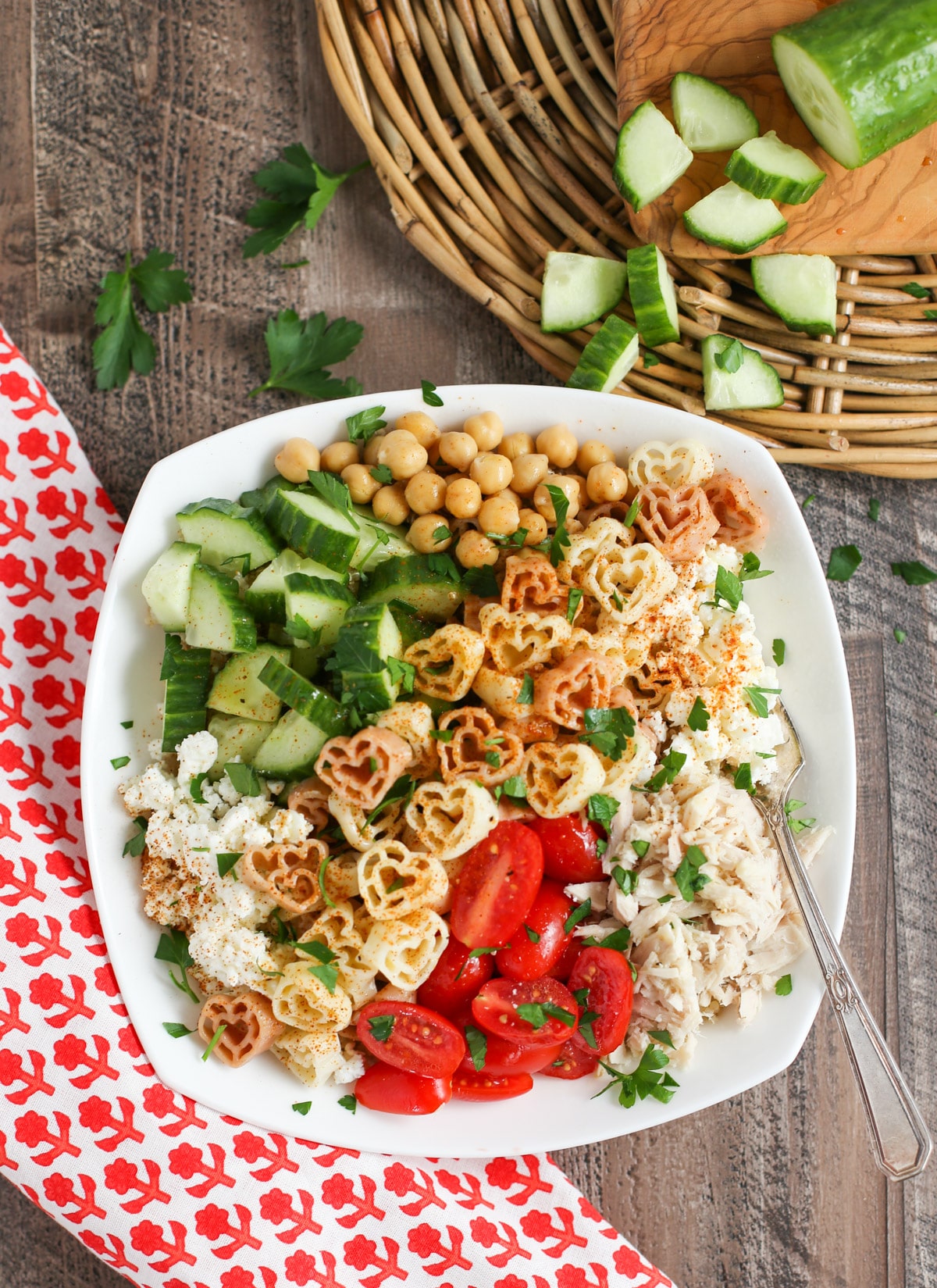 Have you noticed?  Everything now seems to come in a BOWL! Bowls everywhere! The only bowls in the past were the Super Bowl and original pasta bowl…NOW every café, menu and frozen grocery entrée touts the "bowl".  And I LOVE it!
Some of my favorite combinations are the Greek Bowls.  Something about the fresh tomatoes, cucumbers, and Greek feta….yum!  I thought I'd create a high protein variation incorporating some of our fun Heart pasta and see what happened.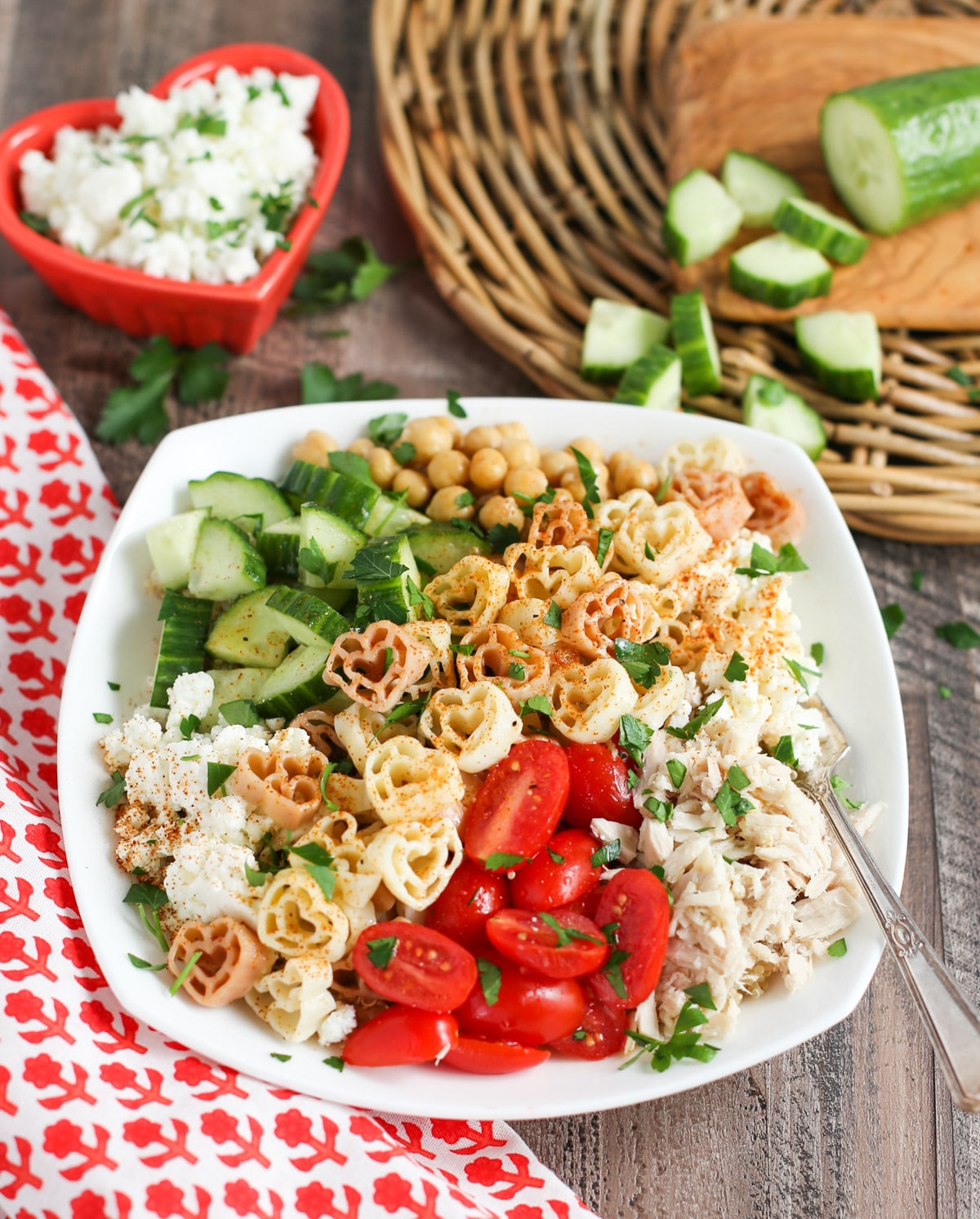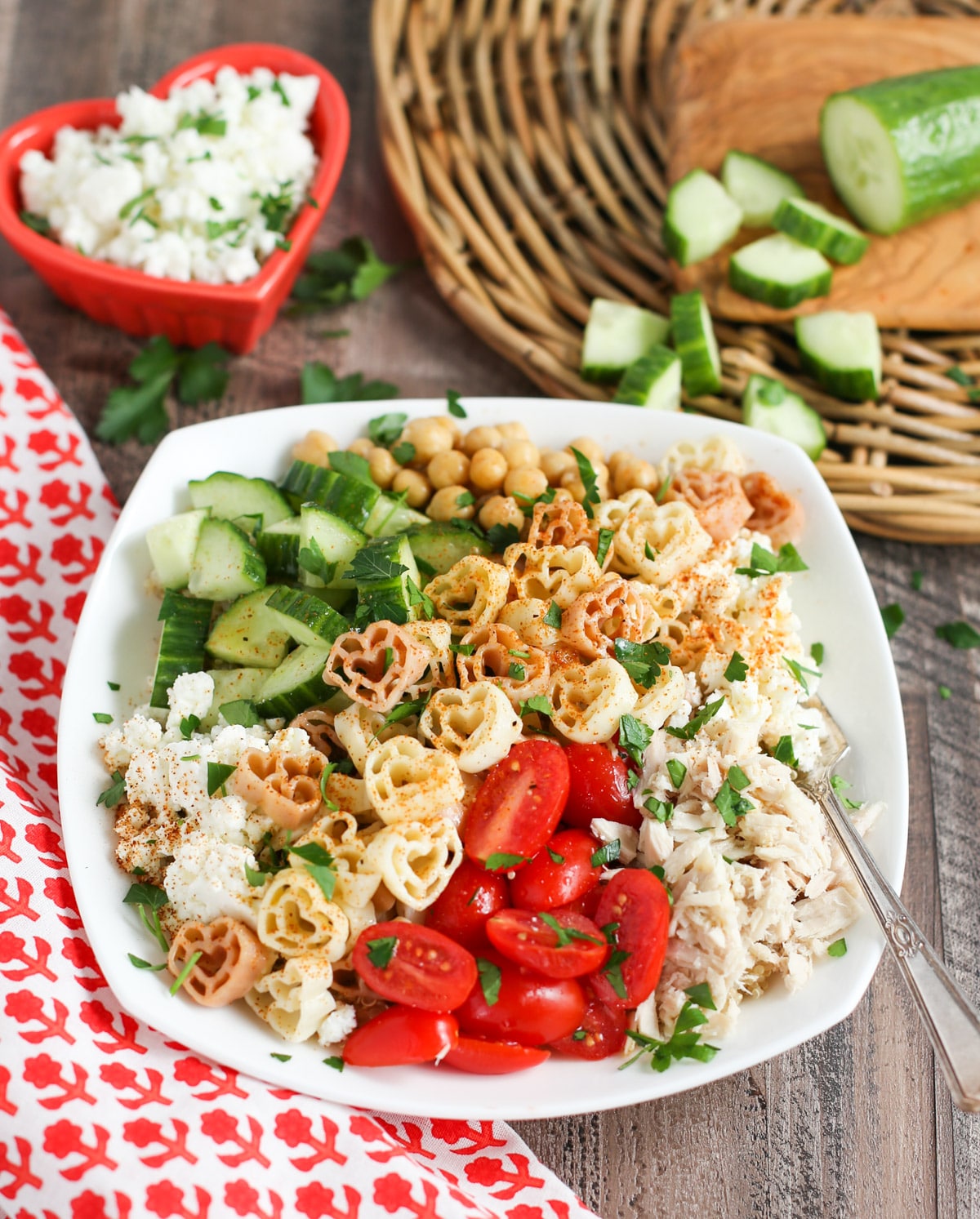 First thought was the base…I choose quinoa, although you could use rice, mixed greens, or a combo.  Quinoa is gluten free, high in fiber and also a "complete" protein. This means it contains all nine essential amino acids that your body cannot make on its own and you can only be obtained through your diet.  Our bodies need amino acids to function and grow properly. So, first checkmark on health!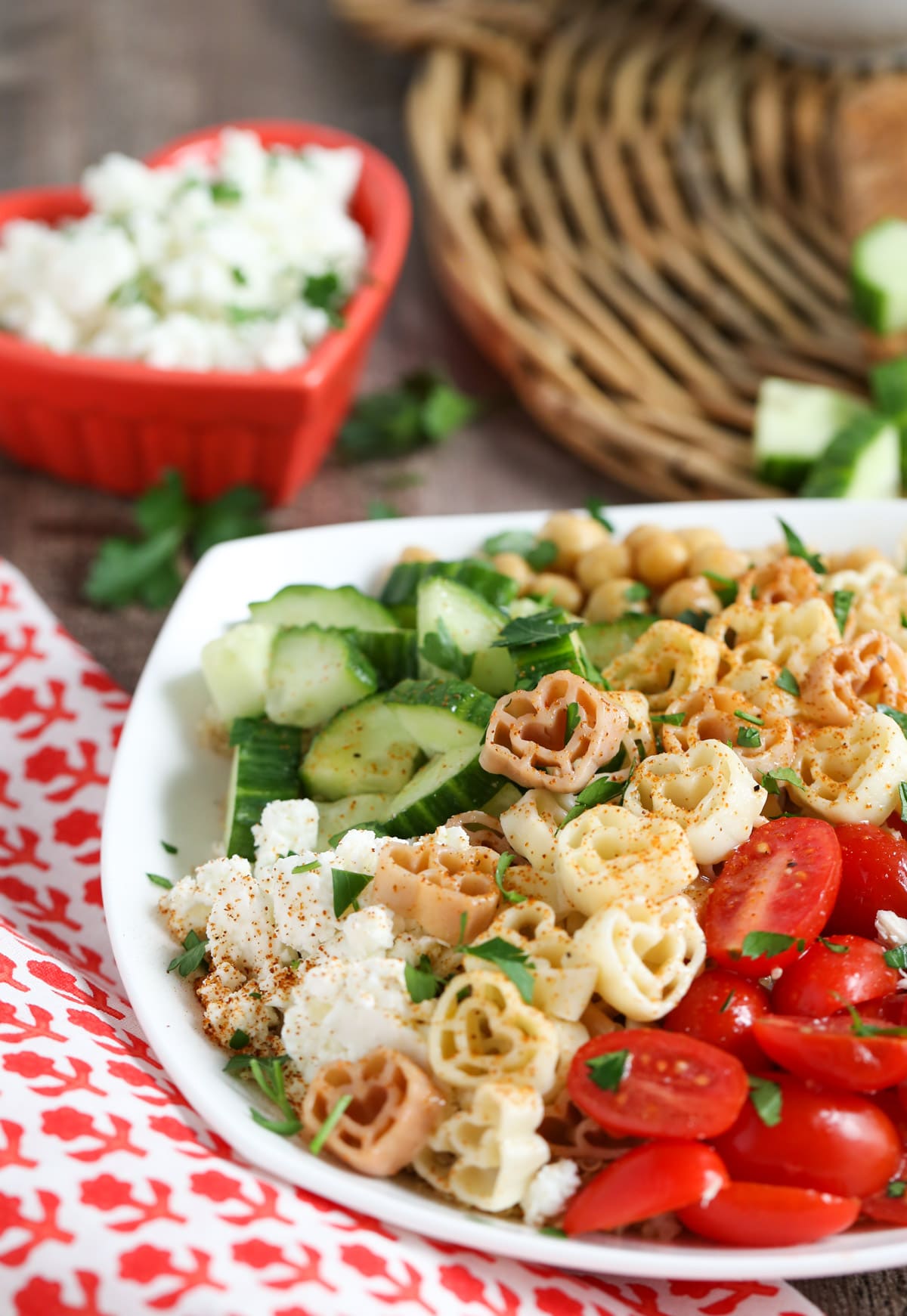 The Greek ingredients were next. English cucumbers are my favorite, and grape tomatoes are always in the kitchen, so that was easy.  I've shared before about the Greek feta I buy from Costco.  It's the BEST adding just the right amount of saltiness with a creamy texture.
Chickpeas also seem to be popping up in every recipe, so I added a small amount plus some canned tuna too!  This Greek Pasta Bowl is protein packed!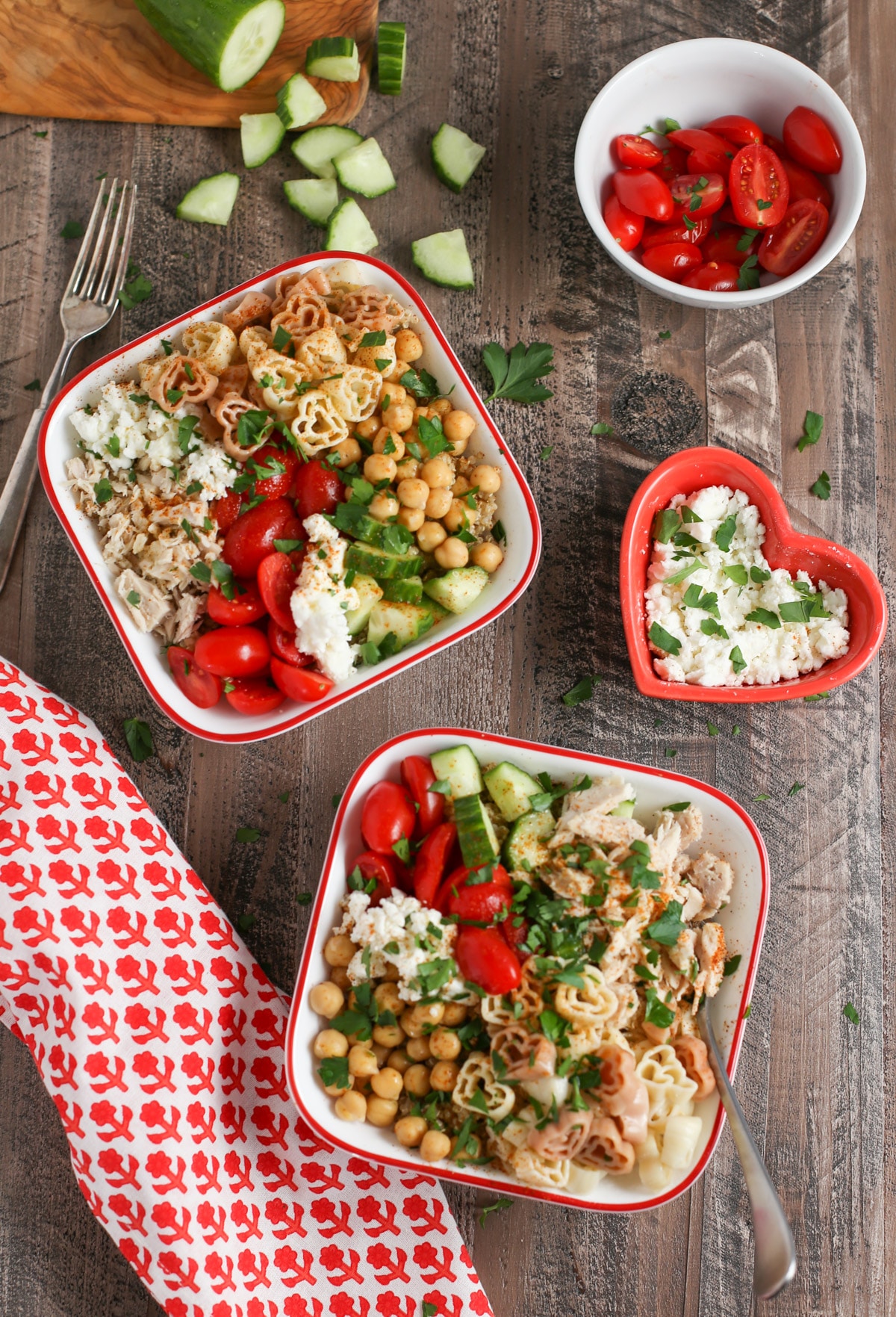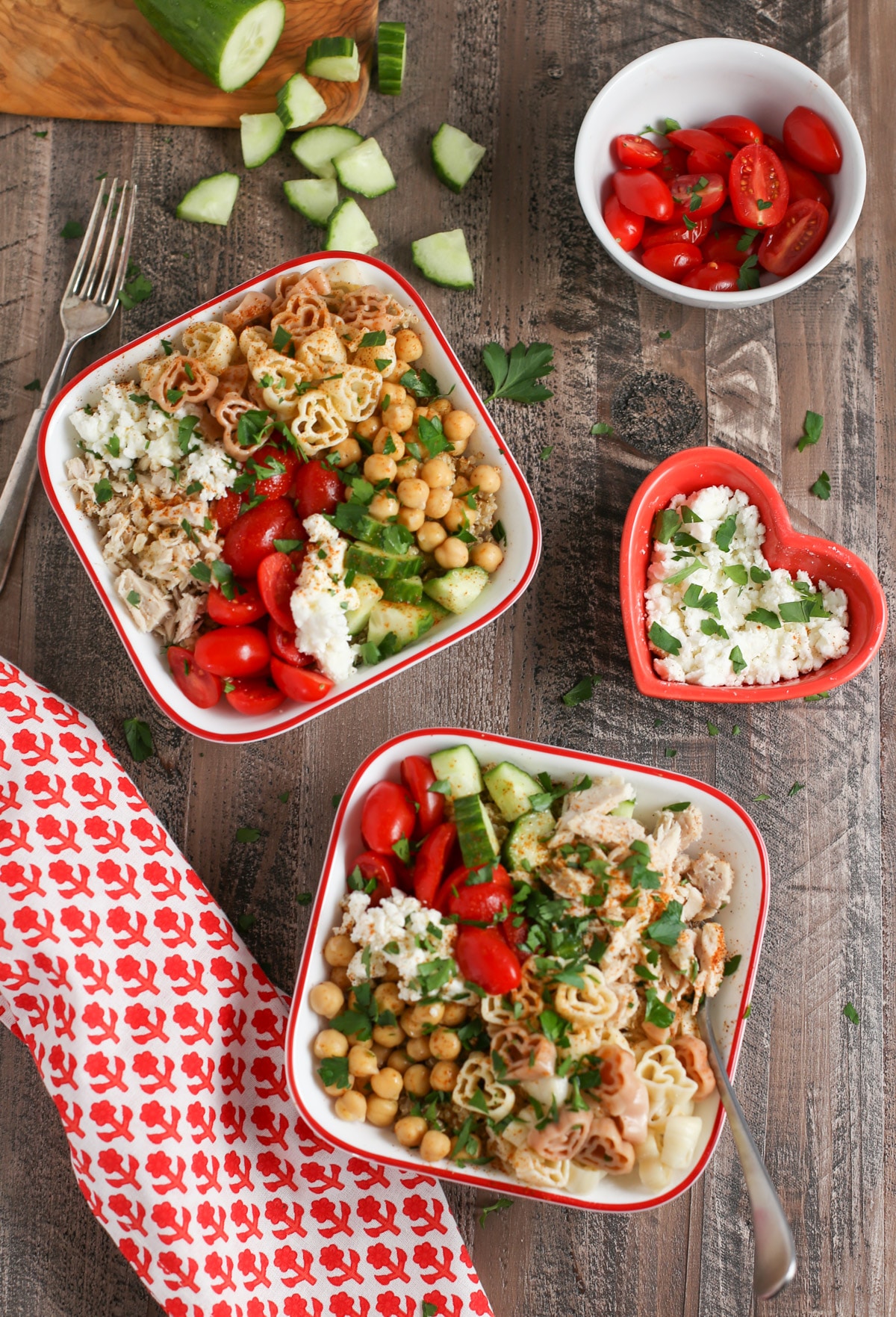 The Heart Pasta seems apropos since Valentine's is around the corner and this is such a "heart healthy" dish. You can change up the pasta shape and serve this for any holiday or theme…fun to theme your meal! Dinosaurs, Sport shapes – Princesses – why not?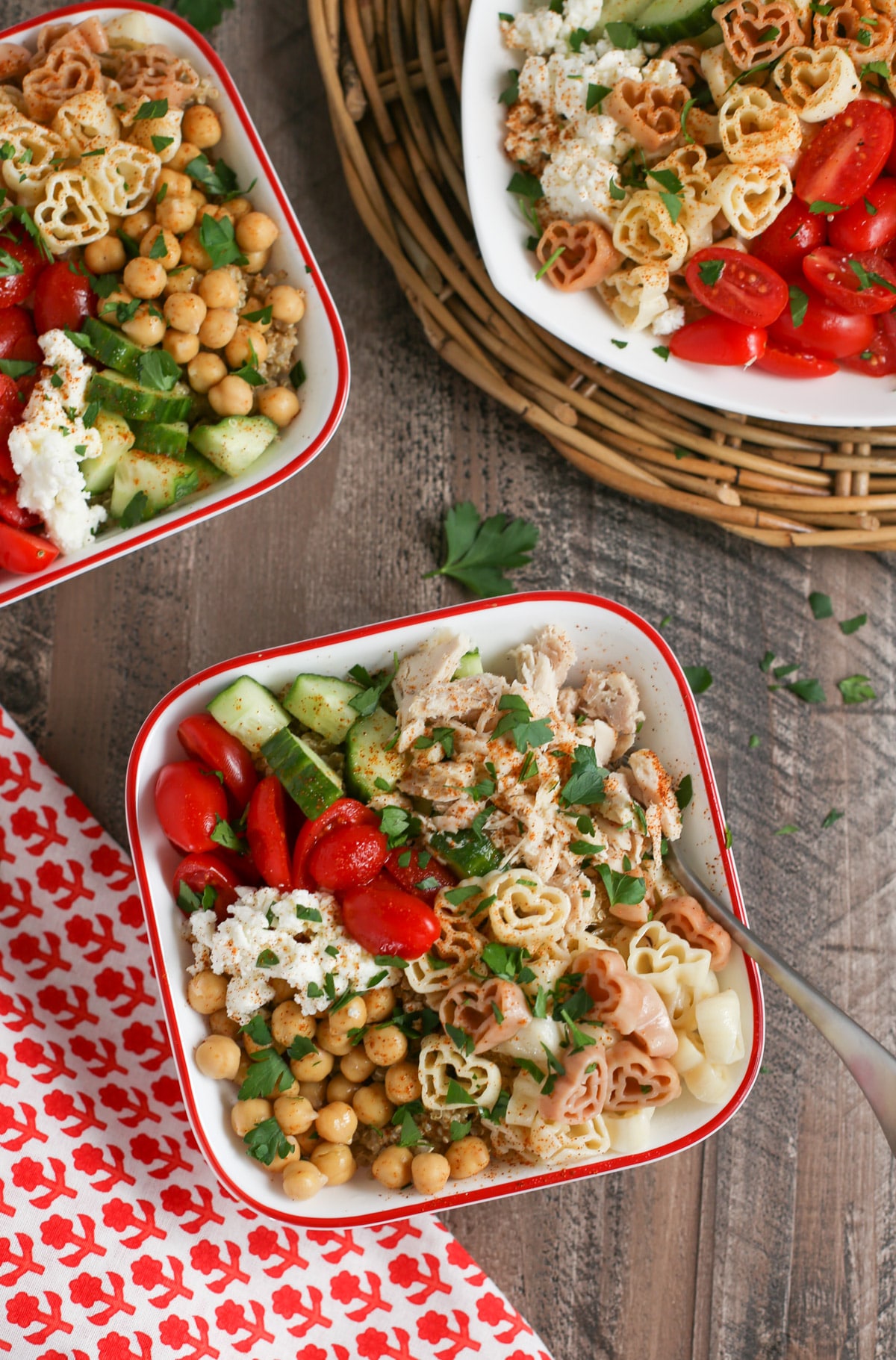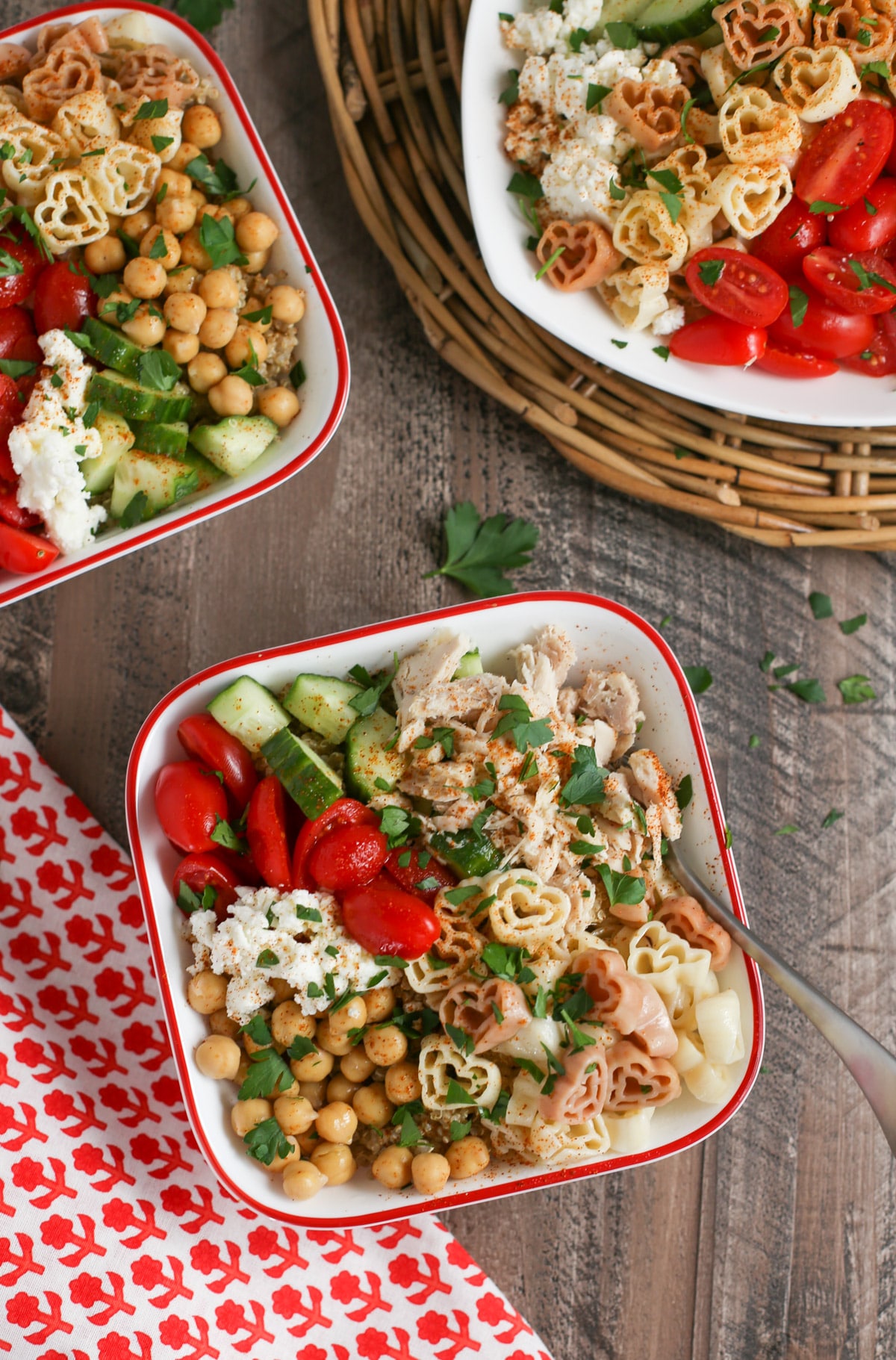 The lemon dressing is super fresh and simple.  Fresh lemon juice is key.  Tip: I always make extra dressing and use it on other salads during the week.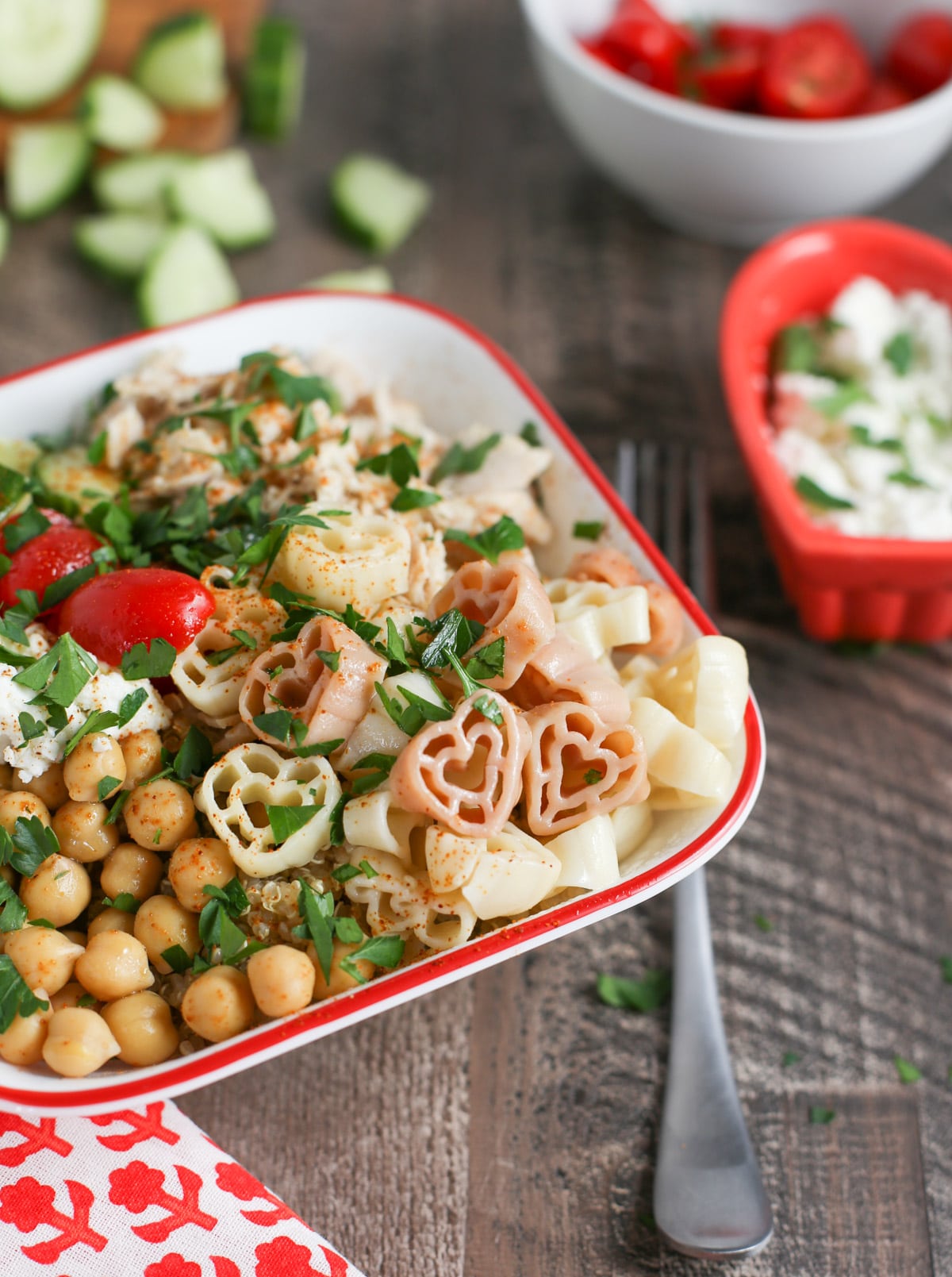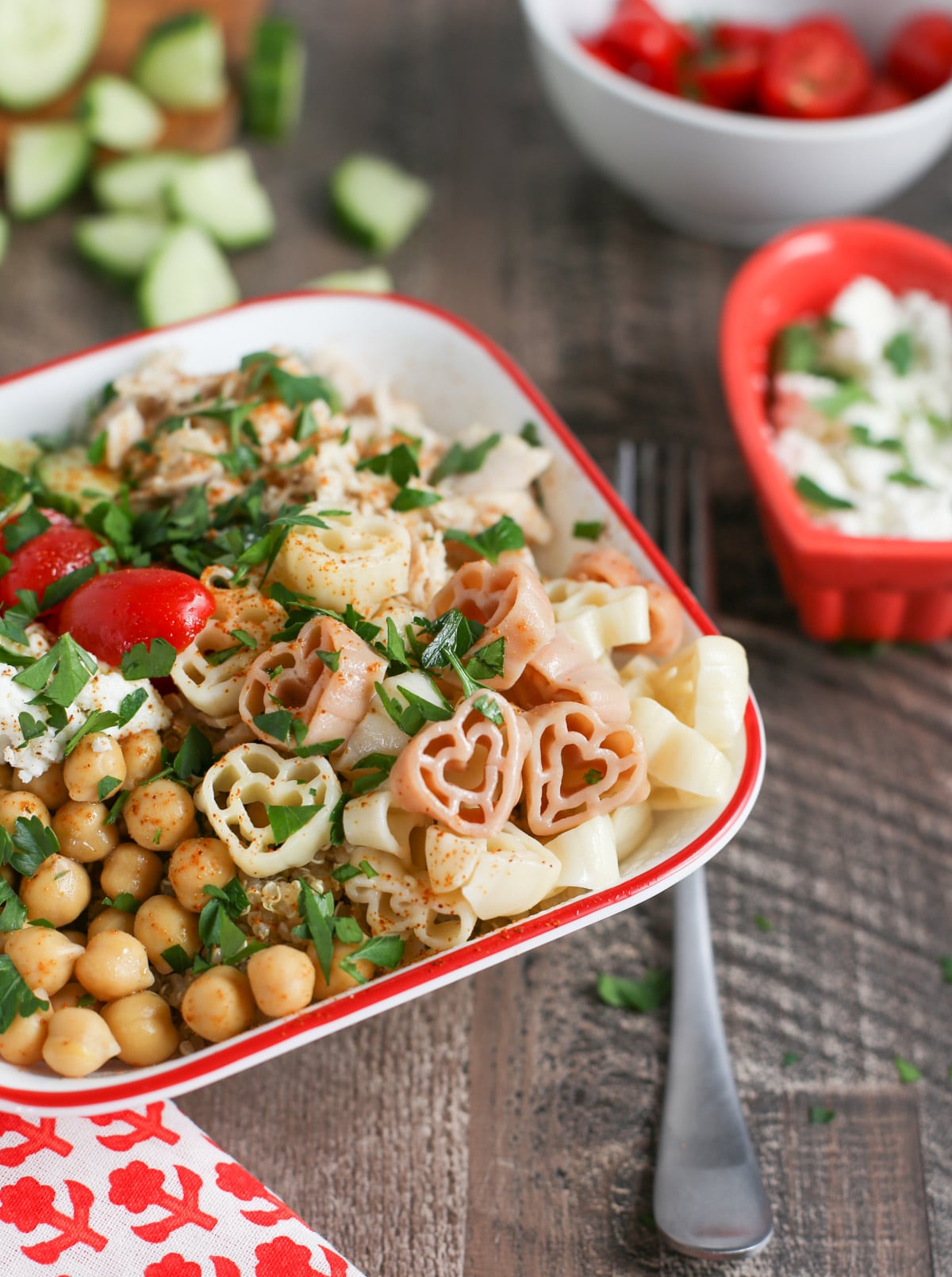 "Bowls" give us the flexibility to add or subtract any ingredients we want.  We can probably eat bowls 7 days a week!  I think this trend will be around for a long time and I plan on taking full advantage. Have fun experimenting with ingredients in your pantry and please share your creations – bowl me over!🙂
If you are feeling the Greek vibe, try a few of our other Greekish recipes:
Light and Herby Mediterranean Pasta Salad
And for more happenings with Pastabilities, follow us on Instagram @worldofpastabilities, or Facebook @pastashoppeusa!  Enjoy!
Print
Greek Pasta Bowl with Tuna & Chickpeas
Simple and delicious lunch or dinner!  Top some quinoa with pasta, veggies, some tuna, and chickpeas – high protein and filling!  The light lemon vinaigrette makes it!
Ingredients
2 cups cooked quinoa (can make or buy precooked!)
4 cups cooked pasta (I cooked a 14 oz. bag of pasta and saved the rest!)
1 cup canned chickpeas (drained and rinsed)
1 can white albacore tuna in water, drained
1 ½ cups chopped English cucumber
2 cups grape tomatoes, halved
1 cup feta, crumbled
Fresh parsley, chopped (for garnish)
Dressing:
½ cup fresh lemon juice
½ cup olive oil
1 T. honey
1 t. kosher salt
½ t. black pepper
Instructions
Combine all dressing ingredients in a bowl or jar.  Whisk or shake until combined.  This may seem like a lot of dressing, but I like to have some left over to use on other salads and dishes. It's a great everyday dressing to have on hand.
In each of 4 bowls, arrange ½ cup quinoa, 1 cup pasta, ¼ cup chickpeas, ¼ cup tuna, ½ cup cucumber, ½ cup tomatoes, and ¼ cup feta.
Drizzle dressing over each bowl, sprinkle with fresh parsley and serve.  Folks can gently toss and add more dressing if desired. Enjoy!
Join our email list for fresh pasta recipes delivered to you every week!
Your information will NEVER be shared or sold to a 3rd party.