Healthy Beef Ragu with Mint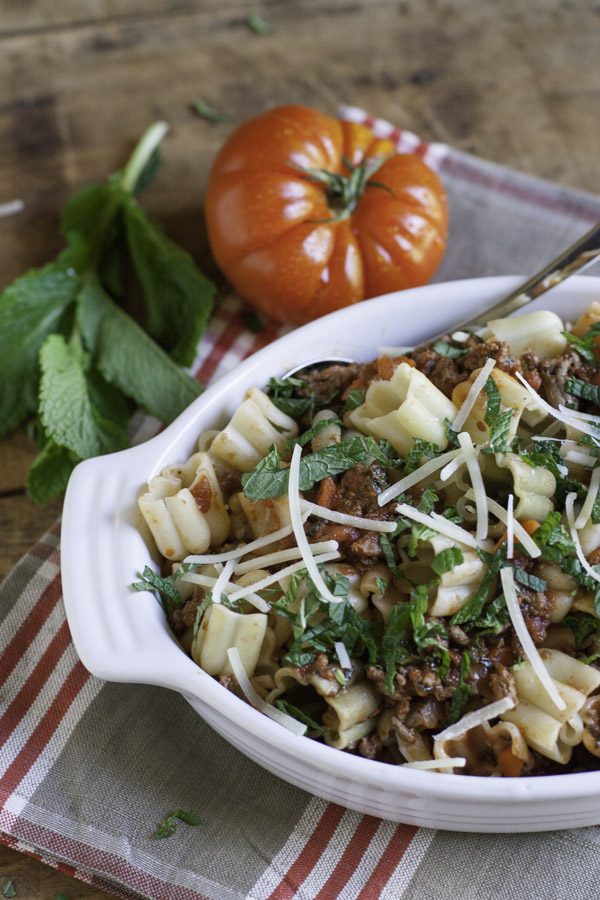 I love this time of year! Especially now since the past few weeks of endless rainy days have finally stopped. The days now warm up just enough and the nights are cooling off….ahhhhh, fall. Some of my favorite elements of the fall season are the funky heirloom pumpkins, colorful blowing leaves, cozy sweaters, clear bright blue skies, sounds of football games, crackling fires, chilly hockey rinks, and lots of yummy comfort foods. This weekend my fall cravings began and I knew I had to make my Beef Ragu with Mint.  And why not make a healthier version?  Some people may think any meal containing beef cannot be healthy…but I disagree.  It's all about the fat and eating in moderation!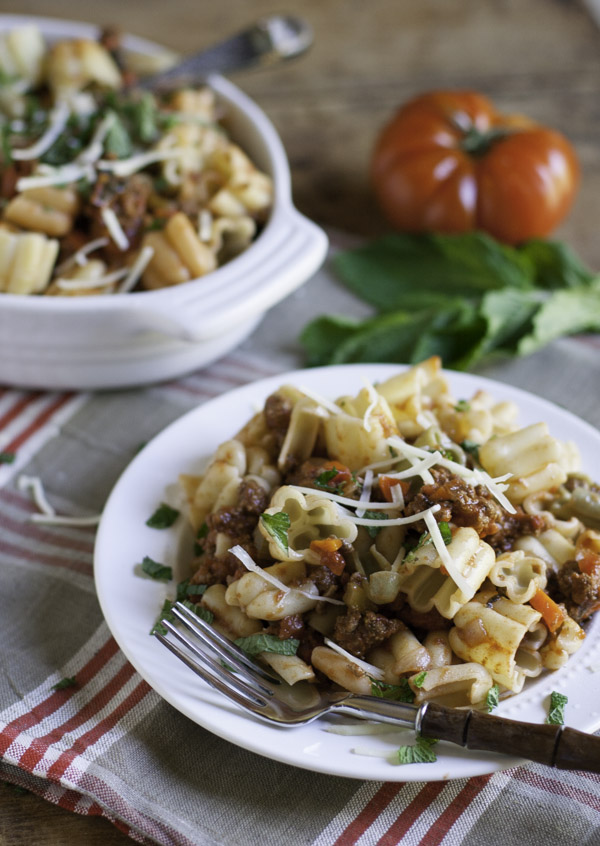 Comfort foods, often though, include ingredients not so good for the waistline. Believe me, I'm not one to shy away because of this, but healthier versions of classic comfort foods are almost always worth trying! So this time I decided to use extra lean ground beef to cut down on some of the fat and calories of a more traditional meat ragu.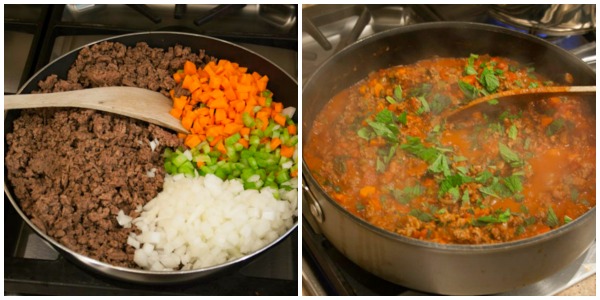 When I think of a typical fall pasta dish, what comes to mind first is a hearty, meaty, tomato based sauce. There are so many versions of meat sauces, including beef, pork, lamb, ground turkey, or some sort of combination thereof. Ragu and Bolognese sauces are very traditional Italian meat sauces and vary with the amount of tomatoes, tomato sauce, or meat they include. There must be a million versions!
This Healthy Beef Ragu with Mint is simple and delicious. One advantage of using such lean meat is that you don't have to drain it before adding the other ingredients. You just feel "oh so good" when browning the meat and seeing that there really isn't much fat in the pan. There may be a slight tradeoff for the overall rich flavor of your sauce…but for an easy, delicious, everyday pasta, I'm all for it! And my boys love it.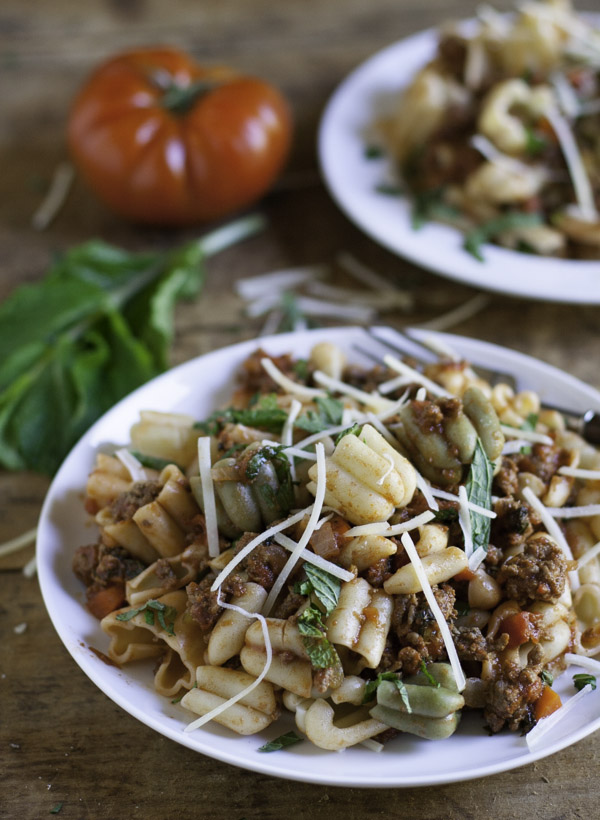 What is the special surprise twist to this Healthy Beef Ragu? Fresh mint! Come on! I'm a Southerner.   We love our mint and not just in fruit tea and mint juleps. The mint adds fresh bright taste and wonderful smell to this dish and I love the dimension it adds in general.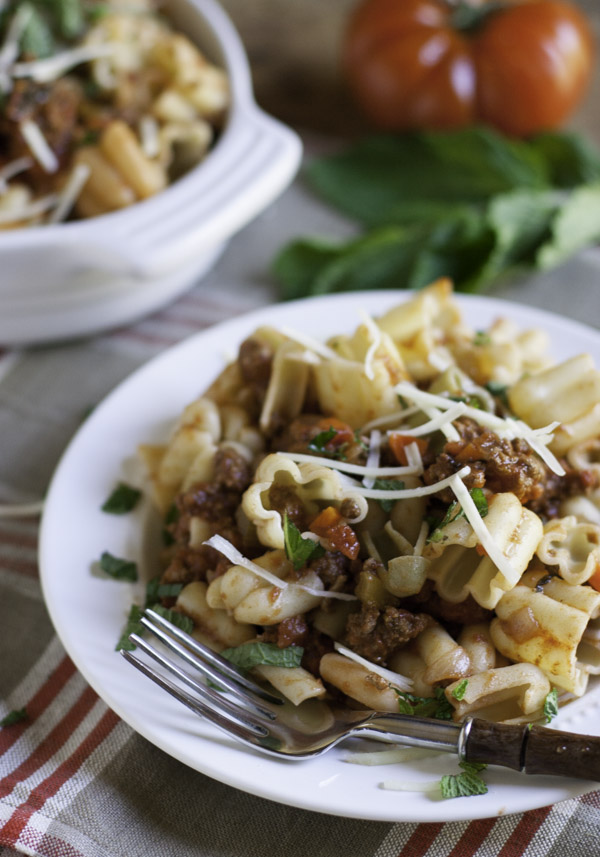 These types of chunky meaty pasta sauces lend themselves to pasta shapes that have lots of grooves and curves to capture the sauce. Our Petite Pumpkins, "Zucchettes" in Italian, were a perfect fit…for the shape and the season! 🙂 Usually these regional Italian pasta shapes are imported from Italy, difficult to find, and cost quite a bit more. So we decided last year to start making them right here in the USA. We knew we could produce quality "small batch" pasta just like the boutique manufacturers in Italy…and our customers are saying so far so good!  You can read more here if you interested in how we got started in the pasta business!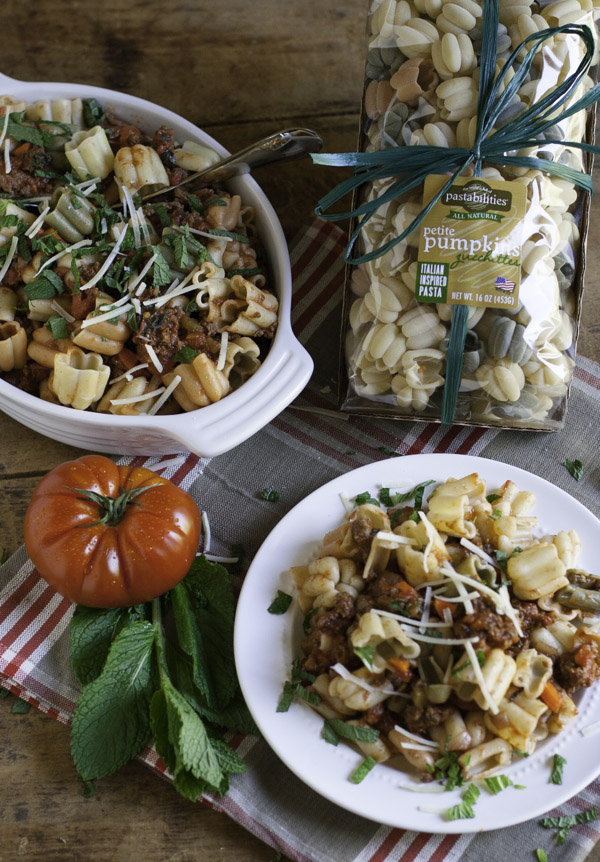 So enjoy making and serving this chunky-delish-comfort pasta and embrace a healthier option for dinner – your family will thank you and your waistline will too!
If you are interested in seeing all of our pasta shapes, you can visit The Pasta Shoppe website.  And if you have any fundraising needs, please check out Fun Pasta Fundraising!  We'd love to hear from you!
Print
Healthy Beef Ragu with Mint
A healthier version of Beef Ragu…with a twist! Fresh mint makes this dish a winner! This may seem like a large amount of sauce…but it is chunky and you can freee leftovers if you have any!
Ingredients
14

–

16

ounces of Petite Pumpkin Pasta (may sub any short shapes with grooves to hold the sauce!)

2

pounds lean ground beef (I used extra lean), browned

2

28 oz. cans of Italian whole tomatoes, diced

2

large carrot, chopped into small pieces

2

celery stalk, chopped into small pieces

1

medium onion, diced

2 cups

packed fresh mint, chopped (+ more for garnish)

1/2

t. cumin

1/2

t. ground coriander

1/2

t. red pepper flakes (or more to taste)

1

–

2

t. salt

1

t. black pepper
Parmesan cheese for garnish
Instructions
Add meat to large sauce pan and spinkle with salt and pepper. Cook meat over med-high heat until browned and crumbled.
Add carrots, celery, onion and cook for another 5-6 minutes until vegetables are tender.
Add cumin, coriander, and red pepper flakes. Stir until combined.
Add tomatoes and fresh mint and heat to boiling. Reduce heat and simmer for 10 minutes.
While sauce is simmering, cook pasta per the label instructions. Drain.
Add pasta to plates or bowls and top with sauce!
Garnish with extra chopped fresh mint and Parmesan cheese.
Notes
The sauce is chunky and I find that different people like varying amounts of sauce on their pasta. I make large batch of sauce so we have plenty! You can freeze the extra and enjoy again later!
Join our email list for fresh pasta recipes delivered to you every week!
Your information will NEVER be shared or sold to a 3rd party.