Lemony Shrimp & Scallop Pasta with Basil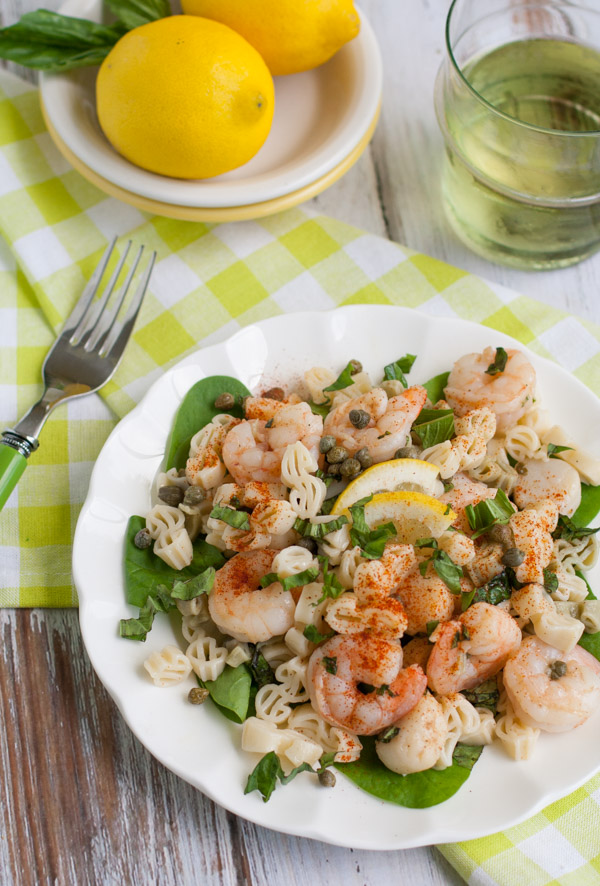 It's true that lemons make most anything taste better. Yea? Really? Doubting me? Just try it. A squeeze into your homemade salad dressing, a squeeze over any piece of freshly grilled or baked fish, or even just a squeeze into some plain 'ole water…it does wonders. It transforms.
Bright, happy, upbeat – that's how lemons make you feel. And clean too. Did I mention that? That citrusy something has been around for years with sprays, cleansers, detergents, and the like. Citrus seems to be added to anything where there's a need to disguise the smell or perk up the overall freshness of an area. But when it comes to food, lemons don't try to hide great flavor or taste. They enhance it.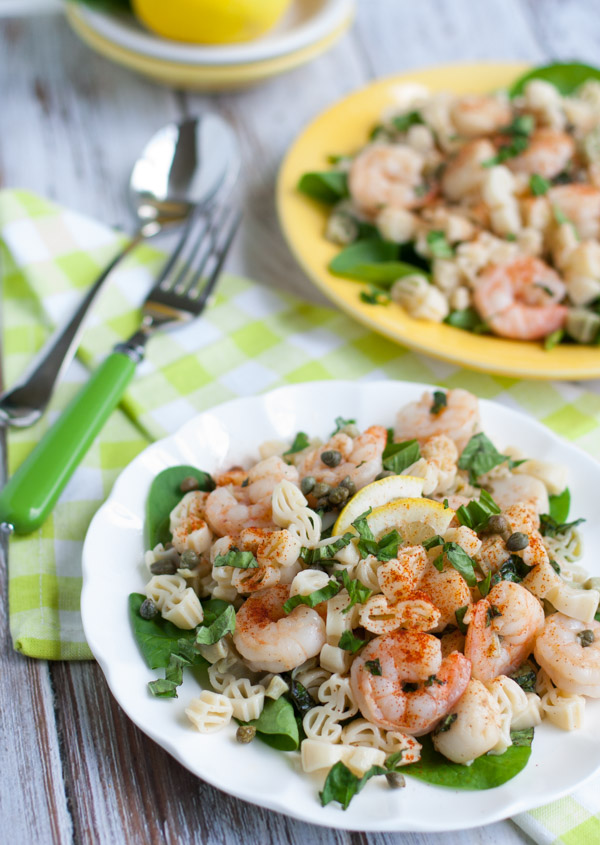 Lemons help balance the sweetness and richness of some foods and always round out the flavors of most dishes. Whether a zest, a squeeze, or a slice. Lemons are a pantry staple. Plus they are just pretty. I wish I felt bright, happy, and upbeat every day! Oh the life of a lemon…..
Lemons have been on my mind all summer as I have so many memories of fabulous pasta dishes that have lemon as a key flavor or as an accent. I wanted to share something that exemplified a lemony experience and left you with an "That is delish!  I want that again!" reaction.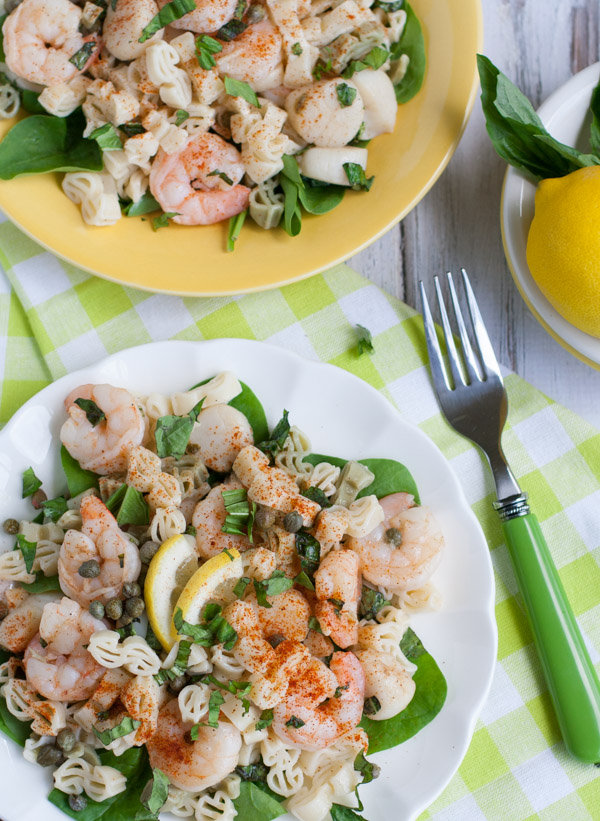 You know by now that I love shellfish, and could probably survive with only this food group. If you want to know more about my curious love of the crustaceans, you can catch up reading these favorite recipes: (Yikes! I didn't realize how many good one we've shared!) 🙂
Thai Shrimp Scampi with Whole Wheat Pasta
Squid ink Pasta with Shrimp & Tomatoes
Oven Fried Bang Bang Shrimp Pasta
Shrimp, Avocado and Spinach Pasta with Mango Vinaigrette
Simple Pesto White Wine Sauce with Bay Scallops
Tuscan Style Clam Sauce
Linguine with Mussels and Chorizo
Lobster Pasta Salad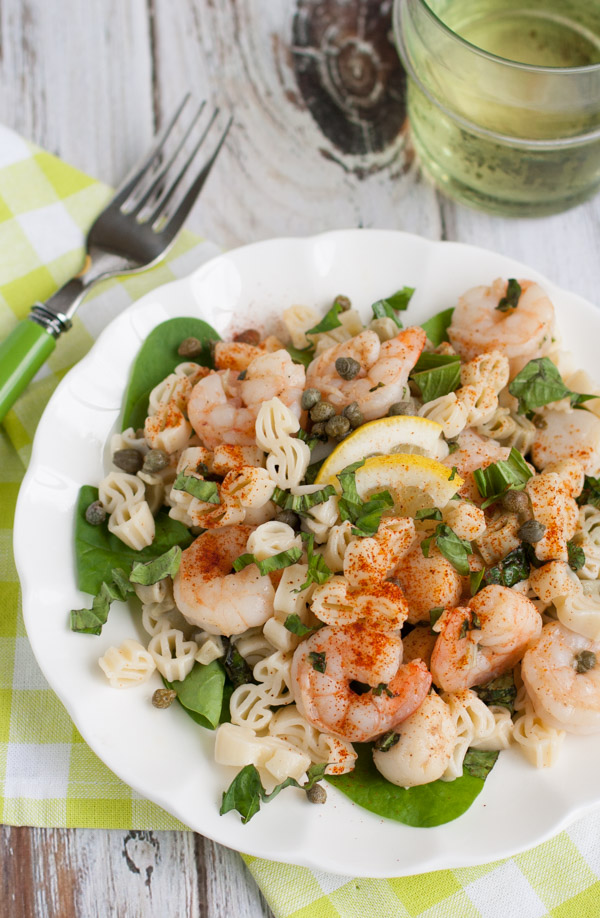 Had enough? Great – I didn't think so. I really feel the love from you friends and I thank you! This inspiration came from Cooking Light Lemon Basil Shrimp Pasta recipe and you can count on them for easy and great recipe ideas. I've added my own twist and I hope you try it and let me know what you think.
This fun dollar sign shaped pasta can be found on our website…maybe not the best shape to serve your potential in-laws, but perfect for a fundraiser, to serve your banking friends or at a contract signing!  🙂
Lemony Shrimp & Scallop Pasta with Basil
Adapted from Cooking Light! Fresh lemons and seafood are a perfect combination…yum!
Ingredients
14 oz

. bag Dollar Sign Pasta (or substitute any short or long shape of your choice!)

1 ½

lbs. peeled and deveined shrimp, large or jumbo (I used a

24 oz

. frozen bag, uncooked but peeled and deveined. I had to take off the tails though!)

1

lb. bay scallops

1

T. butter

½ cup

fresh basil, chopped + extra for garnish

6

T. capers, drained

5

T. extra virgin olive oil, divided +

1 teaspoon

5

T. fresh lemon juice

2

t. seasoned salt

1

t. Creole seasoning

1

t. salt

4 cups

fresh spinach, for plating
Instructions
Cook pasta according to package directions. Drain and toss with 1 t. olive oil.
In a large bowl, place basil and capers.
In the meantime, add butter and 1 T. olive oil to a large sauté pan. Bring to a medium high heat and add shrimp first and then scallops. Sprinkle seasoned salt and Creole seasoning on top of both. Depending on how small the bay scallops are, you may want to wait until shrimp are half way cooked. Sauté shrimp and scallops until just done, approx. 3-5 minutes (shrimp will begin to curl and turn a slight pink color; you can cut a scallop in half and make sure it is cooked all the way through).
Add pasta, shrimp, and scallops to basil caper mixture.
Drizzle 5 T. olive oil and 5 T. lemon juice plus 1 t. salt.
Toss gently to combine.
Serve pasta by placing 1 cup fresh baby spinach on each plate. Top with a heaping of the pasta. Serve with fresh lemon slices and chopped fresh basil for garnish.
Yum! Fresh! Enjoy!!
Join our email list for fresh pasta recipes delivered to you every week!
Your information will NEVER be shared or sold to a 3rd party.