Lentil Bolognese with Low Carb Pasta
It's that time of year when a warm, cozy, satisfying, hearty meal is so appealing, so look no further than our delicious Lentil Bolognese. A versatile plant-based, low-carb dish for the start of the year, or Veganuary, as the new January is called!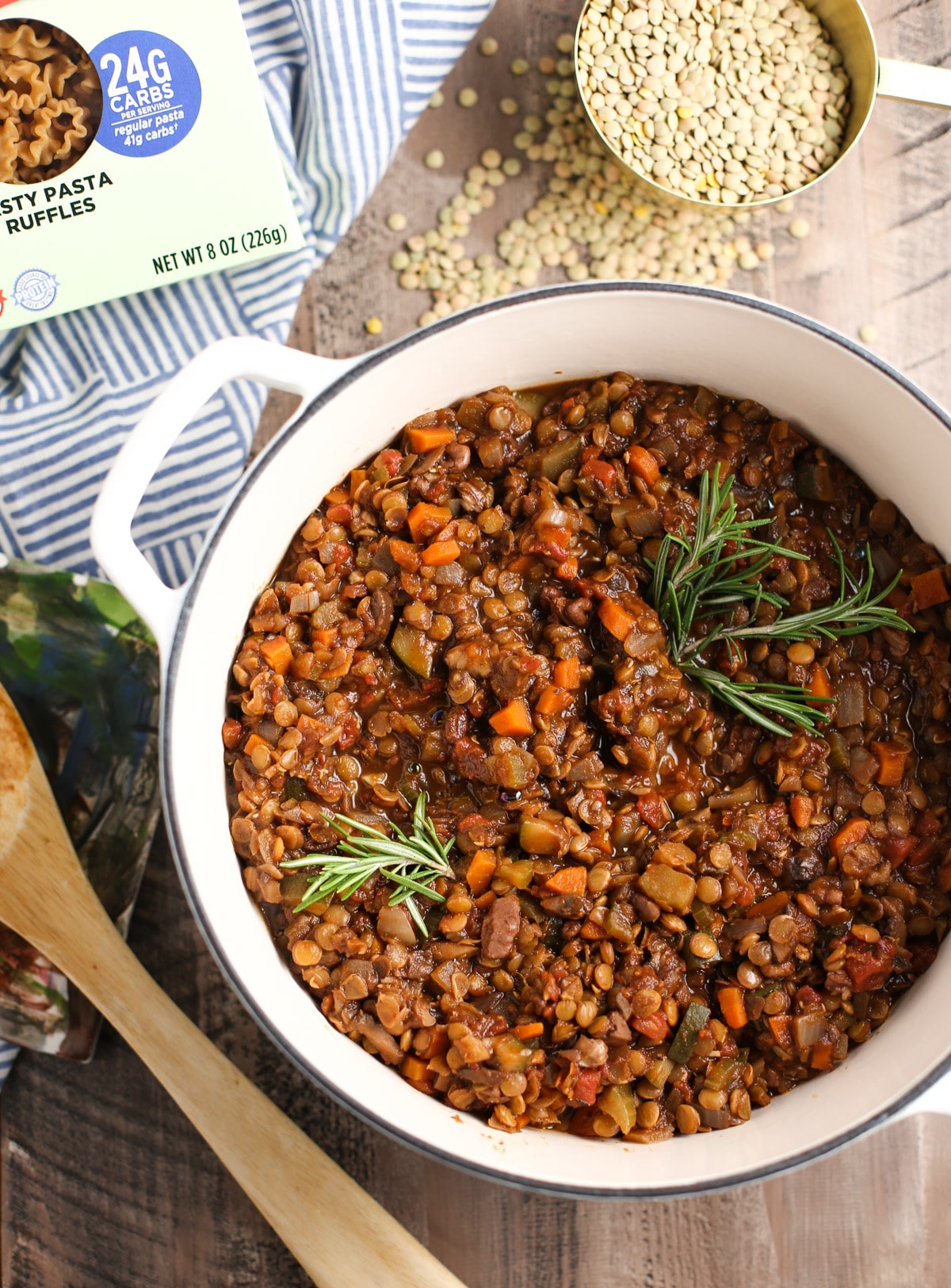 I love this dish because of its bulk, its consistency, and its depth of flavor. You can be satisfied while being healthy without missing any meat at all! After cooking meal-after-meal of rich holiday family recipes, it feels great to pull out a sharp knife and start chopping some veggies.
Lentils are one of my favorite legumes and actually belong to the pea family. Low in fat and sodium, they are the perfect addition to soups, salads, and side dishes.
Super nutritious and high in protein and fiber, lentils are a popular meat substitute and I'd say enjoying "quite the heyday" in this plant-based eating environment.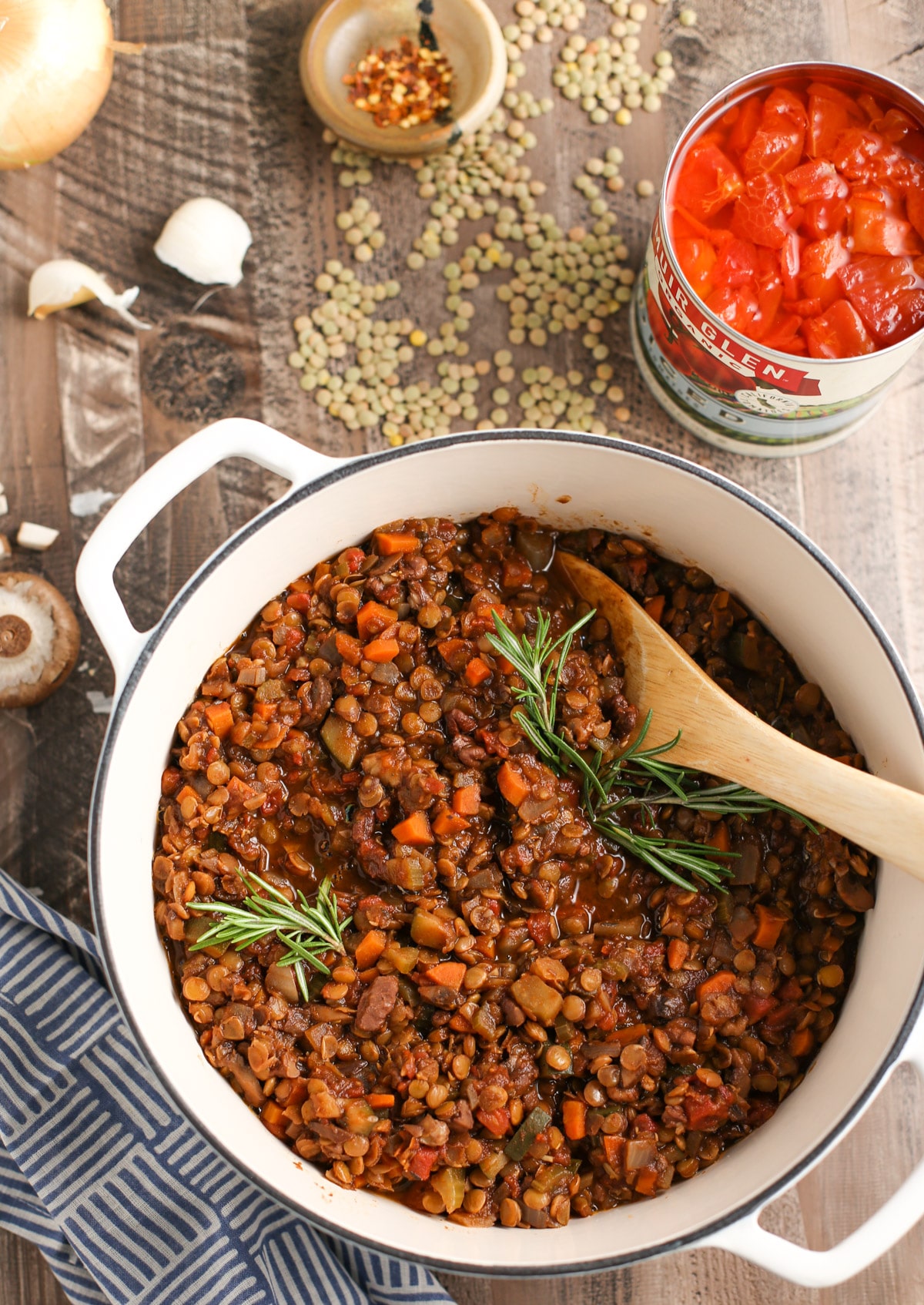 The Lentils in Lentil Bolognese
So which lentils should you use in your Lentil Bolognese? Lentils come in a variety of colors, but most commonly you'll find brown lentils at the grocery store, and that's what I've used in this recipe.
Let's note some of the differences though for your future cooking experiments.
Brown Lentils: The most common of the lentils, they can vary in color from light tan to a darker brown color. They are mild and earthy in flavor, cook in about 20-30 minutes and hold their shape well, so they are perfect for a variety of dishes. Their ease along with their affordability makes brown lentils a pantry staple in my house.
Green Lentils: Taking around 45 minutes to cook, green lentils are a great candidate for soups and dishes that require a longer cook time. They have a more peppery flavor and can have a glossy exterior.
Black Lentils: Also known as beluga lentils or caviar lentils, they are black in color and the most nutritious of all the lentils. With their elegant small size and hearty, earthy flavor, you can use them for lots of dishes or when you want to splurge. One popular brand is Rancho Gordo. Probably easiest to order online and pricier than the more common lentils.
Red Lentils: You've had these (and may not have known it) in many Indian dishes like dals and curries. Red lentils, which are mild and earthy in flavor, yet the sweetest of all the lentils, cook quickly in 10-15 minutes and tend to disintegrate when cooked. Because of their creamy soft texture, they are often used as a thickening agent in dishes like curries and soups. Red lentils color may range from gold to orange to red.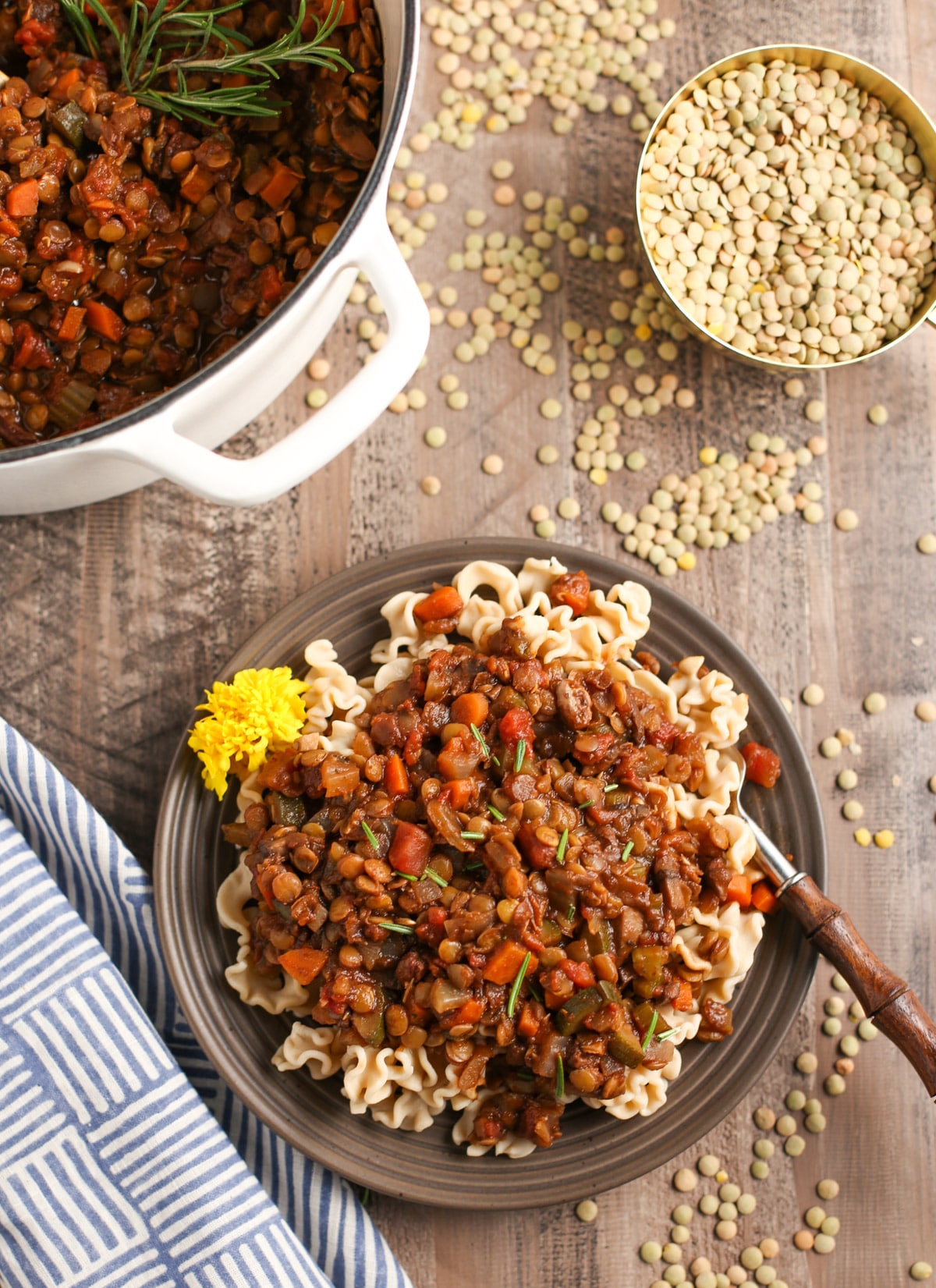 Lentil Bolognese Recipe
Texture matters when creating this hearty plant-based Bolognese. Traditional Bolognese is a meat sauce, usually made with ground beef, and just a little tomato. Besides the brown lentil's natural firm and delicious texture, the key to making our Lentil Bolognese's perfect chunky consistency is the "small dicing" of all the vegetables.
Small dice take a few more minutes of prep time, but the result is worth it. Each vegetable adds its own unique texture and layer of flavor making this a delectable wholesome dish.
There is a rainbow of vegetables in this recipe adding more vitamins and nutrients to this plant-based powerhouse of a dish. Carrots, onions, celery, and tomatoes are expected…but zucchini and mushrooms? An unexpected surprise!
All these ingredients require a good dose of seasoning, and we do not hold back here. Plenty of dried herbs with some red chili flakes and chili powder to deepen and meld the flavors.
Your taste buds and glands will respond immediately when the sauce is simmering, and the magic begins.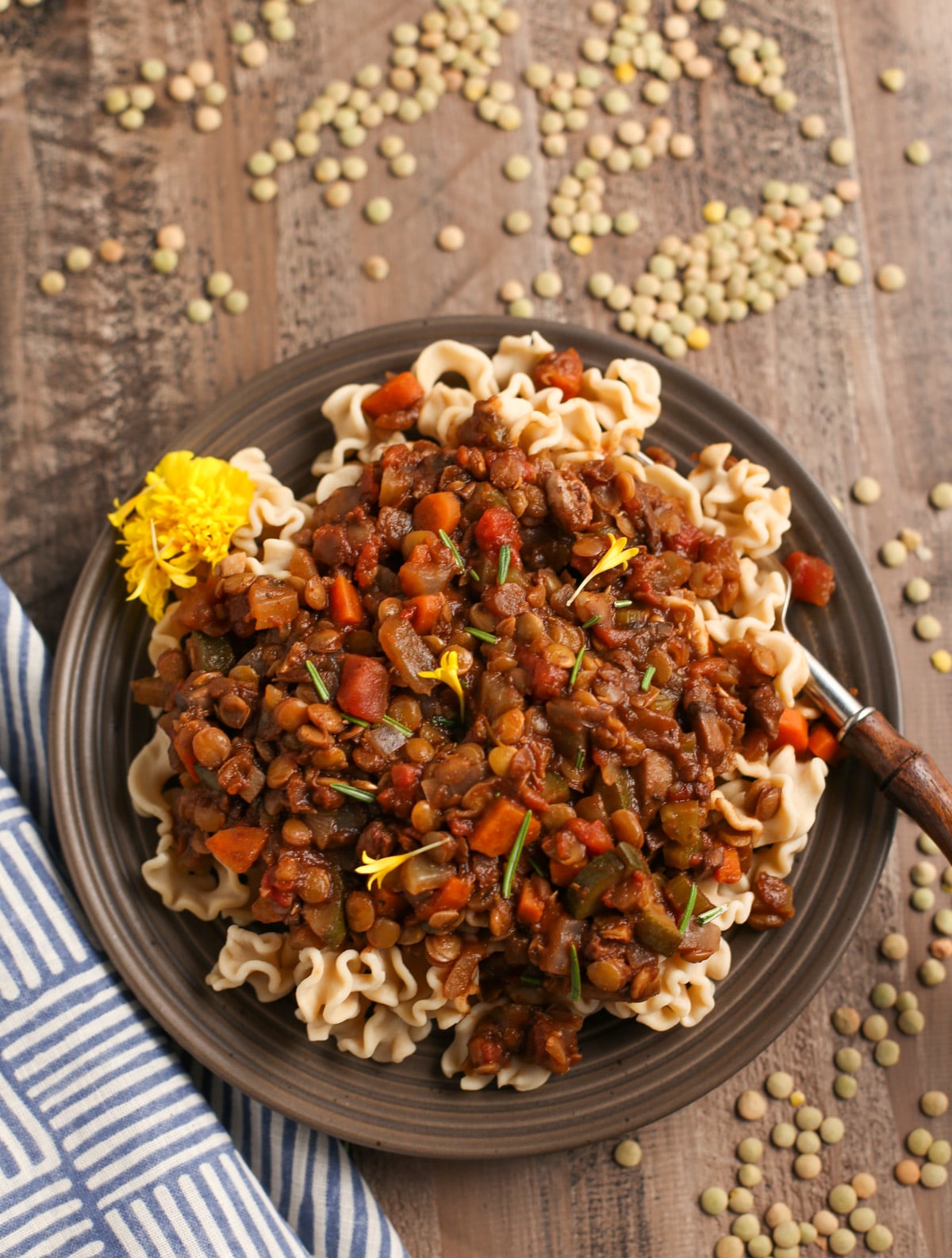 Vegan Lentil Bolognese
Our plant-based Vegan Lentil Bolognese is also one of the most versatile recipes on our blog. But you don't have to be a vegan to love this meal! We recommend serving it over our Good Day Pasta, which is low carb and high in protein and fiber. It's actually 42% fewer carbs and 17g net carbs per serving! Welcome back, Pasta!
The ruffles and curves of these noodles are the perfect companions for this thick, hearty sauce. And you can keep your New Year's resolution alive by watching carbs and sugar!
We've also used Good Day Pasta in our Toasted Nut and Feta Pasta and our Deconstructed Lasagna…try them both another night!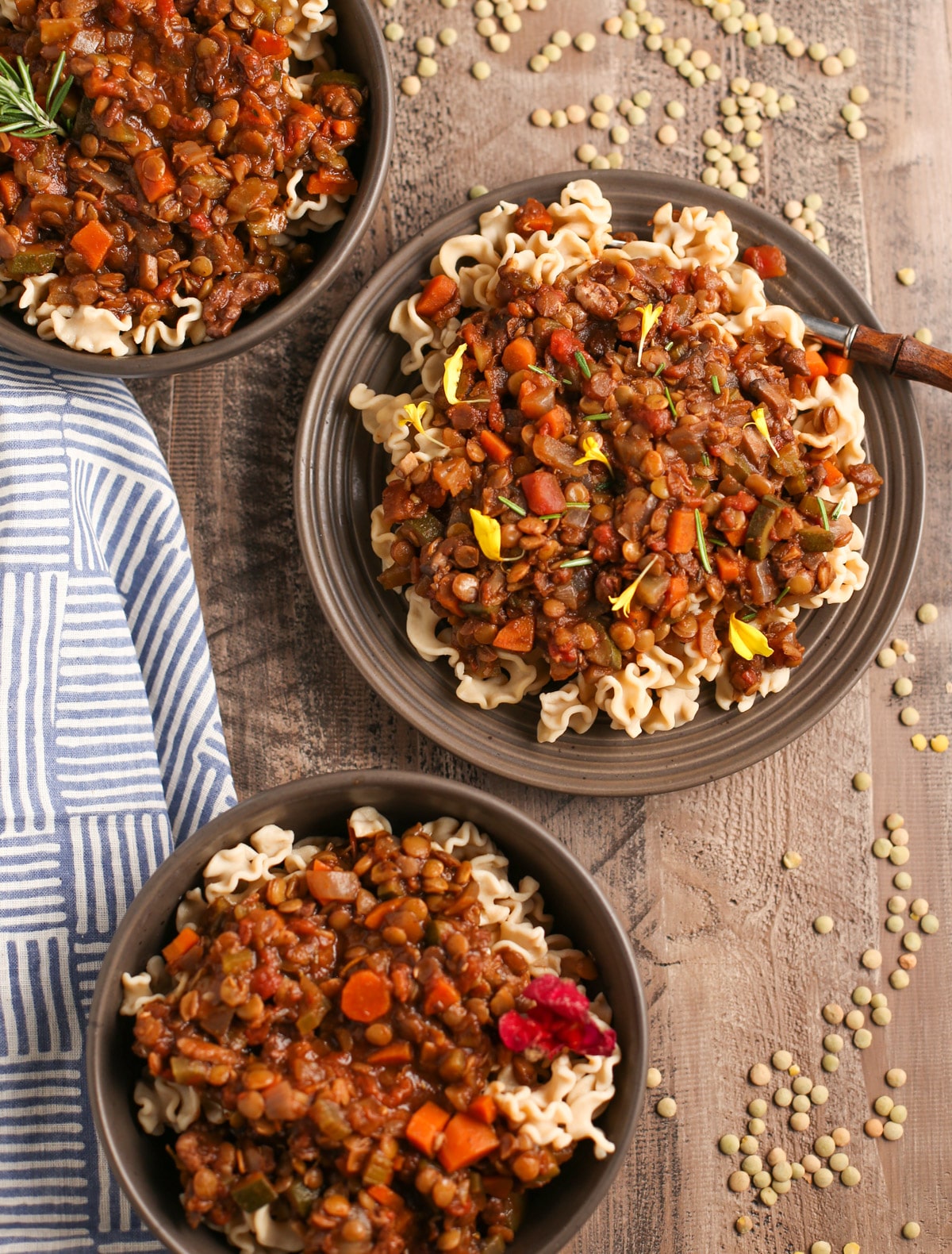 Options for Enjoying Lentil Bolognese
Wow – there are so many ways to enjoy Lentil Bolognese! Here are some other ideas to consider.
For a gluten-free option, serve this over spaghetti squash, or mashed butternut squash.
Serve in a bowl with some homemade garlic bread on the side – dip away!
Use as a meat alternative in your Shepard's pie recipe!
Lentil Bolognese Lasagna? Why not?! A wonderful hearty layer.
Serve over creamy polenta or grits…yum.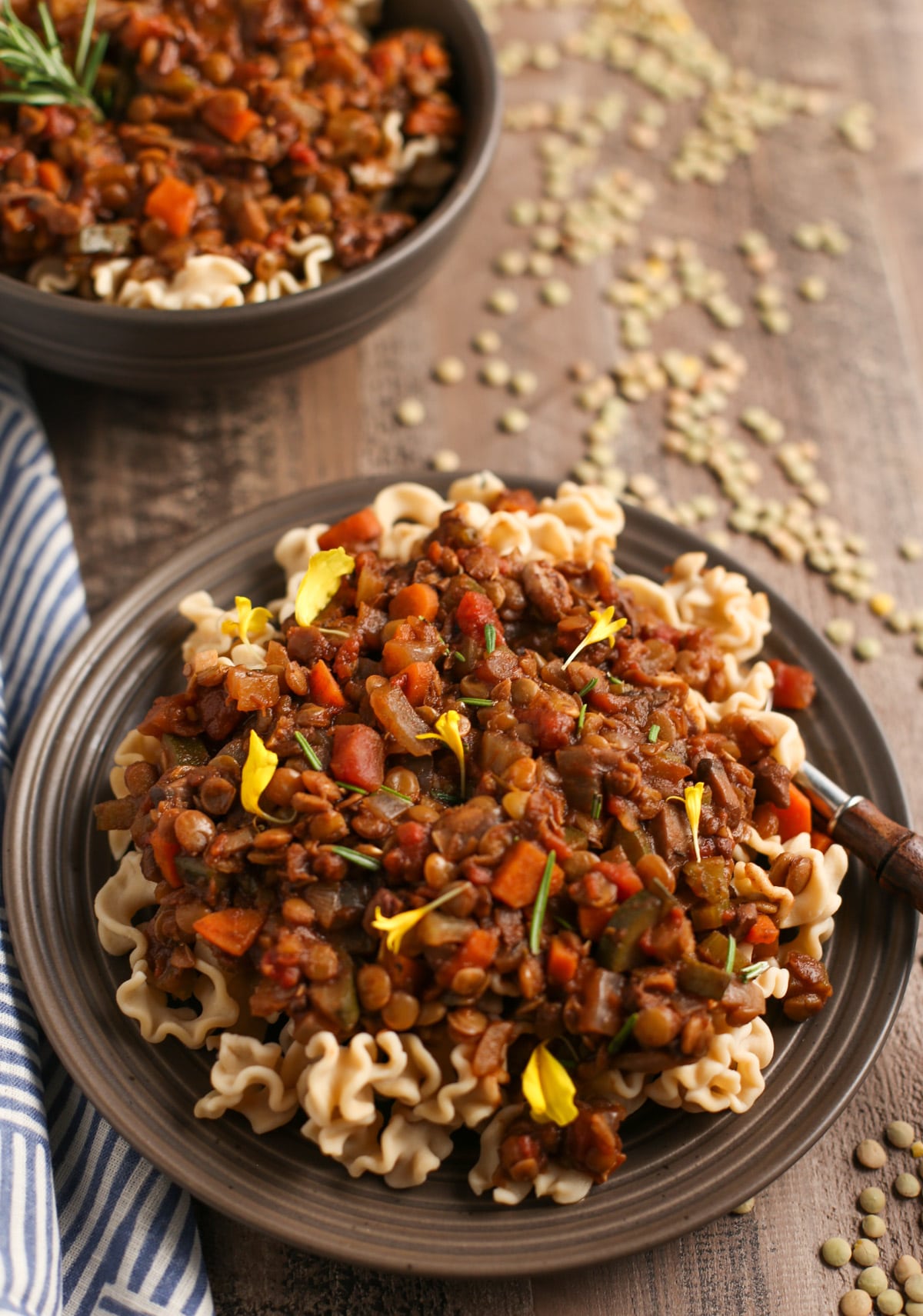 Whether you are following a plant-based diet, taking the challenge for Veganuary, or just love lentils and healthy veggie options, I hope this recipe will be saved and enjoyed.
PS: Notice that I garnished my dish with some edible flowers. I'm exploring ways to incorporate them in dishes and love the pop of color!
Happy eating friends! I would love to hear how you like it!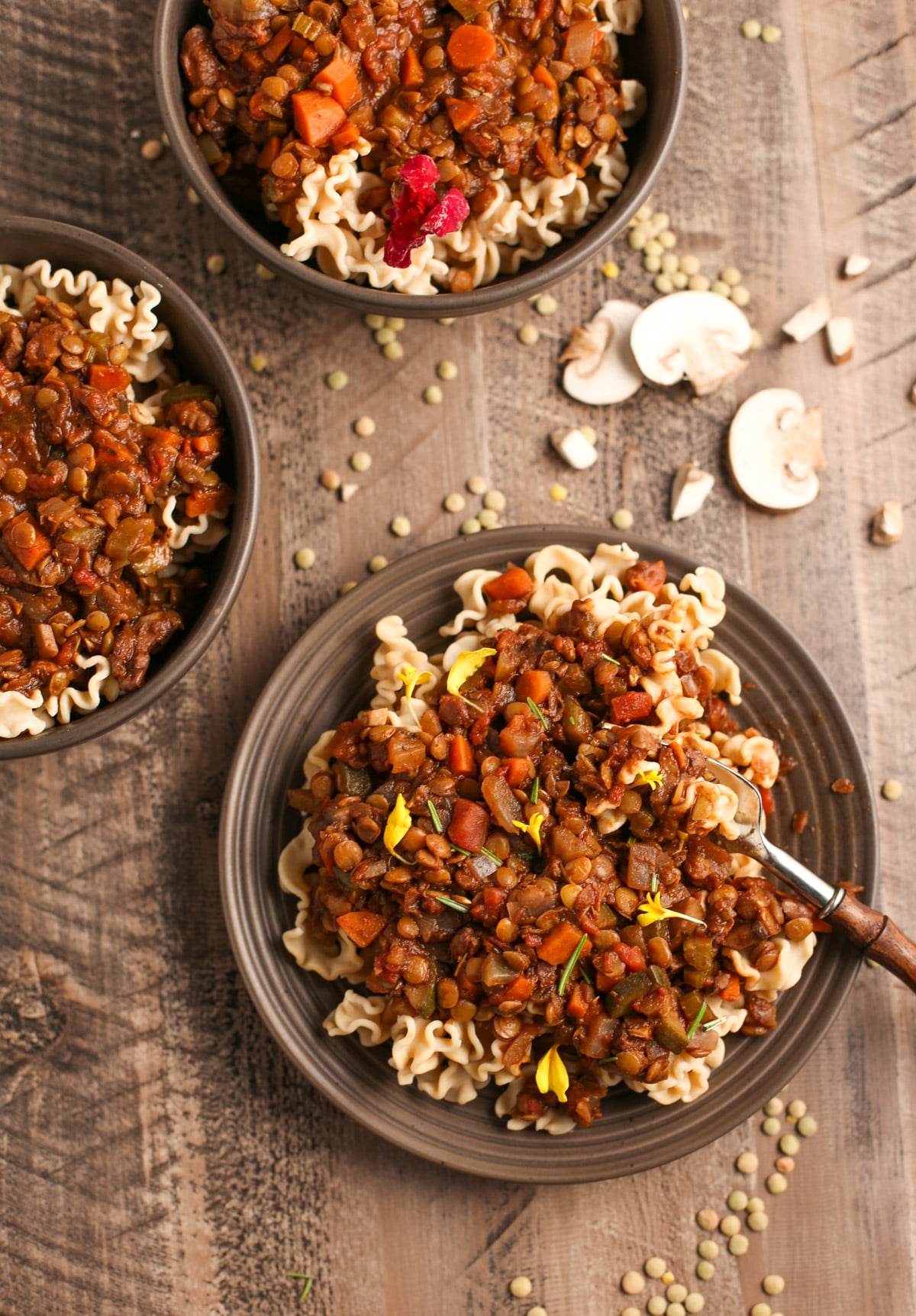 For more happenings at Pastabilities follow us on Instagram @worldofpastabilities or on Facebook @pastashoppeusa. We'd love you to share your fun at the table with us!
Print
Lentil Bolognese with Low Carb Pasta
Delicious, plant-based Lentil Bolognese with Low Carb Pasta is a great pasta night alternative!  Full of veggies and packed with flavor, you will enjoy the versatility of this recipe!
Ingredients
8 ounces (1 box) of Good Day Pasta, or any short pasta shape of your choice
2 T. olive oil
1 large onion, small diced
3 medium carrots, small diced
2 large celery stalks, small diced
1 small/medium zucchini, small diced
1 cup of small diced mushrooms (baby portabellas, or white)
4–6 cloves of garlic, diced
2 t. chili powder
1 t. each of dried oregano, rosemary, and thyme (or 1 T. dried Italian herbs)
1 ½ t. kosher salt
1 t. pepper
¼ t. red chili flakes
¼ cup tomato paste
1 28 ounce can of diced tomatoes
4 cups vegetable broth or stock
1 ¼ cup lentils (brown or green)
2/3 cup toasted walnuts or pecans, chopped
¼ cup balsamic vinegar
Fresh rosemary or edible flowers for garnish!
Instructions
Heat oil in a large pot or Dutch oven over medium heat.  Add the onion and sauté for 2-3 minutes. 
Add the other vegetables, garlic, salt, pepper, chili flakes, and herbs.  Sauté for an additional 10 minutes until all veggies are soft.
Add the tomato paste and stir, incorporating it into veggies. 
Next, add the can of tomatoes and cook down for 2-3 minutes.
Add vegetable broth, lentils, and nuts.  Stir and bring to a boil.
Cover pot, reduce heat to low, and simmer for 30-35 minutes until the lentils are tender.
Uncover and add the balsamic vinegar.  Adjust seasonings as needed. 
Most of the liquid should be cooked off at this point.  If not, continue cooking for a few more minutes until desired consistency.
Cook pasta according to package directions and drain. 
Divide pasta into 4 bowls. 
Pour lentil Bolognese over pasta and garnish with fresh rosemary, edible flowers, or fresh Parmesan. 
Enjoy this healthy meal!
Note: Read the blog post for lots of ways to serve and enjoy this recipe – from gluten-free to lasagna!
Notes
Note:  Extra Bolognese can be refrigerated for up to one week, or frozen for a later date.
Join our email list for fresh pasta recipes delivered to you every week!
Your information will NEVER be shared or sold to a 3rd party.