Light Mac and Cheese with Tomatoes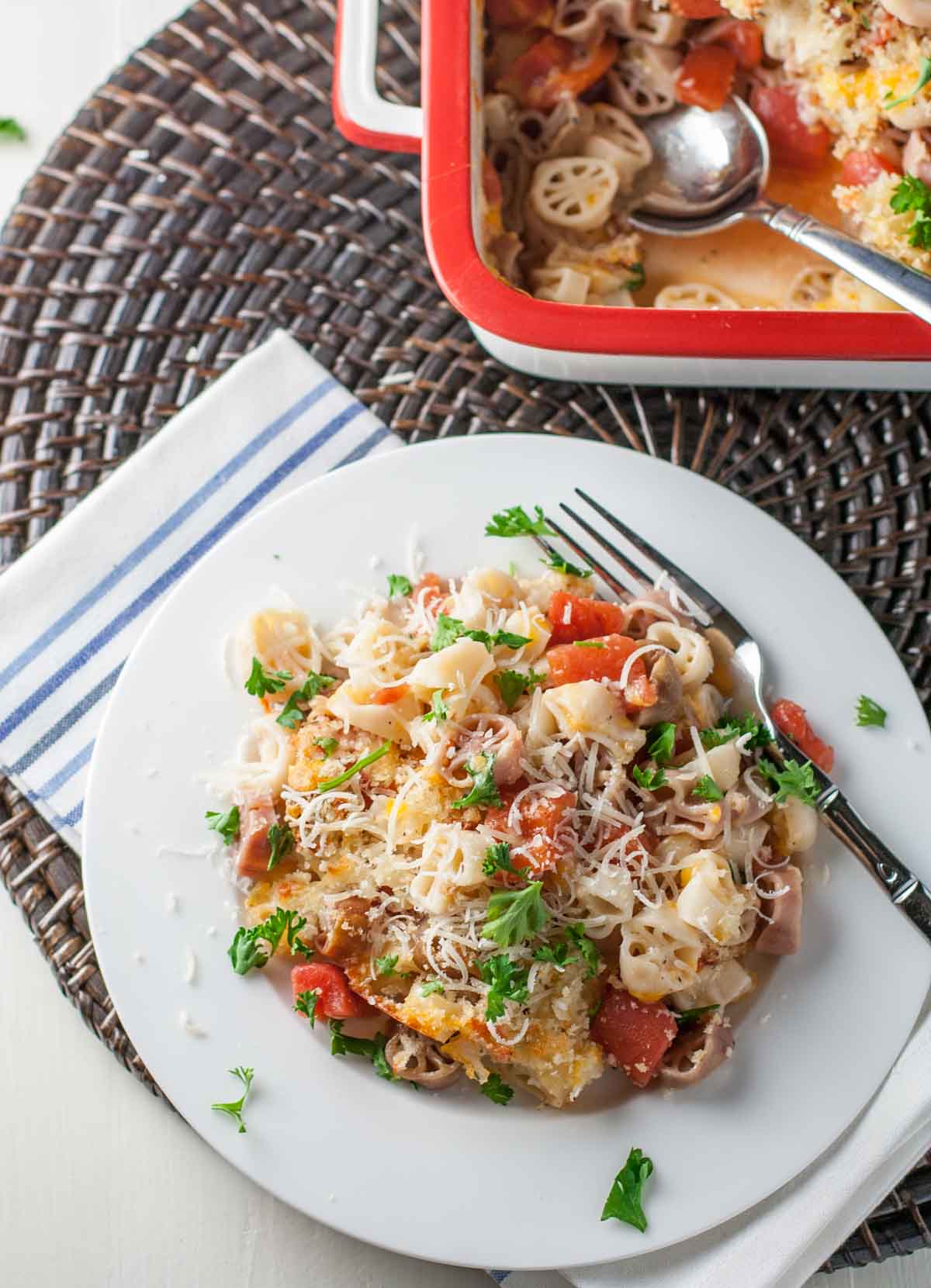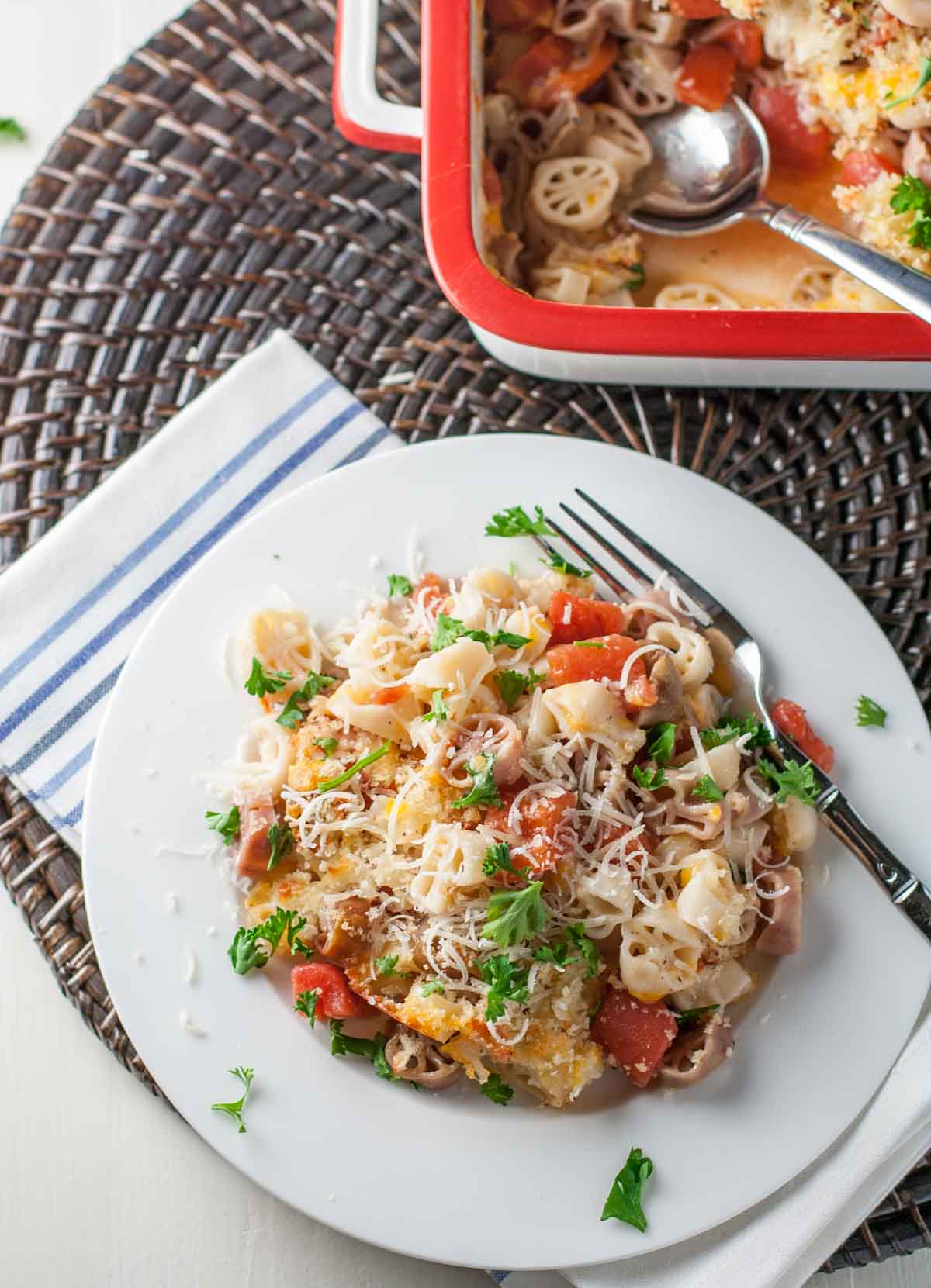 We are still in the season of comfort foods.  But winter will be leaving us shortly as we dabble in the pre-Spring season.  Around the corner for you may be a Spring break vacation or a weekend trip to warmer weather.  Most of us, safe to say, are ready at this point to embrace a little sunshine.  Light Mac and Cheese with Tomatoes can add some brightness to your menu planning!
As we face another cold spell of what has become every changing winter weather, I'm trying to balance my need for comfort, versus the trim eating that my body will appreciate come mid-March. The moment I pull out the dreaded bathing suit.  Feeling the same way, perhaps?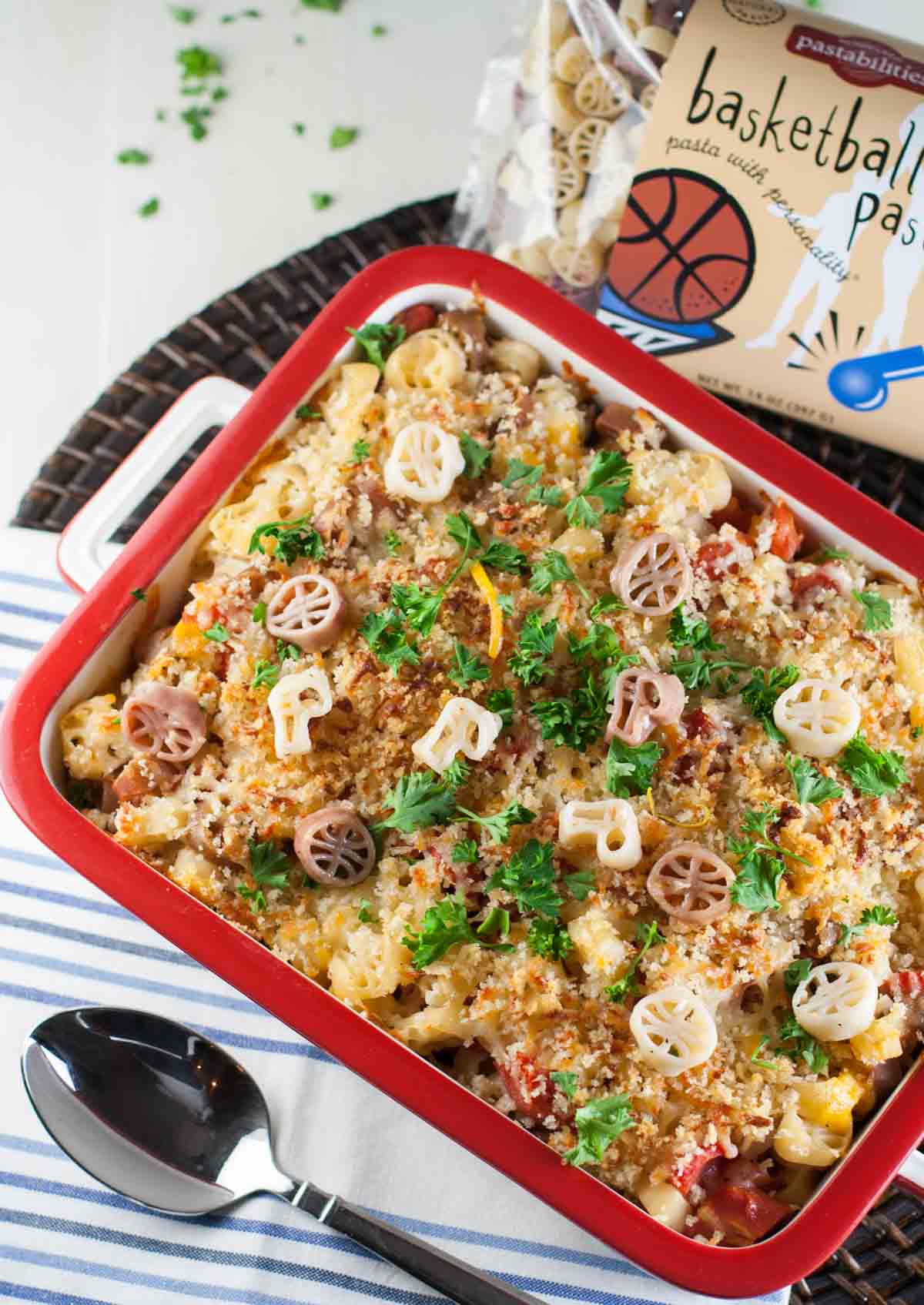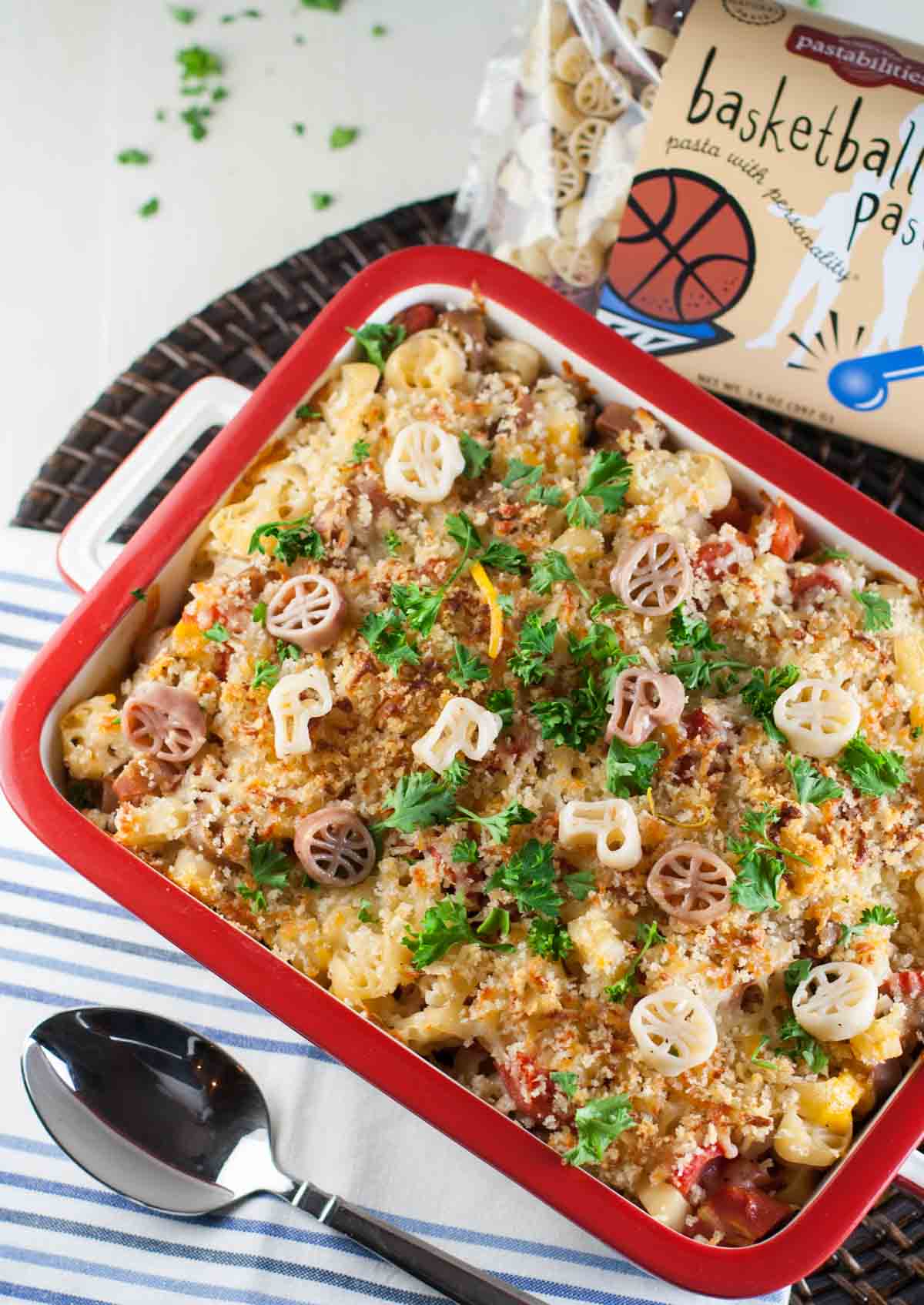 The boys have been begging me to make Mac and Cheese, and although Homemade Mac and Cheese is high on their list of favorites, I thought I'd try to lighten it up a bit so Momma could enjoy some too. 🙂
When you hear "four cheese" anything, you quickly conclude that it's probably too fattening to enjoy.  Same with "mac and cheese".  We all know too well the butter, milk, and gross amounts of cheese that makes it taste sooooo good!  But TA-DAH!  Here it's safe to enjoy Light Mac and Cheese with Tomatoes.
Light Mac and Cheese with Tomatoes
The secret? You use some pasta water to combine with your cheeses.  The starch in the water helps to thicken the dish…and butter is kept to a minimum!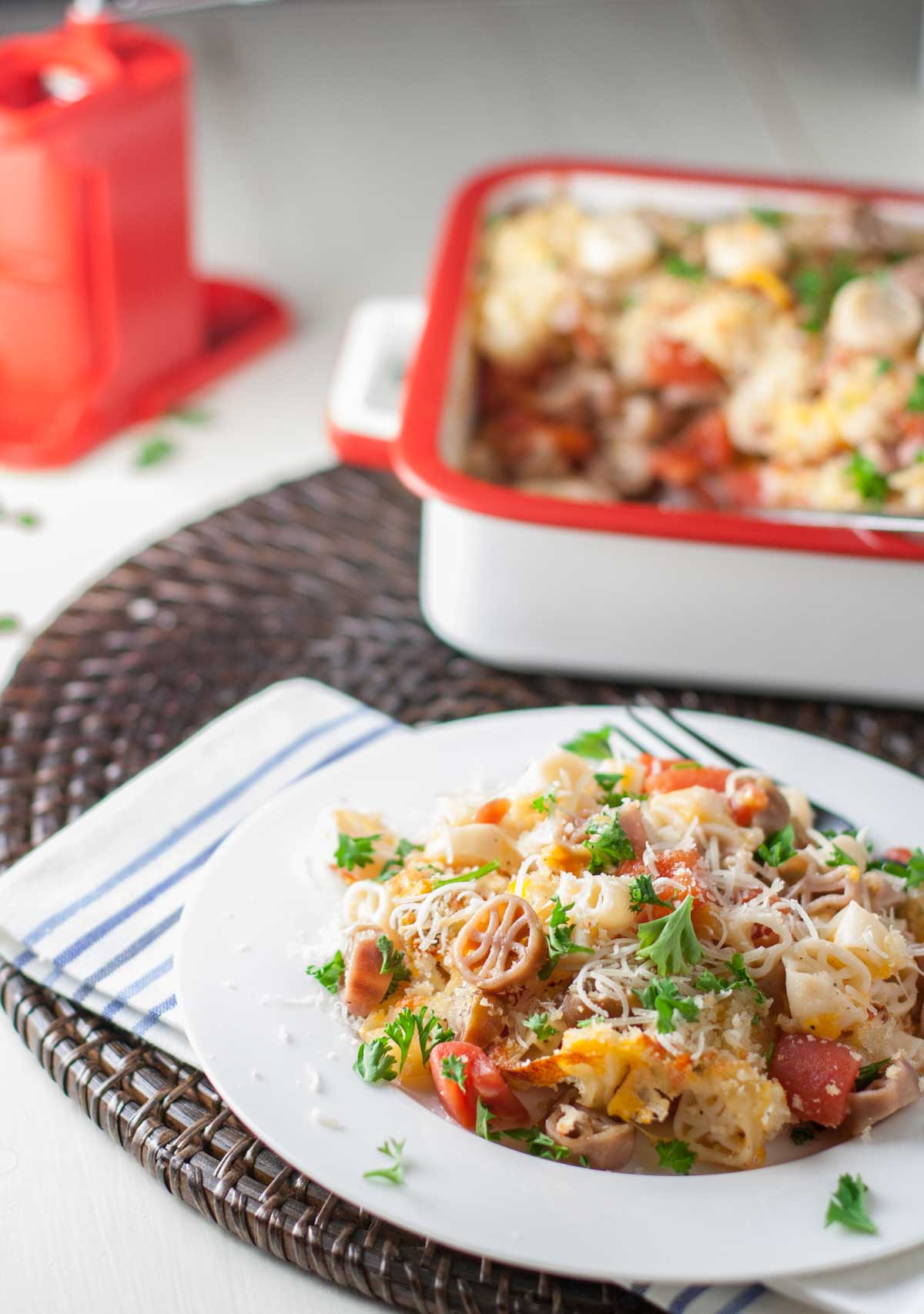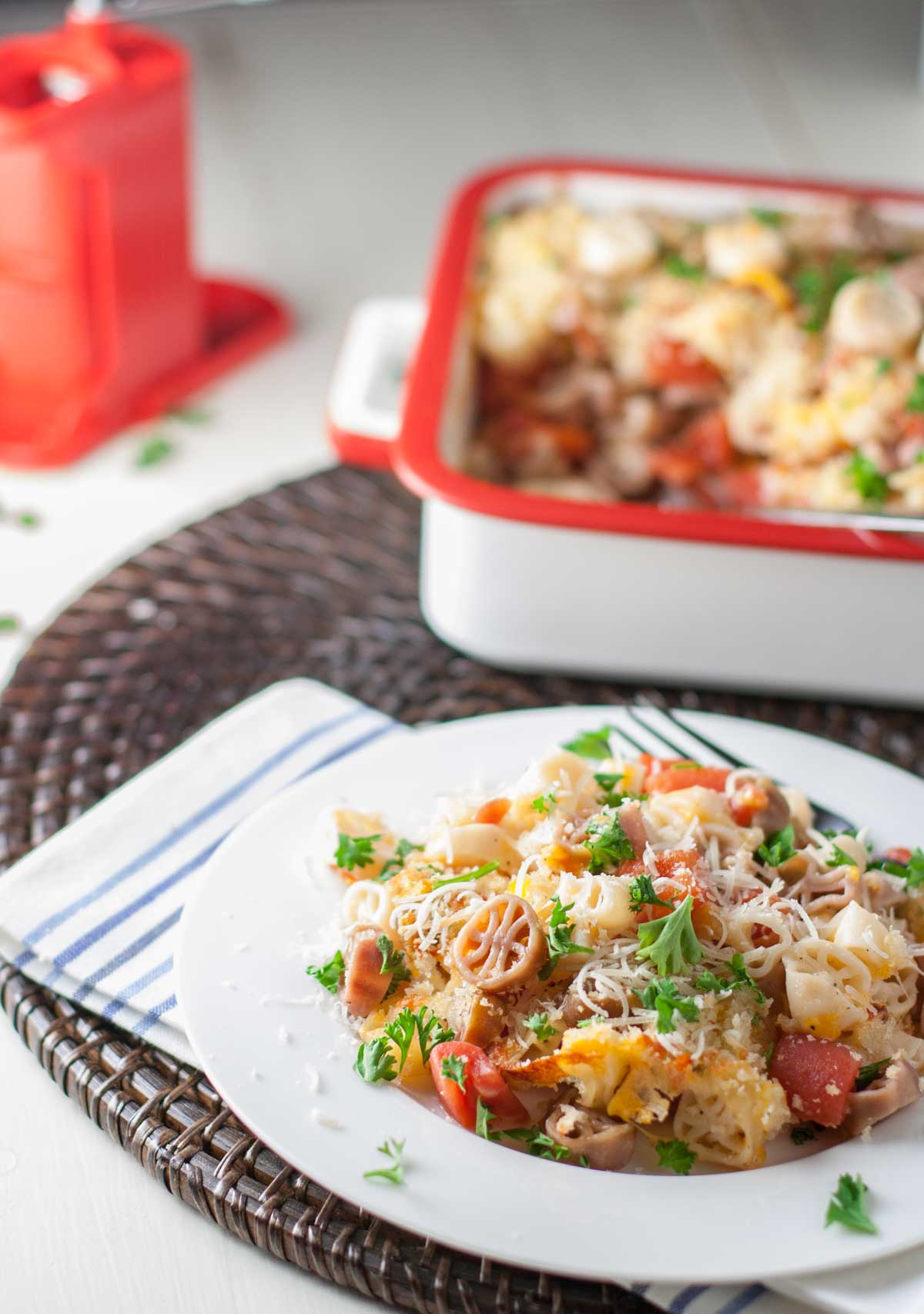 Plus, the 9 x 13 casserole dish only has 2 cups of cheese total.  I combined part of an 8-ounce bag of blended Italian cheeses (any blend will do, but mine contained mozzarella, Parmesan, and Romano) and also some shredded sharp cheddar.  You might find different combinations of three, four, or five cheeses.  Stores carry a wide variety these days to make our jobs a bit easier, and the cost of fancy cheeses a bit more affordable.  So go ahead with whatever looks good to you – and don't limit the cheese count!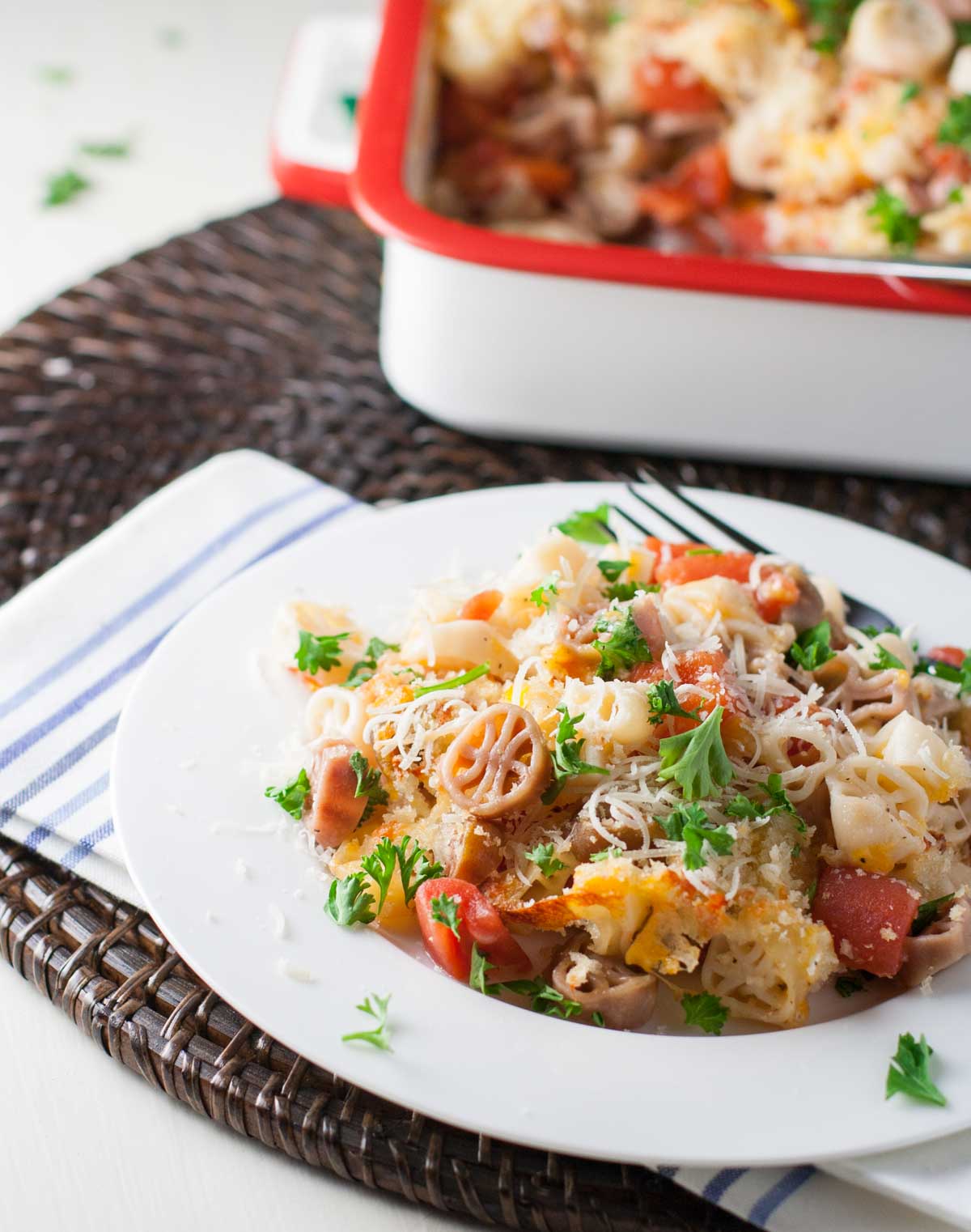 A simple can of diced tomatoes adds some color and sweet flavor, plus the extra juice helps moisten the overall pasta dish.  After you add a few teaspoons of herbs, you are ready to top with some crunchy panko, bake for a few minutes and serve your hungry ones!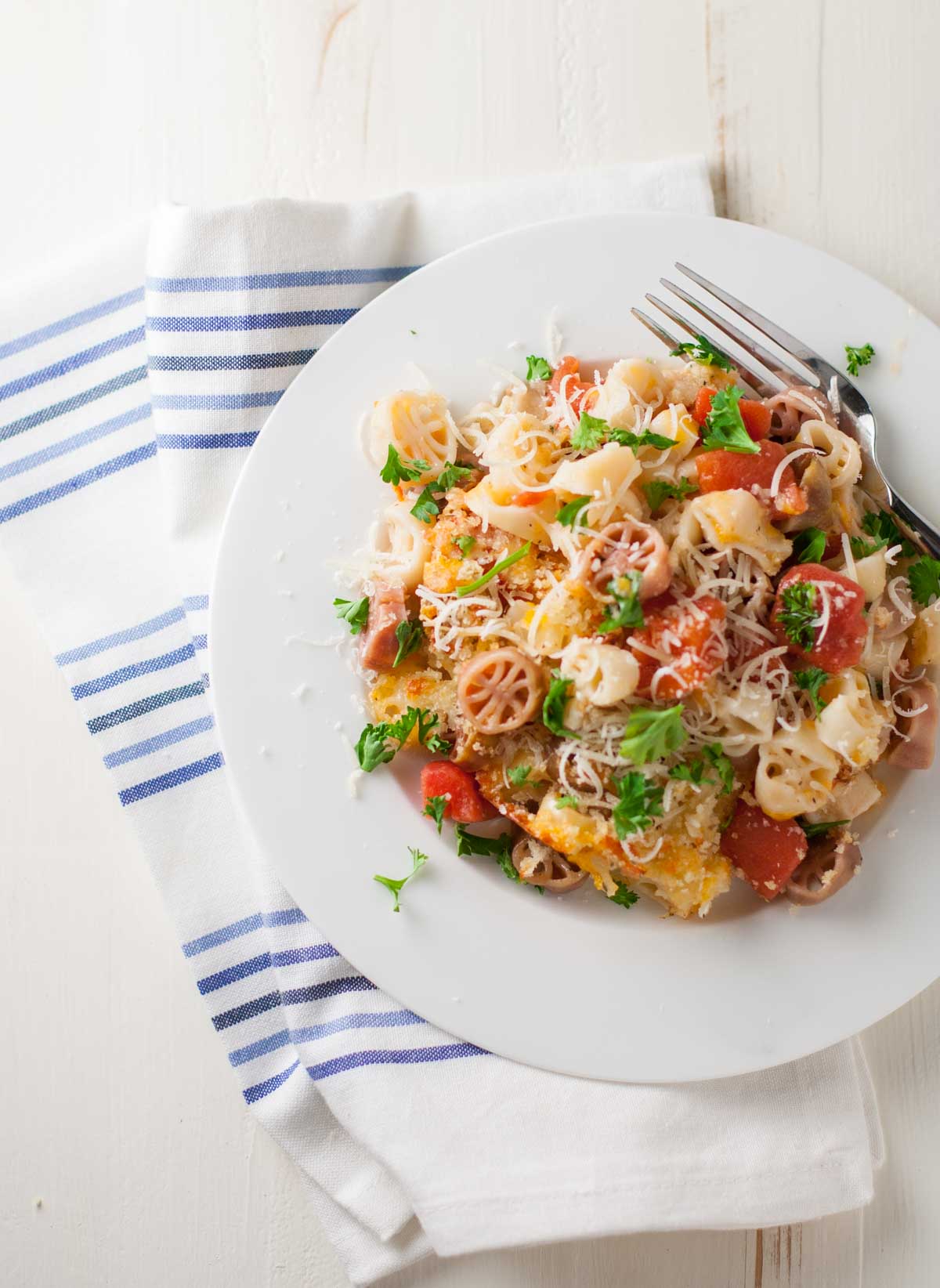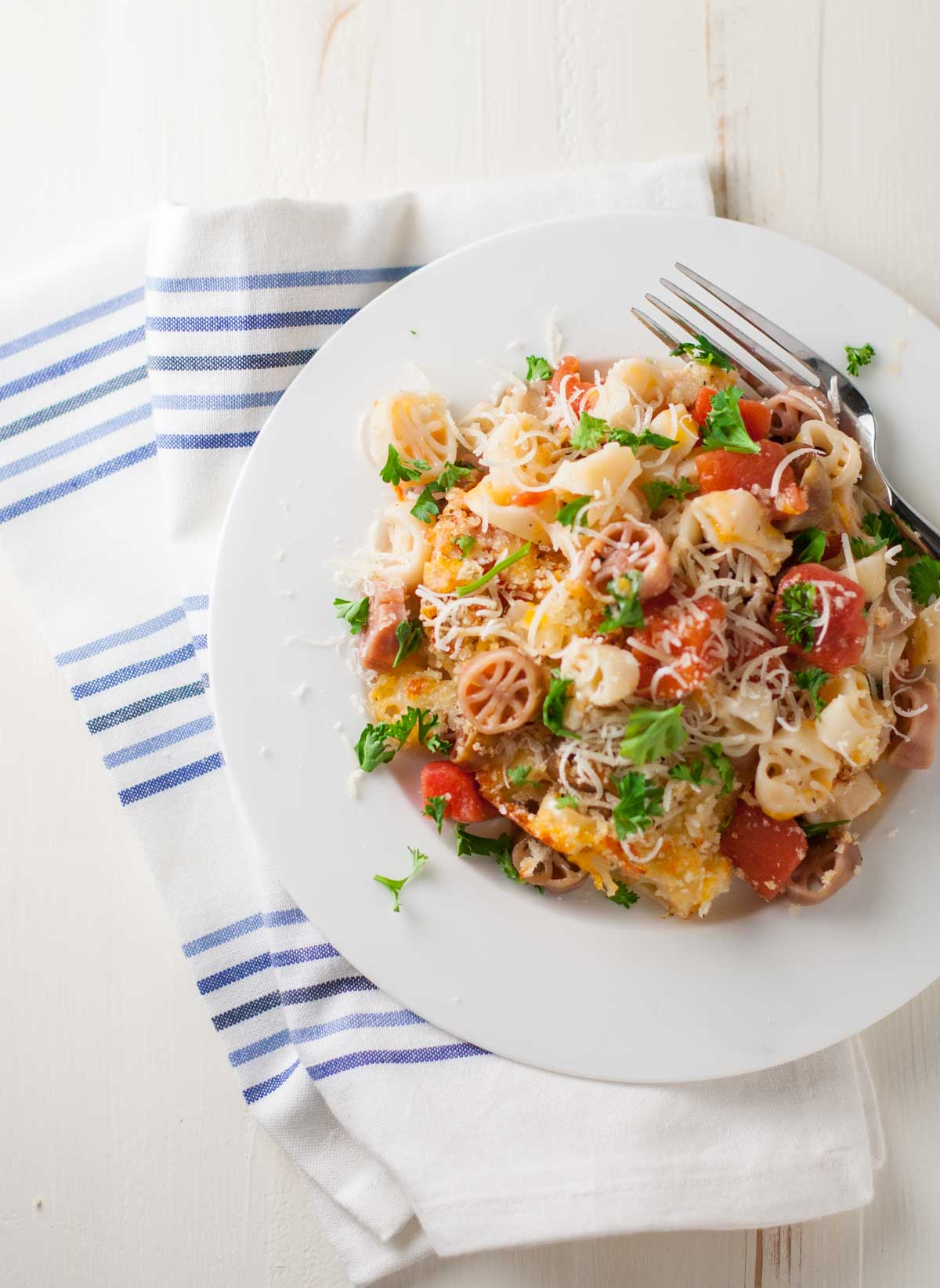 It holds true that you still can't stop eating this mac and cheese, but you do feel a lot less guilty when enjoying it.  Proof came too when the boys asked for more.  Light Mac and Cheese with Tomatoes may hit our "new favorites" list.  Did you catch (no pun intended!) that I featured our Basketball Pasta for the macaroni?  These fun shapes add texture and color also to the presentation…just in time for basketball season and March Madness.  I was hoping the kids would notice the basketballs and whistles, and not the lightened up taste.
Momma shoots, she scores!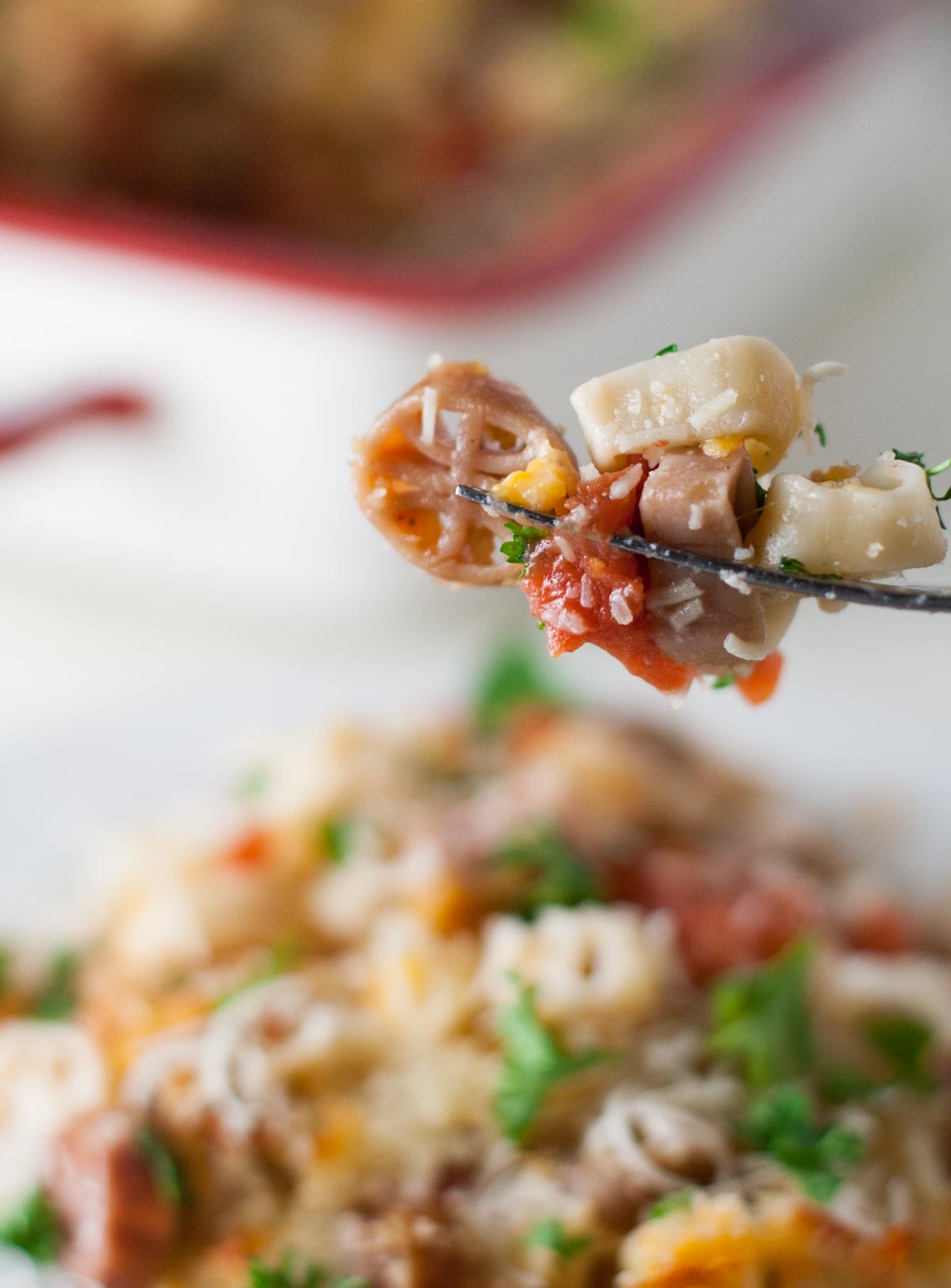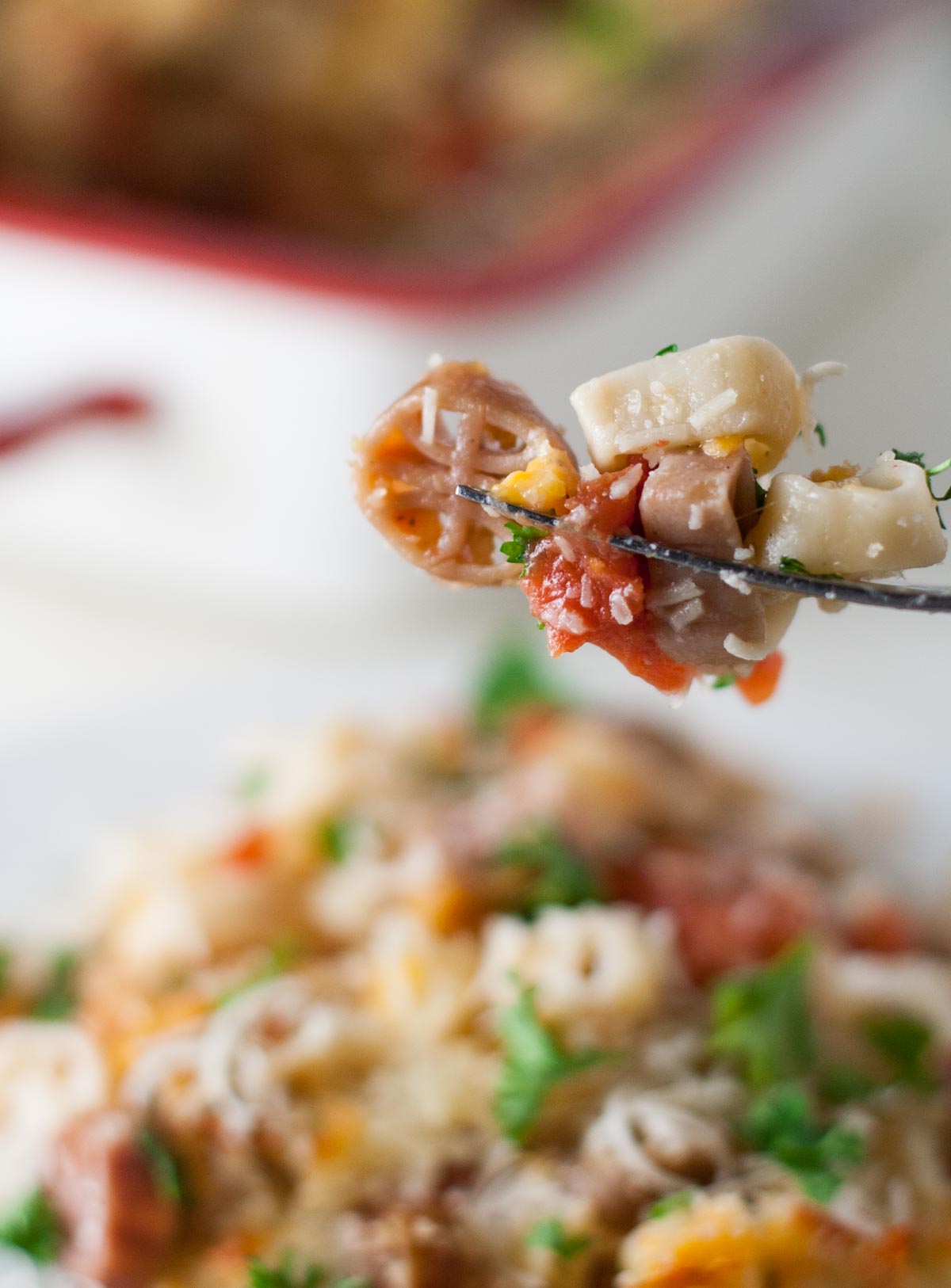 Like with many of my recipes, the pasta shapes can be switched out for different occasions and fun events.  And when it's a dish that can be enjoyed by the entire family without sacrificing great flavor or a billion calories, even better!  Enjoy!
Light Mac and Cheese with Tomatoes
A lightened up version of Mac and Cheese! Great on flavor and texture…and simple to make! Use any combination of cheeses and a pasta shape to suit the occasion!
Ingredients
14 oz

. bag of Basketball Pasta (or any other short shape!)

6

T. butter, divided

1 1/2 cups

shredded Italian blend cheese (3,4 ,or 5 cheeses) (part of an

8 ounce

bag)

1/2 cup

shredded sharp cheddar cheese

1

14 oz. can diced tomatoes, with juice

1

t. salt

1

t. Italian seasoning

1/4

t. pepper

1/2 cup

panko (or dry seasoned bread crumbs)
Fresh chopped parsley for garnish
Instructions
Preheat oven to 350 degrees.
Using 1 T. of butter, grease a 2 1/2 or 3 quart gratin/casserole dish.
Cook pasta according to package directions, drain (RESERVE 1 cup of pasta water!), rinse with cold water and toss with 1 T. oil.
In a large bowl, combine the can of tomatoes, with juice, 1 cup Italian blend cheese, 1/2 cup shredded cheddar cheese, all seasonings, 23 T. melted butter, and reserved pasta water. Add cooked pasta to bowl and toss gently to combine. Optional: Pull a few pieces of pasta out of bowl to save and top dish, so guests will notice the pasta shape!
Pour pasta mixture in casserole dish.
Combine panko with 2 T. melted butter in a small bowl.
Sprinkle panko mixture over top of casserole.
Bake for 25-30 minutes until dish is hot, pasta is melted and top crust is golden brown!
Top with fresh chopped parsley and extra pasta pieces.
Join our email list for fresh pasta recipes delivered to you every week!
Your information will NEVER be shared or sold to a 3rd party.