Linguine with Mussels and Chorizo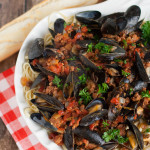 Fabulous Mussels and Chorizo over Linguine…a wonderful meal! Don't forget the baguette! Note: I would double this recipe! I could have used more sauce!
Ingredients
1

lb. linguine (or other long pasta like angel hair or spaghetti) – note: you'll use about 1/2 the pasta for one sauce recipe

1

5 lb. bag of mussels

1

lb. chorizo (can sub Italian sausage if you like)

1

28 oz. can of whole Italian tomatoes

1

onion, diced

3

cloves garlic, minced

8 oz

. bottle of clam juice

1

bottle dark beer (any brand will do)

1 cup

white wine (use something inexpensive and dry)

1 ounce

or more fresh basil, torn or chopped, plus more for garnish

2 tsp

. dried oregano

1 1/2

t. salt

1/2

t. sugar

1/2

t. red pepper flakes

3

T. butter
Fresh parsley for garnish
Cook pasta as directed on package. Drain, rinse and keep aside.
For sauce, brown chorizo in large sauce pan. About half way until done, add onion, stir for a couple of minutes and then add garlic. To drain excess fat, remove pan from stove top, tilt pan, and use paper towel to soak up fat. Helps to have 2 sets of hands!
Remove whole tomatoes from can and dice on a cutting board. Add tomatoes and all juice to sauce pan.
Add clam juice, white wine, basil, oregano, salt, red pepper, and sugar to pan. Simmer on med-low for 20-25 minutes. You will add the butter to the sauce right before serving.
In the meantime, rinse the mussels and remove any whose shells are cracked or open. (a very small opening is OK). Add beer to a large deep stock pot. Bring to medium high heat until beer is steaming. Add mussels to stock pot. Cover with lid. In about 3 minutes, open and stir mussels to move them around the pot. Cover again for approximately 2-4 minutes more. Mussels are ready when they are all open! Cooking time does vary because of heat and pot…but they are ready when opened!
Add butter to sauce and combine thoroughly.
On a plate or platter, add your preference of pasta. Top with sauce and plenty of mussels. Then add some more sauce and fresh basil and parsley. Serve with hot fresh bread!
I had some pasta leftover and realized I needed more sauce – so please double for maximum enjoyment!
Notes
Double this recipe if you can…I wish I had! I used approximately half the pasta for one recipe of the sauce.