Mighty Minestrone Soup (High Protein)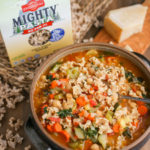 Delicious and full of flavor – you'll love our Minestrone Soup! Use whatever veggies you have on hand…and enjoy!
Ingredients
1 medium onion, diced
3 celery stalks, chopped
3 medium carrots, diced
1 medium zucchini, diced
1 medium yellow squash, diced
2 cloves garlic, minced
2 Tablespoons olive oil
2 Tablespoons butter
2 teaspoons kosher salt
1 (15 oz) can chickpeas (garbanzo beans), drained and rinsed
2 (14.5 oz) cans fire roasted tomatoes
8 cups vegetable or chicken broth
1-piece Parmesan rind (approx. 2×3)
8 oz. box of Mighty Pasta (or any other short shape like penne, rotini, or orzo)
½ lemon, squeezed and juiced
3 cups fresh kale, chopped, or baby kale
2 T. basil pesto
Kosher salt and black pepper, to taste
Parmesan cheese, grated for garnish
Parsley, chopped, for garnish
In a large stock pot or Dutch oven, melt butter and olive oil over medium high heat , and add the onions, and add 1 teaspoon kosher salt.  After onions soften, add carrots and celery, and sauté for another 3 to 5 minutes.
Add the zucchini, squash, and garlic and cook until softened, about 3-4 minutes.
Add the chickpeas, the broth, the tomatoes with their juices, and the Parmesan rind.
Stir to combine, bring to a boil, and then reduce and simmer for 10 minutes.
Add the pasta and continue to simmer for another 9-10 minutes until pasta is al dente!
Remove the Parmesan rind, add the lemon juice, the fresh kale, and also 2 T. of basil pesto.  Stir until thoroughly combined and kale begins to wilt.
Taste and adjust seasonings if needed.
Serve immediately and garnish with extra Parmesan and fresh parsley. Enjoy!