One Pot Pasta Puttanesca with Puzzle Pasta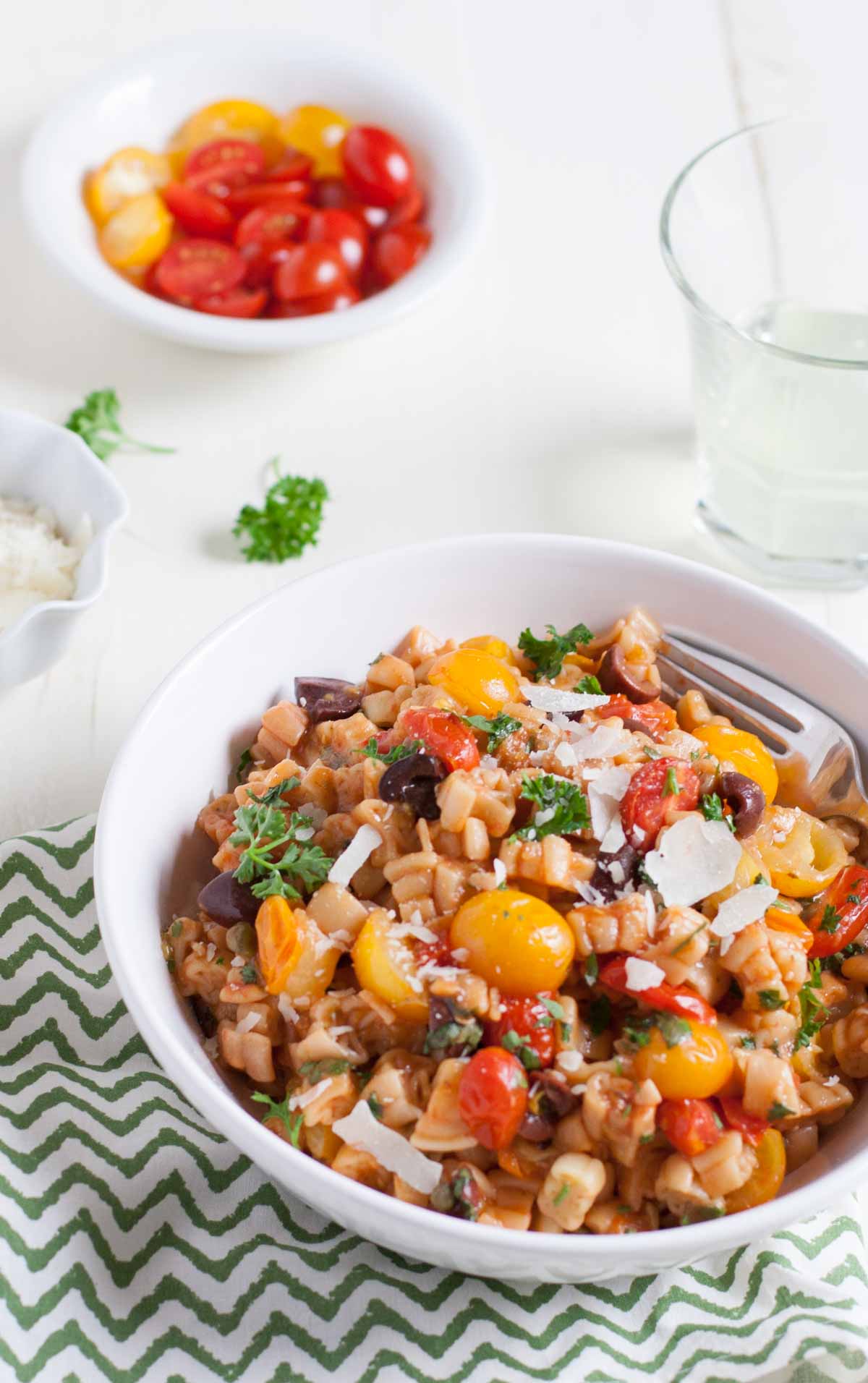 Cooking Light, one of my favorite foodie magazines, always has a beautiful cover with a mouthwatering dish featured. The March issue features "One Pot Pasta Recipes" – HELLOooo?! Guess whose ears perked up?!
Immediately I knew I had to take the challenge and #CooktheCover! One Pot Pasta Puttanesca looked too delicious to pass up! Plus… I had another pasta issue on my mind. One of our new wholesale customers had just ordered a million (OK, maybe slightly overstated) bags of Puzzle Pasta. Have you ever heard of Crated with Love? Tyler and Michelle are the creative geniuses and owners of this interesting and fun business, solving the quandaries of the typical "boring" date night. Michelle has a masters in marriage and family counseling and these two are super focused on strengthening relationships while having fun doing it!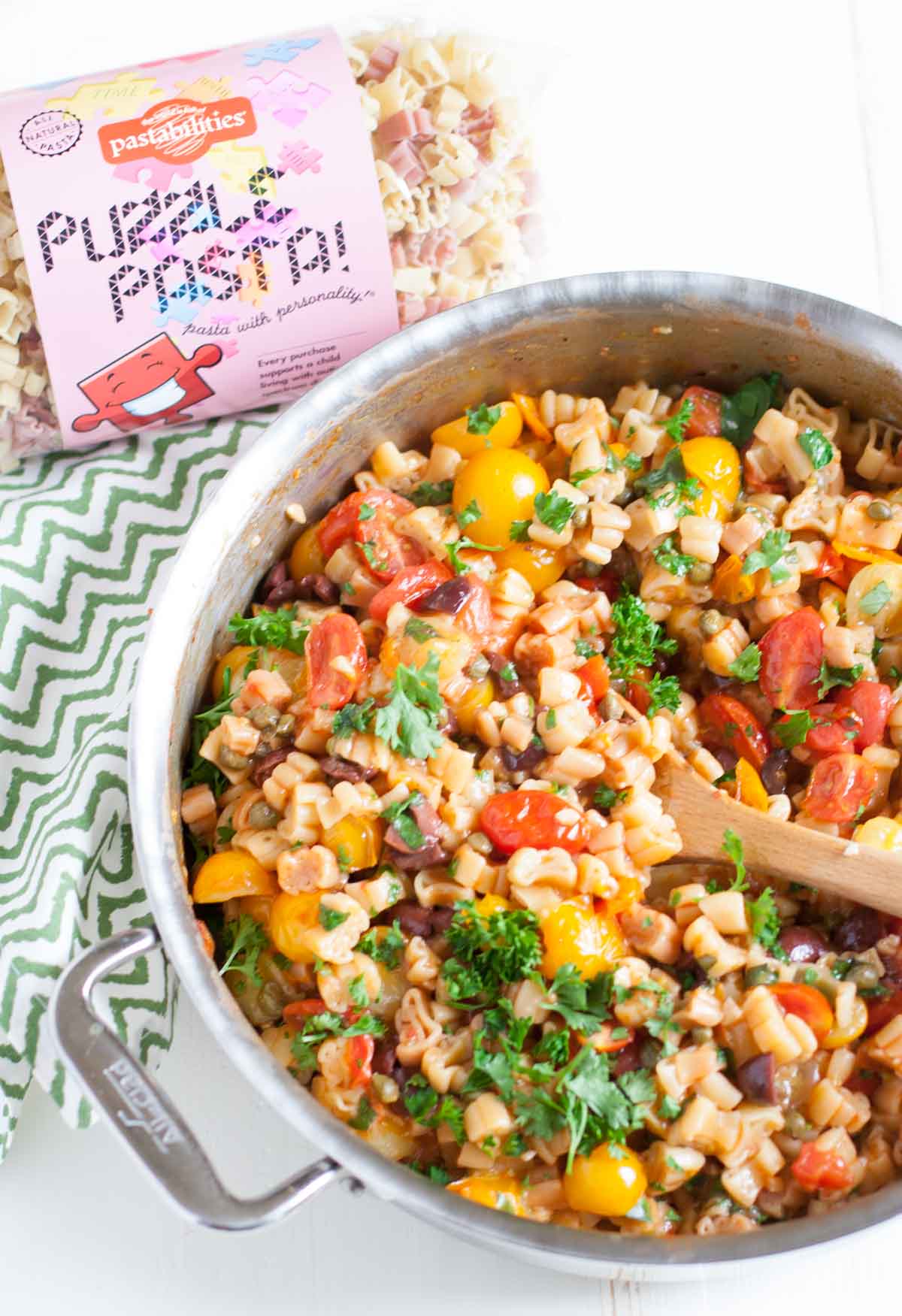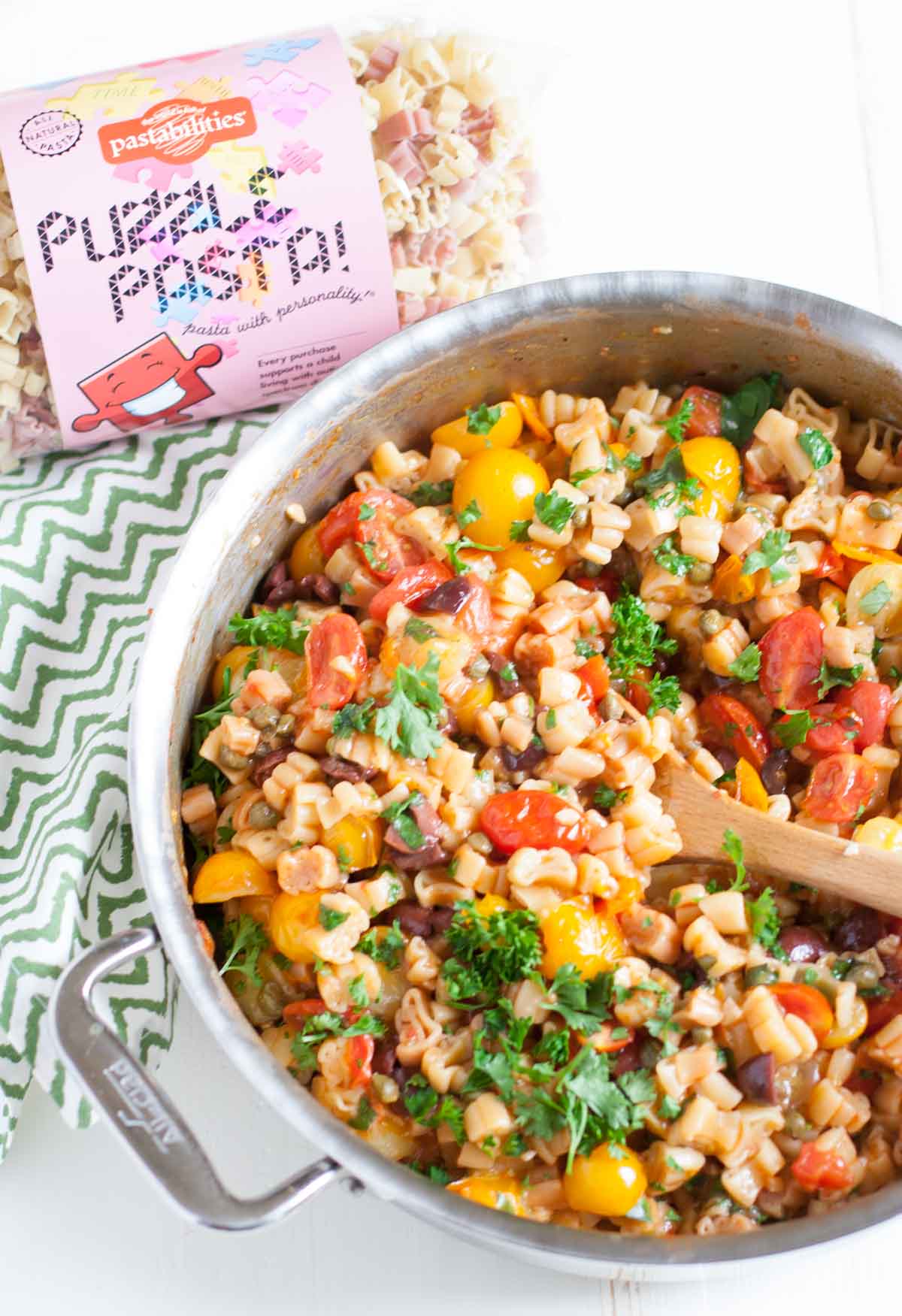 So, if you or your significant other needs some inspiration and likes to be creative on date nights, you have to check this out. Crated with Love offers a monthly subscription that delivers an affordable box once a month that guarantees a romantic and fun way to spend a night with your sweetie. Each box contains 3 or 4 activities for you to do together. Let's admit it…we are all a little too tired to bring our best creativity to a night out, especially with long work days and/or kids sucking the energy out of you with their never ending questions and needs. (Note: I really do love parenting. 🙂
Puzzles? On a date night they can be fun. Working on a puzzle together for some good ole fashioned quality time…or just consider the fact that your sweetie is the "missing piece" in your complicated puzzle. Cheesy? Maybe. Fun? Yes!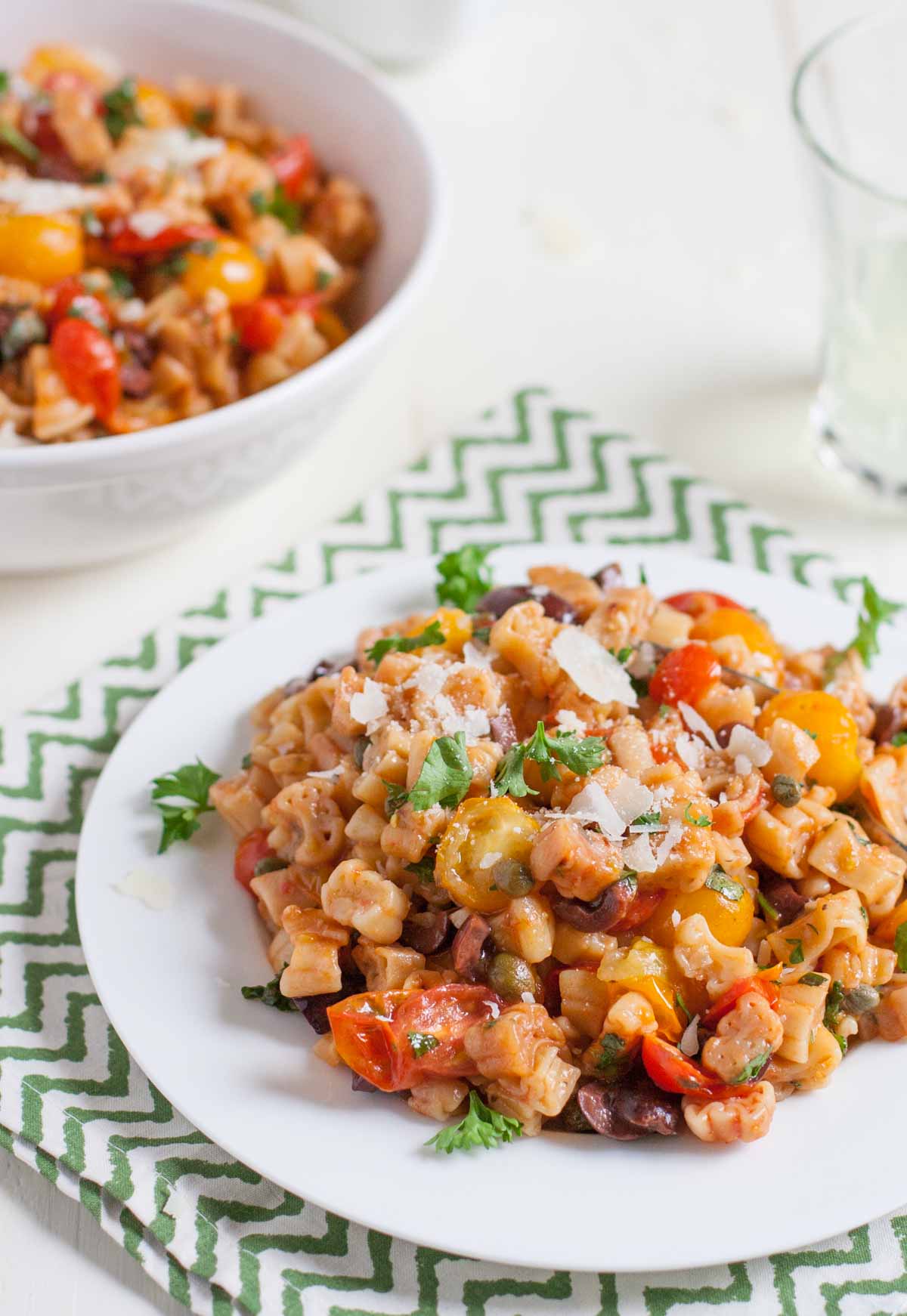 Anyway, I've been excited to share this "monthly date night" concept and also cook something yummy using our Puzzle Pasta, which I haven't featured yet in a pasta recipe. Puzzle Pasta came to existence in collaboration with Hope for Three, an organization focused on raising awareness and funds to help children who are living with autism spectrum disorder. The puzzle piece for autism has become a symbol for the cause, just like the colorful ribbons we see for the fight against a variety of cancers. Every purchase of Puzzle Pasta supports these kids and their parents facing such a challenging disorder. So Crated with Love's choice of the Puzzle Pasta has an additional benefit and is perfect.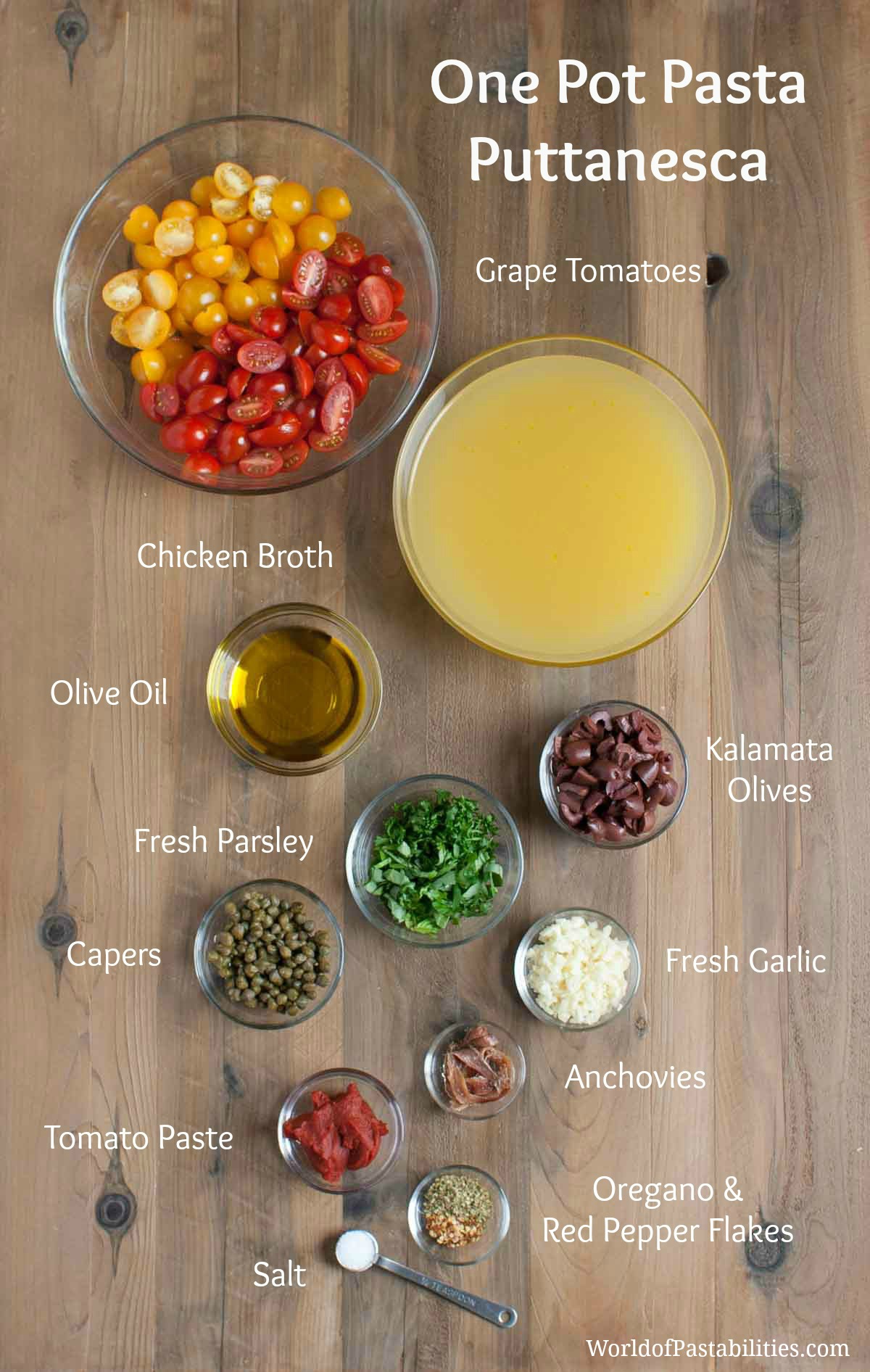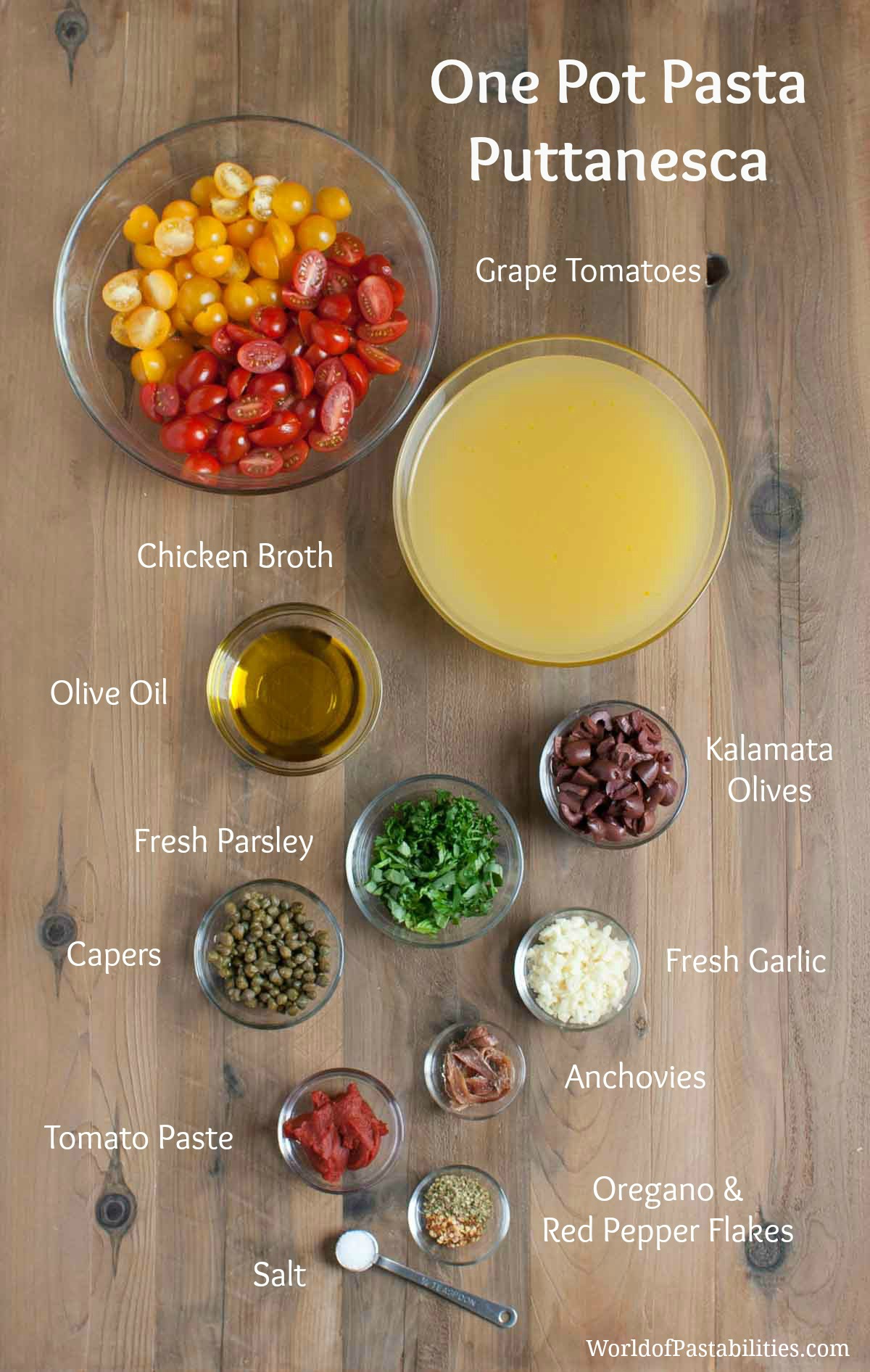 How does One Pot Pasta Puttanesca fit into the equation? Well, I thought this would be an ideal dish for a date night. Puttanesca is a traditional Italian dish, loaded with complex flavors combining salty olives, capers, spicy pepper flakes, sweet tomatoes, fresh garlic and anchovies, and lots of fresh basil and parsley. Just like a perfect date night – interesting, somewhat unexpected, and fun! And One Pot cooking is quick and simple…another winning ingredient for a successful dinner date!
So I accepted Cooking Light's #CooktheCover challenge and you all can decide how I did!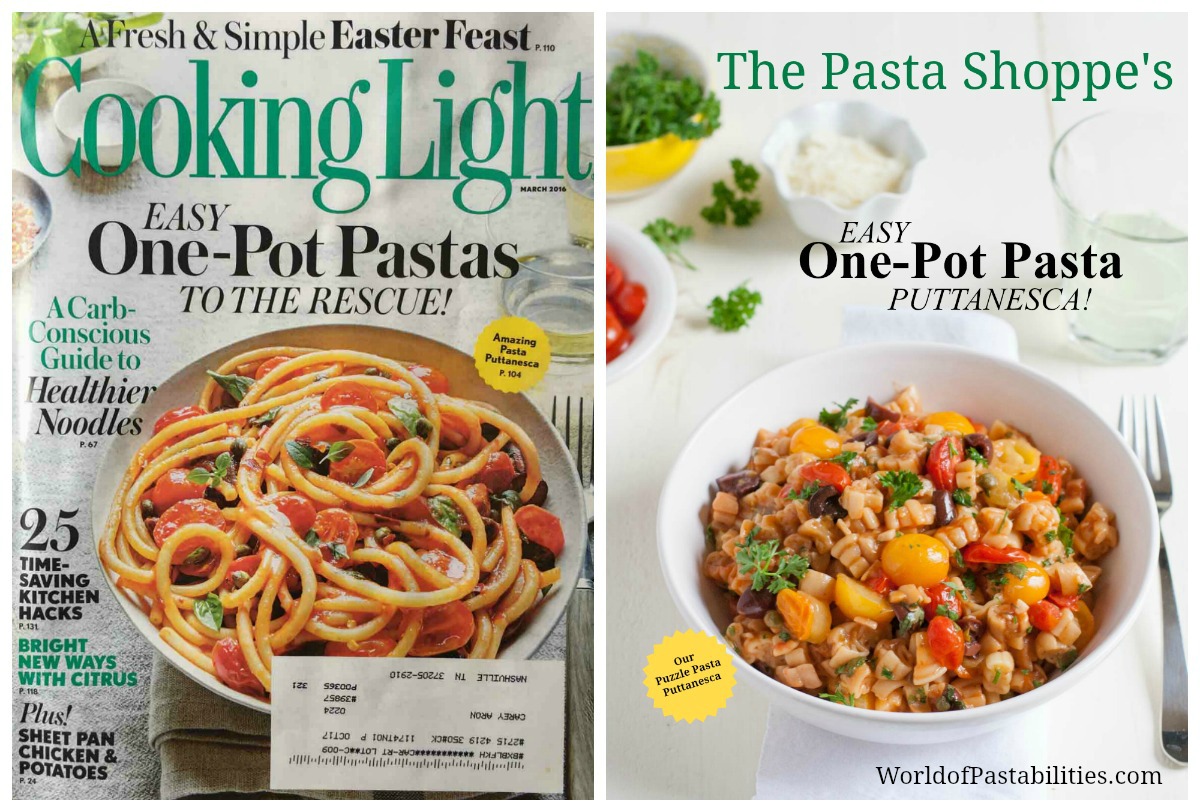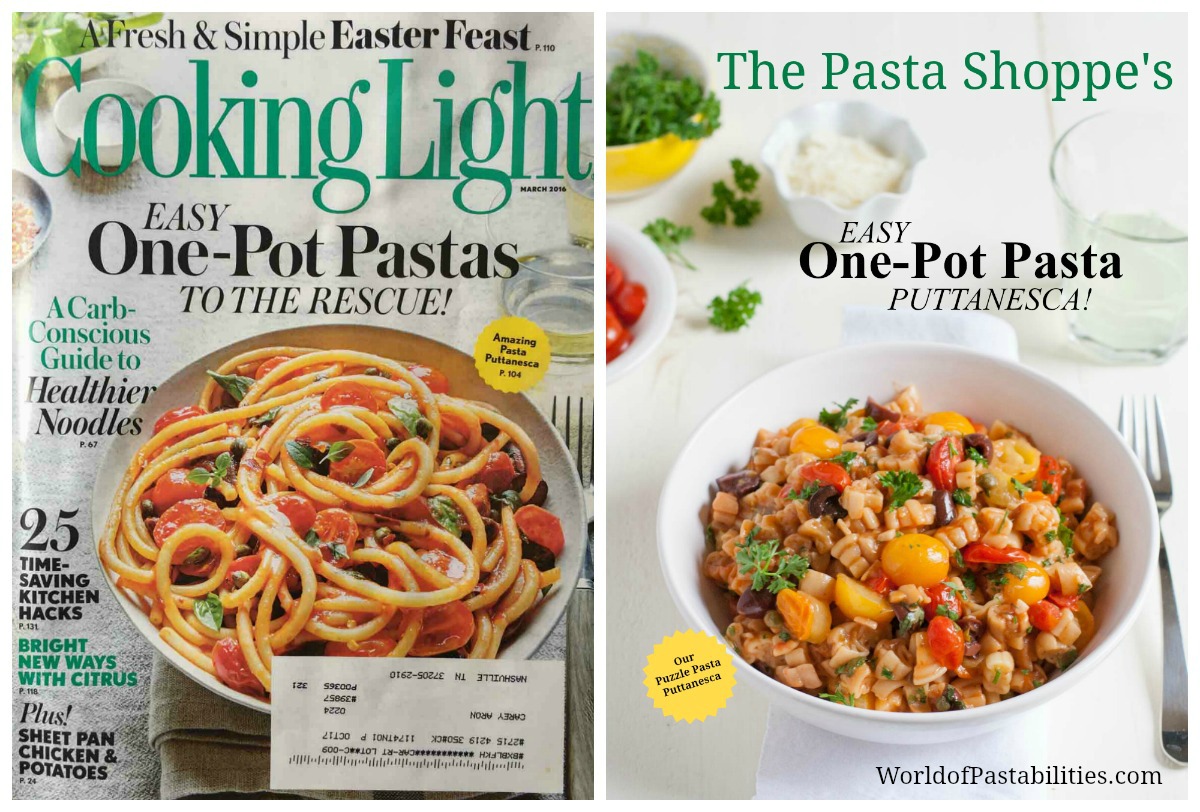 A couple cooking notes:
Cooking Light's recipe calls for a long pasta shape, Bucatini, which is basically a spaghetti shape with a hole through the center. We opted to use a short shape. Since our pasta is made using bronze dies, it is very porous and sauce loves to stick to it….and in terms of texture, we knew it will be great!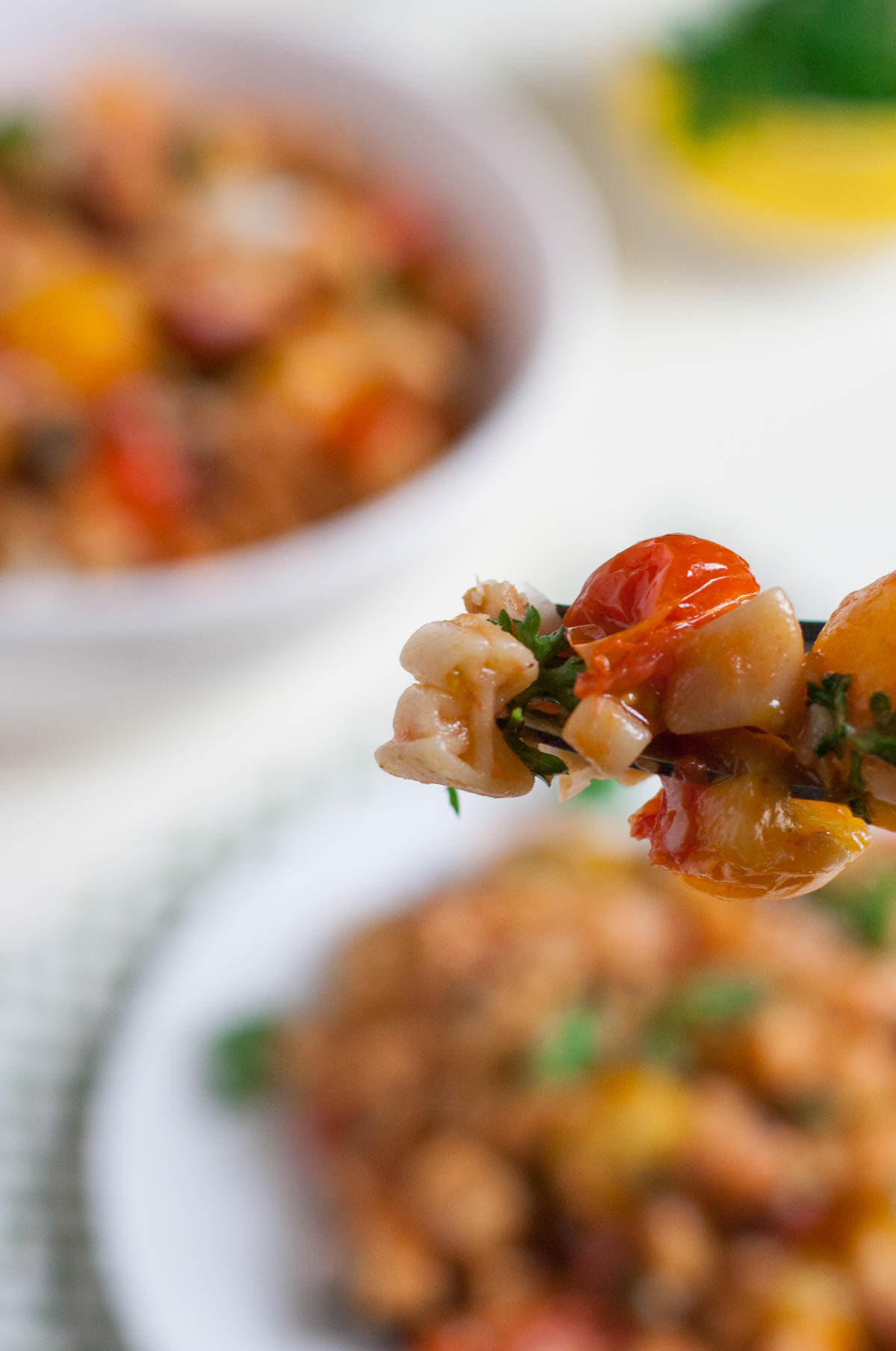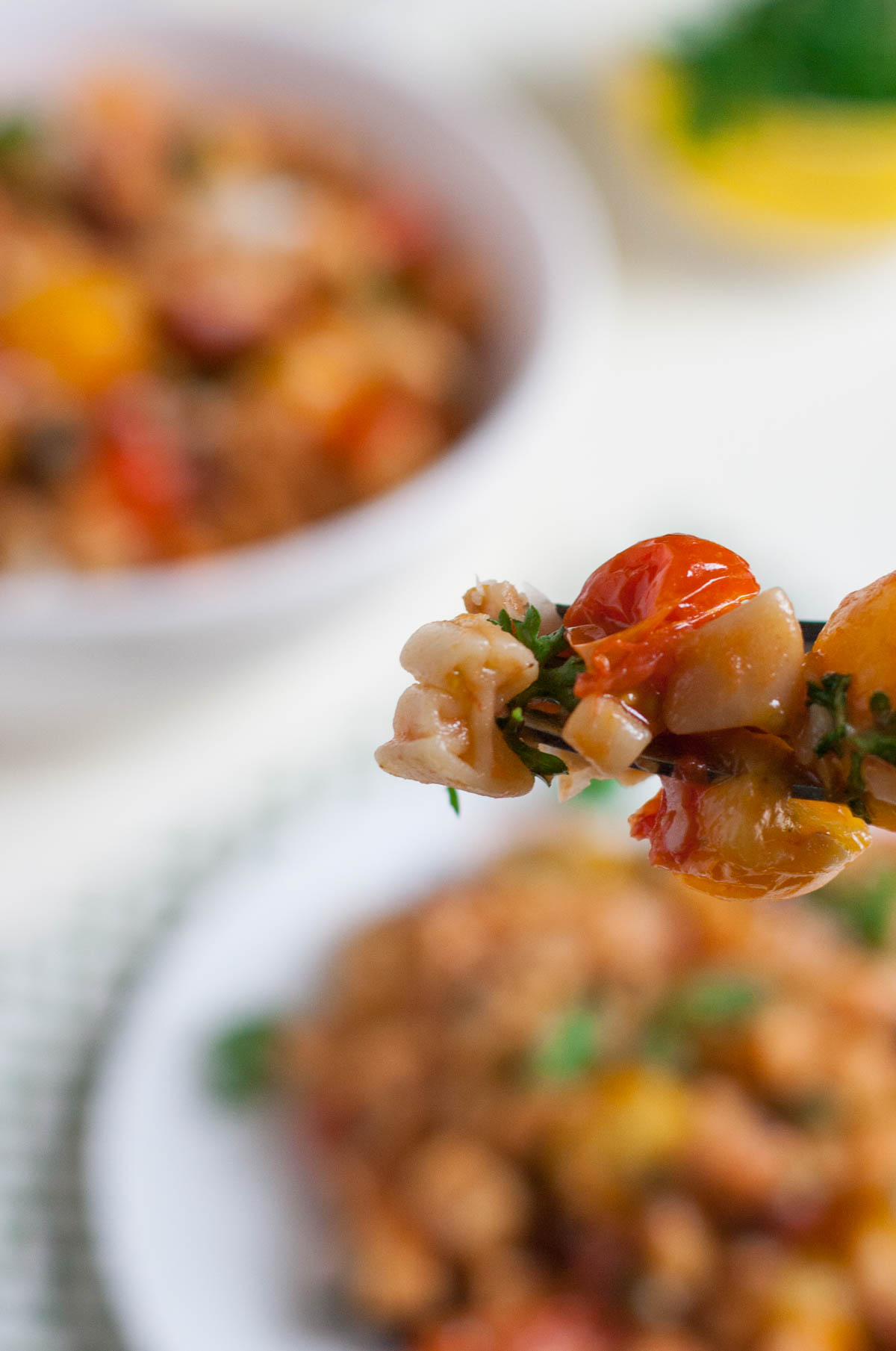 Our small batch pasta cooks differently when simmered in chicken stock and not just cooked in gently boiling water…the pasta pieces which typically grow to twice their size, instead stay quite small. I included a different picture below, to show you exactly how Puzzle Pasta looks if cooked in boiling water. This would be how the shapes would appear if you cooked your Puttanesca sauce separately (not a One Pot dish) or used any other kind of dressing or sauce.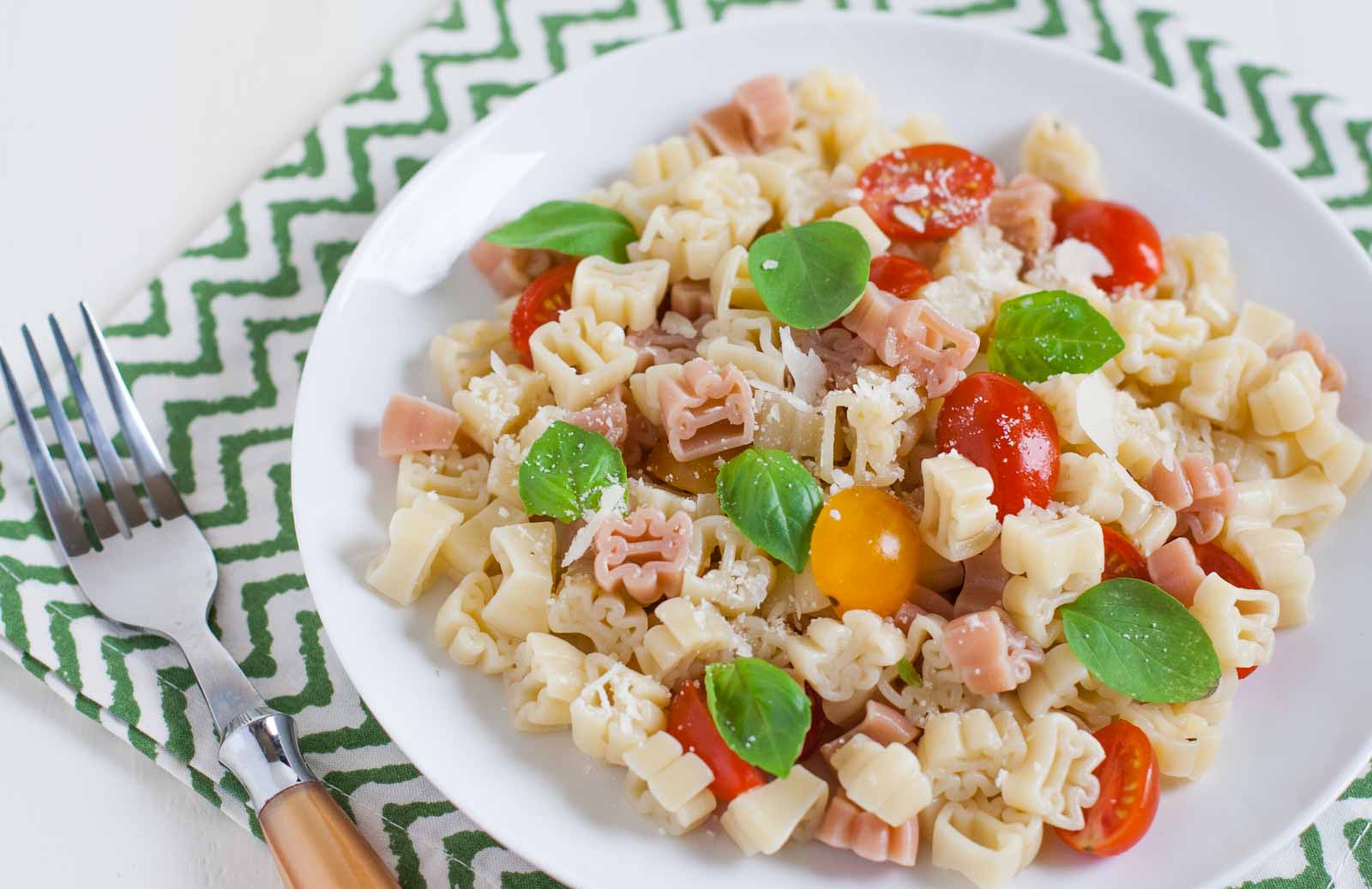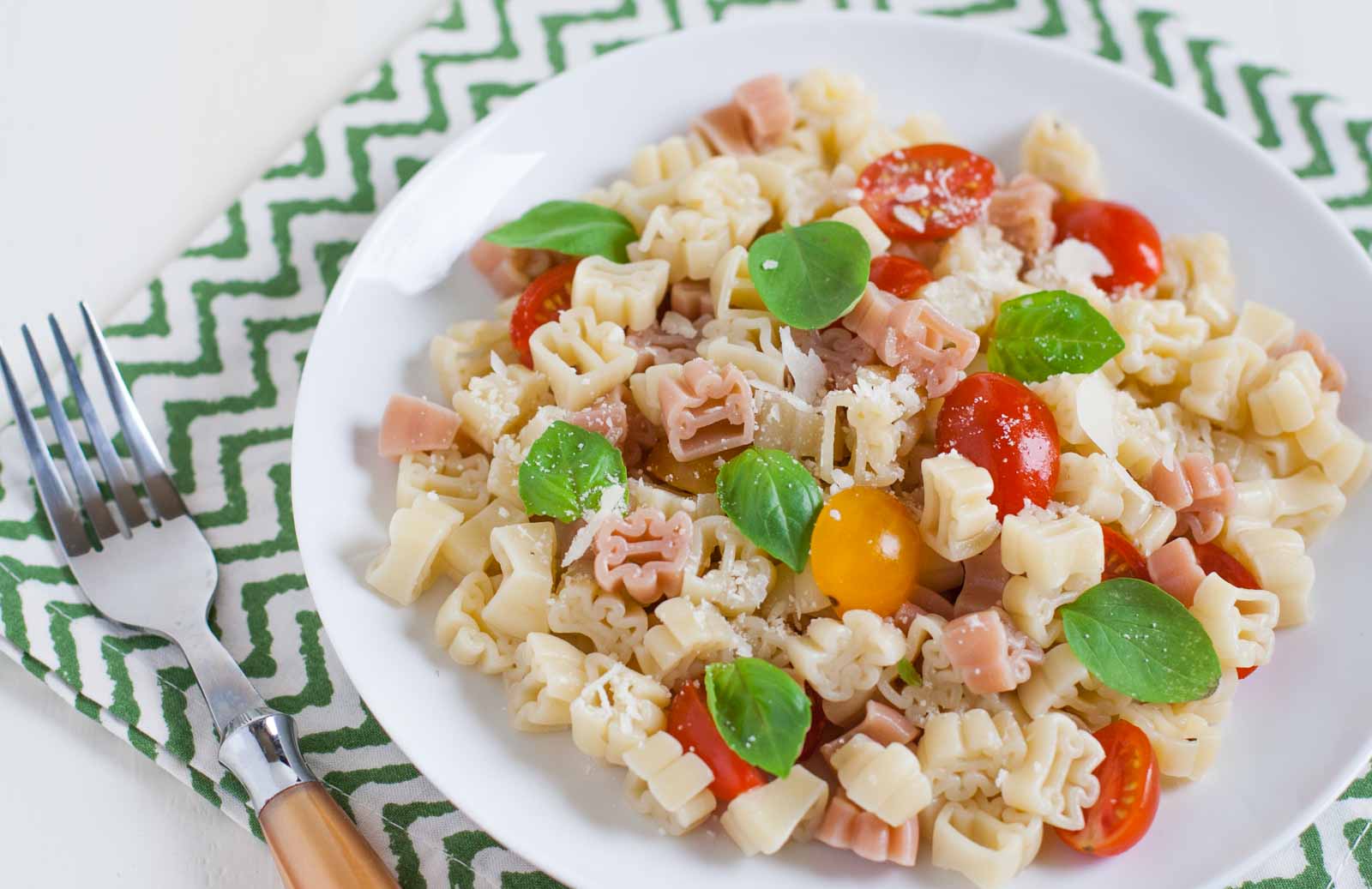 So here's to celebrating love, date nights, kids, and yummy pasta recipes, including Cooking Light's cover!
Print
One Pot Pasta Puttanesca with Puzzle Pasta
Ingredients
1/4 cup

extra virgin olive oil

6

garlic cloves, minced

4

anchovy fillets

1 1/2

t. dried oregano

3/4

t. red pepper flakes

4 cups

low sodium chicken broth

14 oz

. bag of Puzzle Pasta (or any one of our fun shapes, or

12 ounces

bucatini or thick spaghetti)

2 pints

multicolored grape tomatoes, halved

2

T. tomato paste

1/2 cup

fresh basil, chopped, plus more for garnish

1/2 cup

fresh parsley, chopped

24

Kalamata olives, pitted and chopped

3

T. capers

1/4

t. salt
Fresh Parmesan for topping.
Instructions
Heat a large high sided saute pan over medium heat. Add oil to pan and swirl to coat. Add anchovies, oregano, and red pepper. Cook 2 minutes, stirring constantly to break up the anchovies. Add garlic and cook another 1-2 minutes, stopping as soon as you see the garlic turning brown.
Add stock and pasta to pan and bring to a boil.
Cook 8 minutes, stirring occasionally.
Add tomatoes and tomato paste.
Cook another 3 minutes or so until pasta is done and tomatoes have softened.
Remove pan from heat, add remaining ingredients, and toss to combine.
Garnish with additional fresh basil and serve Parmesan on the side.
Enjoy!
Join our email list for fresh pasta recipes delivered to you every week!
Your information will NEVER be shared or sold to a 3rd party.