Pasta Toss with Chicken Sausage, Broccoli, and Tomatoes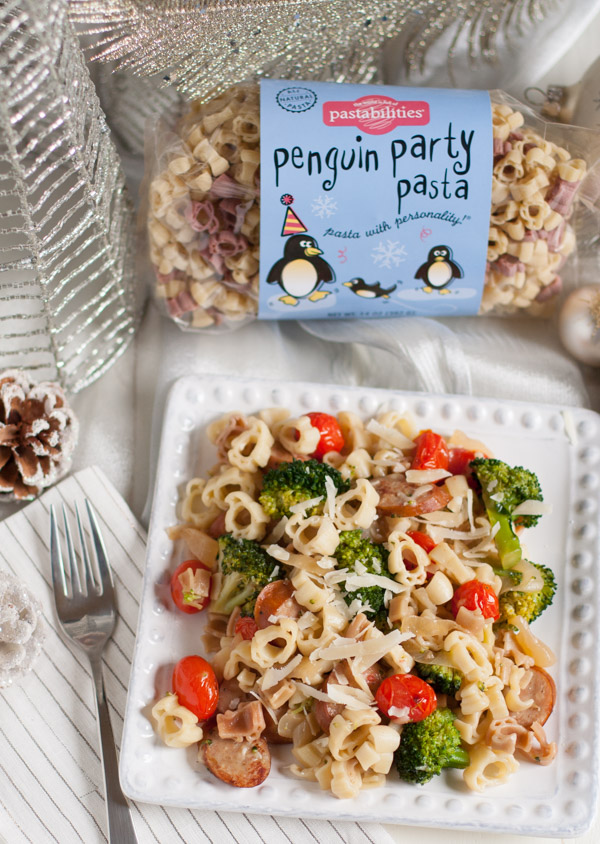 It's less than 10 days away.  Can that be?  Am I ready?  No.  Believe me, I'm doing lots of celebrating and having a fabulous time doing so…but not exactly making progress on the big day.  I still have shopping to do, plenty of gifts to wrap, and holiday meals to plan. And sometimes the big holiday picture gets in the way of the everyday picture, and yes, I mean basic dinners for my family.  When your kids say, "We had sandwiches last night!" you know it's time to regroup and get back in the kitchen.
My boys are not the pickiest eaters…but they do like to eat something other than turkey sandwiches, and they typically prefer a lot of meat.  Maybe it's the pre-teen and teenage years.  But there is seems to be a call for lots 'o protein at every meal.  In fact, if I just served meat with no vegetables they would be thrilled! 🙂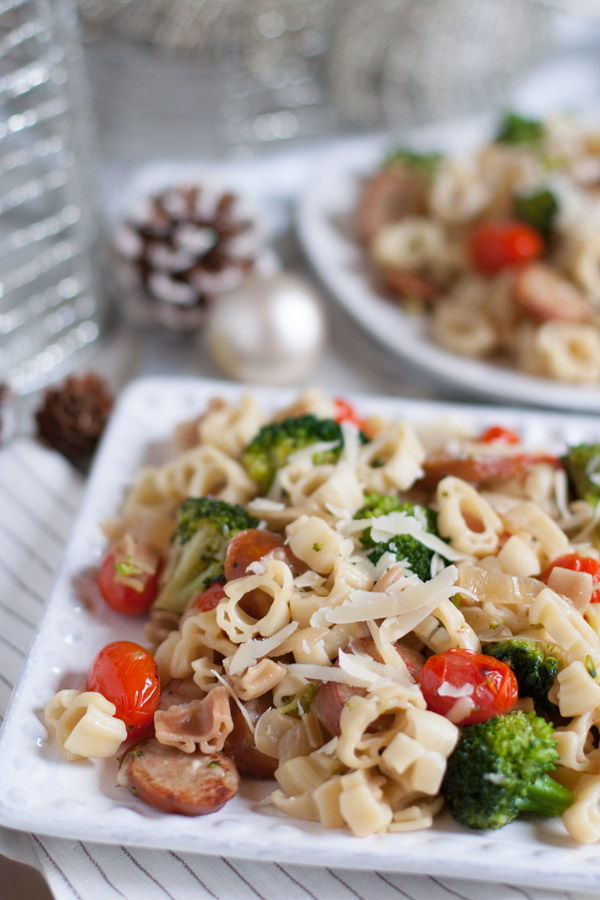 OK, back to celebrating. Coincidentally, my inspiration for this Pasta Toss with Chicken Sausage, Broccoli, and Tomatoes comes from some "holiday festivities" had by a few last night.  A small group of ladies (we call ourselves the Happy Hour Honeys) get together about once every month-ish or so and checks out the happy hour food and drinks at our local fabulous food venues here in Nashville.  We do lots of talking, laughing, sampling, and critiquing.   It's a sort of foodie support group??!! Hehehe.  And a great excuse to have a great time.
Anyway, last night, one of the "honeys", Annie, had us over to her home, for a more personal holiday happy hour and served a selection of yummy delectable appetizers (and vino, of course).  After one bite of her famous sausage pinwheels/pastries, I was reminded….darn it, I love sausage!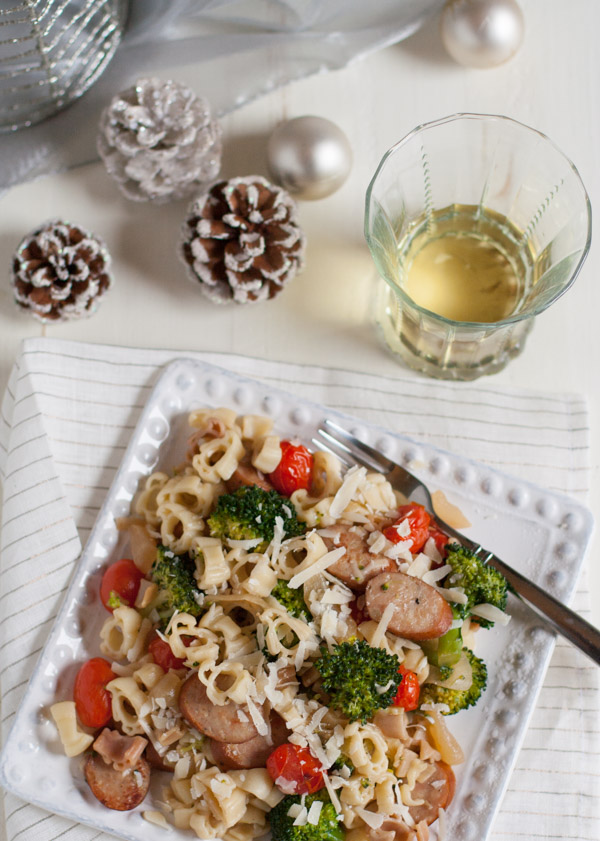 Annie's appetizer was the melt in your mouth real deal, but here I'm using chicken sausage.  Healthier versions of sausage have been all the rage in the past few years and I'm a big fan.  You can substitute any creative sausages that you find.  My chicken sausage had hints of apple.  I love this dish because it has a light brothy sauce and brings some intense delicious flavor with the chicken sausage, fresh Parm, and bursts of tomato.  The broccoli and onions add a nice crunch and texture.  It is an EASY meal that covers all the bases – something green, something red, some lighter meat, and just enough carbs, with lots of flavor!
If you didn't notice :), I used our cute little Penguin Pasta for this dish.  You can substitute any short shape – penne, rigatoni, farfalle (bow ties), or anything else.  Enjoy! (We did.)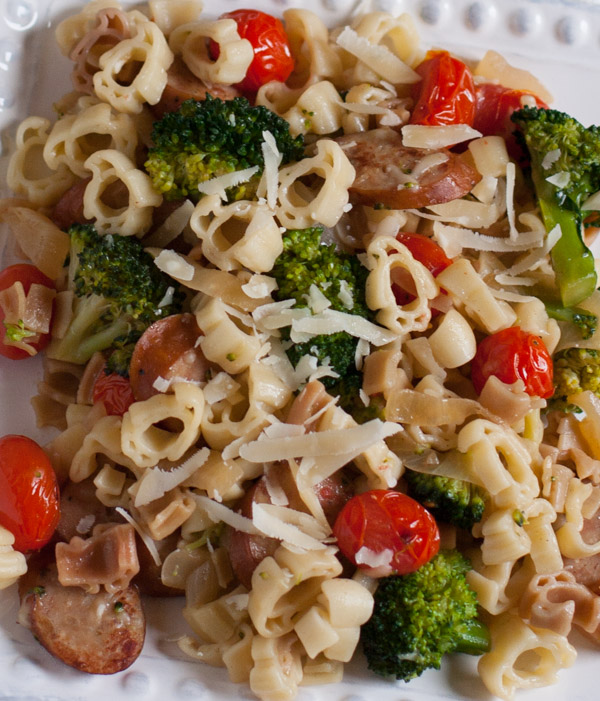 Of course we do make a wide selection of fun shapes.  If you'd like to browse our site, you can visit The Pasta Shoppe.  And if you happen to have any fundraising needs for a group of adults or kids who would like to earn money selling yummy gourmet goodies, please check out Fun Pasta Fundraising program!
Print
Pasta Toss with Chicken Sausage, Broccoli, and Tomatoes
Light yet satisfying! A wonderful combo of flavors…and family friendly too!
Ingredients
14 oz

. of Penguin Pasta (or substitute

12

–

14

ounces of any short shape like penne or rigatoni)

1

medium onion, sliced

6

–

8

ounces of chicken sausage, sliced diagonally (approx.

2

links, can use any sausage!)

1

head broccoli, cut into florets

1/2 cup

grape tomatoes

1/4

–

1/2

cup grated fresh Parmesan

1

T. olive oil
Instructions
Cook pasta according to directions. Drain and rinse with a bit of cold water.
In a large skillet, cook onions and tomatoes over med-high heat for approx. 3 minutes, stirring often, until slightly browned. Remove tomatoes from pan and set aside.
Add sausage slices and continue to stir and cook for an additional 3-4 minutes, until sausages begin to brown.
Add broccoli and 1 1/4 cups of water. Cover and simmer for 5 minutes, stirring on occasion until broccoli is tender.
Combine pasta with broccoli mixture in a large bowl, add tomatoes and fresh Parmesan, and toss!
Serve immediately! Yum!
Join our email list for fresh pasta recipes delivered to you every week!
Your information will NEVER be shared or sold to a 3rd party.