Pasta with Spicy Sausage and Tomato Cream Sauce
It's the perfect day for this recipe. A day when Pasta with Spicy Sausage with Tomato Cream Sauce just sounds good. Comfort food at its best…just plop me by the fire and pass me a big bowl!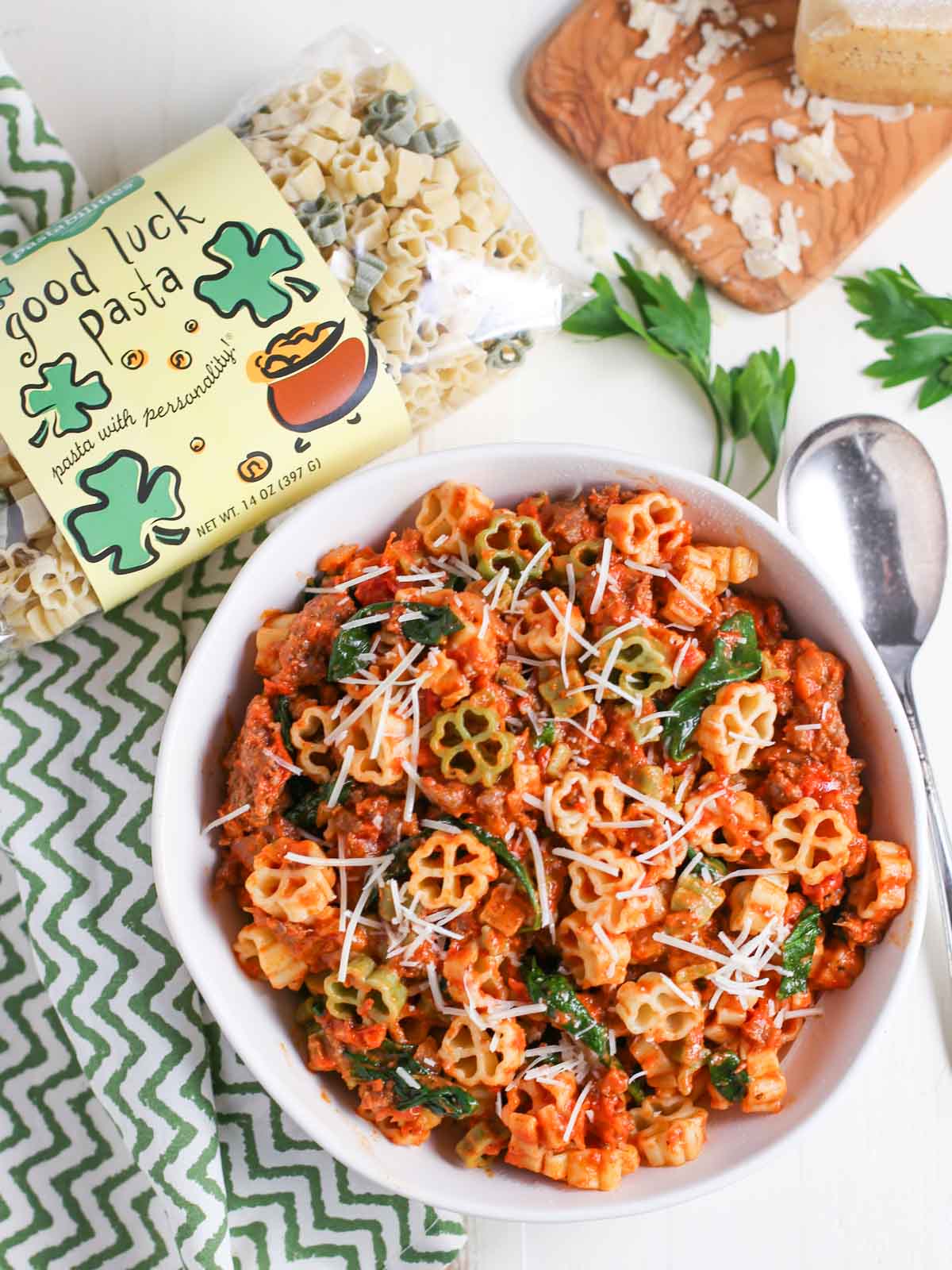 Snow Day! Snow Day! I mean Ice Day! Ice Day! What is it about Nashville…we always get the ice, and never the thick deep snow?! Oh well! It's still a day at home…and one would think after almost a year of "stay at home" coronavirus days/nights/weekends, this day wouldn't phase us…BUT we are STILL excited– a DIFFERENT reason to stay home!
And a great excuse to cook a rich yummy Pasta with Spicy Sausage and Tomato Cream Sauce.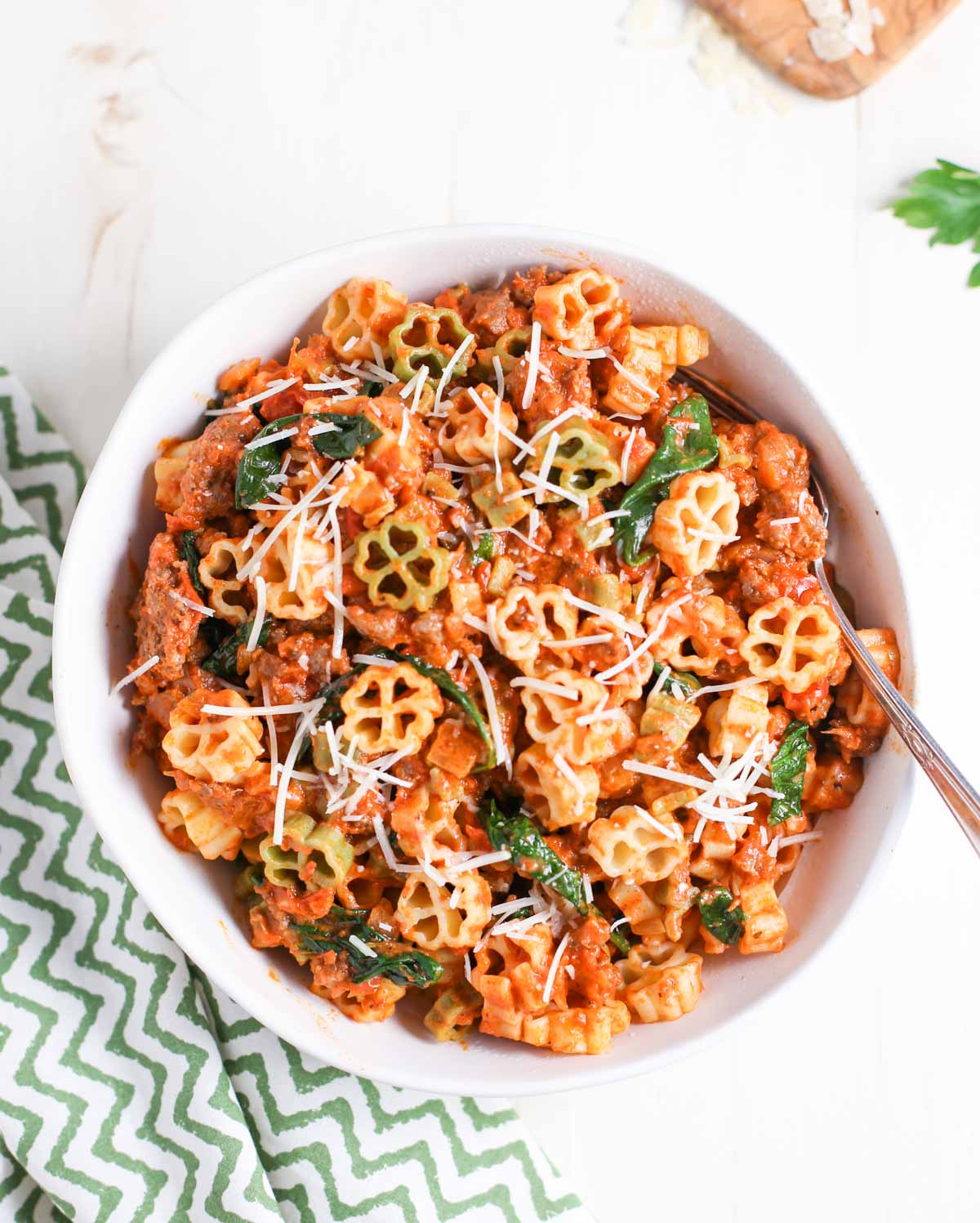 Looking at the forecast, "Luck" is what we need! Looks like a tough week here in Nashville, where these types of storms come once a decade.
Valentine's Day has just passed and I am already looking forward to our next holiday…so using our Good Luck Pasta was just great timing!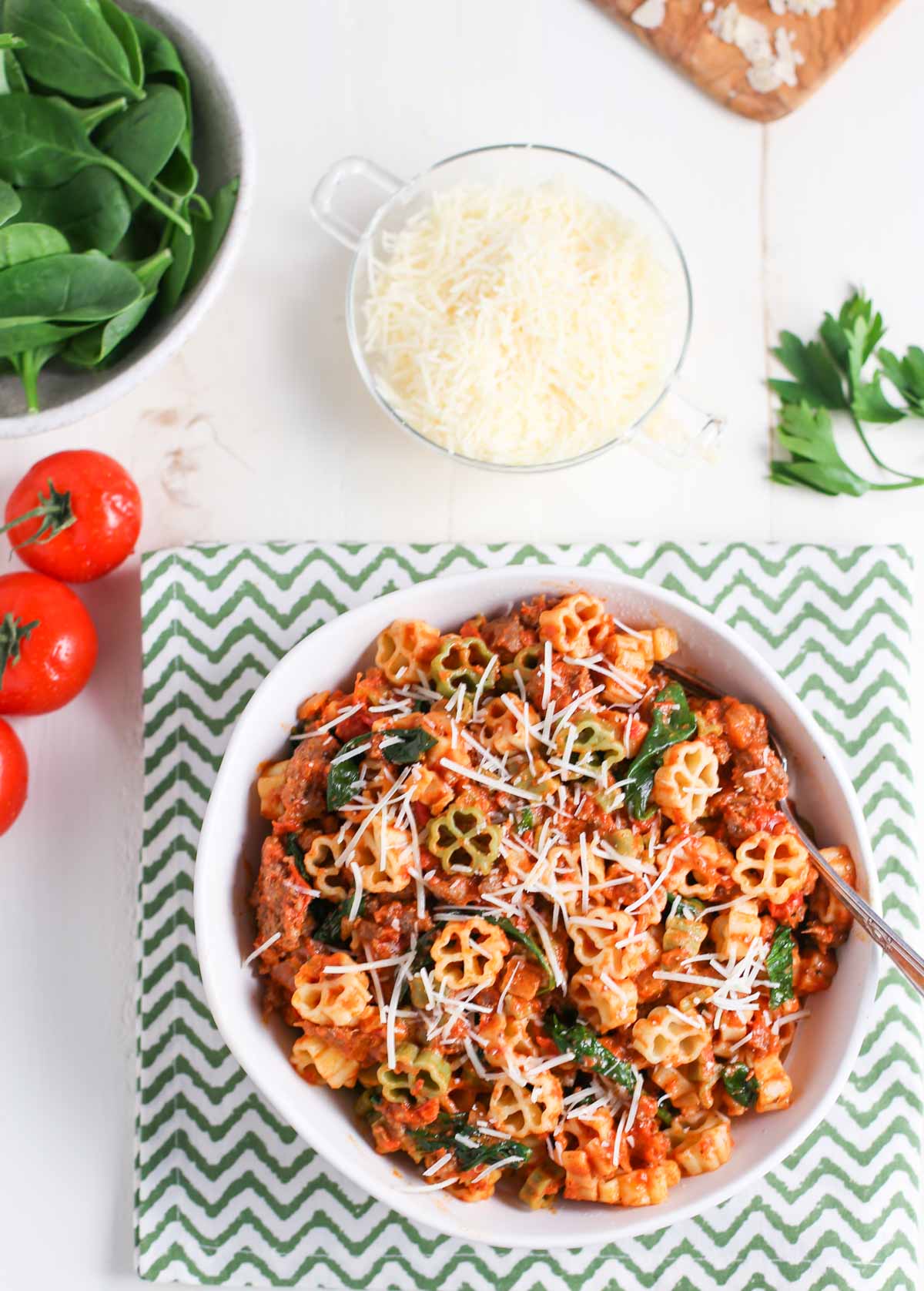 On a snow day, I usually make a batch of Ricotta Meatballs, Homemade Gnocchi, or even Classic Marinara, but today I thought I'd try something simple and new. I had some spicy sausage frozen (leftover from my stock the freezer run earlier this year), and have been in the mood for a chunky, comforting tomato sauce.
I've been on a healthier kick recently, and it was time for a diversion!
I love a recipe where you are likely to have all the ingredients in your pantry. Honestly, the only thing I needed was the heavy cream…but all else was here!
Now…I could have used my half and half, but why not treat us to a full-on version of this recipe?!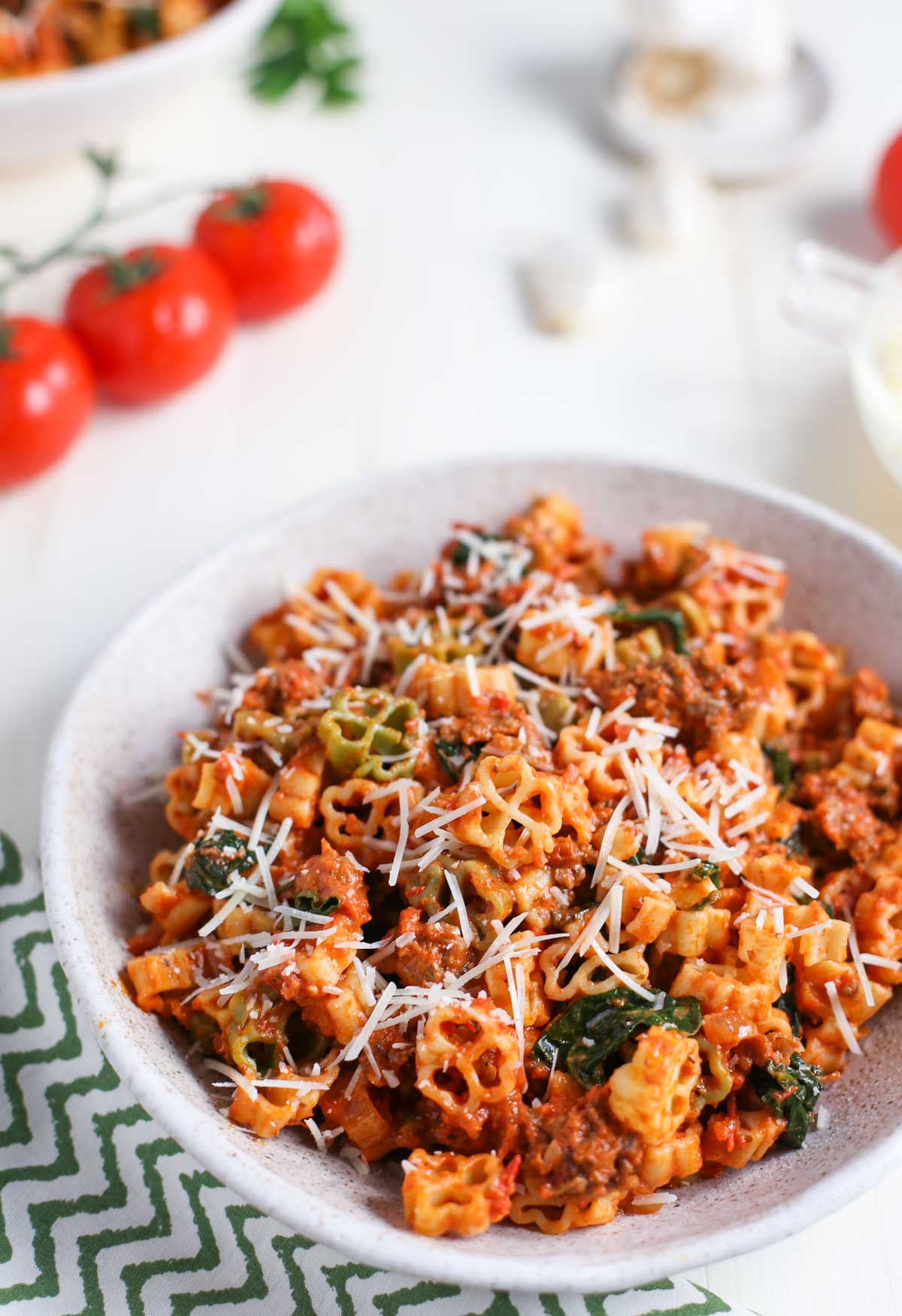 And spinach. YES! Sneaking in some of this veggie-packed with vitamin K, vitamin A, and C folks! I added 6 ounces and as you know, it withers down to nothing….so use as much as you want. (Next time I'll use more).
Because of the simplicity, this is a great recipe for a beginner cook. My niece and son, both living off-campus this year, have been cooking, and I think I'll suggest this…pretty cost-effective and can serve at least six people…unless you are all guys…maybe 4?!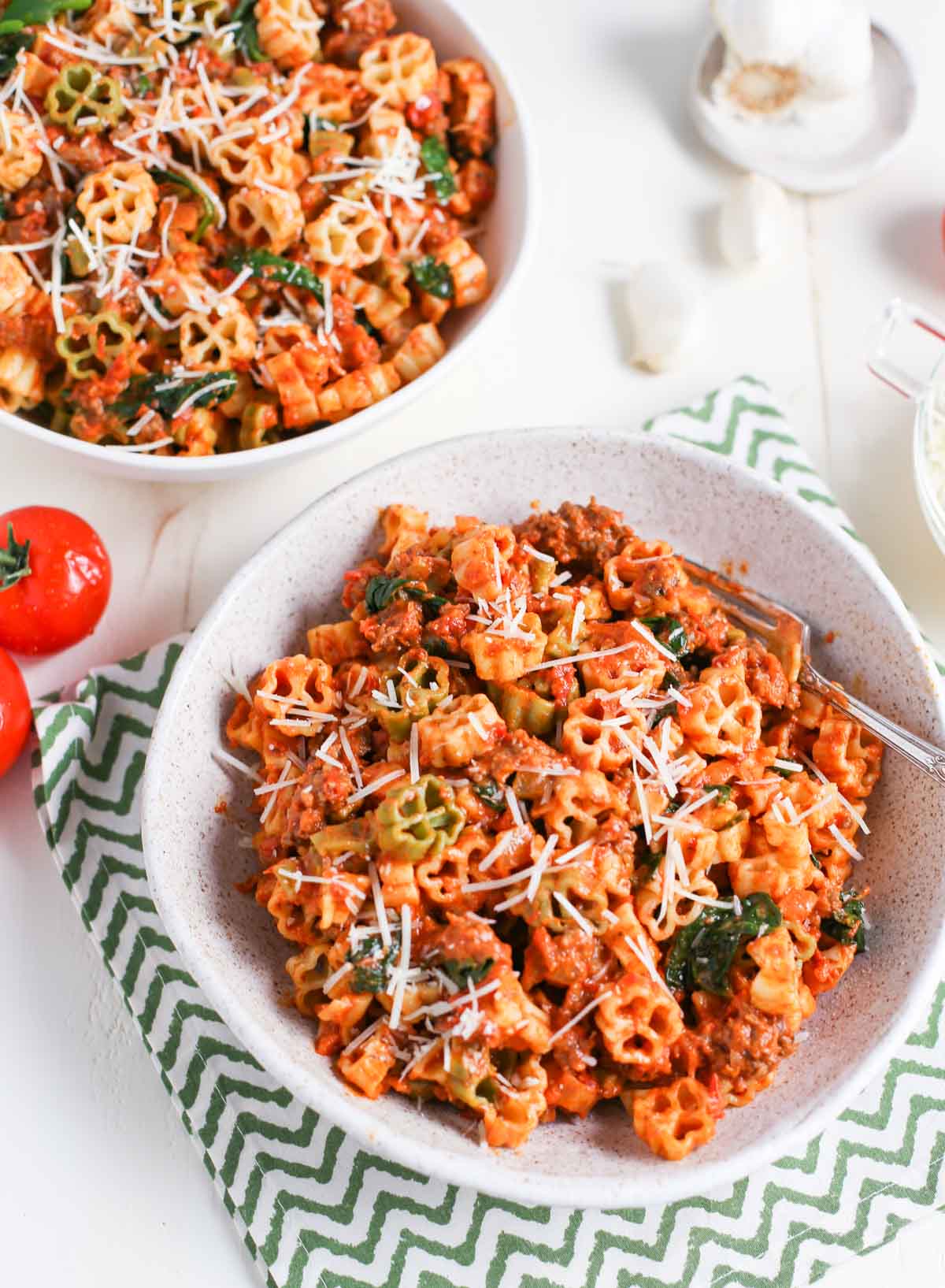 The sauce can be made ahead of time and reheated before adding pasta…or served on the side! If you double the recipe, you can serve 10 people no problem and I promise rave reviews!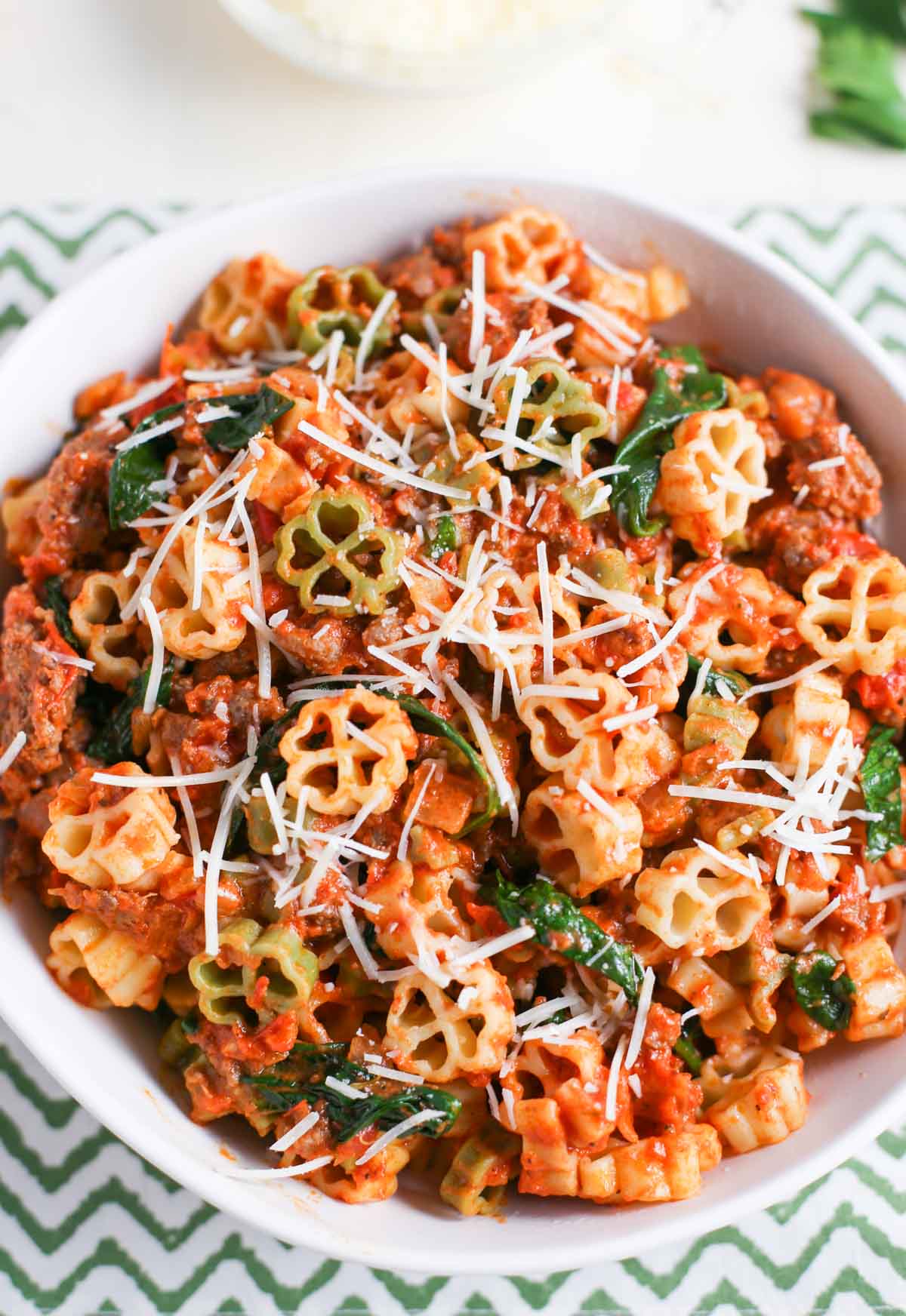 Enjoy, stay safe, and stay warm on this Snow Day….and I promise to get back to healthy pasta….but like Momma says indulgence is OK every once in a while!:) And for more happenings with Pastabilities, follow us on Instagram @worldofpastabilities, or Facebook @pastashoppeusa! Enjoy friends!
Print
Pasta with Spicy Sausage and Tomato Cream Sauce
Comfort food at its best…simple to make and delicious, especially on a cold winter night! The fresh spinach adds some color and health! Enjoy!
Ingredients
14 oz bag of Good Luck Pasta (or another short shape)
2 T. olive oil
1 lb. hot Italian sausage (or any sausage of your choice)
1 medium onion, diced
4 cloves garlic, minced
2 T. tomato paste
1 T. Italian seasoning
½ t. red pepper flakes
1 cup chicken or vegetable broth
1 – 28 oz. can crushed tomatoes
4–6 oz. fresh baby spinach
½ cup heavy cream
1 t. kosher salt
½ t. black pepper
Fresh Parmesan (for garnish)
Instructions
Cook pasta according to package directions, rinse, and toss with some olive oil. Set aside.
In a large skillet, heat oil to medium heat and sauté onions and sausage until cooked through and onions are soft, approximately 5-8 minutes.
Add garlic, tomato paste Italian herb seasoning and red pepper flakes.  Stir for approximately 1 minute.
Stir in broth and crushed tomatoes and simmer for 10 minutes.
Add spinach and combine until spinach has wilted.
Add cream and gently combine.  Add salt and pepper and adjust seasonings as needed.
Add pasta and gently toss.
Top with fresh Parmesan and serve!  Enjoy!
Join our email list for fresh pasta recipes delivered to you every week!
Your information will NEVER be shared or sold to a 3rd party.