Pecan Pesto with Garlicky Breadcrumbs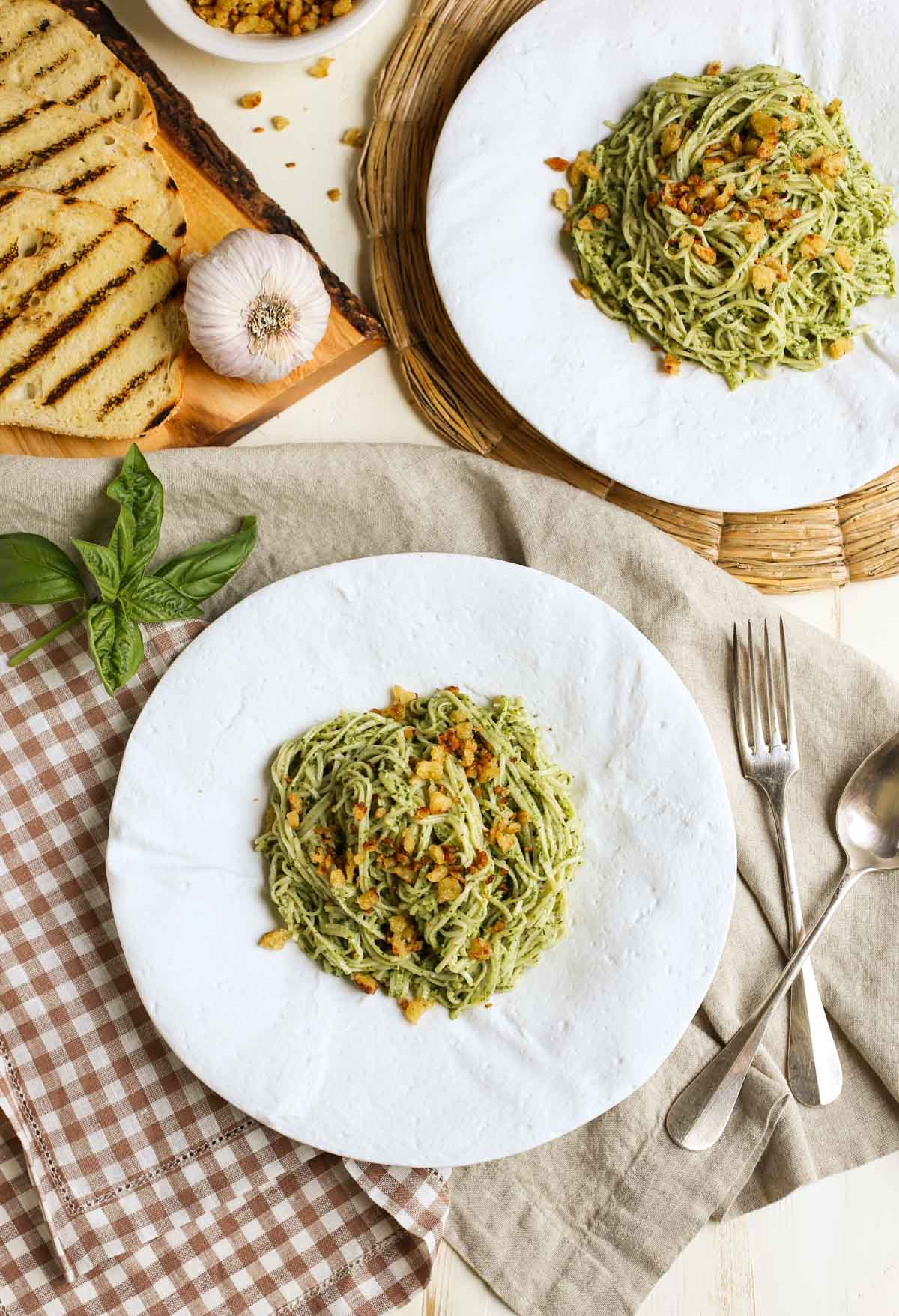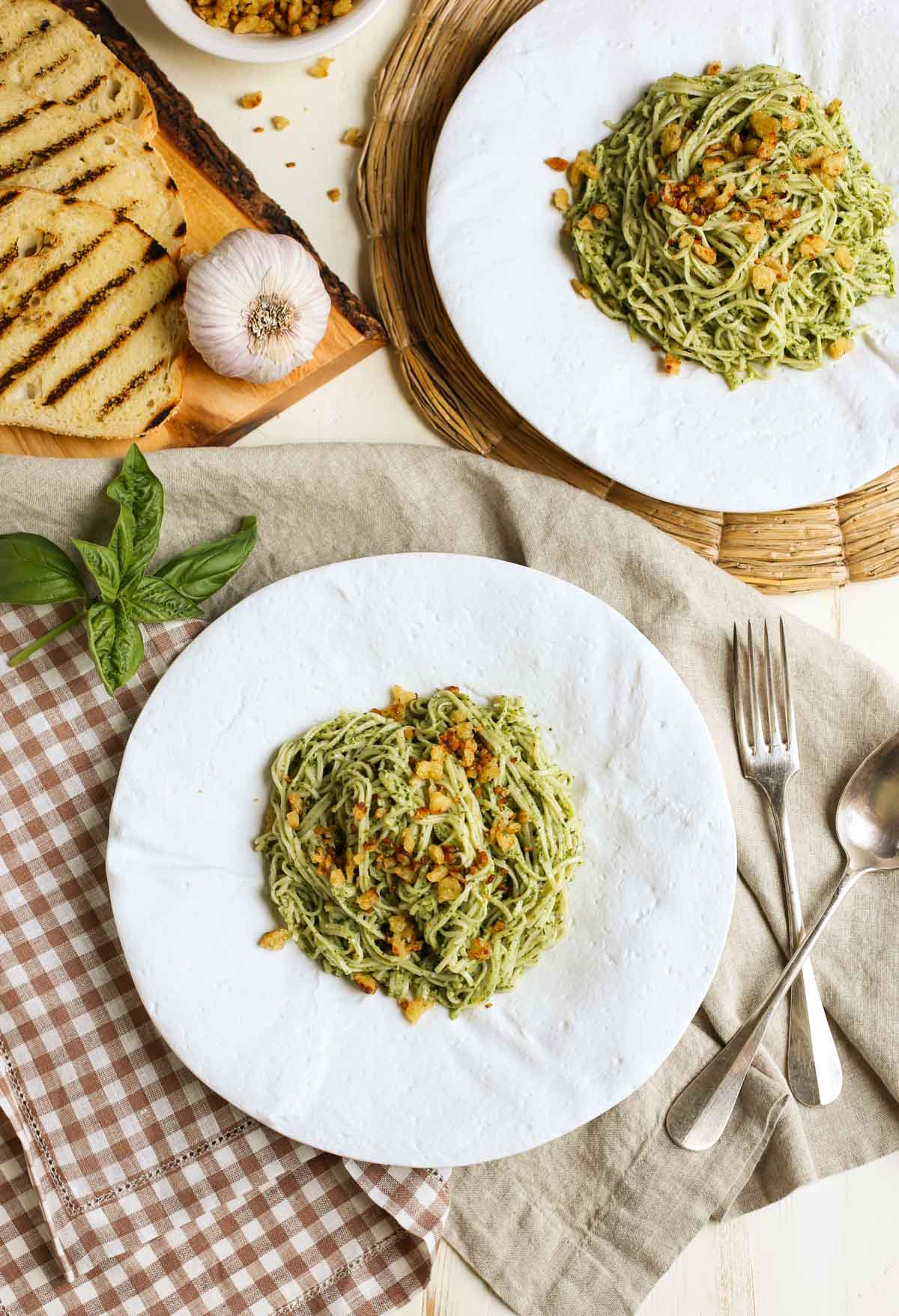 Aww…fall…the time of year when pecans start emerging on the food scene.  Whether you pronounce them PEE-cans or Pe-CAHNS, you'll soon be consuming them as Pecan Pralines, Pecan Pies, Candied Pecans, Spiced Pecans,  and may I introduce you to my new favorite pecan recipe, Pecan Pesto with Garlicky Breadcrumbs.  Can't you just taste and hear that garlicky crunch?! Woohoo!  
I came across this in May's Southern Living Magazine and I've been waiting to share it with you.  This has made it to the TOP of my pasta recipe "Best-Of" lists and I'm thrilled.  It's the kind of "goes with everything" pasta recipe…I've added grilled shrimp on top, grilled salmon, and also just served it as a side dish.  And admittedly, I've eaten an entire bowl standing over my sink before anyone could see me and ask me to share.   This is recipe gold friends.  I mean it.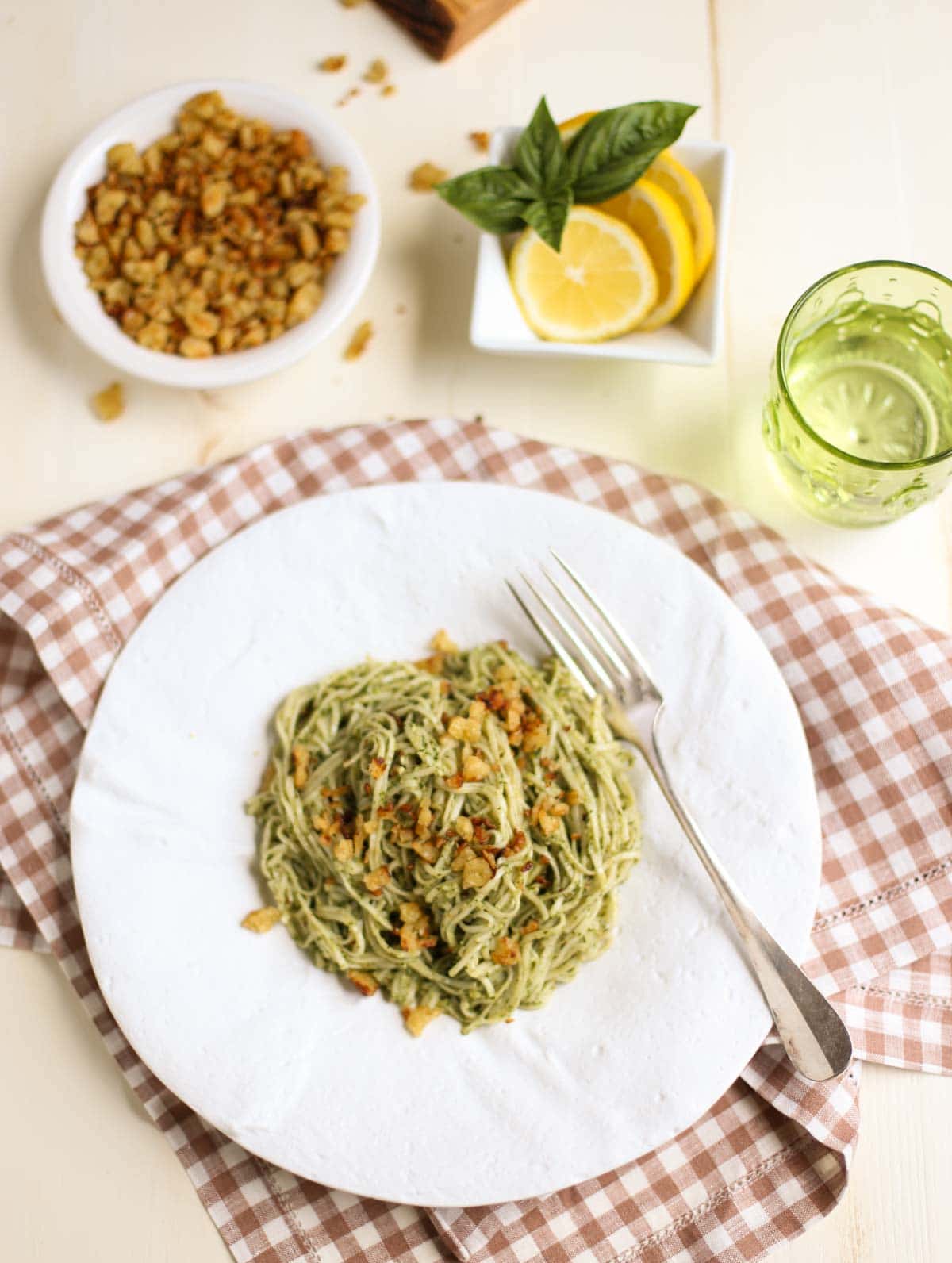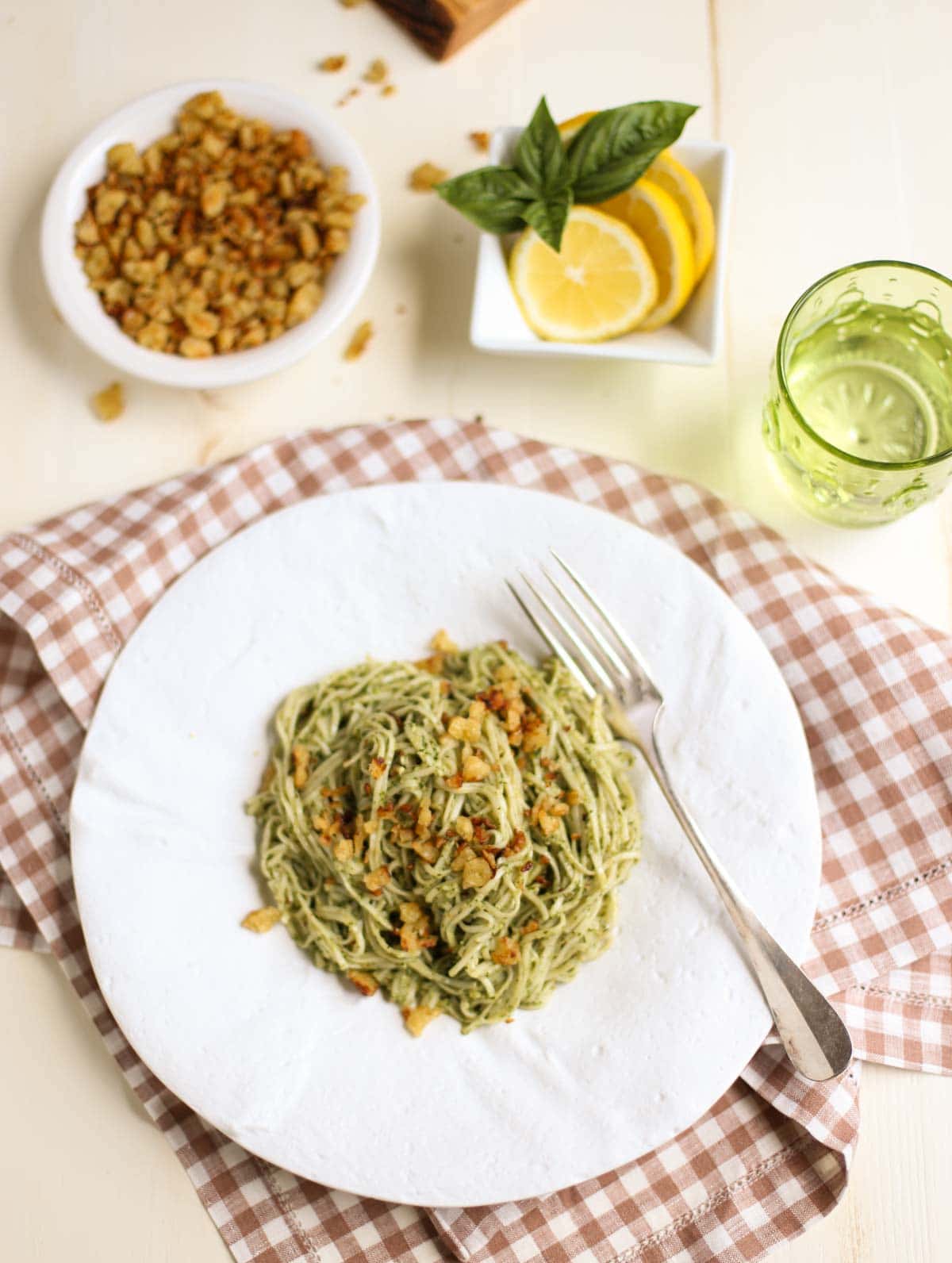 Let's break this down a little bit…first of all, I love pestos.  There are so many variations out there, and I've shared a few in the past like Arugula and Lime, Sun Dried Tomato, Everyday Basil Parsley, and even a Kale and Walnut Pesto.
One of the best things about pesto is you can make it ahead…days ahead, and store it in your refrigerator.  Or if you are super ambitious you can freeze cubes and keep for months.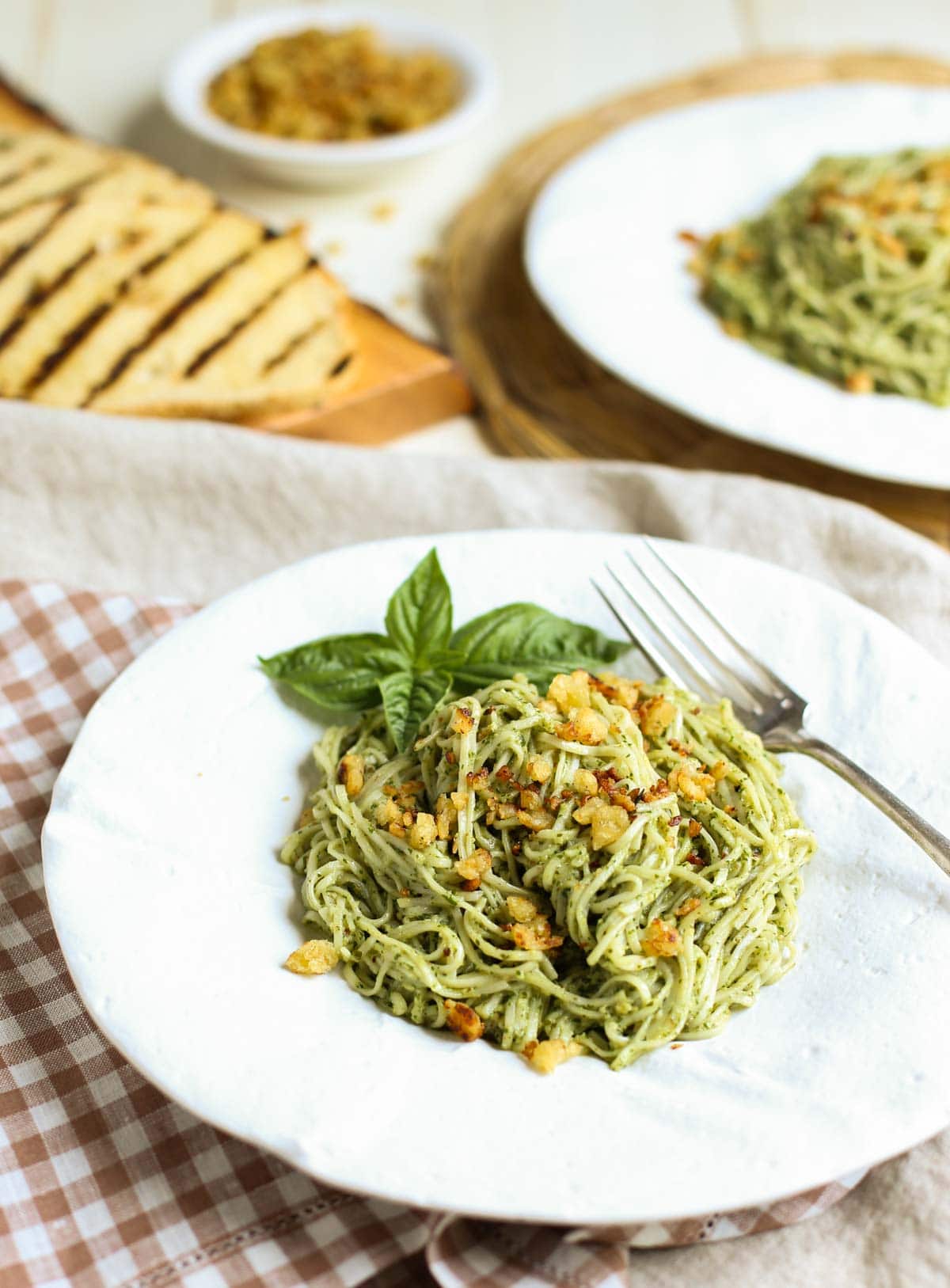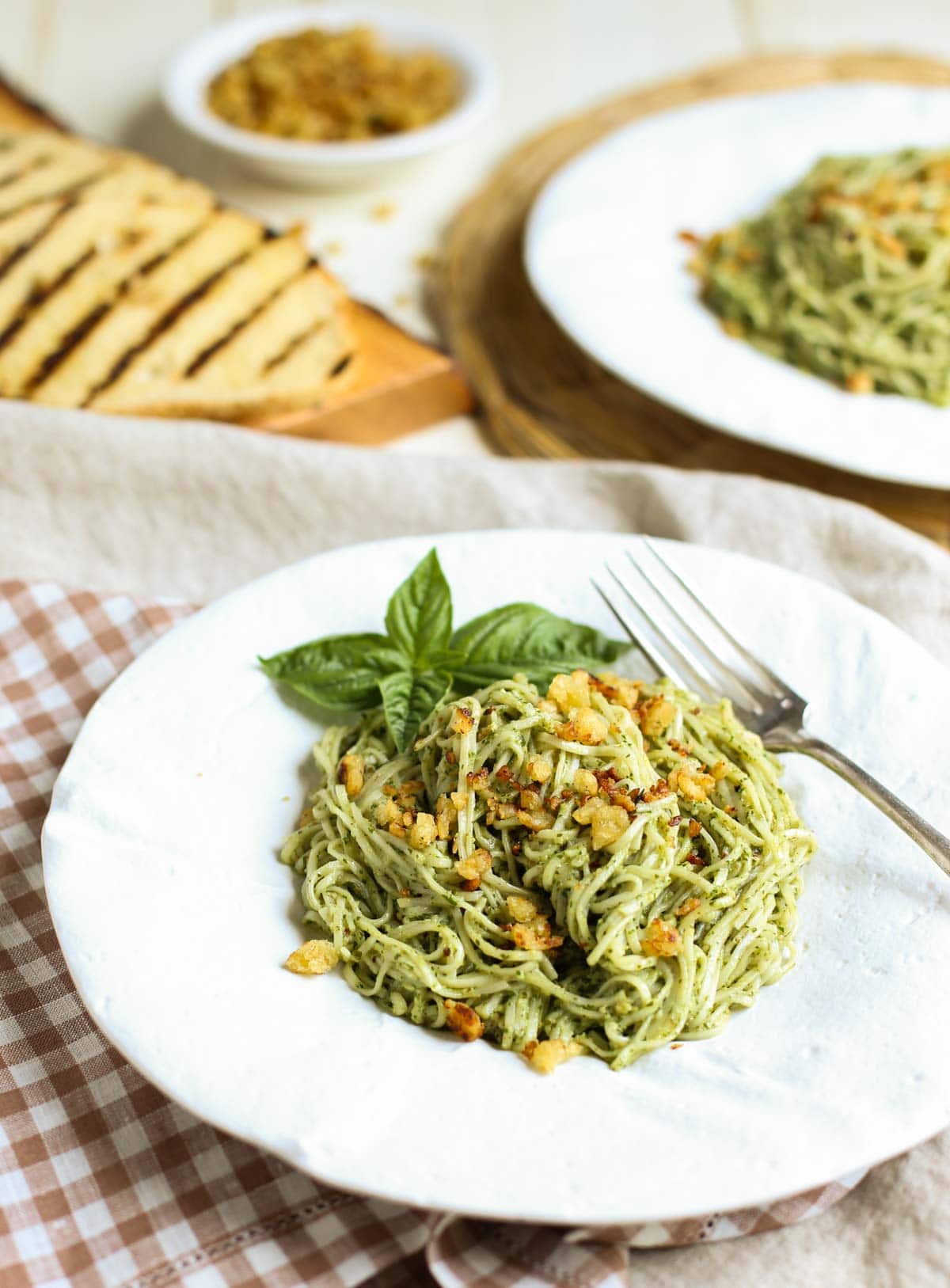 Pecan Pesto is milder than most, due to the mixture of basil and parsley, and pecans of course have a somewhat mild, rich, buttery flavor.  But the real surprise is the addition of the garlicky breadcrumbs.  Wow.  You could honestly put these over ANYTHING.  I've made a recipe for roasted broccoli with similar breadcrumbs and it is absolutely delicious.  Have you noticed a lot of menu items are adding some sort of crunchy yumminess on top?  If you are not sure what to do with your next recipe, whether a salad, soup, or pasta….just add some homemade dressed up breadcrumbs!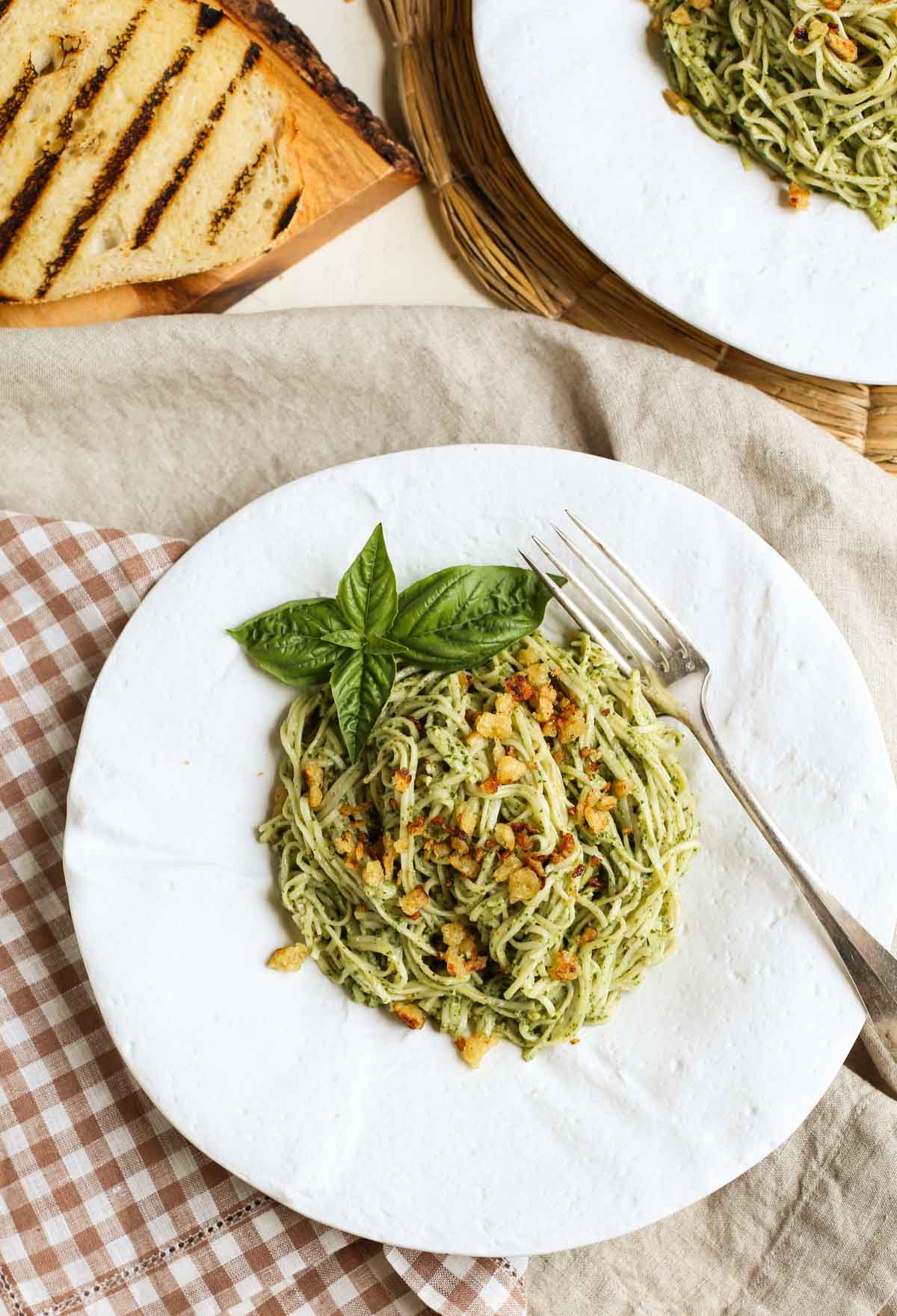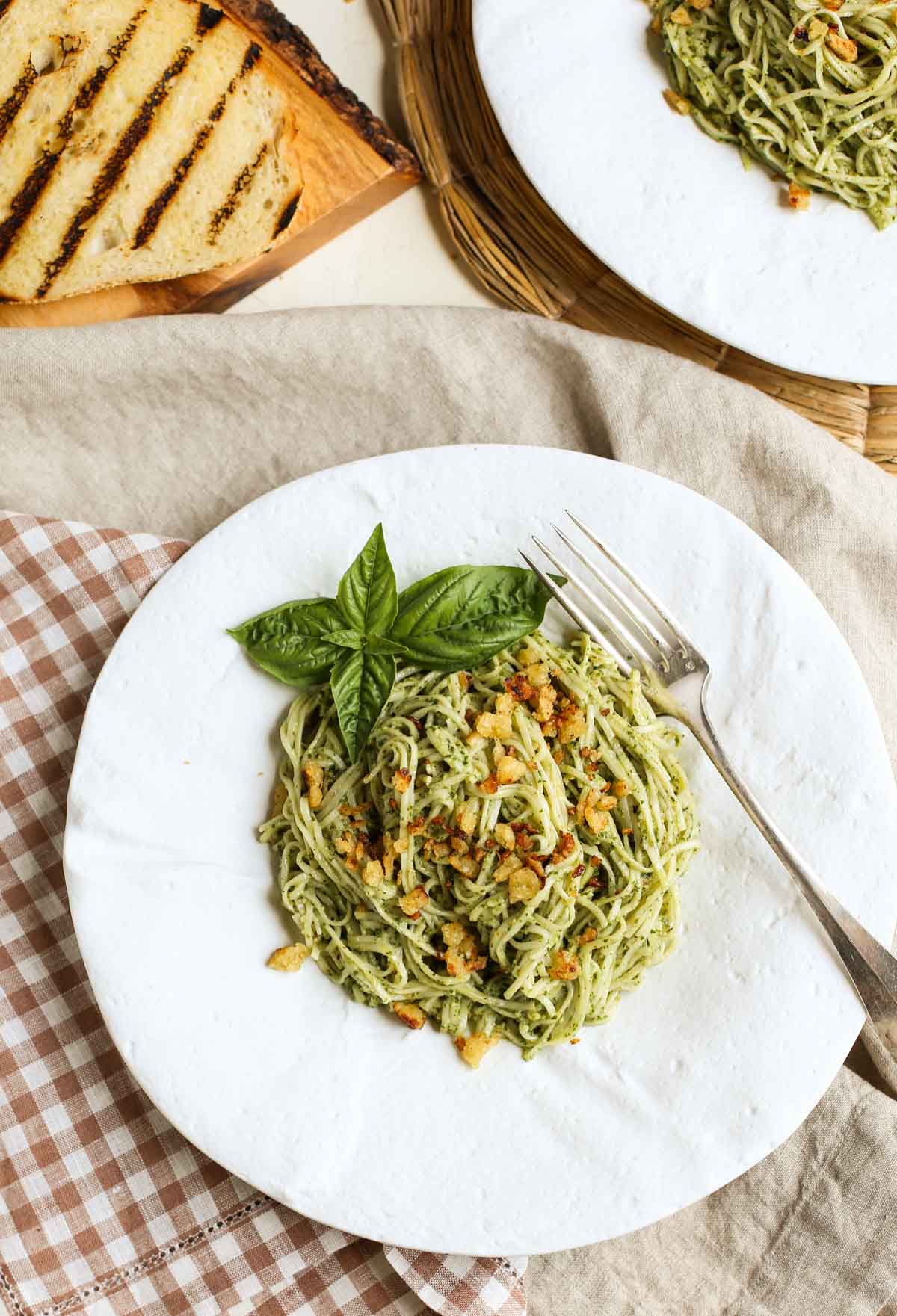 The breadcrumbs themselves are seasoned with minced fresh garlic, but also include lemon zest – adding a nice zing.  I always go heavy on the lemon zest…you can't really have too much!  When making the breadcrumbs, made sure to pulsethe bread into decent sized pieces…you'll want to see these individually on the pasta.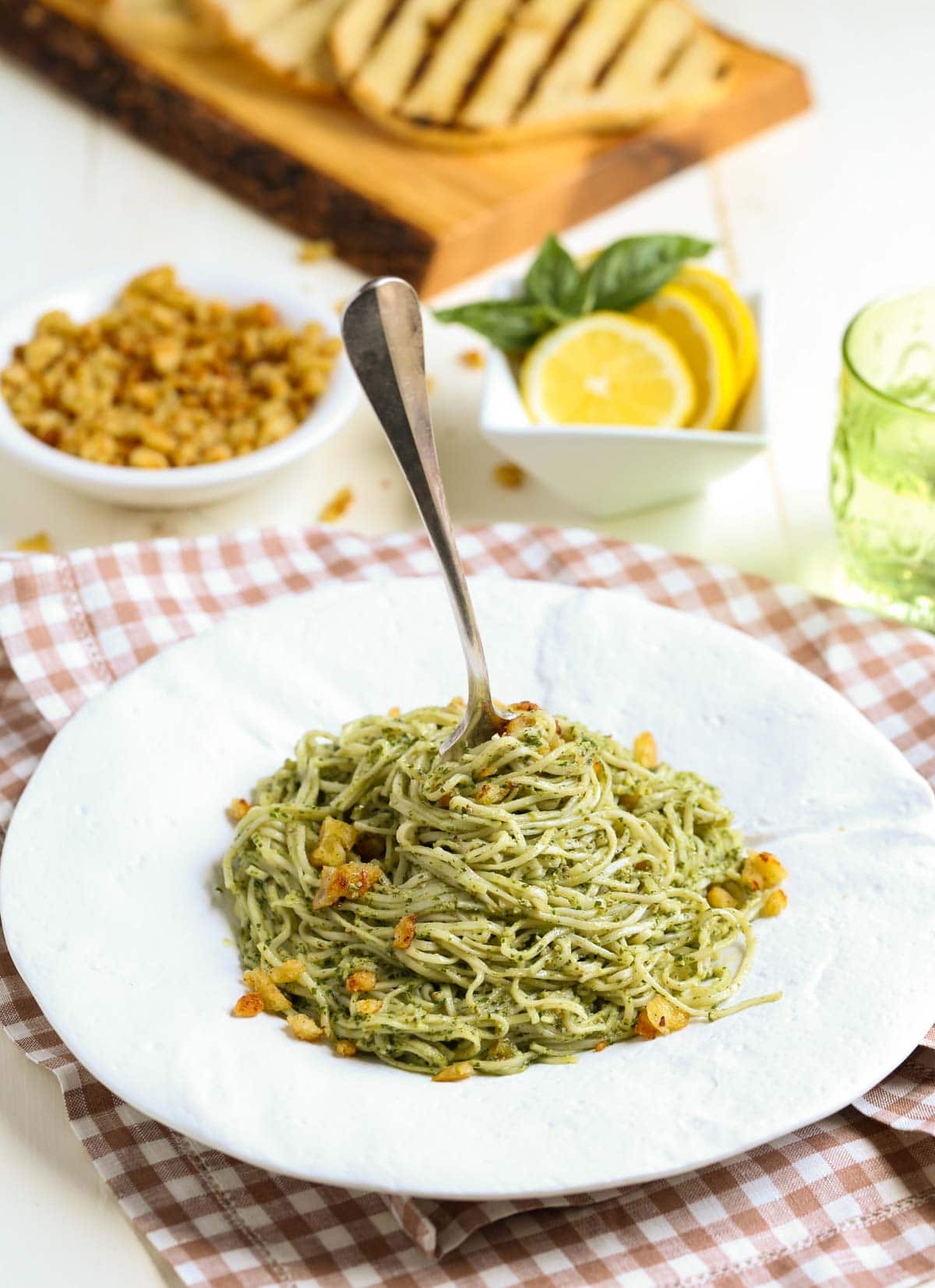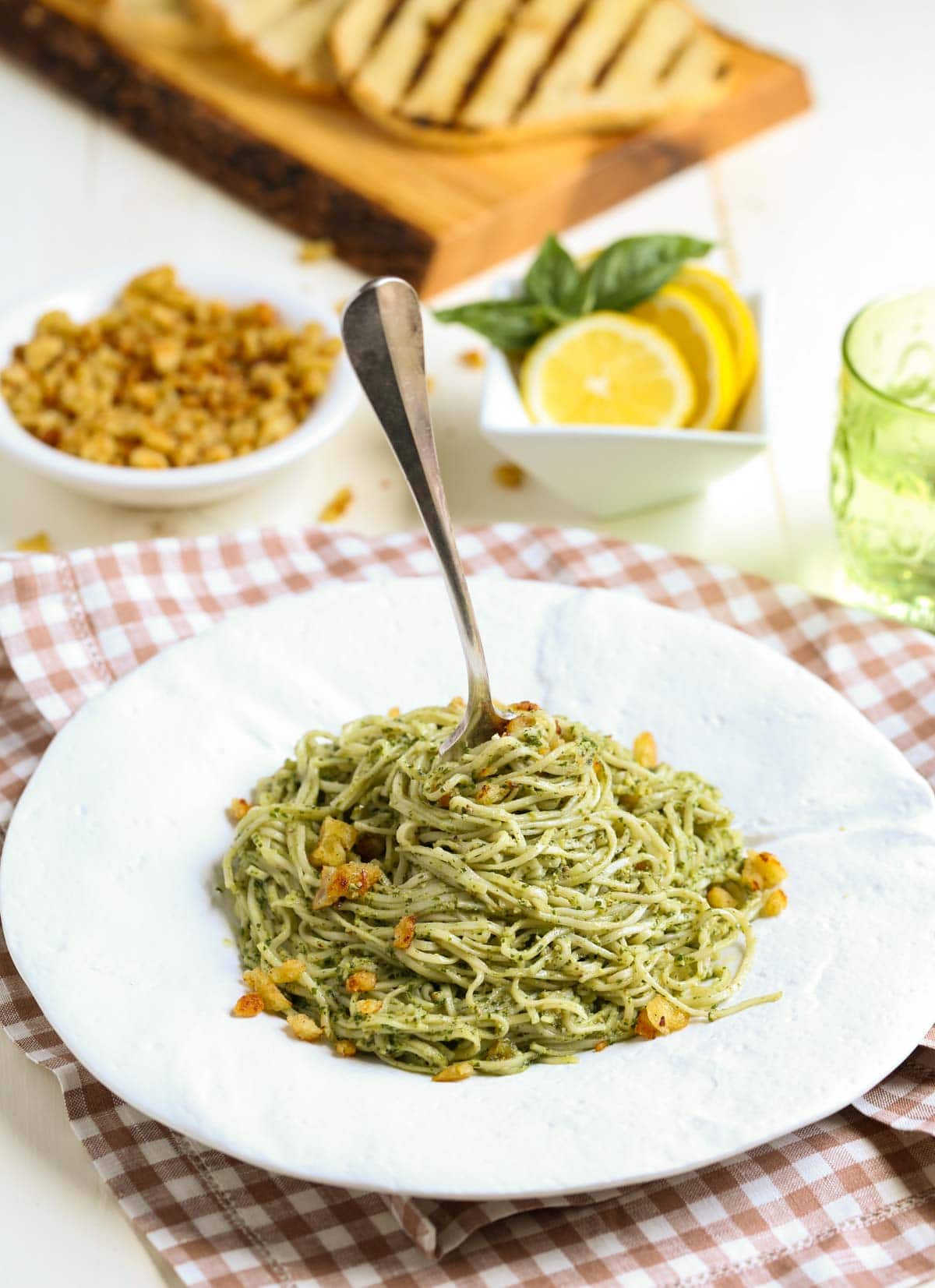 Pecan Pesto with Garlicky Breadcrumbs will be a recipe you'll want to make all year long.  So save or print this recipe and please make it soon!  My pasta choice was our Classic Angel Hair Pasta Nests…and for this recipe, I'd recommend a "long" pasta shape like angel hair, thin spaghetti or linguine…it's an elegant and fabulous dish!  Enjoy!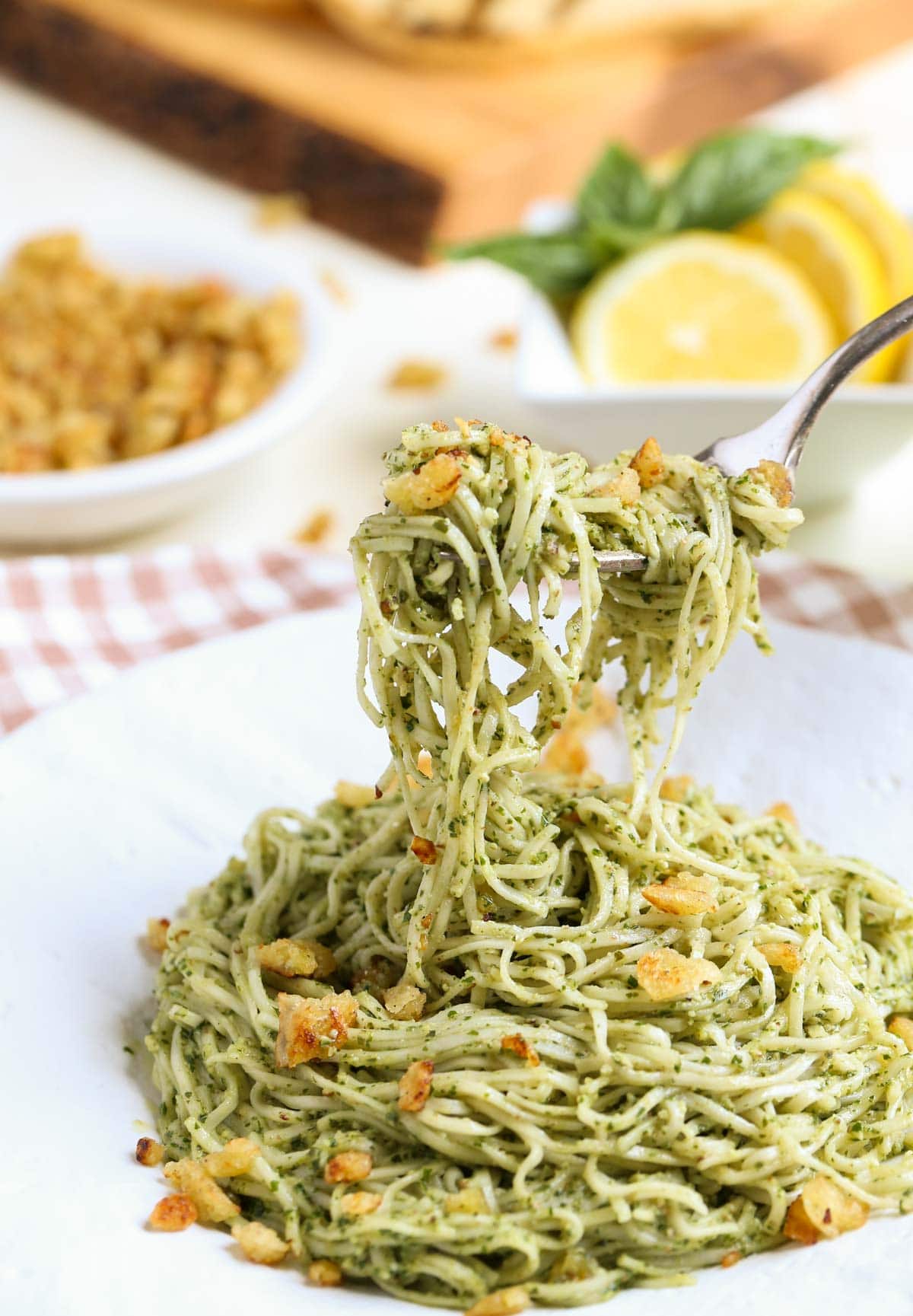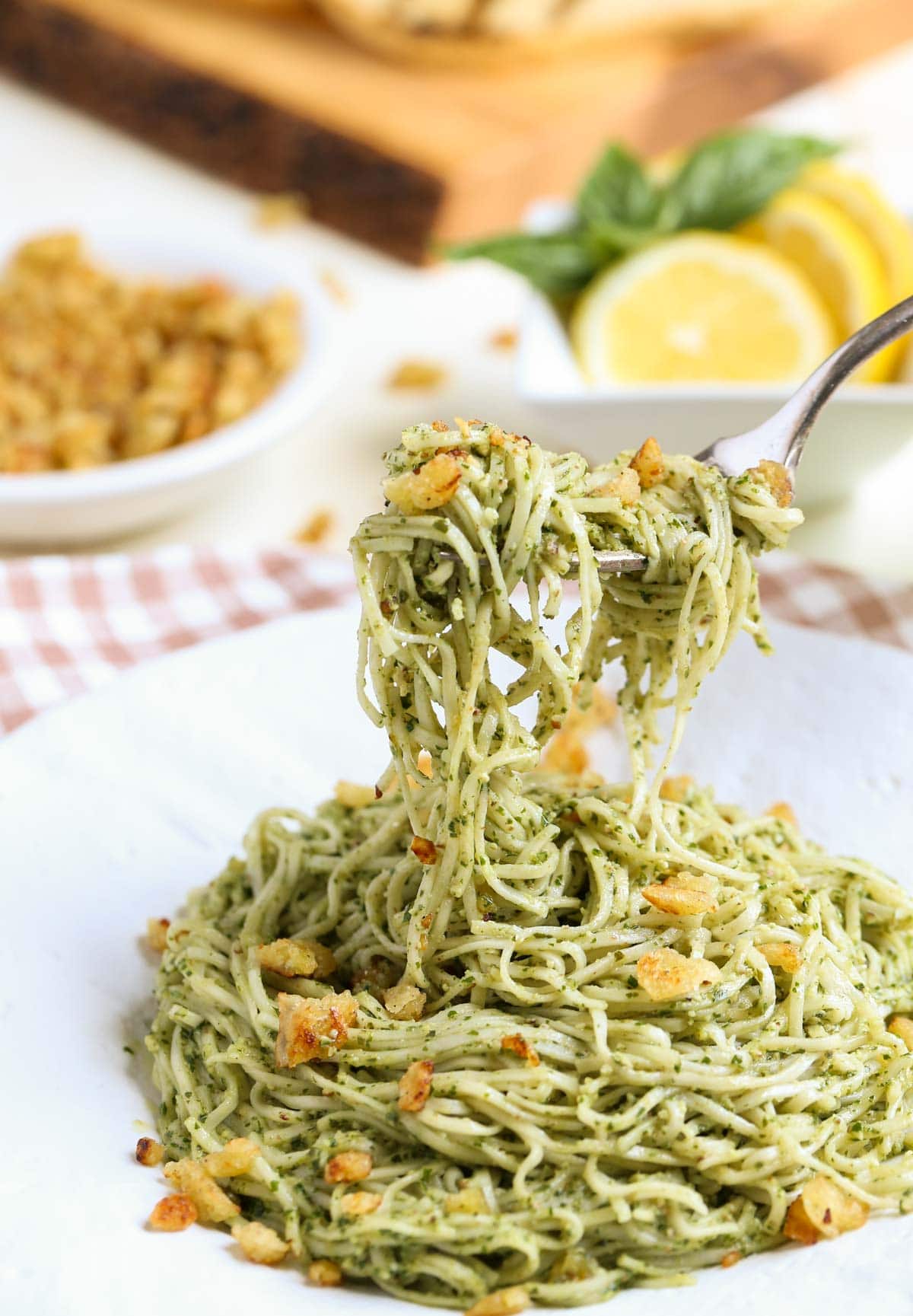 Follow me on Instagram @thepastashoppe for more pictures and happenings from around here.  I'd love to connect with you!
Pecan Pesto with Garlicky Breadcrumbs
One of the BEST pasta recipes ever!  Recipe from Southern Living May 2017.
Ingredients
1 12 ounce box Classic Angel Hair Pasta Nests (or 12–16 ounces of long pasta, like thin spaghetti)
3 cups loosely packed basil leaves
3 cups loosely packed flat leaf parsley
6 ounces Parmesan cheese, grated (about 1 1/2 cups), plus more for serving!
1 cup olive oil (I tend to use a lighter one, not too strong)
1/2 cup pecan halves
3 T. fresh lemon juice ( about 2 lemons)
2 garlic cloves, chopped
1 t. kosher salt
2 T. unsalted butter
Garlicky Breadcrumbs
4 cloves garlic
5 oz. sourdough bread or other crusty bread, crust removed, torn/cut into 1-inch pieces (about 2 cups)
Zest of 2 lemons (original recipe called for one…)
1/2 t. kosher salt
1/4 t. black pepper
1/4 cup olive oil
Instructions
Garlicky Breadcrumbs
I make these first and also these can be made ahead of time.
Pulse garlic cloves in food processor until finely chopped.  Add bread and lemon zest and pulse until coarse crumbs form.  Stir in salt and pepper.
Heat oil in large pan over medium heat.  Add breadcrumb mixture and cook, stirring, until golden brown and crisp, about 5 minutes.  Using a slotted spoon, transfer crumbs to a small bowl.
Pecan Pesto
Place basil, parsley, Parmesan, pecans, lemon juice, garlic, and salt into a food processor.  Pulse a few times and see ingredients come together.  Add olive oil slowly and process until pesto is smooth.  You may need to stop and scrape down sides of processor during process.
Cook pasta in lot of salted water, according to package directions.
Drain, reserving 1 1/2 cups of cooking water.
Transfer pasta to large serving bowl.  Add pesto and butter to hot pasta.  Toss gently until pasta is coated. Stir in cooking water 1/4 cup at a time, until sauce reached desired consistency.  Discard any remaining pasta water.
Top with Garlicky Breadcrumbs and more fresh Parmesan!  Also can top with fresh chopped tomatoes and extra toasted chopped pecans!
Join our email list for fresh pasta recipes delivered to you every week!
Your information will NEVER be shared or sold to a 3rd party.