Pepperoni Pizza Halloween Pasta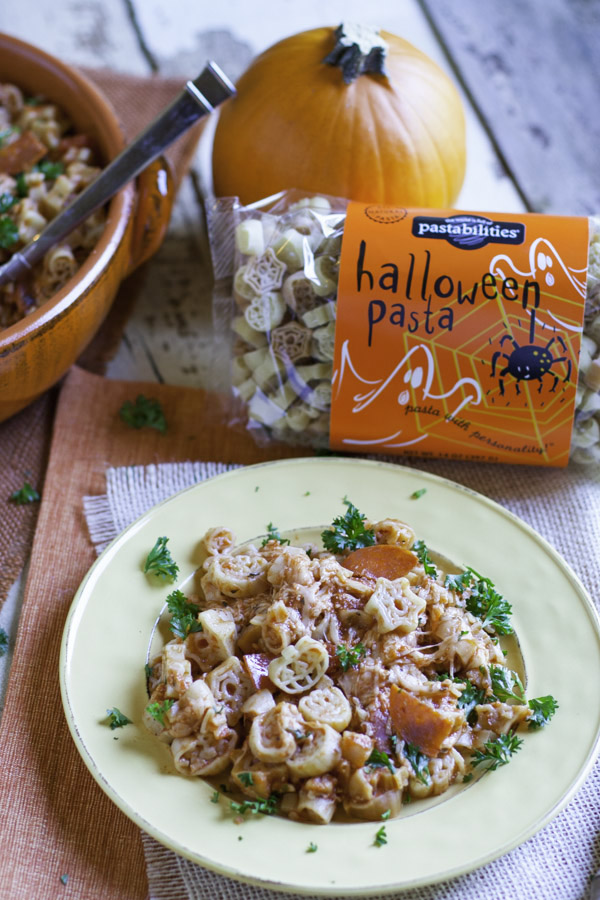 Boo! We are in the midst of the Halloween Night countdown…just a few more weeks to finish sewing those creative and homemade costumes ladies (hahaha if you are me :)) and to get the house all "spookified". NOTE: If you are confused as to why you are also seeing Christmas decorations at the stores now as well….join the club!  It's insanity.
Are you one of those people who goes all out Halloween crazy? Bright orange string lights? Stretchy webs on your shrubs and entryway? Hanging witches? Intricate pumpkin carvings? Skeletons and hands in the lawn? I confess…I used to do more when the kids were younger but now I focus more on what happening INSIDE the house and kitchen like Pepperoni Pizza Halloween Pasta, and not as much on the outside.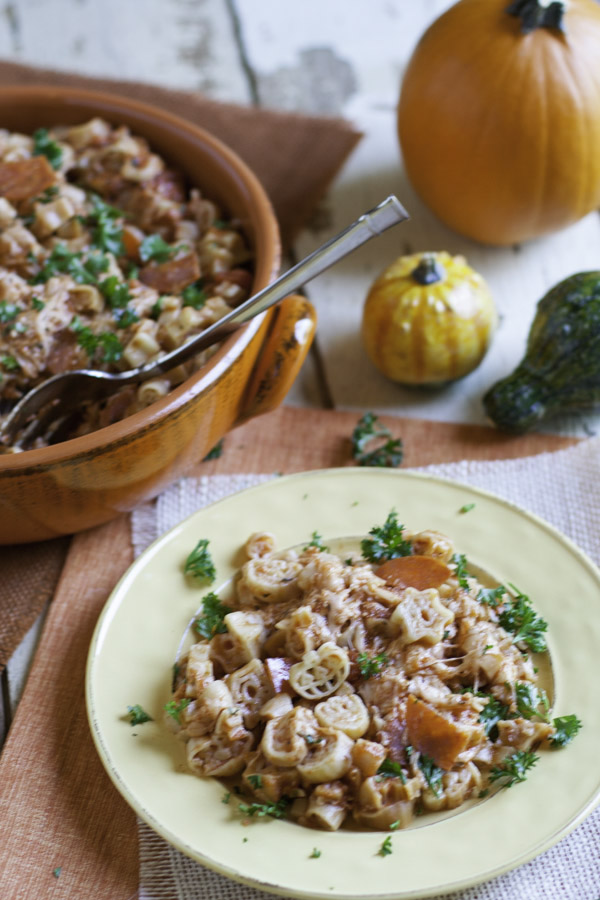 My sister Kathy's birthday is actually on October 31st so naturally Halloween was always a big celebration in our house. Happy "almost" birthday Kitty-Kath! I won't say "witch" one! Wouldn't you love to have your birthday on a holiday? As luck would have it, I also married a man whose birthday is July 4th :).
For Halloween parties, my Mom was always so creative, and yes, she always made our costumes. But her real forte was in inventing fun games and creating spooky Halloween themed food. In fact, Pepperoni Pizza Pasta is the recipe featured on the back of our Halloween Pasta bag and is an original Cookie creation (my Mom's nickname is Cookie).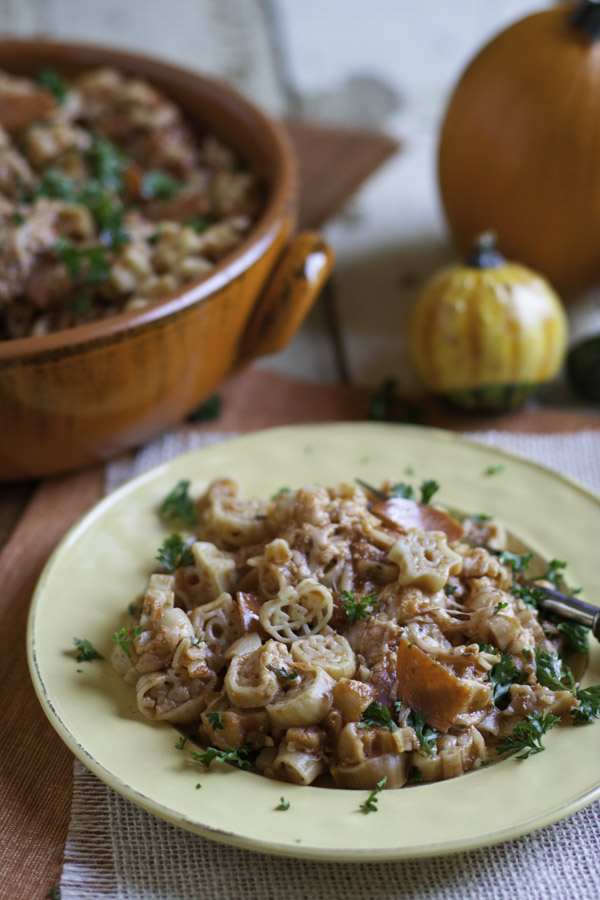 Pepperoni Pizza Halloween Pasta is the PERFECT meal for Halloween night! It's a pre-trick-or-treating satisfying meal. It is simple with very few ingredients. It takes no time to make. It can be served to "goblins" of all ages. It guarantees that your kids will have something other than CANDY in their tummies.  And your children and guests will love the cute pumpkin, spider, and ghost pasta shapes.
Please, do not try to feed them "chicken" or "veggies" – way too ambitious for a night like tonight.  Serve them something that is familiar and yummy. What says comfort food and yummy more than PIZZA?? The "yumminess" has a chance to fill up those tummies before the temptation of all the sweet sticky candy and chocolaty goodness found in their treat bags.  And if they love it like I know they will, you might try our Homemade Mac 'n Cheese or Taco Pasta next!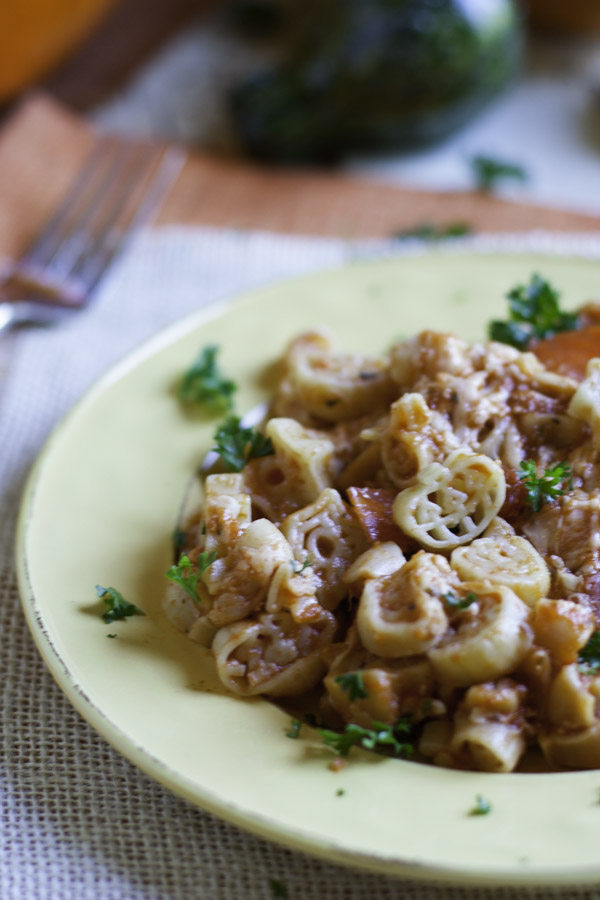 When combining the Pepperoni Pizza Halloween Pasta, the mozzarella cheese melts and creates a gooey "spider web" of stringy cheese that entertains your hungry crowd. Every forkful is a real Halloween special effect! And if your children don't like pepperoni – leave it out! It's still wonderful! And you can substitute turkey pepperoni too.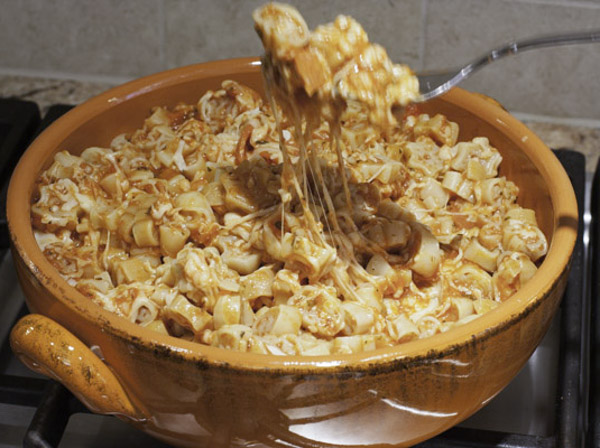 One bite and you'll agree…this recipe is a keeper. For Halloween night and any other night you need something in a jiffie. Both my boys requested the leftovers of this photo shoot as an "after school snack". Oh no! Boo! Hoo. – it's all gone. Happy Halloween everyone! Be safe and have a tasty night!
If you are interested in seeing all of our pasta shapes, you can visit The Pasta Shoppe website.  And if you have any fundraising needs, please check out Fun Pasta Fundraising!  We'd love to hear from you!
Print
Pepperoni Pizza Halloween Pasta
A gooey mozzarella cheese and pepperoni pizza pasta dish that is a MUST for Halloween night! Your kids will be happy and full before heading out to trick or treat!
Ingredients
14 oz

. bag of Halloween Pasta (or

14

–

16

oz. of Pasta, any short shape)

1

large jar (approx.

26 oz

.) prepared pasta sauce (use your favorite!)

4 oz

. pepperoni (regular, turkey, or reduced fat), cut in halves

1

t. Italian seasoning

2 cups

mozzarella cheese, grated
Salt and pepper to taste
Parmesan cheese or chopped parsley for garnish
Instructions
Cook pasta in gently boiling water for approximately 6 minutes, until tender but firm.
Drain and place in a large sauce pan along with remaining ingredients.
Stir over medium heat until hot throughout. The melted cheese creates a gooey spooky spider web!
Season to taste and top with Parmesan cheese and fresh chopped parsley!
Join our email list for fresh pasta recipes delivered to you every week!
Your information will NEVER be shared or sold to a 3rd party.
209 Comments