Shrimp, Avocado, & Spinach Pasta with Mango Vinaigrette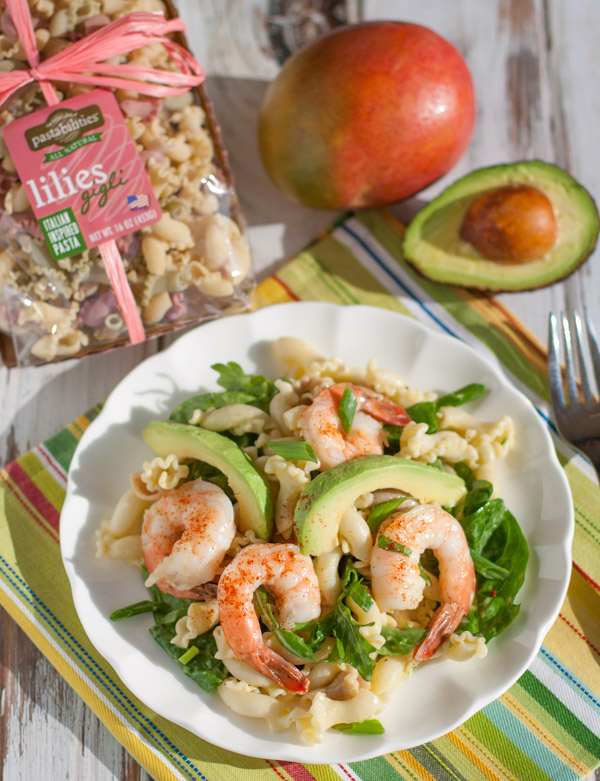 MANGO-LEESSSHHH-CIOUS!
Now this is the way to kick off a New Year! John, the boys, and I typically travel south the week after Christmas and spend some time in Naples, FL with my parents. It's a glorious week when the office is closed, and sun is shining, and we can refuel our old tanks and get ready for the New Year. Fresh seafood lots of and citrus are all around us and we take full advantage of the kitchen away from home. That is – at least Cookie and I do! Others in the household may be, I'm just sayin', glued to football and hockey.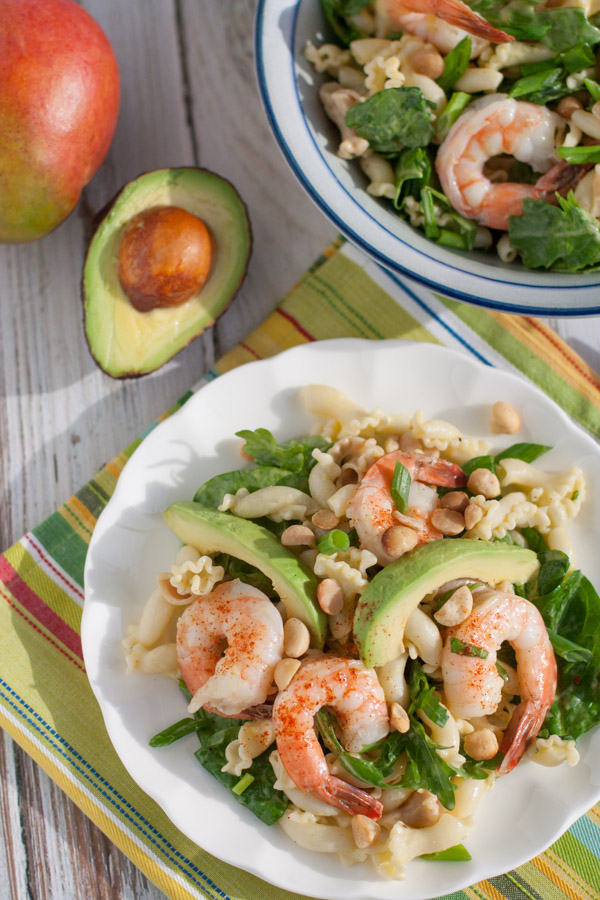 But folks – put on the brakes! I mean it! And it's not because my oldest son turned 16 this week and is driving around alone! Or that time is flying by way too fast. It's because you must print and save this recipe! Can you say Mango? The word itself makes me smile and think of that crazy Mango character on SNL.
This Shrimp, Avocado, & Spinach Pasta with Mango Vinaigrette was created one sunny afternoon in Cookie's small Florida kitchen. We were craving something that tasted like all things Florida. It was time to get away from the heavy holiday fare and cold weather back at home. And usually as the New Year approaches, salads begin to enter my mind….you too?! Resolution perhaps?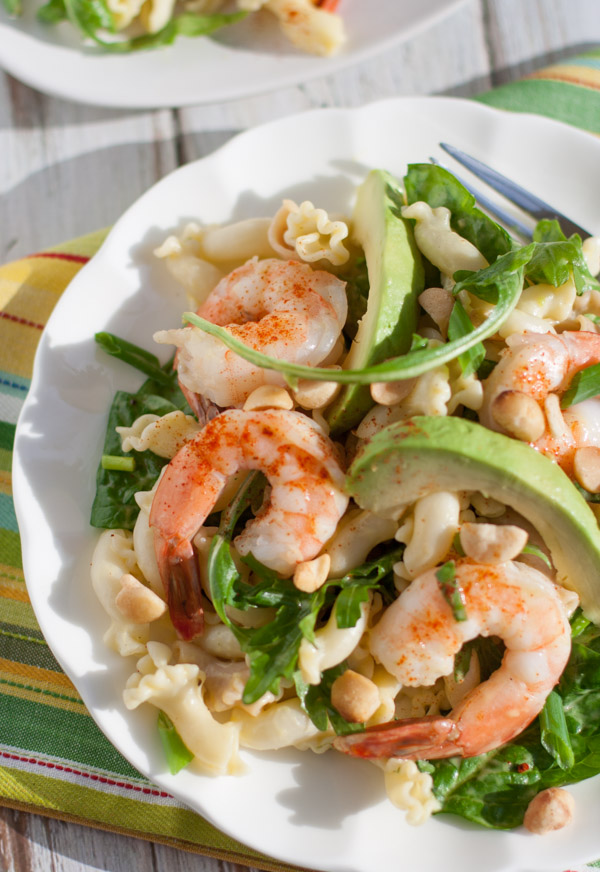 Every component of this salad is tied together by the sweet fresh mango vinaigrette. It is light, it is full of flavor, and it is fabulous! Seriously, I could bathe in it. I'm already imagining the other ways I'll use it with fish and different salad combos. So far, it's my favorite dressing of 2015! (OK…I realize it is my first post of 2015). And if you are looking for more light dishes, check out a favorite from last year – our Kale and Walnut Pesto.
Big Shrimp, creamy avocados, green onion, fresh spinach and arugula, toasted macadamia nuts, sweet mango dressing….what more do you need? One more thing – our beautiful Lilies Pasta! Curly and elegant.
Here's to a healthy, happy, and adventurous 2015. And here's a toast to YOU! I want to thank each of you for reading my recipes, sharing my new blog, and supporting my efforts to get everyone to enjoy more pasta!
If you would like to browse our pasta selection, please visit The Pasta Shoppe. And if you have any fundraising needs for a school or group, we'd love for you to check out our unique fundraising program, Fun Pasta Fundraising!
Print
Shrimp, Avocado, & Spinach Pasta with Mango Vinaigrette
A wonderfully healthy and delicious pasta salad…feel free to add as much or little of each ingredient – it's really a matter of preference and taste!
Ingredients
8 oz

. of our Italian Inspired Lilies Pasta (or any short pasta shape)

1

pound fresh or frozen shrimp, tails on (my preference is

16/20

count)

4

–

5

ounces of fresh spinach – I used a spinach and arugula blend!

1

–

2

avocados, sliced

3

green onions. sliced on the bias

1

–

4

-1/2 cup toasted macadamia nuts

3

mangos (I bought pre-cut mango in clear cups in produce section – easy!)

1/4 cup

rice vinegar

3

T. vegetable oil

2

T. honey

1/2

t. salt

1/4

t. pepper
Instructions
Cook pasta as directed on package. Drain and rinse with cold water. Set aside.
Blanch shrimp in salted hot water for just a few minutes until they begin to curl and turn pink. Drain and set aside to cool.
Mango Vinaigrette: in a blender or processor, add mango pieces, rice vinegar, oil, and salt and pepper. Blend thoroughly. Taste and adjust seasonings if necessary.
Place desired amount of spinach and arugula in a large bowl. Add green onions and pasta. Toss lightly with vinaigrette.
On each plate, place spinach mixture. Top with shrimp and avocado. Garnish with macadamia nuts. Sprinkle with paprika! Enjoy!
Notes
Keep in mind that the portions are really just to taste. Add and adjust as you wish!
I prefer about 3-5 shrimp per pasta plate, but it depends on the size, and if it is a lunch or dinner plate.
Note: You will probably have some extra vinaigrette left over – but that is good news!
Join our email list for fresh pasta recipes delivered to you every week!
Your information will NEVER be shared or sold to a 3rd party.