Simple Vodka Cream Sauce with Shrimp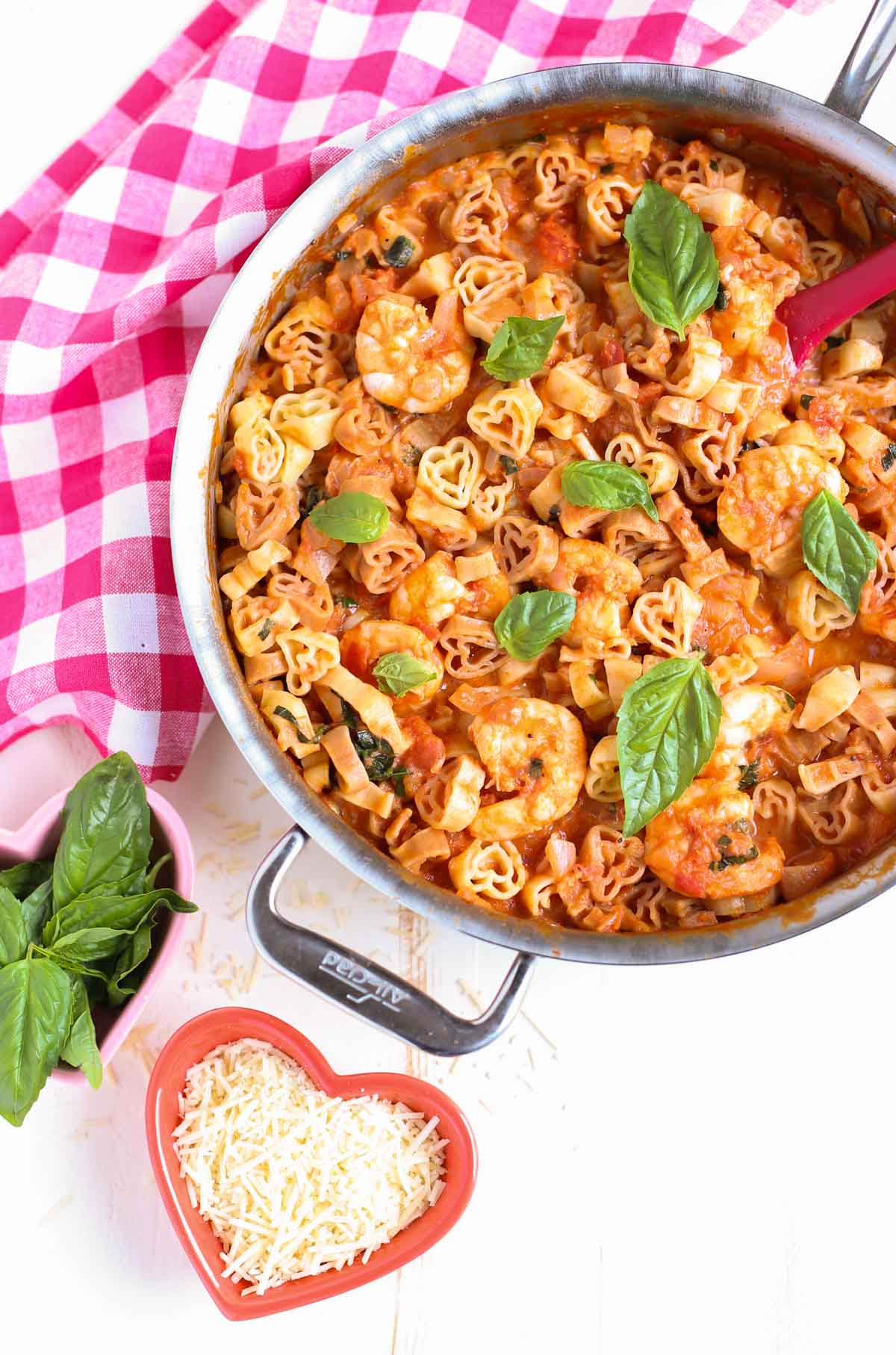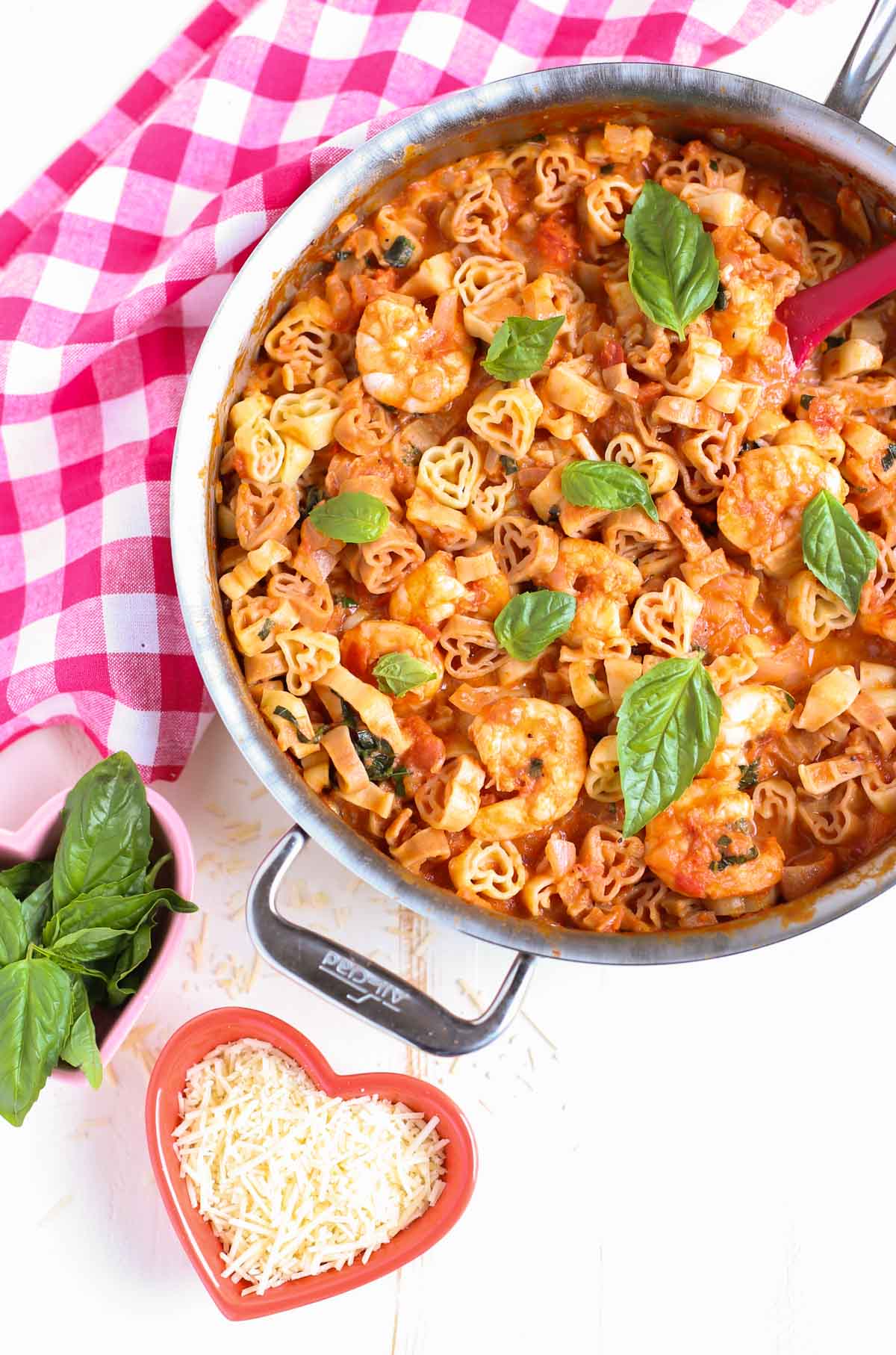 When is Vodka Cream Sauce not a HIT?! Whether you like it with gnocchi, rigatoni, penne, or some fun shapes like Hearts(!), or you are 9 or 54 years old…if you don't order it, you regret it. And now you can make it "simply" at home.
I've gone a bit crazy with more than one Valentine/Heart recipe, but I had too! I commented on Instagram (@worldofpastabilities) that a way to a person's heart was through their tummy…and we are definitely doubling down. So, you can go lighter and "healthy" and make our Italian Wedding Soup, or just indulge your sweetheart, girlfriends, or family, and just give them what they really want! And the Heart Pasta works for this week…but you can use any pasta!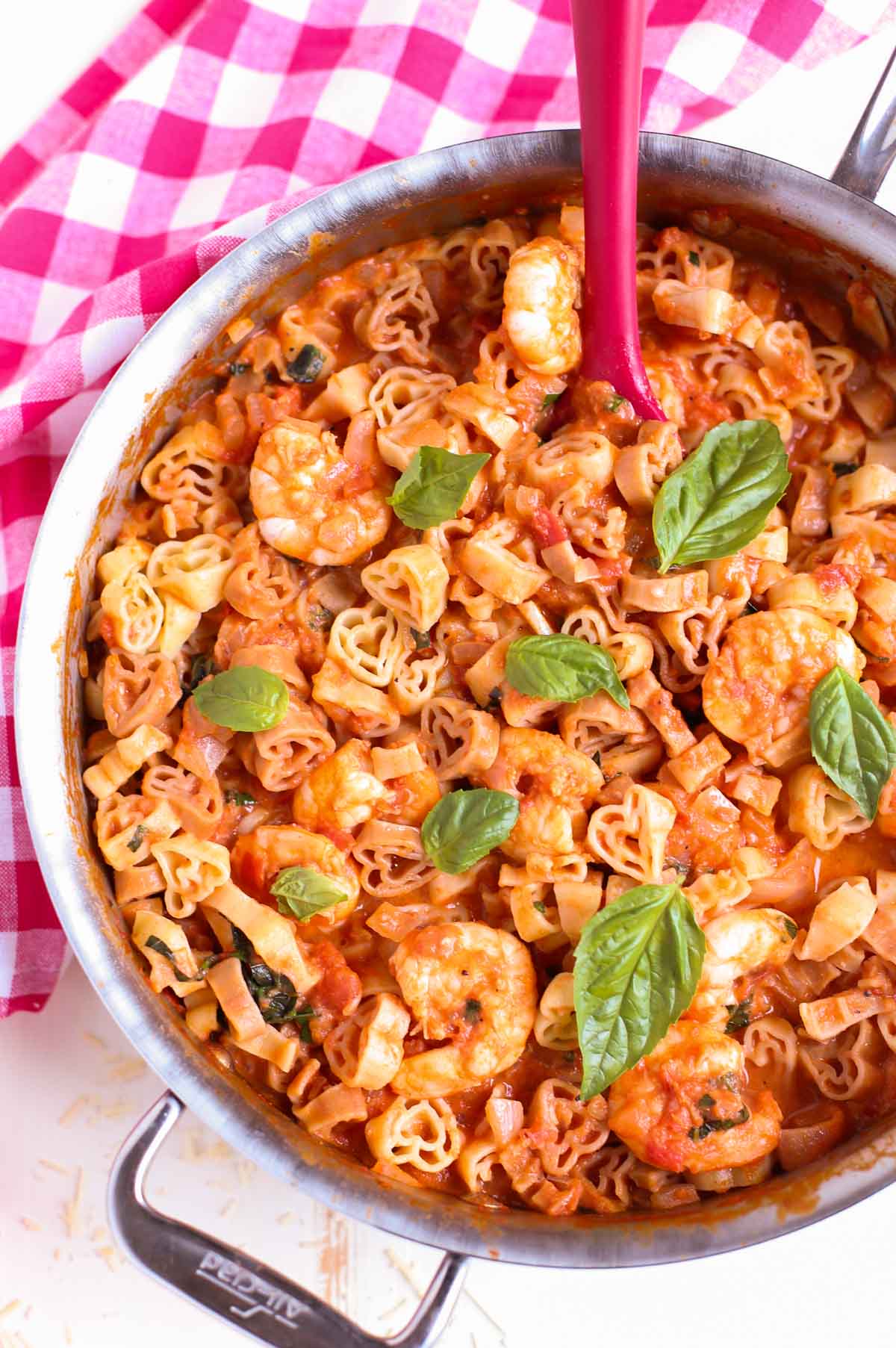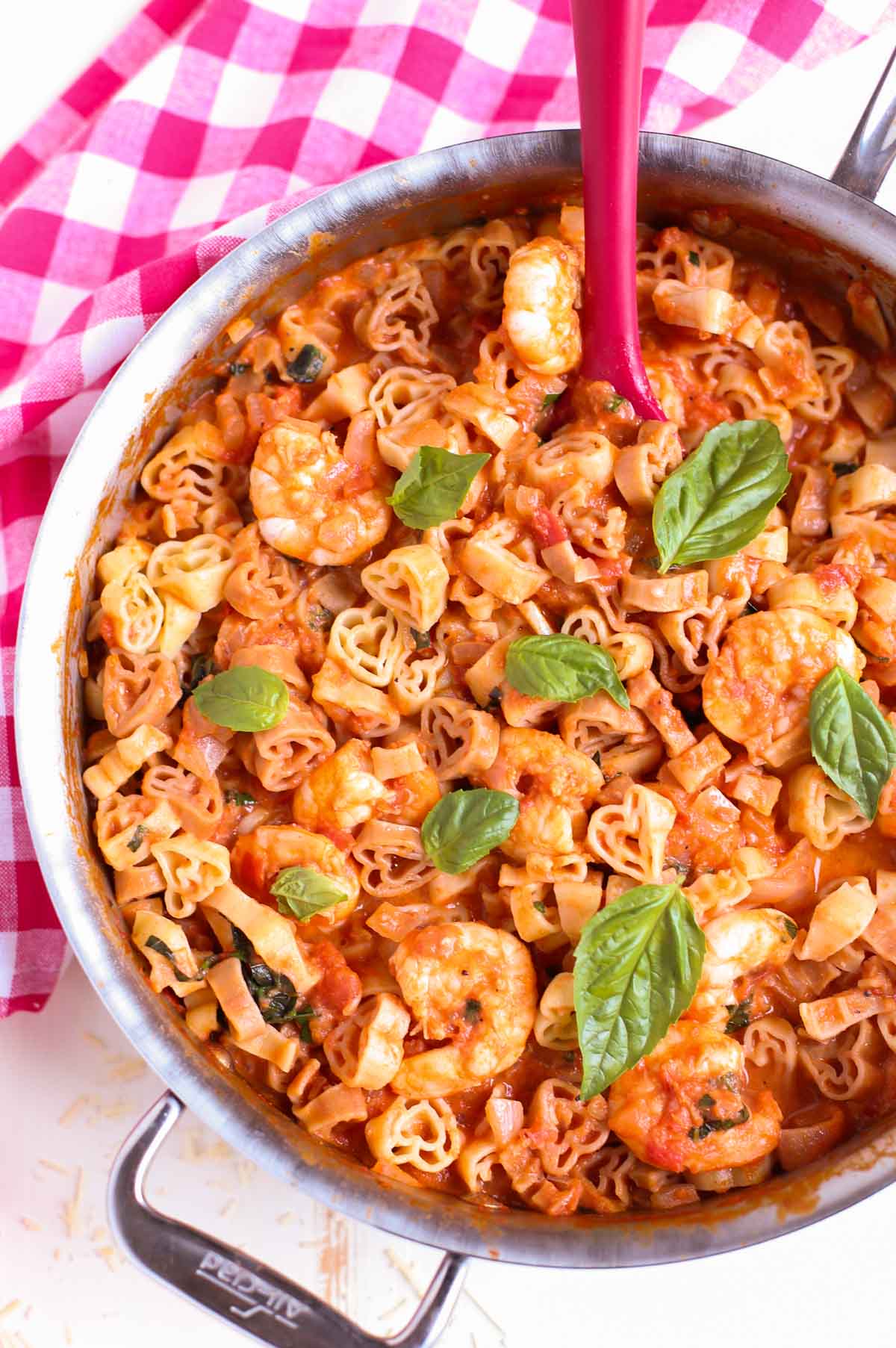 Vodka Cream Sauce
This recipe makes it so easy that you can actually do this on a weeknight. My son who is still at home, was thrilled and excited about eating this and gave me the two thumbs up. He is a connoisseur and typically orders this at every restaurant where it is on the menu. But at home, you can go back for seconds…or thirds.
Most Vodka Cream Sauce on a menu comes without the seafood…but I love the addition of some fresh shrimp. It makes the dish heartier (no pun intended!) and adds some elegance and of course, incredible taste.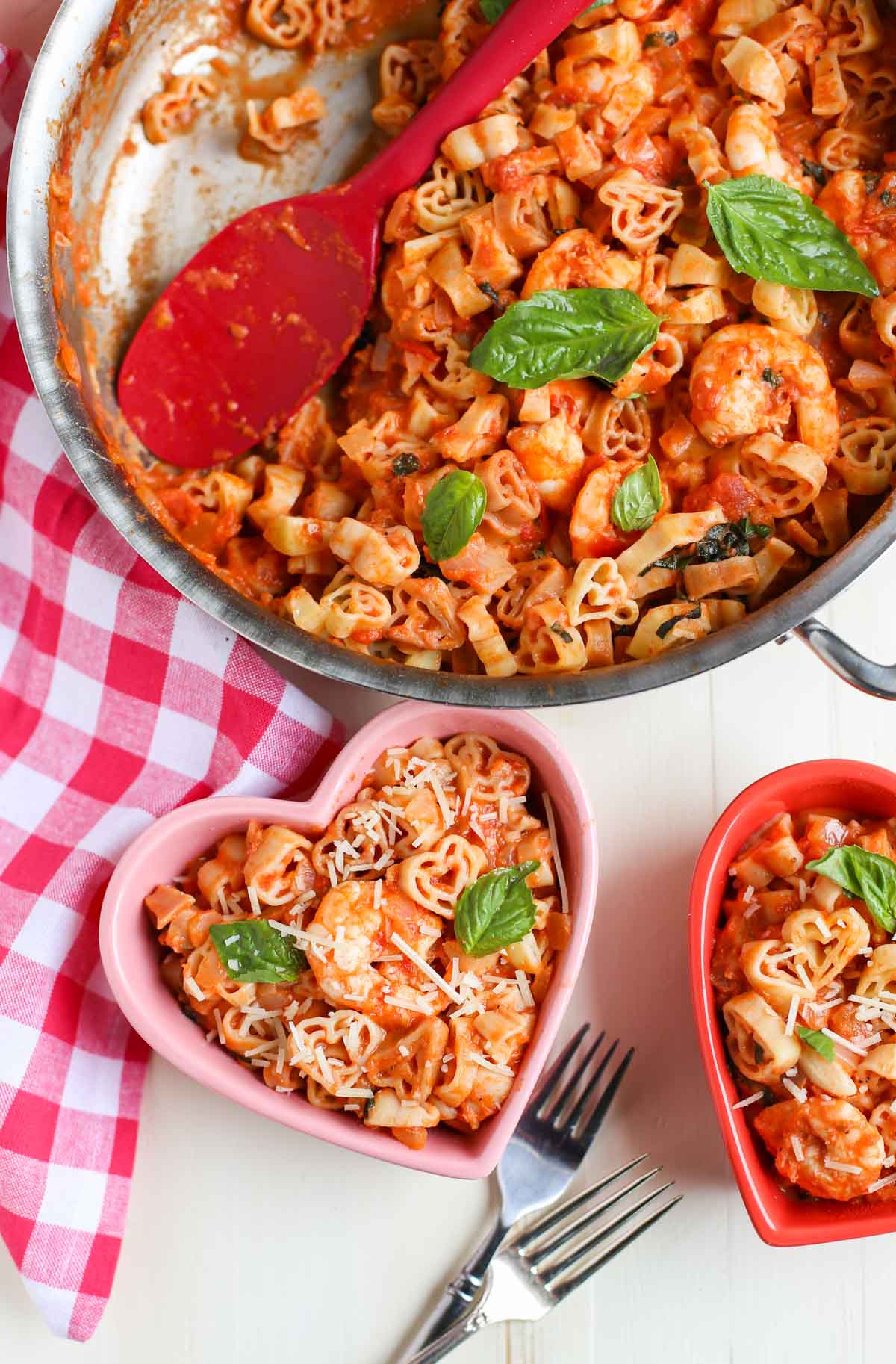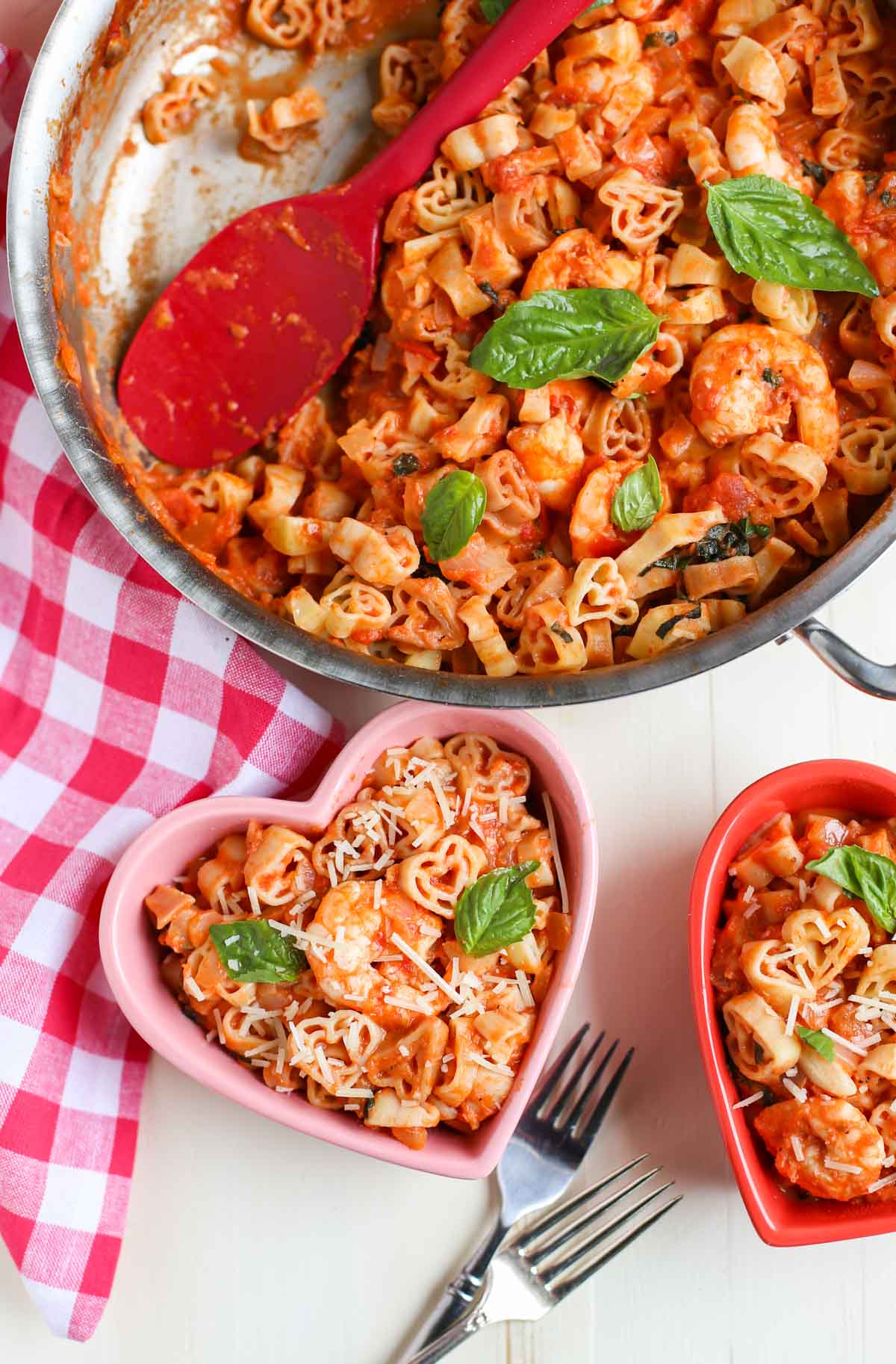 Some recipes call for you "igniting" the vodka, which always makes me nervous, but here we keep it rated G. There are only a few ingredients…just make sure you season it with the right amount of red pepper flakes, and salt and pepper. You can adjust as needed at the end, so don't get too happy, too fast!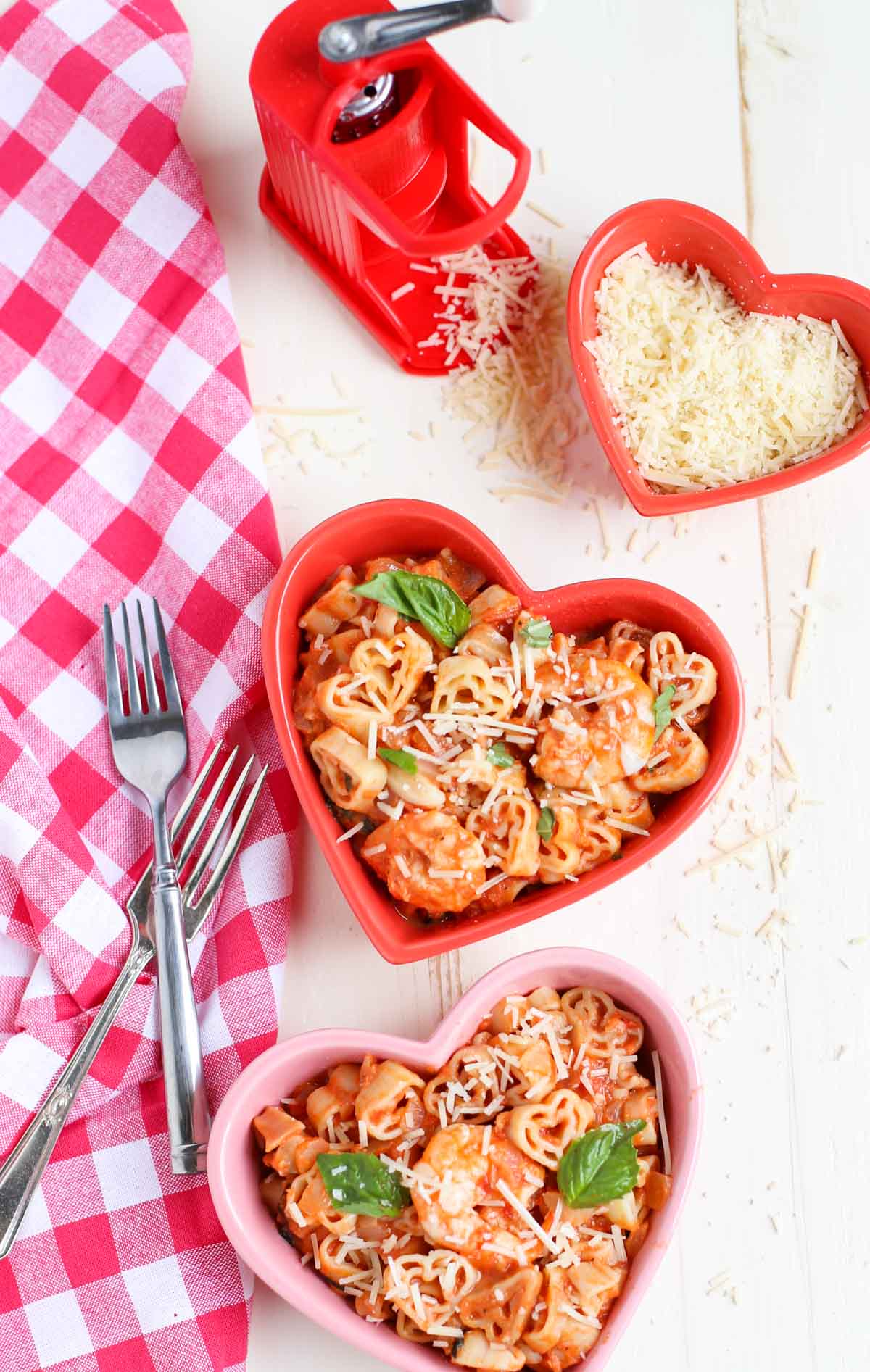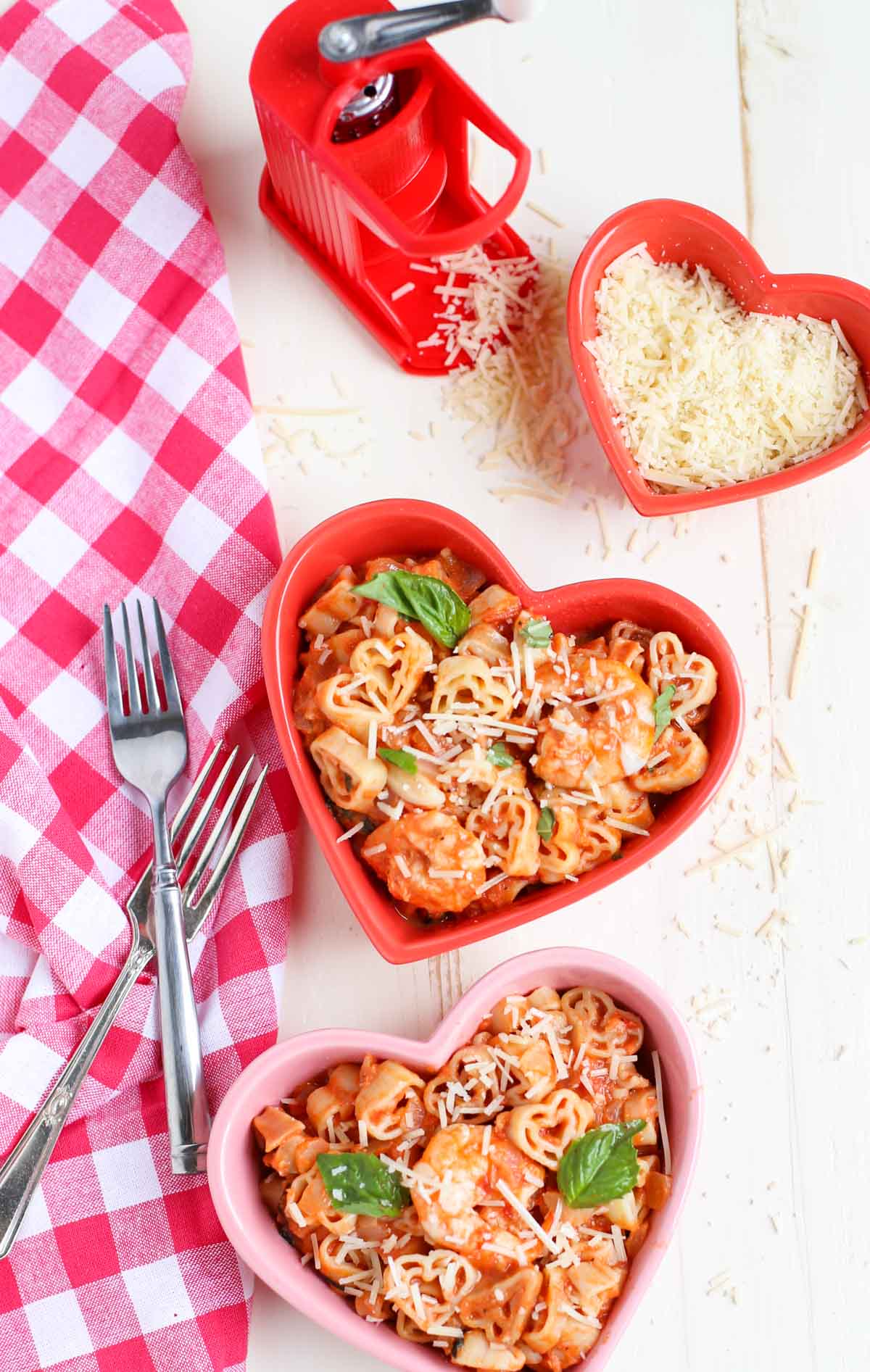 Two other key elements are the chopped fresh basil and the Parmesan…make sure to top each plate with some color and flavor!
You can see the step by step video on my Instagram story…check it out! Again, follow me @worldofpastabilities.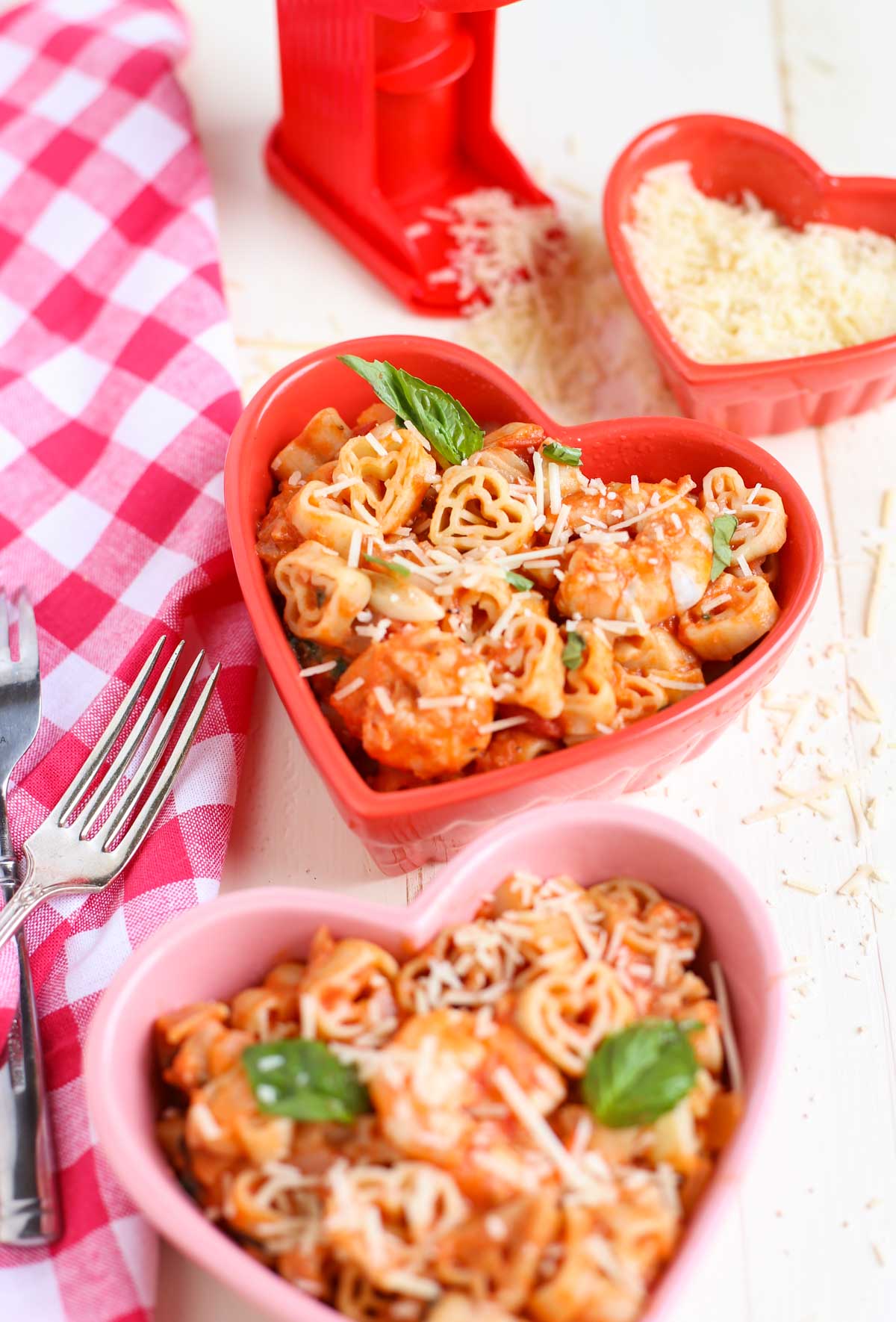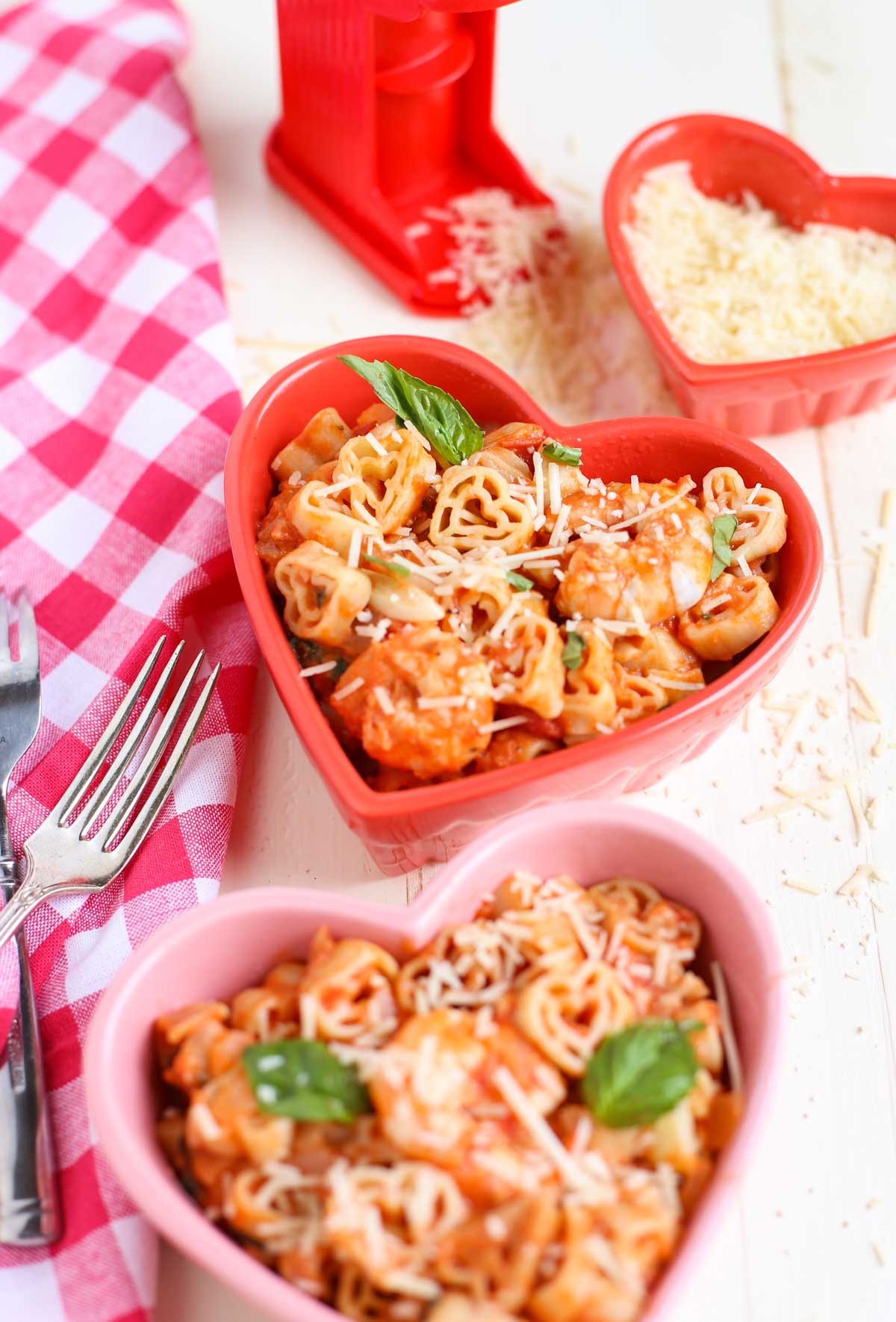 So this Valentine's Day, or for any other celebratory event, make this Simple Vodka Cream Sauce one of your go-to pasta sauces…and treat yourself and your loved ones with an Italian Classic!:)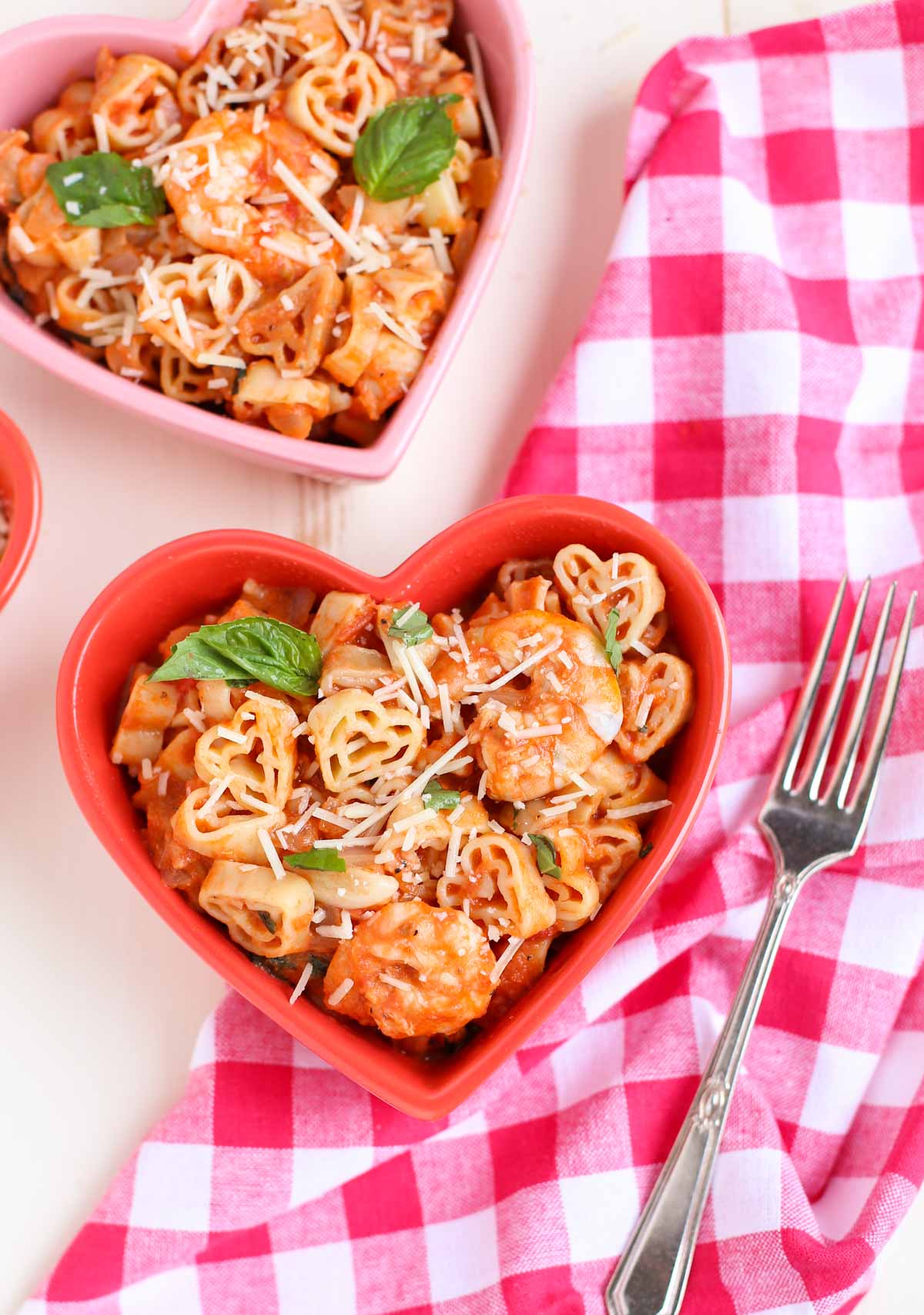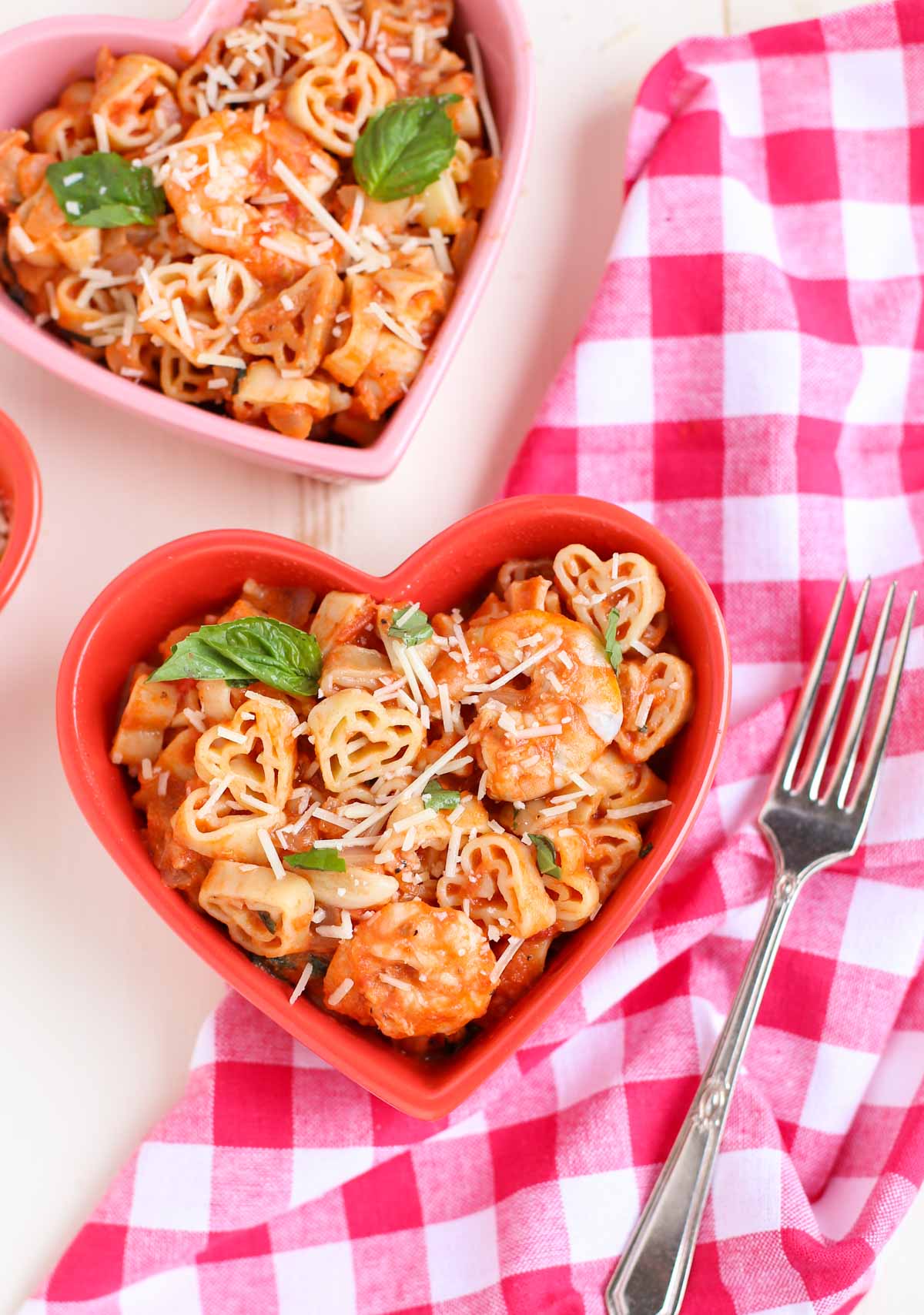 Print
Simple Vodka Cream Sauce with Shrimp
A simple yet delicious meal..easy enough for a weeknight dinner!  Add some big shrimp and really wow your crowd!
Ingredients
14 oz bag of Heart Pasta (or any other short shape), you'll use approx. 1/2 the bag
2 T. olive oil
1 yellow or Vidalia onion, chopped
3 cloves garlic, sliced
1 28 oz. can crushed tomatoes
1/4 cup vodka
Pinch or more of red pepper flakes
1–1/2 pounds of shrimp (I use large or jumbo!), peeled and deveined
1/4 cup heavy cream
1 t. salt
1/2 t. black pepper
1/2 cup chopped fresh basil
1/4 cup or more fresh Parmesan cheese, grated
Instructions
Cook pasta according to package directions, drain, rinse, toss with 1 T. olive oil. Set aside.
In the meantime, heat 1 T. olive oil in large saute pan, and add onions and saute until translucent, approx. 3-4 minutes.  Add sliced garlic, and saute additional 30 seconds, until fragrant.
Add tomatoes, vodka, and red pepper flakes and bring to a simmer.  Cover and reduce heat to low, cover and cook, stirring occasionally, until flavors come together, about 10 minutes.
Now add the shrimp, cream salt and pepper to sauce.  Continue to cook and stir uncovered, until shrimp are cooked through, approx. 5 more minutes.
Stir in pasta, fresh basil, and cheese.
Serve and top with additional basil and cheese!  Yum!  Enjoy!
Join our email list for fresh pasta recipes delivered to you every week!
Your information will NEVER be shared or sold to a 3rd party.