Southwest Chicken Pasta with Avocado Sauce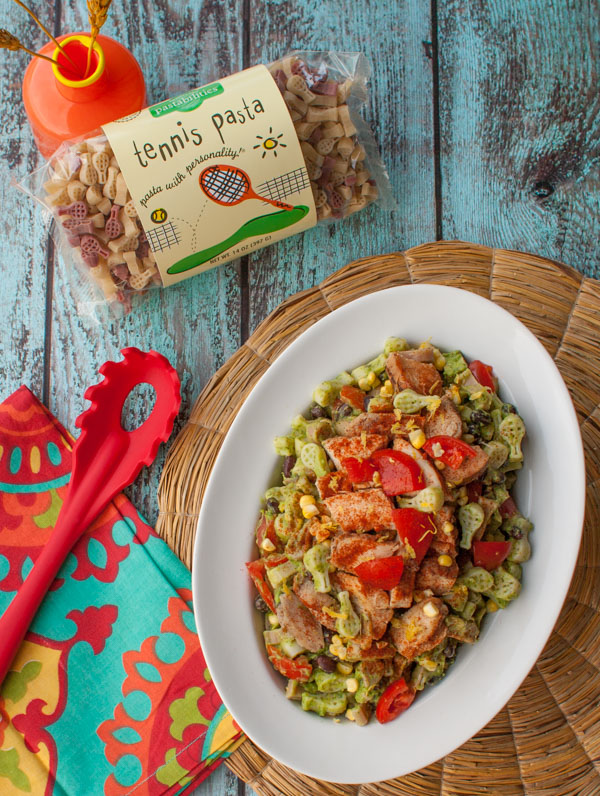 AVOCADOS! Is there anyone out there who doesn't like them? They are one of my very favorite vegetables (?) packing all the nutritional goods your body needs. Only they are not vegetables – they are fruit! 🙂 It's an idea popular with food bloggers but making an avocado "sauce" for my Southwest Chicken Pasta with Avocado Sauce was absolutely brilliant and one of the BEST things I've discovered for my pasta world! (Thanks Cookie!)
These wonderful fruits grow on avocado trees and grown in Mediterranean climates throughout the world. Thank goodness with our incredible grocery distribution today, we can enjoy these sweet tastes of heaven all year long. I was born in California (lots of avocados grown there!) and for my early years all through my young adulthood here in Nashville, I was raised eating avocado halves as a snack with Italian dressing poured into the "holes" of the half…a childhood memory that my boys enjoy to this day! Note: the best utensil to use is the grapefruit spoon for getting every last bite from the half.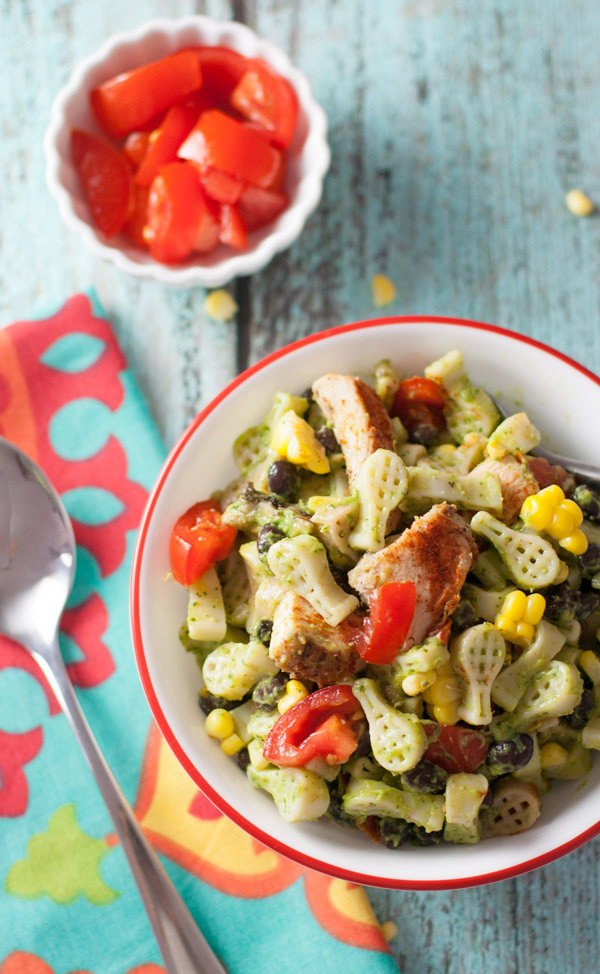 There are many recipes out there for an avocado sauce for pasta…but I really wanted to have a dish that was more complex and could be eaten as a main course. Believe me, the avocado sauce itself on pasta will "make you give back things your never stole". But I was challenged to make an easy, healthy pasta dinner to serve my family when we were in Florida a few weeks ago. OK, OK, this is the same trip where I made the Summer Corn and Tomato Pasta, and also where last year's popular Shrimp, Avocado, and Spinach Pasta with Mango Vinaigrette was created. So there is something about being away! AND being creative. 🙂
Like I said, the avocado sauce itself is delicious on pasta alone. Because of summertime and outdoor fun, I decided to use our Tennis Pasta (can be found at The Pasta Shoppe). My sister is a huge tennis player and I know these ladies are always having "lunch" and needing some cute ideas to bring or "serve" their teammates.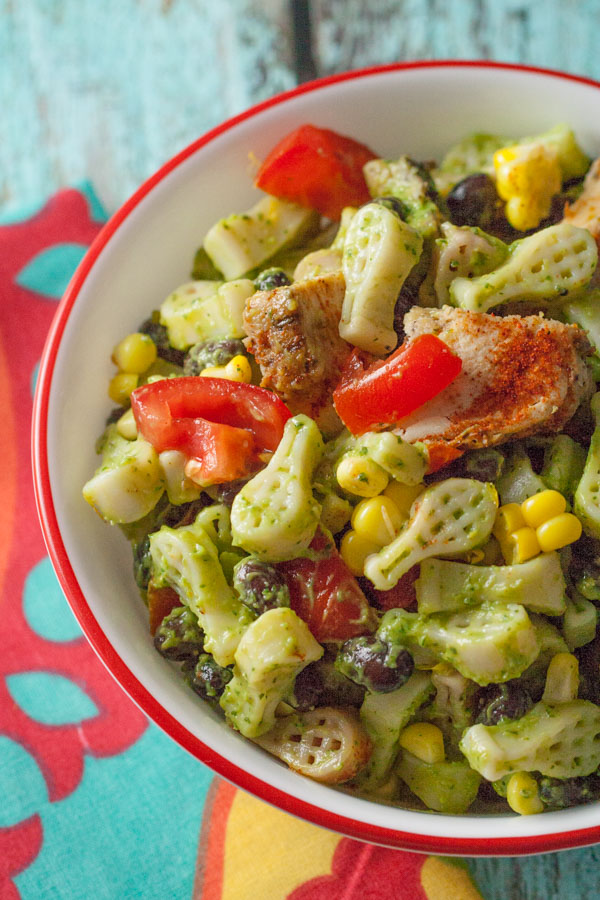 Southwestern flavors seem to always register as a craving and I love the idea of adding all these other great tastes and textures into this avocado pasta: black beans, chicken (pre-grilled), corn, and tomatoes…yum!
This pasta dish is full of tangy sweet flavors and tastes…and will be an "ace" up your sleeve next time you need to entertain. And if tennis isn't your game, of course any other short pasta shape will do. Make sure to serve this with a bottle of hot sauce for those who want a little spice. Enjoy!
Print
Southwest Chicken Pasta with Avocado Sauce
A creamy avocado sauce makes this pasta a wonderful and healthy meal! Enjoy!
Ingredients
14 oz

. Tennis Pasta (or any other short shape)

2

medium avocados, quartered

1

lemon, juiced with zest removed (or substitute

3

limes)

4

garlic cloves, halved

1

t. kosher salt

½

t. black pepper

1 cup

fresh basil

5

T. extra virgin olive oil

3

–

4

chicken breasts, grilled and chopped (or use frozen Tyson Grilled Chicken Breasts!)

2

ears of corn cooked & kernels sliced off the cob (or substitute

1 ½ cups

canned corn)

1

can black beans, drained and rinsed

4

medium tomatoes, chopped, or

8

Campari tomatoes, chopped
Instructions
Zest lemon and set aside.
For avocado sauce: place garlic halves, lemon juice, and olive oil in a food processor. Mix until smooth.
Add the avocado, fresh basil leaves, salt and pepper. Process until smooth and creamy. Set aside or you can make ahead, just cover with plastic wrap, making sure plastic is touching the sauce as well as the sides of the bowl, to help avoid sauce from turning color.
For the corn, if using fresh, cook ears of corn in microwave in husks. For 3 ears, cook approximately 3 minutes, rotate, and cook another 2-3 minutes. Let cool and then remove husks and slice corn off husks with a sharp knife. Place in a large bowl.
Bring large pot of water to a boil, add 1 T. salt and pasta to pot. Reduce heat to a medium gentle boil and cook for 6-8 minutes. Drain in colander.
Add black beans, chopped tomatoes, chicken, and lemon zest to corn in bowl. Add pasta and sauce.
Toss gently until thoroughly combined. Garnish with fresh chopped basil.
Serve and enjoy! May want to add some hot sauce on the side to zip it up!
Serves 6-8.
Join our email list for fresh pasta recipes delivered to you every week!
Your information will NEVER be shared or sold to a 3rd party.