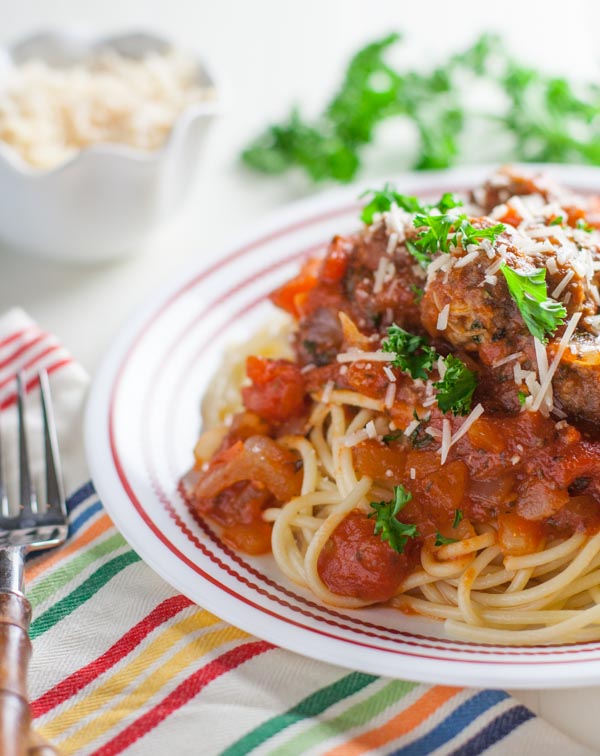 Last week was pretty much a "Snow Week".  One of those small gifts from heaven.  Being trapped at home isn't normal for any of us and my daily routine seemed to circle between laundry, cooking, and TV watching.  The kitchen was by far the busiest of all rooms, and the necessity for all things warm and comfortable had definitely set in by day two.
Oven Fried Bang Bang Shrimp Pasta might have been an unusual idea for day one but it had been on my mind for weeks and the ingredients were on hand. By day two I realized the cold and ice were here to stay for a few more days and my instinct to "cook and freeze" things kicked into high gear.  What is more comfy than Spaghetti and Meatballs?  Nothing.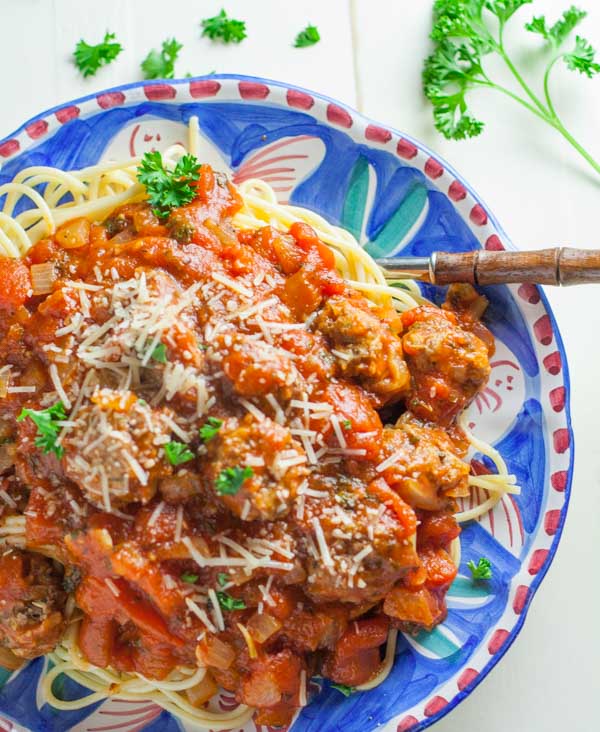 My memories return quickly to the morning of 9/11.  I was pregnant with Alston and Clarke was only 2½.  Like most families who gathered to comfort each other that day, my parents came over to be with us as we watched the horror unfold.  We were all visibly shaken, confused, and craving comfort and closeness.  As if reading each other's minds, Mom and I knew that we'd make a big pot of spaghetti and meatballs.  We all needed that familiarity which certain foods at certain times bring to these moments in our lives.
The frigid temperatures and ice storms last week also called for an overabundance of comfort food.  Do you like me, also seem to be hungrier during these times?  The kids were skating and sledding all day working up their appetites. As perfectly stated only by a 16 year old boy, Clarke remarked as he does often, "Mom, we just want meat."  OK, Ok, Spaghetti and Meatballs.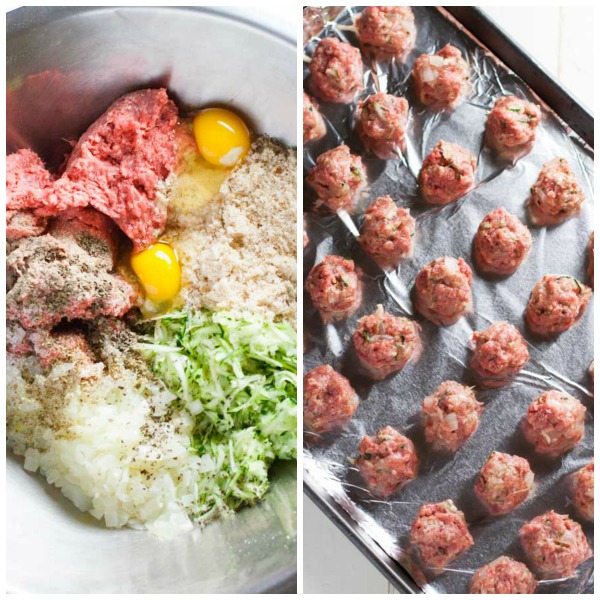 I've made plenty of different meatball recipes over the years with all kinds of ground meat, seasonings, bread, breadcrumbs, and lots of "Mother's secrets" to keep the meatballs moist and flavorful.  This particular variation blends the heartiness of beef with the moistness of zucchini.  I love their texture and lightness.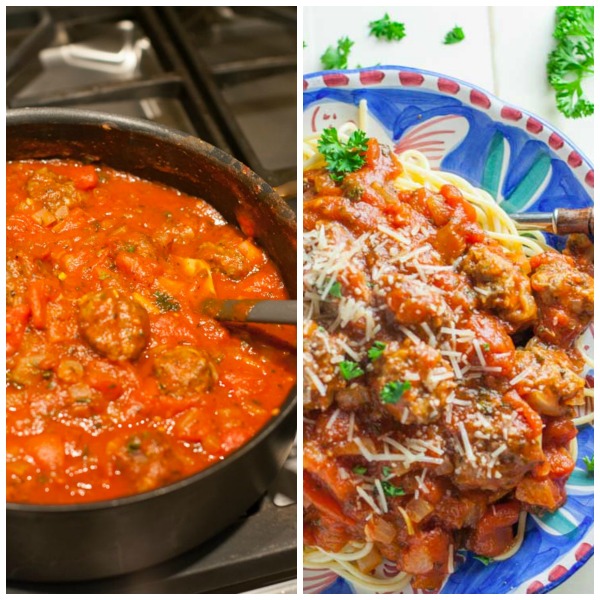 My simple spaghetti sauce is delicious with the meatballs or can be used in many other ways.  You can use diced tomatoes, or Italian whole tomatoes and just dice them up yourself, which is my preference.  Both the meatballs and sauce freeze so well and this snow day was the perfect opportunity to fill up the freezer!  It's like money in the bank for another cold night!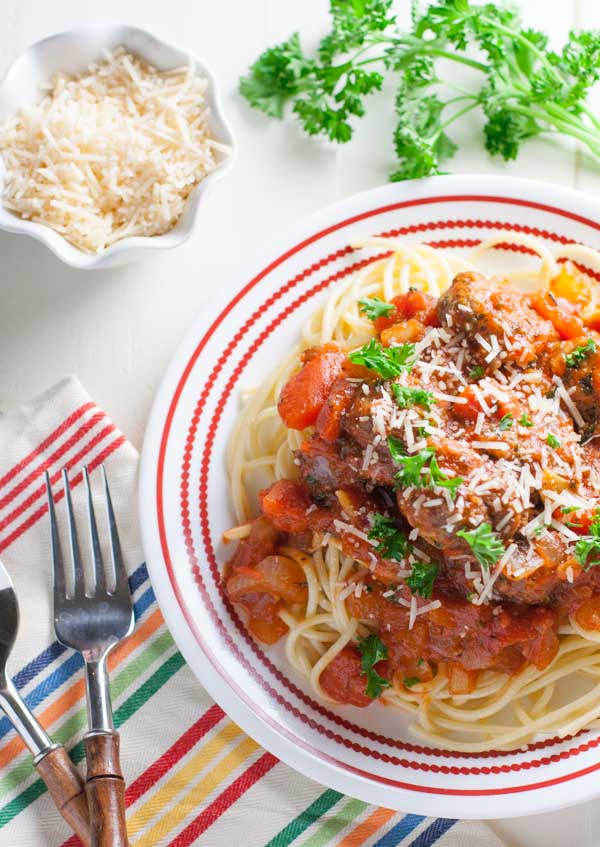 So hold on and stay warm for the next few weeks.  Rumor is that Spring is around the corner…and this year I'm really going to be ready!  But until then, I'll continue to comfort my family with these feel good foods.  I hope you join me!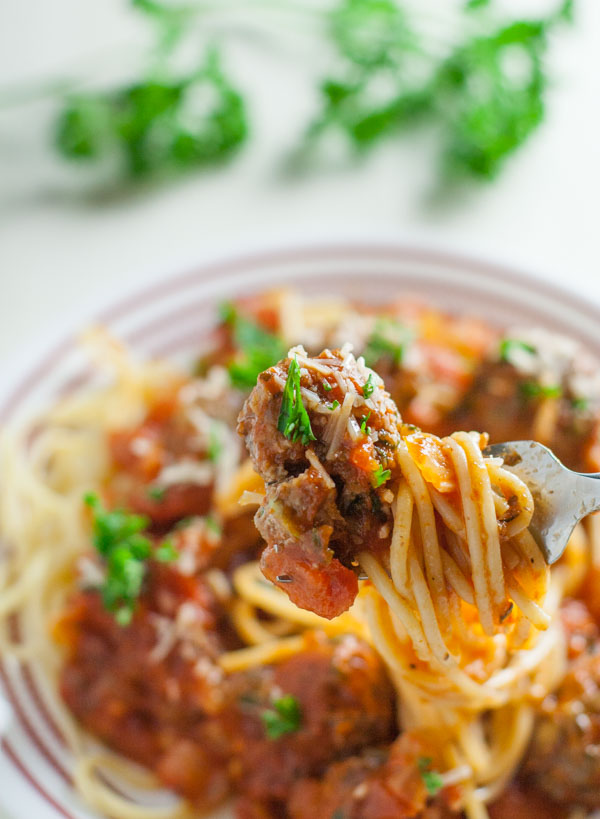 Spaghetti is a staple and can be found in any grocery store.  For other fun specialty pasta shapes, you can check out The Pasta Shoppe.  And if you have any fundraising needs, check out our Fun Pasta Fundraising program…we'd love to help your group.
Print
Spaghetti and Meatballs
Comfort food at its best! These moist and light meatballs will make your spaghetti dinner memorable and delicious! Note: I doubled the recipe and froze half for later!
Ingredients
1

pound of Spaghetti (you can substitute any long shape)
Meatballs

1

pound ground beef chuck

1 cup

grated zucchini

1

small onion, diced

2

pieces white bread, crumbled in food processor

1

large egg

3

cloves garlic, minced

1

t. kosher salt

1/2

t. black pepper
Sauce

1

28 ounce can Italian whole tomatoes with juice, diced (can use already diced tomatoes)

1

8 ounce can tomato sauce

1

4 ounce can tomato paste

1 1/2

T. sugar

2

t. kosher salt

1

t. dried basil

1

t. dried oregano

1

t. dried thyme

1/2

t. Aleppo pepper (or more if you want it spicier!)

1

T. olive oil
Fresh basil and oregano for garnish
Fresh Parmesan for garnish
Instructions
Preheat oven to 350 degrees. Line one baking sheet with foil. You may need 2 if making smaller meatballs. Spray pan with cooking spray.
Combine all the meatball ingredients in a large bowl until thoroughly mixed, but do not overmix!
Form 1 to 1 1/2″ meatballs and place on baking sheet. Makes between 30-45 meatballs. Bake for 20 minutes. Note: you will notice quite a bit of moisture and some fat that ooze out of the meatballs when cooking. Just pick up meatballs with a spatula and throw away foil!
While meatballs are cooking, add all sauce ingredients to large pot. Simmer over medium – med/low heat for about 25 minutes. Add or adjust seasonings to taste. If you have fresh basil, chop 1/4-1/2 cup and add to sauce. Add meatballs to sauce if desired, or keep separate, depending on how you want to serve.
Cook spaghetti per box instructions. Drain. Toss with 1 T. olive oil.
Add spaghetti to plates and top with meatballs, sauce, fresh chopped herbs, and fresh Parmesan!
Enjoy!
Notes
If you are planning to freeze, I always freeze the meatballs and sauce separately. Gives you some flexibility for later!
Also I love to use fresh herbs when available in addition to the dried herbs. It's a matter of taste, so adjust your seasoning as you go! I probably add 1/2 cup fresh basil and 1/4 cup fresh oregano.
Join our email list for fresh pasta recipes delivered to you every week!
Your information will NEVER be shared or sold to a 3rd party.