Squid Ink Pasta with Shrimp and Tomatoes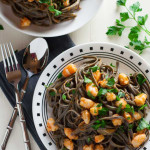 A lusciously rich squid ink pasta dinner! The shrimp, tomatoes, and red pepper add layers of flavor…a seafood lovers paradise! Recipe from Bon Appetit Magazine March 2015
Ingredients
12 ounces

Squid Ink linguine or other squid ink long shape

1

pound shell on shrimp

3

T. olive oil, divided

6

cloves garlic, 2 smashed, 4 thinly sliced

1

bay leaf

1 cup

pureed whole peeled tomatoes (I used Italian imported)

4 oz

. nduja (or

4 oz

. finely diced salami)
Kosher Salt

1/4 cup

fresh lemon juice

1/4 cup

fresh parsley, plus more for garnish
Freshly ground black pepper
Peel and devein the shrimp, keeping shells aside. Chop shrimp and set aside.
Heat 1 T. oil in a medium sauce pan over med-high and cook the smashed garlic, stirring until golden, about 1 minute. Add shrimp shells and cook, stirring, until bright pink, about 2 minutes.
Add bay leaf and 2 cups water and bring to a boil. Reduce heat and simmer until stock is slightly reduced, 8-10 minutes. Strain through fine mesh sieve into a large bowl and discard solids.
Heat remaining 2 T. oil in a large skillet over med-high heat. Add finely diced salami (if substituting for nduja) and cook for about 2 minutes. Add sliced garlic and cook, for about 1 more minute until fragrant. Remove from heat and carefully add tomatoes and 1 cup stock. Note: Mixture may sputter. Return to heat and cook until sauce begins to thicken, about 3-5 minutes. If you are using njuda, Add it at this point, using a wooden spoon to work it into sauce. Reduce and simmer, stirring occasionally, until flavors have melded, about 3 minutes. Stir in reserved shrimp and cook until opaque, approx. 2 minutes.
Meanwhile, cook the pasta in a large pot of salted water, stirring occasionally, until very al dente (pasta will still be opaque and very firm in the center). Drain pasta, reserving 1 1/2 cups of the pasta water.
Add pasta and 1 cup pasta water to sauce and cook, tossing often and adding more cooking liquid to help finish cooking pasta, until pasta is al dente and sauce is thickened (but still saucy) and coats pasta, about 5 minutes.
Add lemon juice and 1/4 cup parsley. Toss.
Season with salt and pepper according to taste.
Serve pasta topped with more fresh parsley.
Notes
Stock can be made 1 day ahead. Let cool, cover and chill. Wrap tightly and chill shrimp separately.