Supreme Pizza Pasta Salad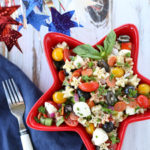 Ingredients
8 ounces

of fun shaped pasta (any shape will do; I used

1/2

bag of American Pride Pasta)

1 cup

mini pepperoni slices

2 cups

quartered fresh mozzarella balls (marinated or plain)

2 cups

halved grape tomatoes (use a combo of red and yellow for color!)

1/2 cup

sliced black olives

1/2 cup

diced red onion

1/2

red pepper, diced

1/2

green pepper, diced

1/4 cup

grated Parmesan cheese plus more for garnish

14 cup

fresh basil, chopped plus more for garnish
Dressing:

1/2 cup

olive oil

1/4 cup

red wine vinegar

2

cloves garlic, minced

1/2

t. oregano

1/2

t. garlic salt

1/2

t. basil

1/4

. t. red pepper flakes or

1

dash Tabasco

1/3

t. kosher salt

1/4

t. black pepper

2

T. fresh parsley, finely chopped plus more for garnish
Cook pasta according to package directions. Drain and rinse with cold water. Toss with 1 T. olive oil and set aside. Put half of pasta in a zip lock in fridge for later! (I cooked a 14 oz. bag)
Whisk all ingredients for dressing on a small bowl.
Combine pasta and all ingredients with dressing in a large bowl.
Top with more fresh parsley, basil, and Parmesan cheese.
Serve immediately or refrigerate until ready to serve. Can be made hours ahead, but preferably not overnight as pasta will absorb the dressing!
Enjoy!