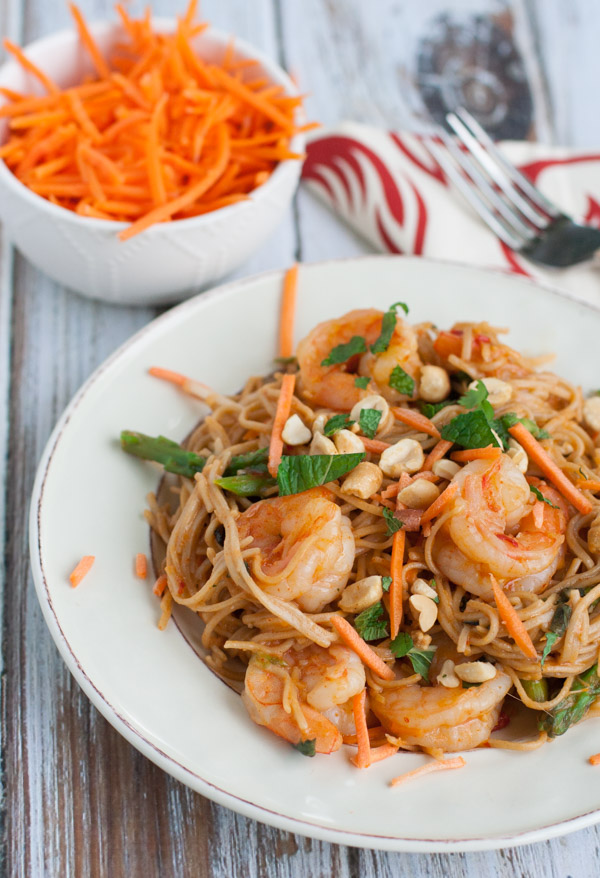 Who doesn't love it when they hear the word "scampi"?!  SCAM-PI.  Those two syllables usually make my mouth water and bring visions of fresh garlic, butter, olive oil, and lemons to my mind and taste buds.  But I really perk up when it is connected with two of my other favorite culinary words, "shrimp" and "Thai".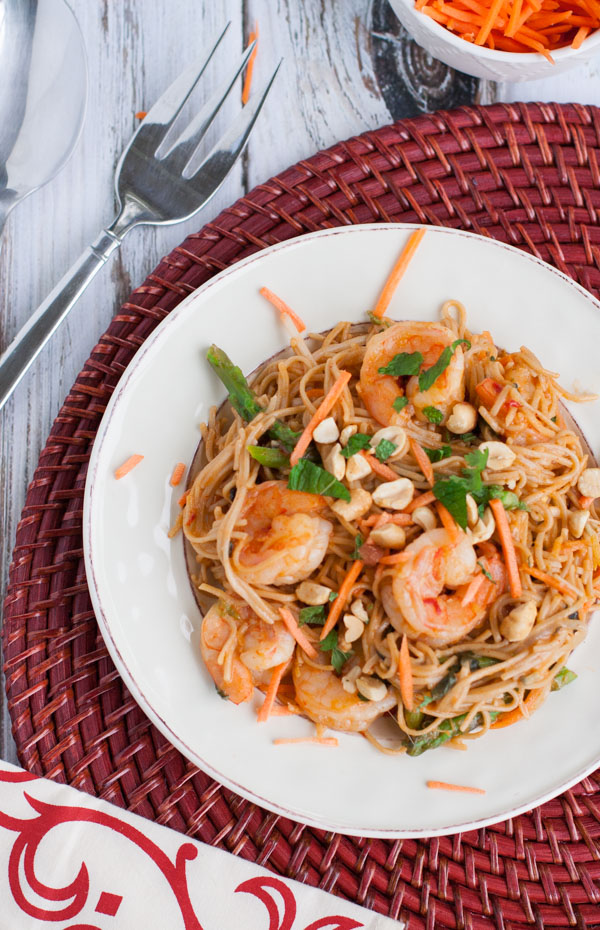 Big juicy shrimp are almost always featured in scampi and they are almost always a part of my culinary dreams.  I try not to overdo my "love o' shrimp" and do try to bring variety to my pasta blog recipes, but sometimes I just can't help indulging myself! 🙂  For my other shrimp faves, check out this and this…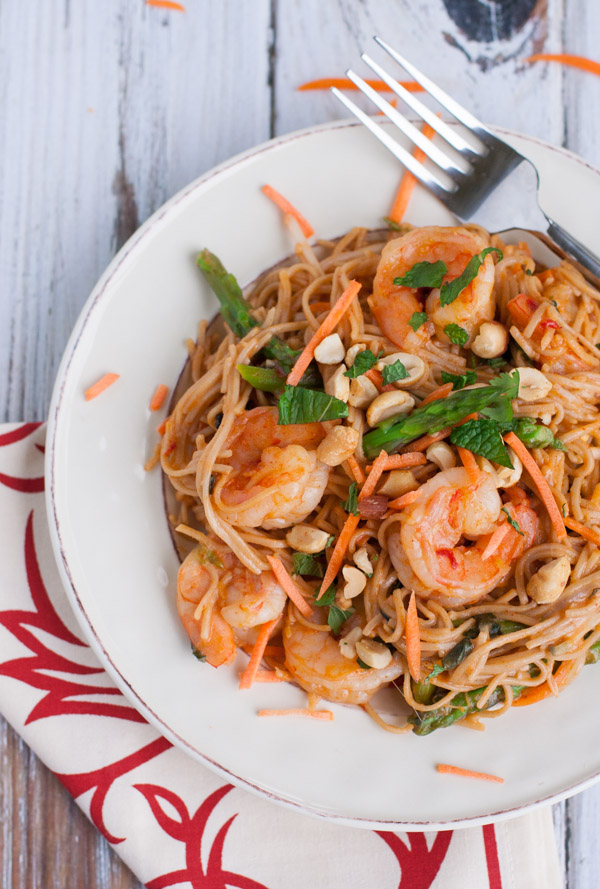 Thai cooking may seem intimidating sometimes too – those exotic, zippy and sometimes surprising flavor bursts in your mouth…but these flavors are pretty easy to create and replicate with some of today's over the counter helpers.  I love the fact that this recipe is within hands reach for a weeknight – yes, you heard me…WEEKNIGHT recipe.  You'll see these ready-to-go grocery finds listed in the recipe below and want to rush off to the store pronto!
So this Thai Shrimp Scampi brings the best of all this to your table – succulent shrimp, fresh lemongrass, carrots, asparagus, bean sprouts, fresh mint, fresh cilantro, and bold more complex Thai flavors…all tossed with some wholesome whole wheat pasta.  And ready in no time.  It will create an explosion of flavors in your mouth that will make you reconsider the "normal" shrimp scampi we all default to….and that's great news!  We need to break out of our everyday expectations…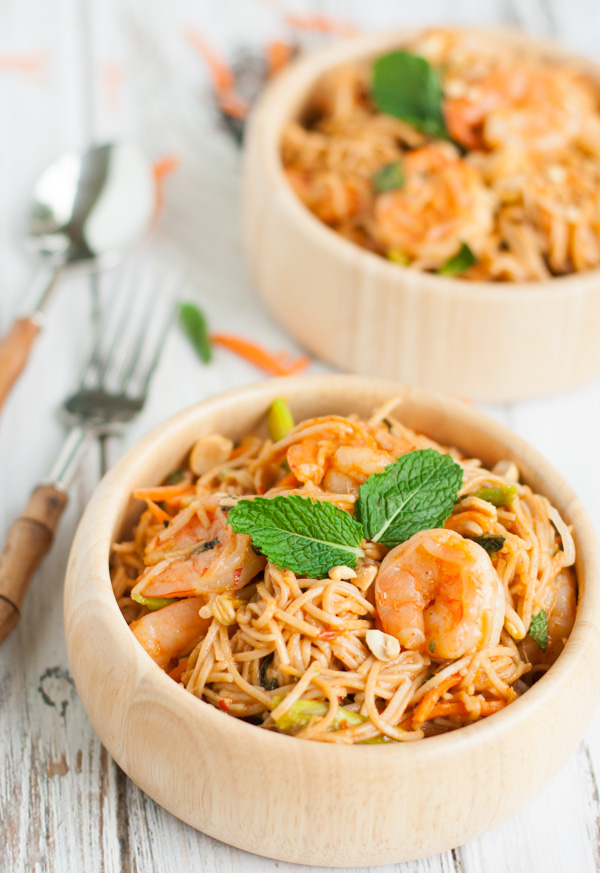 The one accent/accessory or thing that I think makes a lot of dishes WOW are the fresh toppings added.  How do a few ingredients transform a dish?  I don't know!!  I just KNOW that it works – and this dish is no different.  Read it and do as it says…and don't be afraid to add more.  Just do it!  (My sister says that I can be a bit bossy!)  And if this Thai recipe leaves you wanting more, check out our Thai Chicken Pasta recipe…enjoy!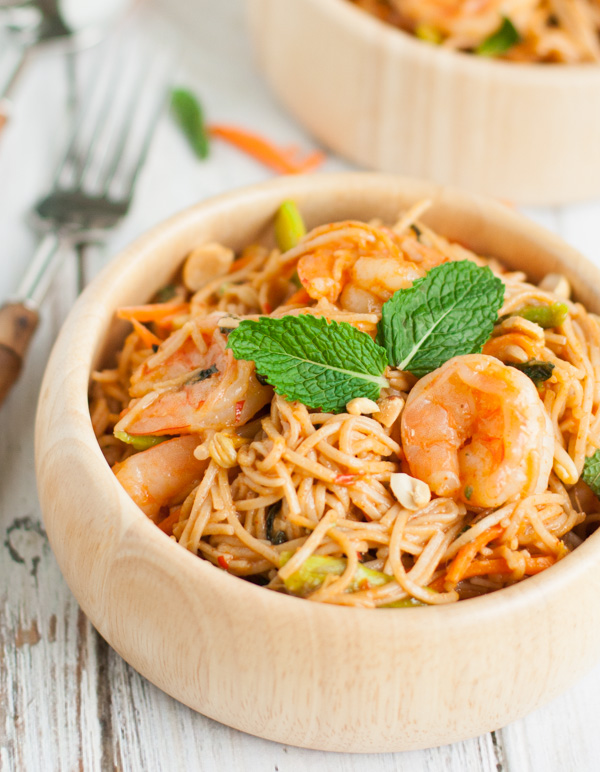 Thai Shrimp Scampi with Whole Wheat Pasta
Thai Shrimp Scampi is an easy weeknight dinner! Lots of freshness and flavor…you can serve with whole wheat pasta or any other pasta of your choosing!
Scale
Ingredients
12 oz

. Whole Wheat Angel Hair Pasta Nests (or any other angel hair or linguine)

12 ounce

s asparagus, cut in diagonal pieces

1 cup

shredded carrots

2

T. canola or vegetable oil

3

T. lemongrass, minced (I used the tube of lemongrass found in the produce section. If not available, sub

2

t. fresh lemon rind.)

4

cloves garlic, minced

1 cup

light coconut milk

2/3 cup

low sodium chicken broth

3

T. Thai red curry paste (commonly found in Asian section of grocery store)

1 ½

T. chili garlic sauce

1 ½

t. kosher salt

1 ½

lbs. shrimp, peeled and deveined, large or jumbo (I used the frozen

24 oz

. bag of shrimp from Publix)

1 ½ cup

s bean spouts

1 ½ cup

s chopped fresh cilantro + more for garnish

1 cup

chopped fresh mint
Roasted peanuts, chopped for garnish (optional)
Instructions
Cook pasta according to package directions. Add the asparagus during the last 2 minutes of cooking pasta. Drain and rinse briefly with cold water.
In a large skillet, heat oil and add garlic and lemongrass. Sauté for 30 seconds and add carrots, coconut milk, chicken broth, red curry paste, chili garlic sauce, salt, and shrimp. Bring to a boil. Reduce heat and simmer for approximately 3 minutes until shrimp and cooked thoroughly.
Remove from heat. Add pasta, bean sprouts, cilantro, and mint. Toss gently until combined.
Top with fresh chopped peanuts and fresh cilantro. Serve with Sriracha sauce for those wanting more heat. Enjoy!