Turkey Taco Pasta with Yeti Pasta
It's National Pasta Day and we couldn't be more excited! Announcing our FUN collaboration with PlayMonster®, the cool company behind the 2017 Toy of the Year "Yeti in My Spaghetti" game. To celebrate we created Yeti Pasta – cute little Yeti characters! So, get ready for a fun family night playing games and eating our Turkey Taco Pasta with Yeti Pasta!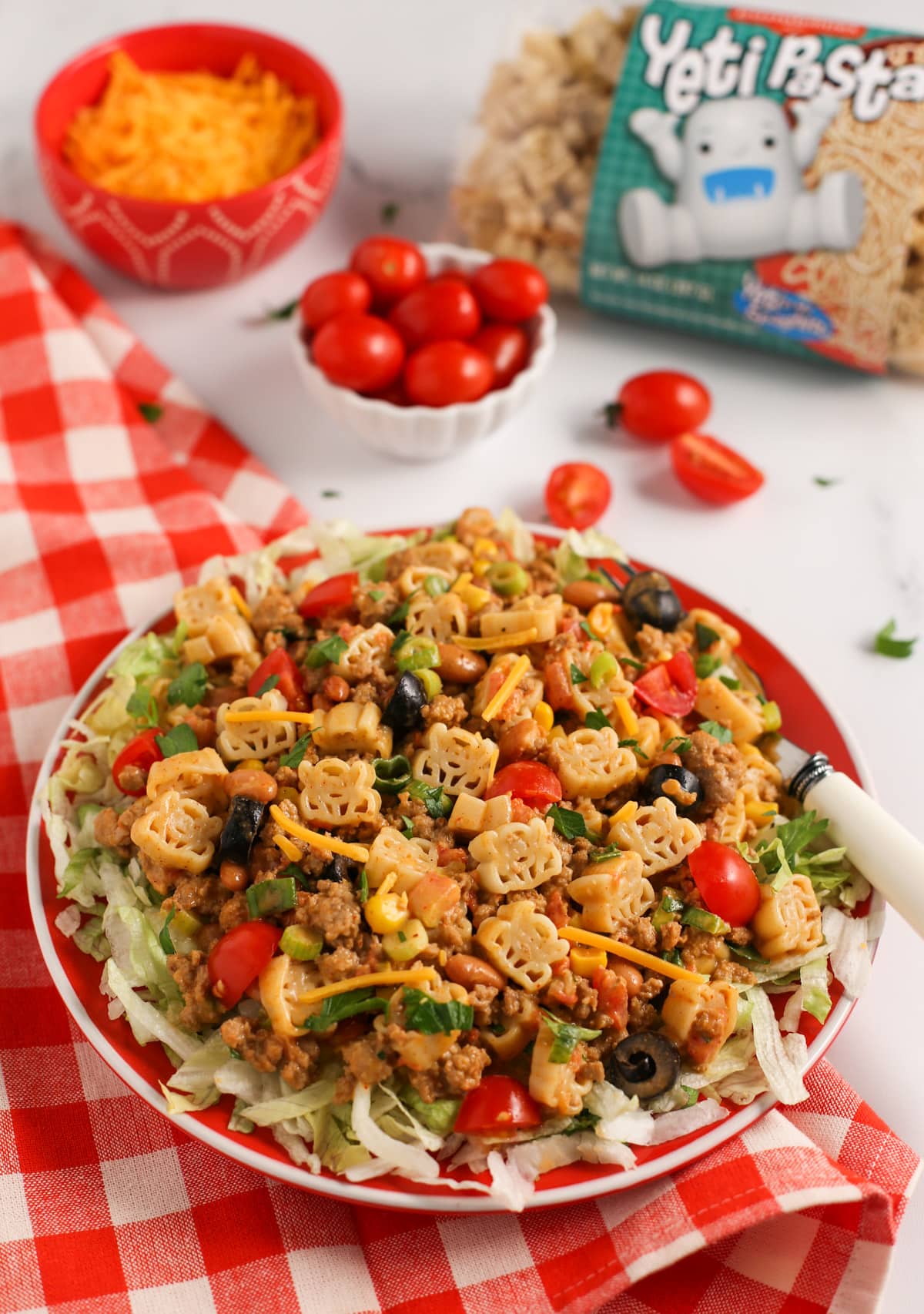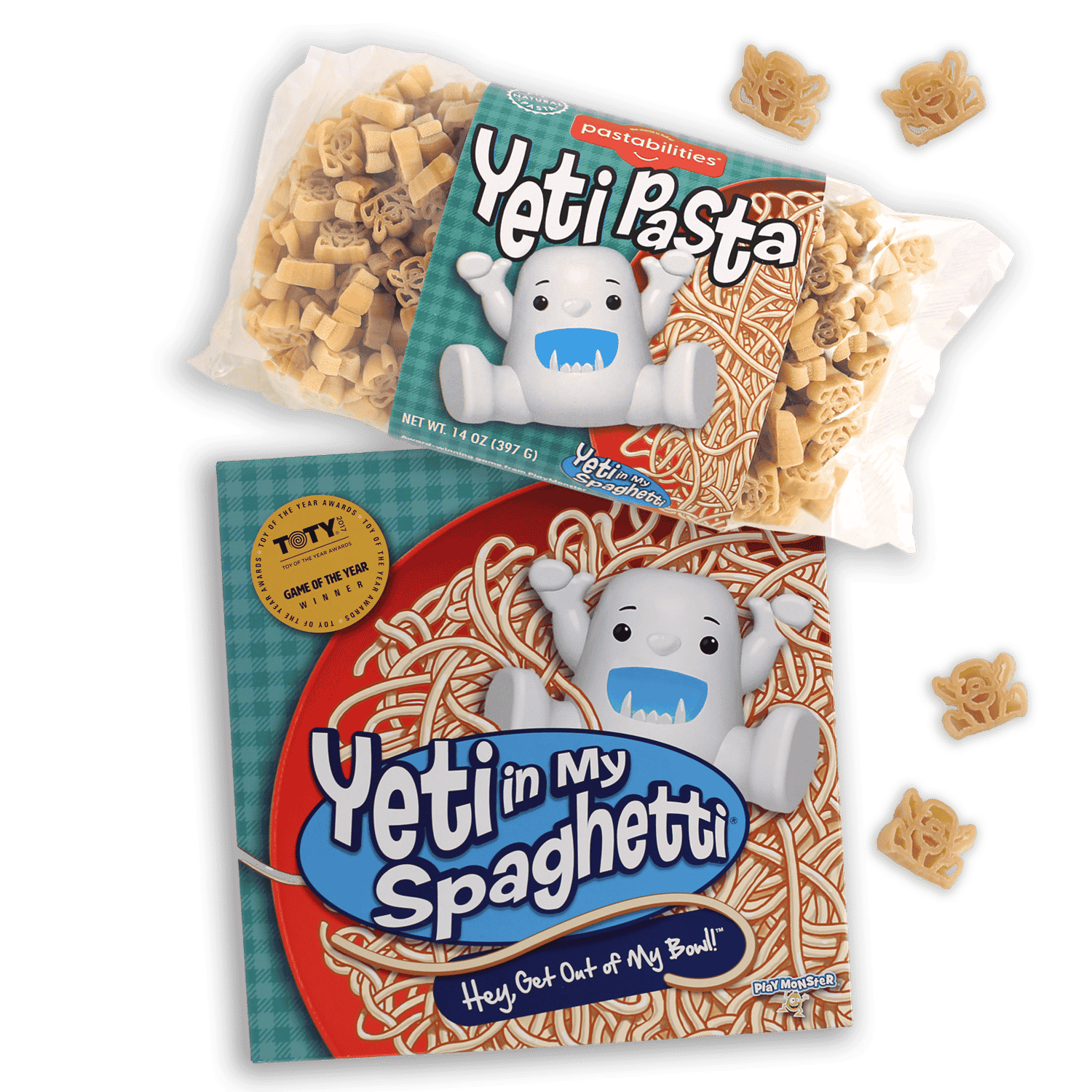 Let's set the stage for a fun evening with your kiddos or grandkids.
Tips for a Perfect Family Game Night
Pick a Date – Choose a good time where all your family members can play
Decide on the Game – Yeti in My Spaghetti is the perfect game for all ages!
Create a Menu – Make the night special with a family fun dinner. Our Yeti Pasta goes perfectly with the Yeti in My Spaghetti game. Enjoy our Turkey Taco Pasta recipe or any other family favorite!
Turn off Electronics – No batteries or electronics needed to play Yeti in My Spaghetti. Put them away for a distraction free night!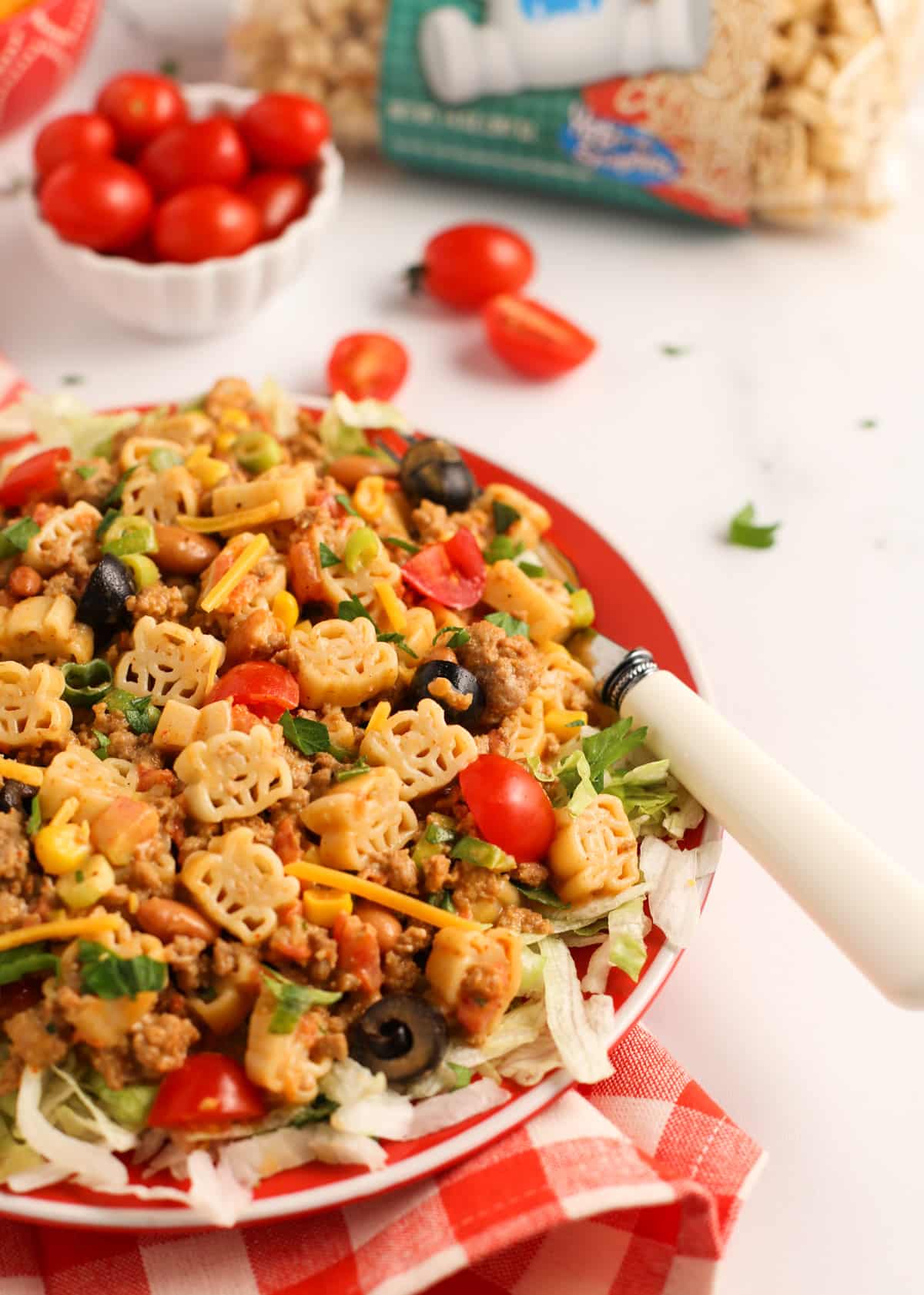 Dinner time with the family can be challenging. Finding the right recipe to please everyone takes some creative thought! Also, trying to keep it somewhat healthy is another consideration. My go-to for family night is usually a Mexican or Tex-Mex theme. Who doesn't love tacos?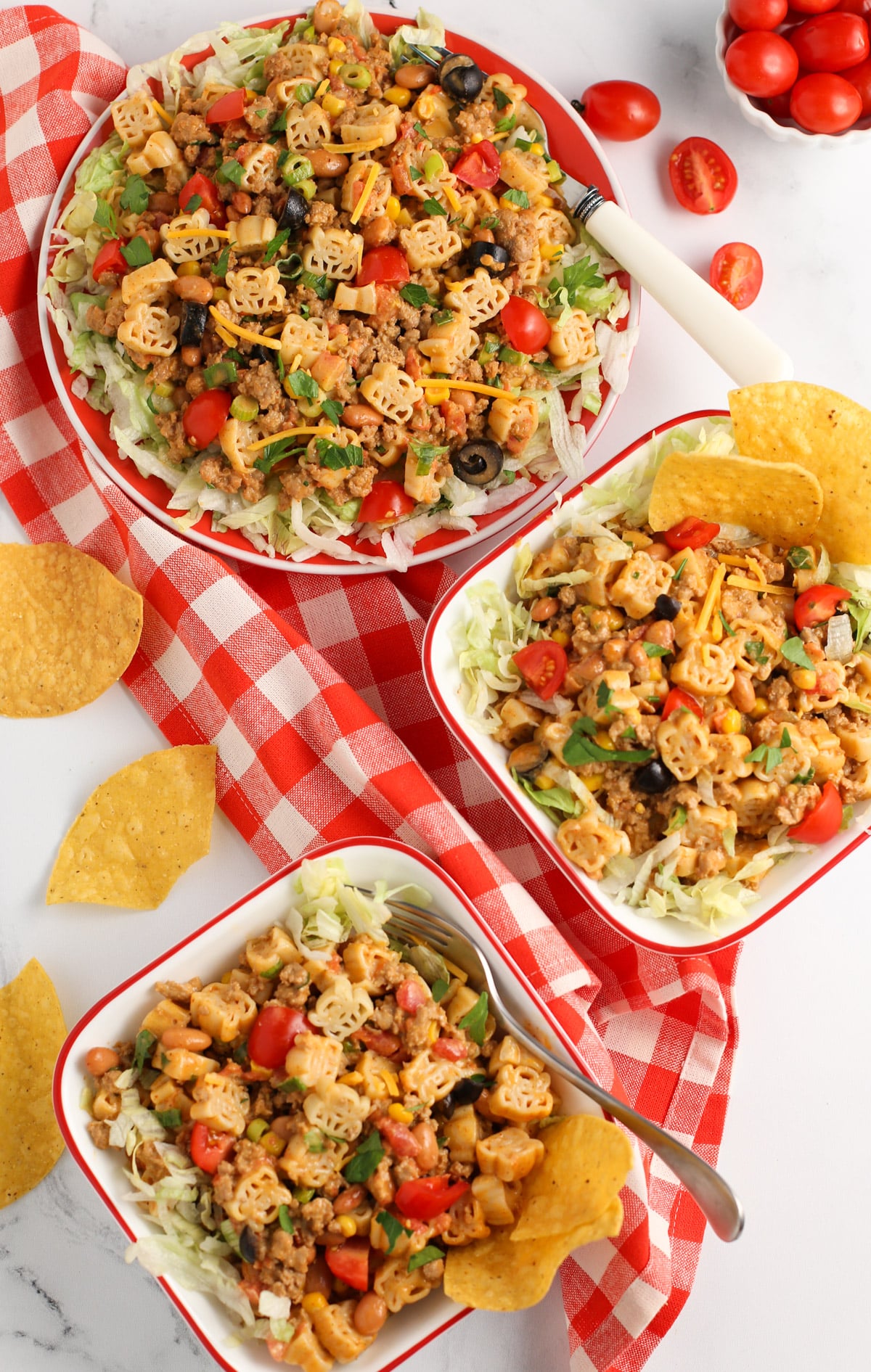 Turkey is a great choice here because the seasoning really covers the meat and gives you the great taste without the heaviness of beef. Most people can't even tell that it's not ground beef! It'll be our secret. And if you are eating plant-based, then sub the turkey with vegan crumbles.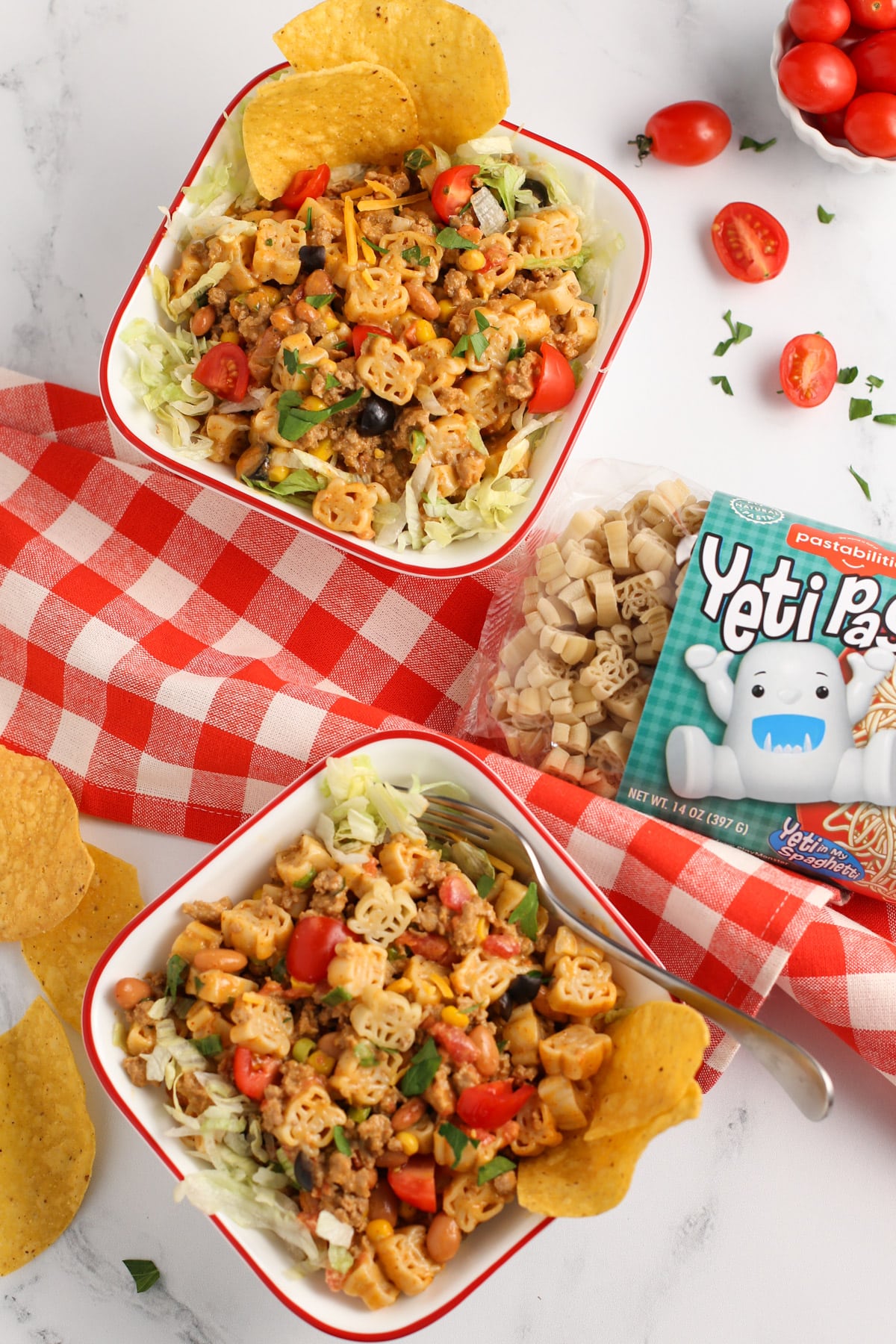 The ingredients are simple, so your prep time is limited, which is also nice since you want to spend more time playing the Yeti in My Spaghetti game! It is a fun choice for all ages. And don't be so sure that you'll win!
How to Play Yeti in My Spaghetti Game
Silly, easy-to-play game!
Place the noodles across the top of the bowl and sit Yeti on top
Take turns removing the noodles one-by-one without letting Yeti fall!
If you make Yeti fall, you lose!
Includes 30 Noodles, Yeti, Bowl, for 2 or more players ages 4 and up
The Yeti Pasta is so cute, and the little characters cook up perfectly. Everyone will get a kick out of seeing Yetis in their Turkey Taco Pasta. I like to cook the pasta and keep some of the Yeti Pasta pieces aside to use on top of each pasta bowl. They are the perfect size for little fingers too.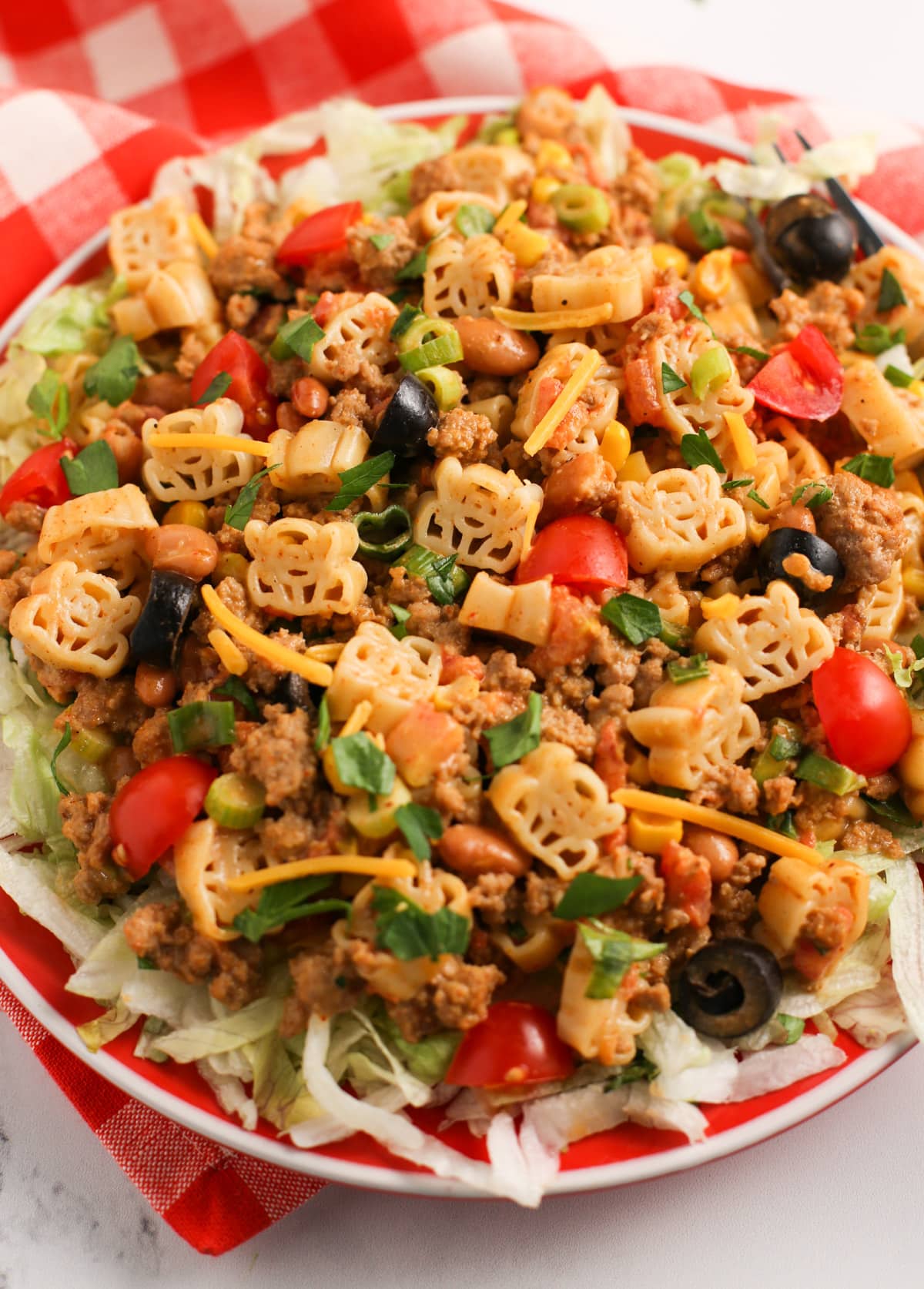 When reading this recipe, feel free to add, delete or substitute ingredients. That's what is nice about anything in the "taco" lane…you can serve the tomatoes, black olives, cheddar cheese, chips, and any other ingredient on the side. Your family can have fun putting together their own Turkey Taco Pasta bowl!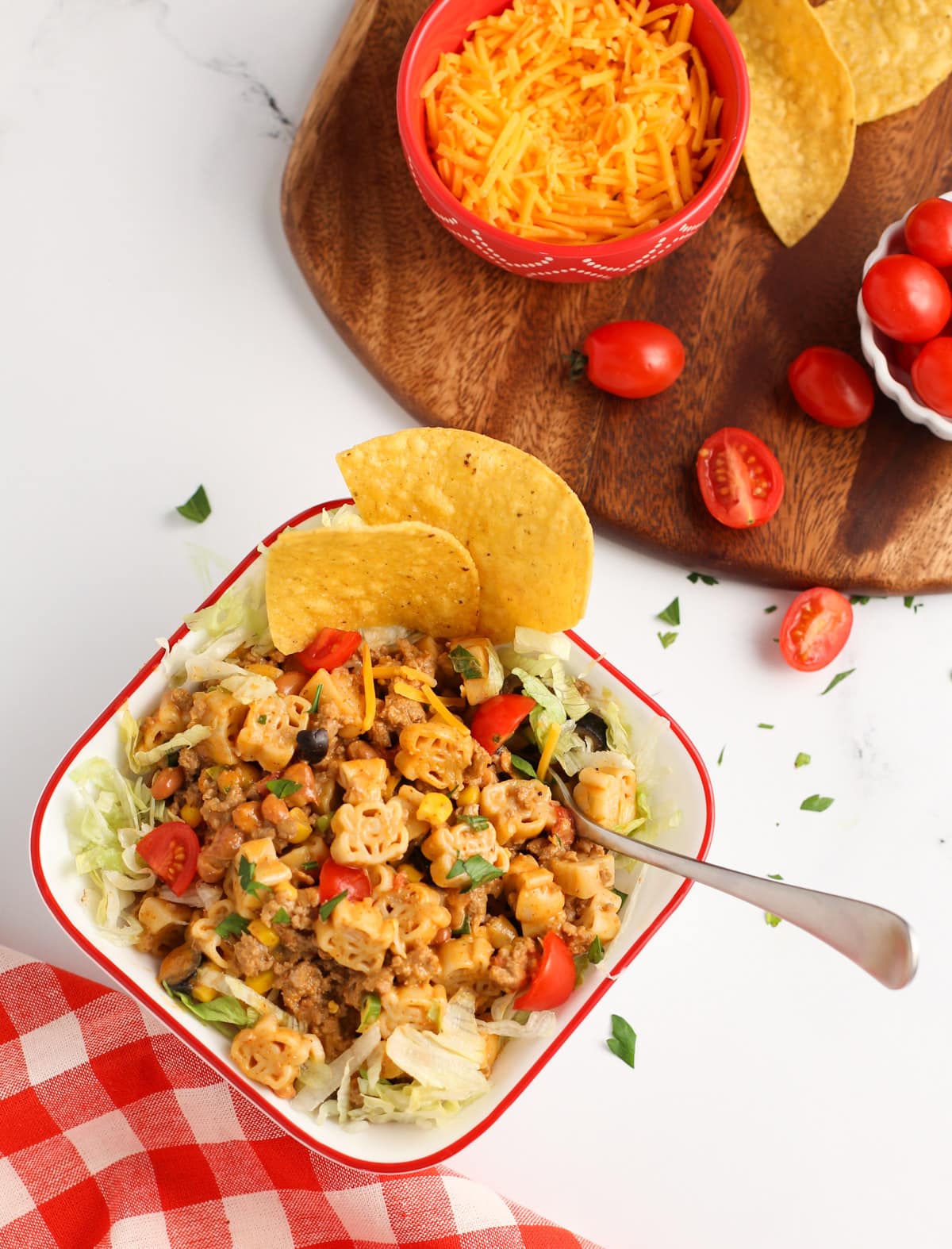 We've even served the Turkey Taco Pasta with crunchy taco shells and flour tortillas on the side. The Pastabilities® are endless! 🙂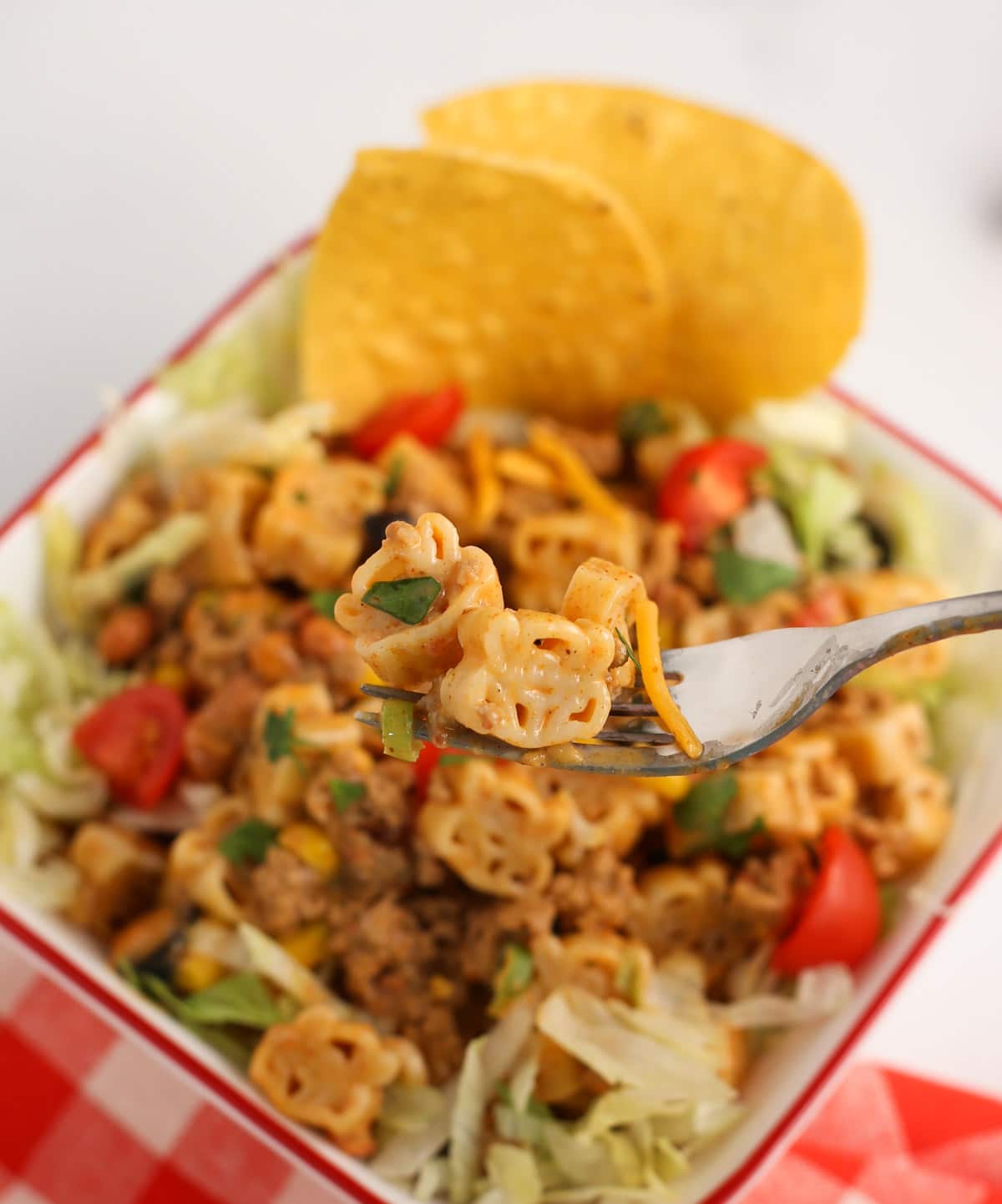 Have fun on your Family Game Night!  We know the Yeti in My Spaghetti game and Yeti Pasta will create great memories and bring smiles to your table.  The Yeti game and pasta bundle is available on our website with limited quantities! This would make a fun holiday gift too! Enjoy and tag us – we'd love to share your fun at the table!
For more happenings at Pastabilities follow us on Instagram @worldofpastabilities or on Facebook @pastashoppeusa.
Print
Turkey Taco Pasta with Yeti Pasta
Let your Fun Family Night begin!  Play "Yeti in My Spaghetti" game with the kiddos or grandkids and then serve up a delicious Yeti Pasta meal!  Turkey Taco Pasta is on the menu tonight – delish for all ages!
Ingredients
1 14 oz bag Yeti Pasta (or any short pasta shape)
2 pounds ground turkey
2 pkgs. Taco seasoning mix
1 15 oz. can pinto beans, drained
1 lb. Velveeta cheese
1 14.5 oz. can diced tomatoes with green chilies
1 15.25 oz. can sweet corn, or 1 cup frozen corn, thawed
¼ cup sliced black olives
1 10 oz. package shredded iceberg lettuce
1 cup grape tomatoes, halved
Chopped green onion, shredded cheddar, sliced avocados, sour cream, tortilla chips (options for toppings)
Instructions
Cook turkey in large skillet sauté pan over medium heat, stirring to crumble.  Drain well.  Add taco mix packets, following package directions. Add pinto beans.
Melt cheese and diced tomatoes and green chilies over low heat or in top of double broiler, stirring often until cheese melts.  Add to turkey mixture and stir to combine.
Add corn, black olives, and tomatoes and combine.
Cook pasta in gently boiling water for approx. 6-8 minutes, until tender but firm.  Drain and save a few Yeti pasta pieces for garnish!  Gently add rest of pasta to turkey mixture.
Reheat and serve over shredded lettuce with additional chopped tomatoes, or any of the toppings above! Enjoy!
Join our email list for fresh pasta recipes delivered to you every week!
Your information will NEVER be shared or sold to a 3rd party.