Vegan Cauliflower Alfredo
When you crave alfredo sauce but want (or need) to make a healthier choice, this Vegan Cauliflower Alfredo is the perfect go-to alternative. PS: You've just gotten "lucky"!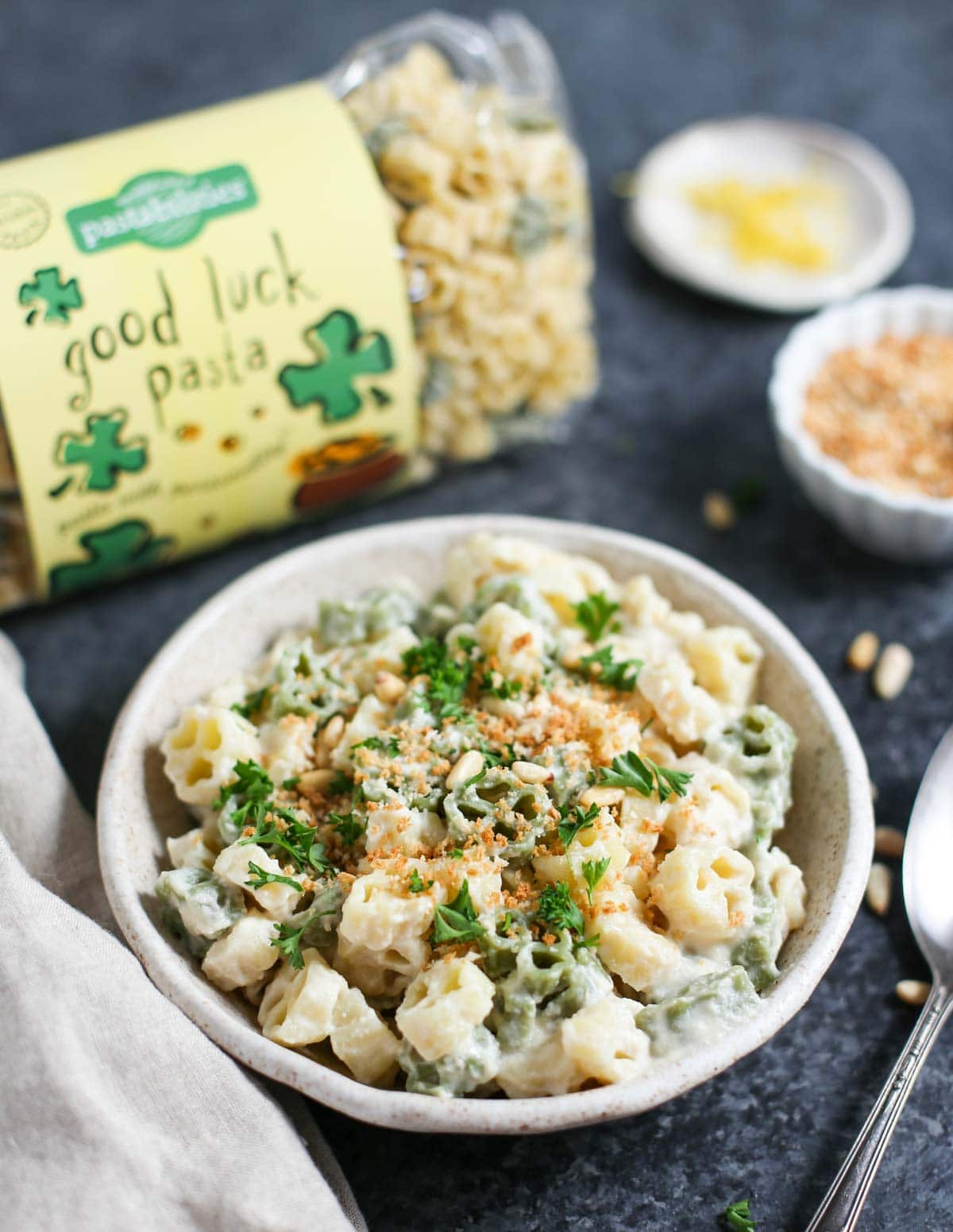 Can you believe how cauliflower has taken over in the past few years? It started with cauliflower mashed potatoes, then cauliflower rice, and now cauliflower can be found in pizza crust, and sorts of grocery items. I admit I'm a believer in all things cauliflower.
And our Good Luck Pasta seemed like a fun fit. So many holes, nooks, and crannies for the sauce to cling to!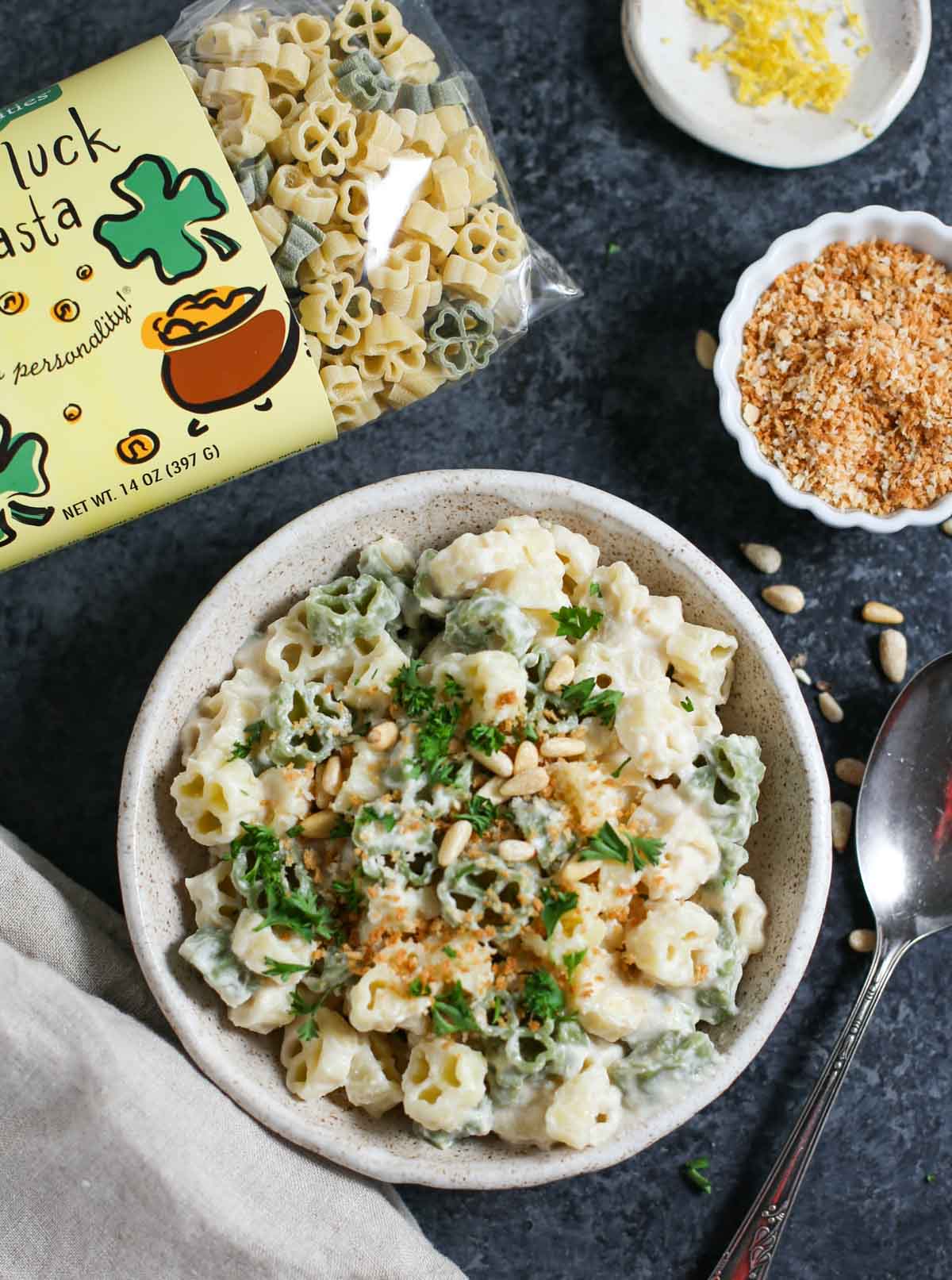 When roasted, mashed, or grilled, cauliflower really transforms into an elegant vegetable that loves to hang out and onto other flavors. And the health benefits are amazing!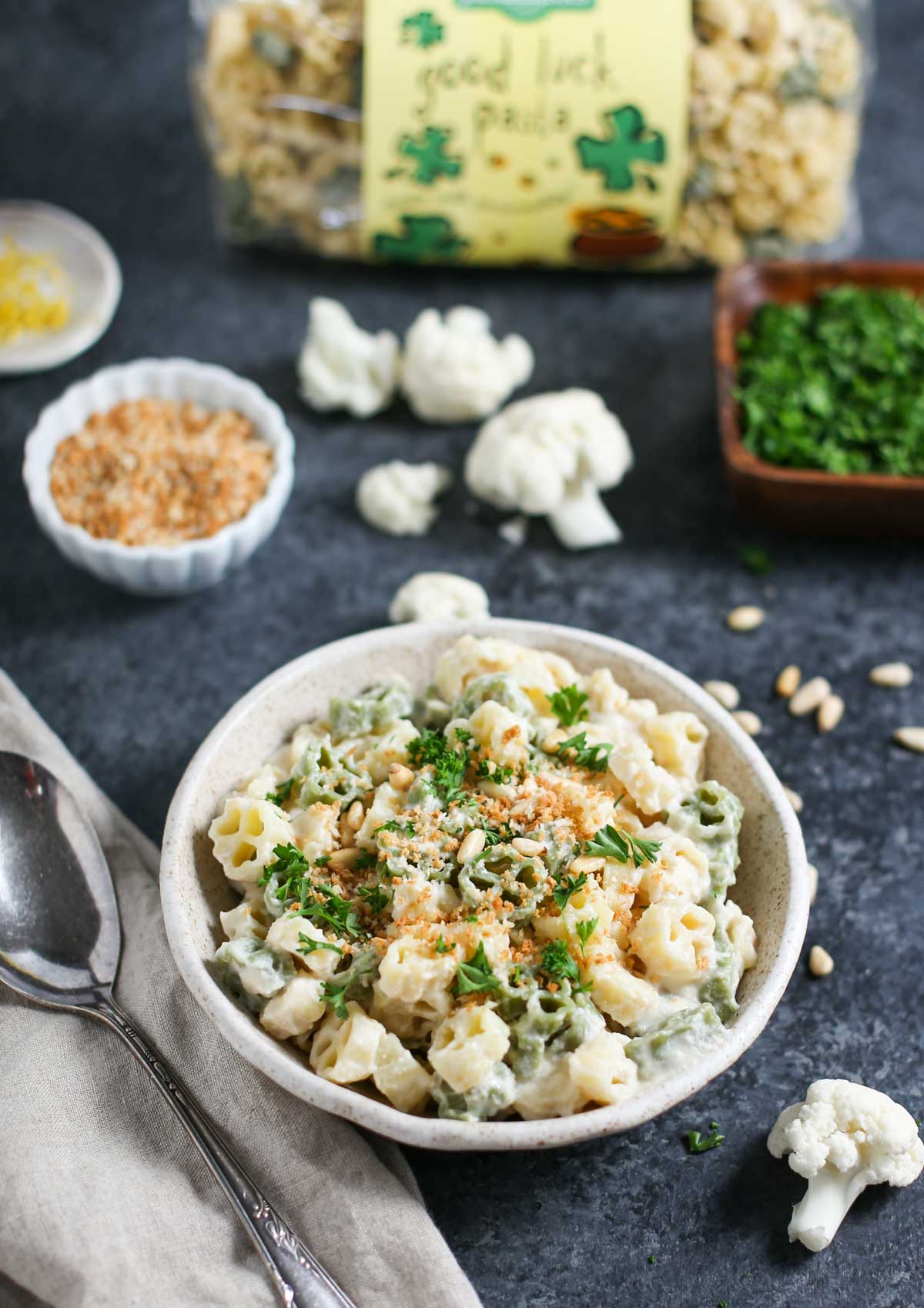 Not only is cauliflower low in calories but it also contains lots of vitamins and minerals and happens to be high in fiber too! So, with cauliflower as the base of this sauce, we are off to a great start.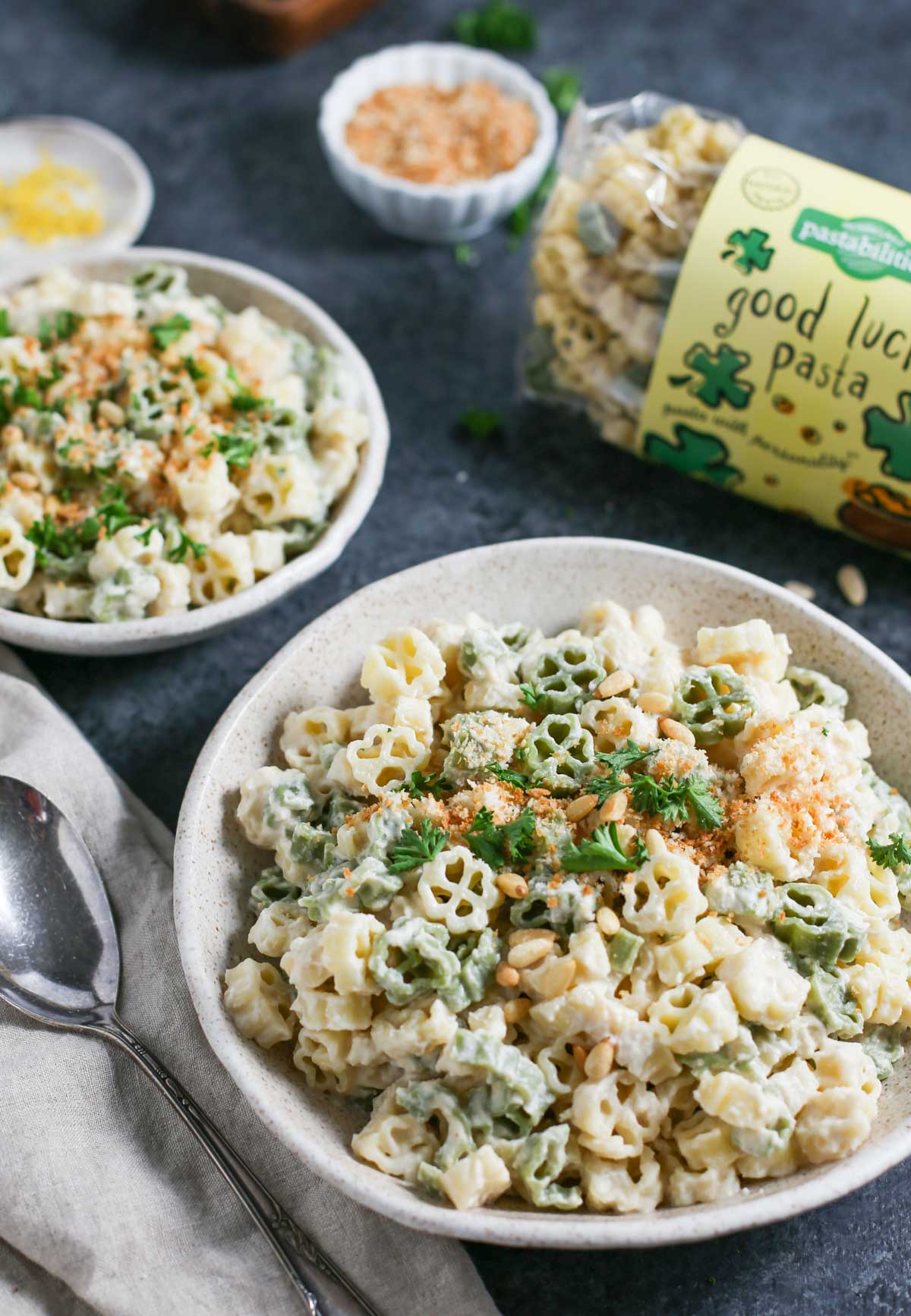 Trying to emulate creamy alfredo can be challenging, but cashew nuts are the perfect solution. My first introduction to the magic of cashew nuts was with my friend Lisa who at the time was eating "raw".
She swore that spinning cashews in a processor made "Parmesan" like cheese crumbles. Guess what? It's actually pretty darn close.
So, the cashews here help flavor the alfredo, and the addition of white miso, lemon juice, and the seasonings just add layers of flavor.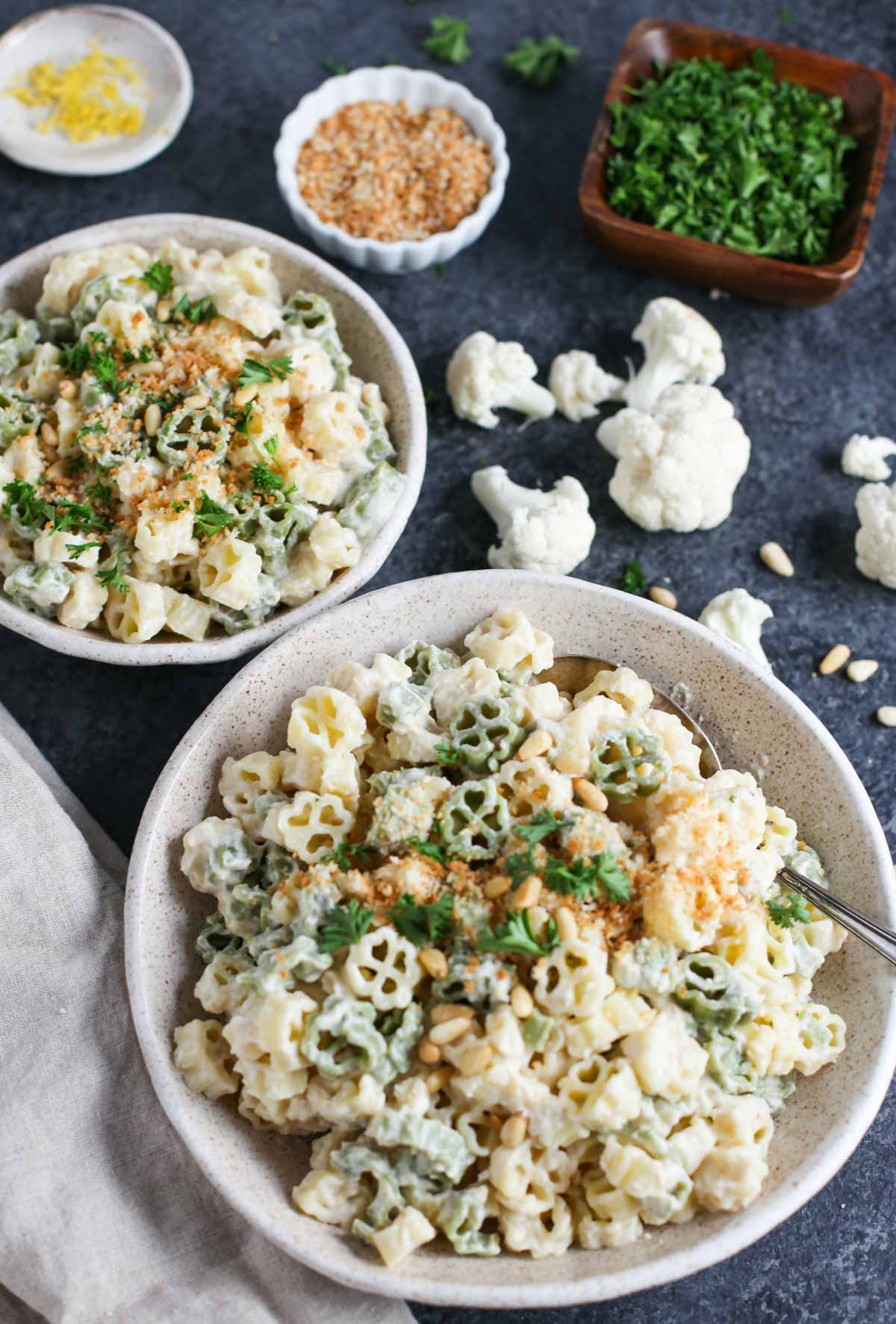 It's surprising actually. The family loved it. I decided to add toasted pine nuts and breadcrumbs to add some crunch and parsley was needed for a pop of color (like the perfect neutral outfit).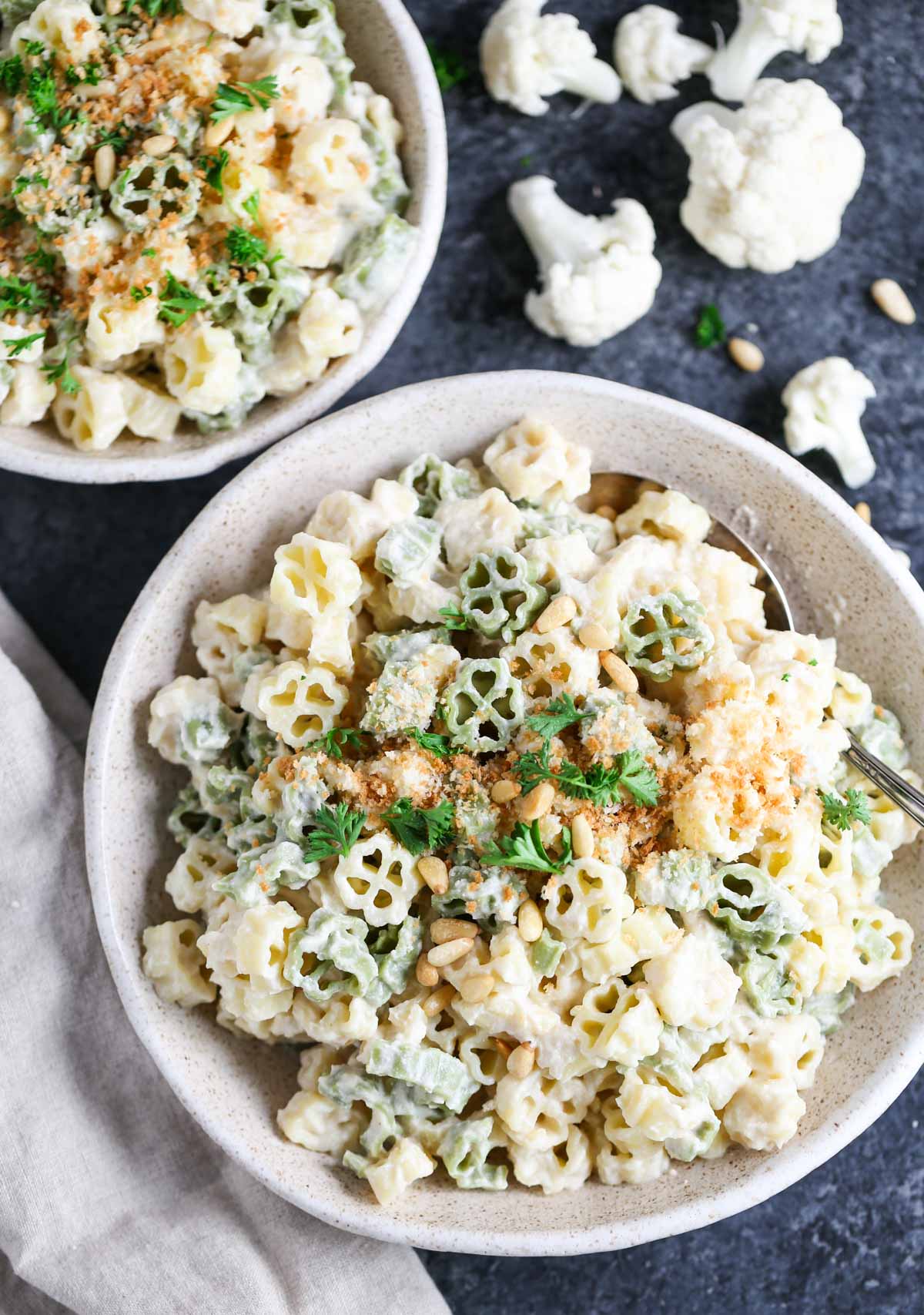 Whether you are vegan, or just eating plant-based a few days a week (that's what we like to do!), this Vegan Cauliflower Alfredo will be a great addition to your menu planning. I used the extra sauce and drizzled it over steamed broccoli later in the week.
When you make this recipe, I'd love to hear your ideas and cooking inspirations!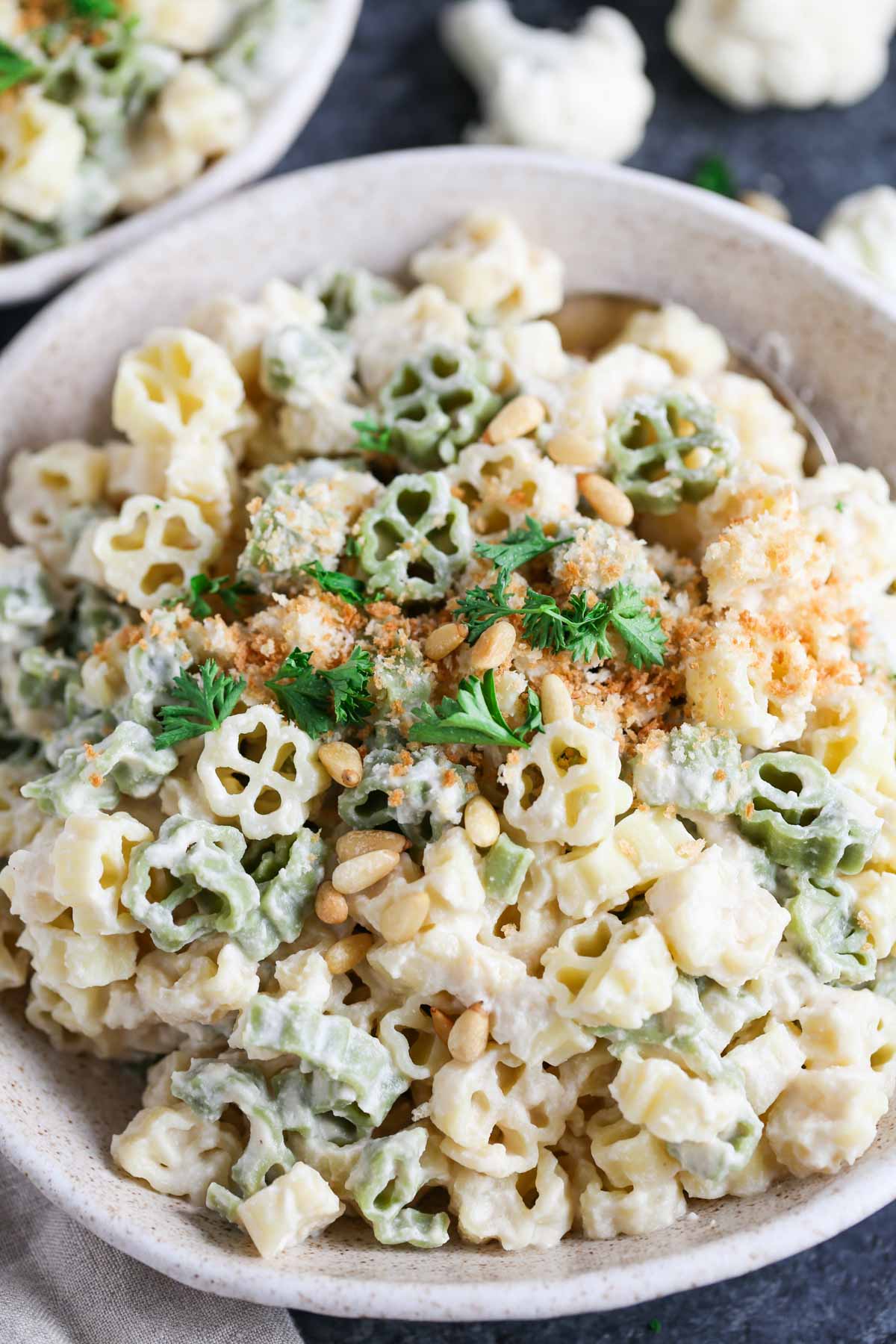 With St. Patty's Day just around the corner, you may want to check out some of these other Good Luck recipes:
Bacon, Brussels Sprout, and Corned Beef Pasta
Pasta with Spicy Sausage and Tomato Cream Sauce
Creamy Chicken and Sun Dried Tomato Pasta
Sweet and Spicy Sesame Noodles
And for more happenings with Pastabilities, follow us on Instagram @worldofpastabilities, or Facebook @pastashoppeusa! Enjoy friends!
Print
Vegan Cauliflower Alfredo
The magic of cauliflower!  This plant-based alfredo is sooo good on pasta & more!  Creamy, tangy, and simple to make…enjoy!
Ingredients
14 oz. bag of Good Luck Pasta (or sub any short or long pasta shape!)
1 head cauliflower, yielding approx. 4-5 cups florets
1 cup raw cashews
3 T. fresh lemon juice
2 T. white miso
2 t. garlic powder
2 t. onion powder
1 t. kosher salt
1 cup water
½ cup panko breadcrumbs, toasted
¼ cup fresh parsley, chopped
¼ cup pine nuts, toasted
1–2 T. fresh lemon zest
Instructions
In a large pot, bring lots of water to a boil. Gently boil cauliflower and cashews for approximately 15-20 minutes until tender. Drain.
Place cauliflower and cashews in a Vitamix or blender.
Add lemon juice, miso, all seasoning, and water to blender and mix until smooth.
Cook pasta according to package directions and drain.
Place pasta in a large bowl and add and toss cauliflower sauce to taste. 
You may not need all the sauce!  I had about 1 cup of sauce leftover. Save sauce in the fridge for up to one week.
Plate pasta and top with panko breadcrumbs, pine nuts, lemon zest, and fresh parsley!  Serve and enjoy!
Notes
Leftover sauce can be used as a smear or base for grilled tuna or other fish. Drizzle over roasted vegetables too.  Versatile sauce – use your imagination!
Join our email list for fresh pasta recipes delivered to you every week!
Your information will NEVER be shared or sold to a 3rd party.