Veggie Sausage and Sweet Peppers with "Turkey" Shaped Pasta – a Thanksgiving alternative!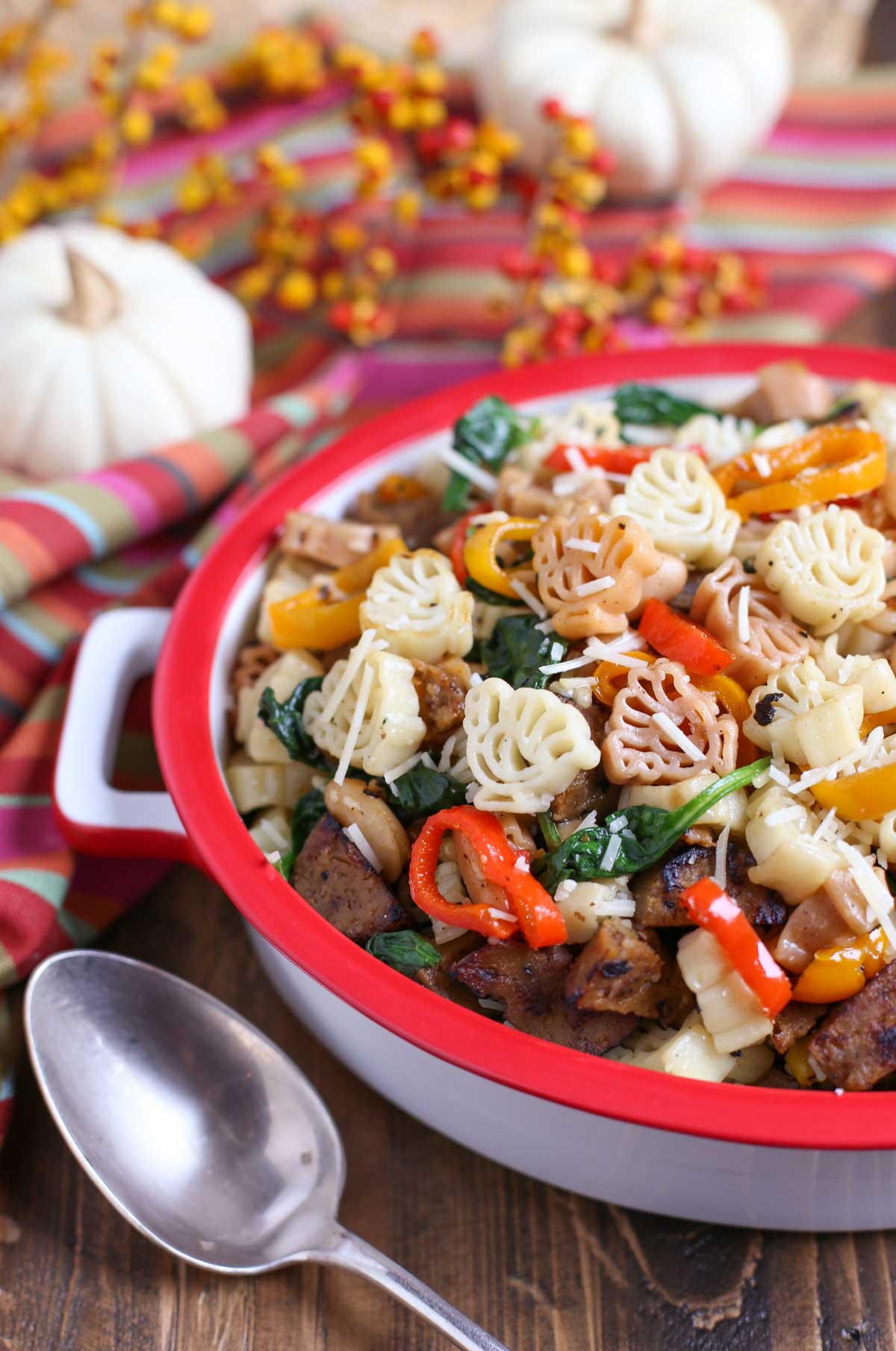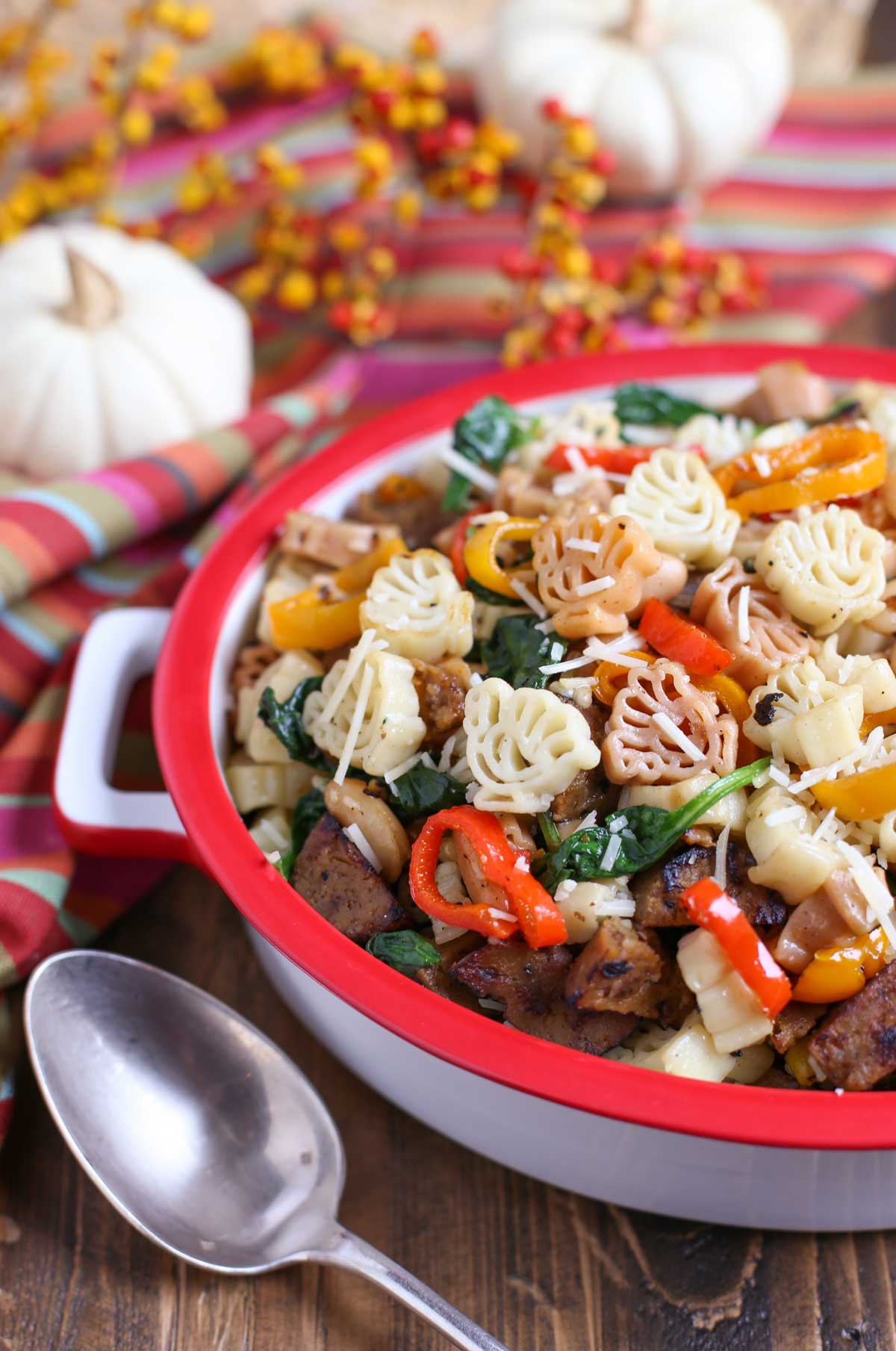 Thanksgiving is only few short weeks away, and the volume of Thanksgiving recipes and beautiful photos are flooding the internet. Is your holiday menu curated and ready to go yet? How about some Thanksgiving "meat" alternatives for your vegetarian friends? Well, I've got you covered with my Veggie Sausage with Sweet Peppers Pasta using our turkey shaped pasta….it's a yummy find and in the spirit too!
Every year there seems to be more people following special health and diet plans – Paleo, Whole 30, Gluten Free, Vegan, etc.…so the challenges of pleasing the crowd are rising. And if you are hosting a crowd or group of friends, it's probably thoughtful and a bit PC these days to include a vegan option, or at least a vegetarian one…your guests will be happily surprised! (and not starve! :))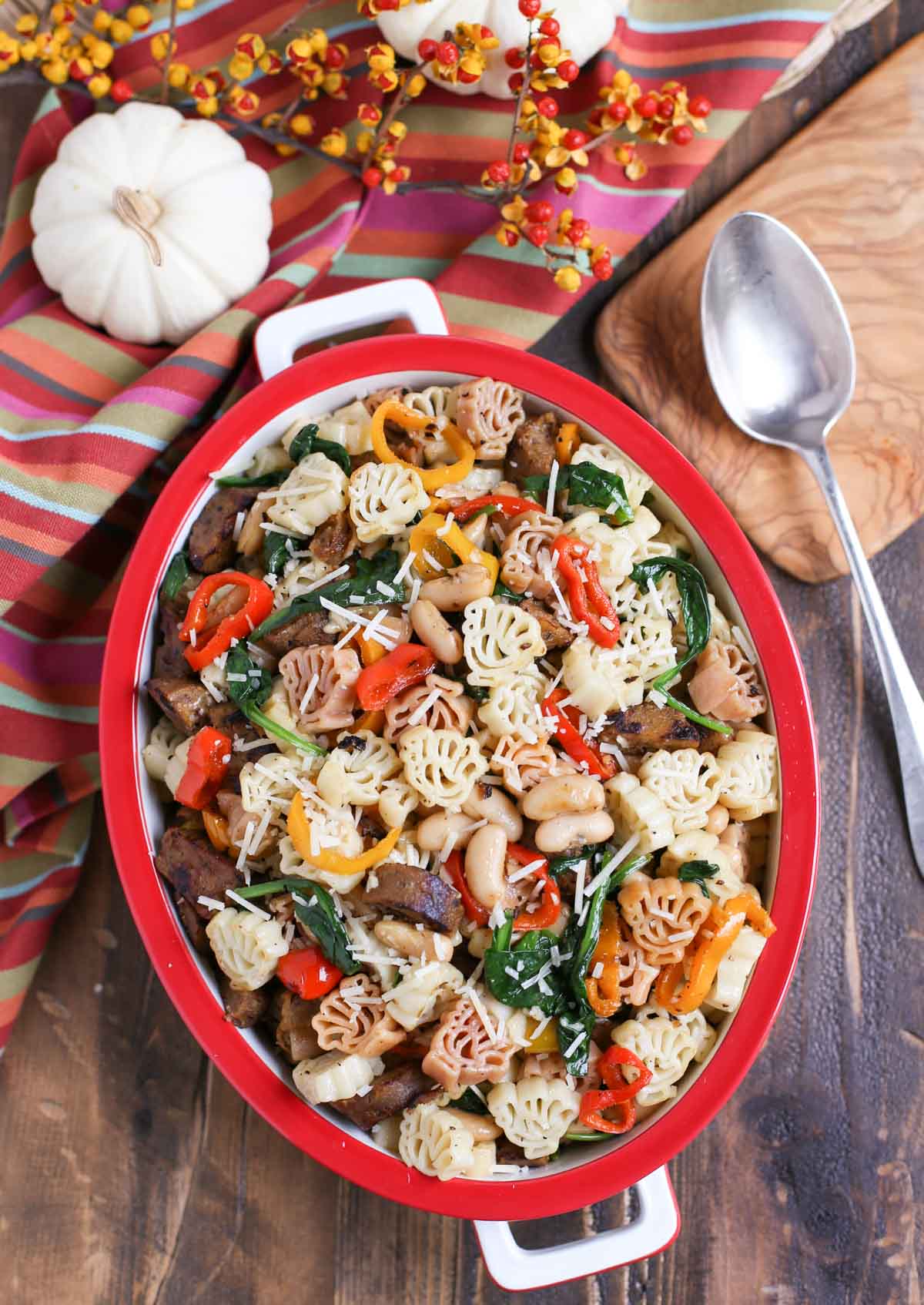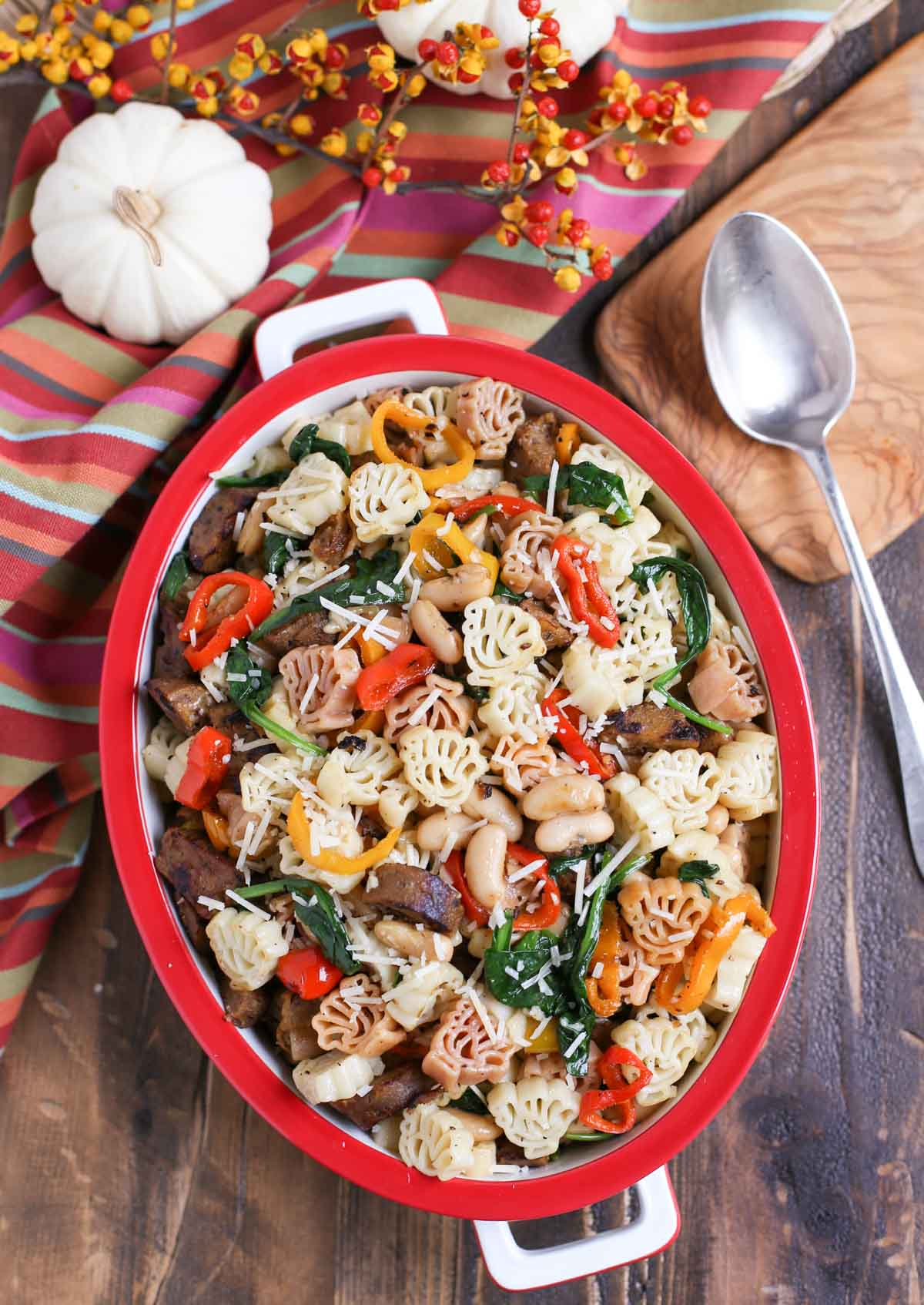 This Thanksgiving alternative recipe is great too because you can make it vegan, for those who avoid all animal derived ingredients. You may think you wouldn't like this if the word "vegan" makes you uncomfortable – but you'll love it. Just substitute vegetable broth for chicken broth, and vegan cheese for the Parm…and of course, choose a pasta that is egg free.
The veggie sausage is "vegan" and made from Yukon Gold potatoes, onions, garlic, dried apples and spices. The manufacturer is Field Roast, and they offer a wide selection of vegan meat options. I bought my "Smoked Apple Sage" links at Whole Foods and I gotta tell ya….this stuff is GOOD! After browning the pieces in a skillet, my youngest son couldn't stop picking at the plate.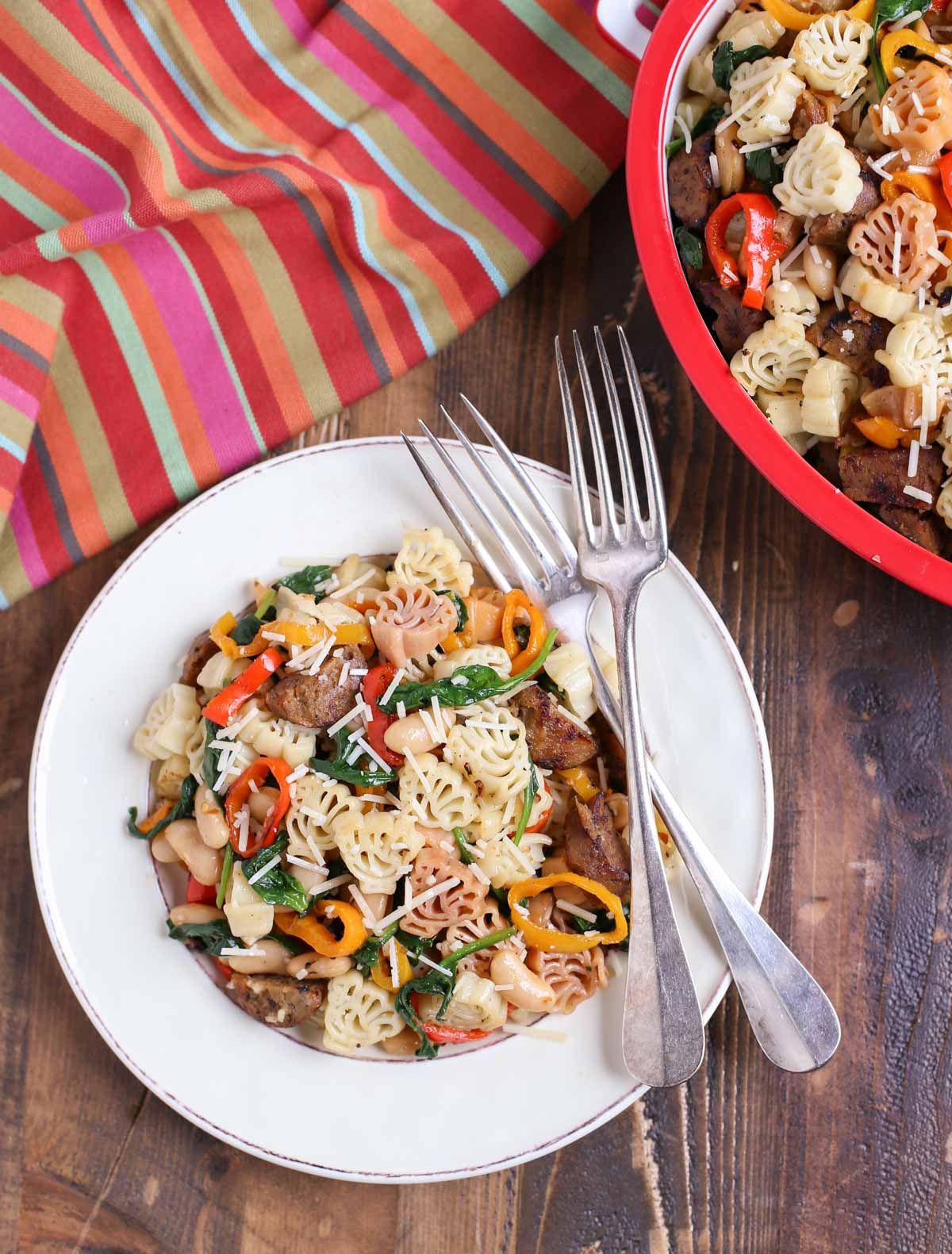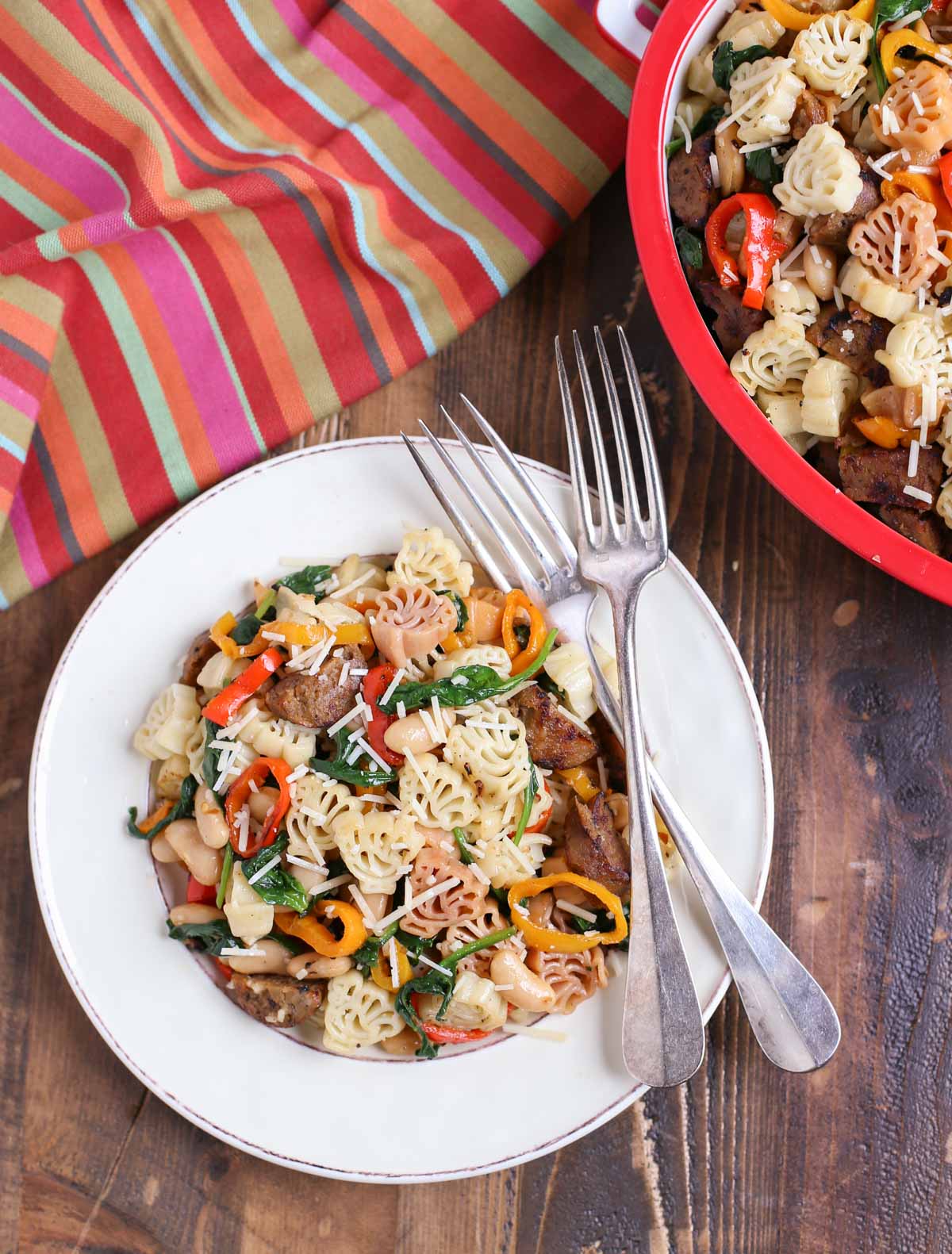 The mini sweet peppers are so colorful and cutting them into rings of various sizes makes the dish so pretty. Fresh garlic, cannellini beans, and baby spinach add more flavor and color to the pasta dish. And let's not forget the TURKEY pasta! It'll make your guests smile! Plus the fun shapes add a texture and some bulk to the dish…yum!
Depending on the crowd, use fresh Parmesan or a vegan cheese, like Daiya's shredded pepperjack cheese…it adds a little "heat" to the finish.
Honestly, I was surprised at the complex flavor of this pasta dish. It's hearty enough to stand near the real "Mr. Turkey" on the buffet. And much prettier than he is. 🙂 Everyone in my family devoured a bowl, and the girls in the office did too.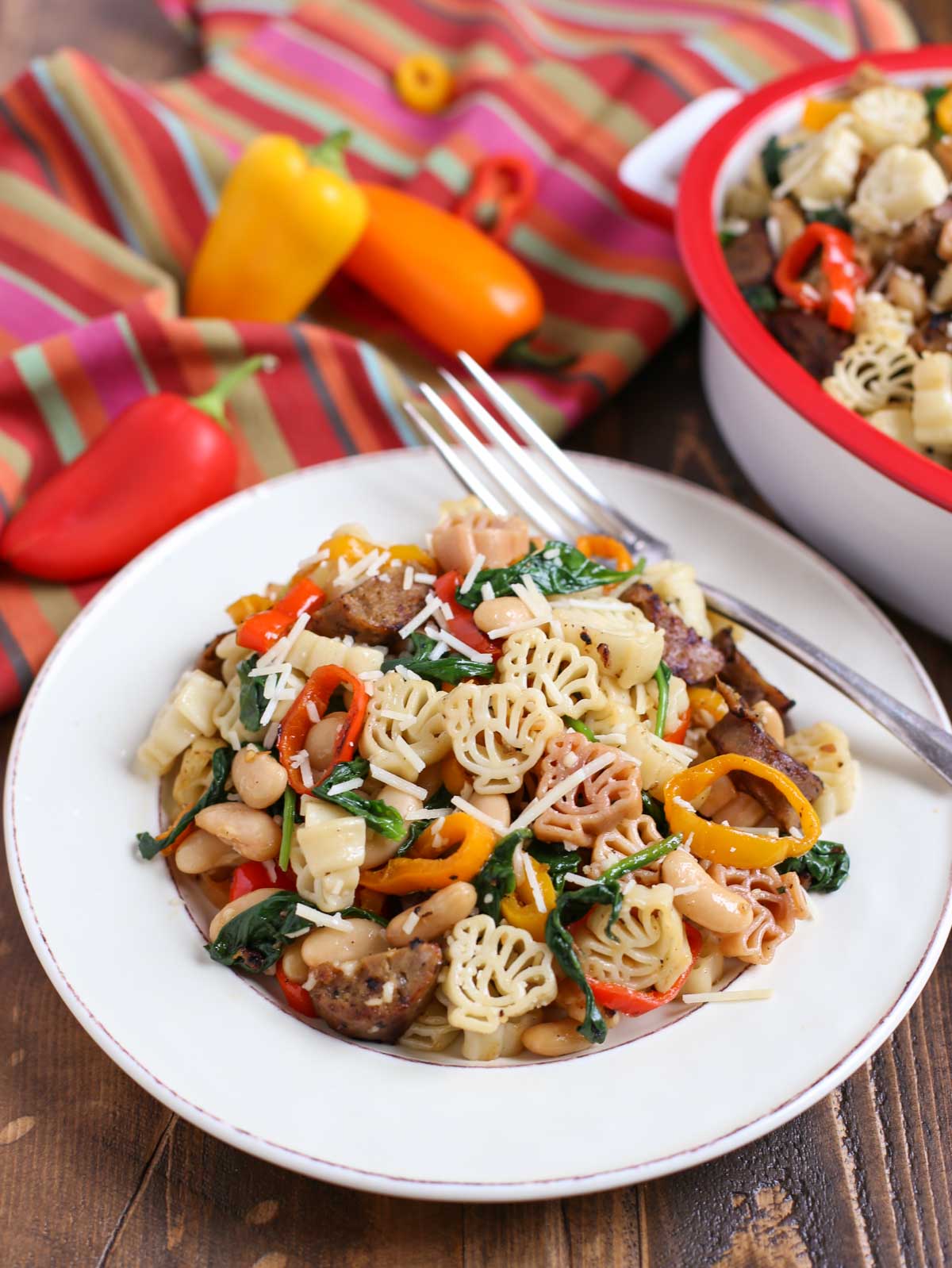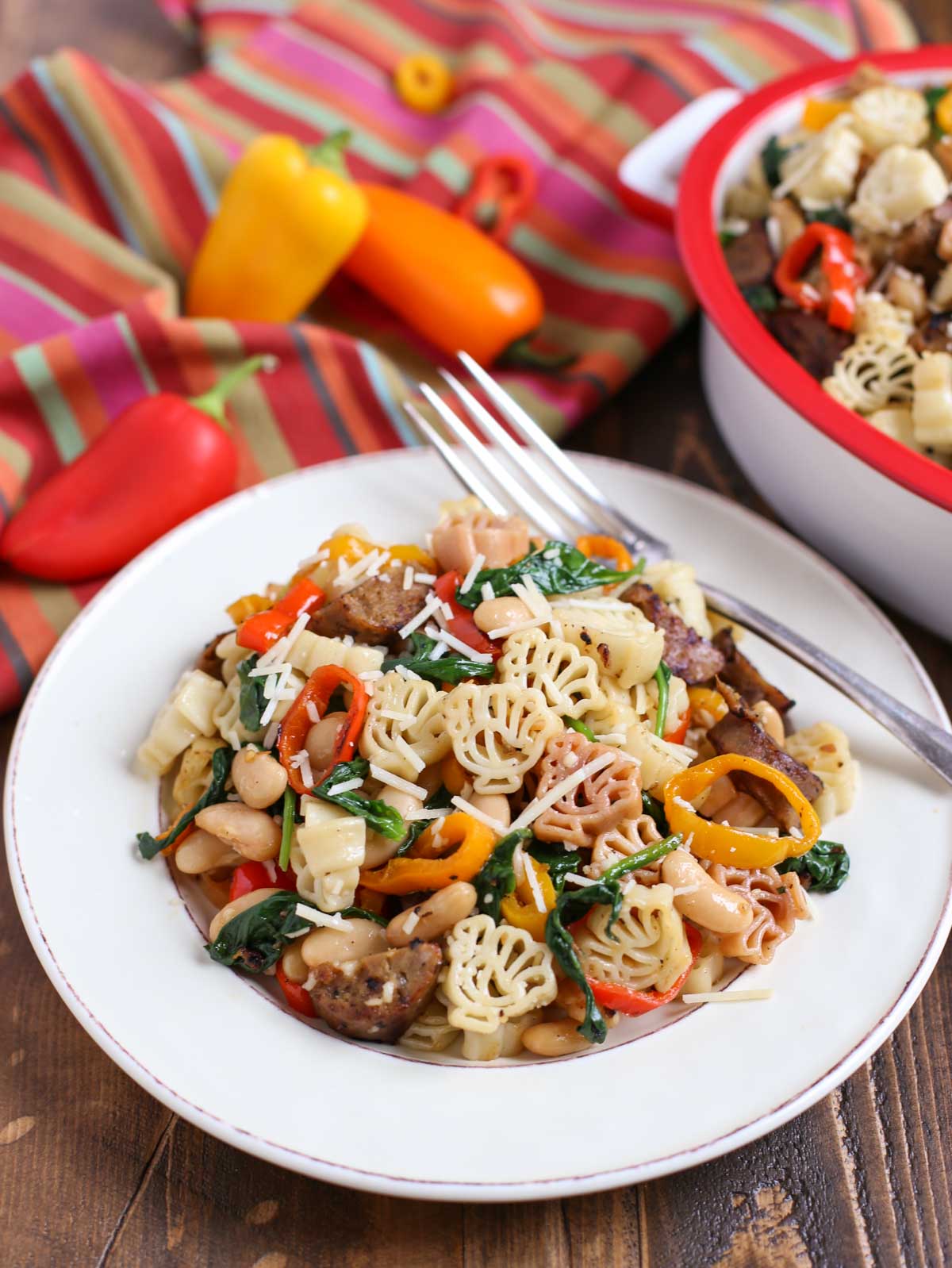 And if you have leftover turkey, and need to re-purpose the day after, use our Turkey Pasta and make our recipe for Turkey Leftover Soup! It's been a go-to for years.
Have I gotten your attention yet? Consider all the Thanksgiving alternatives this year and add something healthy and creative to your menu!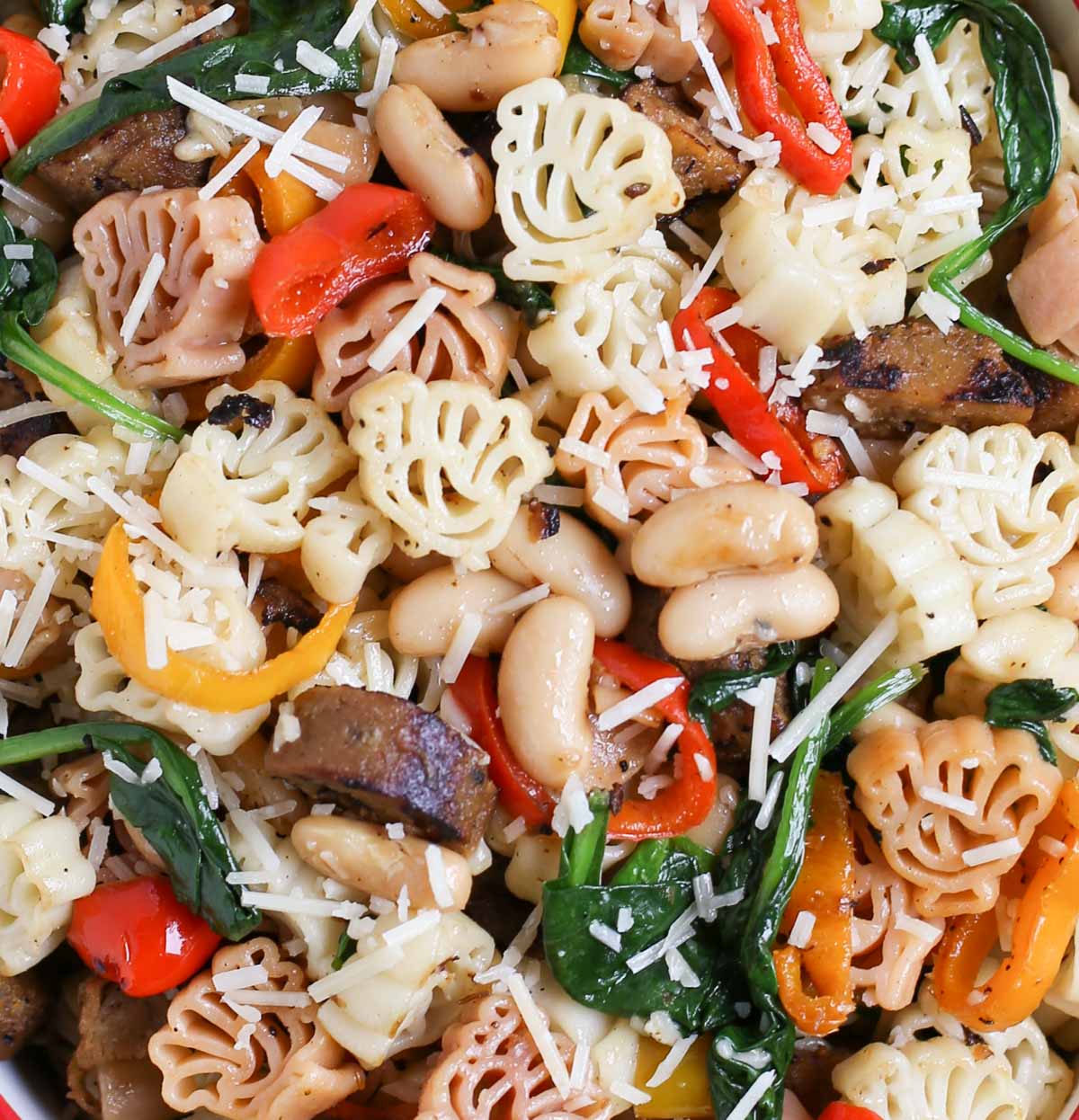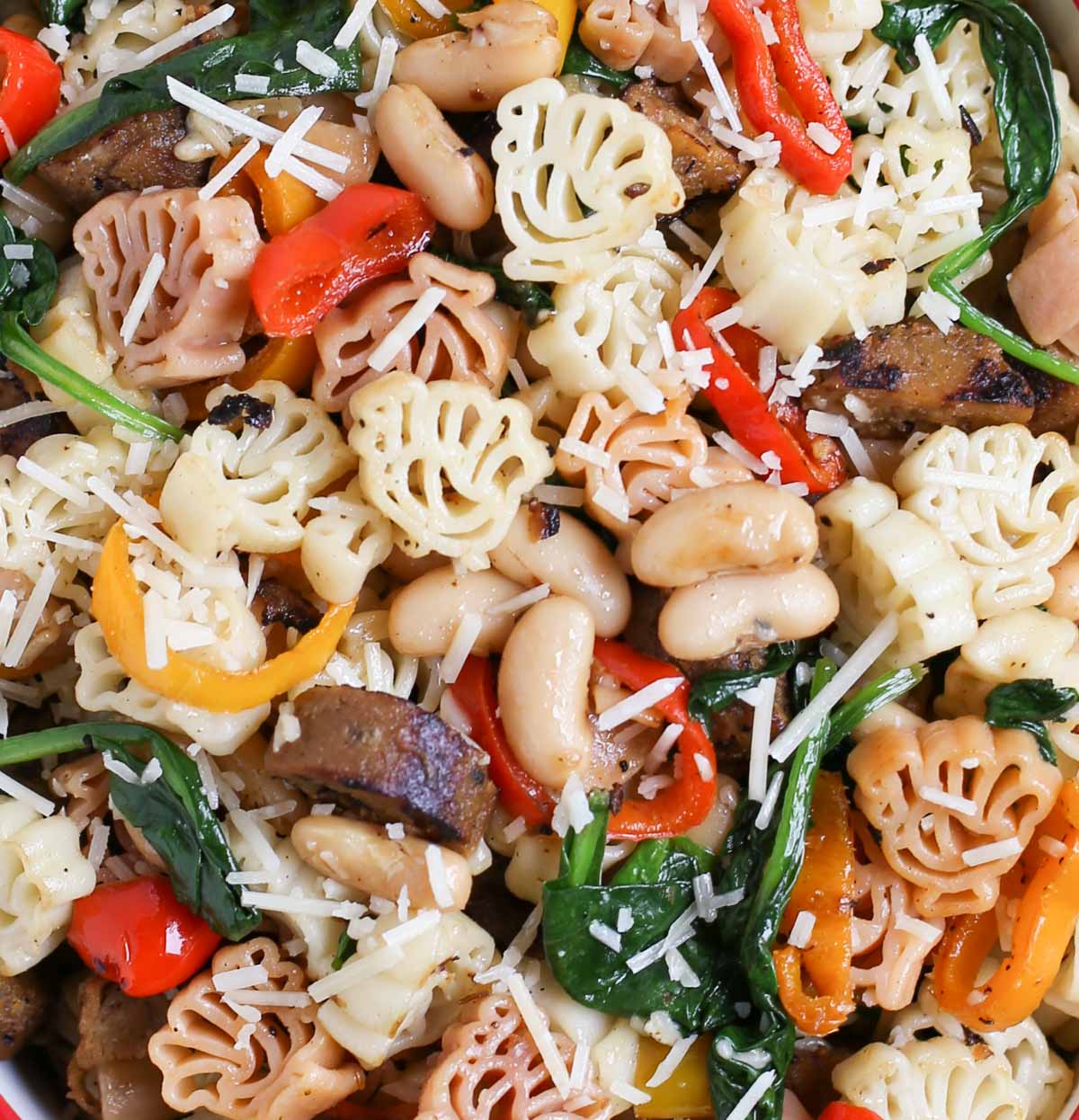 And if you are on Facebook or Instagram and like what you see here, please follow us! @thepastashoppe on Instagram or @pastashoppeusa on Facebook!
Veggie Sausage and Sweet Peppers with "Turkey" Shaped Pasta – a Thanksgiving alternative!
A Thanksgiving alternative your entire family and friends will love!  Perfect addition along side your traditional turkey!
Ingredients
14 oz. bag of Gobble Gobble Turkey Pasta (or another short shape of your choice)
3 T. olive oil
12–16 ounces of Vegan Sausage, cut into half moons (I used 16 oz. of Smoked Apple Sage Sausage, made by ….. and purchased at Whole Foods)
5 cloves garlic, finely chopped
8 ounces sweet mini peppers, assorted colors, thinly sliced into rings
¼ t. crushed red pepper
1 cup chicken broth, or vegetable broth
1 can cannellini beans, drained and rinsed
8 ounces  baby spinach
3/4 cup Parmesan cheese, shredded, or a vegan cheese like Daiya shredded pepperjack
1 t. Kosher salt
1/2 t. black pepper
Instructions
Cook pasta according to package directions, drain, rinse, and lightly toss with some olive oil.
In a non stick skillet, heat 1 T. oil over medium high heat.  Add sausage and cook, stirring occasionally, until sausage is browned, about 5-6 minutes.  Set aside in a bowl.
Add garlic, peppers, and red pepper flakes, and cook for another 5 minutes, until peppers are soft.
Add broth and bring to a boil.  Cook until liquid reduces by about 2/3, approximately 5 minutes.
Stir in beans and sausage.  Toss until heated through, about 2-3 minutes.  Add spinach and cook until wilted, about 4-5 minutes.  Add pasta and gently toss.  Add Parmesan cheese and seasonings.  Toss until heated through!
Serve with extra Parmesan on the side!
Join our email list for fresh pasta recipes delivered to you every week!
Your information will NEVER be shared or sold to a 3rd party.