Zucchini Noodles with White Wine Sauce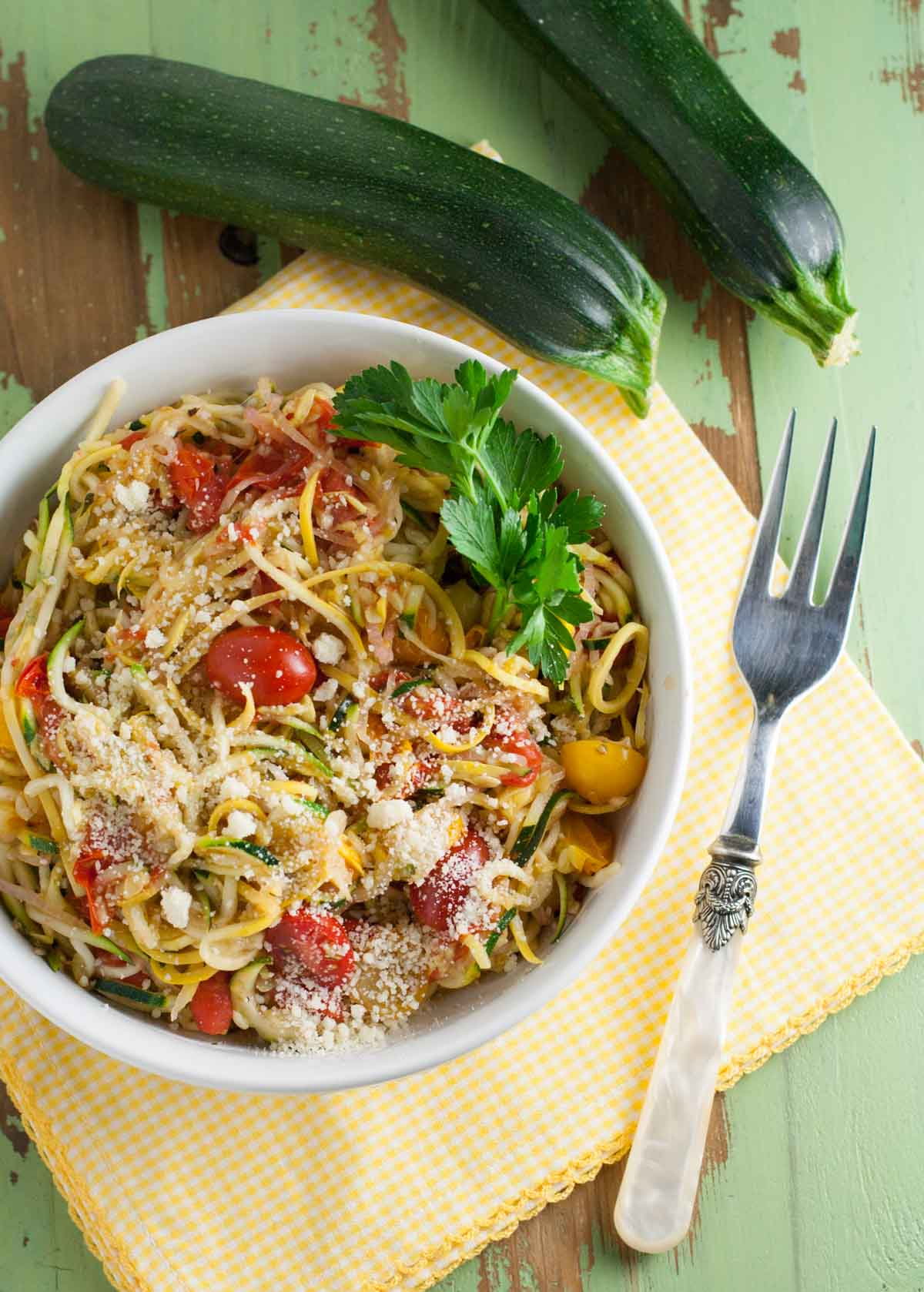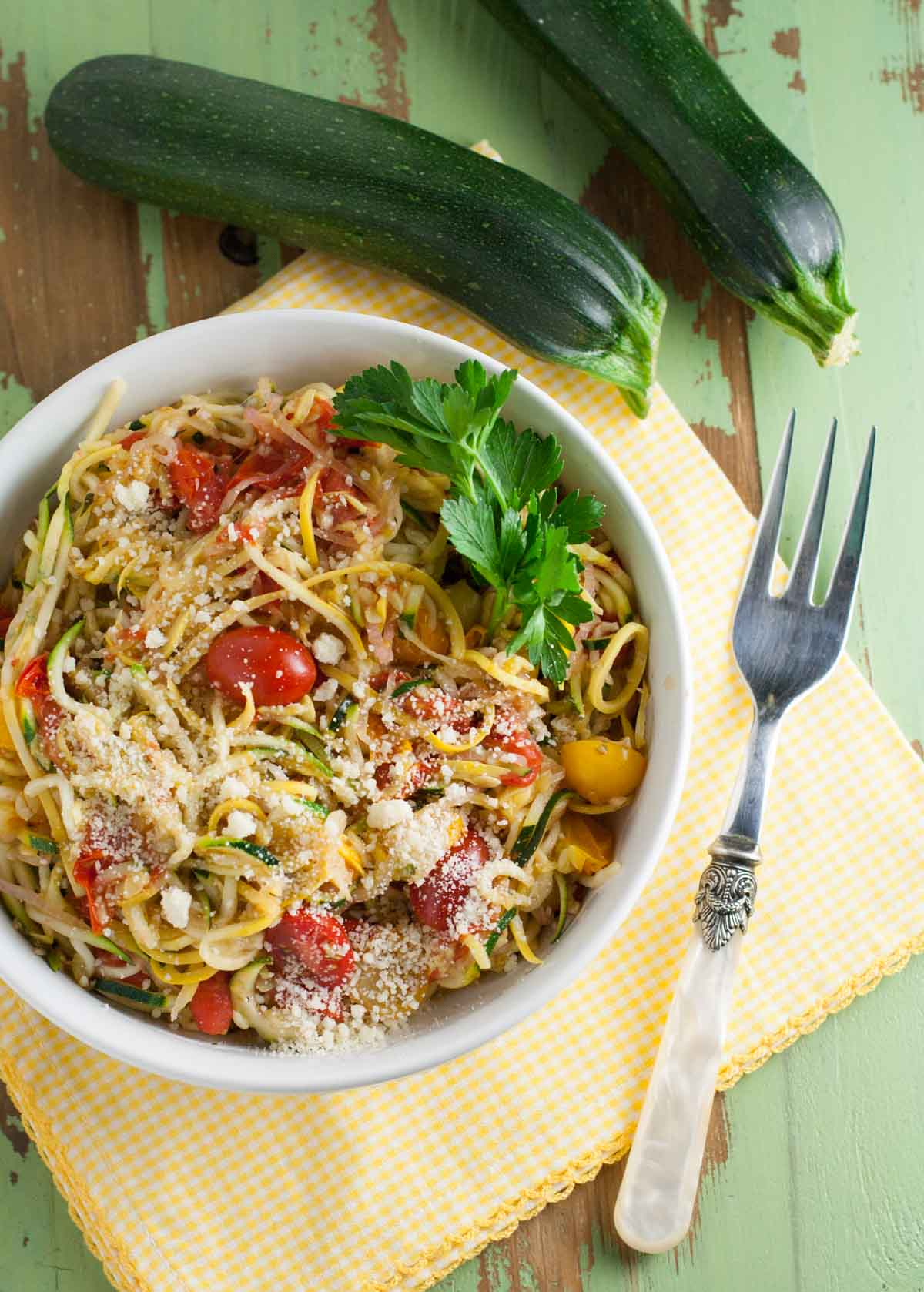 I had to join the craze. I had to" spiralize". It's a disease. But it's a fun disease! Being in the "noodle" business, there's nothing more exciting than discovering new noodles! There have been umpteen recipes and examples of spiralized veggies all over the internet and foodie catalogs in the past few months. I had to understand what was happening! And since "noodles" are involved, it was really my duty. 🙂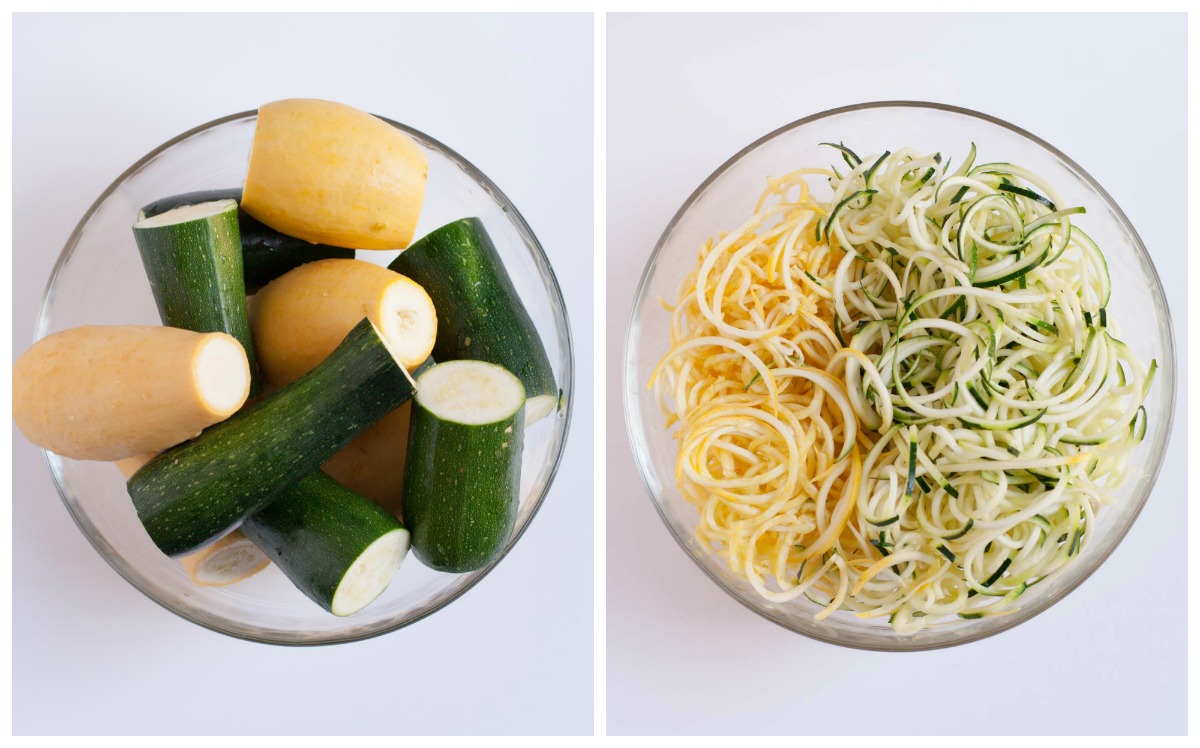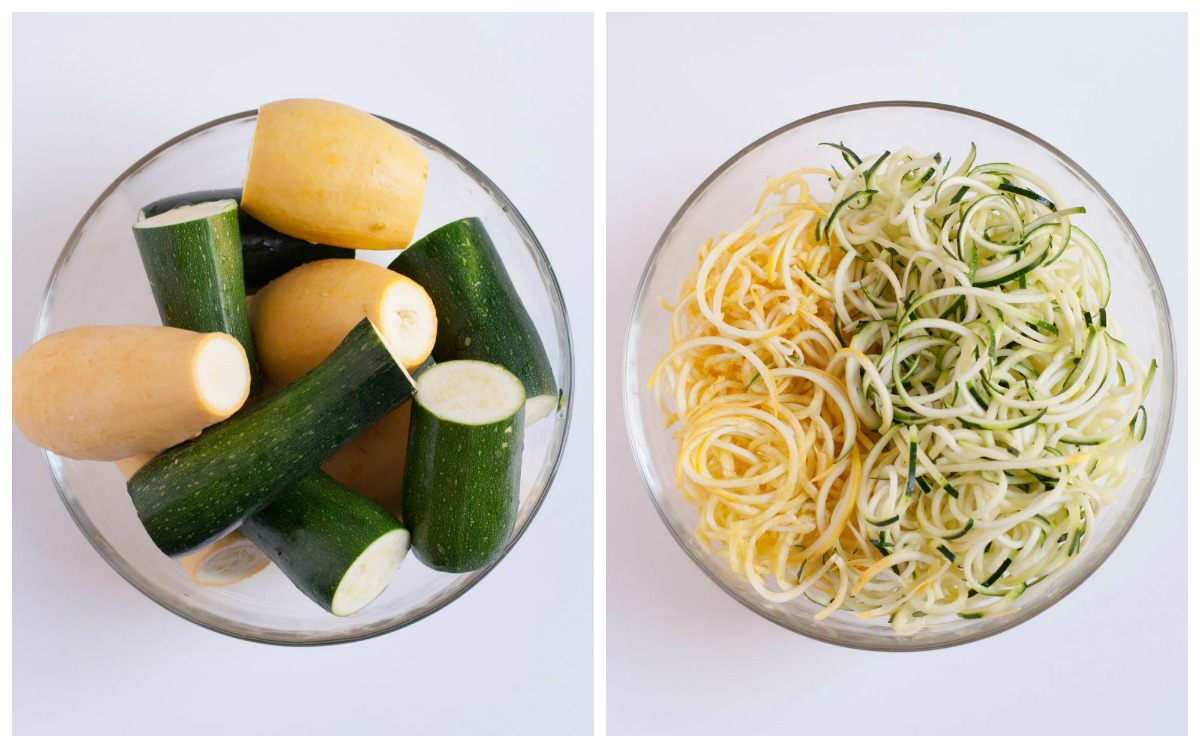 When spiralizing, you choose a blade size to achieve the thickness of the noodles for your dish.  I used the medium sized blade.  After you read this recipe for Zucchini Noodles with White Wine Sauce, I hope you add some sort of spiralizing "contraption" to your holiday wish list.  I ordered my Paderno from Amazon.  You'll be thrilled, although your family may begin to resent any food with a curly shape…even fries! But until then, spiralize everything in sight!  A good resource for all things spiralized is Ali Maffucci's blog and cookbook, Insprialized.  I bought her cookbook which is loaded with great ideas and would make a great gift this holiday season.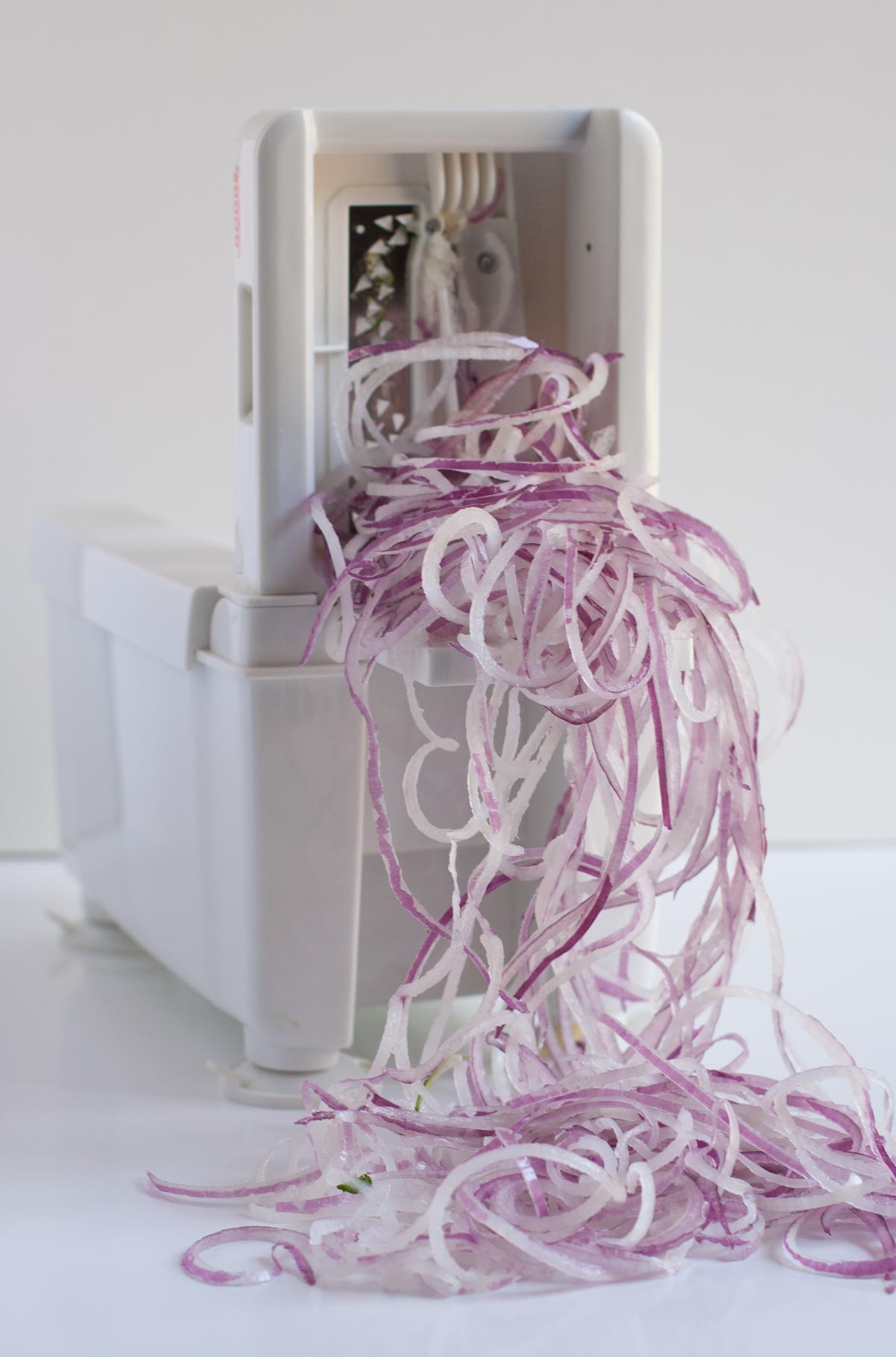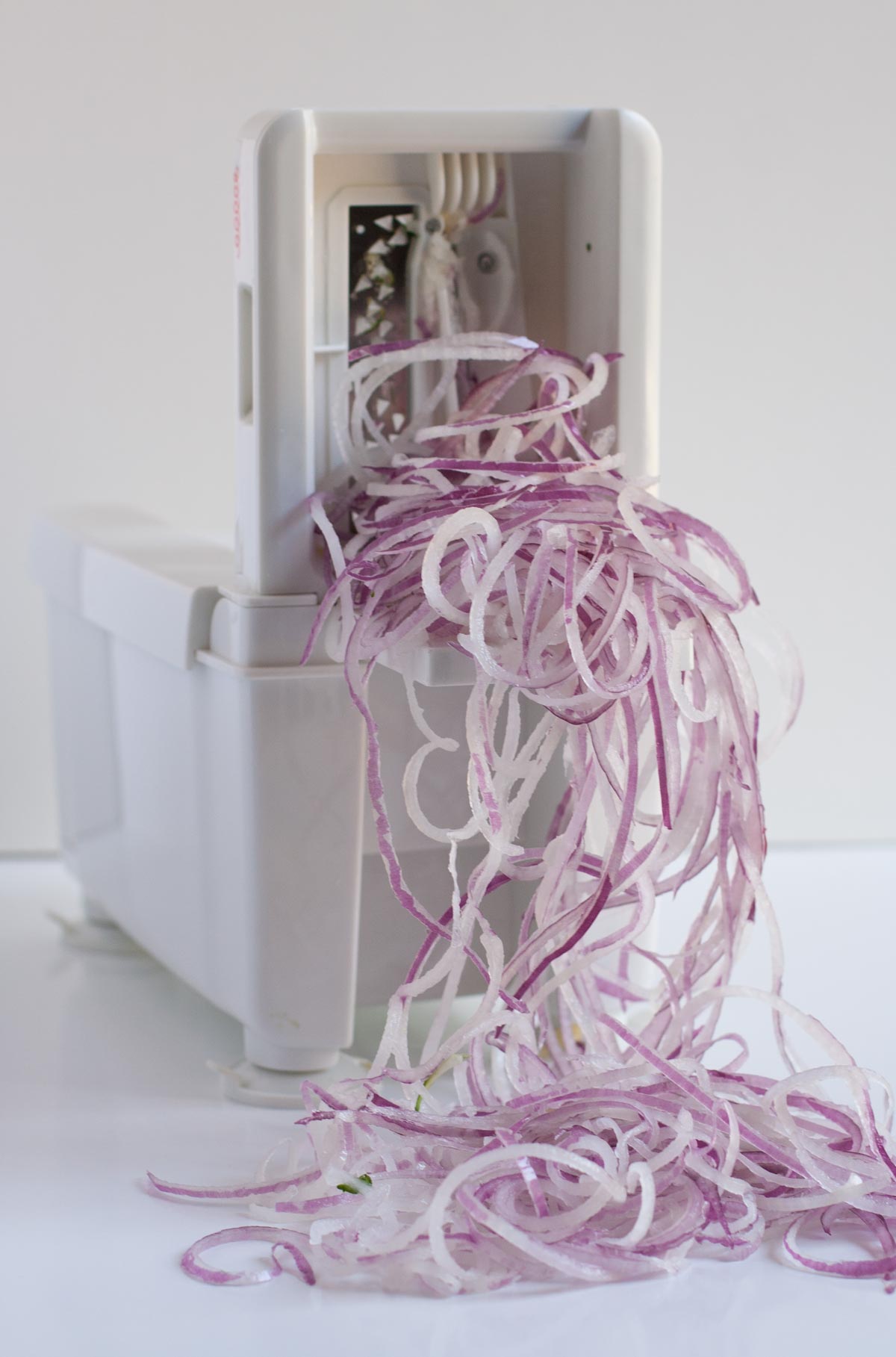 First of all, I decided to spiralize both zucchini and squash. Together they make a beautiful and healthy combination. Since I wanted to add some sautéed onion, I thought, "Why not?" So I spiralized the onion too…believe me, you'll understand more once you get your hands on this little machine!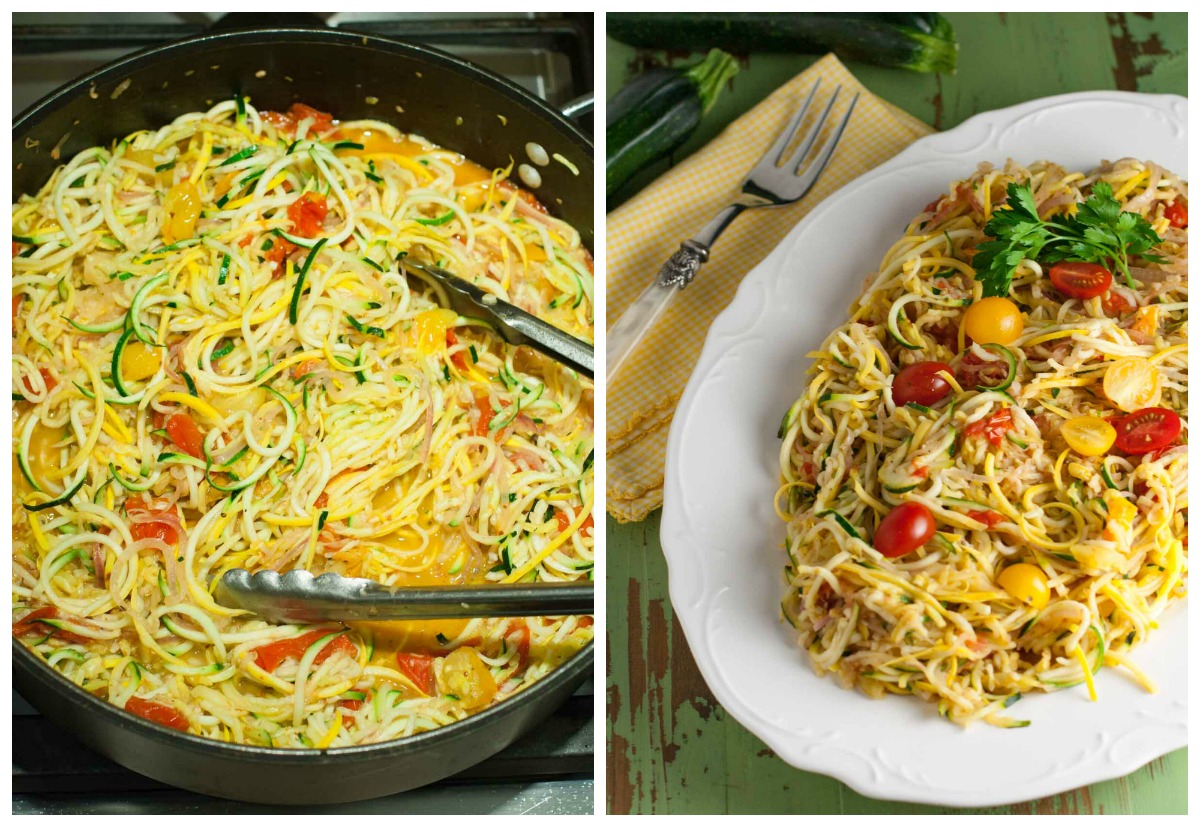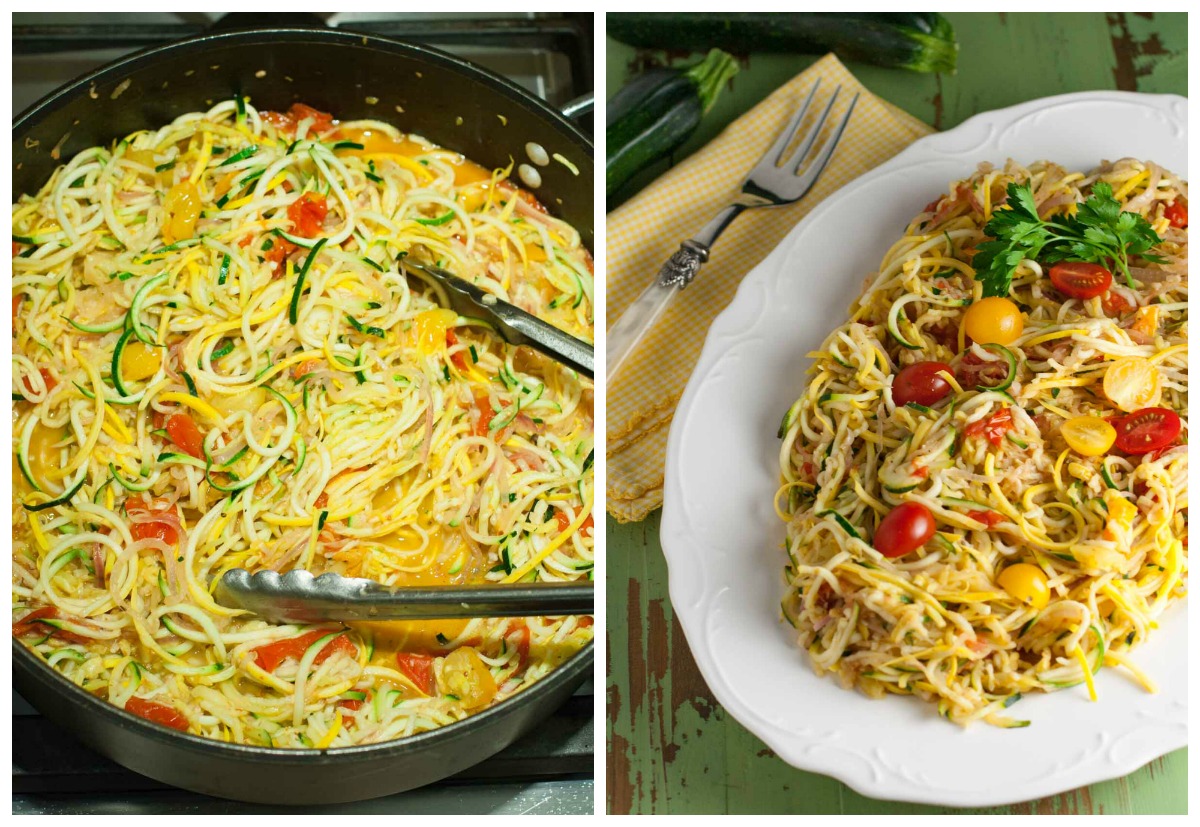 When you choose the vegetables to spiralize, the thicker, the larger, the better. The larger veggies make their way through the blades easier and make for longer noodles. In fact, some of my noodles were so long, that I decided to cut them in half.
Wait a minute, you've done that before. Breaking up the spaghetti noodles before throwing them in the boiling water?! When you are the cook, and in your kitchen (headquarters), you can do whatever you want. Amen!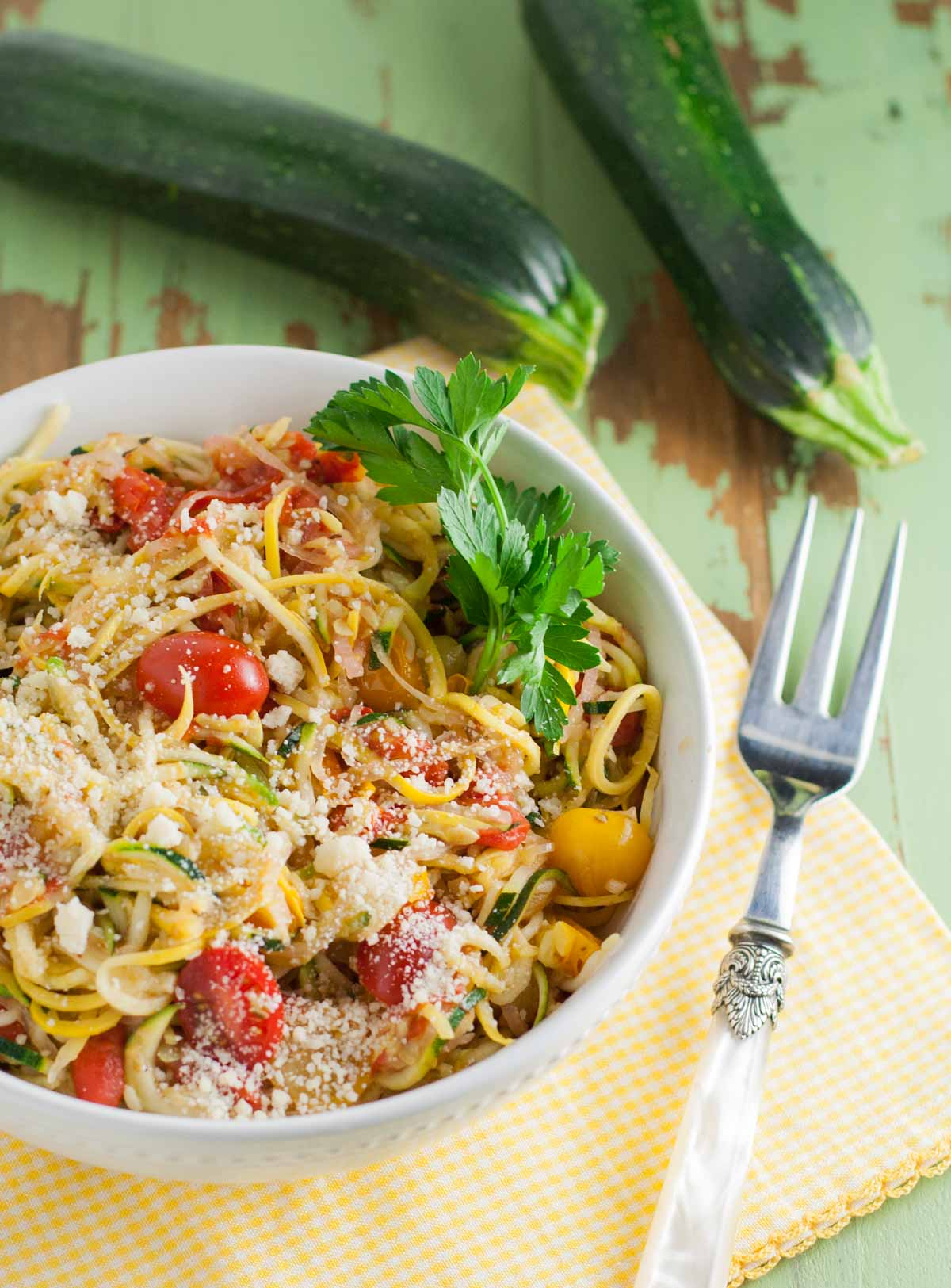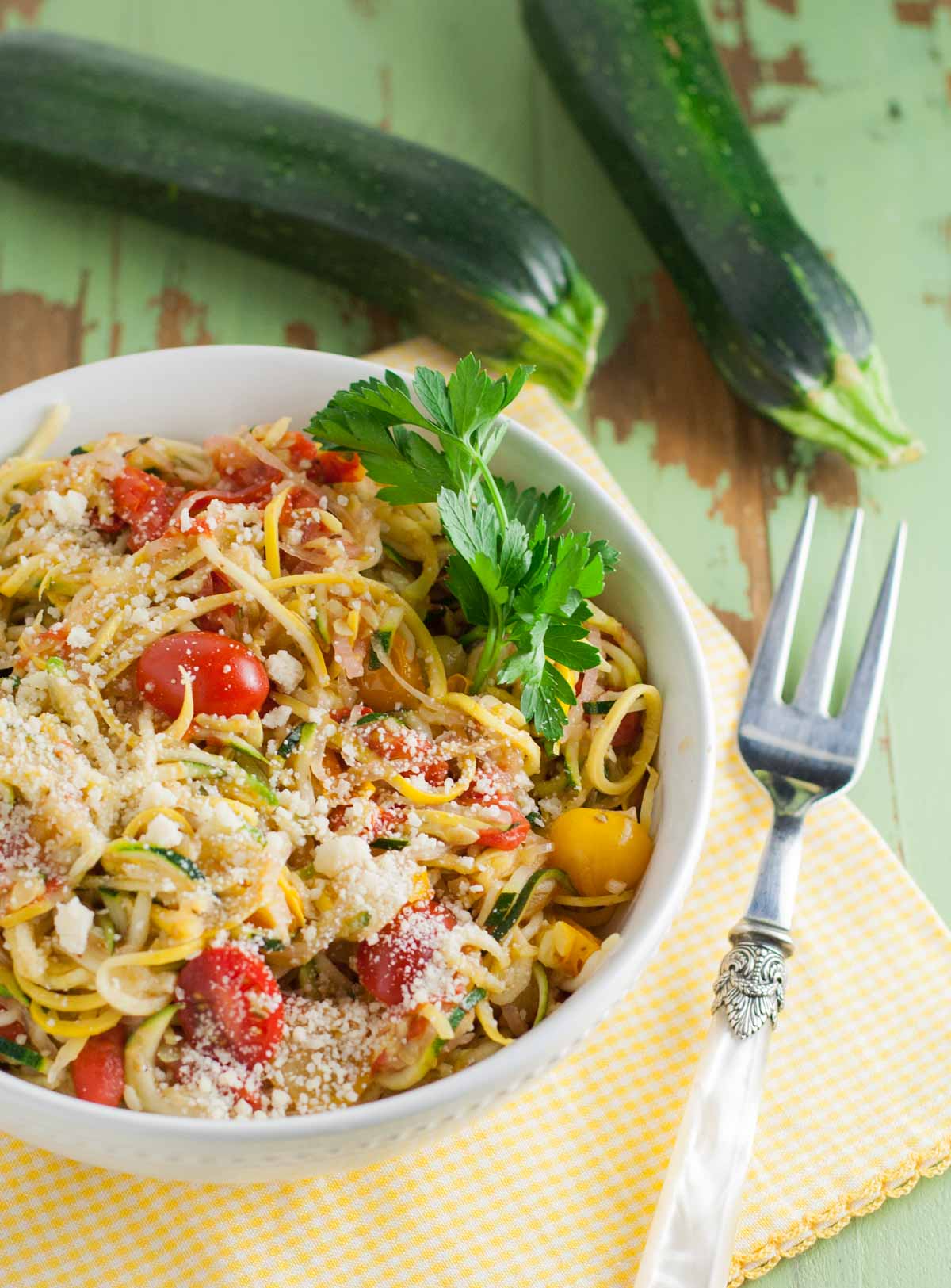 Once your veggies are spiralized, you just pan sauté them for a few minutes with some onion and seasonings, add some wine and butter, and Voila! You have just created a fabulous healthy main course….or a wonderful side dish to seared steaks, grilled chicken, pan sautéed fish, etc. The colors, the curls, and the texture will add exactly what you need to brighten up your plate. Not to mention this dish is low cal, low carb, and gluten free!
I added lots of fresh Parmesan and my kids really ate this up in a hurry! I hid the fact they were "veggies" for a few minutes and it was amazing how close they actually taste to "real" noodles. Of course, NOTHING replaces real noodles…but that's just the noodle snob in me speaking. 🙂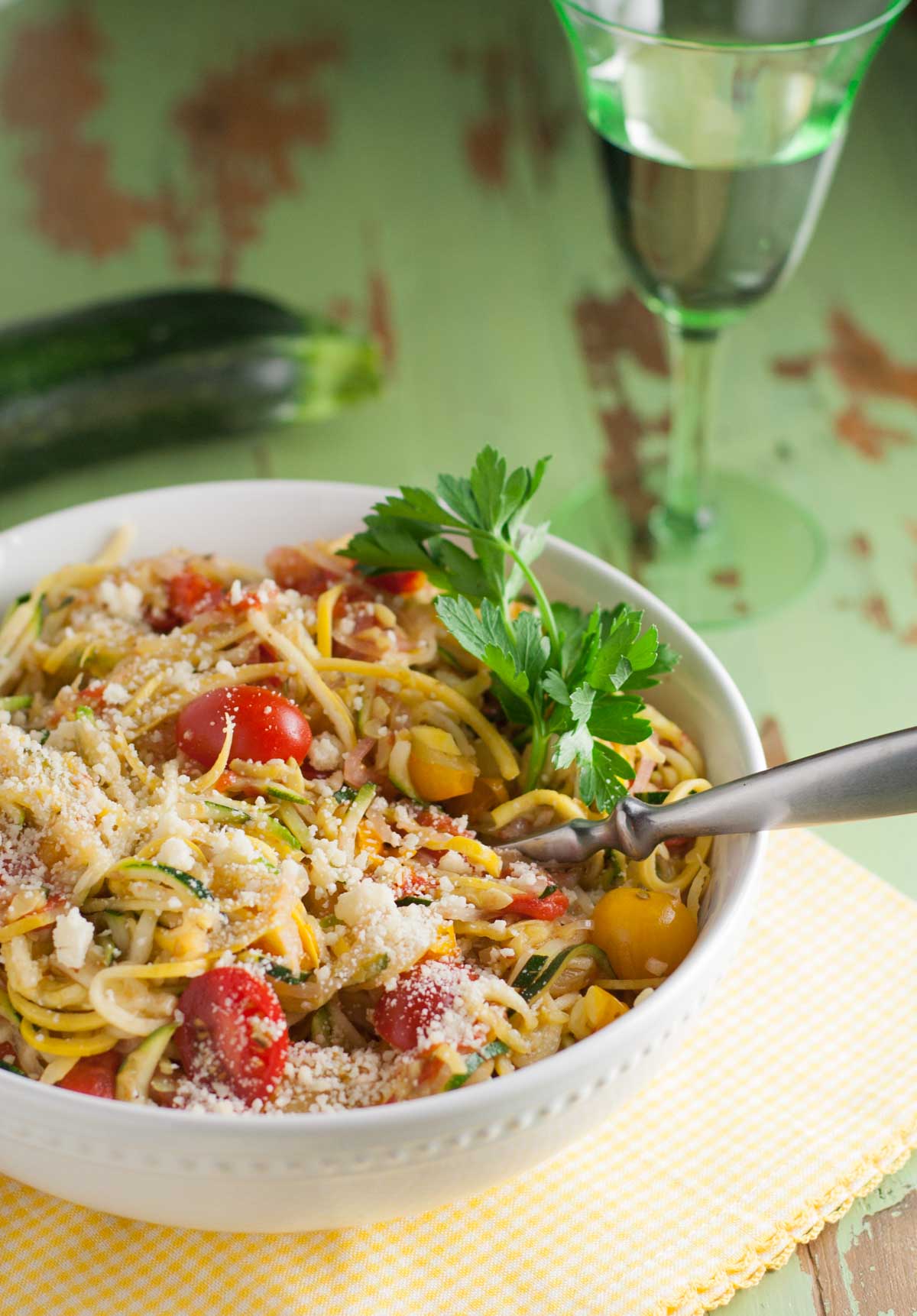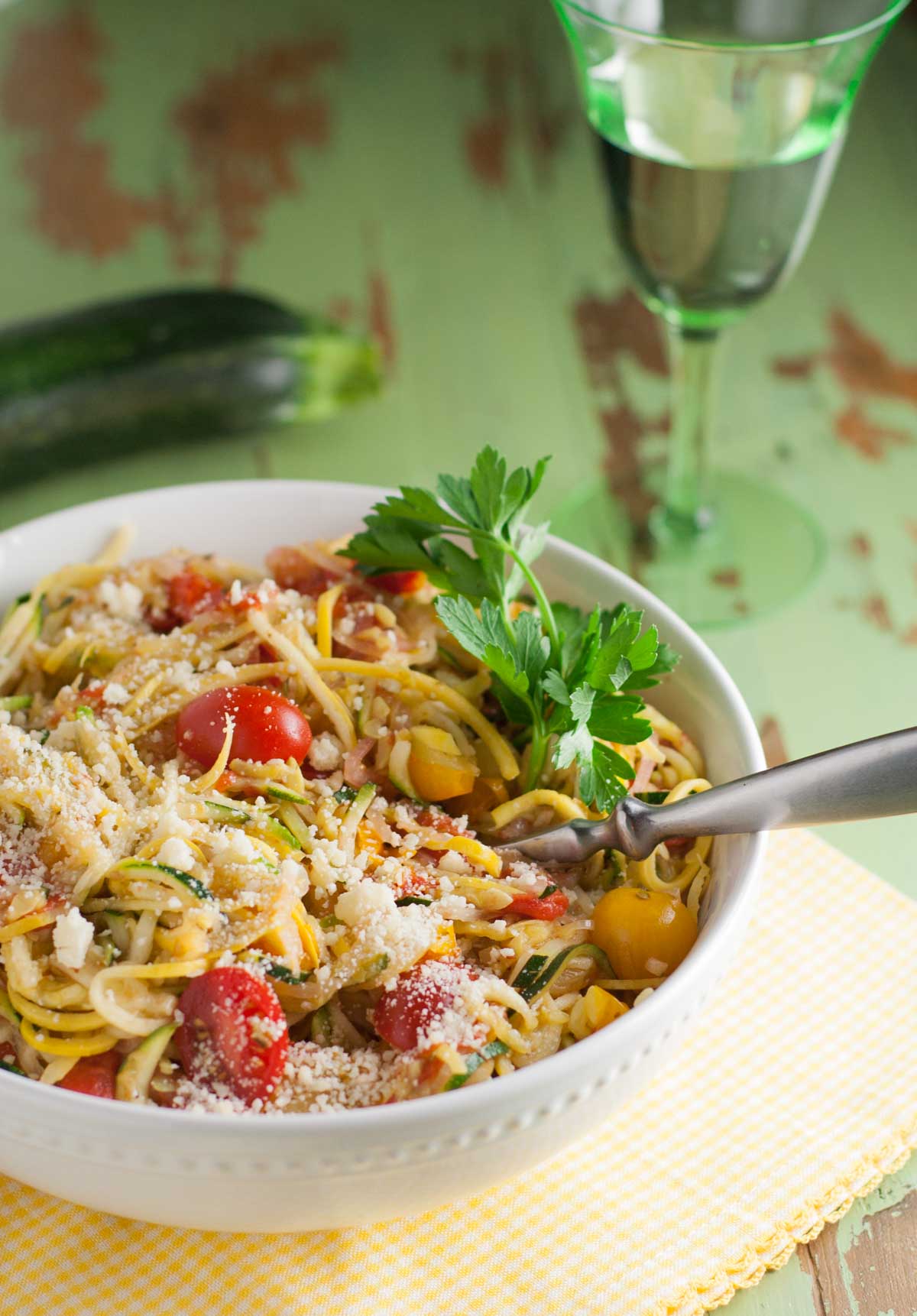 Honestly, I welcome these new veggie noodles into the noodle family and hope to share more ways to enjoy them! Next on my list to try is Zoodle Pasta Pie, from Marie's Proud Italian Cook blog.  I'll let you know how it turns out.  Looks fab!  Until then, Spiralize-On my friends! And please share any noodle recipes as you do!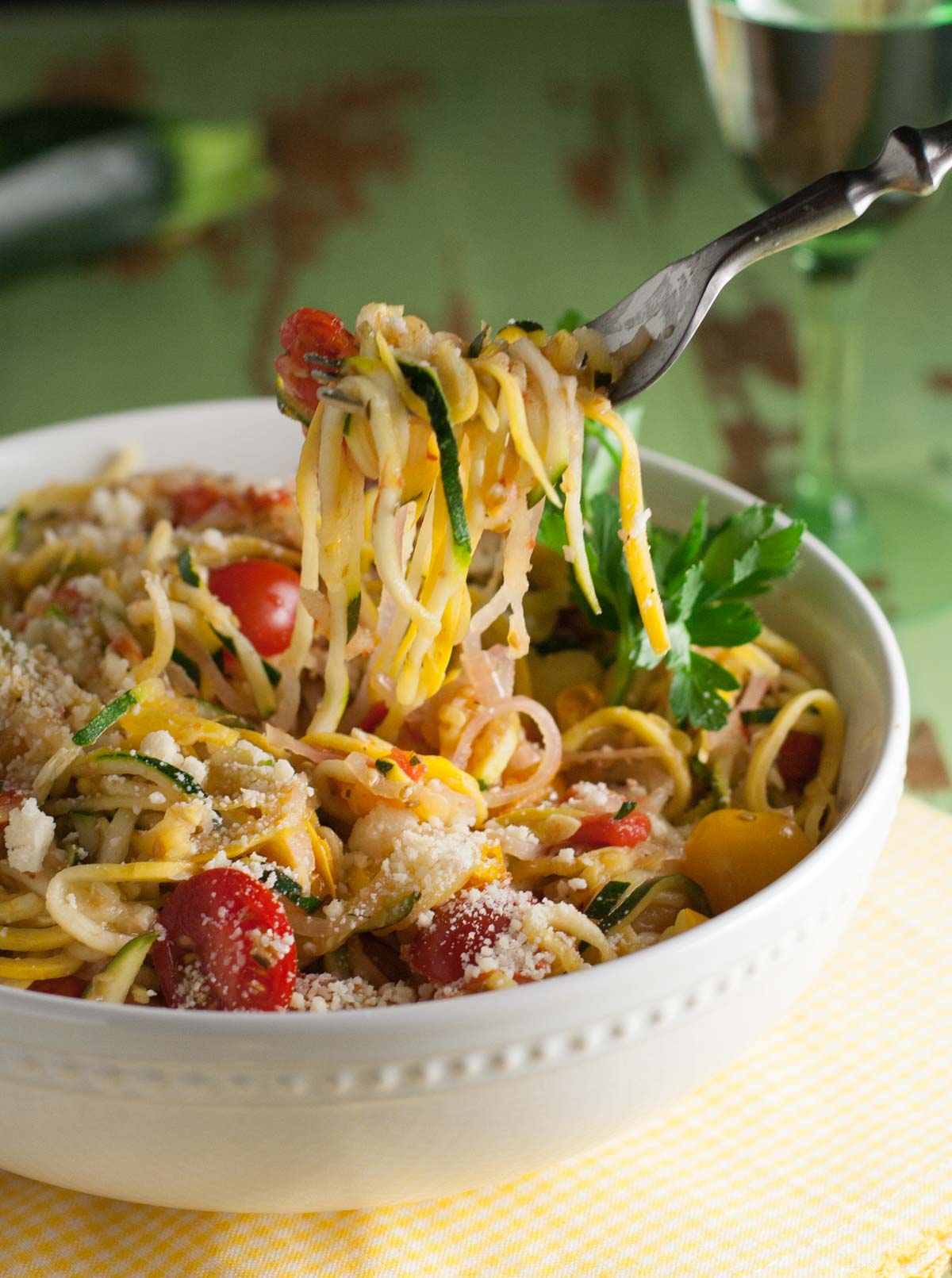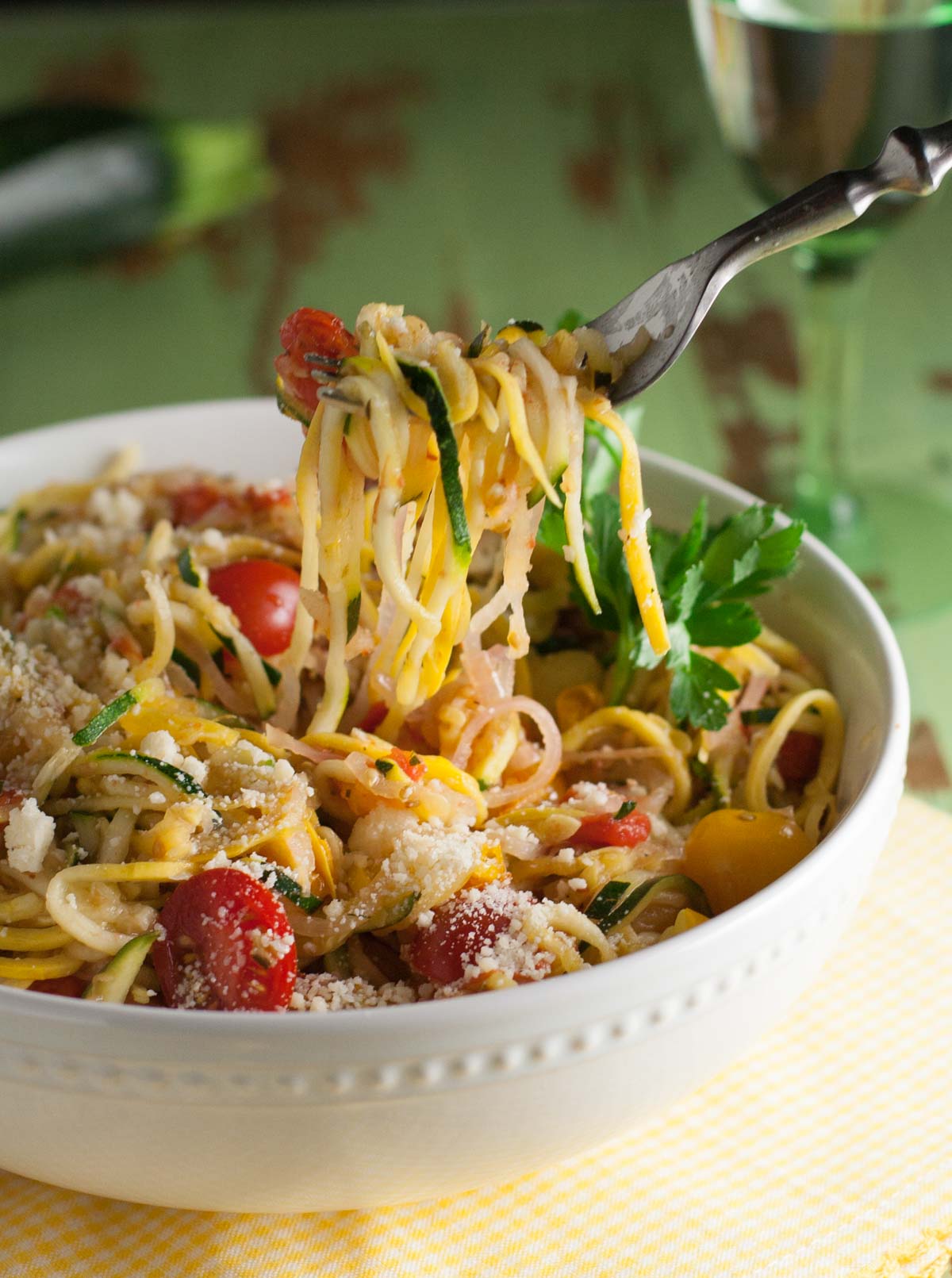 Zucchini Noodles with White Wine Sauce
Zucchini and Squash noodles are a delicious and colorful healthy dish! And they taste like real noodles!
Ingredients
3

–

4

large zucchini and/or squash, cut into

4

–

5

inch sections, spiralized

1/2 cup

– 1 cup spiralized red onion

3 cups

cherry or grape tomatoes, halve lengthwise about half of them (use red and yellow if possible for maximum color!)

2

T. olive oil

4

garlic cloves, thinly sliced

1/4 cup

dry white wine

2

T. butter

1/4 cup

fresh Parmesan, grated

1/4 cup

fresh parsley, chopped
salt and pepper to taste
Instructions
Heat large saute pan to medium high heat. Add oil.
Saute grape tomatoes and onion for 3-4 minutes, until onion is translucent.
Add garlic and saute another minute. Add white wine and stir.
Add zucchini and squash. Using tongs, toss and saute noodles for 2-3 minutes. You want your noodles to be al dente!
Add butter, Parmesan, and parsley. Toss.
Add salt and pepper to taste. You'll notice that the zucchini and squash give off a lot of water. Drain excess water from pan.
Top with additional Parmesan and parsley!
Enjoy!
Notes
The quantities of zucchini, squash and tomatoes can vary! Use what you have and what you like!
Join our email list for fresh pasta recipes delivered to you every week!
Your information will NEVER be shared or sold to a 3rd party.