Pretty Zucchini Lasagna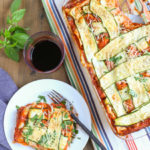 Just the Prettiest Lasagna in town!  Delicious and easy to prepare…great for many gatherings!  Freezes well too!
Recipe from Southern Living Magazine, 2018
Ingredients
3 large zucchini (about 1 1/4 lb.)
2 tsp. kosher salt
1 tsp. extra-virgin olive oil
1 garlic clove, halved
12 oven ready lasagna noodles (1 9 oz. box)
4 cups marinara sauce (approx. 42 ounces)
1 cup whole milk ricotta cheese
1 1/4 cups grated Parmesan cheese
8 oz. fresh mozzarella cheese, thinly sliced
1/4 cup loosely packed basil leaves
1 tsp. black pepper
Preheat oven to 375 degrees. Line a large baking sheet with paper towels.  Using a mandoline, slice zucchini length wise into very thin slices.  Place in single layers on paper towels, sprinkle evenly with salt. Let stand 10 minutes and gently press strips with paper towels to remove excess moisture.
Rub inside of a 9 x 13 inch glass baking dish with olive oil and then rub entire inside with cut sides of garlic.
Place 3 lasagna noodles in bottom of dish. (They will not cover entire surface but will expand when cooked). Top with 1 cup marinara sauce, spreading evenly to cover noodles.  Top evenly with 1/4 cup ricotta, 1/4 cup Parmesan, and 2 ounces of mozzarella.  Cover with about 1/4 of the zucchini strips, sprinkle with basil, and 1/4 t. pepper.  Repeat layers twice.  Layer withe remaining noodles, 1 cup marinara and 1/4 cup ricotta.  Top with 1/4 cup Parmesan and remaining 2 oz. mozzarella.  Arrange remaining zucchini strips on top in a lattice design.  Sprinkle remaining 1/4 cup Parmesan and 1/4 t. black pepper.
Cover with foil, bake for 45 minutes.  Remove foil and bake until top is lightly browned and noodles are tender, about 20 minutes more.  Let stand at least 15 minutes before slicing.  Enjoy!!
Notes
Note:  I probably use more cheese than specified in the recipe….you can't go wrong with more cheese – ever! 🙂