Wintertime Chili Cooking Instructions
Ok friends!  We made a mistake!   In twenty plus years, it's only happened a handful of times…wink wink. 🙂  -but this time it is particularly inconvenient.  Are you one of those people who has bought the ingredients to make the chili you've been craving, but don't have the Wintertime Chili instructions?!  So sorry!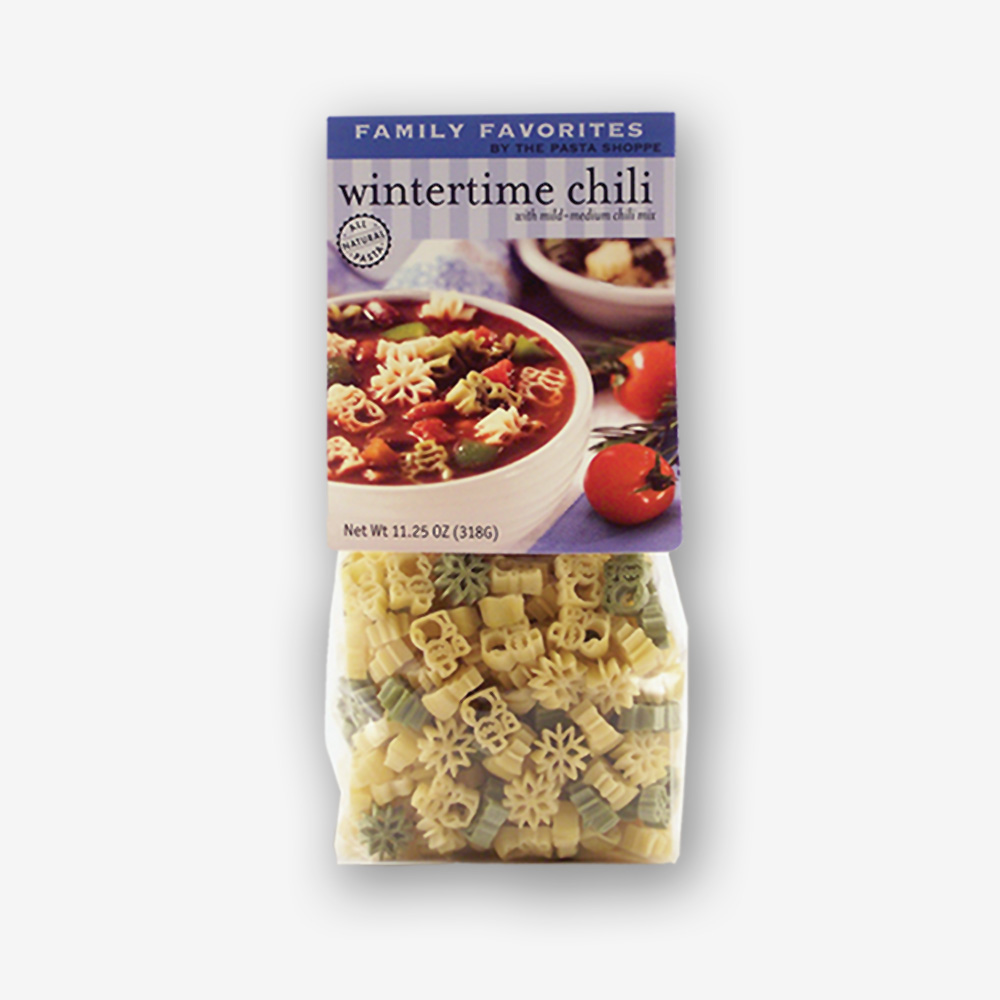 Here's the background:  We printed our Wintertime Chili labels at a new printer, and somehow, the inside copy (with the recipe) – did not get printed!  It's my fault for not catching it.  And I'm just mad at myself…especially because it's one of my favorite things we make.  It's cold, it's fall, it's time for chili, and you are staring at the label saying "REALLY"?
This recipe does require that you have on hand a bag of our Wintertime Chili because it's the "secret chili seasoning" and adorable snowman and snowflake pasta shapes that make this a BEST SELLER for years!
Wintertime Chili Instructions
Author:
Prep time:
Cook time:
Total time:
Wintertime Chili Cooking Instructions
Ingredients
Wintertime Chili Package (Pasta & chili mix included)
3 (15 oz.) cans of beans, drained (1 kidney, 1 pinto, 1 black)
1 medium onion, chopped
1 green pepper, chopped
2 cloves garlic, minced
1 (28 oz.) can of diced tomatoes, undrained
1/3 cup ketchup
1 lb. browned and drained ground beef (options: add 1 lb. Kielbasa sausage, cooked with beef or substitute ground chicken or turkey for beef)
Garnishes: Shredded cheddar cheese, sour cream, chopped green onions, Tabasco or red pepper flakes
Instructions
Cook pasta for 6-8 minutes in GENTLY boiling water (salt optional).
Drain, rinse with cold water, toss with a little olive oil, and set aside for later.
In a large pot, combine all other ingredients with 3 cups water. Add seasoning packet and bring to a boil.
Reduce heat, and cook for 25 minutes over a gentle boil.
If using a crock pot: Combine all of the ingredients, except pasta, and cook on high for 4-6 hours.
Serve chili over desired amount of pasta.
Garnish with shredded cheese, sour cream, or chopped green onions.
For a spicier chili, add Tabasco or red pepper flakes