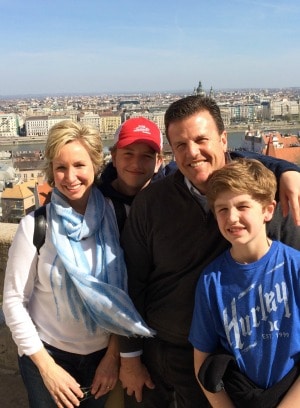 Welcome to The Pasta Shoppe!
We are Carey and John Aron and we're all about family, friends, and food.  Our business is based in Nashville, Tennessee, but our pasta adventure began in 1992 during our honeymoon to Italy.  We fell in love with pasta and the Italian lifestyle, and knew someday we wanted to create a piece of Italy back home.
In 1994 we traveled back to Italy to understand exactly what it took to make the highest quality and best tasting pasta around.  Our plant is designed similarly to the "boutique" manufacturing plants found in Italy.  Like the Italians, we manufacture in small batches – no mass production.  And we fill our Italian pasta making machines with only the finest ingredients available – whether it's 100% durum semolina, Organic flours including ancient grains, all natural vegetable powders, or herbs.
For our Fun Pasta, we use hand-crafted bronze dies to create the world's largest selection of fun shapes…more than 250 different shapes!  From cat paws to Christmas trees to Collegiate logos, we've got a shape for everyone.  Over the years, we've expanded into other specialty pasta lines, like our Petite Angel Hair Pasta Nests, Italian Inspired Pastas, and our latest certified organic Pasta and Mac 'n Cheese for Kids!
The World is full of Pastabilities®! and we hope you enjoy browsing around!