When fall approaches and the new school year begins, families need some easy go-to recipes for weeknight meals. Something that will appeal to the entire clan. Well, here you go! This is our quick and easy Chicken Noodle Casserole.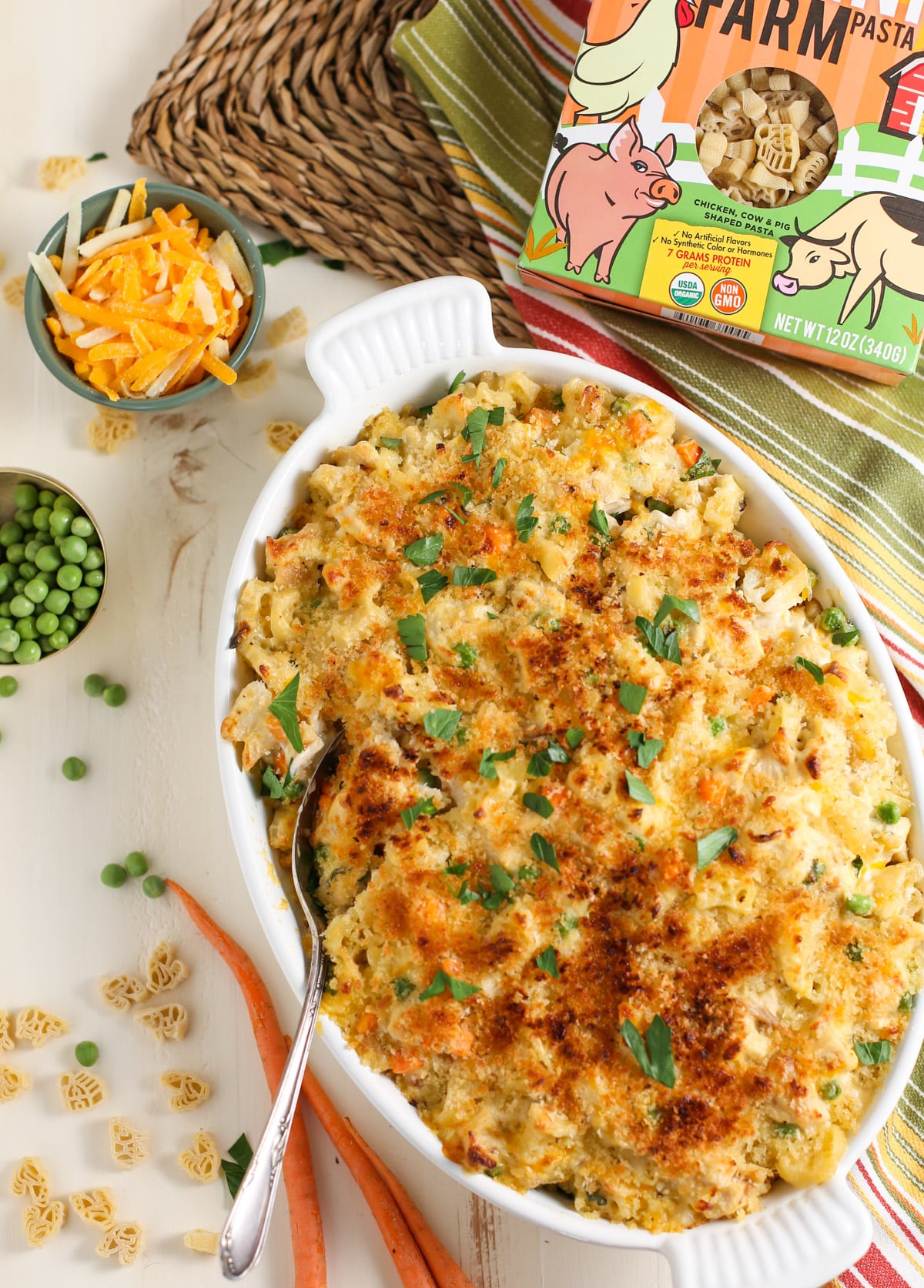 It might be my new favorite, combining the best flavors of Chicken Noodle Soup and Chicken Pot Pie…but in a dish that even the pickiest eaters can't stop eating! Combining chicken with noodle anything is just a comfort food at its best.
It's really a one pot dish that you can put together in about 15-20 minutes before baking. Even make this ahead of time and reheat. What could be easier?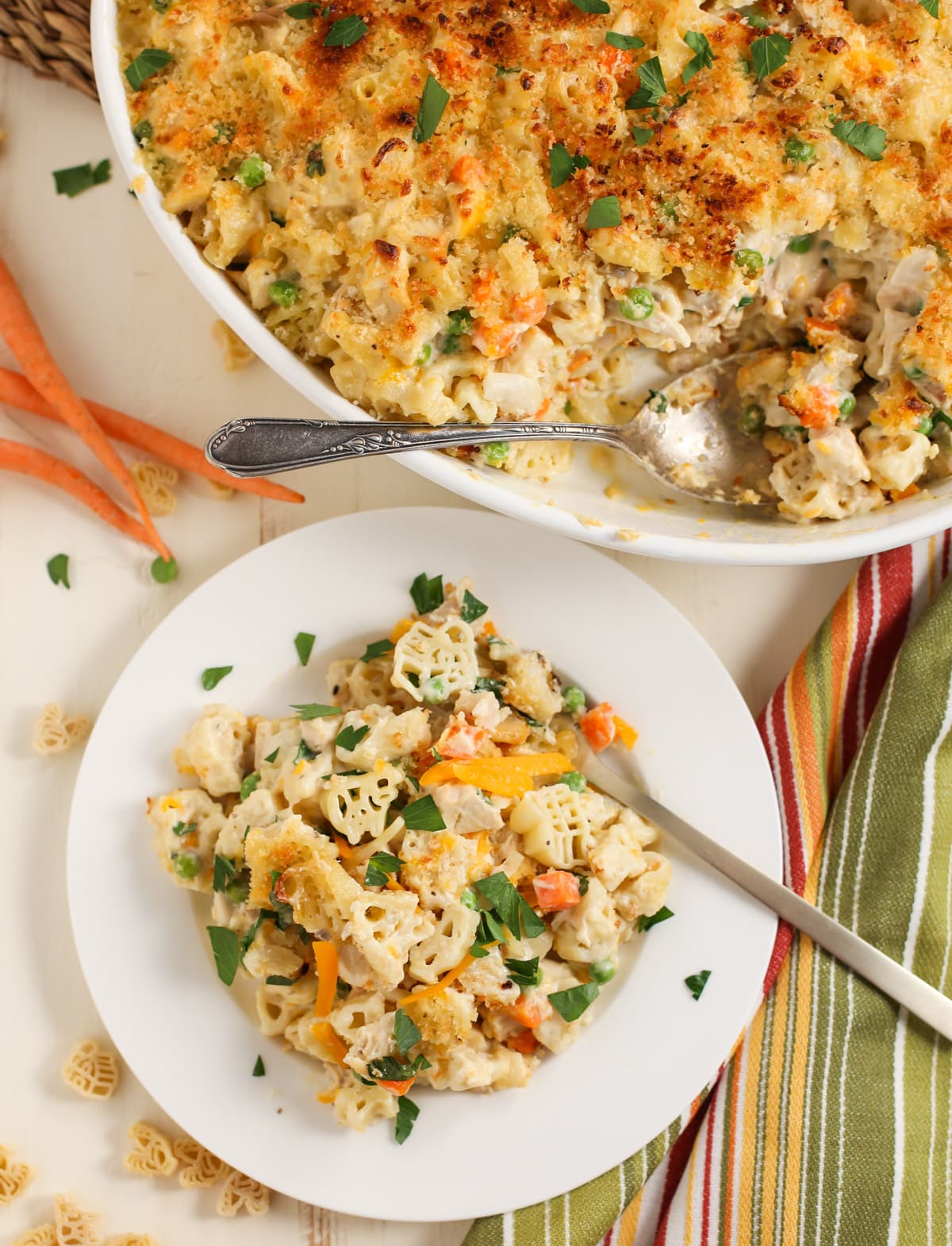 The combination of the creamy soups, the cheese, the mayo, chunks of delicious chicken, the bite sized pasta, and the colorful veggies are perfect. And topped with crispy panko, it's really a home run! Just add a green salad on the side and dinner is ready in no time.
Chicken Casserole with Noodles
This Chicken Noodle Casserole can be made "seasonal" with all types of fun pasta shapes! Traditional noodle casseroles typically use an egg noodle, but I really like the small bite size pieces of our fun pasta shapes. I used our Organic Farm Pasta since fall is almost here and everyone is wishing these hot and humid summer days would just go away.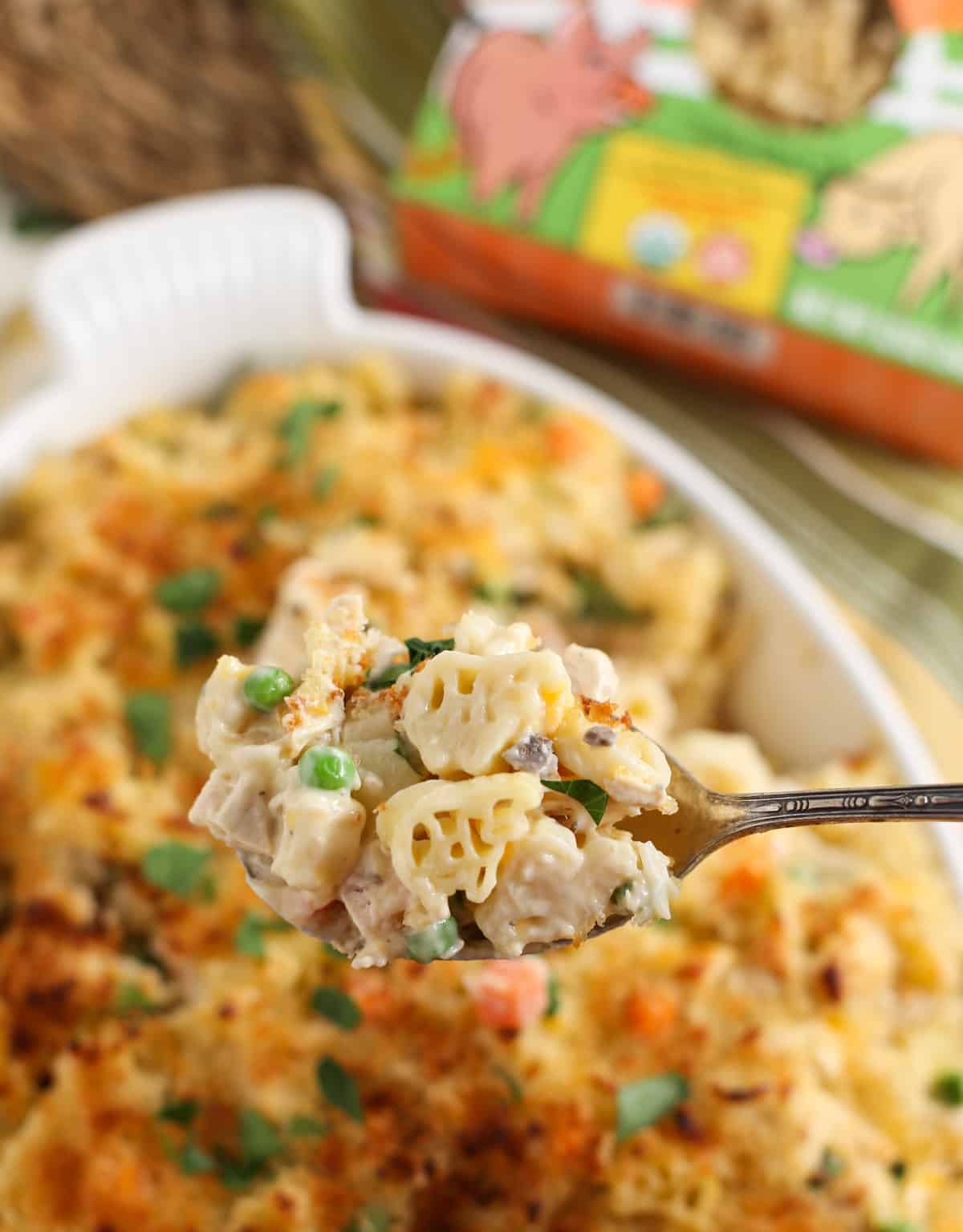 Notice the adorable cow shaped pasta and red barn shapes…just too cute! Your kids will have fun finding the other hidden fun shapes in the Organic Farm Pasta – pigs and chickens make an appearance too.
This would be a great recipe for Thanksgiving week. Our Gobble Turkey Pasta with your leftover chopped turkey instead of chicken – yum! And super easy after the big effort of cooking and coordinating Thanksgiving dinner.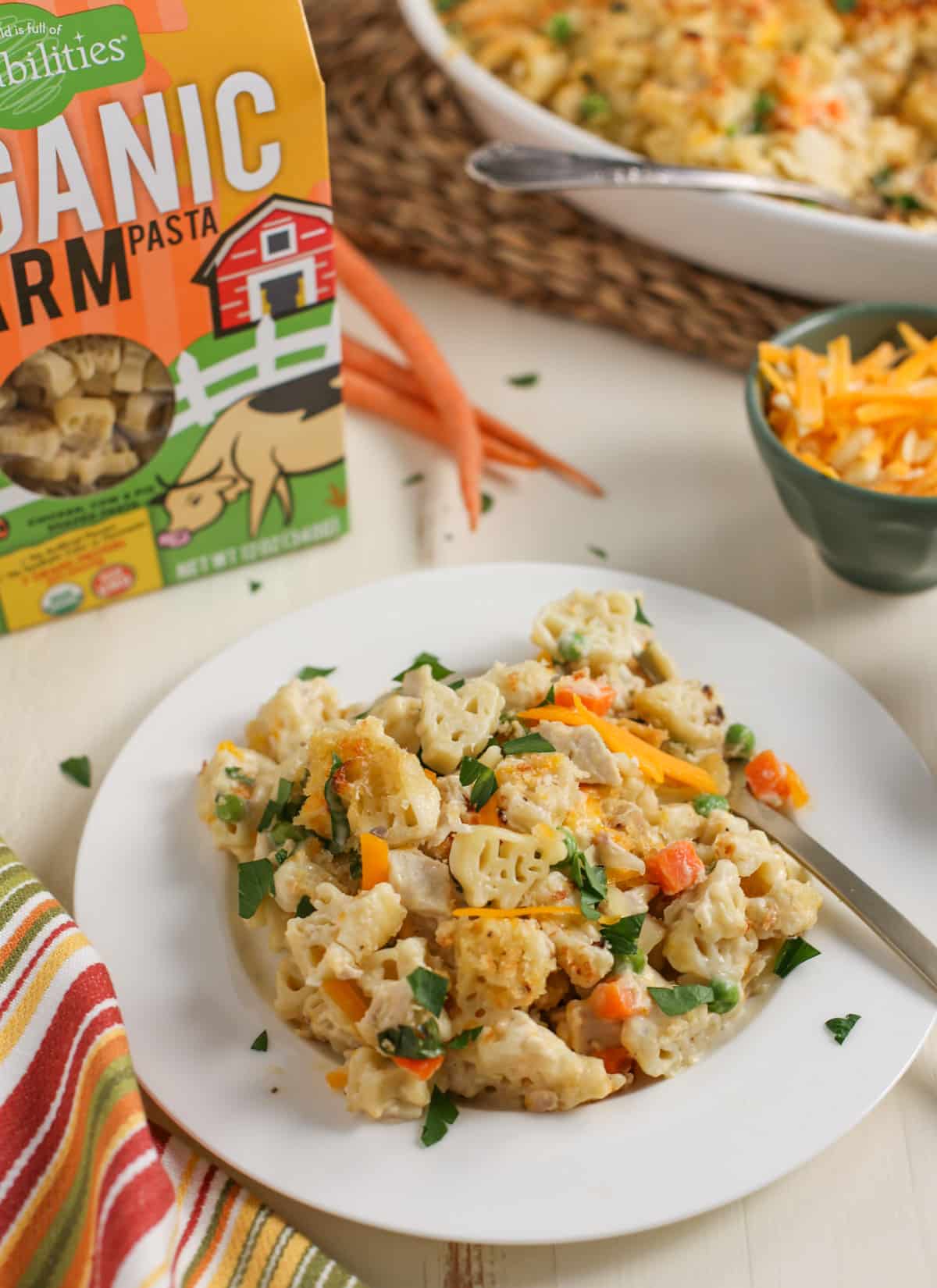 Or for more fun, why not try this with ABC Pasta, Dinosaur Pasta, or for team events, our Soccer Pasta, Cheerleading, Music Pasta or whatever your sport or occasion. And if you are watching your carbs, substitute our low carb Good Day Pasta, and get the bonus of more fiber and protein as well! Lots of Pastabilities when we are talking noodles!
Chicken Noodle Casserole Recipe
Let's break down the simplicity of this recipe and dig into the options and shortcuts. You'll start out by cooking your pasta and setting it aside. Our pasta takes about 6 minutes to cook, and, in the meantime, you can begin to get the other ingredients together. And note, for this recipe, I do not salt the water as there is plenty of sodium in the soups and the additional seasonings.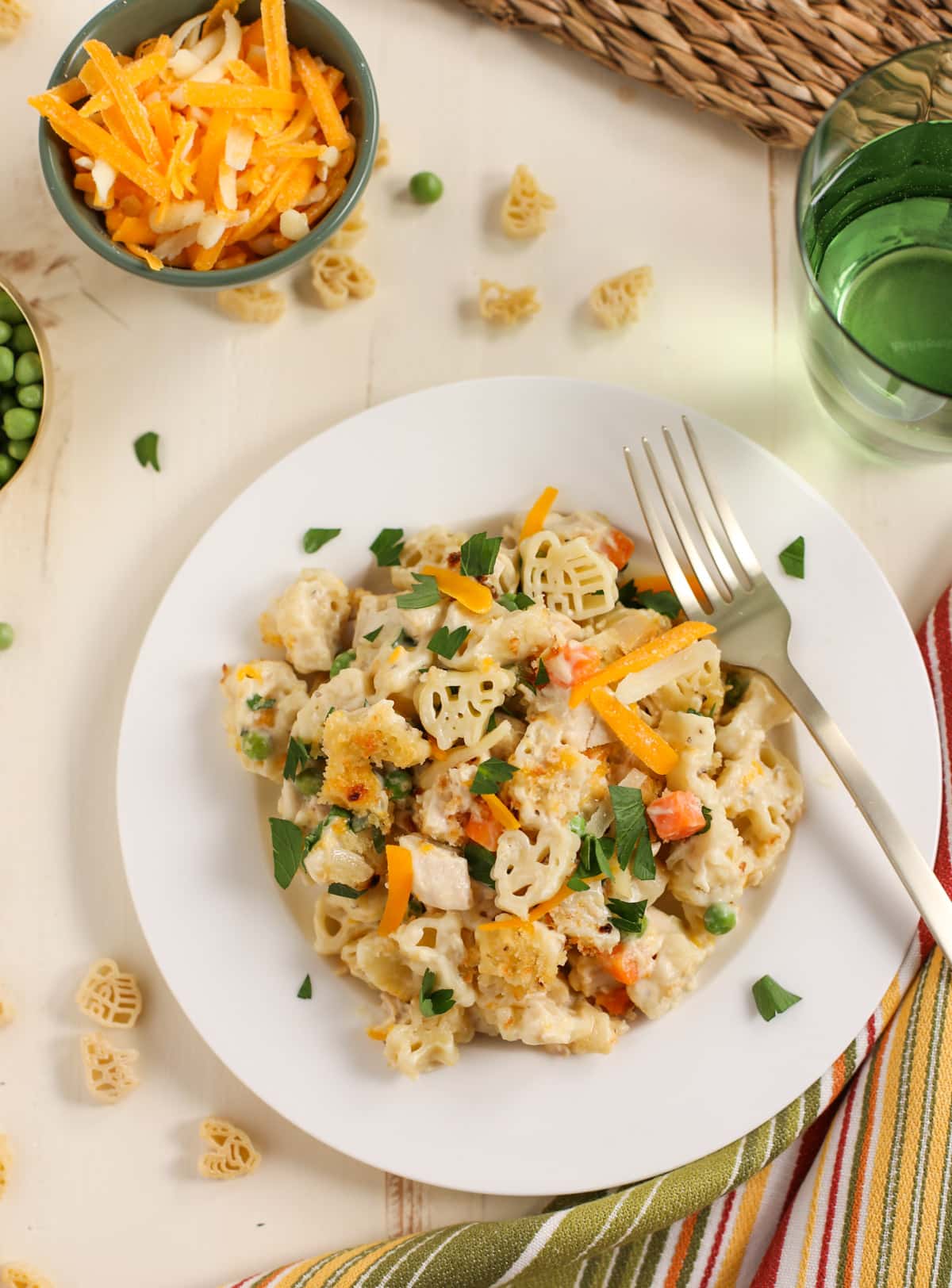 Ingredient Shortcut Ideas:
For the chicken, pull apart and chop a rotisserie chicken or buy the already pulled and packaged rotisserie chicken from Costco.
Use canned chicken if you have too, but it's not my first choice!
Recipe calls for shredded cheddar cheese but try a cheddar blend to mix it up! We love the Sargento four state cheddar blend.
Frozen peas and carrots are traditional, but you can use any frozen mixed vegetables
Instead of chopping an onion yourself, go ahead and but eh pre-chopped fresh or frozen chopped onions!
The panko breadcrumb topping is optional, but I think it really makes a difference! A little crunch adds to the texture of each bite.
If you are serving individual portions, add some extra cheese and fresh parsley on top.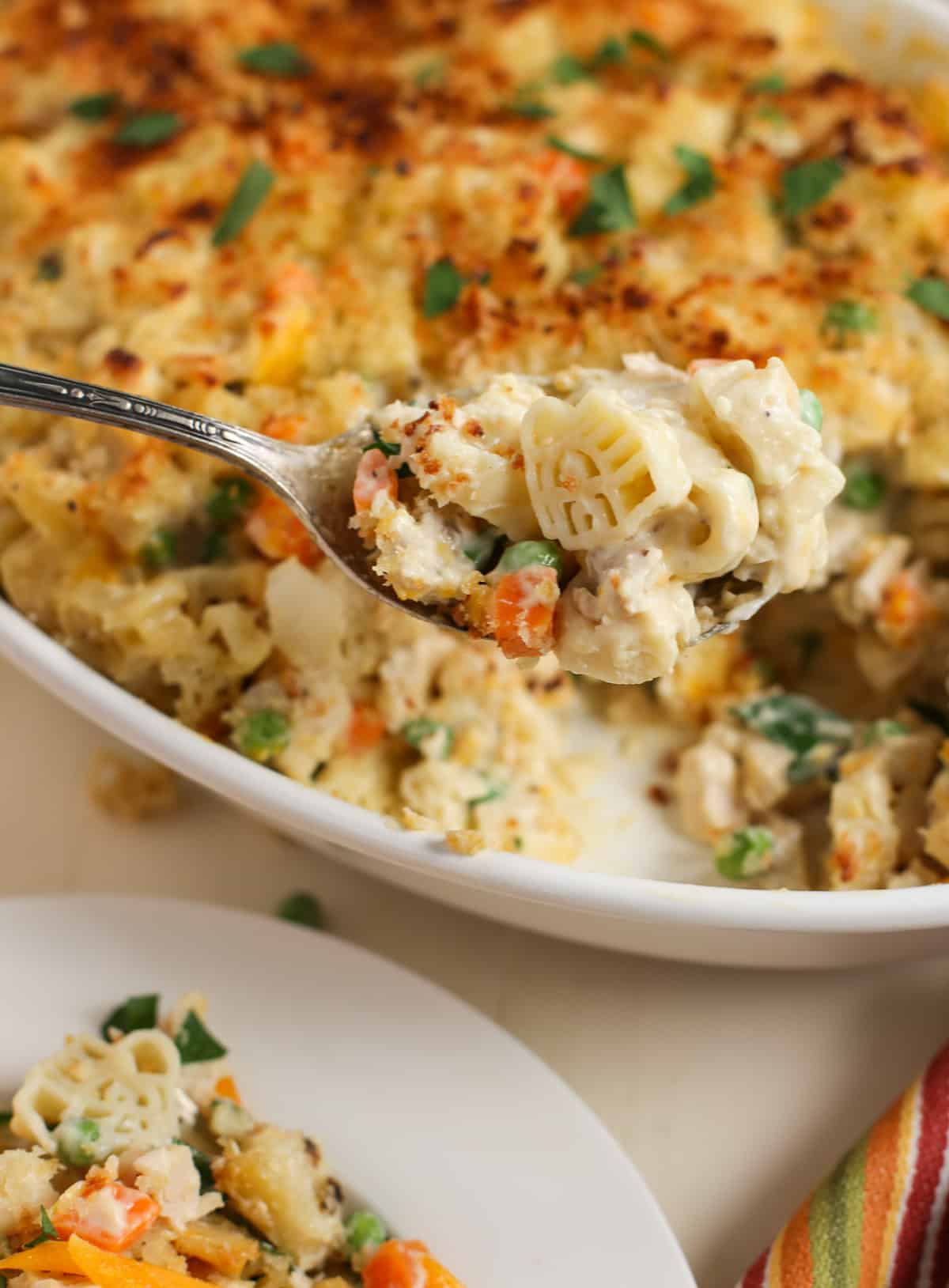 After you have enjoyed our Chicken Noodle Casserole, and you are ready for some more "chicken" ideas, try our Thai Chicken Pasta or Southwest Chicken Pasta with Avocado Sauce. Delicious and different flavors that your family will love.
For more happenings at Pastabilities follow us on Instagram @worldofpastabilities or on Facebook @pastashoppeusa. We'd love you to share your fun at the table with us!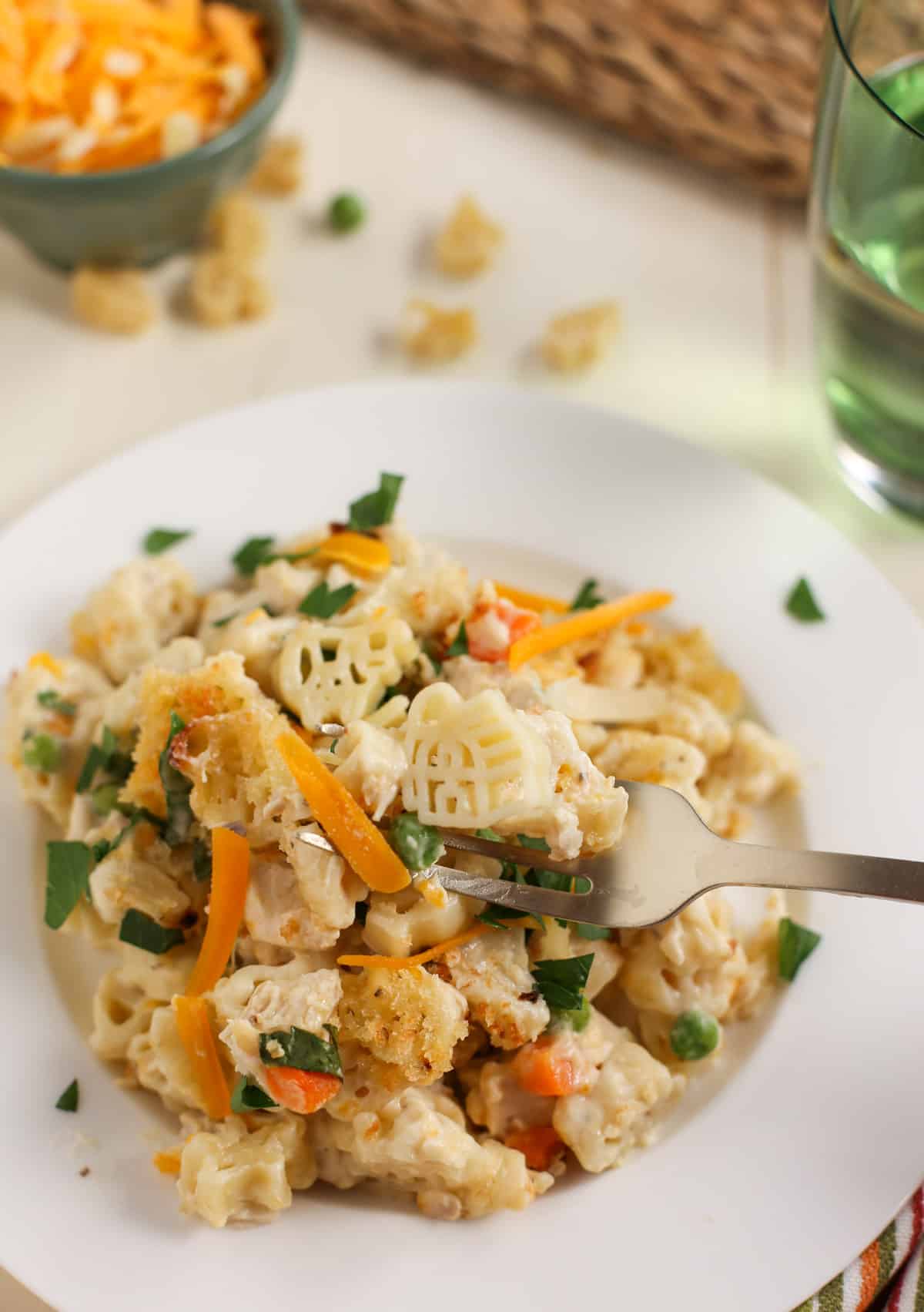 Print
Chicken Noodle Casserole
Easy and delicious weeknight casserole – your family will love!  Chicken Noodle anything makes best comfort food!  Enjoy!
Ingredients
12 ounces Organic Farm Pasta
4 cups chopped cooked chicken (I used rotisserie)
1 10 oz can Cream of Chicken Soup
1 10 oz can Cream of Mushroom Soup
1 cup milk
½ cup mayonnaise
½ onion, finely diced
1 cup shredded cheddar cheese + more for garnish
1 ½ cups frozen peas and carrots, or mixed vegetables
½ t. garlic powder
½ t. onion powder
½ t. salt
¼ t. black pepper
2 T. chopped parsley + more for garnish
½ cup panko breadcrumbs (optional)
4 T. salted butter (1/2 stick), melted (optional)
Instructions
Preheat oven to 350 degrees.  Coat a 9" x 13" casserole dish or Pyrex with cooking spray.
Cook pasta according to package directions, drain, and rinse with cold water. Set aside.
In a large bowl, combine soups, milk, mayonnaise, onion, cheese, peas and carrots, 2 T. parsley and all seasonings.  Mix until thoroughly combined.  Add chicken and stir.  Add pasta and gently combine into mixture.  Adjust seasonings to taste.
Pour mixture into prepared dish.  Sprinkle panko breadcrumbs on top.  Drizzle melted butter over panko. (This panko topping step is optional, but recommended)
Bake uncovered for 30 minutes, or until heated through.  Top with fresh chopped parsley.  Serve!  You may also top individual servings with additional cheddar cheese if desired.  Enjoy!
Join our email list for fresh pasta recipes delivered to you every week!
Your information will NEVER be shared or sold to a 3rd party.