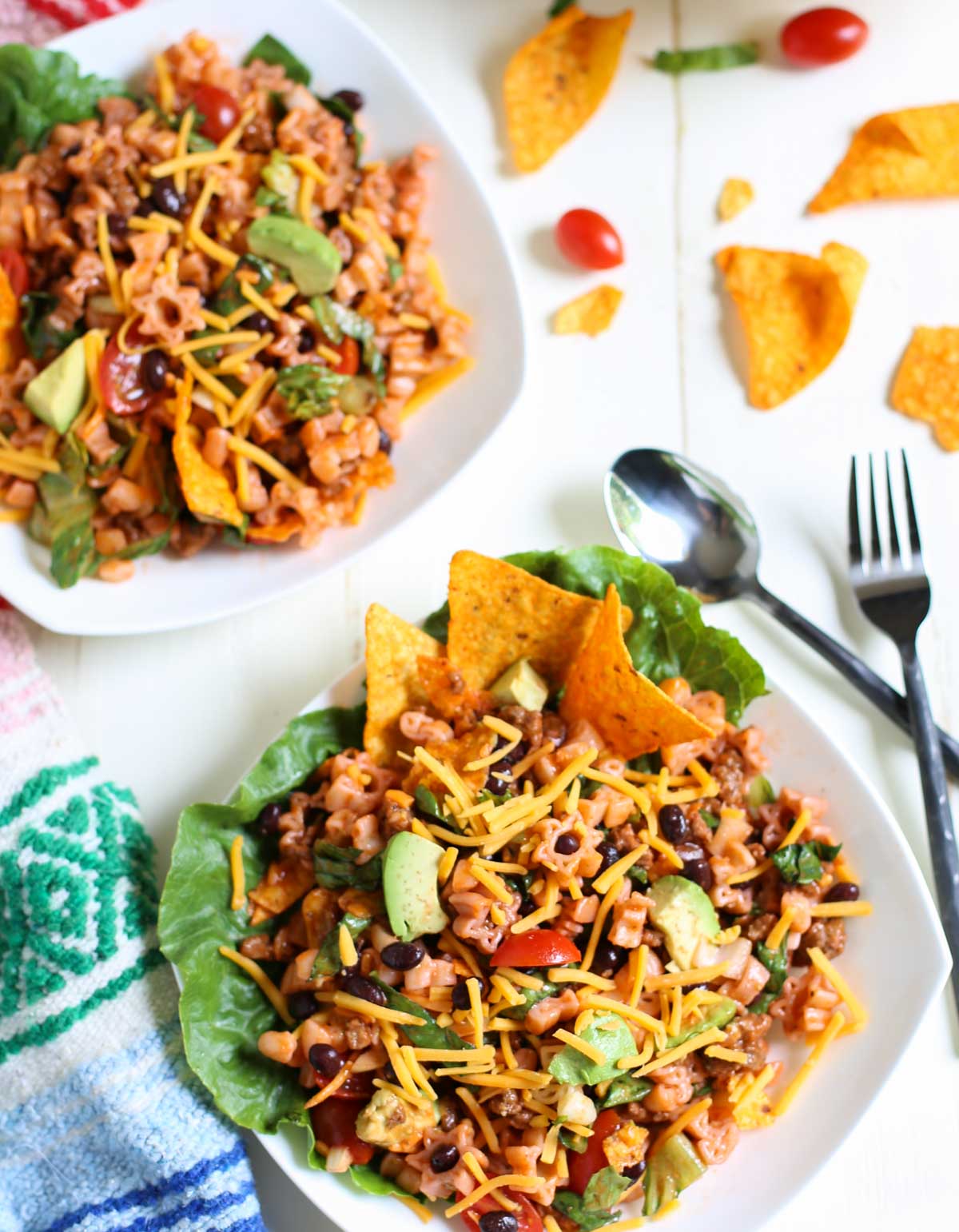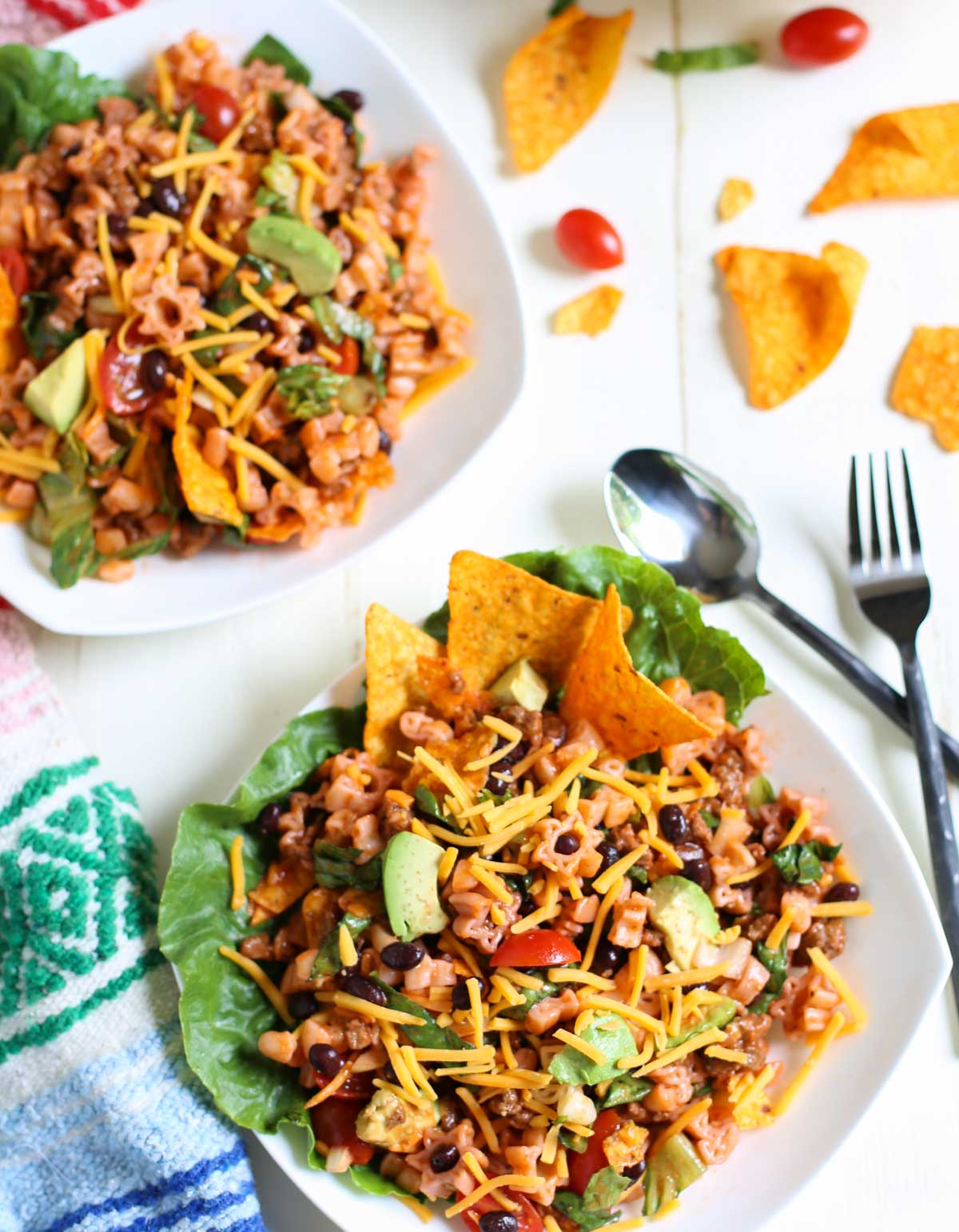 Last post Hawaii, this post Mexico!  I couldn't help it…both of these pasta salads bring the fun and festivity to summer cooking.  This version of Mexican Chef Pasta Salad is an adaptation from a salad my sister Kathy makes annually on our family beach trip.  Confession:  we can't stop eating it.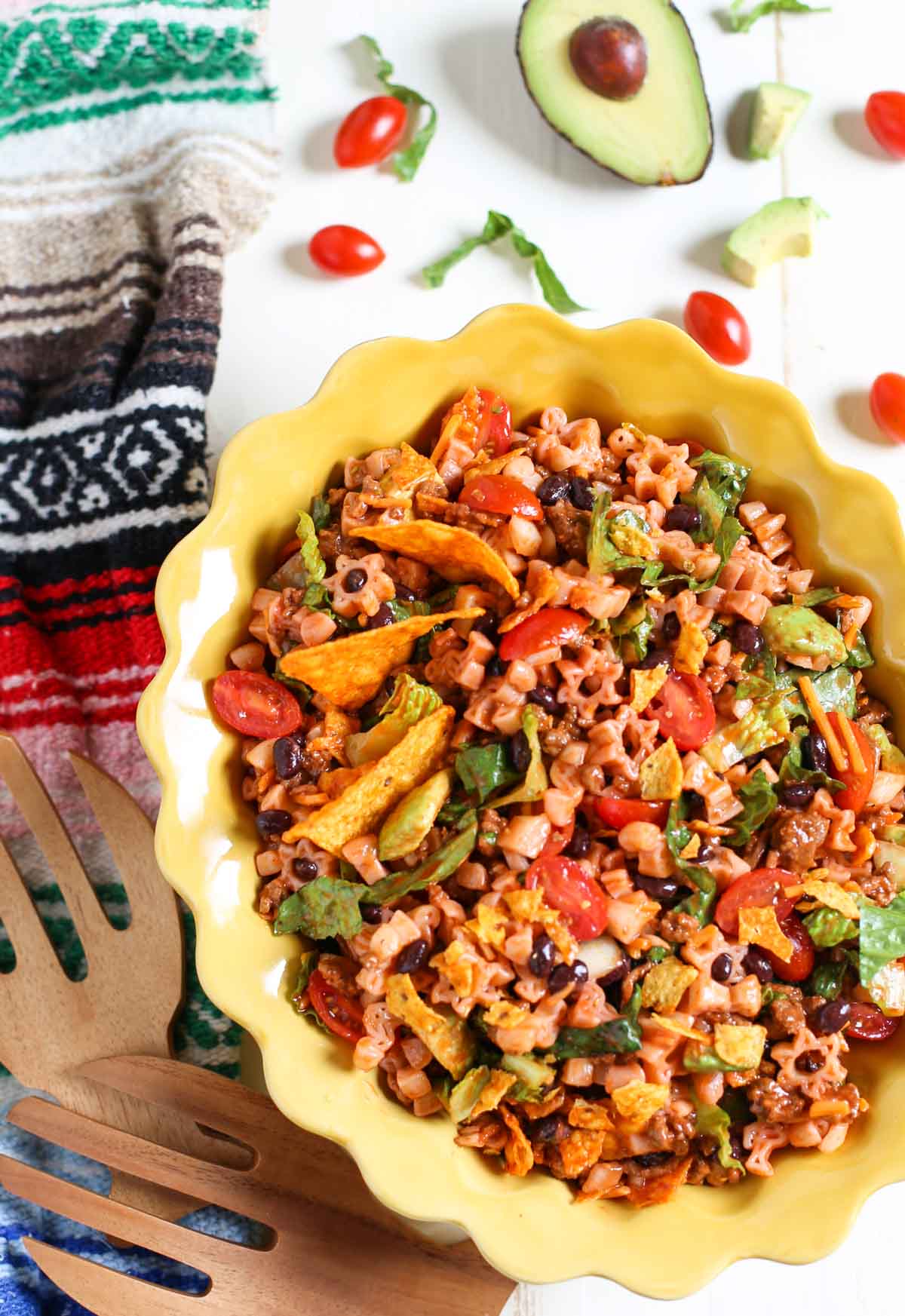 This pasta salad is a wonderful "one pot" meal.  I think it's the tangy sweetness of the dressing with the seasoned taco meat and fresh tomatoes and avocado and crunchy chips.  It's the "ying and yang" of all the delicious ingredients and the texture is wonderful too.  Plus you can serve this baby room temperature or right out of the fridge.  My vote:  room temp!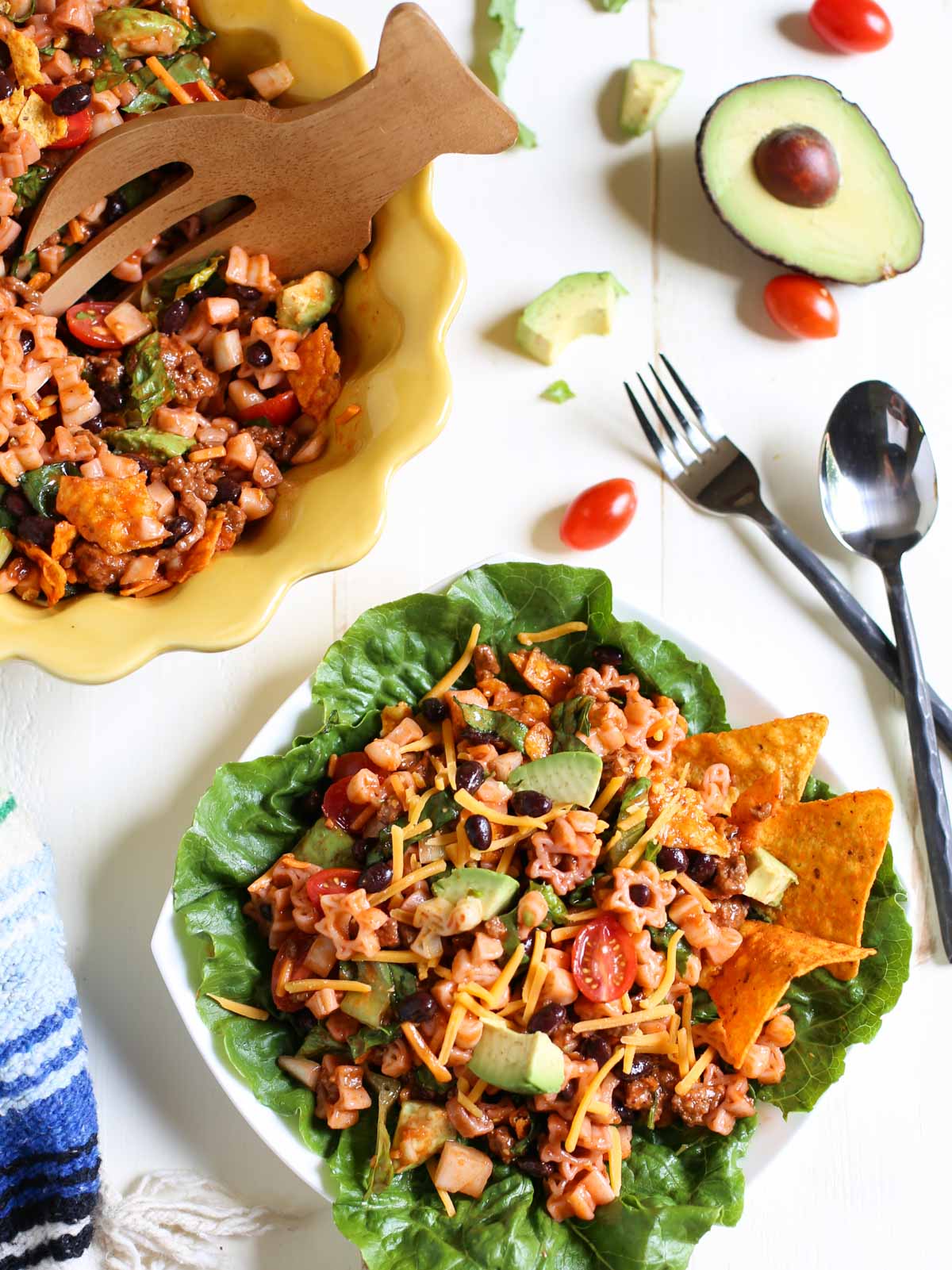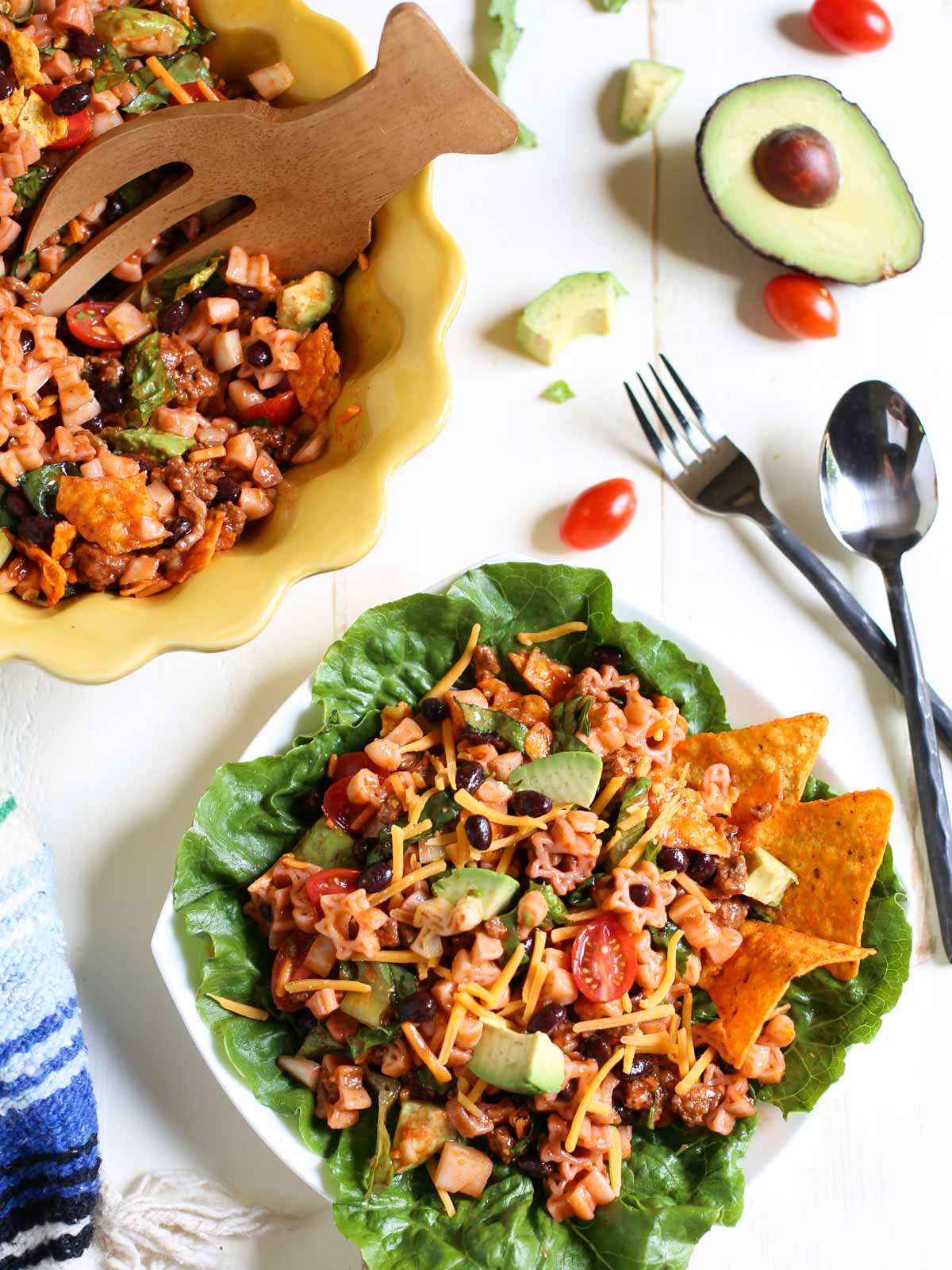 And the kids will love it too.  Isn't it wonderful when you can find a recipe that appeals to everyone?  I have posted other recipes in the past that are first cousins to this one, and definitely ones to check out:  Taco Pasta Salad, Creamy Taco Bolognese, Southwest Chicken Pasta with Avocado Sauce, and Thai Chicken Salad (this one is a third cousin but I couldn't leave her out!)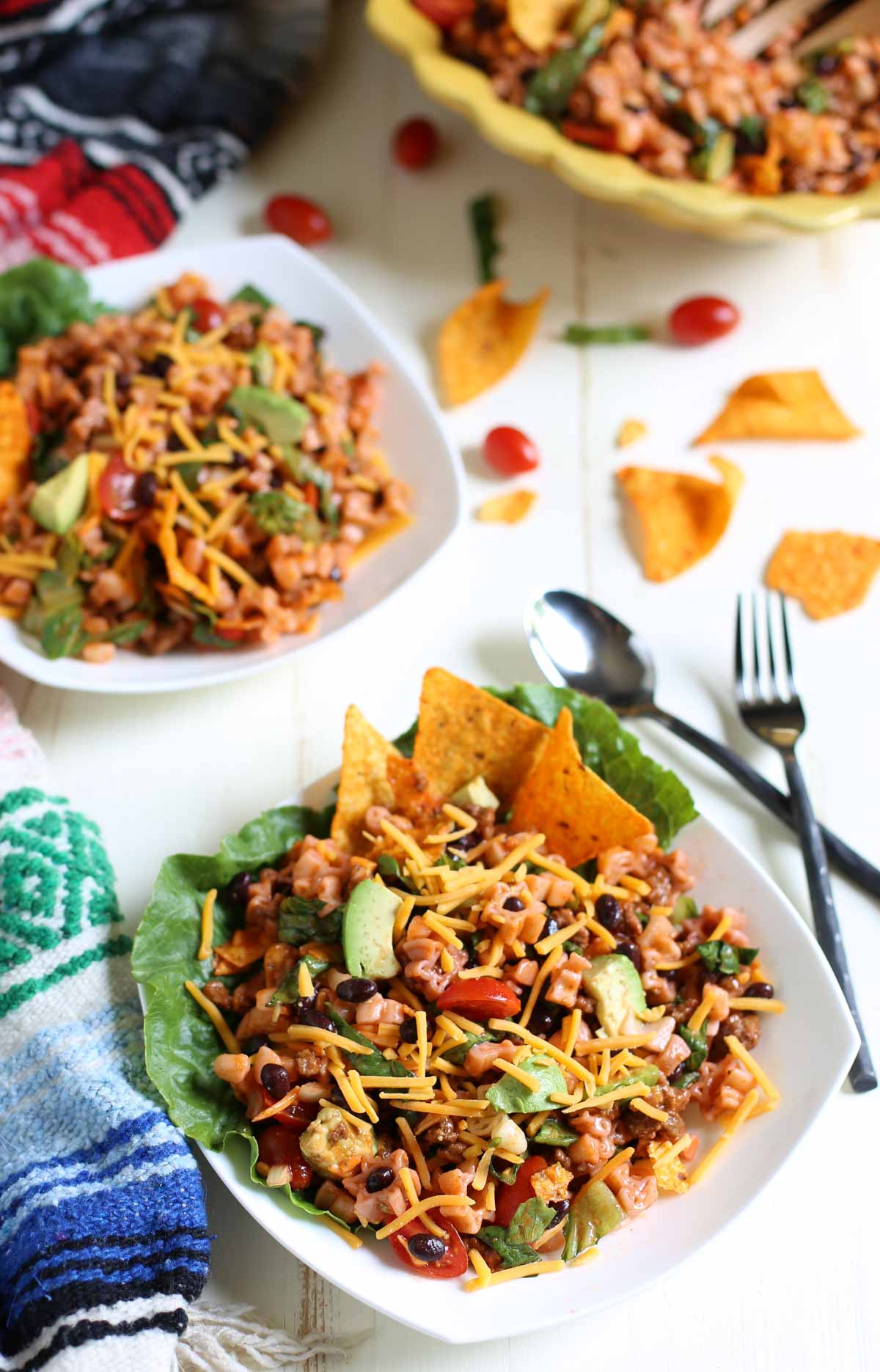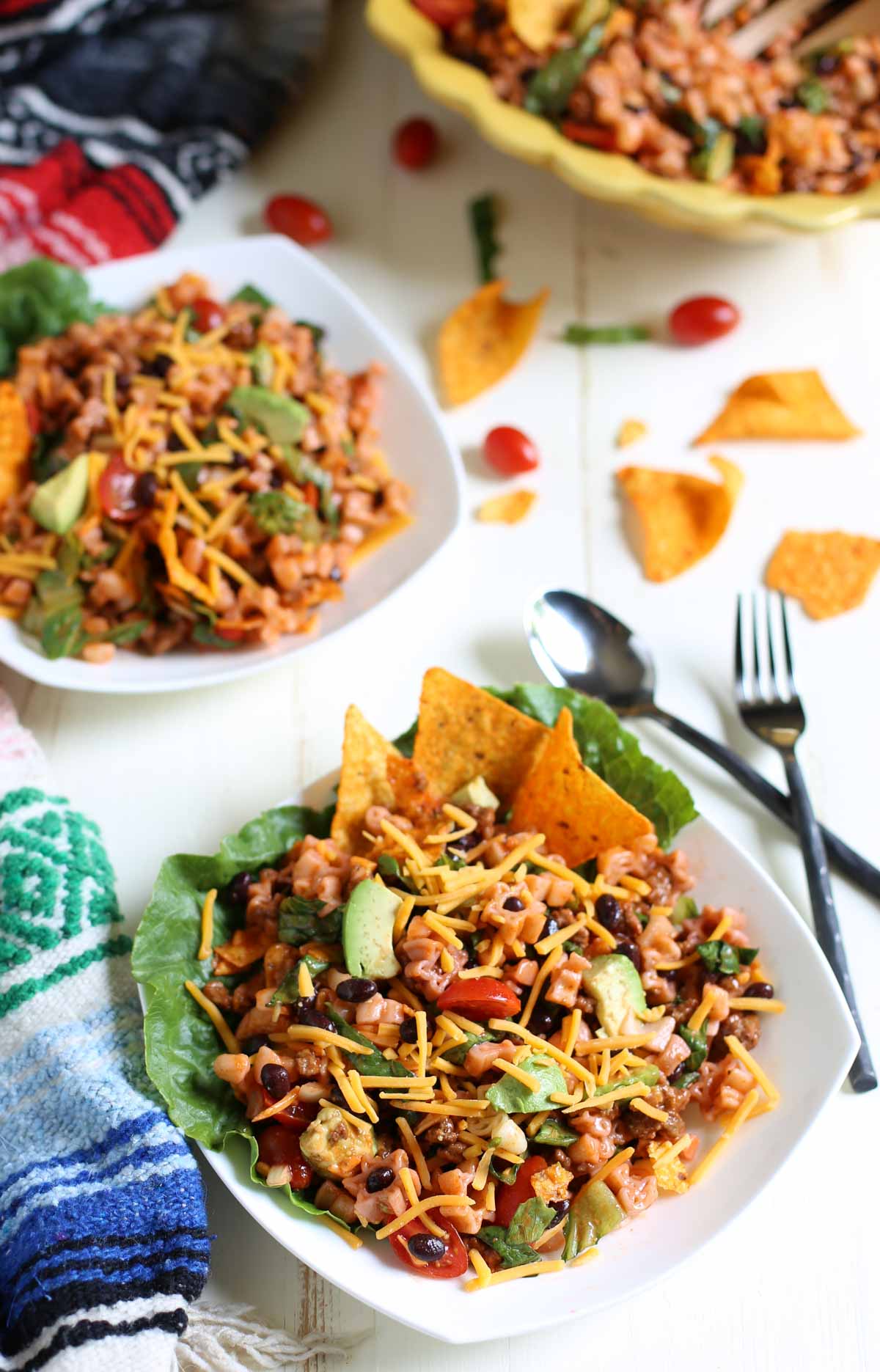 Now I must admit that my favorite ingredient here is DORITOS!  Yes!  You heard me!  This recipe is my excuse to buy the largest bag I can find, open it, pull what I need out for this recipe, and then slowly snack on the bag for the next couple of days, if it even lasts that long.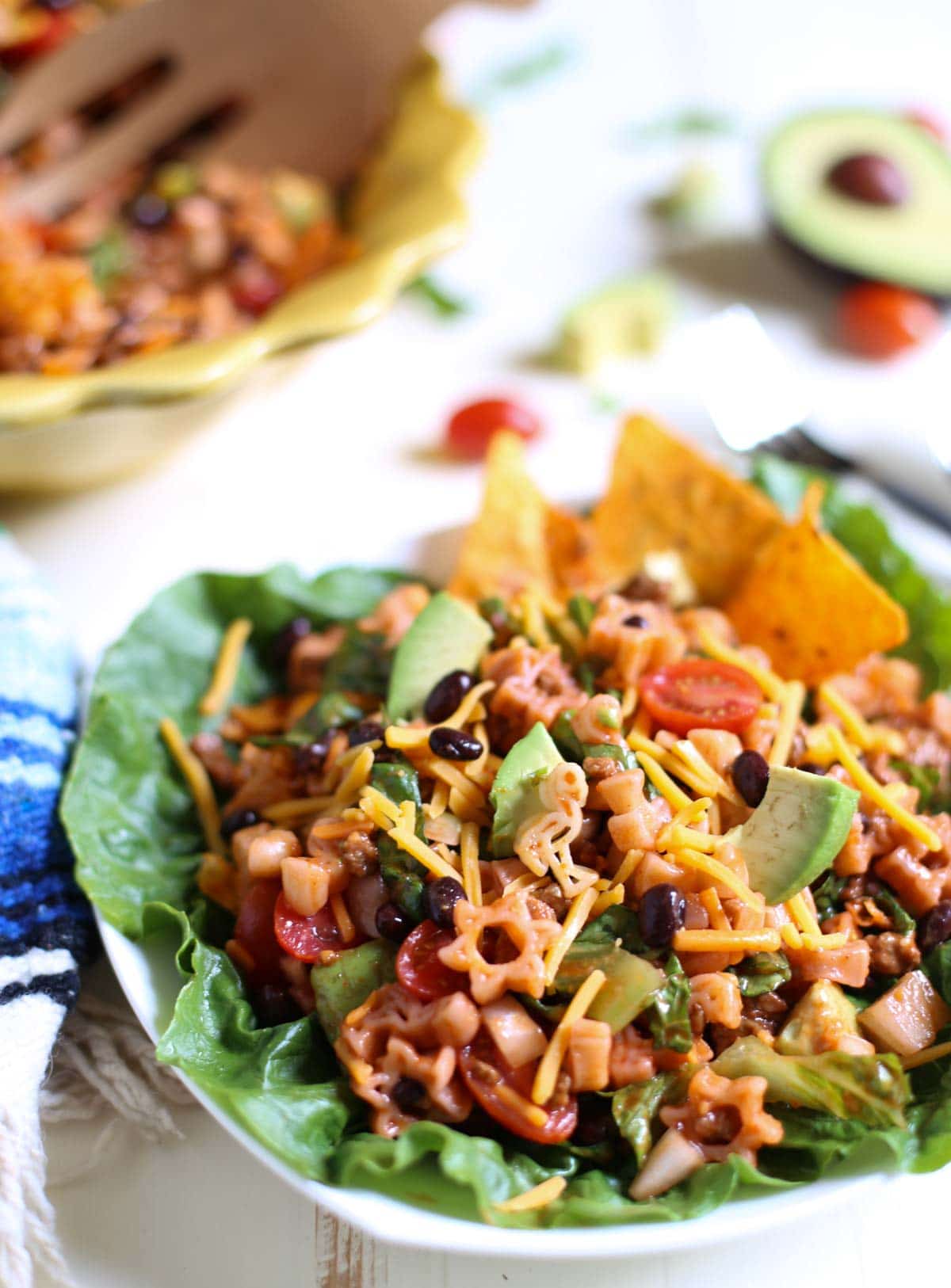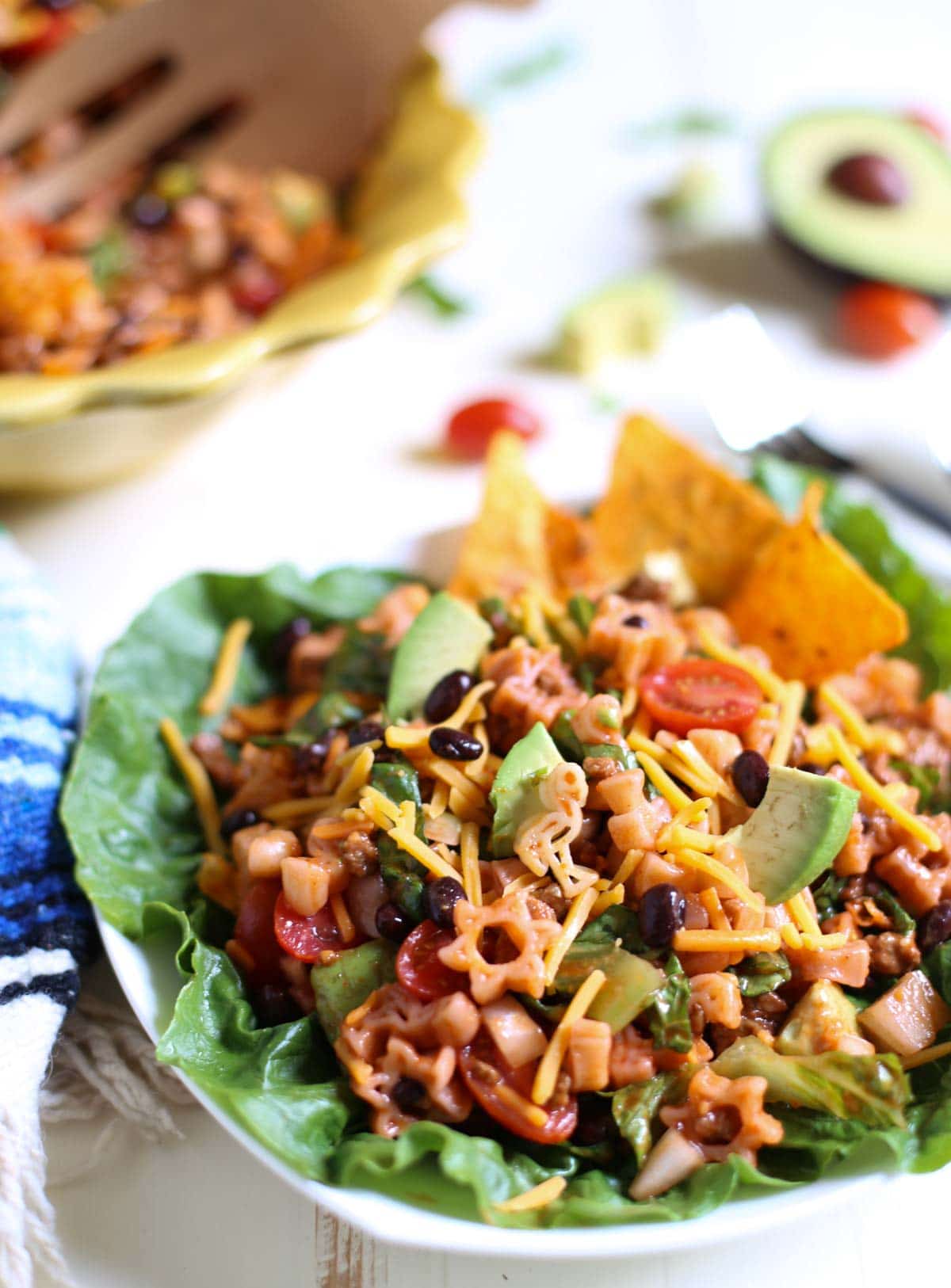 I mean, you know me… I'm mostly a healthy eater and a foodie, not the type to eat this kind of food?!  🙂  But here, I have no choice – it states it in the recipe!  (Hint: this is the language you'll use whenever questioned about the large red bag spotted in your kitchen.)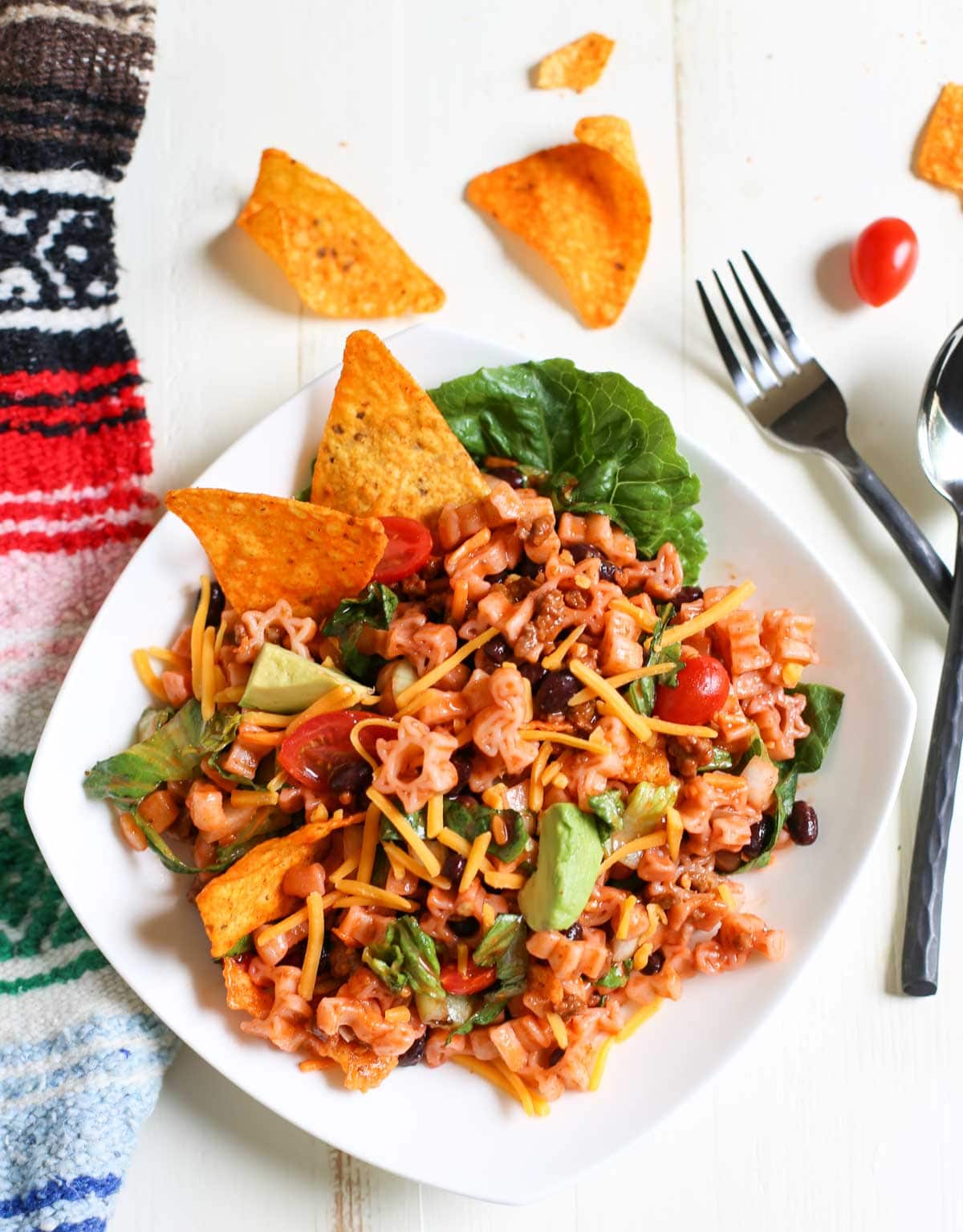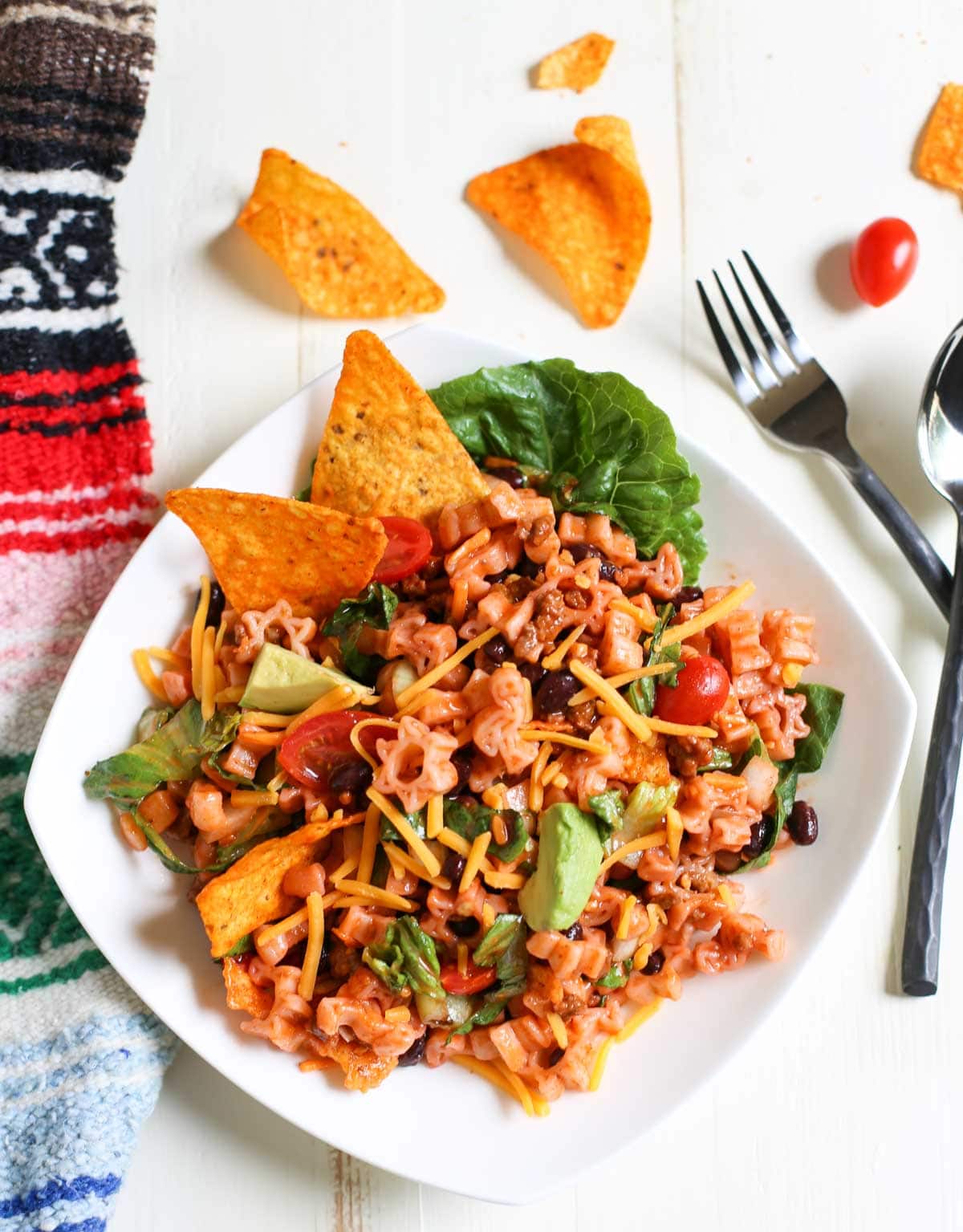 So here's to bringing a little Cha-Cha-Cha to your summer cooking!  And please notice the cute Flamingo and Sunshine Pasta….perfect for this recipe, and fun for others!
Mexican Chef Pasta Salad
Cha Cha Cha! Delish and easy one pot meal that the entire family will enjoy! Great combo of flavors and textures!
Ingredients
14 oz

. bag of Flamingo Pasta (or any other short shape)

1

T. olive oil

1

–

1/2

pounds lean ground beef

1

packet (1.25 oz) taco seasoning

2

Romaine lettuce heads, chopped, or

1

small head Iceberg lettuce, chopped

1

can black beans, rinsed and drained

1 pint

grape tomatoes, halved lengthwise

1/2 cup

diced Vidalia onion, or sweet onion

2

avocados, diced

1

lemon, for juice, or

1

T frozen lemon juice

1 cup

shredded cheddar cheese

2 cups

Doritos, nacho cheese, bite size crumbles (may substitute any corn chip)

1/2

bottle of Catalina dressing (store bought), or more to taste.
Tabasco, or other hot sauce
Instructions
Cook pasta according to package directions, drain and rinse with cold water. Toss with a tablespoon of olive oil and place in large bowl.
Brown meat in a large skillet or medium high heat. Drain grease. Add taco seasoning plus water according to packet directions. Let meat cool slightly. Add meat to pasta in bowl.
If serving immediately, add all other ingredients including chips to large bowl with pasta and ground beef. Optional: Add a few shakes of hot sauce.
Toss and serve immediately with additional hot sauce on the side.
If you are making ahead, hold off adding chips until ready to serve. You can chill pasta salad in fridge until ready to eat. I suggest pulling salad out 20 minutes prior to serving and tossing gently again and adding chips.
Note: I like to plate this salad on a dish with some pretty romaine leave on the bottom and add a few large chips on top! See pics for ideas!
Join our email list for fresh pasta recipes delivered to you every week!
Your information will NEVER be shared or sold to a 3rd party.