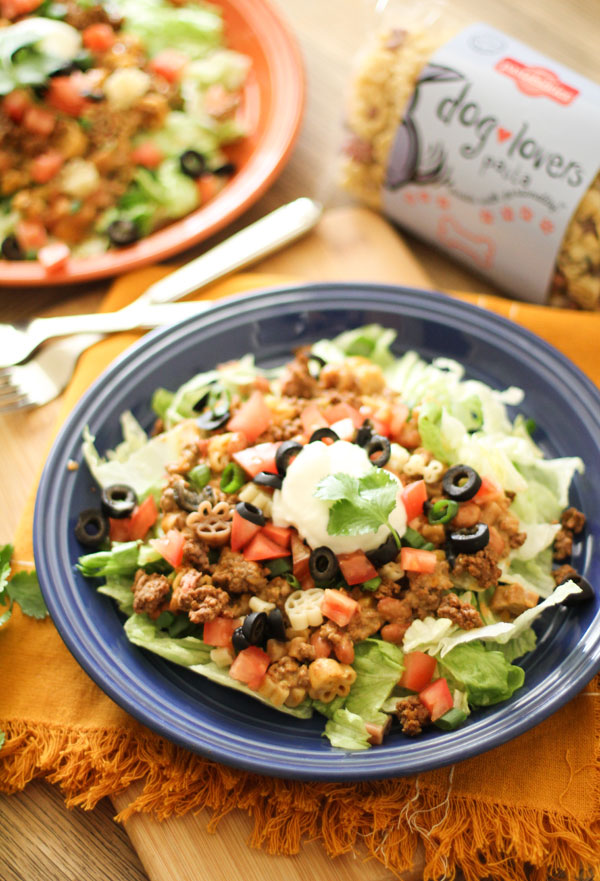 I used to think people were "crazy coo coo" when talking about their pets…going on and on and on…until I became one of those people.  Now I get it.  Keely (our 8 pound Maltipoo) entered our life almost 7 years ago and has ruled the roost ever since!  In a minute I'll get to why this has ANYTHING to do with Taco Pasta Salad…for now back to Keely.  Dog owners…you understand.
Having 2 boys I thought it would be a good idea to get a female dog – you know, to balance out all the guy stuff going on around here: sports, stinky socks, lots of dirty laundry, you get the picture. Little did I know that I'd be joining a special pack of dog crazy owners and be lovin' every minute of it!
So I'm featuring our Dog Lovers Pasta today– it's one of my favorites. The cute paw prints and dog bones are the ideal shape and bite size when cooked…so naturally they were the perfect choice for another favorite of mine, Taco Pasta Salad. Is it me or could you eat Mexican every day if you had to?!  🙂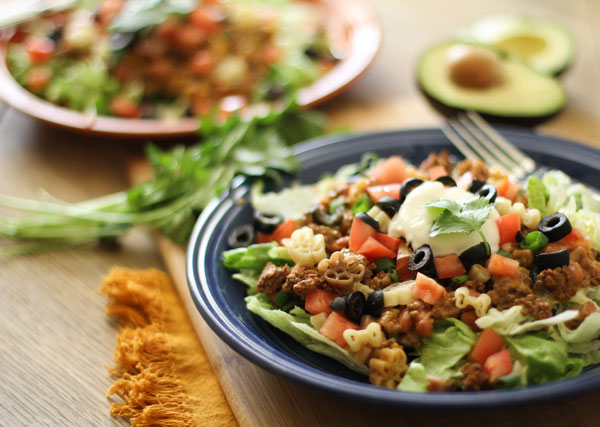 Taco Pasta Salad has wide appeal. You just say "Taco" and people get it.  Kinda like saying" BLT".  The kids will jump up and down and so will your friends.  I like this recipe because you can serve it as a main dish over a bed of crisp shredded lettuce or enjoy it more like a dip with crunchy tortilla chips.  Either way, be sure or use both of these ingredients!  Crumble the chips on top of the salad…or mix in some lettuce when serving it as a dip!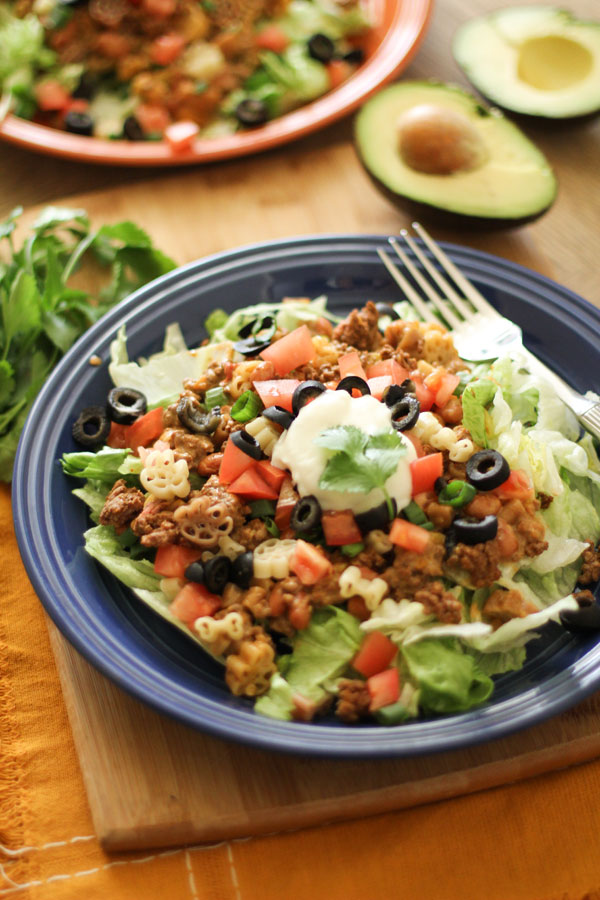 And need I explain taco seasoning? It is a pantry staple.  I recently enjoyed a corn and avocado dip that called for some taco seasoning (fajita actually) and it added just the right flavor.  So I usually keep a couple packets on hand.  The rest of the ingredients are as expected, just like at your favorite neighborhood Mexican restaurant. 🙂  And I know what you are thinking, Velveeta, but sometimes there is just no substitute!
So Mi Amigos, follow these three simple steps to fully enjoy the Taco Pasta Salad experience:
Smile and enjoy our Taco Pasta.
Hit the trails or take your dog for a walk!
Rest and take a well-deserved siesta.
If you are interested in seeing all of our pasta shapes, you can visit The Pasta Shoppe website.  And if you have any fundraising needs, please check out Fun Pasta Fundraising!  We'd love to hear from you!
Print
Taco Pasta Salad
A delicious Taco Pasta Salad that will please all ages! A salad or a dip…you decide the way you want to serve it!
Ingredients
14 oz

bag Dog Lovers Pasta – or any short shape

2

pounds ground beef

2

pkgs. Taco seasoning mix

1

15 oz. can pinto beans, drained

1

lb. Velveeta cheese

1

14.5 oz. can diced tomatoes and green chilies, mild or hot

1

10 oz. pkgs shredded iceberg lettuce

2

large tomatoes, chopped
Toppings: Chopped green onions, sliced black olives, sliced avocados, sour cream, all optional
Instructions
Cook beef in large skillet sauté pan over medium heat until no longer pink, stirring to crumble. Drain well. Add taco seasoning mixture, following package directions.
Cook pasta in gently boiling water for approx. 6 minutes, until tender but firm. Drain and add to seasoned beef. Add pinto beans.
Melt cheese and diced tomatoes and green chilies over low heat or in top of double broiler, stirring often until cheese melts. Add to beef mixture and stir carefully to combine. Reheat and serve over shredded lettuce and chopped tomatoes, or with your favorite tortilla chips.
Add toppings as desired
Join our email list for fresh pasta recipes delivered to you every week!
Your information will NEVER be shared or sold to a 3rd party.