Tuna Pasta Salad with Green Beans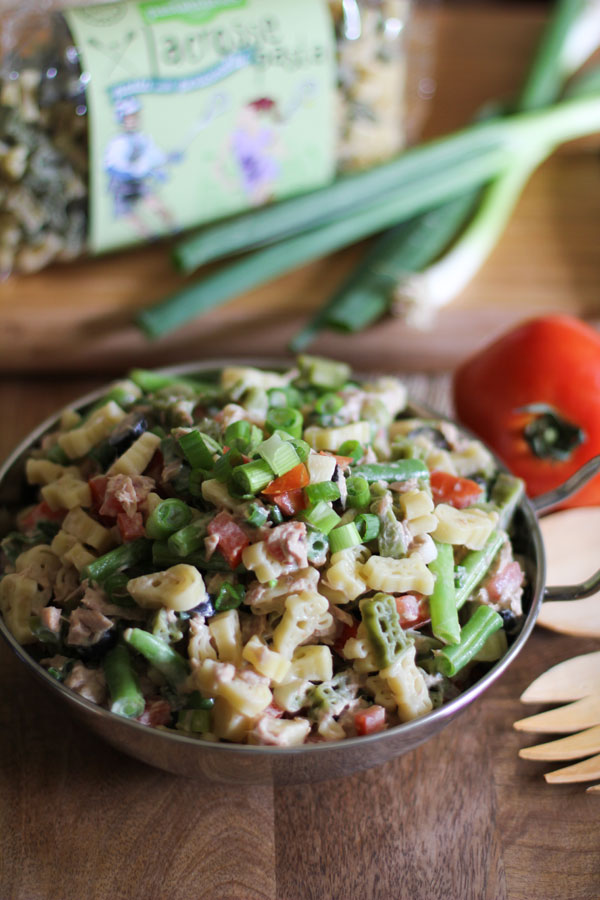 Tuna Pasta Salad with Green Beans. Not convinced by the recipe title? I promise it will deliver a surprisingly crunchy tasty punch to your taste buds.   And served with Lacrosse LAX Pasta, it'll put you in a power play at dinner time.
LAX. When you grow up with a father who was a captain with American Airlines for over 30 years, you know "LAX".  And all the other crazy acronyms associated with all the large cities and smaller towns all over this country.  I flew in and out of them comfortably, feeling such part of this special group of non-revenue passengers, quietly appreciating this secret flying language.  LAX – Los Angeles (PS: my birthplace).  RSW – Fort Myers.  BNA – Nashville.   MDW – Chicago Midway. Go ahead now, try me– I'm ready for the challenge!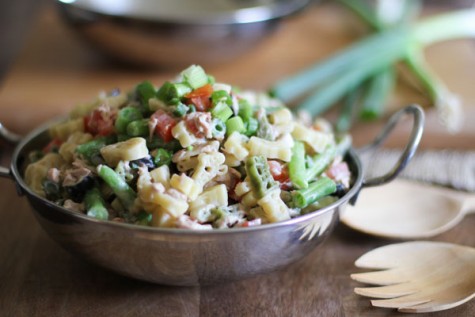 It took me years and multiple, long, stupefying stares at bumper stickers to realize what LAX means in today's language– LACROSSE. What, really? And then my younger son got into the craze a couple of years ago.  For us mid-Southerners, the sport of lacrosse has only gained its foothold on our youth sports scene within the last 7-10 years.  It was always something we knew about, but only recently has proven itself to be the latest, hottest organized sport for boys and girls.  And I am a believer!  Poor baseball…losing a lot of players to its new competition in the spring sport season.
With many requests from the players and fans of lacrosse, we finally introduced our Lacrosse Pasta last year. With this recipe you can substitute any short shape – one of our fun shapes or any other like penne, rotini, etc.  Tuna Pasta Salad with Green Beans is unique and delivers a delicious combination of flavors and texture.
Honestly, I'm not a big fan of green beans (sorry Mom!), but here they do what they are supposed to do – add color, crunch, and a healthy boost to our salad.  It's nice too, to eat tuna other than on a sandwich. Because this pasta is loaded with protein, veggies, and delicious flavor I really like to serve this salad as a main dish.  My kids love tuna and they loved this almost as much as our Taco Pasta Salad!  And it is the perfect accompaniment to a bowl of warm soup – Tomato? Carrot ginger? Yum…I can taste it now! Enjoy!
If you are interested in seeing all of our pasta shapes, you can visit The Pasta Shoppe website.  And if you have any fundraising needs, please check out Fun Pasta Fundraising!  We'd love to hear from you!
Print
Tuna Pasta Salad with Green Beans
Tuna Pasta Salad is crunchy and creamy – a delish combination!
Ingredients
One

14 oz

. bag of Lacrosse Pasta (may substitute

14

–

16

oz. bag of short shapes)

½

lb. green beans, cut into 1 inch pieces (I prefer the French green beans)

2

cans solid white tuna, packed in water (approx.

6

–

7

oz. each)

5

green onions, chopped

1

large tomato, seeded and chopped

½ cup

pitted black olives, brine-cured if available

¾ cup

mayonnaise

2

T. balsamic vinegar

½ tsp

. celery salt
Salt and pepper
Instructions
Cook green beans in large pot of salted water until tender crisp, approx. 4 minutes. Using a slotted spoon, transfer beans to a colander and rinse in cold water. Add pasta to same pot and cook pasta in slightly boiling water for approx. 6 minutes until tender but firm. Add pasta to the same colander and rinse with cold water. Drain well.
Place tuna in a large bowl and break up into pieces. Add the black olives, green onions, tomato, and pasta with green beans.
In a small bowl, whisk the mayo with the balsamic vinegar and celery salt.
Season to taste with salt and pepper.
Combine dressing with the pasta….and serve!
Join our email list for fresh pasta recipes delivered to you every week!
Your information will NEVER be shared or sold to a 3rd party.