Tailgate Pasta Salad with Beans and Corn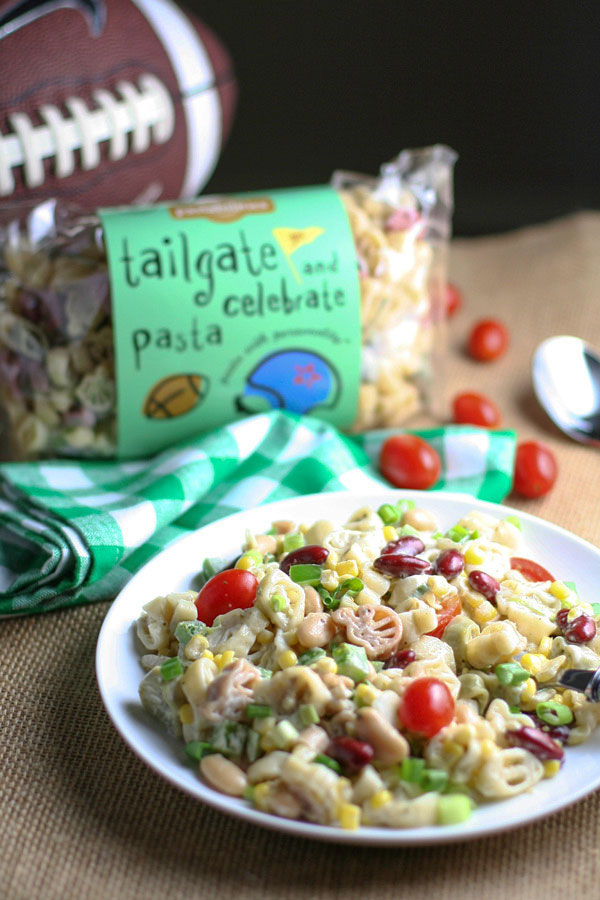 Are you ready for some…Football Pasta?!
Yes, football season is here! and I'm starting it with our Tailgate Pasta Salad with Beans and Corn. My boys (meaning my kids, my husband, and actually, my father too) are running around acting like it's Christmas morning – laughing, smiling, with lots of ribbing, quoting of stats and game predictions. Every TV in the house is on and it's 10am. The weekly schedule has been printed and highlighted. Everyone is on a high as their teams haven't disappointed (yet). The testosterone is running strong so hold on and watch out. This was only week one…and we've got weeks of this!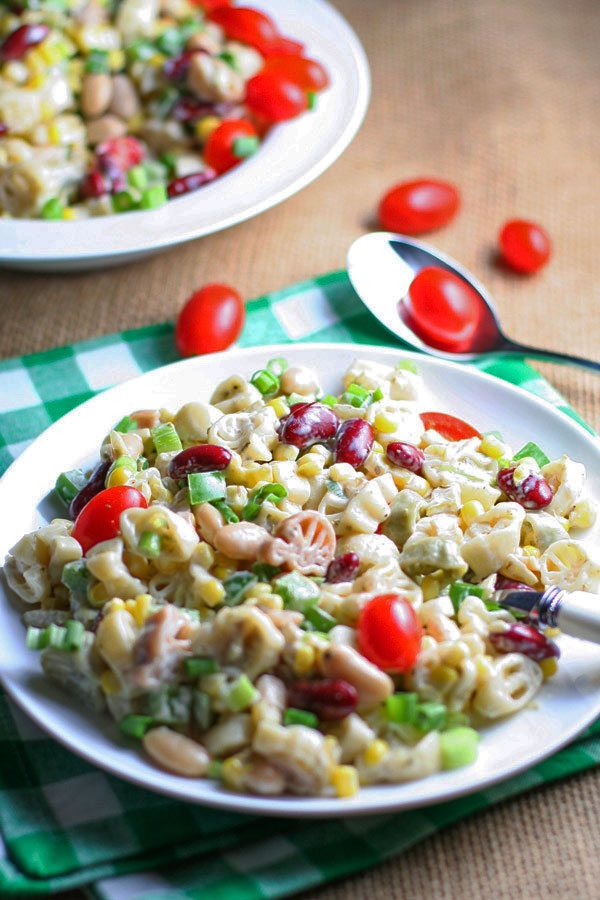 What do I look forward to the most this time of year? The tailgating festivities– in the parking lot at the game or at home with a house full of loud noises. The food, the drinks, the talking, the energy, overhearing the trash talking…the fun! I may miss a play or two…OK, maybe a quarter…but someone has to tend to the food. I love the smorgasbord of tailgating yumminess – endless queso (my cousin just introduced me to butternut squash queso – wow!), hot chicken and wings, BBQ anything, chili, PASTA salads, chips, potato skins, and chocolaty pick up desserts. The best though is discovering friends' tailgating traditions and favorite fall tailgating foods.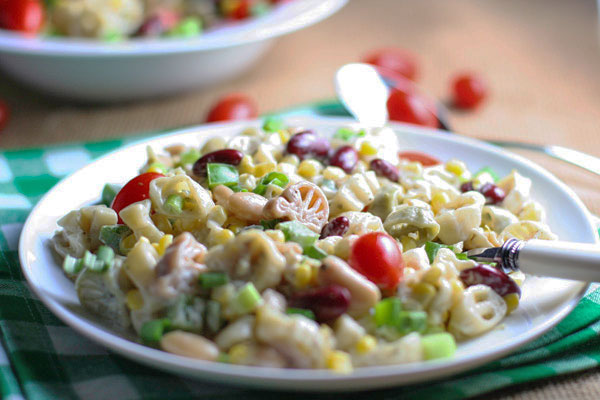 So, when you are planning a tailgate or are invited to one…what do you bring? Forget picking something up…try this and impress your friends. I love this recipe because it blends hints of chili (beans, corn, green chilies) with a creamy sauce which honestly is A-DDIC-TIVE. I ate most of it tonight before heading out to Parent's Night. And I came home and had to have some more.  And if you like the way this sounds, try our BLT Pasta Salad too – another party favorite.
Plus the flavor just tastes like it goes with "tailgating". It will complement any of the other foods mentioned above. You'll get bonus points because it is cool, colorful, tangy, and outright DELISH!! Topping it with fresh grape tomatoes rounds out the taste and color, too.
Print
Tailgate Pasta Salad with Beans & Corn
Tailgate Pasta Salad with Beans & Corn
Author: Carey
Prep Time:

15 mins

Cook Time:

7 mins

Total Time:

22 mins

Yield:

8

1

x
Ingredients
14

–

16

oz. Pasta (I used Tailgate Pasta, but you can sub any short shape!)

1

can red kidney beans, rinsed and drained

1

can cannellini beans, rinsed and drained

2

cans sweet yellow corn, drained

2

cans chopped green chilies

1

bunch green onions, chopped

1 pint

grape tomatoes, halved

1 1/2 cups

mayonnaise (regular or light)

3

T. lemon juice

1

T. oregano

1 1/2

t. ground cumin

1 1/2

t. salt

1/2

t. pepper
Instructions
Cook pasta in gently boiling water for 6-8 minutes.
Drain and rinse with cold water.
Combine beans, corn, chilies, green onions, and pasta in bowl.
Dressing: whisk mayo, lemon juice, and all spices in small bowl.
Gently toss pasta mixture with dressing.
Chill in fridge for 1-2 hours.
Adjust seasonings if necessary.
Top with tomatoes and serve!
Note about pasta shape: I used our Tailgate Pasta (footballs and helmets)…but any short shape can be substituted. I might consider small shells or even elbows or wagon wheels. Tri-color could make it fun too!
I would love to hear some feedback after next week's game…or the next one…or the next one. Happy Tailgating!
If you are interested in seeing all of our pasta shapes, you can visit The Pasta Shoppe website.  And if you have any fundraising needs, please check out Fun Pasta Fundraising!  We'd love to hear from you!
Join our email list for fresh pasta recipes delivered to you every week!
Your information will NEVER be shared or sold to a 3rd party.