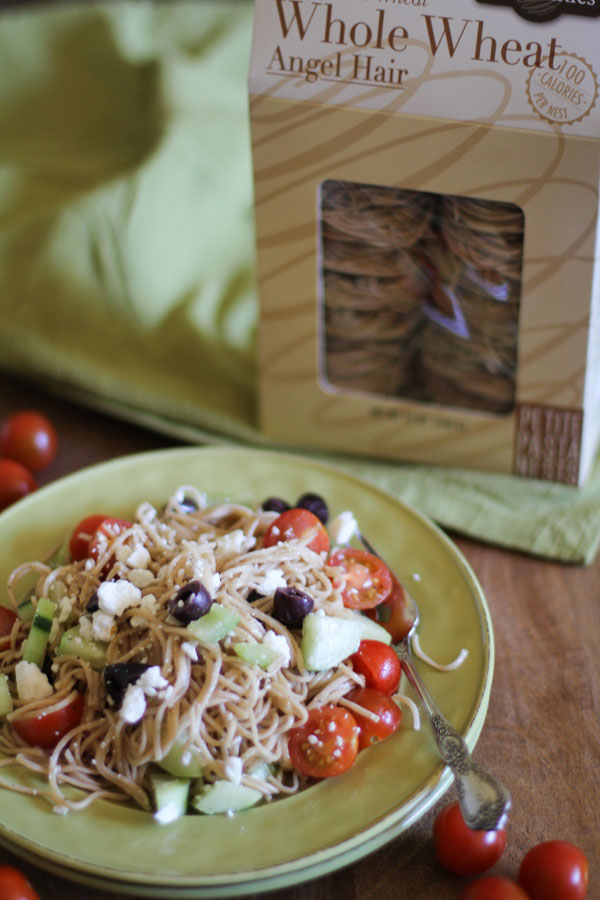 What is up with the Greeks? Believe me, it's more than just my Greek Pasta on Whole Wheat Angel Hair.  2020 UPDATE: We no longer make angel hair pasta.  We have other wonderful substitutes with our Pasta Ruffles, Good Day low carb pasta, and Mighty Pasta (high protein)…
We love their passion, their accents, their large loud families, and their food: Spanakopita, Baklava, and Tzatziki sauce, just to name a few, and oh…let's not forget their Ouzo (famous liquor/aperitif). And if you drink it – trust me, you will forget!
Greece's beautiful pristine water and white washed houses are breathtaking….WOW! And let's not forget a movie that made us fall in love with all things Greek: My Big Fat Greek Wedding (2002…am I dating myself?!) My mother and I had the privilege of a Greek vacation when I was in college. My roommate's parents were living overseas at the time and we decided to visit one of their favorite destinations for Spring break. OK, it was a little off season, but it was still all that I had heard and imagined Greece to be. (PS: this happened before 2002, so I am dating myself. 🙂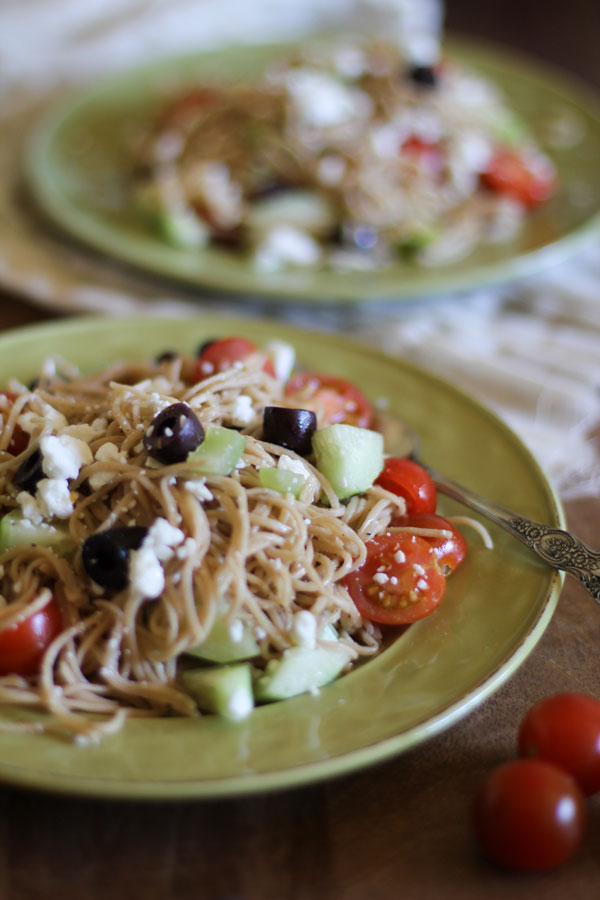 In the past few years, Greek and Mediterranean food have been the highlight of many restaurants and menus. The Mediterranean food pyramid has spawned many diets and crazes and even some debate. NOTE: I am currently obsessed like the rest of the world with Greek Yogurt. You know the yogurt, the "healthier" yogurt that is finding its way into so many dishes and cutting the fat out of some of my favorite recipes. Oh Yeah – bring it! I take one to work every day for part of my lunch or a snack. Low calorie and oh so good for you!
So, this brings me to today's inspired recipe: Angel Hair Greek Pasta. I decided to use our whole wheat angel hair.  You will love the freshness and lightness of this dish. It's all that you expect, but even better. The flavor combination is enhanced by the textures – crunchy cucumbers, soft and intense feta cheese bites, sweet tomatoes, and the delicious taste of our whole wheat pasta. And it's hard to argue with the prettiness. 🙂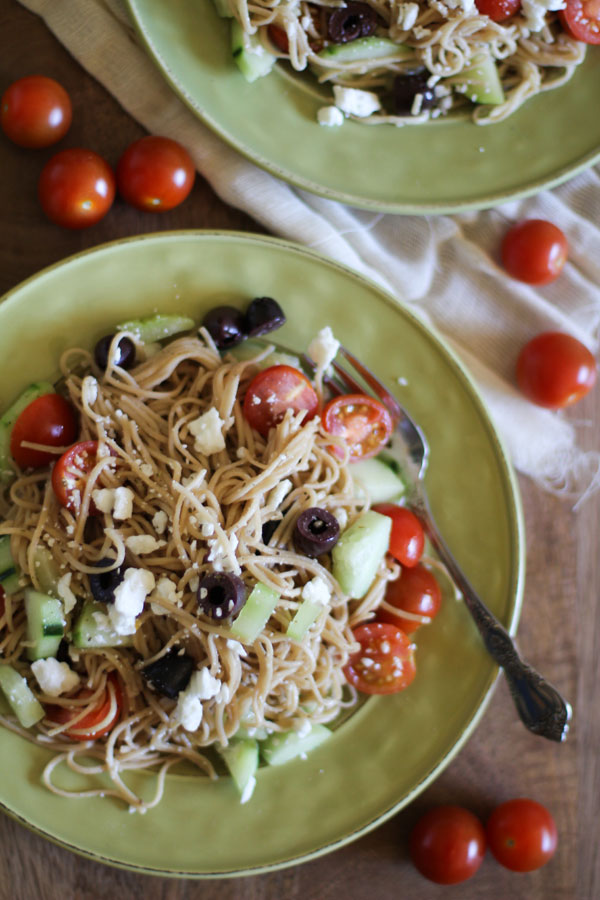 Regarding the pasta choice, yes, you can make this with just about any pasta shape – short or long. BUT, the wholesomeness of whole wheat pasta makes this extra special….and the kids will eat it too! Plus, I've given you a short cut in the recipe….so check it out…and you are welcome!!  I hope you enjoy!
If you are interested in seeing all of our pasta shapes, you can visit The Pasta Shoppe website.  And if you have any fundraising needs, please check out Fun Pasta Fundraising!  We'd love to hear from you!
And for more happenings with Pastabilities, follow us on Instagram @worldofpastabilities, or Facebook @pastashoppeusa!  And remember, The World is Full of Pastabilities®!
Print
Angel Hair Greek Pasta
Fresh and Delicious! Our Angel Hair Greek Pasta is a winning dish for all kinds of occasions!
Ingredients
12 oz

. Whole Wheat Angel Hair Pasta Nests

1 pint

grape or cherry tomatoes, halved, or substitute 1 cup seeded and chopped tomatoes

1

small cucumber, peeled and diced

1/2 cup

chopped celery

1/4 cup

Kalamata olives, pitted and chopped

4 oz

. feta cheese, crumbled, or more to taste
Vinaigrette:

1/2 cup

red wine vinegar

3

T. olive oil

1

t. garlic powder

1

t. dried oregano

1

t. dried basil

3/4

t. Dijon mustard

3/4

t. salt

3/4

t. black pepper
Or Short Cut: use bottled Greek Dressing
Instructions
Combine all dressing ingredients in a jar with a tight fitting lid and shake to blend thoroughly. Set aside.
Cook pasta according to package directions. Drain and rinse with cold water. Shake colander and drain again.
Transfer pasta to a large bowl and add the next five ingredients.
Pour dressing over and mix gently and thoroughly to combine. If using bottled Greek dressing, add gradually to taste.
Serve immediately.
Notes
Cucumbers will weep, so if making a day ahead, prep all ingredients and toss just before serving!
Excellent served with grilled chicken or shrimp too!
Join our email list for fresh pasta recipes delivered to you every week!
Your information will NEVER be shared or sold to a 3rd party.