Light Angel Hair Carbonara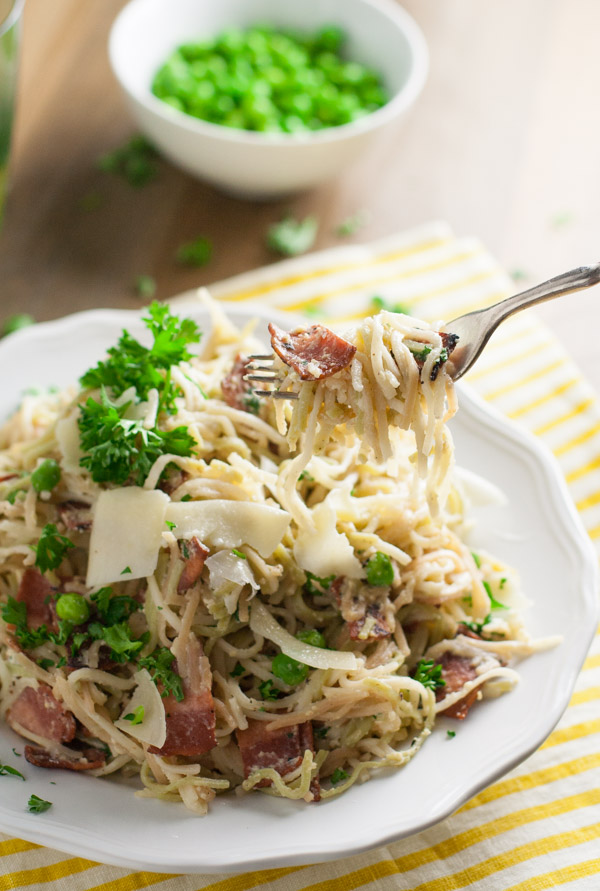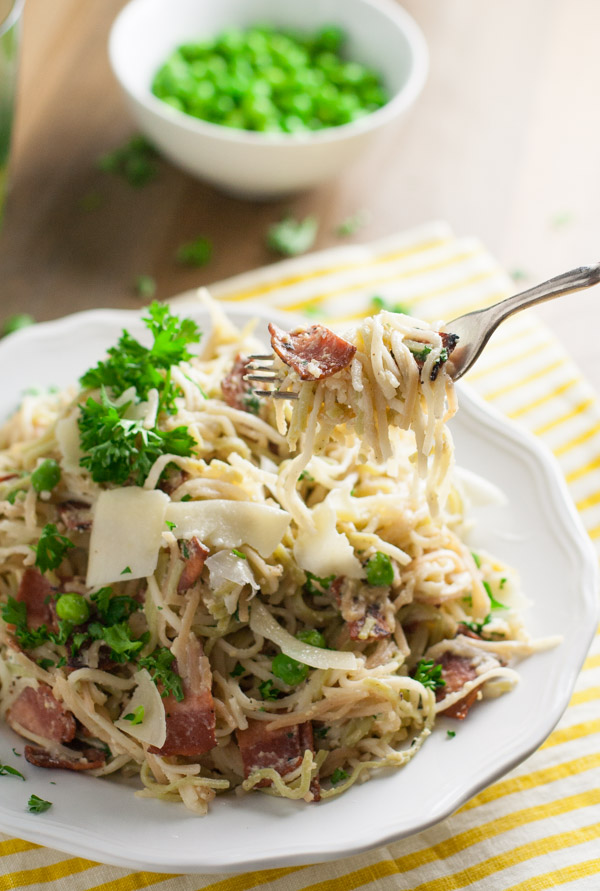 Eggs and bacon are a daily morning ritual in our house.  Seriously, every morning, we scramble, fry, omelet, or over easy some eggs.  We use organic, brown, regular, egg whites only, and a variety of egg substitutes…and love them all.  Add some crispy, smoky bacon and you are full of energy and off to a great start!  With eggs on the brain, I thought it would be an EGGcellent idea to make a Light Angel Hair Carbonara for dinner, aka. How many eggs can a girl eat in one day?!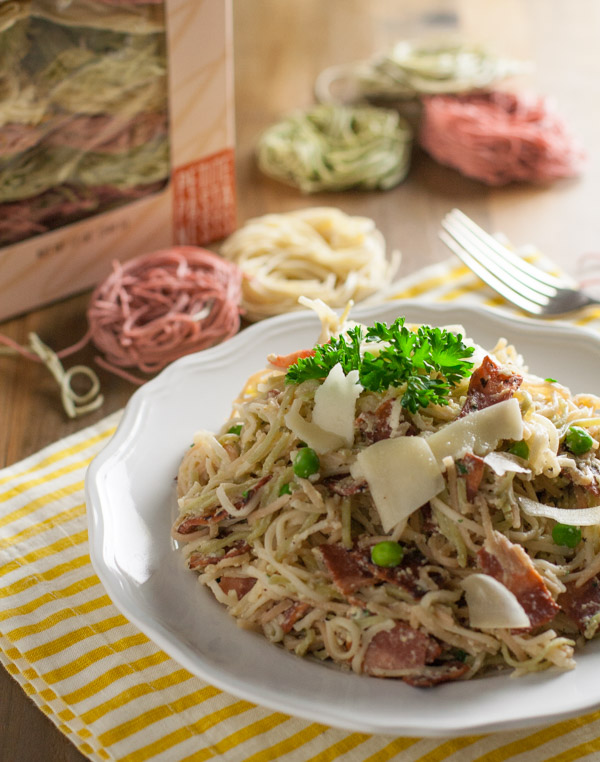 I've been noticing eggs popping up all over the place.  Whether in a foodie magazine, on a menu, or even on billboards – eggs are hot.   I've seen eggs highlighted in noodle bowls (that's on my list for the blog!), complex rice dishes, casseroles topped with cracked eggs, and even pizza topped with eggs. The low calorie and protein eggs provide are so appealing– they are deliciously satisfying and a great addition when planning a meatless dinner.
When you hear "Carbonara", you might first think rich and heavy.  But here we take all the flavor of creamy texture of Carbonara and lighten it up.  You'll often find Carbonara recipes featuring spaghetti or linguine, but I love angel hair because of the delicate texture. (oh yea, and we make the angel hair! 🙂 For my other Angel Hair groupies out there, check out this and this!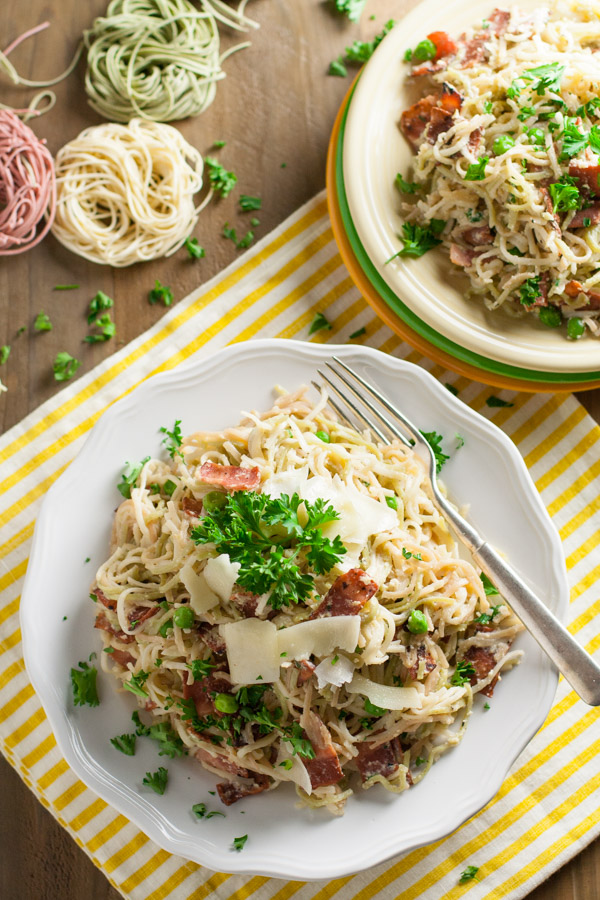 Turkey bacon is a wonderful substitute for pancetta or bacon and green peas add a sweetness and pop of color that every dish needs.  Minced garlic is just a must for most pasta dishes.  And the mixture of egg substitute, milk, and Parmesan create a creamy sauce that rivals any heavy full fat sauce.  When you are looking to hit a homerun with the family – this Light Angel Hair Carbonara is EGGSactly what you need to serve!  Enjoy!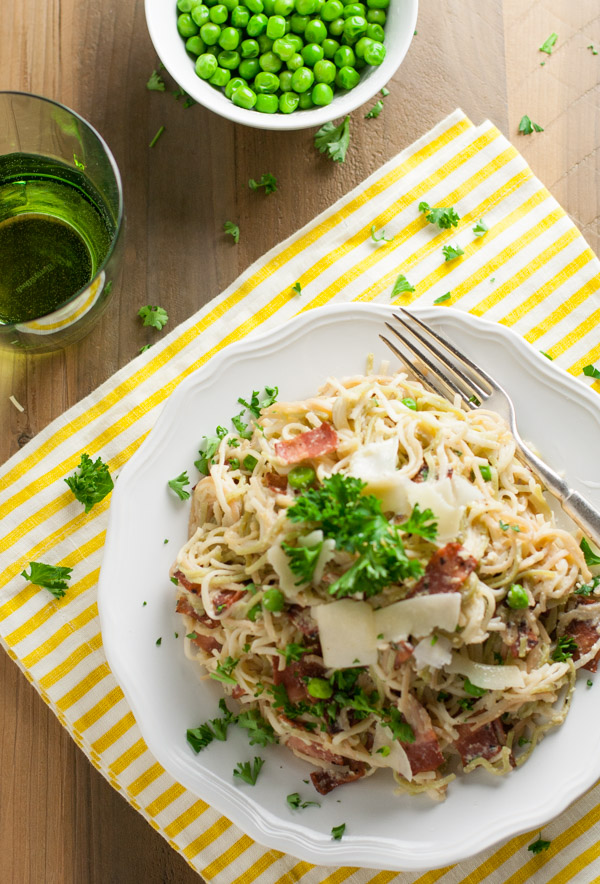 Our Angel Hair Pasta Nests can be found here. 2020 UPDATE:  We no longer make angel hair pasta nests!  You Of course you can substitute spaghetti, thin spaghetti, linguine, or any long shape.  Our new Pasta Ruffles are a wonderful substitution!  And if you have any reason to fundraise, we have a simple and profitable way to raise money for your group!
And for more happenings with Pastabilities, follow us on Instagram @worldofpastabilities, or Facebook @pastashoppeusa!  And remember, The World is Full of Pastabilities®!
Print
Light Angel Hair Carbonara
Light and delicious – this version of Carbonara will leave your guest begging for more!
Ingredients
1

12 oz. box of Angel Hair Petite Pasta Nests (or sub any long pasta such as spaghetti, thin spaghetti, linguine, etc)

6 ounces

of turkey bacon, chopped into bite sized pieces

2

cloves of garlic, minced

1 cup

2% milk

6

T. egg substitute (I used Egg Beaters)

1/4 cup

grated Parmesan

1/2 cup

cooked peas

1/4

t. black pepper

1/4 cup

chopped fresh parsley
Instructions
Begin to bring 4 quarts of water to a boil for pasta.
While water is heating up, cook bacon in a large non stick pan over medium high heat until crisp. Add garlic and stir for one minute. Reduce heat to low.
Cook pasta as directed on package as soon as water is ready, drain, and add to pan with bacon. Stir in Parmesan, 2 T. chopped parsley, and peas.
Combine milk and egg substitute in a bowl. Add to pasta and toss constantly until sauce thickens, about 5-6 minutes.
Serve immediately garnished with chopped parsley and extra Parmesan cheese!
Join our email list for fresh pasta recipes delivered to you every week!
Your information will NEVER be shared or sold to a 3rd party.