Butternut Squash Pasta Sauce over Gluten Free Tagliolini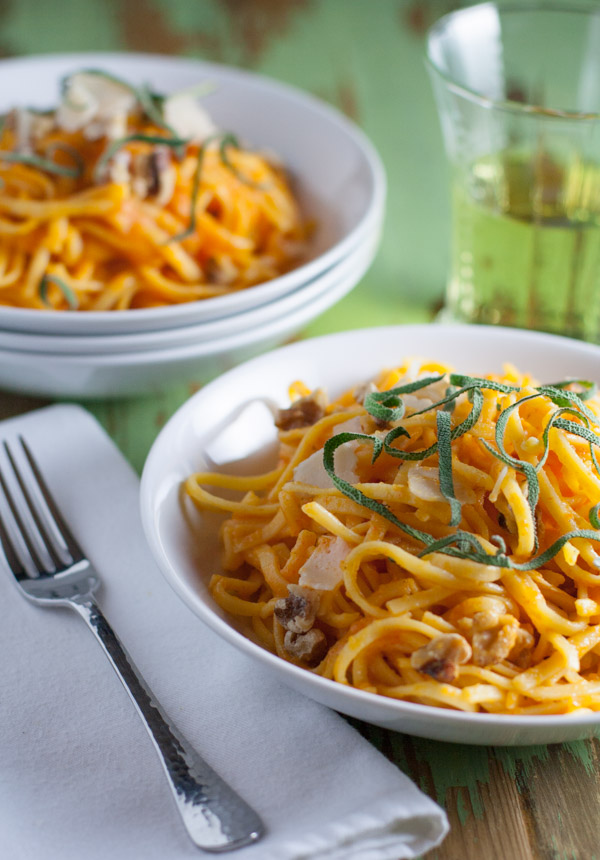 It's hard not to overdue using this sweet succulent fall vegetable.  Don't let its tough exterior fool you!  (PS:  I buy it already peeled and diced!)  We are still at the relative beginning of the cold season, so I am not ashamed to say that I can't get enough.  So far this fall, I've served butternut squash simply roasted with kosher salt and pepper, in a scrumptious Butternut & Kale Cannelloni, diced and roasted on top of a bed of arugula with a warm balsamic dressing, and now as a creamy, sweet, delicious Butternut Squash Pasta Sauce.
The nutrients in butternut squash make me smile.  Did you know it has more Vitamin A than a pumpkin?  And it's also high in fiber!  Woohoo!  🙂  I wanted to serve it over our Gluten Free Tagliolini to make this an ultra-healthy choice for lunch or dinner.  There are a couple of key ingredients that make this sauce really come together.  I roasted a whole red pepper to add some depth and sweetness to the sauce…in fact, I may even try adding two next time!  The sautéed onion, garlic, fresh Parmesan, and sage add just the right balance of flavor.  Oh…and top it off with toasted walnuts, a little bit of Parm and fresh sage.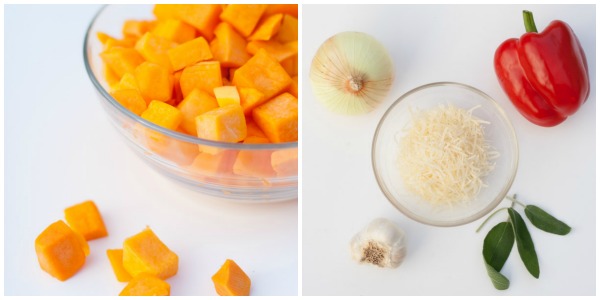 I need to interrupt myself for a minute and talk about our Gluten Free Tagliolini.  Bottom line:  it is fantastic!  Finally!  The perfect blend of corn and rice (70%/30%) with an al dente texture and delicious taste.  It is hard to believe that is isn't "real" pasta!  We actually import this pasta from a boutique manufacturer in Italy.  We tested dozens of versions of gluten free and decided this was the one we would love to serve our friends and eat ourselves.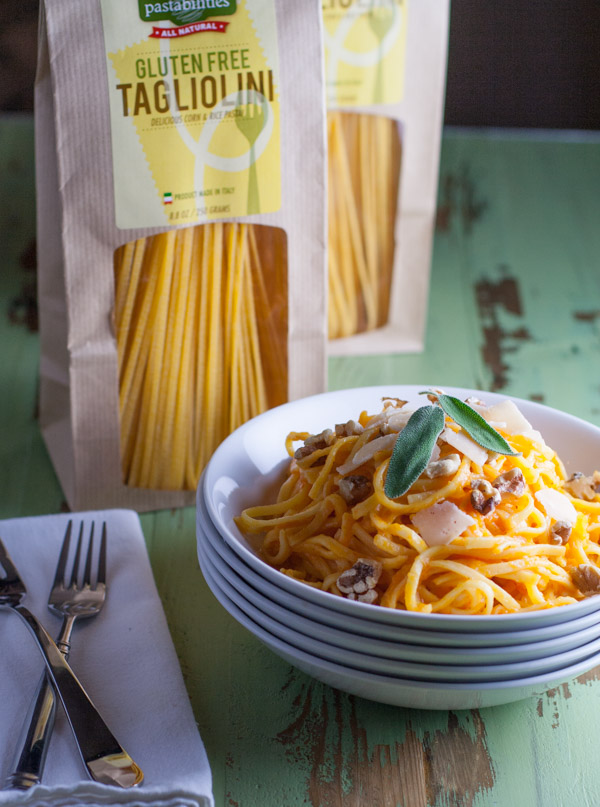 Why don't we make it in our plant?  To make certified gluten free pasta, you must manufacture in a "dedicated gluten free" environment.  Which would mean opening up an entirely new facility!  We want to understand the gluten free market more thoroughly and are happy now to bring this quality GF pasta to you directly from the experts!
UPDATE:  We no longer sell Gluten Free Pasta!  The supply chain was not reliable due to COVID-19. We recently added another version of this recipe, check out our Butternut Squash Alfredo.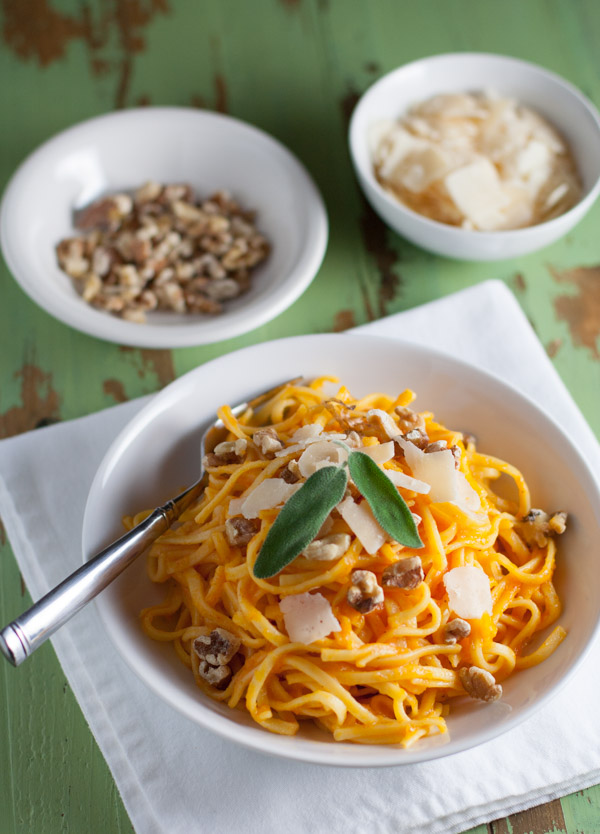 OK, back to the recipe.  Instead of the usual heavy cream, this squash puree is thinned with chicken broth and skim milk.  And a note for my Vegan friends – just use almond milk and skip the cheese!  When serving my family this dish for dinner, I was interested to see what my boys would think of the sauce.  They do have an adventurous palette for new tastes and flavors, but to look at a plate of pasta and see "orange", not "red" I knew might pose a challenge.   But Mommy was happily surprised!  They LOVED it – and everything about it.  When you hear, "This is amazing!" you know it's a keeper.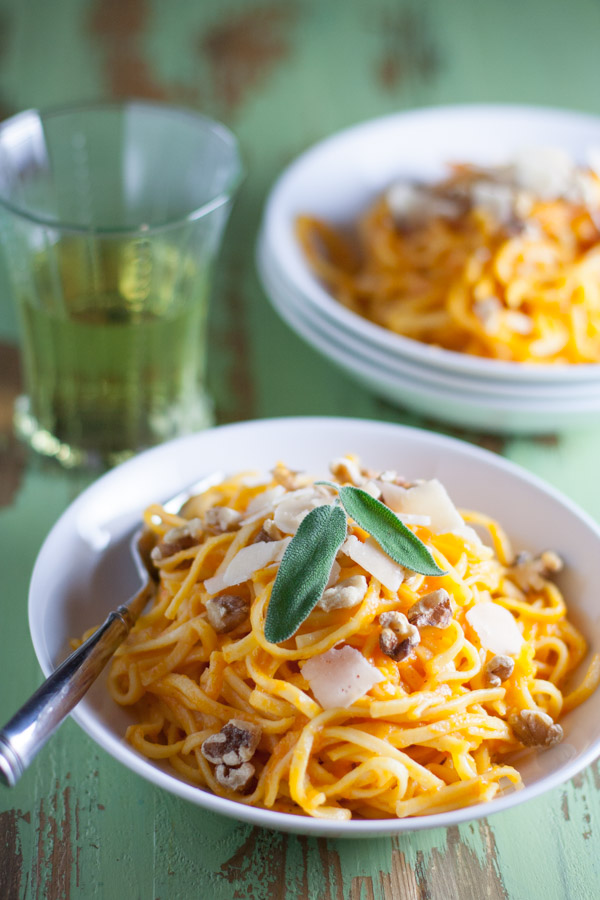 Please take advantage of the squash season, make this recipe, and let me know your family's reaction!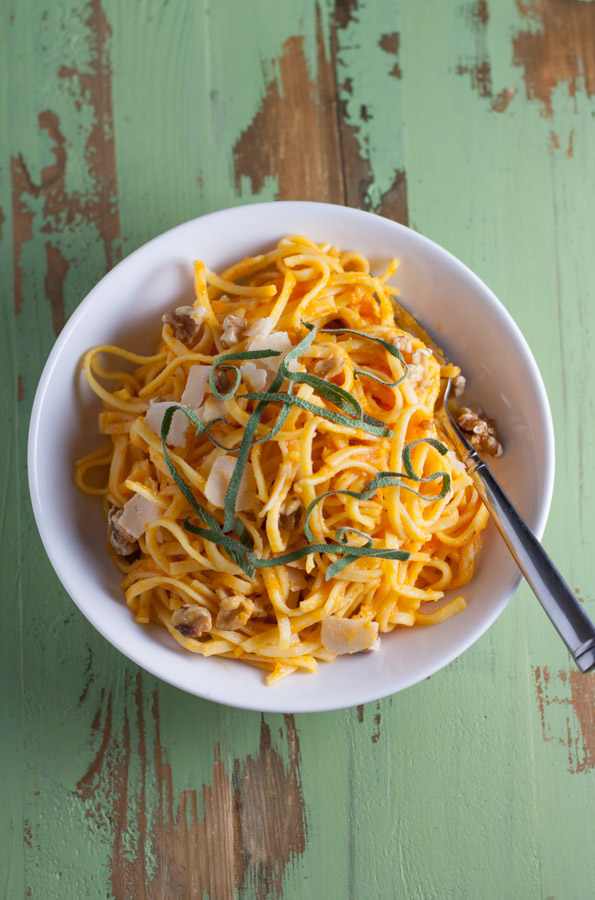 If you are interested in trying our Gluten Free pasta, you can check it out at The Pasta Shoppe.  And if you have any fundraising needs for a small or large group, we'd love for you to consider Fun Pasta Fundraising.
And for more happenings with Pastabilities, follow us on Instagram @worldofpastabilities, or Facebook @pastashoppeusa!  And remember, The World is Full of Pastabilities®!
Print
Butternut Squash Pasta Sauce over Gluten Free Tagliolini
A healthy and delicious Butternut Squash Pasta Sauce! Served here with Gluten Free Tagliolini, but wonderful with other long or short pasta shapes!
Ingredients
8 oz

. Gluten Free Tagliolini (may substitute any other long or short pasta shape)

2

T. olive oil

1

small onion, diced

3

cloves garlic, minced

1 1/2

lbs. butternut squash, diced (about

4

heaping cups)

1

red pepper, roasted (can chop, toss with olive oil, and roast in

400

degree oven for

30

minutes, or substitute a jarred roasted red pepper)

2 cups

chicken broth

1

t. dried sage

1

bay leaf

1/4 cup

Parmesan cheese, grated

1/4 cup

skim milk (may use 2% or heavy cream if you like!)

1/2

t salt

1/4

t. pepper
Fresh Parmesan, toasted walnuts, and fresh sage for topping!
Instructions
Sauté onion in a medium pot in olive oil, for approx. 5 minutes until browned.
Stir in garlic and diced squash and cook for another 3 minutes.
Add chicken broth, roasted red pepper, sage, bay leaf, and salt and pepper. Cover, bring to a boil, reduce and simmer for 8-10 minutes until squash is tender (test with a fork).
Remove bay leaf and puree in blender or Cuisinart until completely smooth.
In a large bowl, combine puree, Parmesan cheese, and milk.
Toss pasta with sauce..
Top with toasted walnuts, fresh Parmesan cheese and fresh sage leaves or ribbons.
Enjoy!
Notes
Using only 8 ounces of pasta, I did have some leftover sauce that I froze. If you cook more pasta, start with tossing approx. 12 ounces, and add more pasta if desired. It's really a preference as to how "coated" and heavy you want the sauce!
Join our email list for fresh pasta recipes delivered to you every week!
Your information will NEVER be shared or sold to a 3rd party.