Butternut Squash & Kale Cannelloni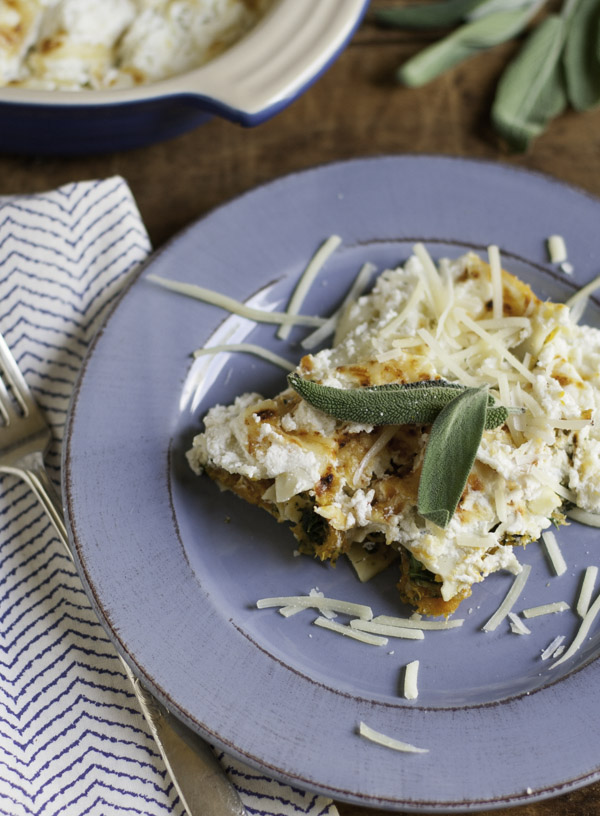 Extra! Extra! Read all about it! Something exciting happened around here last week! Our Italian Inspired Petite Pumpkin Pasta (Zucchettes), was featured in the NY Times Dining section! The long time influential food critic and writer, Florence Fabricant, had an assistant call our office and inquire about the pasta. Immediately our hearts began to pound, as we were not sure what to expect. Happily it was a flattering mention, and you can see our pasta featured here in my Healthy Beef Ragu with Mint recipe.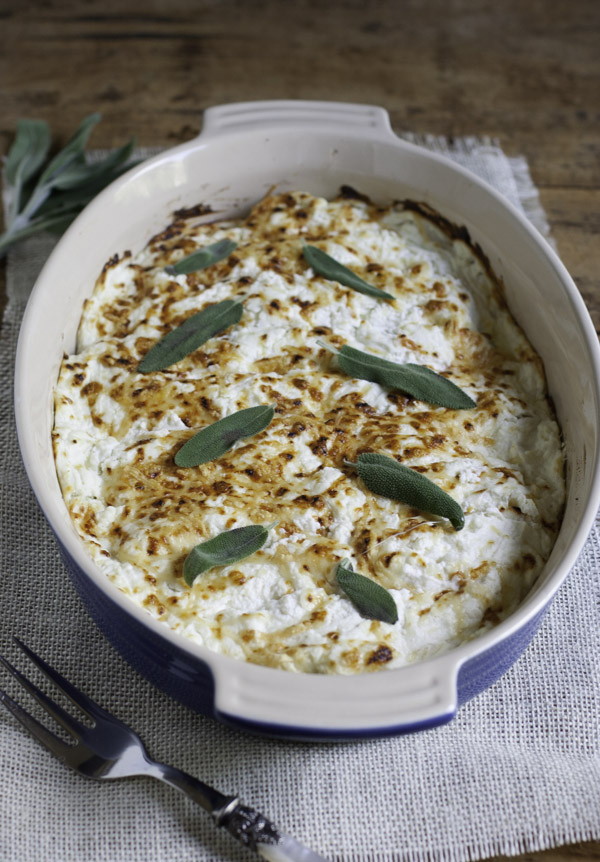 This is the second time Ms. Fabricant has mentioned our specialty pasta. The first time was back in the late 90's when we introduced our first few Collegiate Pasta Salads, with pasta shaped like collegiate mascots and logos. We had recently moved from NYC to Nashville to start our company…so this was big news as we felt like things were coming full circle!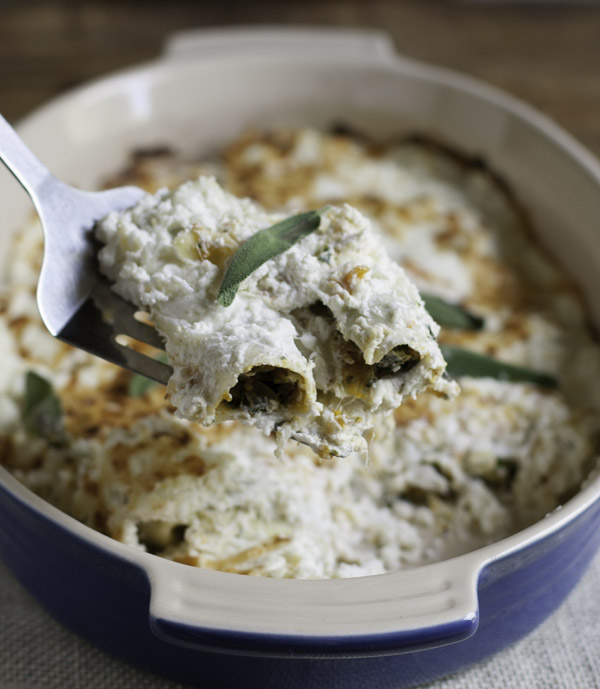 Today though we are talking "squash", not pumpkins…and sweet butternut squash to be more specific. It's my favorite squash of the season and I always look forward to the first taste which means "fall is here"! It's easy to get lost amongst the endless odd shaped and colorful squash at the store. Butternut squash has an elegant long smooth look…I even found a way to incorporate a butternut squash on my dining room table arrangement. (to be used at a later date of course!)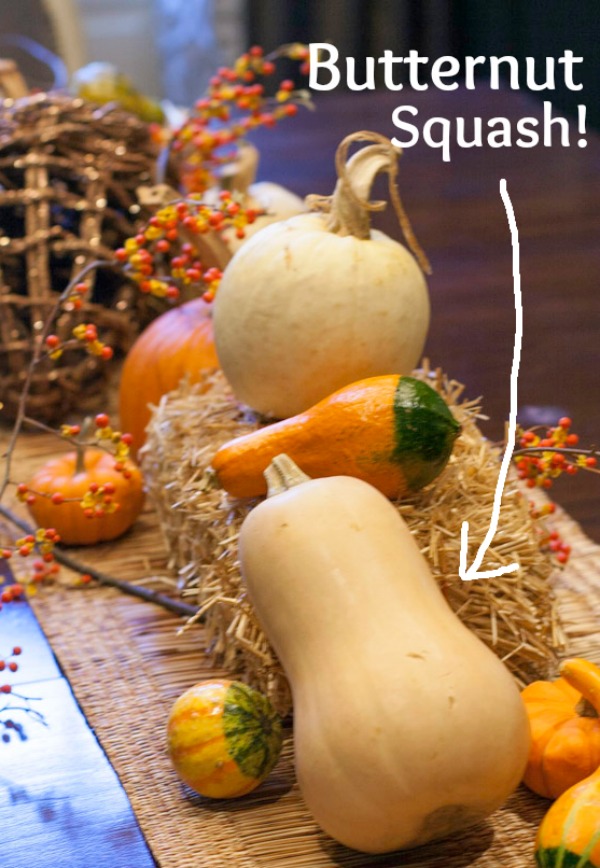 So what do you do with butternut squash? Simply diced and roasted with olive oil and salt is delicious. Puréed into a hearty, warm soup is another common use. Here we will add some fresh kale and make a healthy filling for baked cannelloni. Roasted butternut squash and kale cannelloni is a creamy, sweet, and satisfying dinner. It may seem a little challenging to put together, but really it can be fun and quite simple!
First of all, butternut squash is just difficult to cut. I've given up and always buy it precut and diced in packages. It may cost a little more, but it saves tons of time, and possibly a few fingers. Roasting the squash brings out its natural sweetness and combining it with some blanched, chopped kale adds a pop of color to the filling and also sneaks some additional healthiness into the dish.
Cannelloni is handmade tube of pasta that can be filled delicious combinations. This is different than manicotti, another Italian favorite, which is already formed in a tube shape, and can be found in a box at the grocery store. For the cannelloni itself, you use flat, wide, rectangular lasagna noodles. I used the "no cook" noodles, and just soaked them in hot water for about 10 minutes until they were pliable. If you actual cook them in boiling water, they will fall apart! You place about 2-3 tablespoons of filling on the noodle and fold over to form the tube shape. Place the cannelloni seam side down in a baking dish and then spread your ricotta topping over all the noodles… and bake!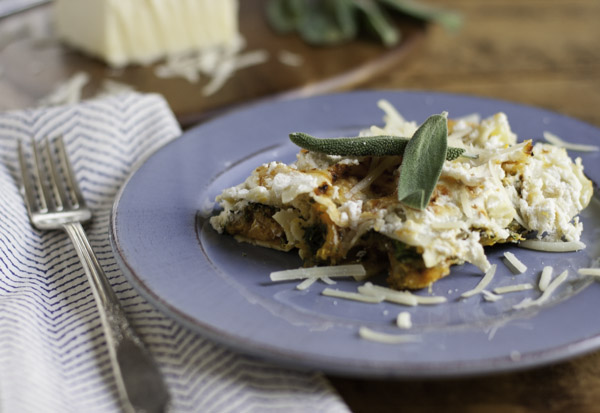 You'll notice the cheesy topping and soft, gooey portions don't make for the prettiest pictures (I tried!)…but your tummy will be happy! 🙂
We obviously love all kinds of pasta. But if you are interested in seeing what we manufacture and sell at The Pasta Shoppe, we'd love for you to browse our site. And if fundraising is on your horizon, our Fun Pasta Fundraising is a unique and healthy way for your group to raise money!
And for more happenings with Pastabilities, follow us on Instagram @worldofpastabilities, or Facebook @pastashoppeusa!  And remember, The World is Full of Pastabilities®!
Print
Butternut Squash & Kale Cannelloni
Comfort food at its best. A colorful, sweet, and healthy filling topped with a combo of cheeses makes the family happy!
Ingredients
8

wide lasagna noodles (no bake can work, just soak in hot water)

1

pound of diced butternut squash

3 cups

fresh kale, blanched and chopped

2

shallots, chopped

1/4 cup

+

2 tablespoons

milk

2 cups

ricotta cheese

1/2 cup

Parmesan cheese, grated

1/2 cup

Asiago cheese, grated

1

T. + more olive oil

1/4

t. ground nutmeg

6

–

8

Sages leaves, for

1

t. chopped sage plus garnish
Salt and Pepper
Instructions
Preheat oven to 400 degrees. Toss squash in a little bit of olive oil and roast for approx. 25-35 minutes until tender. Then reduce oven tempurature to 350 degrees for baking casserole later.
Soak lasagna noodles in hot water for 10 minutes (if no cook noodles), and transfer to a lightly oiled cookie sheet.
While squash is roasting, blanch kale in boiling water for 5 minutes, drain, cool, squeeze, and chop finely.
In a small pan, add 1 T. olive oil and saute shallots under transparent, approx. 3-5 minues.
In large bowl, combine squash, shallots, sage, nutmeg, and 2 T. milk. Mash with a fork until smooth and season with salt and pepper.
Place approximately 3 tablespoons mixture across the middle of each lasagna noodle, and fold into a tube shape. Place seam side down in a 2 quart casserole dish.
In a bowl, combine the ricotta, Parmesan, and Asiago cheeses. Add 1/4 cup milk and season with salt and pepper.
Spread cheese mixture over the cannelloni noodles.
Bake for approximatley 25 minutes or until heated through. For a browned top, broil for 2-3 additional minutes!
Garnish with fresh sage leaves. Serve and enjoy!
Join our email list for fresh pasta recipes delivered to you every week!
Your information will NEVER be shared or sold to a 3rd party.