Collegiate Tailgate Pasta Salads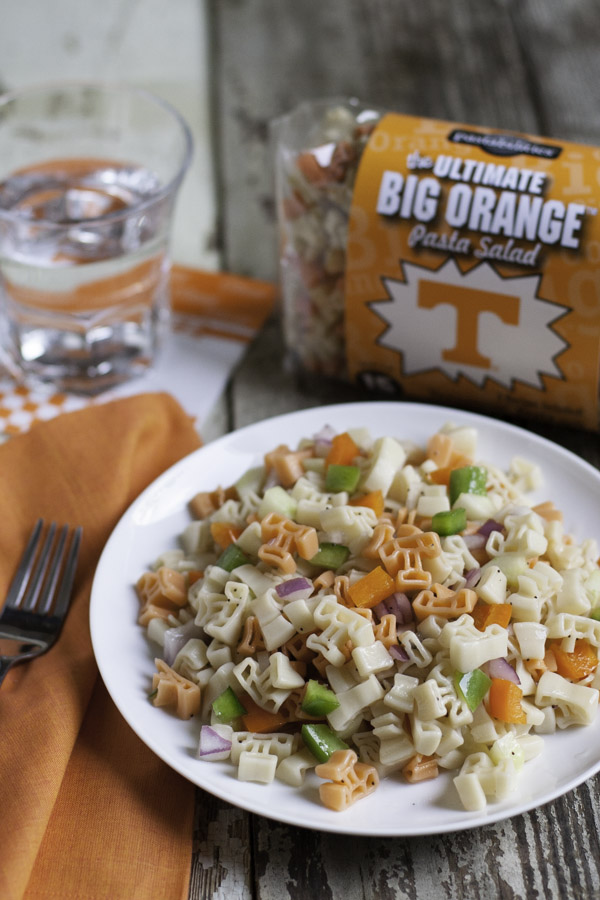 College Football. An American Tradition. Big Game Day Celebrations. Collegiate Tailgate Pasta Salads? Why not.  #ncaanoodles.  The school colors make their way into all kinds of fashions…have you seen the Collegiate Cowboy boots? I can't believe I want some. There is college fashion for cars, for dogs, for ALMOST ANYTHING you can imagine! The Collegiate craze is stronger than ever and this is the time of year when it is at its height of craziness.  Note: my college had no football team (University of Vermont)…what was I thinking? <SMH>
After John and I started our company with Music City Pasta, we got to thinkin'…hmmmmm…what other shapes could we create here in Tennessee that would strike a chord (shameless pun for Music City…. Couldn't help it! 🙂 and get people excited to buy pasta? We had just moved back to Nashville and were experiencing the whole SEC Southern football madness. It was fun. It was nuts. It wasn't what was happening when we were living in NYC. And we knew immediately what would be our next 2 product introductions: Vanderbilt and UT Pasta.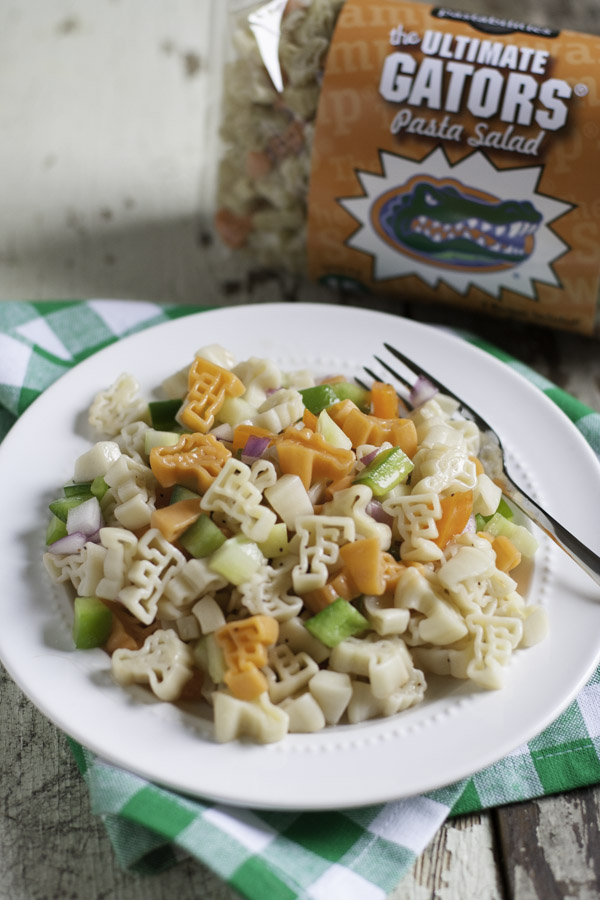 Why not give the rabid loyal fans something to take to their tailgate parties that would represent their teams? And not just in color…but in the shape of their mascot or logo! People loved it…and our Collegiate Pasta line was born.
Our Collegiate Pasta Salad line consists of over 50 Universities. Each one is officially licensed and contains mascot or logo shaped pasta plus a Game Day Vinaigrette mix. NOTE: To make this recipe you MUST have a bag of Collegiate Pasta which includes our vinaigrette mix packet!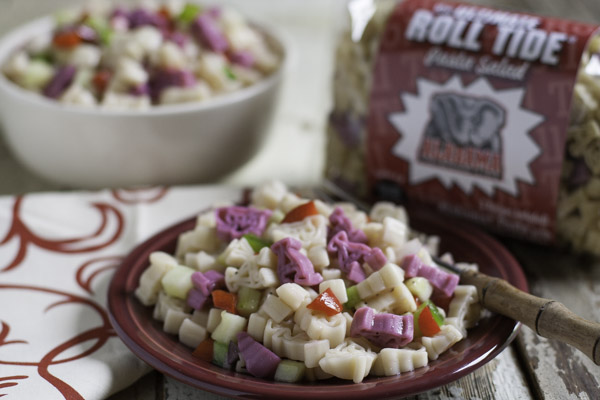 Why then post this recipe? Well, we get lots of calls from fans who have torn off their label and can't find the recipe. And it's usually Friday before the Saturday game…so what happens if we miss the call or have left the office?  Yay – this post – it will now always be available!
So, assuming you have a bag and the mix, this is one easy recipe. In just a few minutes you'll have the hit of the tailgate party. Add red wine vinegar and oil for the dressing. And three other additions is all that is needed. Cucumber – check! Colored Peppers (matching your team of course) – check! Red onion – check! A yummy sweet and sour pasta salad combination with crunch and color – touchdown! And as a bonus there are three other recipe options printed on the inside of the label. I hope your tailgate fun continues and you share lots of wins, laughs, and memories with your family and friends! Please share this post and let me know what is your tailgate "necessity" when it comes to good food on game day!
Note: You are probably happy if your team is featured in the pictures. Believe me, it wasn't easy choosing who to highlight. And I can't win. So I surrender. If your team is not here…please forgive me. And I promise I will be posting others as this blog adventure continues!
If you are interested in seeing all of our pasta shapes, you can visit The Pasta Shoppe website.  And if you have any fundraising needs, please check out Fun Pasta Fundraising!  We'd love to hear from you!
Print
Collegiate Tailgate Pasta Salads
Take this to your tailgate party for a game day touchdown!
Ingredients
1

cucumber

1

orange pepper (Note: substitute pepper colors to match your team colors!)

1

green pepper (or coordinating color for your team!)

1

red onion
Red wine vinegar
Olive or vegetable oil
Instructions
Vinaigrette: Combine seasoning packet, ½ cup red wine vinegar, and ¼ cup olive or vegetable oil in glass bowl. Heat in microwave, stirring occasionally, until packet is dissolved, about 1 ½ minutes. Set aside to cool.
Pasta: Cook pasta 6-8 minutes in GENTLY boiling water (salt optional). To achieve your school colors, food coloring was used, please note that the water may become slightly colored. Drain pasta in colander, rinse with cold water.
Add Fresh Additions: Peel, seed, and dice cucumber, chop ½ orange and ½ green pepper, chop ½ red onion.
Gently Toss: Pasta, vinaigrette, and veggies. Refrigerate until ready to serve. Easy to make a day ahead, just toss again before serving.
Join our email list for fresh pasta recipes delivered to you every week!
Your information will NEVER be shared or sold to a 3rd party.
415 Comments