Pasta with Melon, Pancetta, and Feta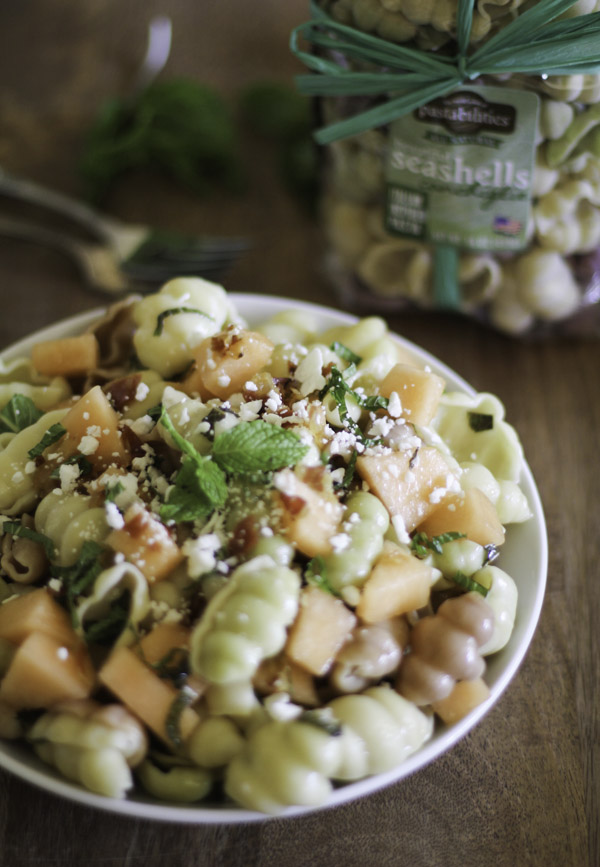 There is something about this time of year here in Nashville. Not only is my wardrobe in flux between summer and fall, but my palette is too. One day it's a cool breeze and bright blue sky, and I'm curled up on my screened porch eating a warm bowl of spicy chili, wearing dark skinny jeans (I'm dreaming) and a cute flannel plaid shirt. The next day it may be 95 degrees, hot and humid, and my brain can't get away from a crisp, bright, crunchy salad and humongous fruit iced tea. Or just give me a big plate of this Pasta with Melon, Pancetta, and Feta. I'm burning up! Are y'all with me here?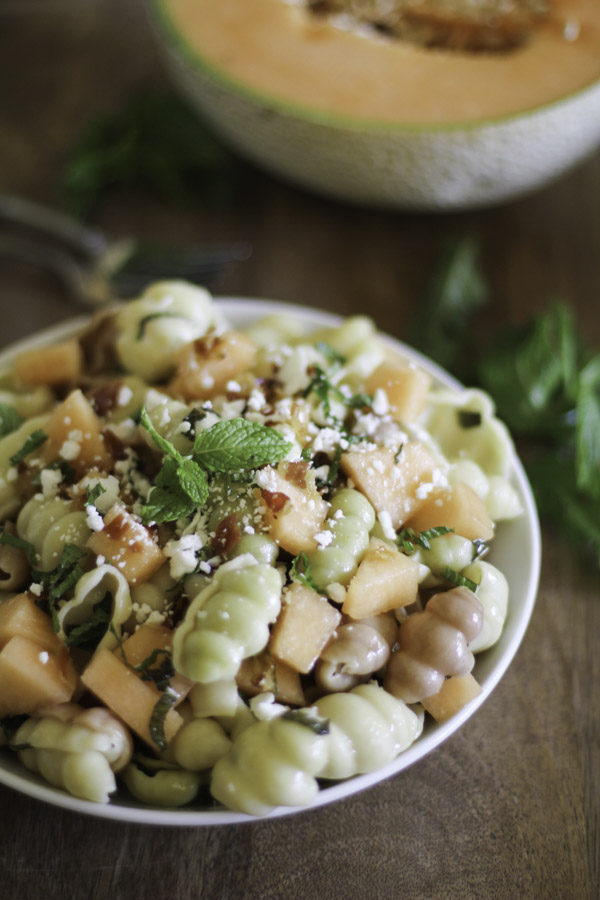 When the weather is about to change, regardless of the season, I do start to panic a little about all the fabulous seasonal produce and foods that are about to leave me behind. Realistically, most of the once "seasonal" fruits and vegetables can now be found all year long… stores source these products from all over the world. But that doesn't exactly fit with the "Farm to Table" movement happening all over our country and we love to support our local farmers and producers. You can support this movement also by trying our Veggie Patch Pasta recipe and use whatever vegetable you have on hand. And really it just seems unnatural to make and serve food that is totally off season.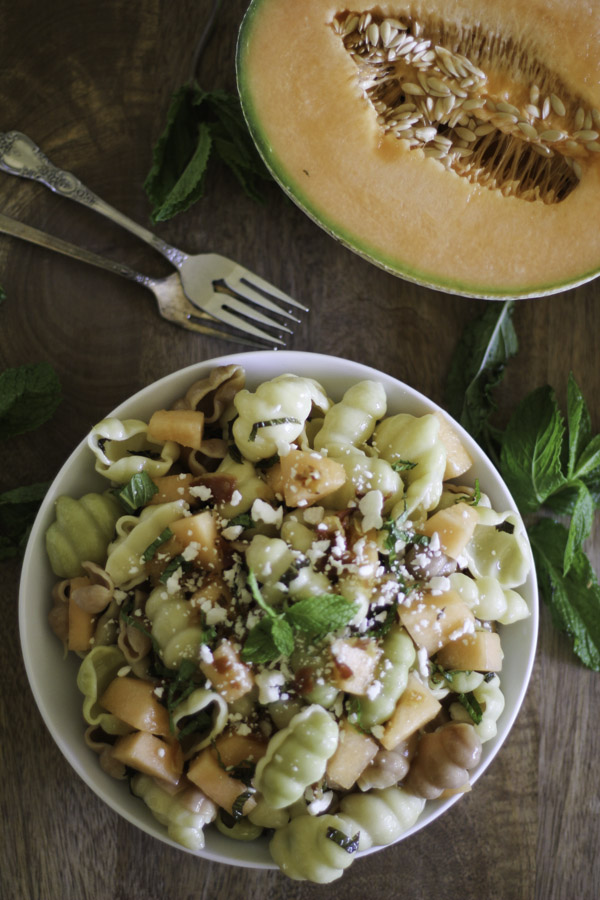 Where is this going? I was strolling around my favorite local grocery (for the third time in five days) and saw a huge display of ripe cantaloupe. And I panicked as expected. So this recipe is my farewell to Summer, last ditch effort, before it is all about HOT, MEATY, CHEESY, CASSEROLY, CHEESY, SPICY, did I mention CHEESY? COMFORT FOOD Fall Pasta Dishes. (I'm kinda kidding and yet kinda serious)
Again, to me, the perfect pasta dishes combine flavors and textures that touch all the senses. I love these sort of complex combinations. Sweet melon bursts, salty tastes of pancetta and tangy feta balanced with the pop of fresh mint and champagne vinaigrette. It's just delicious.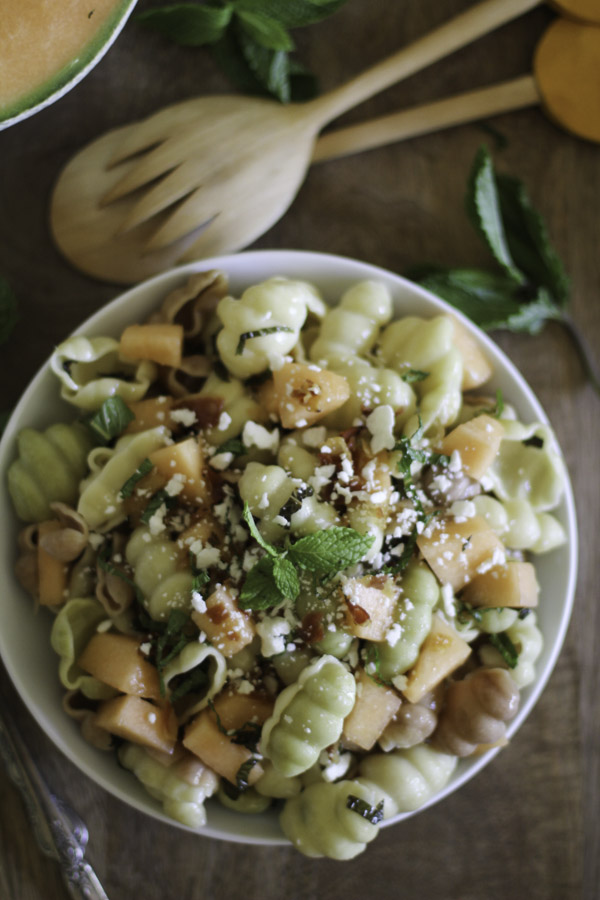 The pasta shapes featured here are "Beautiful Seashells", "Conchiglie" in Italian, from our Italian Inspired Pasta Line. A specialty shape usually imported from Italy…but made right here in the USA! The beauty comes from the shells themselves which leave nice creases and openings to capture any sauce that you may pour or toss over with them. Plus the tri-colored shapes add some visual appeal. Buon Appetito friends!
If you are interested in seeing all of our pasta shapes, you can visit The Pasta Shoppe website.  And if you have any fundraising needs, please check out Fun Pasta Fundraising!  We'd love to hear from you!
Print
Pasta with Melon, Pancetta, and Feta
Colorful, fresh, and delicious pasta that will thrill your guests!
Ingredients
14

–

16

ounces of Pasta

8 ounces

of thinly sliced pancetta (Italian bacon)

4 ounces

Feta cheese, crumbled

6

–

8

cups and chopped melon (cantaloupe or other variety)

1 cup

chopped fresh mint

1

bunch green onions, chopped

¼ cup

Champagne vinegar or white wine vinegar

¼ cup

extra virgin olive oil +

1

T.

1

t. Dijon mustard

1

t. sugar
Pinch of red pepper flakes
Kosher salt and pepper to taste
Instructions
Place pancetta wrapped in paper towels on microwavable plate. Cook on high until crisp and brown, approx. 3-5 minutes. Check after 3 minutes and increase time in 30 second increments if not done. Cool and break into bite size pieces.
Cook pasta in gently boiling water for approx. 6 minutes until tender but firm (salt optional). Drain, rinse with cold water, and gently toss with 1 T. olive oil.
Whisk oil, vinegar, mustard and sugar in bowl and season with salt and pepper.
Combine all ingredients and gently toss with dressing. Garnish with extra chopped mint or feta crumbles.
Join our email list for fresh pasta recipes delivered to you every week!
Your information will NEVER be shared or sold to a 3rd party.