Quick Fresh Tomato and Goat Cheese Pasta
Don't you love your "foodie" friends?! These food enthusiasts inspire you to bring your creativity and your best to any gathering. You always look forward to getting together with them and greeting them at the front door…"What did you bring?" you casually ask while leaning and peering into their tote or covered dish. (I try not to attack and at least let them get into the foyer.)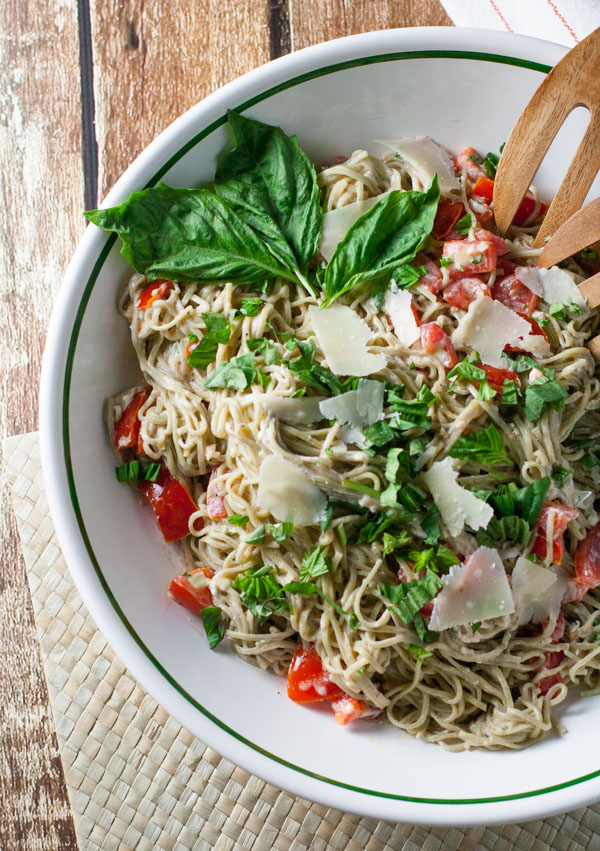 On these fun nights, a lot of the conversation usually revolves around recipes, new restaurant finds, travel and entertaining. I'm lucky to have quite a few of these foodie friends in my life and last weekend we had one of these fun nights!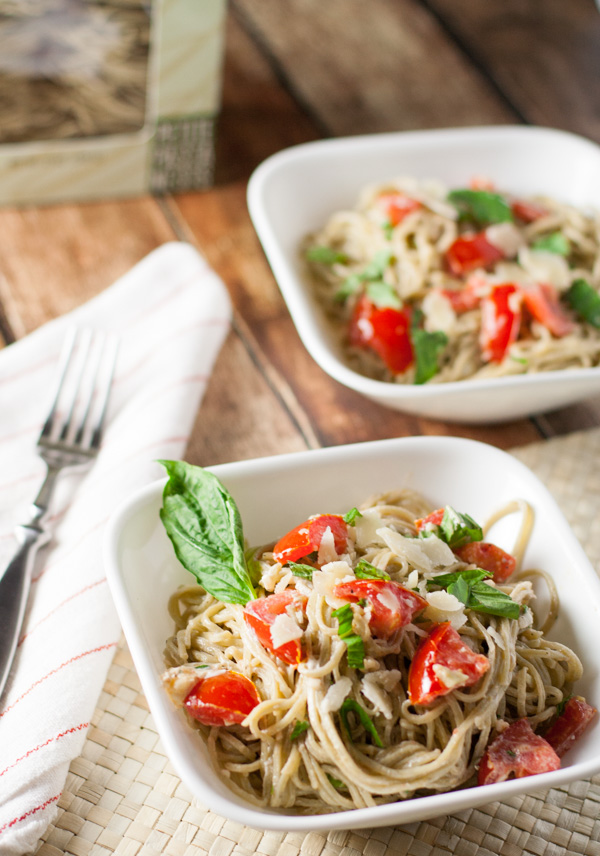 My friend Kim is a terrific cook and originally from Texas. In true Texas form, she cooks with peppers with names you've never heard of, and always serves something absolutely yummy. I asked her to bring an appetizer and we all agreed – it was scrumptious. Right out of the oven – a warm whipped goat cheese and herb mixture topped with homegrown roasted and chopped red and yellow cherry tomatoes. The tomatoes had been tossed with fresh basil and maybe a little balsamic too. Served alongside a basket of toasted baguette slices. Simply Delicious.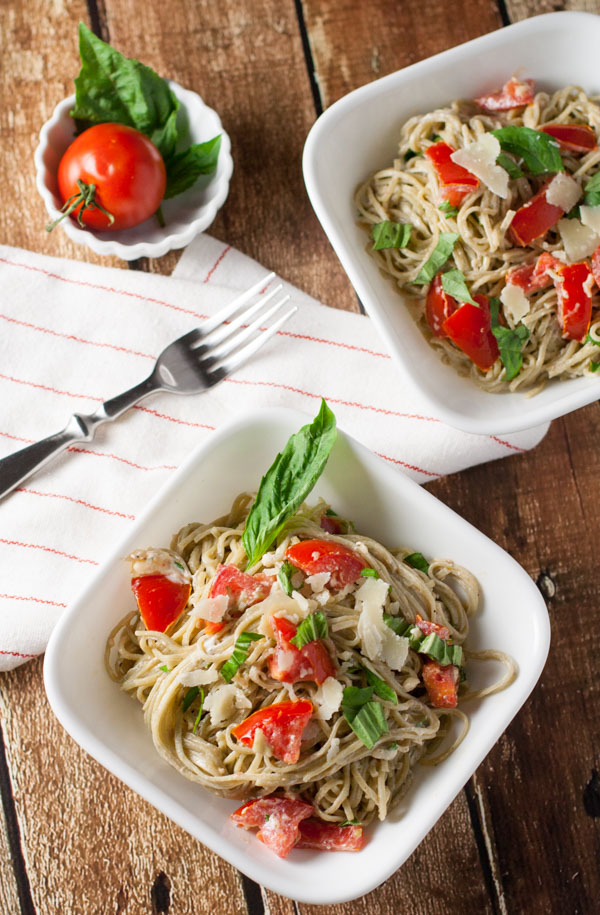 It's not like me NOT to get the details of what made up this heavenly concoction, but I was too busy piling more of this tomato cheesiness onto yet another piece of baguette. This combination made my mouth happy and I knew then that I had to put this on pasta. A foodie friend inspiration!
I decided to use our Spinach Basil Garlic Angel Hair Nests for this recipe.  The flavor just seemed like a perfect fit.  If this sounds good, be sure and check out two of my other favorite angel hair recipes, Angel Hair Pasta with Garlic and Spinach, and Creamy Spinach Angel Hair Florentine.  By the way, goat cheese and the other distinctive flavorful ingredients in this recipe can make any pasta – short or long, taste great!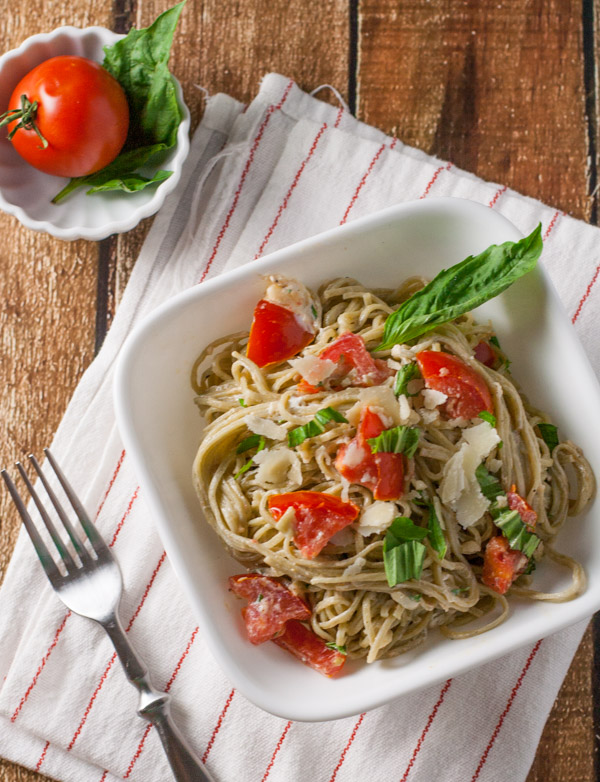 Goat cheese melts beautifully when tossed with warm pasta and chopped fresh tomatoes add bursts of sweetness. Note: take advantage of the farm stands these last few weeks of summer. Heirloom cherry tomatoes – yes! Fresh shaved Parmesan? Why not!
This Fresh Tomato and Goat Cheese Pasta recipe is simplicity at its best. It can be a meal all by itself, or makes a great side dish for grilled pork tenderloin or chicken. The truth is: it is hard to stop eating once you start…and that's a great sign of a perfect pasta recipe. Thanks for the inspiration Kim! 🙂
Quick Fresh Tomato and Goat Cheese Pasta
Goat Cheese melts beautifully over warm pasta and the fresh tomatoes add a sweetness that can't be beat! Yum! Simple and delicious.
Ingredients
12 oz

. Spinach Basil Garlic Angel Hair Pasta Nests (or any other

12

–

16

oz. of short or long pasta…short pasta works best because it's easier to combine!)

1

pound of fresh tomatoes, sliced and quartered, or Campari or Grape/Cherry tomatoes, halved

1/4 cup

extra virgin olive oil

3

medium garlic cloves, minced

4

T. fresh parsley, chopped

1 ½ teaspoon

kosher salt, plus more as needed

½ teaspoon

freshly ground black pepper

¼ cup

fresh Parmesan, grated plus more for garnish

4

–

5

ounces goat cheese crumbles, at room temperature

4

T. fresh basil, chopped for garnish
Instructions
Combine the tomatoes, oil, garlic, parsley, 1 t. salt, and pepper in a large, nonreactive bowl (plastic is great) and stir to combine. Let sit at room temperature to allow the flavors to meld, for 30 minutes and up to 1 hour.
Cook pasta according to package directions. Reserve ½ cup pasta cooking water before draining.
Immediately add the hot pasta to the bowl with the tomatoes. Add the reserved pasta water, goat cheese, and Parmesan, and toss until evenly combined. Top with fresh basil and more Parmesan.
Serve immediately or at room temperature. Serves 4-6. Enjoy!
Join our email list for fresh pasta recipes delivered to you every week!
Your information will NEVER be shared or sold to a 3rd party.