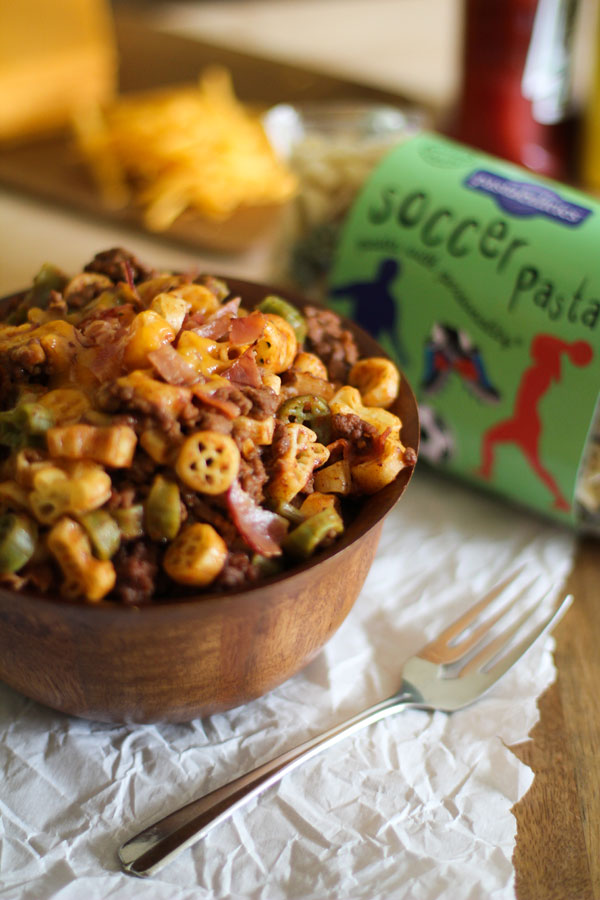 A good burger. Sometimes that is just what the doctor orders. I don't care how fancy a "foodie" you may be…nothing beats a good old fashioned All American hamburger. And I mean "beef" burger folks…maybe topped with cheese, maybe not. How many fast food chains have based their entire menu around the hamburger? Almost all….and yes, things are a changin' health wise, but the basic juicy burger is American Classic Cuisine – like it or not.  Today we are talking about Bacon Cheeseburger Pasta – boom!
Merriam Webster defines a "hamburger" as "a flat, usually round cake of finely chopped beef that is cooked and served usually in a roll or bun".   They define a "burger" however as "a food that is like a hamburger but that is not made from beef". OK!
On menus today at almost any restaurant you'll see all kinds of burgers being offered. You see friends, they know "burgers" sell. The savvy restaurateurs are trying every approach to hook you: Turkey Burger, Veggie Burger, Black Bean Burger, BBQ Burger, Greek Style Burger, Blue Cheese Stuffed Burger, Southwest Burger, Salmon Burger, Ahi Tuna Burger, Tofu Burger and even Tofu Quinoa Burgers! And that's just the tip of the iceberg.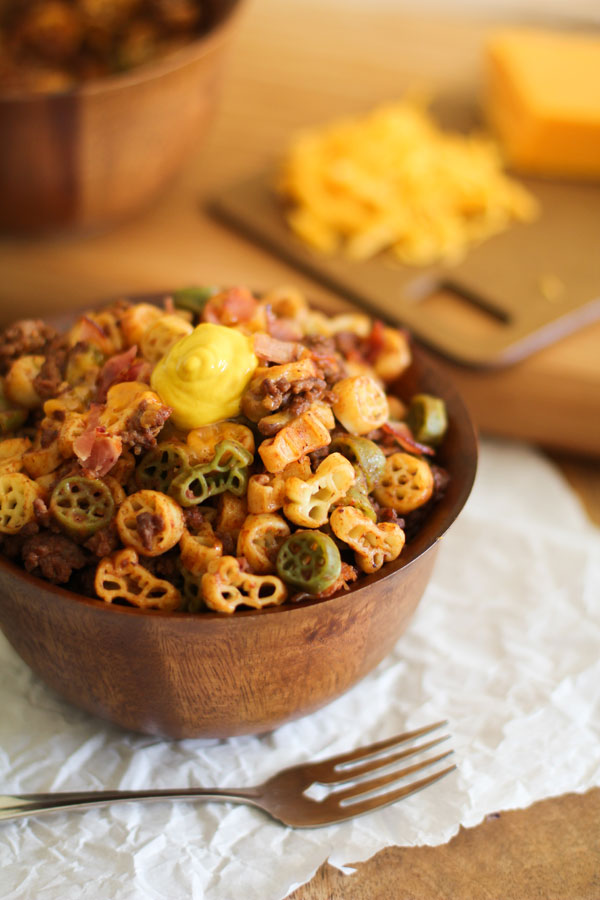 Any menu item with the word "Burger" in it is bound to convert into happy paying customers. (I'm one of them.) But sometimes it's not just about the main patty. Creative chefs will take a burger and switch up other aspects of it to lure you in. Do you like triple onions? Exotic mushrooms? Whole wheat bun, focaccia, or English muffin? How about making them smaller – sliders anyone? Personally, sliders are my favorite style these days. It's a way to share and splurge, but not totally overdue!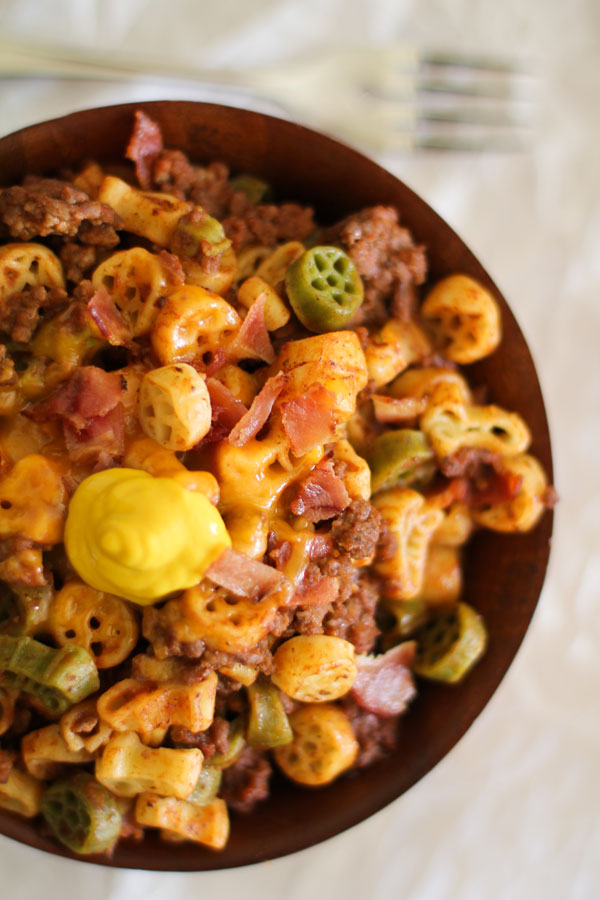 Bacon Cheeseburger Pasta is fun. It's comfort food. It's nostalgic. It's a familiar, melt in your mouth party that your family or guests will love! And yes, you can serve it with the usual accoutrements. 🙂 Try yellow mustard, or barbeque sauce!  We are featuring our Soccer Pasta – and thought you'd get a "kick' out of it. (haha, I know – it's bad.) But any short shape will do. If you want more options for awesome pasta recipes that include delicious lean ground beef, check out our Taco Pasta Salad, or Healthy Beef Ragu with Mint.
Read the recipe, imagine the flavors, and make it. And when you can, please share with me your favorite burger combinations! Who knows, it may end up a pasta dish!
If you are interested in seeing all the specialty pasta we make here in the USA, you can browse The Pasta Shoppe site, or if you have any fundraising needs, please check out Fun Pasta Fundraising. We'd love hear from you!
Print
Bacon Cheeseburger Pasta
An American classic – the burger – with a twist! Your family will love this!
Ingredients
14

–

16

oz. bag of Pasta (I used Soccer Pasta but any short shape will do)

2

pounds ground beef or ground chuck

12

bacon strips, diced (precooked works great)

1 ¾

cans (10 ¾ oz) condensed tomato soup, undiluted

2 cups

grated cheddar cheese
Prepared yellow mustard and/or barbeque sauce
Instructions
Cook beef in a large skillet over medium heat until no longer pink; drain and set aside.
In the same skillet, cook bacon until crisp; remove and drain on paper towels. Discard drippings. Or if you buy precooked, just follow the microwave instructions on the package!
Cook pasta in gently boiling water for approx. 6 minutes, until tender but firm. Drain and add to same skillet along with remaining ingredients, except cheese. Heat through.
Top with cheese, cover and cook until cheese is melted. Serve with prepared mustard or barbeque sauce – our favorite is the mustard- yum!
Join our email list for fresh pasta recipes delivered to you every week!
Your information will NEVER be shared or sold to a 3rd party.