Bacon, Brussels Sprout, and Corned Beef Pasta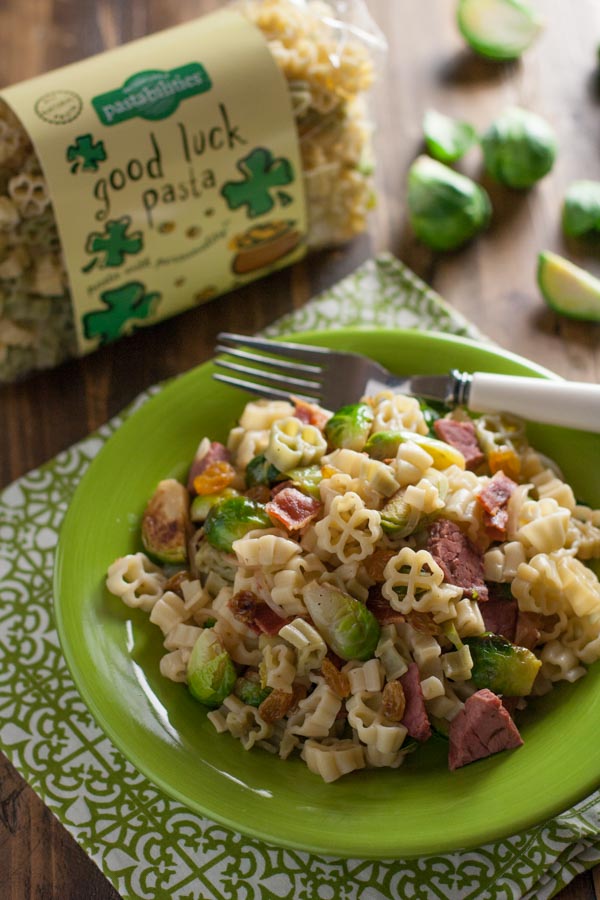 St. Patrick's Day is around the corner and I always find myself searching for a festive recipe to celebrate.  Can I admit that I'm not the hugest fan of "corned beef"?  It scare me.  What exactly is it anyway?  And if it is so great, why do we only hear about it in March?  You'd think with my Scotch-Irish blood I'd already know.  So I had to learn. 🙂
Corned beef is a salt cured beef product, cured with "corns" of salt, served typically hot with cabbage or cold, sliced on sandwiches, or as a corned beef hash.  It was popular during both World Wars.  Today it remains a part of the regular fare in countries with British culinary traditions.  (Sources:  Google, Wikipedia)
OK, that explains it.  Now the challenge was to find a way to really embrace corned beef for this holiday.  Luckily our good friend, Carole, brought me this recipe she found in Good Housekeeping and said, "Carey, what do you think about this?  You can change the pasta and add corned beef!"  Thank you Carole!  This holiday we'll be enjoying our Bacon, Brussels Sprout and Corned Beef Pasta.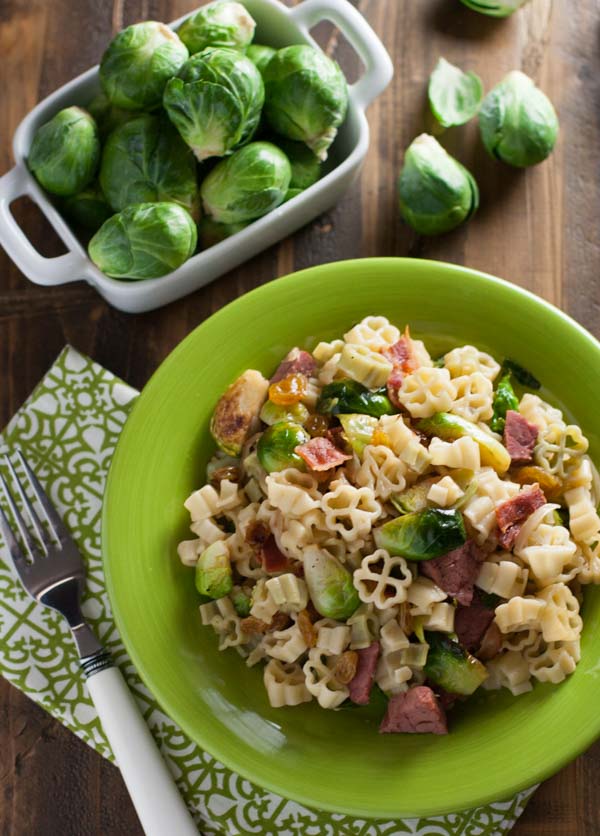 Well, the first two main ingredients are two of my favorites, BACON! and Brussels Sprouts.  Already I knew that this had potential.  Remember my BLT Pasta Salad?  When you lead with bacon, all is good.
At least Brussels sprouts are a part of the cabbage family so we are still trending for the holiday.  Aren't they cute?!  And when you cook them in bacon fat and add some sweet golden raisins, I mean come on, you know it is going to taste delicious!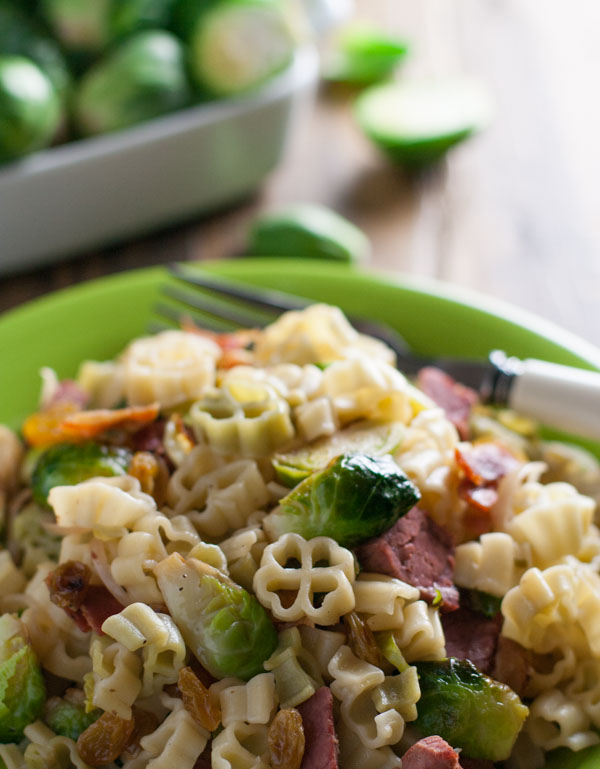 Adding some cubed corned beef and tossing with some Good Luck pasta make this the perfect St. Patrick's Day dish.  It is light, colorful, and a wonderful combination of flavors.  So call yourself "Lucky" friends!  Try your luck and spread some fun around this St. Patrick's Day!
If you want to check out our Good Luck pasta and other fun shapes, you can click here.  And if you have any fundraising needs, we'd love for you to check out our fundraising program!
Print
Bacon, Brussels Sprout, and Corned Beef Pasta
Ingredients
14 ounce

bag of Good Luck Pasta (or any

14

–

16

ounce bag of short pasta like penne, farfalle, etc)

6

slices of bacon (do not used pre-cooked – you need the fat to cook the sprouts)

12 ounces

of Brussels sprouts, quartered

1/2

t. salt

1/2

t. pepper

2

shallots, thinly sliced

6 ounces

of corned beef, cubed (approx.

one

1/2″ slice of corned beef from deli)

1/2 cup

golden raisins

1/2 cup

dry white wine
Instructions
Cook pasta according to package directions. Reserve 1/2 cup pasta water before draining pasta!
In a large sauce pan, cook bacon until crispy, approximately 5-6 minutes on med-high. Remove bacon from pan and place on a plate on a paper towel. Crumble bacon when cooled.
Add sprouts to pan with bacon fat, add salt and pepper, and cook covered for 5 minutes. Do not stir!
Add shallots, golden raisins, and corned beef. Cook for 2 minutes more.
Add white wine and cook for an additional 2 minutes.
Add pasta, crumbled bacon, and reserved pasta water. Toss and serve!
Join our email list for fresh pasta recipes delivered to you every week!
Your information will NEVER be shared or sold to a 3rd party.