Squid Ink Pasta with Shrimp and Tomatoes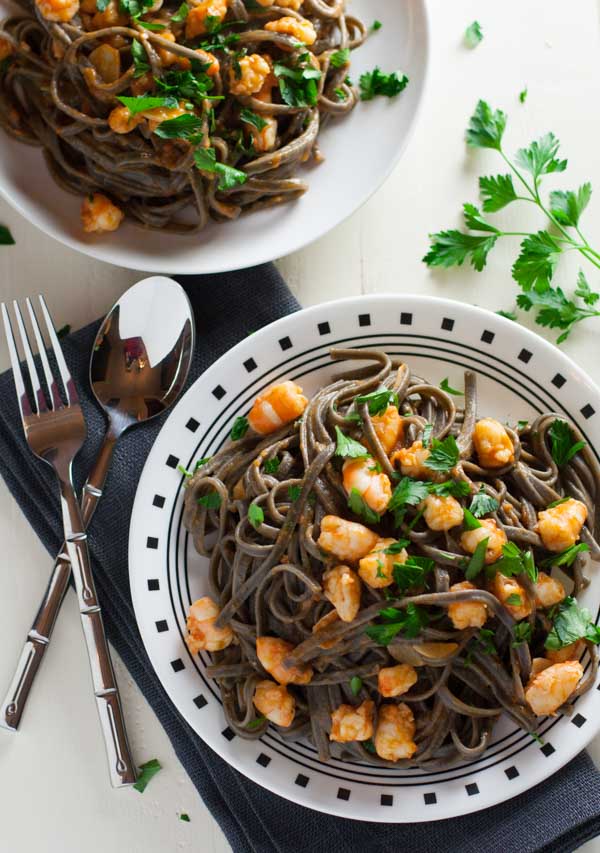 I'm back! My blog had some technical difficulties in the last two weeks… and now I'm up and running and happy to now be sharing this great recipe!
Bon Appetit! It's that happy phrase you hear right before taking a sumptuous bite.  It often infers celebrating with friends after many hours of planning, careful prepping of food and fluffing of the house.  There are usually hands in the air with the sweet sound of clinking glasses. But in this case it was my voice yelling "Bon Appetit!" when opening the mailbox to find the March edition of one of my favorite food magazines, Bon Appetit.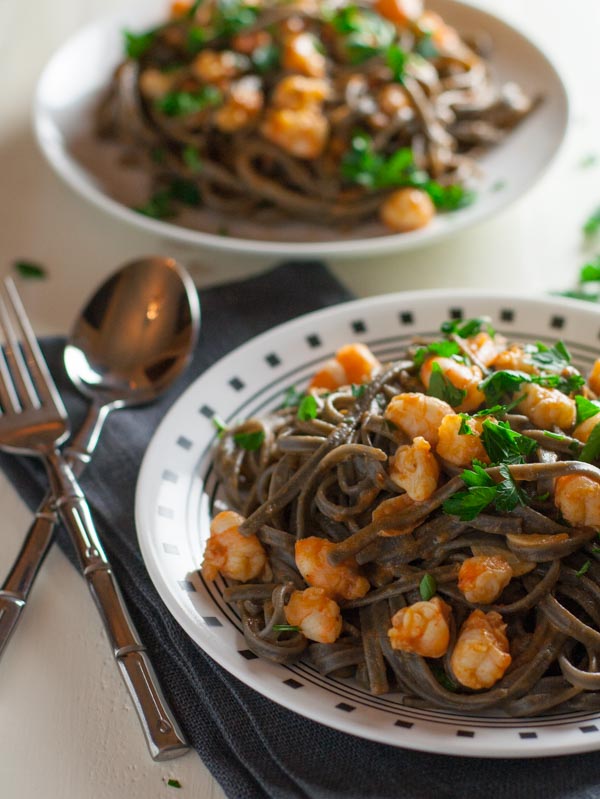 Especially when I saw the cover and title, "The New Rules of Pasta".  Yes, I did my happy dance.  Thankfully no one was around.  The article highlights some of today's unique ingredients and how they are changing the traditional and expected tastes of pasta dishes.  These ingredients can range from hearty greens, unusual wheat, chopped fresh nuts, to Asian spices and condiments.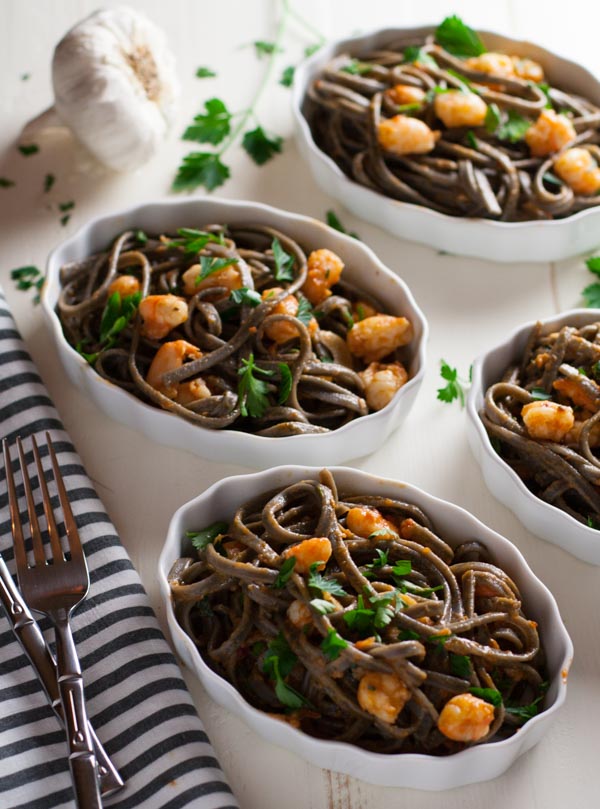 When the author mentions that one of his latest pasta meals was enjoyed at one of our local restaurants, Rolf and Daughters, I knew then that I had to try and recreate the gorgeous cover of Squid Ink Pasta with Shrimp and Tomatoes.  Chef Philip Krajeck, who has been garnering national attention for years, is referred to as a "modern pasta savant".  Woohoo!  Right here in Nashville!  Plus I've had a package of Squid Ink Pasta in my pantry just waiting for this opportunity.  "The World is Full of Pastabilities®!" my friends!  But you already knew that. 🙂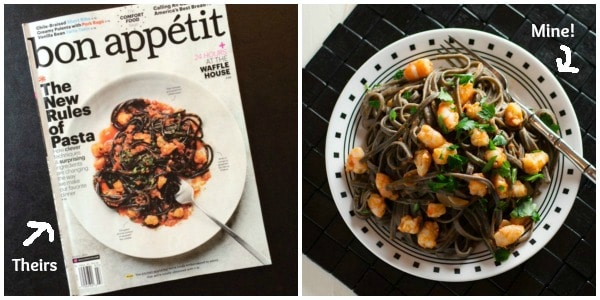 Forget regular spaghetti for a second and imagine a plate of beautiful pasta made with "ancient grains" like Kamut, Matt or Farro.  My favorite producer of these incredibly delicious, high quality pasta is Felicetti, located in the mountains of the Dolomites in Italy.  This family run business approaches the making of Monograno Felicetti pasta like artists, carefully and deliberately.  Ricardo Felicetti is laser focused on the purest quality ingredients as well as environmentally sound production.  He is a passionate pasta producer who we are happy to say is also a friend.  When you experience the taste, you'll understand what I am talking about!  You can read all about it here.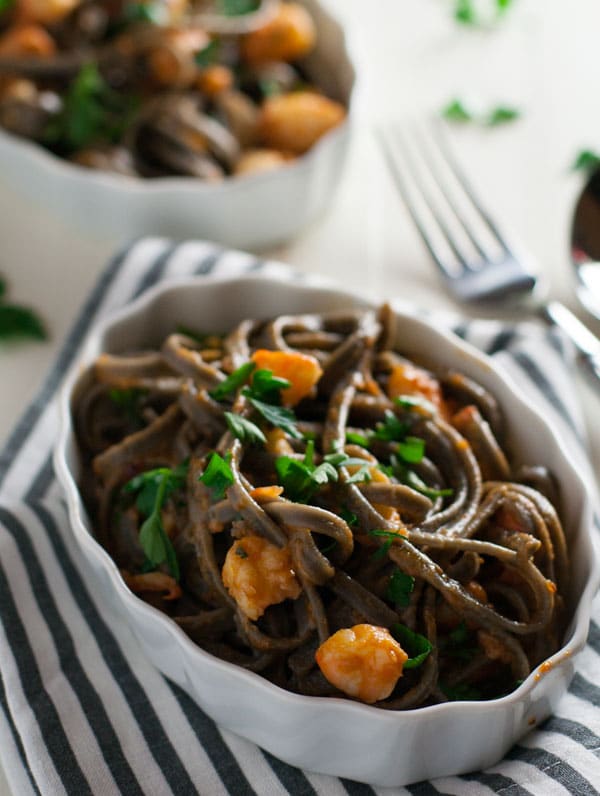 OK – back to my Squid Ink Pasta with Shrimp and Tomatoes.  The cover photo shows the exotic flavor and color of Squid Ink Pasta.  Squid ink (commonly from Cuttlefish) gives the pasta a slightly salty and rich flavor.  It is not commonly or easily manufactured due to the messy stains the ink can produce.  So I buy it in specialty stores when I see it, and keep it for a seafood inspired dish.  If you missed our other inspired shrimp dish, be sure check out our Shrimp, Avocado, and Spinach Pasta with Mango Vinaigrette.
Bon Appetit Magazine's recipe calls for a specialty ingredient called "nduja".  This is a spreadable salami of sorts that adds depth and flavor to many recipes and even can be used on sandwiches.  Of course I had no nduja on hand, and was too eager to wait to order some.  So I substituted their recommendation of additional olive oil and red pepper flakes, knowing that it wasn't quite equal.  In fact, the dish was delicious, but it did lack some depth.  Next time, in lieu of nduja, I'm adding finely chopped salami to add some punch.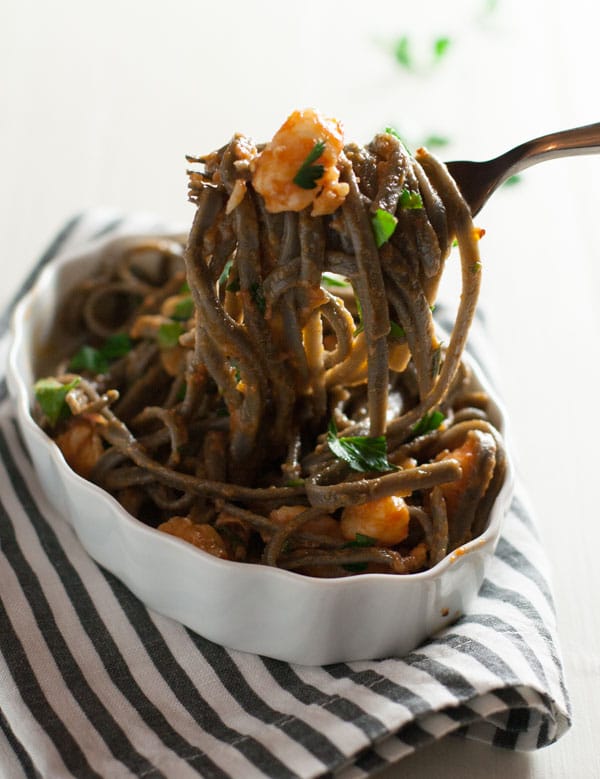 Pasta lovers, it is time to explore and expand your everyday pasta palates with this Squid Ink Pasta with Shrimp and Tomatoes.  Let's continue to introduce new ingredients and flavors as we create and celebrate one of our favorite foods – pasta!  Bon Appetit!
Print
Squid Ink Pasta with Shrimp and Tomatoes
A lusciously rich squid ink pasta dinner! The shrimp, tomatoes, and red pepper add layers of flavor…a seafood lovers paradise! Recipe from Bon Appetit Magazine March 2015
Ingredients
12 ounces

Squid Ink linguine or other squid ink long shape

1

pound shell on shrimp

3

T. olive oil, divided

6

cloves garlic, 2 smashed, 4 thinly sliced

1

bay leaf

1 cup

pureed whole peeled tomatoes (I used Italian imported)

4 oz

. nduja (or

4 oz

. finely diced salami)
Kosher Salt

1/4 cup

fresh lemon juice

1/4 cup

fresh parsley, plus more for garnish
Freshly ground black pepper
Instructions
Peel and devein the shrimp, keeping shells aside. Chop shrimp and set aside.
Heat 1 T. oil in a medium sauce pan over med-high and cook the smashed garlic, stirring until golden, about 1 minute. Add shrimp shells and cook, stirring, until bright pink, about 2 minutes.
Add bay leaf and 2 cups water and bring to a boil. Reduce heat and simmer until stock is slightly reduced, 8-10 minutes. Strain through fine mesh sieve into a large bowl and discard solids.
Heat remaining 2 T. oil in a large skillet over med-high heat. Add finely diced salami (if substituting for nduja) and cook for about 2 minutes. Add sliced garlic and cook, for about 1 more minute until fragrant. Remove from heat and carefully add tomatoes and 1 cup stock. Note: Mixture may sputter. Return to heat and cook until sauce begins to thicken, about 3-5 minutes. If you are using njuda, Add it at this point, using a wooden spoon to work it into sauce. Reduce and simmer, stirring occasionally, until flavors have melded, about 3 minutes. Stir in reserved shrimp and cook until opaque, approx. 2 minutes.
Meanwhile, cook the pasta in a large pot of salted water, stirring occasionally, until very al dente (pasta will still be opaque and very firm in the center). Drain pasta, reserving 1 1/2 cups of the pasta water.
Add pasta and 1 cup pasta water to sauce and cook, tossing often and adding more cooking liquid to help finish cooking pasta, until pasta is al dente and sauce is thickened (but still saucy) and coats pasta, about 5 minutes.
Add lemon juice and 1/4 cup parsley. Toss.
Season with salt and pepper according to taste.
Serve pasta topped with more fresh parsley.
Notes
Stock can be made 1 day ahead. Let cool, cover and chill. Wrap tightly and chill shrimp separately.
Join our email list for fresh pasta recipes delivered to you every week!
Your information will NEVER be shared or sold to a 3rd party.